Galt Mile President Passes Away
The Galt Mile Community is saddened to announce the passing of our President, Pio Ieraci.  Presiding over Galt Mile meetings and issues for the past 30 years, Pio was totally committed to the Galt Mile. His leadership made the Galt Mile community one of the most powerful neighborhood associations in Fort Lauderdale, and a powerful voice on county and state issues.  He also served as president of the Galt Ocean Club.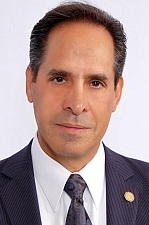 The members of the Galt Mile Community Association and neighbors mourn the loss of this great man, who did so much over the past 30 years.  He will be sorely missed by all who know him. 
FORT LAUDERDALE — A powerful Fort Lauderdale beachfront community has lost its charismatic leader with the eagle eye for detail and the "force of nature" to get things done.
Pio Ieraci, longtime president of the Galt Mile Community Association, died early Sunday, December 20 from COVID-19, city officials confirmed. He was 58. "He was on a ventilator for 14 days," Mayor Dean Trantalis said. "It's a terrible shock to the community. It's a real loss. Our heart goes out to his family."Ieraci spent 30 years as president of the Galt Mile Community Association representing the interests of 30 oceanfront condos and 16,000 residents. A stickler for details, the Canadian-born Ieraci was a unique blend of businessman, family man, diplomat and village shaman, according to his bio on the association's website.
Vice Mayor Steve Glassman, who became fast friends with Ieraci after meeting him 20 years ago, was reeling from the news of his death.  "I'm in shock," Glassman said. "He's been president of the Galt Mile Association forever. He's been such a force of nature when it comes to community activism. He's so involved and so caring, always out there and so involved. And a strong advocate for protecting the barrier island."
Fred Nesbitt, director and treasurer of the Galt Mile Community Association, said he was devastated by the news.  "I still don't believe it," he said. "It was like taking a punch in the head this morning when I heard this. He's been so much a part of us forever. Pio is the Galt." Ieraci was a natural leader whose shoes are going to be impossible to fill, Nesbitt said. "He had a wonderful personality," Nesbitt said. "He had charisma. He knew everyone. And he had the leadership skills to get things done. When he said he was going to do something, he did it. He got it done."
Glassman described Ieraci as an organized and well-connected mover and shaker who was able to take local issues to the state level. "He did a great job working with our state legislators," Glassman said. "I always thought of him as such a fit guy who took care of himself. I knew he was sick and I knew he was in the hospital. But I thought he was getting better. This is shocking to me. Shocking."
Broward Commissioner Lamer Fisher said he immediately hit it off with Ieraci when the two met for coffee three years ago to discuss Fisher's run for county office.  "He became a true friend," Fisher said.  "I got the call this morning and I just couldn't believe it.  He was so fit.  He was always exercising and eating right.  Always looked like a million dollars, no matter what he was wearing.  It just goes to show this disease is relentless."
Ieraci, a real estate broker, owned his own company, International Property Investments Corp.  He leaves behind a wife, son and daughter. Ieraci would have been 59 on Jan 10.
Obituary, Sun-Sentinel, by Susannah Bryan