PIO IERACI PLACE DEDICATION
The Galt Mile community gathered on December 8 to dedicate Pio Ieraci Place at the end of Galt Ocean Drive.  The ceremony commemorated the dedication, service and commitment of Pio Iearci to the Galt Mile community, our neighborhood, the city, county, and state.
Fred Nesbitt, President, opened the ceremony by describing the Galt Mile as an "elegant neighborhood with the best tropical climate, pristine beaches, shopping, dining and nightlife.  It's a place where the sun rises over the beach each morning and sets over the intracostal each evening." He welcomed the Ieraci family to this special dedication:  Lisa Ieraci along with Daniel and Alessia.
Welcoming the attendees were Fort Lauderdale Vice Mayor Heather Moraitis and Fort Lauderale Mayor Dean Trantalis. Sharing remembrances of Pio were Fort Lauderdale Commissioner Steve Glassman, Andy Mitchell and Ellyn Bogdanoff.  Additional comments were offered by State Representative Chip LaMarca, Broward County Vice Mayor Lamar Fisher, and State Senator Gary Farmer.  Recognized in the audience were former State Representative George Moraitis, Fort Lauderdale City Manager Chris Lagerbloom, Fort Lauderdale Director of Parks and Rec Phil Thornberg, and Sgt Tom Gestal, Police Liaison to the Galt Mile.
After the ceremony, a reception was held at Café Vico, hosted by the owner/chef Marco Rodrigues.  I would personally like to thank Chef Marco for his generosity and warm welcome to our neighborhood restaurant on the Galt Mile.  If you have not visited this great new Italian restaurant on the Galt, you are missing out on something wonderful. Visit their Facebook page.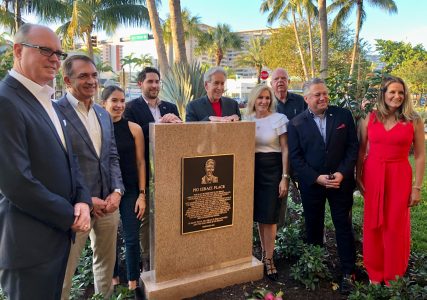 The picture shows the monument with family and dignitaries gathered around.  From left to right:  Broward County Vice Mayor Lamar Fisher, Fort Lauderdale Mayor Dean Trantalis, Alessia Ieraci, Daniel Ieraci, Fort Lauderdale Commissioner Steve Glassman, Lisa Ieraci, Galt Mile President Fred Nesbitt, State Rep. Chip LaMarca, and Fort Lauderdale Vice Mayor Heather Moraitis.
To see more pictures, visit the Galt Mile Facebook page at facebook.com/galtmilecommunity.