Two unfortunate situations can lead to disaster when facing a rip current. Not knowing the simple trick to escaping its clutches and/or not recognizing what a rip current is. Many vacationers are ignorant about rip currents. When caught in what appears to be a watery treadmill in which no amount of swimming evidences progress, panic sets in. Penetrating a rip current is all but impossible - even for an Olympic swimmer. If people don't understand why they can't escape the grips of rip currents, they're doomed.
In order to penetrate the psychological barrier erected in response to the jarring spate of rip current drowning deaths, news must contain familiar names and places. This past week, Fort Lauderdale residents and visiting vacationers suffered an onslaught of rip currents. Unfortunately, the familiarity that focuses ordinarily numbed sensibilities on tragic news reached into Galt Mile homes. News of a rip current death in the ocean behind Southpoint reawakened seemingly hibernating concerns about this quiet killer.
The victim, 62-year-old Emile Buzhager, came from New York to visit with childhood friends at the Southpoint condominium. After accompanying his wife to the Southpoint beach, he went for a Sunday afternoon swim in the ocean as she sat nearby. Attempting to clarify the circumstances surrounding the tragedy, Chief Bowman said, "There are heavy rip tides (sic – rip currents) out there. We've had water rescues. People are caught up in the rip tides and they can't come in."
Captain Breck Ballou, supervisor of Fort Lauderdale's Ocean Rescue Division, put the seemingly large number of rescues into perspective. When asked whether so many incidents were unusual, he claimed, "it's not, considering the amount of people in the water: Hundreds." Ballou advised, "Even if you are an expert swimmer, swim in front of a lifeguard and stay close to shore."
To complicate matters, rip currents alter water conditions in the ocean environment so that they stimulate man-of-war proliferation. These large stinging jellyfish are enervated by the heightened wave current activity. Captain Ballou said that quite a few people were stung on Sunday. "It's just not a good day to go in, but the sun is shining so people go in," Ballou said. "I have talented lifeguards who work for me. When push comes to shove, we make the rescue. A lot of people were grateful we were working today."
Despite the best efforts of lifeguards, unheralded Samaritans and other first responders to rescue dozens of ensnared local residents and visitors each year, the obituaries continue to mount – mostly for fatally unprepared visitors. These events occur with such alarming regularity that they rarely rate more than a paragraph in the local police blotter (the Galleon incident went unnoticed). They are like marine ghost stories, occasionally woven into discussions at seaside bars and dramatically revised around oceanfront condominium swimming pools. Ironically, a little knowledge could have prevented the vast majority of these tragedies. Had the hapless victims resisted their initial instinct to swim back to shore against the current, most could have survived.
To help penetrate the cynical indifference that visiting vacationers tend to reserve for native customs, local regulations and condo rules, when security or office personnel pass over the handout, they should take twenty seconds to read aloud the few lines that describe how to escape a rip current and additionally ask short-stay visitors if they have any questions. Twenty seconds in exchange for one less obituary – not a bad Holiday trade-off. Almost every Galt Mile resident who has lived here for more than a few years has a friend, neighbor or family member who was either threatened or killed by rip currents. If every association treats this danger with the respect it deserves, we may finally rack up our first year ever without an avoidable drowning death. Have a wonderful – and SAFE – Holiday Season.
---
Before The Storm: Implementing A Disaster Plan
Part I

Hurricane Andrew opened our eyes to the vulnerability of multi-family residential communities to catastrophic events. In the aftermath of the Hurricane many authors recommended that communities implement a disaster plan in order to avoid the pitfalls experienced by victims of Hurricane Andrew. Unfortunately, Hurricane Opal, which struck the Florida Panhandle with 140 mile per hour winds and a 20 foot storm surge, painfully reminded us of the hazards of procrastination.
While most of us relate disasters to natural phenomena such as hurricanes, floods and tornados, our communities are equally susceptible to fire, with similar consequences.
This article is based upon first hand experience assisting the victims of both Hurricanes Andrew and Opal with their recovery efforts. These, then, are the "Lessons of Andrew and Opal."
LESSON ONE - DEVELOP A DISASTER PLAN
A complete disaster preparedness plan will allow for the possibility of a total construction loss. Consider the impact of a disaster such as Andrew. While most residents of South Florida were able to clean up the storm debris within a relatively short period of time and return to their normal routines, for tens of thousands of others, life remained in turmoil for years after the storm; for not only did they lose their homes, but many permanently lost their work places.
With the possibility of such wide-spread turmoil, the importance of preparing and adhering to a disaster plan cannot be overstated. Consider the following recommendations when implementing a disaster plan:
Inventory documents and records - Those who experienced the brunt of Andrew/Opal never contemplated that essential information, critical to the initiation of emergency response and action, would be destroyed. Every association should keep a record of essential information at a secure location away from the community. The inventory should include:
The location of and account numbers for all bank accounts, including CDs and other savings accounts;
A list of all vendors and copies of all contracts;
A list of accountants, lawyers, managers, insurance agents and others whom the community relies upon for professional guidance.
Copies of insurance policies, including the name of the agent, and other pertinent information; and
A current list of names and addresses of unit owners, including emergency contact persons for each of them.
Inventory equipment - Create either a video or photographic record of the community and its equipment, and maintain a copy of the record off-site.
Designate a disaster coordinator - An officer, director, or owner trained in disaster response should be authorized to implement the disaster response program.
Establish an information facilitator - Many communities devastated by Andrew were evacuated prior to the storm. The residents, including the officers and directors, scattered in all directions, rarely leaving word of where they were going. Following the storm, a total communications blackout and the destruction of most community facilities left nowhere for owners to meet. It was difficult, if not impossible, to locate community leaders and communicate with them.
Every association needs to identify a person to serve as an information facilitator. The name, address, and phone number of this person should be provided to every owner so when the ability to communicate with other owners or the board is disrupted, the information facilitator can coordinate communications among the residents of the community.
Establish an emergency operations center - Designate a location from which the board will operate in the event of a disaster.
Include contingency plans – Andrew's impact on the community was different than Opal's. For the most part, South Dade communities were occupied by full time residents who boarded up their homes, stocked food and water supplies and filled their automobiles' gas tanks. However, few contemplated devastation so great that they would be unable to leave their homes for an extended period following the storm or, thereafter, find available housing. Generally, most Florida Panhandle condominium owners were seasonal residents who pooled their units into large rental pools. For them, the storm meant an interruption of both income and vacation destination. Alternative scenarios must be contemplated when preparing for a disaster.
LESSON TWO - REMOVE THE BARRIERS TO RECOVERY:
State laws and document restrictions designed to insure owner access to information and input in the decision-making process often impede disaster recovery. For example, the use of reserve funds in an emergency is hampered by laws requiring prior approval of a majority of the total voting interests. If necessary, documents should be reviewed and amended to remove barriers to recovery and provide boards with emergency powers. Areas of concern include:
"Insurance Trustee" provisions - Generally found within the insurance section of the documents, these provisions require that the proceeds of insurance settlements be paid to a third party for disbursement at the instruction of the association's engineer. When such a provision exists, insurers will not pay proceeds to the association until a trustee is designated. This can critically delay the receipt of funds necessary for disaster response. It is preferable for the board to act as a "trustee" with disbursements being authorized only when approved in advance by an independent engineer or construction manager employed by the association.
Access to Units - While the Condominium and Cooperative Acts grant the association an irrevocable right of access when necessary for the maintenance, repair or replacement of the common elements or of any portion of a unit to be maintained by the association or as necessary to prevent damage to the common elements or to a unit or units, a gray area exists in relation to the repair or reconstruction of portions of the units maintained by the unit owners. To avoid conflicts, the documents should provide:
Right of Access to the units to repair or replace any portion of the condominium property insured by the association.
Association as Agent - The association should be irrevocably appointed as agent for each unit owner, each owner of a mortgage or other lien upon a unit and each owner of any other interest in the condominium property, in order to adjust all claims arising under insurance policies purchased by the association and to execute and deliver releases upon the payment of claims.
Powers of Board or Disaster Coordinator to Act in an Emergency - Members of the Board (though less than a quorum) and/or a designated Disaster Coordinator, who act in good faith without pecuniary gain, should be indemnified from actions by members of the association and should have emergency powers, including, but not limited to, the power to contract for: (1) emergency services; (2) security from vandalism; (3) removal of debris; and (4) engineering and other professional services to assist in disaster recovery.
Reconstruction vs. Termination - The unit owners at one South Dade condominium destroyed by Hurricane Andrew were shocked to learn of a provision in their declaration of condominium which provided for automatic termination when damage exceeded fifty (50%) percent or more of the condominium, unless a majority of the total voting interests voted within sixty days to rebuild. Since the unit owners had scattered all across the Country, the association had to seek court relief to prevent the activation of the provision. It is preferable for the documents to require a vote of the owners to terminate the condominium, not to rebuild it.
LESSON THREE - MAINTAIN ADEQUATE INSURANCE
Maintaining adequate insurance is easier said than done. Nevertheless, the documents must be examined in concert with the law to ensure that the scope of coverage satisfies both. Notwithstanding the fact that the Condominium or Cooperative Act may exclude from coverage various unit components and finishes [floor coverings, wall coverings, ceiling coverings, a/c units, built-in cabinets], a provision in the declaration requiring that the association provide coverage for "all improvements" installed by the developer may impose liability on the association for failure to maintain such coverage.
In addition to basic coverage, Andrew and Opal taught us that some major sources of economic loss, such as landscaping, exterior building paint, building foundations, walkways, pools, tennis courts, and satellite dishes, are not normally covered by insurance. While excluded from basic coverage, some areas of potential loss can be covered for a small additional premium. None are as important as "ordinance or law" exclusion.
Ordinance or law exclusion states that the insurer will not pay for loss or damage caused directly or indirectly by the enforcement of any ordinance or law: (1) regulating the construction, use or repair of the property; or (2) requiring the tearing down of any property, including the cost of removing its debris. This exclusion is aimed at the application of building codes that may require more expensive reconstruction material, installation, design or methods than those used in the existing building. It may also apply to environmental laws that require elaborate and expensive decontamination processes, or upgrade construction practices in hurricane and flood zones.
For example, following Hurricane Andrew, a Dade County Ordinance required that a number of partially damaged buildings [considered to be damaged by 50% or more] could be restored only if they were elevated to a specific height above sea level. Under such circumstances, the cost of elevation plus repair of the damage generally would exceed the limit of building insurance, unless there was coverage afforded under the rider to the base policy.
Many communities were left waterlogged by Hurricanes Andrew and Opal, only to find that their basic policies did not cover water damage from flooding. Effective October 1, 1994, all condominiums in flood zones, must purchase flood insurance equal to eighty (80%) percent of the value of the building, not to exceed a total limit of $250,000 per unit. New flood policies include coverage for foundations. The entire building is covered under one policy, including both the common elements and the individual units.
For many owners and managers in the Florida Panhandle, the greatest loss wasn't property but, rather, income from lost rentals. Business interruption insurance is essential for owners or managers who rely upon vacation rentals for their livelihood. Managers, particularly, need to ensure that their business interruption coverage is not just for the premises where they maintain their offices, but also for the communities where they manage rental units.
Many homeowners failed to maintain coverage for their personal effects and building upgrades within their homes. It is recommended that homeowners residing in mandatory membership communities maintain homeowner coverage with at least the following endorsements:
Loss Assessment Coverage - Protects against special assessments levied by boards to cover losses from covered peril, when the primary coverage is inadequate.
Water Seepage Coverage - Covers water damage from wind-driven rain or water entering from a source other than an opening in the building (e.g. through stucco or around window frames.)
Additions, Alterations, Improvements and Betterments Coverage - Covers upgrades, as well as real property added by the unit owner. This endorsement is often available with all risk coverage, without a water seepage exclusion.
Even assuming that one maintains adequate coverage, there is a risk that not every insurer will survive extraordinary claims. Andrew brought many insurance companies to their knees. Careful consideration must be given to the financial strength of the insurer. Keep in mind that the lowest quote is not always the most secure coverage.
It is imperative that a reserve fund be maintained for contingencies and to cover deductibles.
---
After The Storm: Implementing A Disaster Plan

Part II

"This article is based upon first hand experience assisting the victims of Hurricanes Andrew and Opal with their recovery efforts. These, then, are the 'Lessons of Andrew and Opal.'"

LESSON FOUR - RESPOND QUICKLY AFTER THE DISASTER

A quick response in accordance with preconceived plan will minimize damage and promote a speedy recovery. After the disaster, associations should take steps to:

Account for residents - Knowing the whereabouts of all residents greatly enhances emergency response time following a disaster. In a situation such as a hurricane, in which there is advance warning, a committee should ascertain which residents are remaining in the community and which are evacuating. A temporary destination address and phone number should be obtained from those who are evacuating. Once disaster strikes, the board's first action should be to direct emergency medical assistance to any residents in need.

Survey the property and identify areas needing priority attention - Depending on the nature and extent of the damage, it may be necessary to evacuate or shore-up a structure and obtain security to protect against criminal acts and/or prevent further damage. All contacts with contractors should be made in advance, as part of the disaster plan.

Establish lines of communication - It is imperative to identify, in advance, a source outside the community to coordinate communications among community leaders following a disaster. The designated person may be a board member's relative located in another city or a professional engaged by the community for that purpose. Regardless, every officer and director should be instructed to contact the communications coordinator within a fixed time period after the disaster and provide him or her with an address and phone number. The communications coordinator can also be a vital link between the board and the residents. Efforts should be made to locate all owners.

Dispel rumors by disseminating necessary information - After establishing a means of communication, every effort should be made to meet with owners to discuss the situation and inform them of the actions in progress to protect their property and respond to their needs.

Following Hurricane Opal, one astute manager began preparing a pre-recorded daily update accessible to unit owners who dial in to a given phone number.

Contact employees and vendors - The communications coordinator should maintain a detailed list of all vital information and services utilized by the community. This should include:
A list of all vendors and professionals employed by the community (accountants, attorneys, insurance agents, etc.);
Copies of all outstanding contracts, bank accounts, locations of all community funds (including CDS and/or other investments), and insurance policies; and
The names of the building's designers to use as a source of back-up for as-built plans and specifications.
It may be necessary to suspend or cancel ongoing contracts, such as pool and lawn services, following a disaster. Contracts should be reviewed to insure that in the event of a disaster, services can be suspended without obligation on the part of the Association.

Ensure protection of persons and property - Following Andrew, looting was widespread in some areas. It may be necessary to contract for private security when police are unavailable.

LESSON FIVE - HASTE MAKES WASTE IN RECONSTRUCTION

Within hours of any disaster, the affected community will be besieged by companies and individuals looking for work and/or offering disaster recovery services. This group will consist of qualified professionals, ranging from public adjusters to companies specializing in disaster recovery. The larger of these companies will arrive decked out in color coordinated uniforms, large debris removing equipment and even helicopters. Interspersed among the new arrivals will be the con men and profiteers who prey upon the misfortune of others.

While it is very tempting, when confronted with what initially will appear to be an insurmountable task of reconstruction, to sign the first contract stuck in your face, experience has shown that these quick solutions are formulas for disasters of greater magnitude than those already suffered. No greater application exists for the old adage that "haste makes waste" than in these situations. The best advice is to just say no and stick to your disaster plan which, hopefully, will include a plan that anticipates the five (5) phases of reconstruction:
Project planning/scheduling;
Construction bidding;
Contract negotiations;
Construction/rehabilitation; and
Project completion/close out.
There are intervening steps you should take which may require contracts of short duration and for specific purposes. Even these contracts should be reviewed to insure that proper precautions are taken. The most urgent needs immediately after the disaster will be:
Securing the community from acts of vandalism and looting;
Removal of storm debris; and
Shoring up building structures and closing openings in order to mitigate against further damage.
Once conditions stabilize, the disaster recovery team will be in a position to meet with professionals trained in disaster recovery, such as:
Architect/Engineer - Responsible for assessing the damage, preparing plans and specifications in accordance with new building codes, assisting in selection of construction manager and defining other reconstruction requirements.
Construction Manager - Oversees selection of general contractor, competitive bidding and administrators, directs and coordinates pay requisitions, change orders and all other activities of the parties, and resolves disputes.
General Contractor - Employs and supervises laborers, supplies materials and builds project in accordance with architect's/engineer's plans and specifications, under the direction of the construction manager.
Attorney - Reviews construction contracts to insure adequate assurance of job performance and warranties, and compliance with applicable lien laws.
Public Adjuster - In some instances, the assistance of an independent public adjuster may be beneficial when dealing with the nuisances of an ambiguous insurance policy. While most adjusters will work for a fee based upon a percentage of the insurance proceeds, when the scope of assistance required is limited to specific items, the fee should be adjusted accordingly.
Review your condominium documents; particularly, the "repair after casualty" section of the insurance provision. It is not uncommon to find language such as the following:
Estimates of Costs - Immediately after deciding to rebuild or repair damage to property for which the association is responsible, the Association shall obtain reliable and detailed estimates of the cost to rebuild or repair.
Construction funds - The construction fund shall be disbursed in payment of such costs in the manner required by the board of directors of the association upon approval by an architect qualified to practice in Florida and employed by the association to supervise the work.
Where the aforesaid provisions exist in your documents, contracting for reconstruction prior to obtaining a scope of work will be contrary to both the association's best interest, and the obligations set forth in the documents.

In order to respond to an emergency, the association may need to obtain a short term loan. Absent a restriction within the documents, not-for-profit community associations can borrow; however, they, generally, cannot pledge the condominium property as security. Most banks with which the association does business will approve a commercial line of credit secured by the association's accounts and/or assessment and lien rights. The association also may obtain a small business administration loan that is available to victims of disaster, generally, at lower interest rate. Of course, reserve funds can also be utilized if approved by a majority of the total voting interest.

LESSON SIX - SETTLING THE INSURANCE CLAIMS

On television, within minutes of a disaster, an insurance adjuster appears on the scene with checkbook in hand. In the space of a thirty second commercial, all claims are resolved, and the victims shower praise on the company's quick response and positive attitude. While it does occasionally happen, it is an unlikely scenario. In a major disaster, it is rare, if not impossible, to fully assess the damages within such a short time frame. In fact, the association should not seriously entertain a settlement until the full scope of work is known and costs ascertained.

Immediately following the disaster, it will be necessary for the association to secure the property to mitigate against further damage and clean-up debris. Most insurers will offer advances for this purpose. As long as the association signs no releases or settlements, there is nothing wrong with accepting such advances.

Insurance policies need to be examined to ensure that "proof of loss" forms are filed within the time limit required under the policies. As a general rule, flood policies require that proof of loss be filed within sixty days of the flood.

Disasters do not respect geographic location or economic status and can occur at any time. Their effects can last for years; however, pre-disaster readiness will go a long way toward promoting recovery.



---
Hey...Let Me In!

How to Obtain an Entry Pass

When a mandatory evacuation is declared, the barrier island becomes extremely vulnerable. Armed with the knowledge that many of the domiciles are vacant, certain human insects will attempt to gain unobstructed access to the temporarily "easy pickings". Acknowledging their responsibility to secure the homes of those residents that heed the call to evacuate, the City of Fort Lauderdale strengthens the police presence throughout the barrier island. While all beach exits are open to traffic during an evacuation (leaving is easy), return access to the island is heavily restricted (returning is difficult). To deter looting and other criminal activity, police stationed at entrance checkpoints carefully scrutinize the identification of anyone attempting to return to the island, verifying credentials as either a resident or an owner/operator of a barrier island concern. If you can't prove that you either live or work here, you won't get in!

Access points to get to the beach residential and business areas:
S.E. 17th Street
East Sunrise Blvd.
4200 N. A1A
BARRIER ISLAND
ENTRY PASSES

No access will be allowed at these locations:
East Oakland Park Blvd.
East Las Olas Blvd.

Who is authorized:
Residents
Business owners/operators
Emergency medical personnel
Law Enforcement personnel

Entry requires approval. What is needed for proof:
Light bill
Drivers License
Water bill
Tax bill
Proof of employment
or similar verifyable identification

The City distributes entry passes to residents and business owners of the barrier island. Passes from the 2001 hurricane season are still good. If you have a pass from last year, you do not need a new pass.

Contact the Fort Lauderdale Police Department's Community Support Division (CSD) at (954) 828-6400 and prepare to make available the following verifyable identification that you reside or work east of the Intracoastal Waterway (ICW):
Light bill
Drivers License
Water bill
Tax bill
Proof of employment
or similar verifyable identification

Attention: Galt Mile Community Association Members!


Call the FLPD's CSD (Community Support Division) at (954) 828-6400 if you have a condominium association or civic association meeting so that passes can be distributed in volume (one per family).

To get information concerning returning to the Fort Lauderdale Beach area, simply contact:
Hurricane Hot Line number: (954) 831-4000
Mass media (TV, radio, internet, newspapers, etc.) including Web links (see below)
Click Here to e-mail the Police Hurricane Coordinator.
The Galt Mile Community Association web site - www.galtmile.com (that's right - right here!)
---
Hurricane Vampires

Hurricane season, like any significant source of emotional distress, brings out the best and the worst in us. There are several species of vampire that feed on the misery of the season's victims. The vast majority, however, resort to one of two popular scams – "cleanup" and "emergency repair". The opportunities presented by the "cleanup" rip-off are available to anyone with a mottled conscience. Little or no equipment, training, experience or brains are required to participate. The "emergency repair" fraud, while not exactly rocket science, is more effective when supported by the appropriate documentation, equipment and pitch. The scams are also distinguished by their respective "marks". The "cleanup" generally targets a government - federal, state, local or otherwise. The "emergency repair" scam was designed with you in mind!
"Cleanup Scam"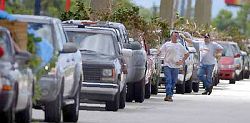 BROWARD COUNTY TRASH SITE - REESE ROAD

Hurricanes Charley and Frances left the federal government with one of the most expensive cleanup undertakings in Florida's history. Roughly $1 billion is earmarked to neutralize the mess. This doesn't include construction, repair, insurance or maintenance - simply hauling off the garbage. In comparison, the Federal Emergency Management Agency (FEMA), the lead agency financing disaster cleanups, spent $800 million to clear "Ground Zero" after the September 11, 2001 assault on the World Trade Center. Additionally, the $1 billion + only represents the 75% - 80% that FEMA covers; the remainder is funded locally. The half dozen legitimate companies that most municipalities contractually retain for this purpose do not maintain the equipment or manpower to clear the myriad tons of debris left in the wake of Charley and Frances. Connected companies like Crowder-Gulf, AshBritt Inc. and DRC Inc. (whose management and directorial boards are peppered with former FEMA Directors like Raymond "Buddy" Young [Crowder-Gulf] and James Lee Witt [DRC Inc.]) hire haulers, packers, grinders and an assortment of nondescript journeymen to take up the substantial slack.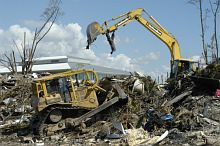 TEMPORARY TRASH COLLECTION SITE

Haulers, for instance, generally net about $5 per cubic yard or roughly $200 for a full load of debris. Deceitful haulers weld a chain link fence across the lower half of the truck bed to impart the illusion that they are carrying a full load when, in fact, they carry just enough to hide the fence. Municipalities select temporary collection sites for the haulers to dump their loads. One acre is needed for every 9,000 cubic yards of material. Because these sites are often stipulated on the fly, they are usually poorly organized and monitored. Loads are registered for payment at the makeshift site entrance. Scammers seek these easy marks, get their load ticket stamped for payment, drive out the rear of the site unobserved and drive around to the entrance again to re-register the same load. During the high pressure environment manned by temporary hires, the same load can be registered for payment a dozen times.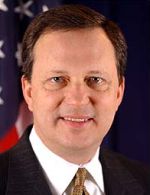 UNDERSECRETARY
MICHAEL D. BROWN

To avoid identification, the culprit drives down the highway to the next town and repeats the routine. If the town has an organized system wherein haulers are limited to certain areas, the haulers are required to clean up their assigned locations before they can move on to the next one. That means picking up the smaller limbs and branches along with the large ones that more readily fill up the truck. After loading all the large tree debris, unscrupulous haulers cut down live trees to expand their loads.

Credentials are often sacrificed for expediency. City officials, not wanting to appear as if they are delaying their town's recovery, often neglect a verification of references that might be perceived as "bureaucratic red tape". FEMA Under Secretary of Homeland Security for Emergency Preparedness and Response Michael Brown characterized emergency cleanup decisions as a balance between a community's need for a quick cleanup versus protecting taxpayer dollars from being wasted on unnecessary or fraudulent debris removal. Referring to this uncomfortable compromise, Brown remarked, "I knew this would be an area ripe for abuse."

"Emergency Repair Scam"

The Florida Home Builders Association has produced a series of consumer protection TV spots warning of another area of fraud made fertile by the catastrophic aftereffects of Charley and Frances. Fly-by-night contractors have swept into disaster areas like locusts. For example, a Hollywood contractor known as ABC Restoration, Inc. transforms itself into a post-disaster restoration specialist doing business as "Dr. Dry" when the opportunity presents itself. A "Dr. Dry" representative quoted a Lee County couple $6500 - $7500 to repair some screens and their porch ceiling along with the removal of a drenched carpet from an adjacent room. They transferred the carpet to the front lawn and moved some upstairs furniture down to the porch before demanding an additional $12,000 to complete the repairs.

Another woman authorized "Dr. Dry" to bill her credit card $5000 to address the quote for that amount that she was given to remove furniture and wet carpeting from her home. Workers placed 10 large fans and 3 dehumidifiers throughout the house. They also cut holes through her ceiling before demanding another $6500 to complete the work. Despite billing her card for the additional amount, they finished the job and refused to refund her money when asked. "Dr. Dry" struck again in Fort Myers on August 17th. The industry standard for removal of wet carpet is roughly $3 to $8 per square yard. Dr. Dry removed 24 square yards of carpet from a house at the precipitous cost of $22 per square yard.

ATTORNEY GENERAL
CHARLIE CRIST

The Florida Attorney General's Office has charged "Dr. Dry" with violating state price gouging and unfair and deceptive trade practices statutes. Attorney General Charlie Crist admonished, "Florida citizens trying to rebuild their lives are relying on the fair dealing and honest assistance of home renovators. It is infuriating when we hear about businesses trying to profit off of someone else's misery. We will vigorously pursue this complaint." Dr. Dry or "ABC Restoration, Inc." could receive civil penalties of $10,000 per violation per statute, in addition to attorney fees and costs. They will also be responsible for actual damages caused to consumers. With the advent of Hurricane Jeanne, Attorney General Crist warned, "Florida has suffered repeated, extreme weather conditions for the past several weeks. Unfortunately, citizens also need to be aware of the repeated acts of price gouging we have seen before, during and after the other three hurricanes. Overcharging citizens in dire need of goods is not only unacceptable, it is illegal, and we are utilizing all of our legal powers to combat this atrocious act."

Watch Your Back!
A September 21st release (Number: 1539-131) from FEMA cautions victims of Hurricanes Charley, Frances and Ivan to watch for an increased number of scam artists pretending to be employed by FEMA or other government agencies, such as the U.S. Small Business Administration (SBA). "Consumers should keep in mind that a FEMA or SBA shirt or jacket is not absolute proof of someone's affiliation with these agencies," said Federal Coordinating Officer Bill Carwile. "The best way to verify authorized FEMA or SBA personnel is by checking their laminated photo identification card, which they are required to wear at all times."

One fraudulent scheme involves con artists going door-to-door to damaged homes, or phoning victims, and soliciting personal information such as social security and bank account numbers. FEMA inspectors never require this information. A social security or bank account number is requested during the first phone call to the agency's teleregistration line. On any follow-up calls, a FEMA representative may ask for the last four digits of your social security number. The agency has also received reports of scammers telling homeowners they need to pay $1,500 to be put on a list to get their home repaired. Other reports have surfaced of persons pretending to be from the SBA and offering to fill out disaster loan applications for a $50 fee. Under no circumstances are FEMA or SBA representatives allowed to accept money. FEMA inspectors assess damage but do not hire or endorse specific contractors to fix homes or recommend repairs.
Galt Mile residents have been receiving telephone calls soliciting business from assorted carpet cleaners, home repair contractors and companies testing for "toxins that may have leeched into your water system" who assert that they will "be in your building" on a particular date. "The Weather Guy" and "Water Safety, Inc." are unlicensed and not legally incorporated - they are phantoms. Should you be contacted by any of them – or any like them, you might consider hanging up or doing what my daughter does. Ask them to hold on a minute and then continue watching television. The Florida Home Builders Association recommends four intuitive guidelines to prevent being victimized. Homeowners should 1) hire only licensed contractors, 2) insist on a contract, 3) ask for references (preferably from someone you know) and 4) do not pay cash up front - ever. Homeowners can report incidents of price gouging by calling the Florida Department of Agriculture and Consumer Services Hotline: 800-HELP-FLA (435-7352). Or call (800) 342-5869 - Agriculture Law Enforcement. If ANY fraudulent activity is suspected, please report it to the State Attorney General's office at 1-866-966-7226. The AG's price-gouging hotline is 1-800-646-0444. If you get hit...HIT BACK!
---
The Impending

Insurance Hurricane



October 10, 2004 - The ocean, the sun, soft southern breezes, the beach...relocating to Florida conjures visions of life in paradise. Virtually no one who moves here and few who build here associate their dream with "high risk". That, incidentally, is how the Galt Mile and the rest of Florida is perceived by insurers and their underwriters. Indigenous catastrophic weather events coupled with attractive retirement demographics are a recipe for "upwardly mobile" insurance rates. Sparring with Charley, Frances, Ivan and Jeanne didn't help.
Insurers will review their product models to determine whether they adequately anticipated the scope of the hurricane season's impact. They will also evaluate whether this was an aberration or an ominous preview suggestive of a new, more expensive model. For this, they will look to their reinsurers. Carriers buy reinsurance products to help diffuse the fiscal impact of catastrophes. If these "reinsurers" decide that Florida's future weather represents a greater risk than in prior years or if they simply misjudged the existing risk, they will increase the cost to their insurance company customers. These insurers, in turn, will endeavor to pass that increase on to you.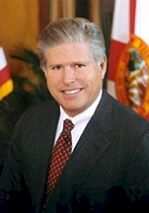 Florida CFO TOM GALLAGHER

Before they can do this, they must plead their case before Director Kevin M. McCarty's Office of Insurance Regulation. They must convince Florida's Chief Financial Officer and insurance czar, Tom Gallagher, that they either underestimated their risk or that the meteorological environment in the state has hence deteriorated. Sam Miller, executive vice president for the Florida Insurance Council (an insurance industry trade association), painted several scenarios that carriers may present to Mr. Gallagher. Addressing a possible statewide or regional impact, he said, "If there is going to be significant rate increases on a widespread basis, it will be because the companies can demonstrate to the Office of Insurance Regulation that based on their experiences this year, the rates aren't quite right. Companies could also reassess what they charge in certain areas, such as southwest and central Florida, and that could drive up prices there." While acknowledging that insurers will take this opportunity to test Tallahassee's receptivity to rate hikes, Miller predicted, "We don't expect major rate increases, major non-renewals and the sort of dislocation or chaos that we saw after Hurricane Andrew."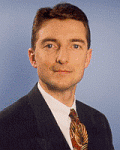 Dr. Robert P. Hartwig

Chief economist Dr. Robert P. Hartwig of the nonprofit Insurance Information Institute also addressed the insurance industry's intentions in view of the season's catastrophes, "Certainly, events of this magnitude put upward pressure on rates." He agrees with Miller that despite the $20 billion cost of the 2004 season (so far), the insurance industry should sidestep the calamity they suffered after Hurricane Andrew in 1992. Hartwig recalled, "Already, at this point in 1992, you would have heard insurers basically having placed permanent moratoriums on writing new policies and talking about getting out of the state." Woefully unprepared for Hurricane Andrew, the $22.9 billion (in today's dollars) juggernaut forced 11 insurers into insolvency and sent 38 others racing to escape the State of Florida - refusing to write policies even for longtime customers. State officials, Insurance Industry watchdogs and legislators are confident that the current season's events, while threatening to escalate rates, will not portend an industry-wide bale-out of carriers. This somewhat optimistic outlook is credited primarily to the insurance reforms and adjustments instituted by the State of Florida after the Hurricane Andrew debacle.

Hurricane Andrew "Wake-Up" Call
In response to the Hurricane Andrew wake-up call, the State of Florida reconstructed insurance policy to better protect the insurance industry from lethal storm losses and the industry developed new techniques to survive the erratic risk of doing business here. Some insurers (i.e. USAA) experimented with insurance securitization, where catastrophe risks are shared in capital markets rather than in the reinsurance markets. Others constructed "financial firewalls" around their Florida businesses to protect the National or International parent in the event that the Florida subsidiary went belly-up. Allstate, for instance, created "Allstate Floridian" to magically disappear if declared insolvent, protecting the otherwise vulnerable parent from exposure. State Farm developed "State Farm Florida" under similar auspices.

In 1993, the State created the Florida Hurricane Catastrophe Fund, a risk pool which provides catastrophe reinsurance for companies writing homeowners insurance policies in Florida. The Fund will pay 90% of Allstate's losses from Hurricane Charley in excess of $305 million, limiting their hit to $425 million as opposed to the $2.5 billion (1992 dollars) shellacking they took for Andrew. State Farm is expected to pay out $200 million for Charley-related losses, compared with $3.7 billion for comparable losses from Andrew. Other companies such as Nationwide, St. Paul Travelers, CNA, The Hartford, etc. are all expected to land on their feet because of the Fund.

When government price regulations depressed property insurance rates below their actual costs, insurers began to "cherry pick" customers, covering only low-risk applicants while refusing high-risk properties. In 2002, the Florida Legislature passed a law that combined the Florida Residential Property and Casualty Joint Underwriting Association (FRPCJUA) and the Florida Windstorm Underwriting Association (FWUA). This resulted in the creation of Citizens Property Insurance Corp. (Citizens) to serve the needs of homeowners in high-risk areas and others who cannot find coverage in the open, private insurance market. A serendipitous success story, this state-run insurer of last resort currently protects 800,000 coastal properties rejected by private insurers for full coverage.
Insurers were also permitted to treat clients as partners, requiring deductibles to be a percentage of claims instead of the fixed amount charged before Hurricane Andrew. Some insurers are getting between 2-5 % of windstorm losses, as compared to the less than 1% typical for fire damage. This formula forces consumers to pay a higher percentage of the claims than the pre-Andrew model in which the deductible was a flat amount.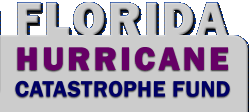 These measures by the State and the Industry have cushioned insurers from the hurricane-borne "capital shocks" that usually precede threatened rate increases. While the recent hurricane slugfest is a challenge to carriers, the damages to date are quite manageable. Referring to the positive environment Florida created for Insurers in the face of catastrophes, Florida CFO Tom Gallagher stated that carriers have told him, "If these kinds of things have to happen, it's a good thing they happened in Florida." Office of Insurance Regulation spokesman Bob Lotane indicated that they're monitoring a "small handful" of companies for potential solvency issues - companies that were under scrutiny before the season. If the storms exacerbated the problems of this small shaky group, the State could be required to place them under supervision and if unsuccessful, under rehabilitation (receivership). If stability and solvency still can't be achieved, assets would be liquidated to pay claims. Outstanding claims not covered by the company's assets would be paid by the Florida Insurance Guaranty Association - which is funded by the state's insurance companies. Insurance Information Institute's Robert Hartwig discounts any prospect of danger for Florida's major carriers such as State Farm Florida or Allstate Floridian (no.s 1 and 2).
Tallahassee Struggle Shaping Up
Ironically, the State has now turned its concern from the well-shielded insurers to property owners and taxpayers. The post-Andrew insurance reforms that revived the deflated Florida insurance market are being re-examined in view of certain long standing inequities that the season's storms have brought to light. Legislators are preparing for a special session Governor Jeb Bush may call in December to address hurricane-related issues. Property owners saddled with double or triple deductibles, one for each event, have elicited the support of Florida CFO Tom Gallagher. In response, his stated intention is to abolish this "double deductible," calling it "fundamentally unfair."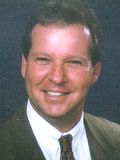 State Representative
Randy Johnson

Florida House Finance and Tax Committee Chair Randy Johnson (R-Celebration) remarked, "It was just a matter of time for these back-to-back disasters to happen and people would have these claims and deductibles they can't afford. Now we see the error of our ways." Johnson proposes capping the deductibles homeowners have to pay over a 12-month period, as with a healthcare policy. By way of contribution to the Governor's special session, Chairman J. Anthony Villamil of the Governor's Council Of Economic Advisors intends to recommend some type of assistance to help homeowners and small-business owners pay deductible losses.

Industry spokespersons caution against dismantling the reforms that rescued the Florida market after 1992. Property Casualty Insurers Association of America lobbyist William H. Stander threatened, "I don't think there's any doubt that if you restrict the use of deductibles, premiums will go up." Former House Insurance Committee Chair John Cosgrove harbors concerns about the extent to which legislators might pressure the industry, possibly forcing additional carriers out of the shaky windstorm business. To mollify Industry concerns, he recommends that insurers receive additional benefits from the Florida Hurricane Catastrophe Fund. The reinsurance-style relief offered by the Cat Fund is much cheaper than anything insurers could buy in the private market. Michael Colodny, Citizens Property Insurance Corp.'s general counsel, said some insurers may in fact stop offering windstorm coverage, but not enough to significantly impact consumer's ability to buy coverage. As the windstorm insurer of last resort, state-run Citizens is the safety net in which the victims of a tightening market would find themselves.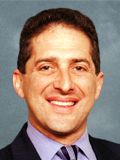 Florida Senator Ron Klein

Legislators are leery about the Insurance Industry's intentions and motives. Delray Beach Senator Ron Klein, a longtime insurance industry critic, anticipates a post-Andrew style industry reaction. He warns that insurers will seek to take advantage of this opportunity to further hike rates and decline renewal for thousands of policies, not only for coastal property owners, but across the state. Klein predicted, "They are going to take the position that all of Florida is a high-probability risk." Legislators know that the case for higher rates goes deeper than the reaction to recent events; insurers were maneuvering for an increase well before the season started.

Susanne Murphy, Citizens' corporate counsel, explained that the Florida Legislature set these increases in motion in 2003. The Legislature directed Citizens to come up with a way of calculating rates following several years of huge windstorm rate hikes. In response, Citizens pegged wind-only policy rates to the highest of the average wind rates charged by the state's top 20 insurers. In addition to varying from place to place, the new rules don't give the same generous credits to policyholders who have installed impact windows, roof straps or other measures to increase protection from hurricanes. These new rules apply to policies written or renewed after July 1, 2004, well before the effects of Charley, Frances, Ivan or Jeanne drew the concern of policy holders to potential premium increases.

New Rules for Condos

A new law, Florida Statute 718.111, will have a unique impact on Condo owners. There has always been a gray area between the Association's windstorm coverage and the personal property insurance responsibilities of the unit owner. After January 1, 2004, everything from the paint on the walls and ceiling to the tiles on the floor is strictly the insurance responsibility of the condo owner, not the Association. Electrical fixtures, appliances, air conditioners, heaters, water heaters, water filters, kitchen cabinets and countertops, light fixtures and even the ceiling or wall paint damaged by storm-related infiltration - if its not in your personal property policy, you aren't covered.
Because windstorm coverage is an "as is" proposition due to the absence of competition between insurers, the only option available to Associations to lower their premiums is to increase their deductible. Some Associations have opted for hurricane deductibles of $100,000. This has opened new product lines for insurance companies. Some Associations will have to address damages that amount to less than their $100,000 deductible through assessments. On some personal property policies, there's now a loss-assessment provision designed to cover the cost of the repairs or to pay the association's deductible. The new law has opened other liability gaps between the Association and the unit owner. For example, the association may not have to cover a repair of drywall inside a unit damaged due to a leak from association-owned plumbing inside the wall. While the in-wall Association plumbing is clearly not personal property, Insurers are offering "extended protection" provisions to fill the newly opened "coverage gaps".
One of the few advantages afforded to Condo owners under the new law is the method of determining loss payment. Windstorm coverage for personal property in condo units used to be what's termed "cash-value coverage". In settlement of a claim, you received the depreciated value of the item lost, subject to your deductible. This is actually a regressive penalty on those who properly maintain and meticulously service appliances, fixtures, etc. A well maintained 8-year old big screen TV would invoke a payout large enough to buy a new 13 inch Black and White replacement set when based on cash-value coverage. On Citizens windstorm policies that were new or renewed after July 1, 2004, the unit owner can buy - for a higher premium - replacement cost coverage. Replacement cost policies were common before Andrew. As part of the industry's reformation after 1992, insurers switched to the less costly cash-value coverage. The return of replacement cost coverage, even as an added expense, is more equitable for the insured. Despite the depreciated value of covered damages, the insurance payout would be determined strictly by the cost of a comparable substitute, indexed for inflation.
Scorecard – What's Next?

The balancing act that State and local officials will have to perform during the next legislative session promises to be an interesting exercise of enlightened self-interest. Public concern about the season's insurance impacts has sent bureaucrats scrambling from city hall to Tallahassee. Insurance lobbyists are gearing up for both overt and "under the radar" attacks on premiums, regionally and statewide. Carriers may threaten to abandon certain Florida insurance markets as part of their effort to force the Office of Insurance Regulation to float rates. If that occurs, the State might have to get deeper into the insurance business, expanding the "Citizens" concept - both in scope and to other threatened insurance areas. Conversely, the State is questioning the need and equity of "double deductibles" and the credibility of the Industry's claim to deserving higher rates and a bigger taste of the "Cat Fund".
Ironically, the unanticipated success of Florida's Hurricane Cat Fund and "Citizens" has turned some heads in Washington. One of the objections to FEMA is the lack of any incentive to control risk on the part of its beneficiaries. Congress is looking at a national model patterned on the Florida template. A national Cat Fund could establish safety standards as prerequisite to being eligible for benefits - cutting the risk and, in turn, the cost. While governmental attempts at competing with private industry are usually pathetic, Florida's insurance entries seem to be exemplary. Capitol Hill is considering – if it works here, why not everywhere?
---
State Dumps


Double Deductible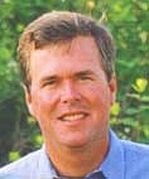 GOVERNOR JEB BUSH

December 15, 2004 - The December 13, 2004 special session of the Florida Legislature called by Governor Bush to tackle the "double deductible" inequity framed by the 4-hurricane season has borne fruit. Senate Bill S10-A, sponsored by Senators Garcia and Lynn and House Bill H9-A by Representatives Ross, Barreiro, Baxley, Farkas, Harrell, Mayfield and Murzin provides for the Florida Department of Financial Services to reimburse policyholders of residential property insurance for multiple deductibles applied by insurers for two or more hurricanes.

Although the original bills were limited to individual homeowners, intense pressure applied by the Condominium Association Legislative Lobby (CALL) opened the door to Condominium inclusion. The amount of reimbursement to condominium associations will vary depending on each association's hurricane deductible under their policy and the amount each association paid for hurricane deductibles. While the maximum reimbursement to condominium associations is limited to $3,000 per condominium unit, the State is earmarking $75 million to fund the plan.
Special Session in Tallahassee

Filed on December 10th and introduced on December 13th, S10-A was referred to the Senate Banking and Insurance and General Government Appropriations Committees for review. It sailed through Banking and Insurance by a vote of 10 YEAS vs. 0 NAYS on December 14th. The next day it passed General Government Appropriations by a vote of 4 YEAS vs. 0 NAYS. It was placed on the Special Order Calendar for consideration on December 16th and then "laid on the table" after its sister House Bill H9-A was substituted for it. The House Bill H9-A was also filed on December 10th and introduced on December 13th. The bill was referred to the House Insurance Committee, Fiscal Council and Commerce Council. It immediately passed the House Insurance Committee by a 16 YEAS vs. 1 NAY vote. On the 14th, it passed the Fiscal Council by a vote of 20 YEAS vs. 1 NAY. Later that day, it zipped through the Commerce Council by a 10 YEAS vs. 0 NAYS unanimous vote. It was added to the third reading calendar the next day. On December 16th, the bill passed a vote in the House by 115 YEAS vs. 2 NAYS (3 not voting) and the Senate by 38 YEAS vs. 1 NAY (1 Not Voting) and ordered enrolled. It was signed by the officers on December 21st before being presented to and signed by the Governor.

To read the text of the enrolled version of the new law, Click Here!
The 2004 hurricane season has been particularly destructive for Florida, with Hurricanes Charley, Frances, Ivan, and Jeanne causing extensive damage throughout the state. According to the Office of Insurance Regulation (OIR), as of December 2, 2004, insurance companies have reported over 1.5 million property insurance claims for all four hurricanes and $10.5 billion in total claims payments. The companies estimate that the total expected gross property loss will reach $20.8 billion.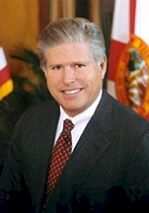 Florida CFO TOM GALLAGHER

Insurance companies and the State spent the last four months jockeying for position in an anticipated clash over the fiscal impacts of the catastrophic season. Florida Chief Financial Officer Tom Gallagher publicly disparaged Florida insurance policy for permitting insurance carriers to charge several deductibles for damages incurred by serial weather events. In turn, Allstate Insurance stopped writing new homeowners' policies in 17 Florida counties brutalized by the weather. In counties that were not hit as hard, it is only writing renters' policies and homeowners' policies minus wind coverage. The special session is the State's first volley in what appears to be maneuvering on both sides to protect themselves from overreaction by the other.

As such, the legislation will fulfill a commitment that Mr. Gallagher made during the hurricane season to abolish the multiple deductible, characterizing it as "fundamentally unfair". This proactive legislation serves as a useful plank from which Mr. Gallagher can launch a 2006 gubernatorial campaign. The field will likely include, among others, fellow cabinet member and Florida Attorney General Charlie Crist.

Residential hurricane deductibles are typically 2 percent of policy limits and may generally be as high as 5 percent of policy limits, or even higher for certain policies. However, $500 hurricane deductibles are still prevalent for homes and mobile homes valued under $100,000. The deductible applies to each hurricane, which can result in significant out-of-pocket expense to many policyholders. In many cases of multiple hurricane claims, according to a survey of insurers by OIR, the insurer waived application of multiple deductibles. Sourcing the survey results and attempting to account for missing information, the Legislative committee staff estimated that about 36,000 policies had multiple deductibles applied and that the cost to policyholders of second and subsequent deductibles may total about $70 million. While this estimate apparently includes only policies for which insurers paid two or more claims and deducted the full amount of the deductible, it does not include "no payment" claims below the deductible or claims not reported to the insurer.

The bills require the Department of Financial Services to reimburse residential and commercial policyholders for the financial loss due to the insurer applying multiple hurricane deductibles under the following specified conditions and limitations:
A policyholder must have incurred damage in excess of the full amount of one deductible (which may be met by adding two or more claims below the deductible).
Maximum reimbursement of $10,000 per policy, or $20,000 per policy if damaged by three or more hurricanes.
Maximum reimbursement for a condominium association policy in amount up to $3,000 per unit.
$100 deductible applied to the reimbursement.
Applications for reimbursement must be filed with the department by March 1, 2005, including such information as the department requires to verify the claim, including documentation from the insurer.
Applications for reimbursement are subject to insurance fraud penalties.
Insurers must mail notice of the reimbursement procedures to policyholders who had more than one hurricane deductible applied.
Total amount paid to all policyholders is limited to the amount appropriated. Department of Financial Services must first pay policyholders who received claims payments for two or more hurricanes for which each payment was reduced by the full amount of the deductible. All other eligible policyholders would be paid on a pro rata basis if funding is inadequate to pay everyone in full.
Up to $150 million is transferred from the Florida Hurricane Catastrophe Fund (FHCF) to the department's Insurance Regulatory Trust Fund and appropriated for reimbursement. In order to maintain actuarially indicated premiums, the State Board of Administration must increase future premiums to insurers for FHCF coverage over 5-year period.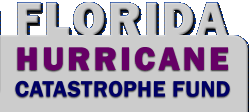 The bill also requires residential property insurers to apply future hurricane deductibles on an annual basis to all hurricanes that occur during the calendar year. The annual deductible applies to losses that are covered under one or more policies issued by the same insurer or an insurer in the same insurer group. However, insurers may apply the "other perils" deductible, or the remaining amount of the hurricane deductible, whichever is greater, to subsequent hurricane losses. Insurers may require policyholders to report claims below their deductible and to maintain records or receipts in order to apply the loss to a subsequent hurricane. If a policyholder has a hurricane loss and then changes the hurricane deductible, the highest deductible applies. These requirements apply to policies issued or renewed on or after May 1, 2005.
For condominium unit owner policies (which generally cover only the contents, wall and floor coverings, and appliances), most policies (54.7 percent) have a deductible of $500 or less, and most of the rest (40.7 percent) have 2 percent deductible policies. Less than 1 percent of condominium unit owners have a percentage deductible greater than 2 percent (see table below). While 54.7% of the Condo owners are exposed to "multiple deductible jeopardy" of $1000 to $2000 (2 to 4 deductibles @ $500 each), the 40.7% that carry 2% deductibles on average properties of $103,916 have exposures of $4156.64 to $8313.28. The real pain is felt by the 0.3% of Condo policy holders that carry 15% or more on properties averaging $438,058. Their double through quadruple deductible exposure is from $131,417 to $262,835 and higher! While the $3000 maximum reimbursement should "make whole" more than half the Condo policy holders victimized by the deductible inequity, the rest could be significantly assisted by these bills. Of course, the $3000 reimbursement will only marginally buffer the one half of one percent of policy holders that have "special" deductible requirements of 15% or higher.
On January 6th, CFO Gallagher announced that the "Multiple Deductible Reimbursement Program" assistance be paid first to Floridians who paid two or more full deductibles, followed by those who paid part of a second or third deductible. Gallagher explained, "The program to provide these storm victims financial relief is now up and running and applications to eligible individuals will soon arrive in thousands of mailboxes across the state. I encourage those who are eligible to submit their applications as soon as possible so that we can get them the financial assistance they need to start rebuilding. Policyholders will receive an application from their insurance company by mail along with information needed to complete the application." He advised that if the application packet does not arrive by January 27, 2005, then the policyholder should call the Department of Financial Services at 1-800-22 STORM for guidance.

Current Hurricane Deductibles for Condominium Unit Owner Policies

Deductible Amount
# of
Condo Units
% of
Condo Units
Average Insured Value
$1 to $500
381,339
54.7%
$74,763
$501 to $1,500
24,190
3.5%
$103,349
$1,501 to $2,500
1,801
0.3%
$147,761
2%
283,776
40.7%
$103,916
5%
3,285
0.5%
$306,922
15% or greater
2,306
0.3%
$438,058
Other deductibles
1,025
0.2%
Total
697,722
100%
---
Hurricane Disaster Links
The City of Fort

Lauderdale
Hurricane Season Preparedness Guide
Broward

County
Hurricane Preparedness Home