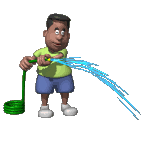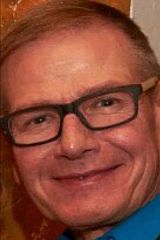 GALLEON RESIDENT JOHN JORS

The Parks Department�s chronic failure to maintain replaced plantings prompted the neighborhood association to name a block maintenance liaison, a thankless job currently performed by Galleon resident John Jors. Since drought-stressed trees rarely reach maturity, Jors warned that the current plan would fail unless the new trees received enough water. While plants are unavoidably lost to storm damage, losing trees and sidewalk beds to insufficient irrigation borders on the asinine.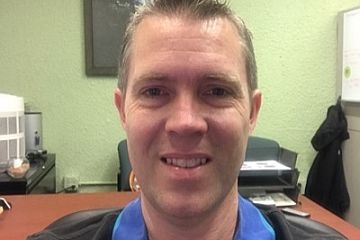 URBAN FORESTER MARK WILLIAMS

Upon his arrival in Fort Lauderdale a few years ago, along with horticultural expertise, Urban Forester Mark Williams infused the Parks Department with pro-active common-sense protocols. In response to concerns about the city�s planned maintenance of the new trees, Williams assured Jors that new plantings would be fertilized and re-staked as required,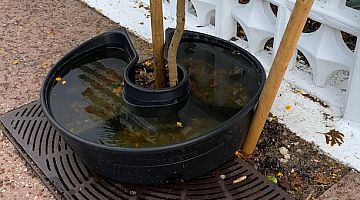 WATERING RESERVOIR

but cautioned that he couldn�t assign city crews to oversee the near-daily irrigation or install expensive in-ground sprinklers in sidewalk beds. Williams and Jors collaborated on a solution.

Every newly planted tree was affixed with a "watering reservoir", which will automatically regulate irrigation. Adjacent associations agreed to refill these reservoirs when depleted. By tasking association maintenance staffers with replenishing the reservoirs every few days, taxpayers will save a bundle - and the Galt Mile may finally shed its reputation as a landscaping �Boot Hill�.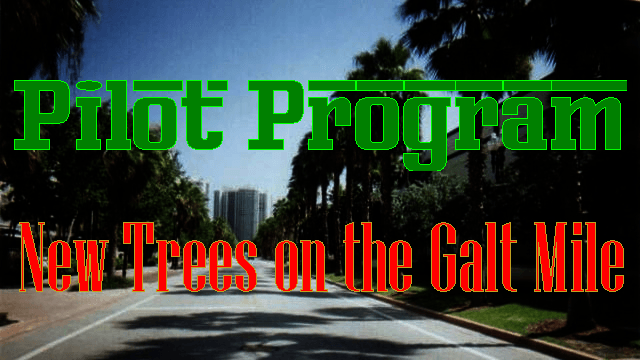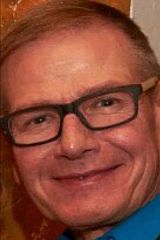 GALLEON RESIDENT JOHN JORS

November 2, 2018 - Shortly after longtime Commodore resident Jos� �Chepo� Vega stepped down as the neighborhood association�s block maintenance liaison with the City in late 2016,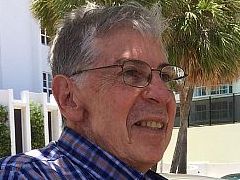 JOS� �CHEPO� VEGA

Galt Mile officials appointed Galleon resident John Jors to address neighborhood oversight. Since then, Jors has worked closely with Galt Mile officials, City Commissioner Heather Moraitis, Parks Department Operations Superintendent Mark Almy, Parks Supervisor William McDonough, and Fort Lauderdale Urban Forester Mark Williams to improve spotty municipal maintenance, help facilitate post-Hurricane Irma damage recovery, and replace crisis management with strategic planning.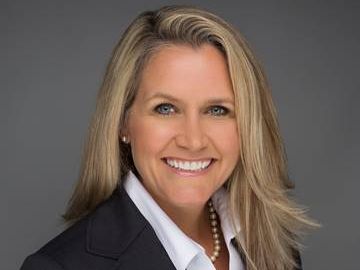 CITY COMMISSIONER HEATHER MORAITIS

For months, Jors pressured Parks officials to correct insufficient irrigation of the swale, upgrade the monument site at the south block entrance, repair or replace non-functional uplights and damaged street lamps along Galt Ocean Drive, repair damaged tree supports, adjust tree grates and replace scores of missing, desiccated or storm-damaged trees. To avoid repeating past mistakes, Jors and Williams agreed to re-assess existing flora, and instead of replanting trees predictably susceptible to ocean salt and high winds, develop a list of alternative trees better suited to a beachfront bio-niche.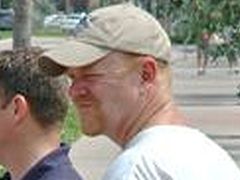 PARKS SUPERINTENDENT MARK ALMY

Years earlier, when standard Simpson�s Stoppers that lined the Galt were repeatedly shredded, they were replaced with Silver Buttonwoods, which also succumbed to the harsh coastal environment. Marshalling his arborist skills, Williams proposed an initial 24-tree pilot to test three species more likely to thrive � a multi-trunk variety of Simpson�s Stopper, Bulnesia and the salt and wind tolerant Japanese Blueberry.

Selecting locations where the Buttonwoods suffered the most damage, Jors suggested planting the test trees along sidewalks adjacent to Ocean Sky, Ocean Club, Ocean Summit, Playa del Mar and Galt Ocean Club.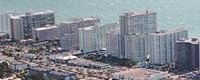 TREE REPLACEMENT SITES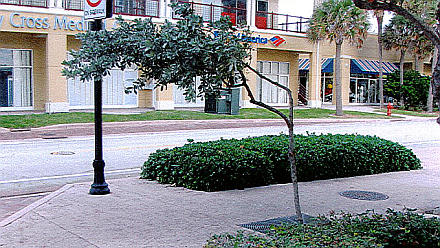 BUTTONWOOD LUNGES OVER SIDEWALK TOWARD STREET

On March 1, 2018, Williams began the swap-out process, cutting the degraded Silver Buttonwoods in half in preparation for a subsequent mechanized root-ball removal. Having additionally extracted two heavily damaged Silver Buttonwoods at Playa del Mar, Williams expanded the test sample to 26 trees. On April 5, 2018, Williams planted and staked the more robust replacement trees.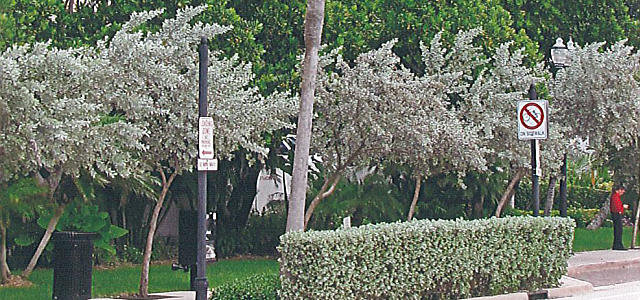 SEVERELY BENT SILVER BUTTONWOODS ALONG GALT OCEAN DRIVE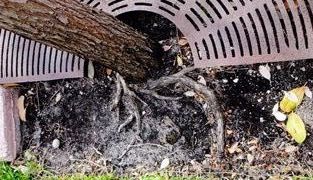 ROOTBALL ELEVATES TREE GRATE

Although pleased with the overall appearance, when Jors expressed reservations about the �shrubby appearance� of the multi-trunk Simpson�s Stoppers, he was assured by Williams that his perception would change as the trees matured. On May 16, Jors reported feedback from local residents, who cited a preference for the Japanese Blueberry, followed by the Bulnesia, while disparaging the undersized shrub-like Simpson�s Stoppers. Following an autumn spent traveling, on October 17, Jors sent the following report to Galt Mile officials:

Galt Mile Landscape Update
Advisory Board Report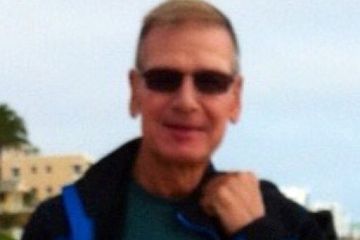 GALT MILE BLOCK MAINTENANCE LIAISON JOHN JORS
�I have recently returned to the Galt neighborhood after a couple of months away. These are my general impressions of the condition of the Landscape.
Test trees: The test trees on Galt Ocean Drive were installed in April of this year. There were 10 multi-trunk Simpson�s Stopper installed; of those 6 are in good condition, 3 are in poor condition, and 1 very poor condition. Next, there are 7 Bulnesia, 4 in good condition, 3 in poor condition, and 1 in very poor condition. Finally, there are 10 Japanese Blueberry, 9 in good condition, and 1 in poor condition.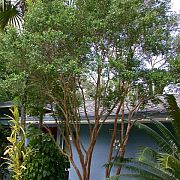 SIMPSON�S STOPPER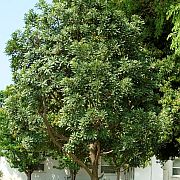 JAPANESE BLUEBERRY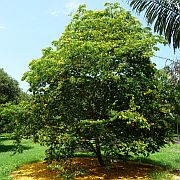 BULNESIA
My conclusion thus far is that the trees that receive overspray irrigation from adjacent buildings irrigation systems are in the best condition. Those that receive nothing but irrigation from rain runoff are in poor and very poor condition. Of course, the wind also contributes to the desiccation of the trees in poor and very poor condition. As far as aesthetics is concerned, the Japanese Blueberry and the Bulnesia have the best appearance. The multi-trunk Simpson�s Stopper appears shrub like, rather than a street tree. In my opinion the Stoppers installed were much too short. In addition, they have received the most negative comments from Galt residents.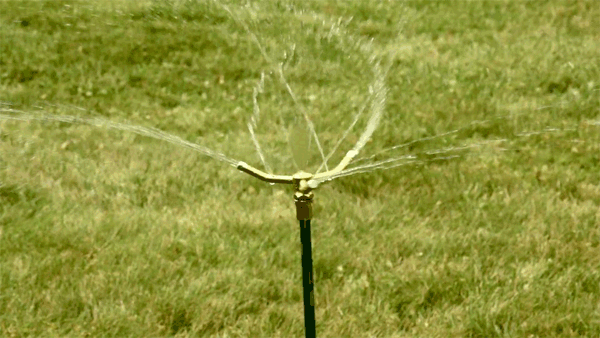 Going forward with the test trees and any further tree replacement on Galt Ocean Drive, the irrigation issue needs to be addressed. Either some irrigation must be installed, or the adjacent buildings need to provide irrigation for the newly planted trees.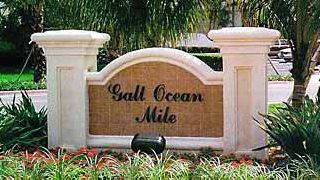 MONUMENT ON GALT OCEAN DRIVE
The general condition of the Galt landscape is quite good. There are several areas that I would like to address with the city. I feel the south monument area is need of renovation, especially considering the near completion of the A1A project. I am very impressed with the diversity of plantings used in that project. I consider the south monument area to be the �Gateway to the Galt�, and is in very tired condition.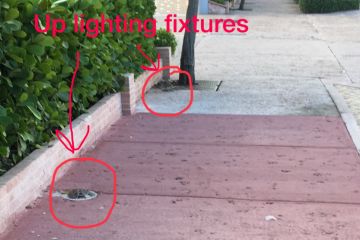 WRONG AGGREGATE MIX AND NON-FUNCTIONAL UPLIGHTS
In the past year utility work has been done, that caused parts of the concrete sidewalk on Galt Ocean Drive to be replaced. The newly installed concrete is a darker shade of pink. Will this be the new standard for all concrete replacement going forward?
I am happy to say that the street lighting has been repaired, however we still have the issue of the up lights on the east side walk of Galt Ocean Drive not functioning.
I recommend that another �Galt Walk� be scheduled with the city before the end of the year to discuss remedies and plans for 2019.�
Regards,
John Jors
The Galleon

John Jors: Better Planning & More Water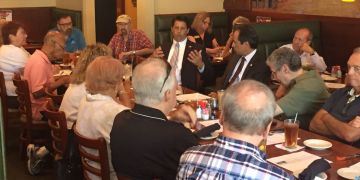 GMCA ADVISORY BOARD MEETING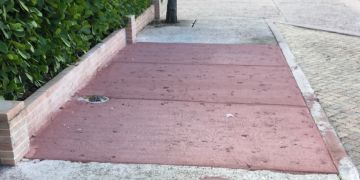 BAD AGGREGATE MIX NEAR REGENCY SOUTH

The next day, after summarizing Jors� report at the October 18 Advisory Board meeting, Galt Mile President Pio Ieraci identified AT&T as the vendor responsible for the incompatible sidewalk sections. When informed of their failure to install the approved aggregate mix, AT&T agreed to reconstruct the panels using the color blend specified for Galt Ocean Drive. Ieraci also announced that another neighborhood walk-through with Parks officials would soon be scheduled, providing Jors with grist for his next update.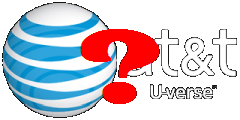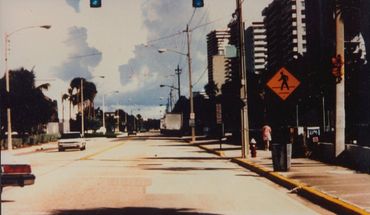 GALT OCEAN DRIVE IN 1993

In his report, Jors highlights the adverse impact of a 1995 municipal miscue. When the city engineer vetted the self-assessed Galt Mile Improvement project, instead of including in-ground irrigation, the city agreed to maintain the landscaping and hard scape features in �a Disney-Like manner.� The City�s inability to deliver has created a frustrating revolving door � neighborhood officials raise hell, after which Parks personnel scurry to salvage and replace dead or dying flora.

Ordinarily, the city waters new plantings for a few months after installation. Afterwards, the availability of sufficient rainfall runoff determines if this immature landscaping lives or dies. Drought-stressed trees rarely reach maturity. While losing plants to storm damage is unavoidable, that�s not the case for trees, hedges, and sidewalk beds lost to insufficient irrigation.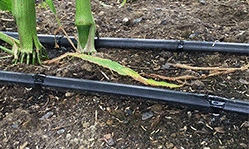 DRIP-LINES

Over the decades, the thousands of desiccated Galt Mile trees and acres of browned out sidewalk beds that were repeatedly replaced cost taxpayers $millions � mostly expensed to labor � as city crews spend months trying to reclaim neglected plantings. For a fraction of this outlay, inexpensive water-saving drip-lines could be connected to existing interred water lines � ending the cyclical brownouts and saving taxpayers a bundle.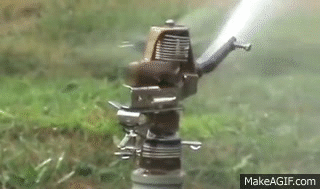 LAWN SPRINKLER ROTATION ADJUSTMENT

Since similar proposals in the past had triggered traumatic stress disorders in city officials, Jors offered an alternative. Noting how the best conditioned trees often benefit from �association overspray�, the City can recruit � or negotiate � association assistance with watering adjacent sidewalk plantings.
Some minor adjustments to association irrigation systems could expand the �overspray� dividend to additional sidewalk beds. In some cases, simply increasing the spread radius on street front sprinkler heads would also irrigate the nearby municipal landscaping. Other associations may have to add one or two sprinkler heads to their systems � or manually water the adjacent sidewalk beds during dry spells.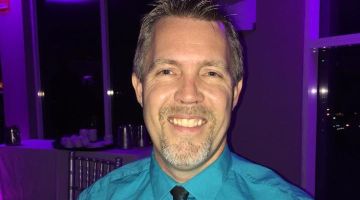 URBAN FORESTER MARK WILLIAMS

If city officials offer to pick up the incremental annual water cost for associations that participate in irrigating municipal landscaping, the city could whack the allocation for replacement trees � and the well-salaried Parks Department crews that install, stake and maintain them � for pennies on the dollar.

While remaining focused on curing a host of current maintenance pitfalls, such as improperly staked and poorly pruned trees with low hanging branches that threaten inattentive pedestrians, non-functional up-lights and intermittently operational street lamps, Jors and Williams are committed to ending decades of bad planning and reactionary block maintenance in favor of progress driven by diligent research. The new strategy is getting results � having kick-started a revival along the most defoliated stretch of Galt Ocean Drive. See for yourself.

---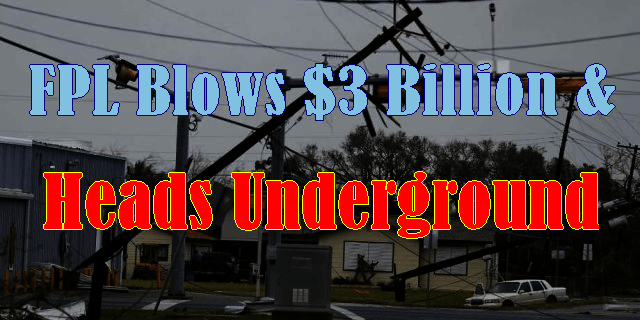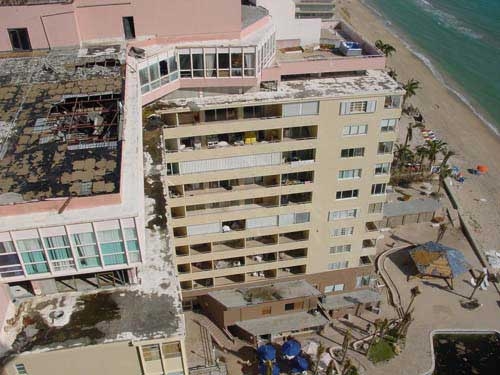 WILMA RIPS ROOF FROM OCEAN MANOR

July 30, 2018 - Florida�s energy infrastructure was slammed by Hurricanes Charley, Frances, Ivan, and Jeanne in 2004 and Dennis, Katrina and Wilma in 2005. Hurricane Wilma ripped windows and exterior doors from buildings, turned cars into pinballs, gobbled up chunks of beach like popcorn and otherwise hammered FPL�s then 4.3 million customers. Whacking the electrical grid, Wilma snapped or toppled more than 11,000 of FPL�s support poles and damaged almost 100 transmission structures - the large wide-open towers that carry power to the main feeder lines.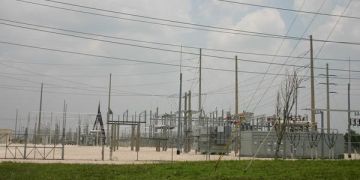 CONSERVATION SUBSTATION IN TAMARAC

FPL�s high-voltage Levee - Midway transmission line connects Midway Substation in St. Lucie County to Levee Substation in Miami-Dade County via the Corbett and Conservation Substations in Palm Beach and Broward Counties. Flawed with defective bolts, 30 steel line poles between the Corbett and Conservation Substations cascaded as they fell when Wilma knocked them over like bowling pins. The severed 500 kV transmission line blocked juice to 233 substations while another 8 substations experienced major damage (241 altogether), plummeting the grid into chaos.

To dampen the cycle of cyclonic destruction and power failures � typically followed by a huge ratepayer funded recovery assessment � on April 25, 2006, the Florida Public Service Commission (FPSC) issued Order Number PSC-06-035 1-PAA-E, requiring FPL and the state�s other investor-owned utilities to create storm-hardening plans that would �minimize future storm damages and customer outages� � hurricane preparedness measures that shield the grid�s most vulnerable elements from windstorm and storm surge.
FPSC Neutered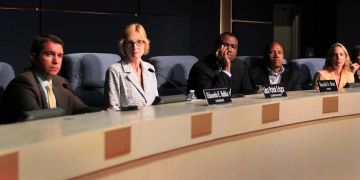 2014 FPSC SELL-OUTS

After consumer watchdog FPSC denied an unjustifiable massive rate increase in 2010, four of the regulatory panel�s five members were booted out - either deprived of Senate confirmation or omitted from the Governor�s nominating list. Hand-picked by Governor Scott, their replacements once again resumed a historical practice of rubber-stamping power company wet dreams. FPSC antics were documented in a 2014 report and a subsequent 2018 follow-up by non-partisan government watchdog �Integrity Florida�.

While approving a 2014 industry proposal to gut Florida�s energy-efficiency goals by more than 90 percent and voting for every requested rate hike, including an FPL surcharge to recover an investment of up to $191 million in a speculative fracking venture in Oklahoma (reversed by the Florida Supreme Court in 2016), industry puppets that controlled the FPSC sat mute as the utilities played a shell game with their order to minimize outages.

A year after FPL Group shareholders voted to change the company�s name to NextEra Energy in 2010, Eric Silagy was named President of subsidiary Florida Power & Light Company, adding the CEO crown in 2014. Silagy and other FPL executives declared that outages primarily caused by debris and vegetation hitting power lines could not be prevented by hardening the grid.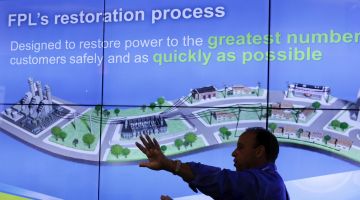 FPL ANNUAL HURRICANE DRILL

Spinning the FPSC objective as an exercise in futility, instead, FPL soaked ratepayers for $3 billion to implement a Chinese menu of improvements. While some funds were invested in component upgrades, most of the $3 billion was used to expedite post-storm power restoration - which FPL publicly pitched as a �hardening project�. At the annual FPL storm drill in May 2017, Silagy sought to justify having circumvented the FPSC objective, announcing �Understand that in a severe storm, we are going to have power outages, no matter how strengthened the grid is, no matter how smart it is.�

$3 billion Down the Rabbit Hole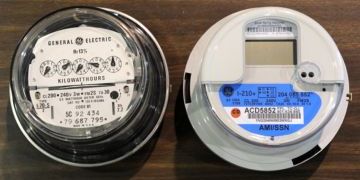 FPL ANALOG AND SMART METERS

The revised improvements included strengthening 600 main power lines servicing more than 700 critical community facilities, placing more than 450 main power lines underground, clearing vegetation from more than 135,000 miles of power line corridors while inspecting, upgrading or replacing more than 1.2 million poles. They also installed 4.8 million smart meters and 36,000 intelligent devices along the electric grid, enabling the semi-interactive pinpointing of grid problems and the occasional remote restoration of power.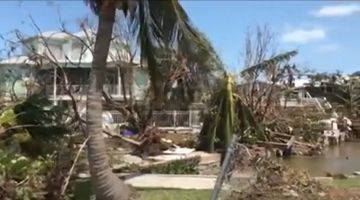 HURRICANE IRMA LANDFALL AT CUDJOE KEY

FPL officials cited Hurricane Irma as the new system's first real test. After making its first U.S. landfall at Cudjoe Key, Hurricane Irma knocked out power to 90 percent of FPL�s 5 million customer accounts � 10 million people � in 35 Florida counties. Irma deprived more Floridians of power than any storm in history - not exactly a ringing endorsement of FPL�s eleven-year hardening plan.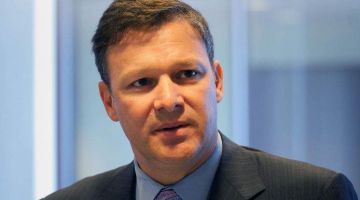 FPL CEO AND PRESIDENT ERIC SILAGY

In the wake of Hurricane Irma, the �Big Dog� of Florida energy utilities � and the third largest in the U.S. � raced to restore lost power across the state. Hoping to stave off the collective ill will of millions without power, Silagy said, �We�ve never had that many outages, and I don�t think any utility in the country ever has. It is by far and away the largest in the history of our company.� Did the $3 billion expenditure FPL customers paid for in their bills make a difference?

Unhappy Campers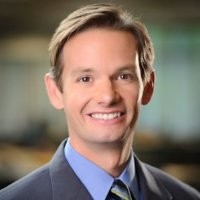 FPL SPOKESMAN BRYON GARNER

FPL spokesman and NextEra Energy Resources Communications Manager Bryan Garner said yes, exclaiming how the post-Irma effort to restore power was four times faster than it was for Wilma. It took more than a month to recover power cut by Wilma, but power was fully restored 10 days after Irma moved north. However, Garner neglected to mention that despite its huge footprint, Irma danced up the Florida peninsula as a tropical Storm with sustained winds that dropped from 130 MPH to 60 MPH a few hours after making landfall. Large but disorganized, Irma only toppled 1,200 to 1,500 poles as a result of fallen trees, along with some infrastructure damage on the west coast � in contrast with the catastrophic grid damage and 11,000 poles downed by Wilma.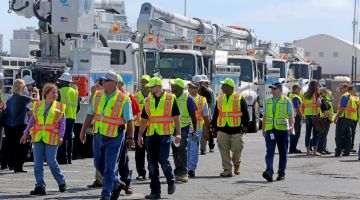 FPL BRINGS IN 21,500 WORKERS

Since more than 21,500 workers had converged on Florida to rescue the grid, including FPL vegetation and line workers, support staff and people from 30 states and Canada, some municipal officials questioned why many local neighborhoods were deprived of power for a week and a half, given the huge labor force and the relatively minor damage responsible for the vast majority of outages. The City of Coral Gables filed a class action suit accusing the utility of dragging its feet.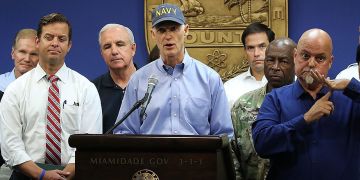 GOVERNOR RICK SCOTT TOURS STATE DURING IRMA

The FPSC is once again showing a pulse. When the Governor recently adopted a more centrist public persona for his planned Senate run, the FPSC slowly returned to advocating on behalf of consumers. During the 2004 � 2005 serial hurricanes, former Governor Jeb Bush added 31 points to his approval rating by visiting devastated neighborhoods with Emergency Response officials armed with supplies and services. Taking a page from his predecessor�s playbook, when Scott air-hopped around the State during Hurricane Irma and promised to turn the lights back on, it cleared the way for the FPSC to finally review compliance with its 11-year old 2006 order.

The Undergrounding Controversy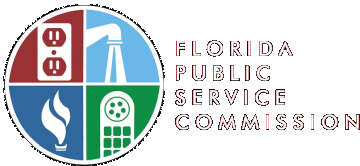 Notwithstanding FPL efforts to spin their hardening program as successful despite record outages, angry ratepayers contend that their $3 billion was misspent, and should have been used to better protect the grid from outages, as mandated by the original FPSC order. State legislators, local officials, FPL customers and re-empowered FPSC appointees are questioning why FPL didn�t spend the money on relocating more utility lines underground.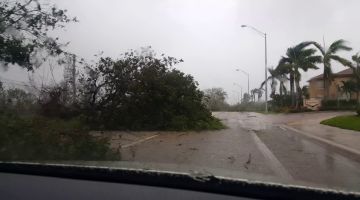 HURRICANE IRMA UPROOTS TREE IN HOMESTEAD

FPL spokespersons had been quick to point out that underground lines are susceptible to flooding and face the same problems as above-ground lines when transformers, substations or other infrastructure goes offline. However, local officials and rate-payers discounted these admonitions as self-serving corporate excuses. In fact, except for an underground line damaged by an uprooted tree in Homestead, the roughly 40 percent of FPL�s 67,000 miles of distribution or neighborhood power lines that are already underground were unmolested by Irma.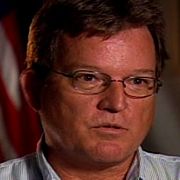 FORMER MAYOR JIM NAUGLE

After Wilma, when much of Fort Lauderdale lost power, the Galt Mile wasn�t exempted by its interred power infrastructure. A few days later, former Galt Mile President Bob Rozema called then Mayor Jim Naugle in the late afternoon, exhorting, �I need the power back within 24 hours.� By dusk, the Galt Mile was lit up like a Christmas Tree. It only took a few hours to locate and repair minor damage to an above ground feeder line.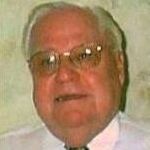 GNMCA EX-PRES. ROBERT ROZEMA

Although underground lines rarely suffer damage, when they do, the need to first locate and disinter a line break can delay the restoration of power to connected homes and businesses. With the possible exception of underground lines installed for future communities on undeveloped land, interring lines can be an expensive enterprise, even though Power companies often contribute 25 percent of the cost � as required by state regulators.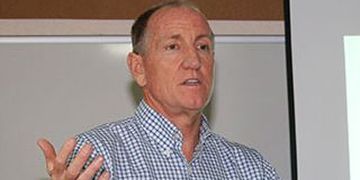 FPL SPOKESMAN BILL ORLOVE

Costs vary depending on the terrain or whether a site is already cluttered with buried utility lines for water, sewer, gas, internet, cable TV and/or telephones. Florida Power & Light spokesman Bill Orlove estimates that the cost of moving above ground lines underground can range from $500,000 to $4 million per mile, while above-ground lines cost about $300,000 - $400,000 per mile. This is weighed against the daunting cost of outages to ratepayers forced to fund the recovery, a mountain of disposable income lost to millions of homebound employees, and revenues lost to businesses shuttered until power is restored � a triple whammy.

FPL Flip-Flops

Acknowledging that the substantial upfront outlay and servicing access impediments are problematic, Utility Associations, Public Service agencies (including FPSC), Energy Think Tanks and University Researchers agree that � although not a panacea � undergrounding is the most effective available vehicle for preventing outages. Projected savings to the power companies and their ratepayers from reduced maintenance and dramatically lower damage repair and recovery costs more than justify the initial expense.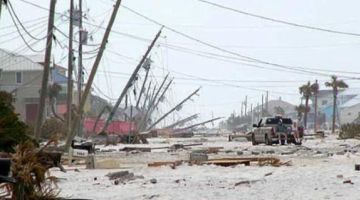 POST-HURRICANE IRMA FPL DAMAGE

Without conceding that its $3 billion expenditure was disappointingly misdirected, in FPL�s post-Hurricane Irma report to state regulators, the company observed that underground power lines performed 85 percent better than overhead power lines. Additionally, 82 percent of non-hardened main power lines experienced an outage, compared to 69 percent of hardened overhead main power lines and 18 percent of underground main power lines. Except for the glitch in Homestead, interred neighborhood lines were spared.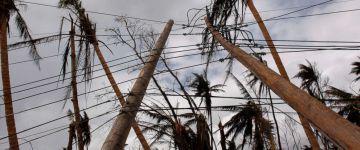 HURRICANE MATTHEW FPL DAMAGE

As confirmed by a similar FPL report filed with the FPSC following Hurricane Matthew in 2016, Irma was not the first test of FPL�s grid upgrades. Although a cakewalk next to to Irma, a similar report for Hurricane Matthew in 2016 showed that 13.8 percent of non-hardened overhead facilities experienced power failures, while 9.4 percent of hardened overhead facilities and only 2.2 percent of underground power lines saw outages.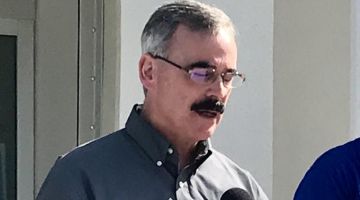 BRYAN OLNICK OF FPL DISTRIBUTION OPERATIONS

The 2017 FPL report concluded that underground power utilities worked so well during Hurricane Irma in September and Hurricane Matthew in 2016 that FPL�s goal is to have its entire distribution system �hardened or placed underground by 2024.� Keeping the company�s options open, the report carefully avoided compromising the lucratively skewed cost-sharing formula or revealing criteria for determining if a system element should be hardened or undergrounded.

To defuse growing pressure on regulators to demand statewide undergrounding, Bryan Olnick of FPL distribution operations told FPSC commissioners at a May 2018 meeting that �Underground power lines performed 80 percent better than overhead ones during Hurricane Irma... which was expected,� and disclosed a corporate plan to launch a 3-year �undergrounding pilot program� to bury power lines in certain neighborhoods throughout the state.

Follow the Money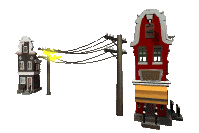 FPL officials nurse a mercenary incentive for their decision to back burner the FPSC grid hardening order in favor of an expedited power restoration plan - money. �Since 2007, FPL has successfully worked with municipalities to complete more than 50 municipal overhead to underground conversion projects,� boasted FPL spokesman Bill Orlove, referring to cost-sharing agreements for which the municipality typically picks up 75 percent of the tab less some credits received for removing the above ground architecture. After all, why bury lines with ratepayer dollars that would otherwise fatten the bottom line for investing shareholders when you can use municipal tax dollars to reduce the corporate outlay by 75%.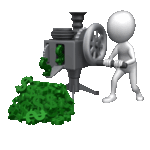 Given the questionable impact of his $3 billion expenditure on outages that might not have occurred had he instead buried the lines, FPL CEO Eric Silagy picked up his marbles and flipped the script. After Irma, Silagy announced �We�re big fans of undergrounding. We�re supportive of it and want to work with any community that wants to do that.� Why not? Unless the funding formula is reconfigured by statute or code, these communities will shoulder 75% of the cost of undergrounding assets that accrue to FPL ownership. It�s better than printing money.

Leery about whether lawmakers or regulators will mandate a more equitable cost-sharing formula in the foreseeable future, anxious officials in scores of Florida jurisdictions � including Miami-Dade and Palm Beach counties and the cities of South Miami, Miami Beach, Jacksonville, Miami and Coral Gables � are negotiating with FPL to bury their power lines.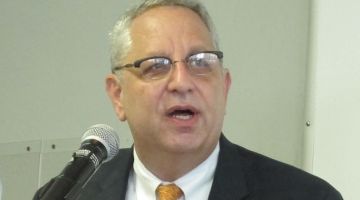 CITY MANAGER LEE FELDMAN

Since resident homeowners could be assessed from $12,000 to $25,000 apiece for undergrounding power lines in applicant Fort Lauderdale single-family home neighborhoods, the city requires 70% approval by the community before cutting a deal the FPL. While the sizable assessment has already proven a deterrent in several neighborhoods, City Manager Lee Feldman is currently in talks with FPL to bury lines in the wealthy Las Olas Isles community.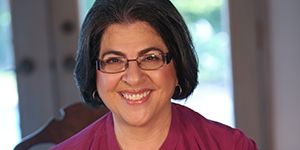 MIAMI-DADE COMMISSIONER DANIELLA LEVINE CAVA

Miami-Dade Commissioner Daniella Levine Cava complained that the current cost-sharing formula functionally bars participation by poorer communities. She sponsored a resolution urging the Florida Legislature and the Florida Public Service Commission to require Florida Power & Light and other electrical utilities to bury their existing overhead power lines. As to the cost, Cara responded �It�s time to bite the bullet. I understand there�s a cost to burying the lines, but when most of the city loses power, that�s extremely disruptive, and there�s a cost to that too.� Ooh-Rah!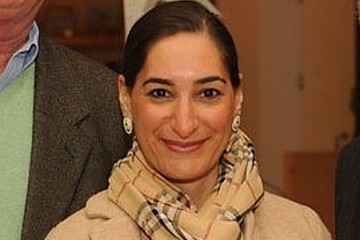 DFLTMA EXECUTIVE DIR. ROBYN CHIARELLI

May 18, 2018 - When Sun Trolley Executive Director Robyn Chiarelli notified Galt Mile officials that Broward County Transit (BCT) defunded the Galt Mile Route in June of 2017, Galt Mile President Pio Ieraci informed her that �BCT is no friend to the Galt Mile,� a conclusion he reached two years earlier � for reasons unrelated to the agency�s punitive Sun Trolley action.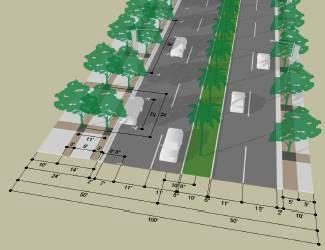 GLATTING JACKSON KERCHER ANGLIN DESIGN PLANS

Upon commencing construction in July of 2015 on the long-neglected section of A1A along the Galt Mile, Florida Department of Transportation (FDOT) planners asked Broward County Transit liaisons to temporarily clear the work zone of Broward County buses. A major bus layover on 41st Street and A1A would have to be moved. A layover is a bus stop that is converted into an on-street bus depot - where two to five buses might park � depending on the number of routes served by the layover site.

Layovers are typically implemented to adjust route schedules. If a bus arrives at a stop 20 minutes ahead of schedule, the driver will wait for 20 minutes before returning to service. Layovers also allow drivers to grab a quick lunch. While providing spent drivers with an opportunity to stretch their legs, these institutional delays are often abused in Broward County.
Blindsiding the Galt Mile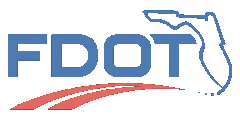 FDOT mandates that bus layovers be located on thoroughfares with multiple lanes in each direction of traffic (such as A1A), enabling vehicles to bypass buses that are either double parked, or parked a sufficient distance from the curb to accommodate handicap devices. They are also barred in heavily populated neighborhoods, where even one route layover is considered dangerous. In violation of FDOT protocols, BCT relocated the layovers for the buses serving routes 72, 55, 36 and 11 to a narrow beach side street lined with 16,000 residents.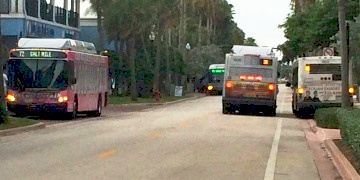 PLAYA DEL MAR BUS GAUNTLET BLOCKS TRAFFIC

As a result, since August of 2015 BCT buses had been deliberately choking off traffic on Galt Ocean Drive near Playa Del Mar and Regency Tower, blocking association driveways and a heavily used handicap access ramp across from Playa del Mar. Drivers typically abandoned buses for hours at a time to eat lunch, go shopping or otherwise disappear for an entire afternoon.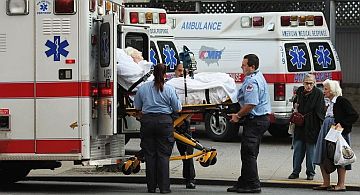 DELAYED FIRE-RESCUE EMT PARAMEDICS

Buses regularly parked (or double parked) on both sides of the street, often on the sidewalk, creating a traffic plug on Galt Ocean Drive. Vehicles unable to edge around the buses would have to turn around and take another route. When a Fire-Rescue EMT racing south on Galt Ocean Drive was blocked by a driverless double-parked bus, it was forced to circle back to A1A and re-enter Galt Ocean Drive from 35th Street, delaying response to a medical emergency. About an hour later, the missing bus driver emerged from Dunkin Donuts.

Booted from LBTS
LAYOVER SITE IN LAUDERDALE-BY-THE-SEA
(THE OLD HOLIDAY INN)

There was a brief respite in September of 2015, when the layovers for buses servicing Routes 36 and 72 were supposed to be transferred to a site north of the Galt Mile. However, the Lauderdale-by-the-Sea Town Commission would only allow a route 72 layover on El Mar Drive between Hibiscus Avenue and Palm Avenue (in front of the old Holiday Inn).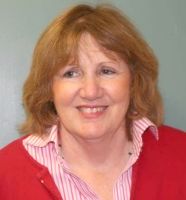 LBTS TOWN MANAGER
CONNIE HOFFMANN

After causing significant damage to town property and ignoring repeated official requests to avoid parking on the sidewalk, BCT was evicted from the layover site by the LBTS Town Commission on the recommendation of former Town Manager Connie Hoffmann. Officially bounced from LBTS, Broward County Transit Director Tim Garling surreptitiously returned the Route 72 layover to Galt Ocean Drive on December 21, 2015, where it wreaked havoc for almost 3 years. Buses participating in the resulting blockade damaged association-funded cutouts usurped without permission, repeatedly ran over private and public landscaping, cracked a curbside sewer drain that the city was forced to replace, flattened signage, and left the City with tens of thousands of dollars of additional damage to curbs, the street and sidewalks.

The Meeting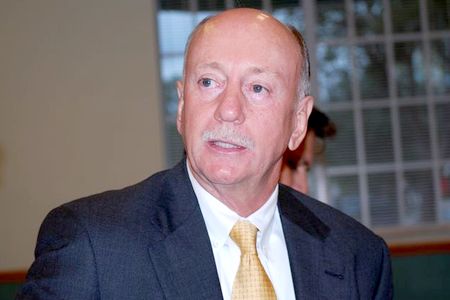 FORMER COMMISSIONER BRUCE G. ROBERTS

A flood of complaints poured into the neighborhood association while scores of others were sent to former District 1 City Commissioner Bruce Roberts and/or District 4 County Commissioner Chip LaMarca. Shortly thereafter, the two Commissioners met with Galt Mile officials and Tim Garling at the Galt Ocean Club.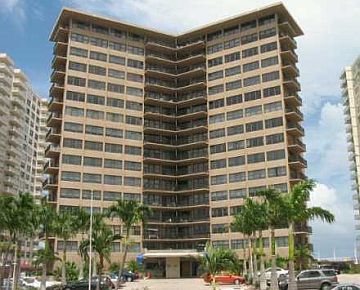 GALT OCEAN CLUB

Garling characterized blocking the handicap ramp as an act of mercy, mistakenly insisting that its original construction was not performed under permit, raising safety concerns for disabled locals who often used the ramp. When Garling said that he would gladly move the Route 72 layover if an alternative site was available, Roberts suggested investigating the Coral Ridge Mall or 36th Street and A1A, where the Route 55 layover had been transferred earlier. Confirming that each option was capable of supporting multiple route layovers, Garling agreed that either location would suffice.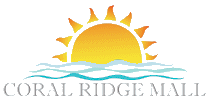 After the meeting, Galt Mile officials retrieved a copy of the permit for the handicap ramp, and forwarded it to Garling, Roberts and LaMarca, quashing Garling's claim that BCT was burdening the disabled for their own good. Although Coral Ridge Mall rejected the BCT request to implement a layover on their property, Garling�s refusal to respond to inquiries about moving the Route 72 layover to 36th Street and A1A raised concerns that Garling's stated interest in a less dangerous layover site was disingenuous.
Feldman, LaMarca and Garling Come up Short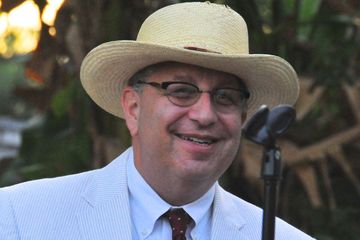 FORT LAUDERDALE CITY MANAGER LEE FELDMAN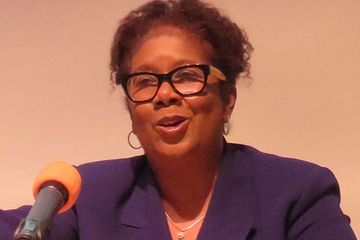 COUNTY ADMINISTRATOR BERTHA HENRY

Armed with pictures of City property damaged by BCT buses at incidents often witnessed by Galt Mile residents and/or association security personnel, on January 29, 2016, Fort Lauderdale City Manager Lee Feldman sent County Administrator Bertha Henry the pictorial evidence along with a demand to repair the damage and relocate the Galt Ocean Drive layover �to a more suitable location outside the City of Fort Lauderdale.� He also lodged a complaint about the blocked EMT.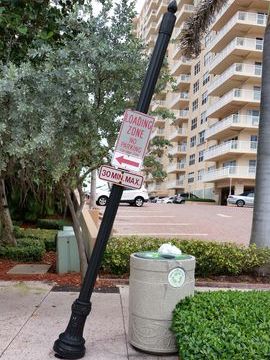 SIGNPOST TILTED BY BCT COLLISION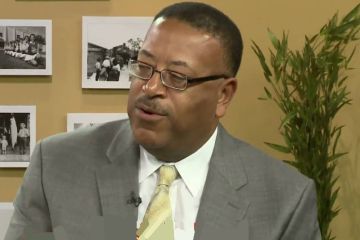 BROWARD TRANSPORTATION DIR. CHRIS WALTON

Henry passed the message to Broward Transportation Director Chris Walton (Garling�s boss). Precluded from returning the layover to a now-alienated Lauderdale-by-the-Sea, Walton denied BCT responsibility for the damage, ignored the EMT incident and marginalized a nearly flattened road sign as �wear and tear typical on any city street.� Not surprisingly, when BCT failed to comply, Feldman did nothing. Since the City and County are chronically embroiled in turf protection skirmishes, the issue devolved into a low-value bargaining chip.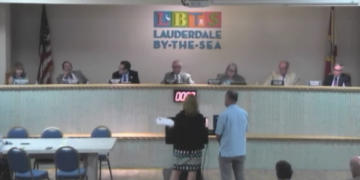 LAUDERDALE-BY-THE-SEA TOWN COMMISSION MEETING

We soon learned why the City of Fort Lauderdale would not mirror LBTS actions taken to protect municipal residents and City property. The LBTS Town Commission never trusted BCT, and authorized former Town Manager Connie Hoffmann to execute an agreement enabling an eviction after 30 days� notice and providing that damaged Town property would be reimbursed. The failure of Fort Lauderdale officials to match their diligence set the stage for the subsequent chaos.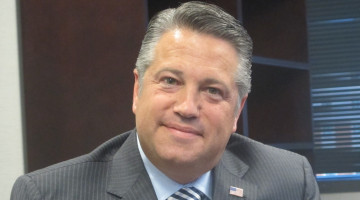 BROWARD COMMISSIONER CHIP LAMARCA

Swamped with new complaints by angry local residents throughout 2016, Galt Mile officials asked County Commissioner Chip LaMarca to intervene with an unresponsive BCT on their behalf, especially since LaMarca had witnessed Garling�s admission at the Galt Ocean Club meeting that the layover site at 36th Street and A1A was a viable alternative.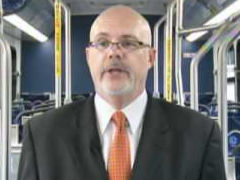 BROWARD COUNTY TRANSIT
DIRECTOR TIM GARLING

Contacted by LaMarca in July, on August 23, 2016, Garling finally wrote to the Commissioner �We checked with FDOT and the new bus pull-in for the Route 55 Bus on AIA will be completed this Spring, 2017. When completed, this will allow the Route 55 Bus to move from its current layover location on A1A near the McDonalds (NB) to its new location on A1A near Commercial. When this move takes place, the Route 72 Bus can move its layover on Galt to its final layover location on A1A near the McDonalds.�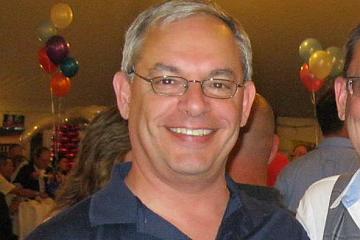 FORMER LBTS COMMISSIONER MARK BROWN

The message was perplexing. The Route 55 layover was at 36th Street and A1A, not on A1A near the McDonalds. Also, former LBTS Commissioner (and journalist) Mark Brown confirmed that the town had never agreed to allow a BCT layover at Commercial and A1A, especially in view of their snake bit 2015 experience at a relatively remote corner of El Mar Drive. Commercial and A1A is the heart of the Town�s $multi-million improvement project and a magnet for tourists. The LBTS Commission had no intention of tolerating the noise, fumes, property damage and traffic nightmares that often shadow BCT layover sites. Spring came and went � nothing changed. A BCT manager blamed construction delays along A1A for the Galt�s continuing hardship.

Fear Prompts a New Plan
BCT BUSES BLOCK BOTH REGENCY TOWER DRIVEWAYS & CUTOUT

Fearful that the Galt BCT layover might become permanent, in early 2018, Galt Mile officials embarked on a more aggressive strategy. A petition with thousands of signatures by angry Galt residents would be conjoined with a plan to send several buses filled with those residents to a series of County Commission meetings after engineering placement of the issue on each meeting agenda.
CITY COMMISSIONER HEATHER MORAITIS

If the County board failed to provide relief, invited local media contacts would document a post-meeting demonstration by the Galt Mile attendees. In March and April, parts of the plan were imparted to stakeholder officials in the City and County, including newly elected City Commissioner Heather Moraitis and Chip LaMarca. Two hundred angry constituents ranting at him and eight commission peers might have cost LaMarca some of the political capital deservedly accrued for his contribution to fleshing out their shrinking beach. For two years, LaMarca commuted between Tallahassee and Washington D.C. to mitigate regulatory obstacles blocking the long-awaited Segment II Beach Renourishment. After simmering for a week, the new plan peeled off a remarkable coincidence.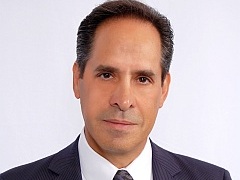 GMCA PRESIDENT PIO IERACI

On April 30, 2018, Garling suddenly winged a message to GMCA President Pio Ieraci, exclaiming �I wanted to give you an update on the move of the BCT buses that have been laying over on Galt Ocean Drive. Effective next Monday, May 7th, 2018, all BCT layover buses currently using the bus pull-in at BCT bus stop #3900 southbound on Galt Ocean Drive will be relocated to new layover locations on A1A. In addition, we will also be removing that bus pull-in location as a BCT bus stop and the bus stop sign will be removed. If you have any questions, please feel free to give me a call.� Having endangered local residents for almost three years, he closed witn �Thank you for your patience on this matter.�

BCT: Inmates Run the Asylum

Given the bulletproof protections built into the contract between Amalgamated Transit Union, Local 1267 and the BCT, Broward bus drivers risked little by defying their BCT supervisors. In fact, the BCT was ousted from LBTS primarily because the bus drivers ignored official instructions to avoid driving on the sidewalk. Other provisions in the agreement in force at that time entitled Broward bus drivers to cause 4 accidents and run 4 red lights every two years � without jeopardizing their jobs � although they could be disciplined for clocking in late. Since the slate was wiped clean every two years, Broward bus drivers can smash into 40 vehicles and run 40 red lights during a 20-year tenure, without losing a wink of sleep over employment concerns. The agreement was recently amended to extend the �forgiveness clause� from 2 years to 30 months.
JOURNALIST BRITTANY WALLMAN

Although most BCT drivers are careful and well-trained, a high-profile handful have cumulatively racked up hundreds of moving violations while precipitating scores of collisions, for which they received boilerplate reprimands - a slap on the wrist before returning to their buses and once again terrorizing Broward streets. These inherently dangerous asinine protocols negotiated by BCT prompted the Sun Sentinel (Journalist Brittany Wallman) to create an online database that documented thousands of BCT driver traffic citations, infractions and collisions, and the resulting litany of lawsuits settled with multiple millions of your tax dollars.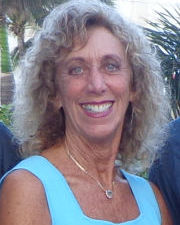 REG TOWER EILEEN BENDIS

While the Galt Ocean Drive Bus Layover was officially closed on Sunday, May 6, BCT drivers who evidently couldn�t modulate their appetite for Dunkin Donuts, DaVinci's Pizza or a boxed fried chicken lunch from Winn Dixie ignored Garling�s mandate � and continued blocking the street on May 7. When a complaint by Regency Tower President Eileen Bendis was forwarded to City and County officials, Garling sent each one a message detailing how he would enforce the layover relocation for inattentive or reluctant drivers, stating �I have placed a bus supervisor in the bus layover, effective immediately, to make sure this is implemented properly. I will have supervisors on site all week for both shifts and this should resolve the problem. The layover was closed as of Sunday, 5/6. Sorry for these implementation issues, but the on-site supervision will immediately handle any issues from this point forward.�

Pio�s Pipedream

It appears that the dangerous BCT bus blockade is history, but given BCT�s paper-thin credibility, no one is celebrating just yet. Once Garling announced his April 30th plan to relocate the Galt layover, Ieraci responded �Hopefully, we can now anticipate repairs to the damage caused by the buses.� Sure, when Hell freezes over...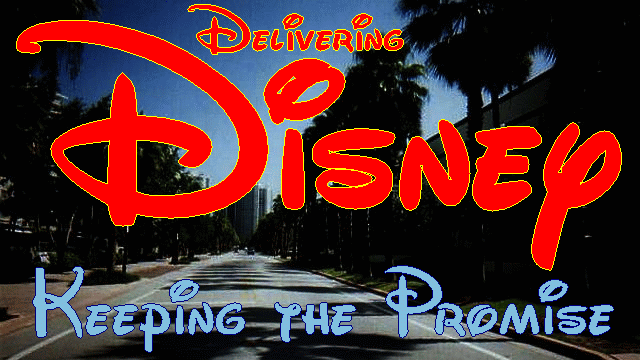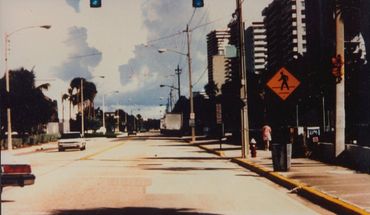 GALT OCEAN DRIVE IN 1993

January 16, 2018 - When Galt Ocean Drive residents voluntarily self-assessed funding for the broad range of civic upgrades known as the Galt Mile Improvement Project in 1995 (pink aggregate sidewalks, new traffic signals and signage, interred utility lines, pavered crosswalks, new landscaping, etc.), the City agreed to maintain the many improvements in �a Disney-like manner.� Whenever the Parks Department dropped the ball,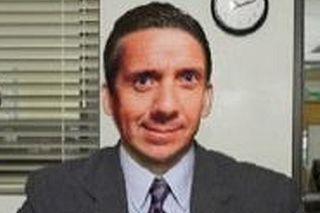 PARKS DEPT. DIRECTOR PHIL THORNBURG

Galt Mile association officials would meet with the District 1 City Commissioner and Parks Department Director Phil Thornburg to elicit assurances that civic maintenance would improve. Such promises were short-lived, and turned to vapor when the bureaucrats� feet were no longer in the fire. By 2008, angry residents had watched their landscaping cycle through 12 years of avoidable brownouts.

The Chepo Years on a Grateful Galt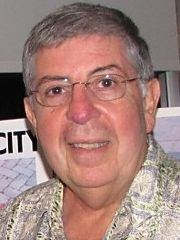 COMMODORE RESIDENT
JOS� �CHEPO� VEGA

Throughout 2008, Commodore resident Jos� �Chepo� Vega peppered Galt Mile Community Association (GMCA) officials with complaints about the �precarious� state of landscaping along Galt Ocean Drive. In early November, he followed it up with an email exclaiming �While I was walking in front of my building, I saw someone walk into a low hanging tree limb. It could have blinded him. Why doesn�t the City pay attention to the landscaping on our block?� Chepo argued that if he knew who to contact about addressing this issue, he would gladly volunteer his time and horticultural acumen. Chepo�s timing was propitious. Fed up with boilerplate City excuses for its benign neglect, angry neighborhood officials sought aggressive enforcement of the City�s block maintenance commitment.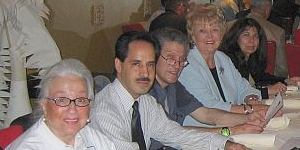 2008 GMCA ADVISORY BOARD MEETING

Chepo was invited to apprise the Galt Mile Advisory Board about his offer. At the December 18, 2008 meeting, GMCA President Pio Ieraci proposed that Chepo be officially vested with overseeing block maintenance on behalf of the Neighborhood Association. A quick vote affirmed Chepo�s status. The neighborhood association seated its first block maintenance liaison with the City.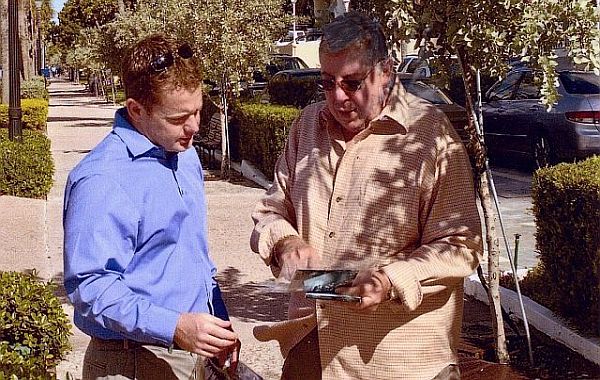 JOS� �CHEPO� VEGA WITH PARK OPERATIONS SUPERINTENDENT BRIAN HOPPER IN 2009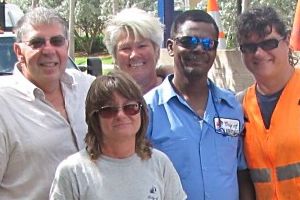 CHEPO WITH GALT MILE PARKS DEPARTMENT CREW

For the next eight years, Chepo worked with District 1 City Commissioner Christine Teel (and later with Bruce Roberts), Parks Department Superintendent Brian Hopper, Beach Foreman Mark Almy, and Parks crews stationed along the Galt. Whenever neighborhood landscaping or hardscape features suffered damage from weather events, spotty maintenance or outright neglect, Chepo turned up the heat on City officials to correct the problem.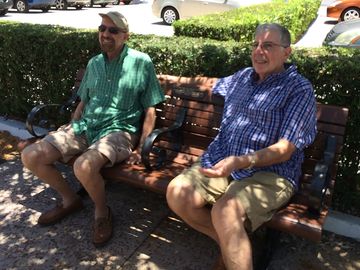 CHEPO AND JACK FRIEDMAN ON "CHEPO" BENCH

During his tenure, Chepo addressed hundreds of sidewalk tripping hazards, trimmed scores of hedges that blocked the vision of motorists entering or departing association properties, helped control epidemic �Utility Graffiti�, cut tree branches that threatened pedestrians � while enforcing a high aesthetic standard. Chepo�s retirement in late 2016 was marked by a ceremony expressing gratitude for years of uncompromising oversight that helped keep our neighborhood safe and beautiful. A City-approved honorarium was affixed to a bench in front of Chepo�s Commodore home.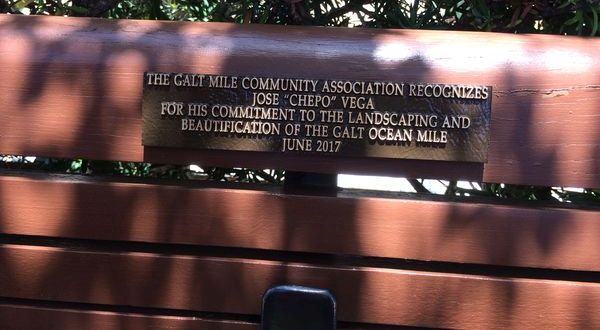 BENCH PLAQUE HONORING JOS� �CHEPO� VEGA
John Jors Picks up the Gauntlet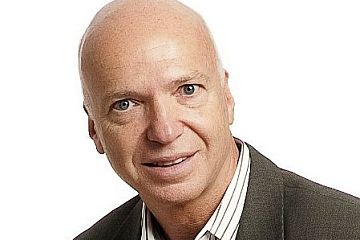 GALLEON RESIDENT ED HASHEK

As neighborhood officials began exploring a replacement, Ed Hashek from the Galleon declared �I know a guy.� At the next meeting, Hashek informed the Advisory Board that after speaking with a trustworthy Galleon neighbor about stepping into Chepo�s shoes, John Jors had agreed to serve as the neighborhood association�s next block maintenance liaison with the City. Once approved by the Board, Jors hit the ground running.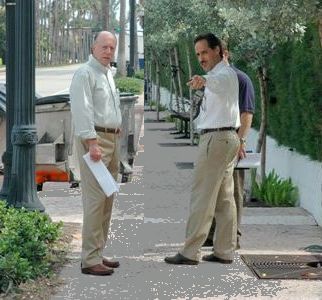 BRUCE ROBERTS AND PIO IERACI ON WALK-THROUGH

On Monday, April 10, 2017, Jors embarked on his first neighborhood walk-through to assess landscaping and lighting along the Galt Mile. Accompanied by Ieraci, Vice Mayor Bruce Roberts, Parks Department Operations Superintendent Mark Almy, and Supervisor William McDonough, Jors summarized his observations in a report to the neighborhood association. In his April 19 assessment, Jors noted insufficient irrigation of the swale, the need to replace missing trees, repair damaged supports, adjust tree grates, repair or replace more than 50 non-functional up lights along the east side of Galt Ocean Drive and enhance the south monument area with additional foliage.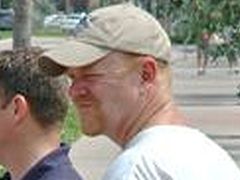 PARKS SUPERINTENDENT MARK ALMY

Not a bad opening act. Jors� block maintenance feedback serves two purposes. While keeping the neighborhood association up to speed about local landscaping and hardscape issues, the entries also function as work orders for the local Parks crew. On May 17, a week after the crew began restaking trees, Parks Operations Superintendent Mark Almy informed Jors about a terminal glitch in the system of up lights discovered by their electrician.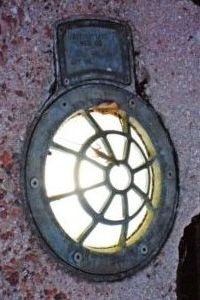 GALT OCEAN DRIVE UPLIGHT

Almy said �The problem is that much of the wire is not in any conduit and severely damaged/weathered. Additionally, the manufacturer for the lights that we would like to replace is no longer in business. It looks like we would need to replace the entire system, however that may be initially cost prohibitive.� Ieraci shot back that the City is financially liable for maintaining the lighting system.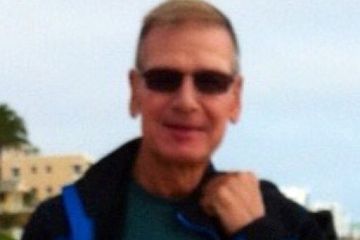 GALT MILE BLOCK MAINTENANCE LIAISON JOHN JORS

Jors added �The street lighting on the Galt is minimal, and I believe the up lights are necessary for the safety and security of our neighborhood.� To cushion City concerns about the budgetary impact, Jors additionally observed �Outdoor lighting technology has greatly improved since the present system was installed, and probably would be much more economical to operate.�

In his June 19 report, Jors expressed surprise upon discovering that all the supposedly unsalvageable up lights and most of the block�s street lamps were illuminated (except for a few street lamps at the north end of Galt Ocean Drive). Evidently, the city electrician flubbed his diagnosis of the lighting problem, which were cured within weeks, rendering moot any contention over who picks up the check.
Hurricane Irma Crops the Canopy
Jors contacted Mark Almy on September 22, as South Florida municipalities struggled to recover from Hurricane Irma. While acknowledging that debris removal was the City�s top priority, Jors raised an issue that has been festering for nearly two decades.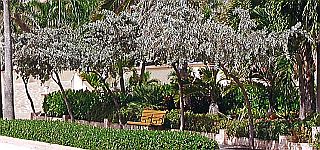 BUTTONWOODS LUNGE OVER GALT SIDEWALKS TOWARD STREET

Noting how Silver Buttonwoods planted on the east side of Galt Ocean Drive were severely bent toward the street, as broken and twisted branches blocked the sidewalk, Jors exclaimed �Even before Irma�s visit, the buttonwoods were the number one complaint I received from Galt residents. Because they had not been properly maintained (staking, pruning) as they grew, many of them leaned over the sidewalk with low branches obstructing pedestrians. I would suggest replacing them with a more wind tolerant tree.�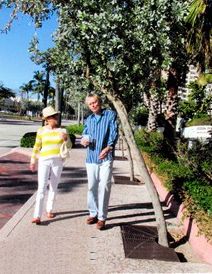 BUTTONWOOD BLOCKING PEDESTRIANS

For Almy, this was old news. Jors was echoing the same complaint that initially prompted Chepo to confront Almy in 2008, a complaint that was never resolved. On September 24, Almy advised Jors that the City was knee-deep in post-storm repairs and cleanup, but promised to discuss replacements for the troublesome Silver Buttonwoods in the near future.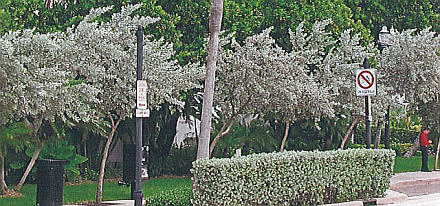 TILTING TREES ON THE EAST SIDE OF GALT OCEAN DRIVE

Jors had stumbled on the Pandora�s Box of Galt Mile landscaping. Each year, scores of residents and visitors complain to the City and the neighborhood association about trees along Galt Ocean Drive that are �severely bent towards the street,� characterizing the eye-level low hanging branches as pedestrian threats. They also questioned why trees along the Galt appear strangely distorted, frail and congenitally puny - as if on life support. Here�s the answer.

Parks Plan Implodes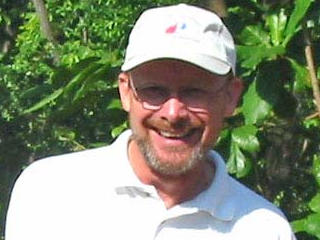 FORMER URBAN FORRESTOR GENE DEMPSEY

The trees planted along Galt Ocean Drive have two strikes against them. When former Urban Forester - the late Gene Dempsey - addressed a 2005 Presidents Council meeting, he explained that a newly hired city horticulturist would supervise the planting of all new �environmentally compatible� flora along the block.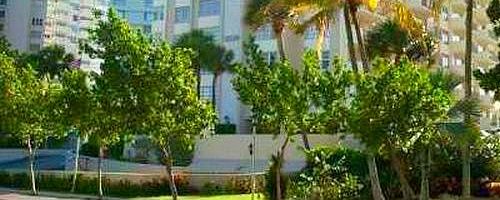 GREEN BUTTONWOOD ROOTBALLS DAMAGE GALT SIDEWALK

The plan first went awry in 2007 as the City prepared to replace sections of canopy shredded by the serial hurricanes of 2004 and 2005. On the Galt Mile, Parks personnel discovered that the Green Buttonwoods they had planted years earlier had grown massive root systems, irreversibly entangling utility lines communication cables and drain lines. Were they simply torn out, residents in the adjacent buildings would taste life in the 15th century.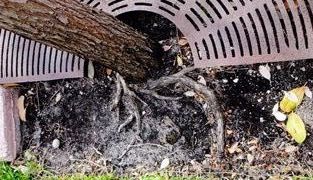 ROOTBALL ELEVATES TREE GRATE

Having failed to pry out the roots, cut them away or selectively poison certain offshoots, former Parks Department Assistant Director Terry Rynard - who later returned to hometown Kansas City - finally conceded that the Department�s plan was in trouble. Given the City�s cash-strapped recessionary budget, Parks officials would try a questionable quick fix - rooting smaller trees in areas already occupied by enormous root balls. Unaware of either the problem or the ill-conceived attempted remedy, when many of the newly planted runt trees began to die off, perplexed Galt Mile officials demanded an explanation.

RUNT SILVER BUTTONWOODS MIXED WITH COCONUT PALMS

During a June 2007 landscaping walk through with Rynard and Parks Foreman Tim Southby, GMCA officials first learned why hurricane-damaged trees were deliberately replaced with undersized trees that rarely survived. �The silver buttonwoods that we planted on the walkway were chosen for their small size for many reasons,� exclaimed Southby. �The openings in the sidewalk are only so big. Many of the old root systems are still in the ground from the old trees and from other trees along the sidewalk. Electrical and irrigation for these trees also run through these openings, causing us to use smaller and not as mature specimens as we would like to have used.� Southby elaborated, �For this reason we have had to stake and strap the trees in ways we normally would avoid. We know that it isn�t the most attractive method but it is working.�

Squeezing Two Feet into One Shoe?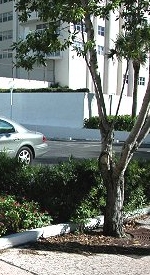 GREEN BUTTONWOOD
ROOTBALL RAISES GRATE

When trees were planted and heavily staked in whatever space was available amid the overcrowded root remnants, as often as not, they died. Asserting how nurturing the newly planted replacements for several months would have improved their chances for survival, Tim Southby detailed a revised Parks Department plan to accomplish this objective, �We are currently topping off most of the buttonwoods to stop adding more stress to the lower trunk and the root system. This will allow the trunk to thicken up and give it the strength that we need to allow the strapping to come off and make the sidewalk area more appealing.�
BRACED AND STRAPPED SMALL SILVER BUTTONWOODS

By initially keeping the trees small, Southby concluded that their growth resources would be directed towards bulking up their trunks, enhancing their prospects for survival. Southby theorized that this strategy, in conjunction with concentrated fertilization, would shorten the period that the trees appeared undersized. Southby was asked how long the small silver buttonwoods would have to remain staked and strapped. �We hope by June of 2008 the strapping will come off most of the trees except for the ones that we have had to replace in the last few weeks,� predicted Southby. Unfortunately, his plan hit a wall.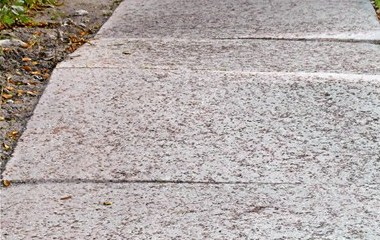 DISLODGED AGGREGATE PANEL RAISED BY ROOTS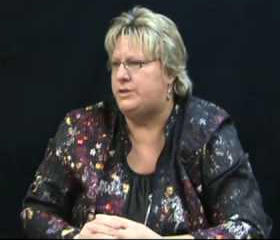 FORMER PARKS DEPARTMENT
ASSISTANT DIRECTOR TERRY RYNARD

Rynard agreed with Southby�s assessment, exclaiming �You won�t have to wait ten years to see substantial growth. We�re making the best out of a bad situation. We plan to intensively fertilize the new trees. Once they are firmly rooted, we should see some rapid growth.� Southby also blamed the old root balls for damage sustained by the aggregate sidewalks originally installed as part of the Galt Mile Improvement Project. He explained �The root systems spread under the entire area. We found them wrapped around the tree cover grates and they dislodged sidewalks.�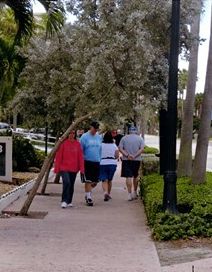 BUTTONWOOD BLOCKING PEDESTRIANS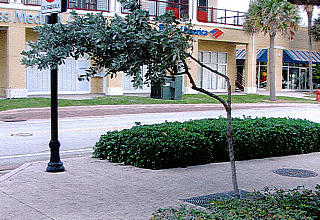 BUTTONWOOD LUNGES OVER SIDEWALK TOWARD STREET

Although directed to meticulously micromanage the immature plantings through their initial growth period, Parks personnel repeatedly failed to do so. When most of the trees once again succumbed to the Department�s inexplicable maintenance lapses, their replacements were also heavily staked. Of those that ultimately survived, when the stakes were removed, growth spurts sent their crowns lunging toward or away from the street. In danger of toppling, they were restaked. By the time these trees were stabilized, many had become egregiously contorted � strangely reminiscent of the twisted specimens that grace Halloween paraphernalia or preconstructed props from Grade C Horror movies.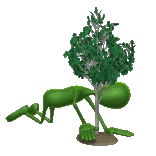 Characterizing the plan as an abject failure, Galt Mile officials suggested a reasonable alternative - planting the replacement trees in nearby locations that weren�t choked with root remnants. While excavating adjacent sidewalk panels and shifting the grates a few feet over would entail a modest one-time expense, it would finally yield a crop of full-sized healthy trees. Since growth would not be impaired by root balls, it would eliminate the need for costly intensive oversight and the expense of repeatedly replacing trees that don�t survive.
Seemingly conflicted over whether the fault is attributable to an inherently flawed plan, or a failure to implement it properly, the City has thus far refused to abandon its recipe for torturously twisted trees along the Galt. As if intrigued by the prospect of cramming two feet into one shoe, Parks officials are still planning to stuff small plantings in sites packed with dead plant roots.
The Devil in the Details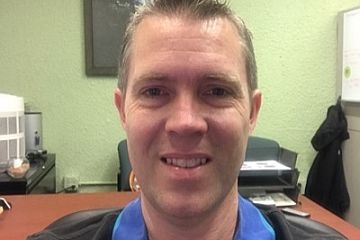 URBAN FORESTER MARK WILLIAMS

On November 15, Jors reported that 50 of the 150 Silver Buttonwoods along the Galt were sufficiently damaged by Hurricane Irma to warrant removal and replacement. Earlier, Jors and Ed Hashek met with Parks Supervisor William McDonough and Urban Forester Mark Williams to discuss which species of tree might best serve as a viable substitute � given the chronic exposure to wind, salt and a cramped planting space.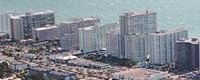 TREE REPLACEMENT SITES

They also agreed that candidate specimens should first be tested - preferably in locations where the Buttonwoods suffered the most damage. Williams proposed an initial 24 tree installation pilot and Jors suggested planting the test trees along the walkways adjacent to Ocean Sky, Ocean Club, Ocean Summit, Playa del Mar and Galt Ocean Club � where the Silver Buttonwoods were heavily damaged.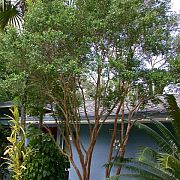 SIMPSON�S STOPPER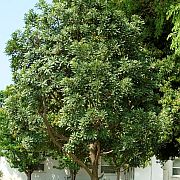 JAPANESE BLUEBERRY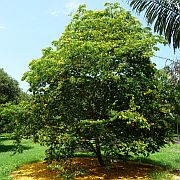 BULNESIA

When Williams recommended replacing the shredded Silver Buttonwoods with Simpson�s Stopper, Bulnesia and Spanish Stopper, Mark Almy voiced concern, explaining �Even though the SBW (Silver Buttonwoods) took a beating, there is not much that can fit in those spots that would have done much better in the wind. The entire Galt walkway used to be Stoppers, but the wind beat them to pieces. We removed them all in favor of the SBW.� Given Almy's input, on December 4, Williams revised the list, swapping out the standard Simpson�s Stopper for a multi-trunk variation, and substituting a salt and wind tolerant Japanese Blueberry for the Spanish Stopper.

To date, Jors has proven to be a knowledgeable, congenial and effective liaison. While earning the trust of neighborhood association officials, his suggestions seem to resonate with his Parks Department counterparts. If they can successfully resolve this dilemma by complementing the neighborhood�s unique hardscape features with fully developed trees and otherwise robust landscaping, they will have scored a major win for both the City and local residents. More to come...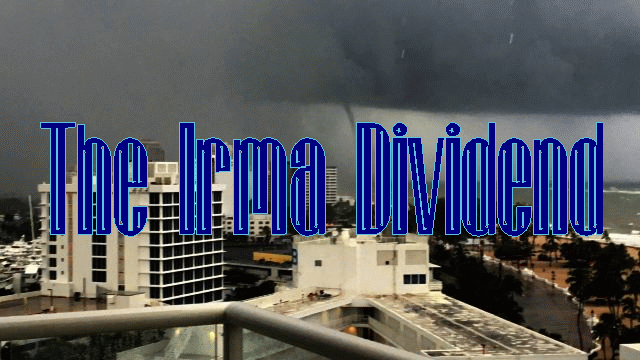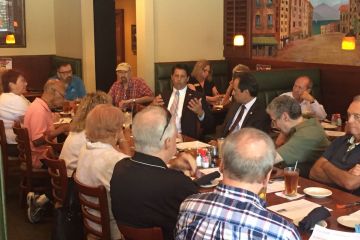 GALT MILE COMMUNITY ASSOCIATION ADVISORY BOARD

October 10, 2017 - On September 26, 2017, the Galt Mile Advisory Board convened an 11 a.m. luncheon meeting at Casa Calabria in the Ocean Manor Hotel. Not surprisingly, the meeting agenda was dominated by Hurricane Irma. Following a series of association damage reports submitted by officials from a dozen member condominiums and cooperatives, GMCA President Pio Ieraci announced that Galt Mile homeowners, tenants and business owners are eligible for financial relief from FEMA, and could apply in person, online or by calling the agency. After detailing his experience with the process, Ieraci concluded, �If a claim is approved, funds can either be mailed to the applicant, or deposited directly into his or her bank account.�

Recovery Resources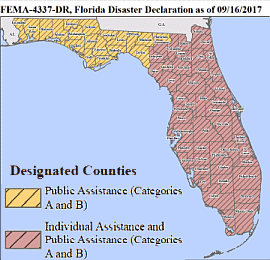 In fact, storm victims in 37 Florida counties have been invited to apply for federal disaster assistance for life-sustaining resources or to offset uninsured or under-insured damages and losses caused by Hurricane Irma. Although FEMA suggests that applicants register their claims by completing an online questionnaire at DisasterAssistance.gov, those who lack online access - or shun the internet as the devil�s playground, can register by calling 1-800-621-3362 between 7 a.m. and 11 p.m.- seven days a week.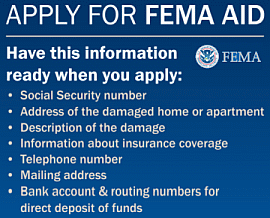 An applicant should be prepared to provide his or her Social Security number; daytime telephone number; current mailing address and the address and ZIP code of the property that sustained damages - or was the site of losses. If relevant, also provide private insurance information. Certain types of coverage, including Homeowners insurance, may reduce the amount of approved assistance. Although optional, FEMA will offer to electronically transfer funds for approved claims directly into an applicant�s bank account. Those who select this option will be asked to provide the name of the institution, the type of account, the routing number and the account number.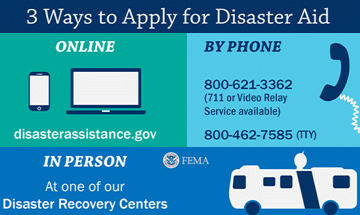 Once the application is filed, FEMA assigns it a unique registration number, which can be used to check its status, get updates by text or email, and to upload documents supportive of the claim (such as before and after pictures to better illustrate damages). While under review, disaster victims may be asked to document proof of occupancy (i.e. homeowner deed, tenant lease), ownership, income loss, etc. Applicants who aren�t U.S. citizens should be prepared to document status as a non-citizen national or qualified alien. By the way, save receipts from the replacement of hurricane-related losses or damage repairs - since such outlays are often reimbursable.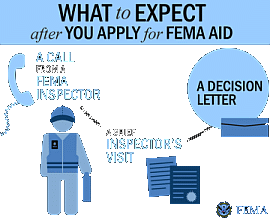 Within 10 days of submitting a claim, a FEMA representative will call to schedule an appointment for a home inspection. If the inspector qualifies your claim, FEMA will either mail a U.S. Treasury check or electronically transfer the funds into your account, along with a letter that outlines how the money should be used. Although the assistance is ordinally limited to 18 months following the disaster declaration, depending on the circumstances, it can be extended. If funds are misused (a �4-1� Exacta at Gulfstream Park), FEMA will demand full reimbursement while assessing your competence to withstand a Second District fraud prosecution.

If the claim is denied, FEMA will mail a letter explaining why and describing how to appeal. Applicants who disagree with FEMA�s reason for denying a claim or the limits imposed on fund expenditures, have the right to appeal within 60 days of the date on the award or denial letter from FEMA.
Bob Stafford Comes to Broward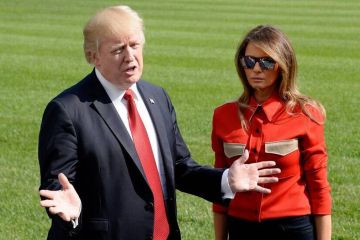 TRUMP DECLARES HURRICANE IRMA A DISASTER

On September 10, 2017, as Irma pounded Broward County, the White House issued a major disaster declaration under the authority of the Robert T. Stafford Disaster Relief and Emergency Assistance Act, 42 U.S.C. 5121 et seq. (the �Stafford Act�), authorizing FEMA to provide Individual Assistance, assistance for debris removal and emergency protective measures (Categories A and B) under the Public Assistance program in the designated areas, Hazard Mitigation throughout the State, and any other forms of assistance under the Stafford Act, subject to completion of Preliminary Damage Assessments (PDAs).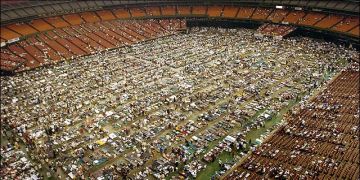 HELL - SUPERDOME AFTER HURRICANE KATRINA

Once the White House triggers the Stafford Act, FEMA tailors a menu of relief resources based on an algorithmic diagnosis of the named disaster, replacing the agency�s former libretto of preconfigured responses � like the one that sent a �Chemical Attack� package filled with cases of the anti-Anthrax drug Cipro to thousands of dehydrated Katrina refugees desperately awaiting water in the Superdome.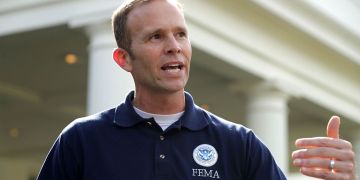 FEMA ADMINISTRATOR WILLIAM 'BROCK' LONG

Upon receipt of the Presidential Declaration, FEMA Administrator Brock Long posted the agency�s initial notice (FEMA-4337-DR), declaring all 67 counties in the State of Florida eligible for debris removal, emergency protective measures and assistance under the Hazard Mitigation Grant Program while specifying Charlotte, Collier, Hillsborough, Lee, Manatee, Miami-Dade, Monroe, Pinellas, and Sarasota Counties for Individual Assistance.

Eligibility for individual assistance qualifies storm victims for resources critical to their survival and recovery. For instance, when the inhabitants of a storm devastated home are forced to seek the safety of a shelter, after the storm passes, qualifying for FEMA Individuals and Households Program (IHP) will entitle them to funding or reimbursement grants for temporary housing, home repairs, transportation, medical and dental expenses, childcare assistance, or funeral and burial costs. Funding is also allocated to uninsured or under-insured storm-related personal property losses.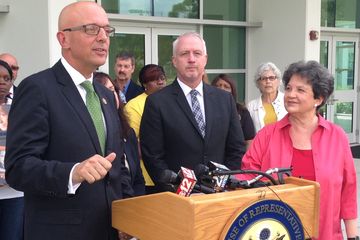 TED DEUTCH AND LOIS FRANKEL LOBBY FEMA

FEMA claims to select counties for individual assistance based on hurricane forecasts. Although South Florida coastal counties were subject to largely identical threats from Irma, FEMA declared residents of Miami-Dade eligible while excluding storm victims in Broward and Palm Beach counties. Shortly after FEMA released the notice on Sunday, a bipartisan contingent of South Florida members of Congress began FEMA Individuals and Households Program to include Broward and Palm Beach in the list of counties eligible for individual assistance.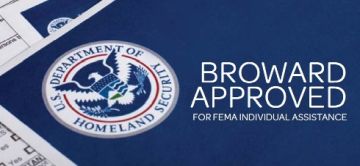 On Monday, September 11, Democrat U.S. Representatives Ted Deutch, Alcee Hastings, Debbie Wasserman Schultz, Frederica Wilson, Lois Frankel and Republican Brian Mast released a joint statement protesting the exclusion, exclaiming �When a hurricane stretches over 400 miles across the state, there is going to be devastation whether the eye crosses the county or not. Residents of Broward, Palm Beach, Martin, and St. Lucie counties, as well as residents of other counties not included on the list, have experienced severe wind and water damage to their homes and property.� Later that day, in the second of nine amended notices filed by FEMA through September 21, 2017, Long additionally named Broward and Palm Beach Counties for Individual Assistance. Bingo!
Like Moths to a Flame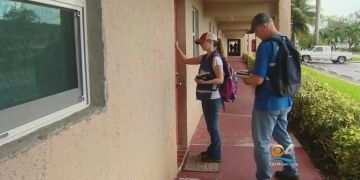 FEMA TEAM VISITS STORM VICTIMS

Of the 54 FEMA teams sent to knock on doors and proactively assist local residents in Florida communities deemed most at-risk, 6 were assigned to Miami-Dade and 2 navigated Broward neighborhoods in Sunrise (where looting was viral during the storm) and Lauderdale Lakes. Not surprisingly, dozens of slime balls are mimicking the outreach teams to line their pockets by squeezing storm victims.

By asking questions similar to those elicited in the FEMA online questionaire, each fraudulent encounter provides them with social security and bank account numbers they can use to open bogus new credit accounts or monetize in a Dark Web fire sale. More ambitious scammers solicit exorbitant deposits to repair property damage, offer to process disaster applications for a fee, or automate phone bank �robo-calls� to hawk bogus insurance coverage.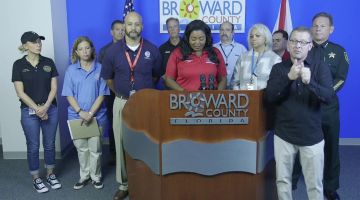 BROWARD MAYOR BARBARA SHARIEF WARNS AGAINST SCAMS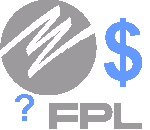 FEMA specifically advised the public to beware of individuals posing as agency staffers. Broward Mayor Barbara Sharief added that the FEMA teams are adorned in clothing emblazoned with FEMA logos and will volunteer their official identification. Sharief also warned that scammers were asking to enter people�s homes while impersonating Florida Power & Light Co. workers, admonishing �FPL workers do not ask to go into people�s houses.�

Temptation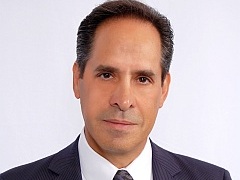 GMCA PRESIDENT PIO IERACI

In contrast with FEMA�s historical predisposition for adopting unnavigable regulatory gauntlets, Pio confirmed that the application process is a cakewalk, although cautioning patience - given the huge number of impacted properties. Ascribing his insight to first-hand familiarity with the process, Ieraci remarked, �After I registered according to the agency�s instructions, FEMA deposited a check into my account. The process is simple - anyone can do this.� While some of our neighbors sailed through unscathed, thousands more were forced to purchase airline tickets and inland hotel rooms - or replace food that spoiled when power was interrupted. These expenses may be reimbursable via FEMA�s Individual Assistance benefits. Galt Mile residents who sustained losses shouldn�t hesitate to apply for relief, especially since it was funded by your prior contributions to Internal Revenue. That said, those who consider embellishing their plight with imagined losses might take note the following: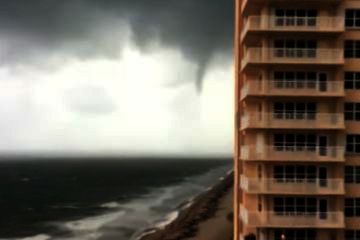 HURRICANE IRMA WATERSPOUT

In describing its anti-fraud machinery on the FEMA website, the agency states, �FEMA uses a number of methods to detect fraud among the applicants. An automated system crosschecks information with other agencies and insurance companies to weed out duplicate applications. Field inspections are conducted to verify losses and damages for every person who applies. Potential cases of fraud or misuse are referred to the U.S. Justice Department for prosecution.� They conclude this thinly veiled threat by listing the kind of actionable cases for which they nurture an affinity:
People who fraudulently claim a property as their primary residence.
Self-inflicted damages.
Spouses claiming different addresses.
People who fail to disclose insurance coverage
If you still find yourself lusting for drama, consider this agency Post Script. �People who are caught trying to claim false losses can be charged with a felony and, if convicted, face a maximum five- to 10-year prison term and up to $250,000 in fines.�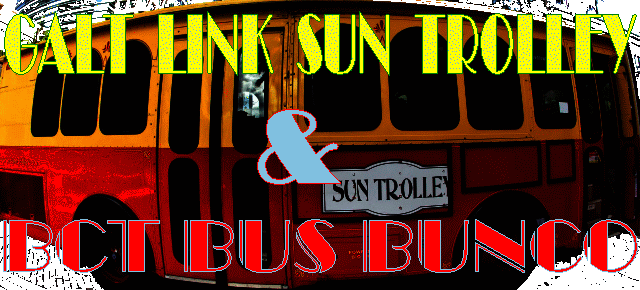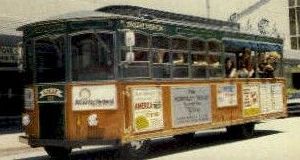 LOLLY THE TROLLEY AT BURDINES

August 22, 2017 - In 1974, to promote his uncle's Buffalo New York supermarket chain, Jody Perez purchased San Francisco cable car look-alikes which he named for his grandmother, Lolly. After driving Lolly the Trolley down to Fort Lauderdale in 1977, Perez nurtured his niche business over the next two decades. By 1994, Lolly�s Trolleys were flourishing in 13 states and 33 cities, including Puerto Rico. In Broward County alone, the bright red and British green fleet of 30 trolleys were hauling 5 1/2 million passengers a year.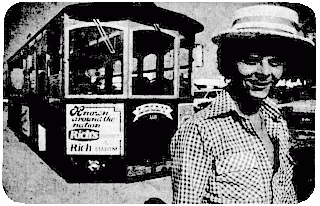 JODY PEREZ WITH LOLLY THE TROLLEY IN 1978

In 1992, to launch a long-awaited community transportation service in Fort Lauderdale, the City Commission voted to pay Perez� company - South Florida Trolley Co. - $28,300 annually for the next three years to unleash Lolly the Trolley along the beach. Amid a growing ridership, Project Manager Linda Flynn of the Downtown Fort Lauderdale Transportation Management Association (DFLTMA),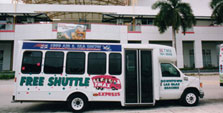 TMAX EXPRESS SHUTTLE BUS

replaced the elegant 32-seat Trolley with a small inexpensive bus in 1995, initiating the 20-seat TMax Express Shuttle. A few years later, some municipal marketing genius affixed TMax with a catchier moniker - birthing The City Cruiser. Ditching the shuttle bus concept in favor of reviving the popular trolley, the first red and yellow Sun Trolley vehicles began navigating City thoroughfares in 2006.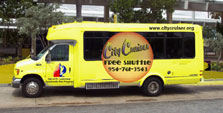 CITY CRUISER COMMUNITY BUS

The DFLTMA, parent agency to the Sun Trolley, selected certain neighborhoods for inexpensive or free local shuttle service. Each of its 9 initial routes were designed to relieve traffic congestion in a targeted community.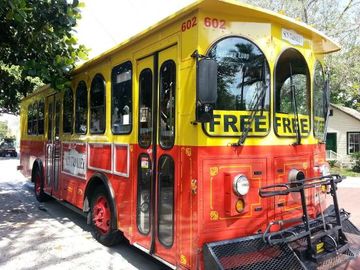 GALT LINK SUN TROLLEY

The Sun Trolley is one of 19 Community Bus Services in Broward that receive capital and/or operating assistance from Broward County Transit (BCT). Based on an interlocal agreement, BCT annually provides the Sun Trolley with a $13,295.20 capital cost allowance per vehicle. The BCT stipend is one of 19 different revenue streams that keep the system afloat, including a chinese menu of Federal, State and private grants, contributions from destination site merchants like Galleria, and rental income when chartered for private events. Revenue can be supplemented by milking the local option gas tax or from the sale of advertising splashed across the buses, the bus shelters, and bus benches. The Sun Trolley also books in-kind contributions from the private sector.

The Budget Axe
CRIST, PRUITT AND RUBIO PLEDGE TO CUT TAXES

In 2007, to help beleaguered taxpayers weather the recession, Florida lawmakers enacted a $31.6 billion tax reform package. Specifically, it forced local governments to roll back FY 2008 property tax assessments to FY 2006 levels. After decades of casually burning through tax revenues with wild abandon, Broward Commissioners were skull-blocked by a statutory obligation to slice $100 million from the County�s $billion 2008 spending plan.

In a marathon of turf protection, County Commissioners fought to cut appropriations for services in neighboring districts while fiercely cloistering their own pork projects.

2007 BROWARD COUNTY COMMISSION

When the dust settled, along with cutbacks to libraries, parks and other low hanging fiscal fruit, underutilized local bus venues were fair game for the budget axe. Broward County Transit concluded that Community Bus routes must minimally carry 7.1 passengers per hour to dodge the guillotine. Due to a glitch in compiling ridership statistics, the Sun Trolley�s Galt Mile route was placed at risk.
Hoping to insulate the city's local bus service from adverse impacts threatened by the budget carnage, DFLTMA appointed Les Hollingsworth as the Sun Trolley�s Executive Director. Hollingsworth pledged to scare up additional funding and stretch available resources sufficiently to preserve the local routes. Unfortunately, Hollingsworth never delivered.
Surviving Hollingsworth

FORMER DIRECTOR
LES HOLLINGSWORTH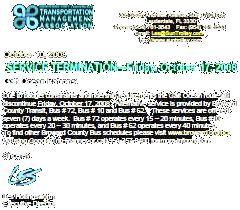 TERMINATION LETTER - CLICK TO ENLARGE

While promising GMCA officials that he would protect the Galt Mile route from recessionary cutbacks, on October 10, 2008, Hollingsworth furtively filed a termination notice announcing its funeral! When the GMCA discovered Hollingsworth�s duplicity, a phalanx of angry residents stormed the October 21, 2008 City Commission meeting and convinced Commissioners to abort the termination. By the time that the DFLTMA Board finally realized that Hollingsworth�s management skills were limited to glad-handing at rubber chicken dinners (and learned that he was sending out resumes), the entire enterprise was facing insolvency.
ABORT TERMINATION - CLICK TO ENLARGE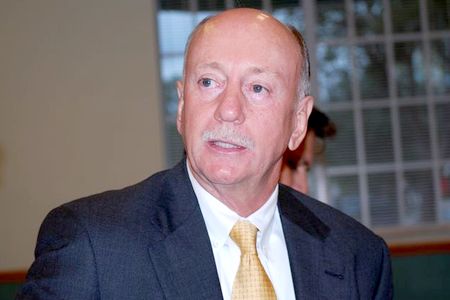 COMMISSIONER BRUCE G. ROBERTS

A City investigation revealed that the problem had less to do with declining ridership than inept leadership - and an obsolete mission protocol. After ousting Hollingsworth, DFLTMA Executive Director Chris Wren stepped in as the Sun Trolley�s Interim Director. A few months later, District 1 Commissioner Bruce Roberts and Wren met with GMCA officials to explore a plan to salvage the beleaguered Community Bus Service by recapturing its credibility and increasing local ridership.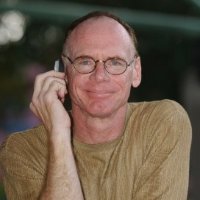 FORMER SUN TROLLEY INTERIM
DIRECTOR CHRIS WREN

Instead of only carrying vacationers from Port Everglades and beachfront hotels to the usual blood-letting tourist clip joints, by adapting the service to also accommodate the shopping needs of local residents, it would not only boost ridership, but jump-start business for vendors stung by the economic downturn.

Wren restructured the Sun Trolley - extending the Galt Mile route south to the Galleria and interlinking it with routes to the Harbor Shoppes and Las Olas Boulevard, enabling Galt Mile residents to access high end shopping without paying for gas or parking.

Back from the Brink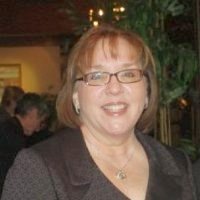 FORMER SUN TROLLEY MANAGING
DIRECTOR PATRICIA ZEILER
Over the next five years, then Managing Director Patricia Zeiler and Wren aggressively expanded the service to exploit the annually increasing influx of tourists while transporting locals to and from municipal events, the airport and new shopping venues. The monthly ridership jumped to 32,000 in December, 2012, and reduced the area�s carbon footprint by the equivalent of 7000 gas guzzlers.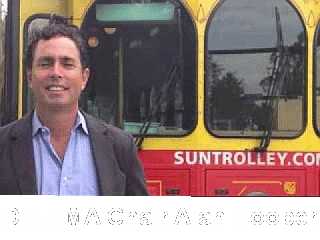 When Zeiler floated her now-stellar resume in the private sector, she was quickly snatched up by the prestigious Fort Lauderdale Historical Society, where she now serves as Executive Director. Following a frenetic search for Zeiler�s replacement, on December 2, 2014 DFLTMA Chairman Alan Hooper announced the appointment of Robyn Chiarelli as Sun Trolley Executive Director.
An acclaimed management virtuoso whose career in public transportation was built on leadership roles with the Florida Regional Transportation AuthoritySouth (SFRTA), Tri-Rail, and a term as Florida Department of Transportation (FDOT) District 4 Project Manager, when Chiarelli supervised a laundry list of State-approved transportation projects in Broward and 4 other Southeast Florida counties.
Enter Robyn Chiarelli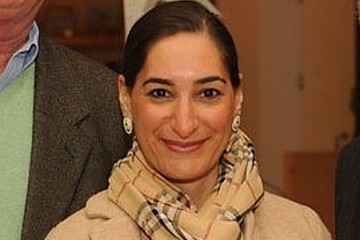 DFLTMA EXECUTIVE DIR. ROBYN CHIARELLI

Since taking the reins, Chiarelli has combined ridership statistics with community input to quash certain underutilized routes and expand others � while pumping up monthly ridership to nearly 40,000 (with another 10,000 on the Water Trolley). On February 2, 2015, Chiarelli joined City Commissioner Bruce Roberts at the Fountainhead Condominium to address the Galt Mile Presidents Council. She affirmed that ridership was strong on the Galt Mile route section along A1A south to Sunrise, as hundreds of Galt Mile residents mount regular excursions to Las Olas Boulevard and the Galleria. When recounting the disturbing ridership data for the Oakland Park Boulevard route segment, Chiarelli assured attendees that although the route was not in immediate danger, its future was uncertain.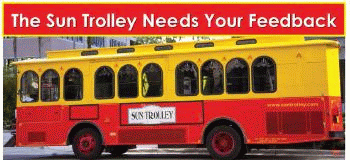 Chiarelli also kept her promise to solicit community input prior to implementing changes to the Galt Mile route. In September 2015, Chiarelli distributed a questionaire to Galt Mile residents, probing community interest in maintaining service to Holy Cross and Imperial Point Medical Centers and adding destination sites in Lauderdale-by-the-Sea (LBTS). Based on the accrued feedback, Chiarelli extended the Galt Route into Lauderdale-by-the-Sea for an annual $25,000 LBTS stipend, while discontinuing sparsely traveled access to Holy Cross and Imperial Point Hospitals, terminating the underutilized Oakland Park Boulevard route segment at the Coral Ridge Mall.
However, residents who travel the extended Galt Link to LBTS can transfer to the Pelican Hopper (the LBTS Community Bus Service), which provides weekday and weekend stops at Holy Cross Hospital. In April, 2016, Chiarelli sent each Galt Mile association hundreds of copies of a confusing 25-quuestion survey for distribution to its unit owners, who were asked to mail back the completed surveys or drop them at the Galt Library by April 18. Since many of the questions were awkwardly personal in nature, the response was negligible.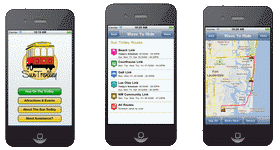 Among the operational changes implemented by Chiarelli was a tracker app that allowed passengers to wave down a Sun Trolley as it approached, thereby obviating the need for route schedules. While the use of smart phone apps has exploded during the past decade, they remain anathematic to many elderly Galt Mile residents. Depriving them of the schedules they relied on for decades effectively turned this sizable demographic into ex-passengers - including many of those who used to benefit from the former access to local medical centers. Mitigating this generational disparity should yield a palpable ridership dividend.
BCT: A Study in Spite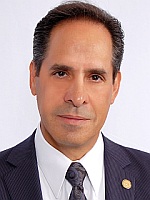 GMCA PRESIDENT PIO IERACI

Throughout its struggle to survive these evolutionary tripping hazards, the Sun Trolley has provided Galt Mile residents with free transportation to key destinations across the City of Fort Lauderdale. In his June 2017 Newsletter, District 1 Commissioner Bruce Roberts marked the Sun Trolley's 25th anniversary by applauding a litany of new services. Not surprisingly, he failed to mention that petulant bureaucrats at Broward County Transit (BCT) celebrated by defunding the Galt Mile Route. Not to worry - the Galt Link will continue to serve our residents. As observed by Galt Mile President Pio Ieraci �BCT is no friend to the Galt Mile.� A BCT Bus layover has been blocking a handicap access ramp near Playa Del Mar ever since construction began along A1A. The busses often park on the sidewalk, and extend into the street, impeding traffic along Galt Ocean Drive.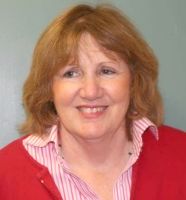 FORMER LBTS TOWN MANAGER
CONNIE HOFFMANN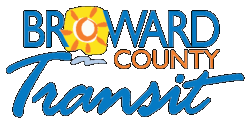 Prior to erecting their Galt Mile bus barricade, BCT officials secured permission from Lauderdale-by-the-Sea (LBTS) to establish a layover on El Mar Drive between Hibiscus and Palm Avenues (in front of the old Holiday Inn). After causing significant damage to town property, and ignoring repeated official requests to avoid parking on the sidewalk, BCT was evicted from the layover site by the LBTS Town Commission on the recommendation of former Town Manager Connie Hoffmann. At the November 24, 2015 LBTS Commission meeting, Hoffmann advised Town Board members �I have given the County Mass Transit folks the 30 days� notice that we promised them - that we are withdrawing our approval of their use of El Mar Drive as a rest layover for their busses. The reasons for this action are excessive noise, documented damage to our property, and their drivers� failure to follow instructions on where to park the busses. The County will cease to use that area by December 21st and has promised to repair the damage they have done to light fixtures, our sidewalks, and water meters.�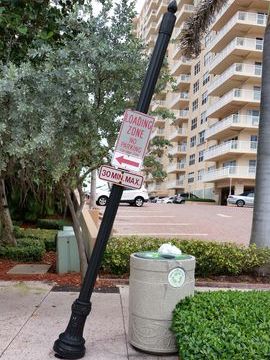 SIGNPOST TILTED BY BCT COLLISION
YIKES! FOUR BUSSES BLOCKING TRAFFIC ON GALT

FDOT protocols require that bus layovers be located on thoroughfares with multiple lanes in the direction of traffic, enabling vehicles to bypass busses that are either double parked, or parked a sufficient distance from the curb to accommodate handicap devices. Although the street is too narrow to safely support a layover, BCT moved the ousted Route 72 layover to a Galt Ocean Drive cutout near Playa Del Mar and Regency Tower, where the same BCT drivers duplicated the casual abuse previously perpetrated at the LBTS layover � as busses damaged the curb and sidewalk, trampled sidewalk beds and crashed into a road sign (as witnessed by association security personnel and a dozen Galt Mile pedestrians). When a Fire-Rescue EMT racing south on Galt Ocean Drive was blocked by a driverless double-parked bus, it was forced to circle back to A1A and re-enter Galt Ocean Drive from 35th Street, delaying response to a medical emergency.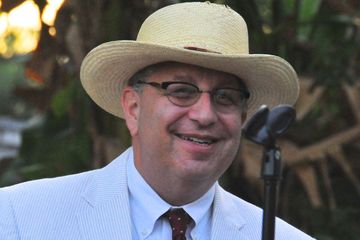 FORT LAUDERDALE CITY MANAGER LEE FELDMAN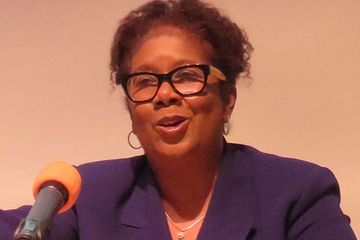 COUNTY ADMINISTRATOR BERTHA HENRY

On January 29, 2016, Fort Lauderdale City Manager Lee Feldman sent County Administrator Bertha Henry pictures of the damages along with a request to relocate the Galt Ocean Drive layover �to a more suitable location outside the City of Fort Lauderdale.� He also complained about the blocked EMT. Henry passed the message to Broward Transportation Director Chris Walton. Precluded from returning the layover to an alienated Lauderdale-by-the-Sea, Walton denied BCT responsibility for the damage, ignored the EMT incident and marginalized the nearly flattened road sign as �wear and tear typical on any city street.� In selecting the site as a layover, BCT determined that endangering residents was an acceptable collateral consequence of providing bus drivers with convenient access to robust luncheon options (i.e. Dunkin Donuts, DaVinci's Pizza, Winn Dixie lunch specials, etc.). For almost two years, complaints from angry residents (and drivers) have been pouring into the city and county, demanding removal of the bus blockade.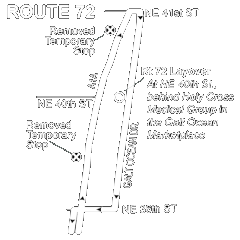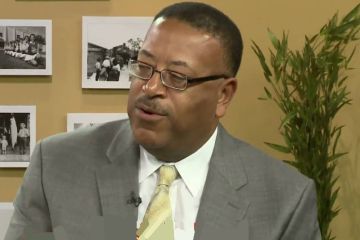 BROWARD TRANSPORTATION DIR. CHRIS WALTON

In response, these beacons of public propriety spitefully pulled the funding plug from the Galt Mile Sun Trolley. Sun Trolley Executive Director Robyn Chiarelli has tendered assurances that the service will not be interrupted or reduced. As for the bus barricade, BCT has vowed to relocate the Route 72 bus layover to its original site at 41st Street and A1A when construction along A1A is complete, presumably in September. Given their track record, and a seemingly pathological predisposition to play fast and loose with the truth, we'll believe it when we see it.

TRAFFIC MUST DRIVE AROUND BCT BUS BLOCKADE
Use it or Lose it!



That said... if you haven�t tried the latest incarnation of the Galt Mile Sun Trolley, give it a whirl. It�s convenient, comfortable, free, and sure beats trying to remember where you parked your car when shopping in Galleria. Additionally, whenever anyone boards the Galt Trolley, they help solidify its survival as a neighborhood asset, a legacy primarily governed by ridership stats. A dozen other Fort Lauderdale neighborhoods would love to inherit our local bus service if deemed "unappreciated". Once each week, grab a ride to the Library, the pizza place, pick up some milk in Winn Dixie or have Sunday brunch on Las Olas. Simply put, we either use it or lose it.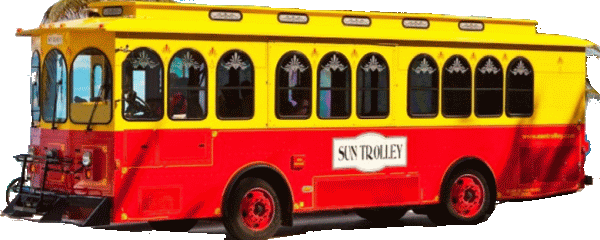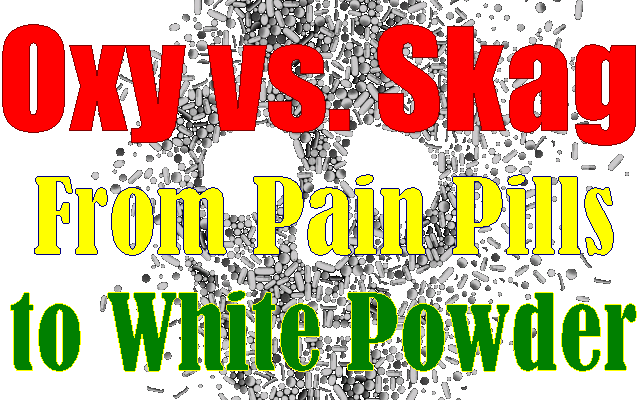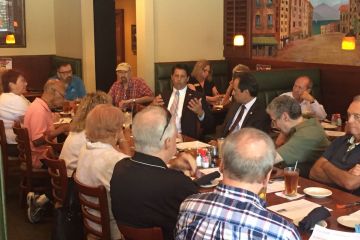 GALT MILE COMMUNITY ASSOCIATION ADVISORY BOARD

June 21, 2017 - At the February 18, 2010 GMCA Advisory Board meeting, City Commissioner Bruce Roberts, lamented an explosion of disreputable local pain clinics, noting that within a few years, their numbers in South Florida jumped from 4 to 176. Drawing on his long experience as the City�s top cop, Roberts knew that the vast majority of drugs dispensed at these clinics wind up on the street. Having unwittingly become the lynchpin of an East coast drug network seemed more intolerable than the thousands of lives it abruptly extinguished. Seven years later, as the Pill Mills fade into an embarrassing historical footnote; South Florida autopsy tables have never been busier. Here�s what happened...

Painkiller Capital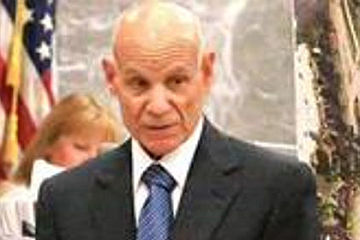 STATE ATTORNEY MICHAEL J. SATZ

In the spring of 2009, State Attorney Michael J. Satz of the Seventeenth Judicial Circuit convened a Grand Jury to study the �Proliferation of Pain Clinics in South Florida�. On November 19, 2009, the �Broward County Florida Grand Jury Report on Pain Clinics� was released. It confirmed facts that were essentially old news to the local drug world and the DEA - that South Florida - specifically Broward County - anchored the State�s reputation as the nation�s �Painkiller Capital�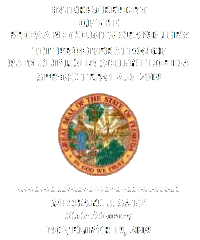 Referring to DEA statistics, the report confirmed that in 2006, more oxycodone was distributed in Florida than in any other state - 40 percent more than in second-ranked California. In 2008, Florida was home to the nation�s top 25 pain clinic dispensers of prescription drugs as well as the top 50 physicians who dispensed the most oxycodone in the United States.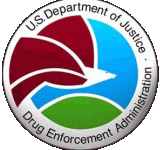 The DEA described how the pain clinics supplied product to �mules� from Eastern Kentucky who would keep a portion of the haul and bring the rest to distribution sites controlled by the �James Marsillet II� drug ring in Kentucky. South Florida pill mills similarly supplied statewide networks in Ohio, South Carolina and Tennessee. Not to be outdone by competing drug rings in other states, local dealers replenished their Miami, Fort Lauderdale and Palm Beach inventories at these one stop shops. Market exchange rates were remarkably seductive; as pills picked up by mules for $5 each brought $30 from dealers who sold them on the street for $80 apiece.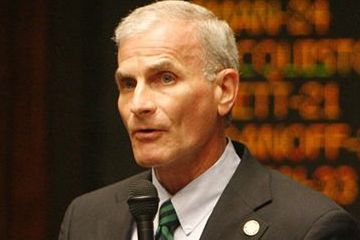 FORMER SENATOR MIKE FASANO

Despite a mountain of Federal evidence that Florida supplied neighboring states with most of their illegal prescription drugs through this network of pill mills, state lawmakers ignored the problem. Fed up with his peers� passive neglect, former Senator Mike Fasano filed Senate Bill 2272 in 2010. His �Pill Mill Bill� prohibited clinics from dispensing more than a 72-hour supply of a controlled substance to patients who pay by check, cash or credit card. Since third party carriers maintain current provider and client utilization databases for ascertaining potential abuse, clinics billing insurance coverage or worker compensation could dispense larger amounts of the regulated medications. His bill required physicians practicing in a pain clinic to complete a pain medicine fellowship or residency, or be recognized as a pain management specialist by the appropriate licensing board. Additionally, Pill Mills had to register with the Department of Health and could not advertize their products and services.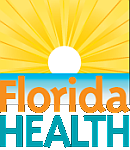 With a Prescription Drug Monitoring Program (PDMP) capable of tracking the illegal distribution of narcotic drugs authorized by the Legislature in 2008 and the new statutes regulating pain clinics, the last piece of the puzzle was left to the Department of Health. Having campaigned on reversing Florida�s reputation for coddling drug dealers, newly elected Governor Rick Scott charged the State�s medical board with drafting rules governing pain clinic operations.

Until the State provided them with the statutory tools to effectively address this fast-growing threat in their own back yard, on March 2, 2010, Commissioner Roberts and Fort Lauderdale Mayor Jack Seiler prompted the City Commission to pass a stopgap measure � Ordinance No. C-10-07 � establishing a 180-day moratorium on licensing pain management clinics. Working with state health authorities, D.E.A., F.B.I., and the Broward Sheriff, Fort Lauderdale police initiated a campaign to cripple the South Florida supply chain of legal drugs that fuel the street market.
Raiding the Rat Nests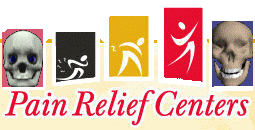 Reassured that statutory help was on the way, our City cops participated in multi-jurisdictional raids to close pain clinics on a weekly basis. On April 5, 2010, the Florida Department of Health shut down the Fort Lauderdale Pain Relief Center at 201 W. Oakland Park Boulevard. Two weeks after suspending the clinic�s main physician, 85 year-old Dr. Michael Lazzopina, for over-prescribing thousands of painkillers, the Health Department closed the clinic for operating without a �designated physician� responsible for ensuring medical standards. The Fort Lauderdale Pain Relief Center is owned by Integra Health Services, a company run by chiropractors Michael Rechter and David Romano, who operated similar clinics in Dania Beach, West Palm Beach and Jacksonville. Not surprisingly, they also ran pain clinics in Minnesota and Kentucky - one of several states flooded by South Florida prescription drugs.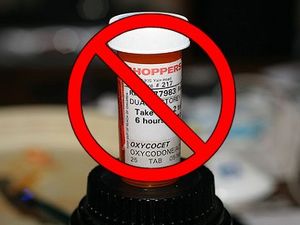 On May 4, 2010, the Health Department closed the Broward Chronic Pain and Recovery Center on Powerline Road after suspending the medical license of Dr. Alfred E. Boyce on April 28th for prescribing 10,800 tablets to six patients over a six month period. The pills were predominantly oxycodone and Xanax, two highly addictive drugs that are Mother�s milk on the Black Market. The 80-year old Dr. Boyce was a local medical �Hall of Famer�. His license was also suspended in 2004 and 2005 when the chiropractor running an Oakland Park cosmetic medicine clinic left four people comatose from overdoses of botulinum toxin shots ordered in Boyce�s name. The Pill Mill was owned by businessman William D. Benton.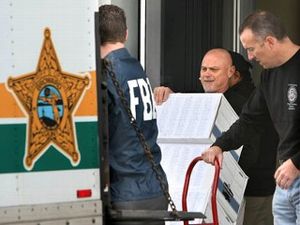 HEALTH DEPT, FBI, DEA, BSO AND FORT LAUDERDALE
POLICE LOAD IMPOUNDED DOCUMENTS DURING RAID

Five days earlier, on April 30th, Fort Lauderdale police and state agents raided the Mercy Wellness and Recovery Center on Northeast 48th Street, another of Benton�s cash cows. Benton also owned the Fort Lauderdale Pain and Rehabilitation Clinic in a strip plaza on Commercial Boulevard around the corner from his Broward Chronic Pain operation. Doctors working in these clinics were paid between $800,000 and a $1,200,000 a year, based primarily on the number of people they�d plied with pills. The daily take for each clinic was about $50,000.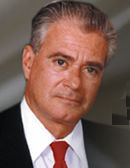 DR. BERNARD CANTOR

On May 24, 2010, Fort Lauderdale police and Florida Department of Health officials raided the Broward Urgent Care clinic at 1409 SE First Ave. The clinic�s medical director was Dr. Bernard Cantor, an obstetrician and faculty member at Florida International University medical school.. The clinic�s president was Alan Daley.

At the same time, Federal agents arrested Boca Raton internist Dr. Michael Roy Shook, owner and supervising doctor of the Lauderhill Medical Clinic at 2762 W. Oakland Park Boulevard. Although state health authorities filed a disciplinary case against the 52-year-old Shook on February 10, 2010 and barred him from prescribing narcotic drugs, he and the clinic�s listed president, ultrasound technician Gary Adams, continued hawking up to 700 pills a month to drug mules from Eastern Kentucky. Following a two-year investigation by a federal task force in Kentucky and South Florida, members of the �James Marsillet II� drug ring in Kentucky identified Shook as their primary supplier.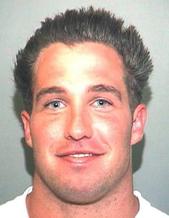 JEFF GEORGE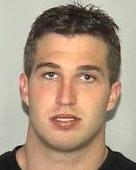 CHRIS GEORGE

After an intensive 14-month investigation, the U.S. Drug Enforcement Administration and local police agencies served search warrants on three dispensing pain clinics in Lake Worth and West Palm Beach, two of which were less than a mile apart. The 29-year-old twin brothers who owned the pill mills � Jeff and Chris George - had no medical training, and their criminal records didn�t preclude them from acquiring a license to operate medical clinics, hire physicians and accrue a $40 million nest egg by selling truckloads of painkillers. According to prosecutors, each of 5 staff physicians ordered about half a million oxycodone tablets in one year. While serving 15 years on Federal drug charges, on December 2, 2015, Jeff George was sentenced to another 20 years for drug trafficking and second degree murder for a clinic customer that overdosed.

Urinalysis & the PDMP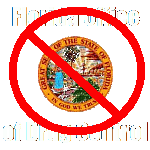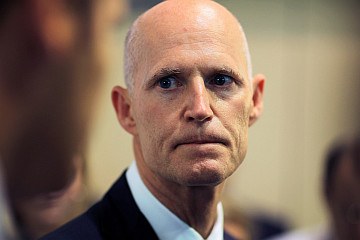 GOVERNOR RICK SCOTT - YES - NO - MAYBE

Following his swearing in ceremony, Governor Rick Scott�s first Executive Order (11-01) froze all new regulations. He then eliminated the state Office of Drug Control, which had been coordinating the war on pill mills. When Governor Scott ordered the Florida Department of Health (DOH) to submit new rules for monitoring prescription drugs and pain clinics, as mandated in Senator Fasano�s �Pill Mill Bill�, local efforts to close pain clinics were placed on hold. City officials in Fort Lauderdale, Miami and Palm Beach anticipated that the new State rules would provide a more effective legal platform for closing the clinics.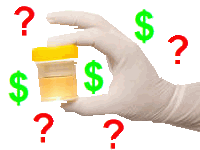 On January 7, 2011, when the Florida Board of Medicine (the licensing arm of the DOH) delivered to Scott the regulations he requested, agency officials and Medical Board physicians stressed their urgency and requested implementation within 7 days. Instead, the Governor authorized an economic study to determine how much these rules would cost the private sector. Most of the estimated $69 million was for urinalysis, enabling clinics to determine patient intoxication. Although the $15 cost is paid by the patient, Scott�s new �Office of Fiscal Accountability and Regulatory Reform� is still debating the potential financial impact of urinalysis.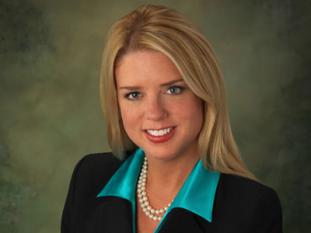 ATTORNEY GENERAL PAM BONDI

As weeks passed, newly elected Attorney General Pam Bondi, whose campaign was anchored by repeated promises to close pill mills, said she would talk to the Governor about approving the rules he requested from DOH. A week later, she called a press conference to describe a nightmare she had in which someone died from a new party drug known as MDPV. Sold in head shops as �bath salts�, Bondi sought to ban the drug for its linkage to several deaths and suicides. She forgot to mention the pain clinics that dispense Vicodin and Xanax like chicklets and kill thousands of Floridians every year.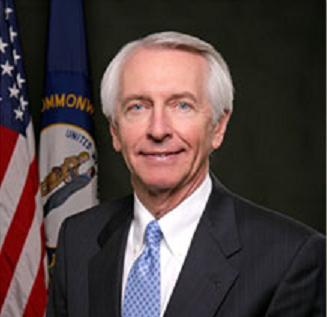 FORMER KENTUCKY GOVERNOR
STEVE BESHEAR

More weeks passed. Although approved by the DEA, every police group and medical association, Governor Scott blocked implementation of a privately funded prescription drug database (PDMP) that the 2008 Legislature created to track over-dispensing physicians and drug dealers and addicts that go �doctor-shopping.� At that time, thirty-eight states used similar databases to track oxycodone and other painkillers that had become the most widely abused (and lethal) drugs in the country (currently, 49 states have PDMPs, Missouri the sole exception). Scott commented �I don�t support the database. I believe it�s an invasion of privacy.� When top law enforcement officials, legislators and Kentucky Governor Steve Beshear (since drugs from Florida annually kill thousands of his constituents), pleaded with Scott to reconsider, he blew them off.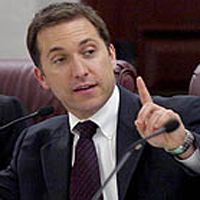 FORMER PILL MILL BOSS DAVE ARONBERG

Unable to convince the Governor to stop protecting the pill mills and approve the State Medical Board�s pain clinic rules, Attorney General Bondi appointed former State Senator Dave Aronberg to spearhead her statewide campaign against the pill mills. When asked about his progress, Aronberg announced that he was still waiting for Scott�s regulation squad to determine whether urine tests create an unfair financial burden on �narco-tourists� (AKA drug mules).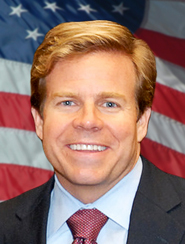 FORMER SENATE PRESIDENT
MIKE HARIDOPOLOS

Initially perplexed by the Governor�s refusal to inconvenience drug dealers, many Tallahassee lawmakers didn�t agree with his inexplicable decision to treat criminal enterprises as if they were legitimate businesses worthy of State protection. New Port Richey Republican Senator Mike Fasano, who�s �Pill Mill Bill� finally provided the statutory wherewithal to stifle the growth of Florida�s street drug trade, vowed to actualize the prescription drug database. Since every law enforcement agency in the State declared it an indispensible tool in the war on drugs, former Senate President Mike Haridopolis said public funding would be used if necessary.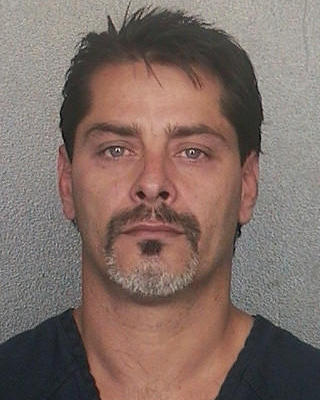 VINCENT COLANGELO

While able to stall State and local efforts against the pill mills, Scott had no control over Federal authorities, who had begun raiding pain clinics from Miami to West Palm Beach in February 2010. Operating seven clinics in Broward and Miami-Dade, convicted heroin dealer Vincent Colangelo allegedly distributed more than 660,000 oxycodone pills over a two-year period, netting $150,000 a day. The raids revealed clinic techniques used to assist pill brokers trying to avoid detection. An undercover agent witnessed a clinic nurse coach a roomful of mules to avoid filling prescriptions at pharmacies that use a computerized database such as Walgreens. She sternly warned, �Do not go to Walgreens. I can�t say this enough. They are not your friend; they are the enemy.�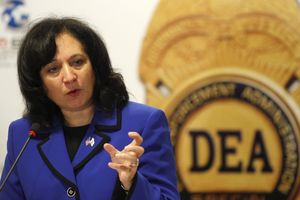 DEA ADMINISTRATOR MICHELE LEONHART

Calling the crackdown �Operation Snake Oil,� administrator Michele Leonhart of the U.S. Drug Enforcement Administration (DEA) said �Prescription drug abuse is our country's fastest growing drug problem, and pill mills such as those in Florida are fueling much of that growth.� U.S. Attorney Wifredo Ferrer added �According to recent estimates, Florida prescribes ten times more oxycodone pills than all other states combined.�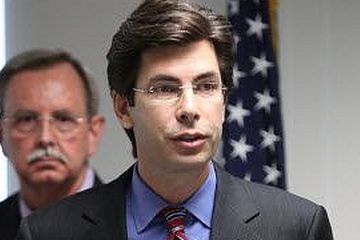 FORMER PALM BEACH COUNTY
STATE ATTORNEY MICHAEL MCAULIFFE

Forced to the sidelines by Governor Scott, State and local law enforcement was fuming. Intimating that Scott�s pro-pill mill maneuvers weren�t unintentional missteps, former Palm Beach County State Attorney Michael McAuliffe commented �I hope and expect that the new governor�s office, when they say they want the most favorable climate in the world for business, that they�re talking about legitimate businesses. These aren�t legitimate businesses, and that�s the heart of the matter. They haven�t been regulated, and they�ve mushroomed in our communities.�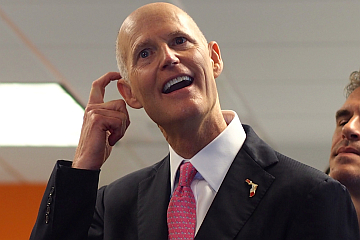 SCOTT - ITS' NOT WORKING - I THINK

Early on, the public rationalized the new Governor�s dissolution of the state Office of Drug Control as a political preview of his intended deregulation policy. After proposing to abolish the narcotics database in documents he submitted to the Legislature along with his budget proposal, Scott told a roomful of journalists on February 7, �The program has not been working.� Stunned reporters looked at one another as Scott�s staffers cringed. Evidently, Scott was the only one in the room � possibly the state � who didn�t know that the database had never been implemented.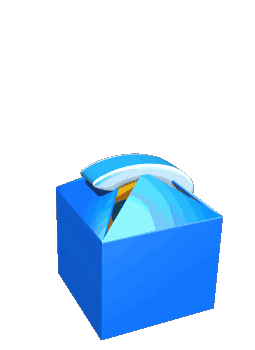 Hoping to defuse mounting concern about Scott�s inexplicable behavior, some of his supporters cited an intractable commitment to minimizing the role of government. Law enforcement officials and lawmakers opined that the Governor�s vision of a pro-business agenda doesn�t distinguish between legitimate and criminal enterprises. Others intimated that he pops pills and shares a bond with the overmedicated.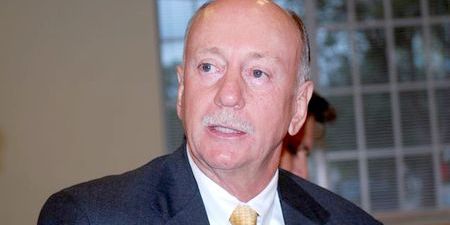 CITY COMMISSIONER BRUCE ROBERTS

Like local jurisdictions across the State, the Fort Lauderdale City Commission�s reaction blended anger and confusion. The eerie events in Tallahassee placed their plans to close down more pain clinics on ice. When asked for his take on the Governor�s enigmatic behavior, Commissioner Bruce Roberts stated �It doesn�t make any sense, maybe he�s a Libertarian.�

The DEA Hammers Healthcare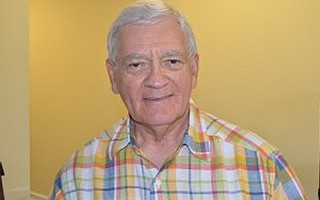 FORMER FLORIDA SURGEON GENERAL FRANK FARMER, MD

Despite Scott�s opposition, in early April, 2011, former Florida Surgeon General Frank Farmer, MD, ordered officials to proceed with implementation of the state�s prescription drug monitoring program (PDMP). Paul Sloan, president of the Florida of Pain Management Providers, echoed concerns by medical and law enforcement officials Society about two crippling program loopholes. First, pharmacists had a 15-day window to enter the prescription data, sufficient time for doctor-shopping drug mules to hit scores of other outlets without detection. Secondly, physicians weren�t required to check the database prior to issuing a narcotic prescription, thereby relegating the program�s primary benefit. Finally, proponents agreed that it would take years to realize palpable results.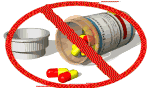 As local jurisdictions closed their illegal pain clinics while Tallahassee played �Where�s Waldo?� with drug policy, DEA officials snatched up an opportunity to massage their long-tarnished image. After spending decades neck-deep in media sludge for a failed war on drugs, the agency jumped in with both feet.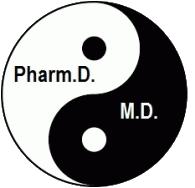 In 2010, the DEA issued a decision that greatly expanded the guidelines for corresponding responsibility � a decades-old federal mandate that requires drug dispensers to ensure that prescriptions for controlled substances are issued for a �legitimate medical purpose.� Typically, pharmacists complied by contacting the prescribing physician to verify the prescription�s legitimacy. Since the new DEA guidelines intimated that pharmacists should do more, albeit without explaining how, confused pharmacists either profiled the customer or solicited diagnostic feedback from the physician.
Having set the stage for a proxy war between physicians and pharmacists, the agency engineered crackdowns with hefty fines for some of the nation�s largest pharmacy chains and distributors, pulling the plug on providers red-flagged for violating the new reporting requirements.

In 2013, the Drug Enforcement Administration hit Walgreens with the largest fine in agency history because certain outlets didn�t report an increase in narcotic prescriptions. When the DEA suspended the controlled substance licenses for Walgreens' Jupiter distribution center and six of its 831 Florida pharmacies, the corporate goliath agreed to an $80 million settlement to prevent similar actions in Colorado, Michigan and New York from eroding the stock price.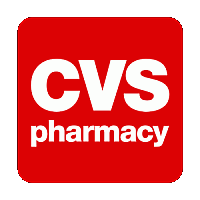 When two CVS stores in Sanford failed to report what the DEA considered �a suspicious increase in controlled prescriptions,� the agency barred the pharmacies from dispensing the drugs until CVS coughed up $22 million. Also, drug wholesaler Cardinal Health temporarily lost its license to distribute controlled substances from its Lakeland facility. The wholesaler paid $34 million to settle DEA claims that it failed to report having filled some large orders of hydrocodone for Florida pharmacies and another $10 million for sloppy record keeping in New York - for a total of $44 million.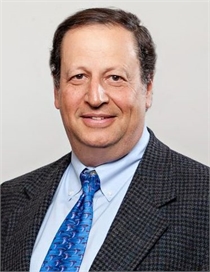 DR. STEVEN ROSENBERG

On July 1, 2014, the CDC released a report describing a mixed blessing. While announcing a 23 percent reduction in prescription drug deaths in Florida from 2010 to 2012 (the first such decrease in the country), it added that 68 people died from heroin overdoses in the first six months of 2013, more than double the same period in 2012. In crediting the closure of more than 250 Pill Mills for the reduction in prescription drug deaths, the report intimated that prescription pill-poppers cut off by the crackdown switched to the more readily available street drug.

Dr. Steven Rosenberg, a West Palm Beach physician who sat on the joint committee that wrote the rules governing pill mills and �doctor shoppers� that were incorporated into State Law, said that 2010 reports of seven daily prescription drug deaths were actually understated, explaining �There were reports of 11 per day just prior to the legislation being enacted.� Four years earlier, the CDC announced that Florida was home to 98 of the nation�s top 100 dispensers of oxycodone. In contrast, the 2014 report confirmed that none of the top 100 oxycodone prescribers were in Florida. Rejoicing by the CDC, DEA, State officials and local Florida jurisdictions over the drop in prescription drug deaths obscured the concomitant increase in fatal opioid overdoses.

Fearful Pharmacists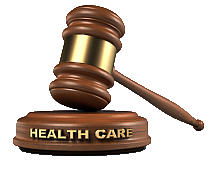 While State and local officials were successfully shuttering Pill Mills and jailing �narco-tourists� who funnel product to the thriving street drug trade, Federal authorities had a different agenda. Faulting lax oversight by physicians and pharmacists for the prescription drug crisis, the agency used the highly publicized crackdown to threaten healthcare providers who don�t proactively help police their own industry. While culling some shady doctors and drug mules, agency officials also targeted providers who failed to meet the tougher dispensing quotas and reporting standards. Although the DEA claimed that exceeding the quota would simply trigger a red flag, pharmacists soon learned that this was agency spin for a license suspension.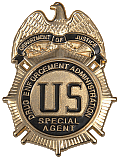 Along with the high profile corporate take-downs, the DEA permanently revoked the licenses of 13 Florida pharmacies, and brought dozens of others to the brink of dissolution by suspending their licenses � sometimes for months � before restoring them after conceding that the pharmacies hadn�t done anything wrong.
Faced with an agency policy that indiscriminately threatened their livelihood, pharmacists across the state sharply curtailed access to prescription pain medication, turning away legitimate pain patients in droves. Fearful that exceeding the arbitrary agency quota would place their licenses at risk, pharmacists began reserving their minimal supply of controlled pain medication for regular customers. Even then, many would typically request an MRI report, or contact the doctor to inquire about alternative treatment modalities.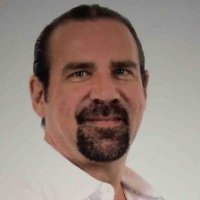 PHARMACIST RANDY MARGRAVE

Also of concern was a state law that included a trigger for distributors to red flag retailers who order more than 5,000 dosage units per month of controlled substances, the kind of one-size-fits-all legislation that generally wreaks havoc on the target industry. Two issues dogged the legislation. After the DEA slammed distributor Cardinal Health with a $34 million fine, wholesalers began treating the dosage limit as a cap, not a trigger. Secondly, applying the same limit to a large pharmacy with 4 or 5 pharmacists and a Mom and Pop operation with a part-time pharmacist was impractical as a trigger and inequitable as a cap.

Randy Margrave, a pharmacist at the Holly Hill Pharmacy in Daytona Beach, said wholesalers are also under pressure from the DEA. �They monitor and report dispensing patterns and limit the number of doses provided to pharmacies.� When Margrave placed a slightly larger order in advance of a price hike, the pharmacy was flagged by the wholesaler. Due to wholesaler overreactions and DEA mandates, Margrave doesn�t accept new chronic pain patients, and ignores 15 to 20 calls a day from people inquiring about the availability of painkillers. Margrave commented �They�ve got the wholesalers shaking in their boots.�
Collateral Damage: The Access Crisis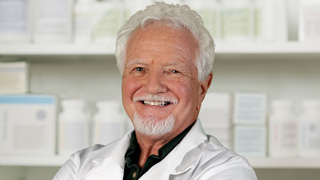 PHARMACIST ROGER ACCARDI

Orange City pharmacist Roger Accardi observed �There has been collateral damage and those are patients who have legitimate pain. In this climate, there are going to be patients who are turned away. Some are going to be legitimate, and that is terribly unfortunate.� Florida pharmacists and drug wholesalers intimidated by an overzealous DEA and the failure of its current drug policy to distinguish between legitimate pain management patients and drug mules has precipitated an access crisis. Thousands of cancer patients, patients with spinal cord injuries and surgical patients newly discharged from hospitals were sent on �pharmacy crawls�, forced to visit a dozen or more pharmacies � often in different neighborhoods � in order to fill a prescription. Professionals who need the medication to continue working, and seniors who use the drugs to stay mobile became �opioid refugees�.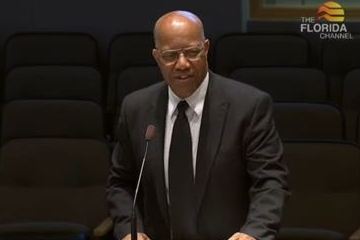 CEO MICHAEL A. JACKSON OF THE
FLORIDA PHARMACY ASSOCIATION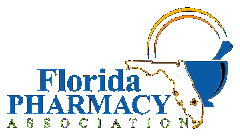 �Opioid refugee� is the term used by doctors, pharmacists and patient advocates to describe a pain patient who was abandoned by pharmacists or physicians fearful of federal sanctions. Michael A. Jackson, executive vice president and CEO of the Florida Pharmacy Association, explained �Pharmacies and physicians are scared to provide pain medication to people who legitimately need it, including terminally ill cancer patients.� Linking DEA policy to the growing shortage of medication, Jackson said that when Physicians and Pharmacists fear DEA accusations of �overprescribing� or �overdispensing�, �You have a chilling effect because they don't want their licenses taken away from them.� He concludes. �We now have a situation where access is a problem. The pendulum has swung too far to the right. We have to find a way to bring the pendulum back to the middle.�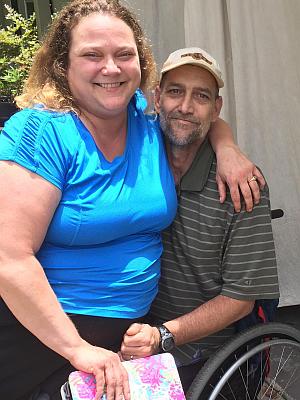 LESLEY AND CHRIS YOUNG
4-YEAR-OLD AIDEN LOPEZ AFTER SURGERY

Awash in complaints about the access crisis, the Florida Board of Pharmacy's Controlled Substances Standards Committee held a series of meetings to explore solutions. The committee verified testimony from some of the thousands of complainants. For example, Lesley Young traveled to more than a dozen Jacksonville-area pharmacies before finding one that would fill prescriptions for her husband, a former mechanic who was crushed by a car the fell off a lift and left him paralyzed.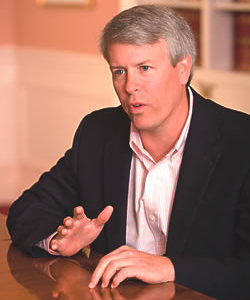 FLORIDA MEDICAL ASSOCIATION
GENERAL COUNSEL JEFF SCOTT

Diagnosed with Stage IV breast cancer, Suzy Carpenter spent three days pleading with pharmacists at 13 drug stores before she received her pain medication. Three pharmacies rejected 4-year-old Aiden Lopez�s prescriptions for narcotics after the child underwent surgery for kidney cancer. Physicians who testified at the Board of Pharmacy meeting identified patients who committed suicide because no one would fill their prescriptions.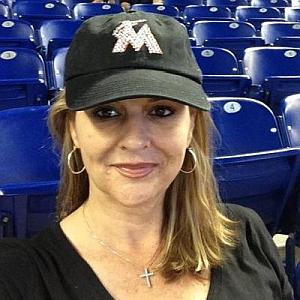 SUSAN LANGSTON, DEA MIAMI OFFICE

Florida Medical Association General Counsel Jeff Scott did the "pharmacy crawl" in Tallahassee in an attempt to locate pain medication for his elderly father who was diagnosed with cancer. Scott said �Pharmacists need to fill the damn prescription. If a doctor orders it, they need to fill it. Period! - unless they have reason to believe it's fraudulent.�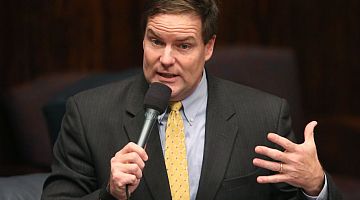 STATE SENATOR AARON BEAN

Having attended some of the pharmacy board meetings, Susan Langston, the Drug Enforcement Administration�s divergent program manager for the Miami Field Division, said that the DEA�s Miami staff �is horrified to hear the heartbreaking stories of cancer patients, hospice patients, surgery patients and legitimate pain patients being forced to endure needless suffering,� adding that 4-year-old Aiden Lopez�s story was �deeply troubling.� Langston later explained that the passionate reaction by her DEA staffers was rooted in first-hand experience, as several were forced into pharmacy crawls while trying to fill controlled prescriptions for family members suffering from critical illnesses. After delivering lengthy prepared remarks, Langston said. �This has to stop, and it has to stop now.�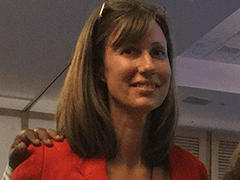 FBOP EXECUTIVE DIRECTOR ALLISON DUDLEY

Allison Dudley, executive director of the Florida Board of Pharmacy, said �Pharmacists are worried if they order too many narcotics, they�re opening the door to a raid by the DEA or a state criminal investigation.� When the issue surfaced in Tallahassee, Senator Aaron Bean (R � Jacksonville), who chaired the Senate Health Policy Committee, said �The 5,000 dose trigger for wholesalers in Florida Law is blocking pharmacists from ordering what they need to serve all of their patients", and agreed to file legislation to revise the controversial red flag quota. In 2016, Bean�s Committee enacted Senate Bill 1604, which now provides that if an order exceeds 7500 doses, the wholesaler only needs to determine if the purchase is reasonable, eliminating the incentive to reject legitimate orders.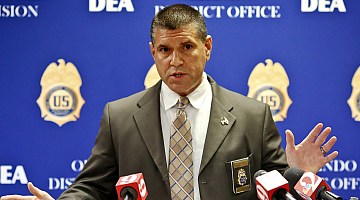 JEFFREY WALSH, ASST SPECIAL AGENT IN CHARGE OF DEA ORLANDO OFFICE

Although Langston has since clarified that the DEA�s expectations of pharmacists doesn�t include withholding pain medication from patients with legitimate prescriptions, the agency has repeatedly refuted claims that its actions caused the shortage of prescription pain medication. �All we are asking is for the pharmacies to use their training, education and experience and look at the totality of circumstances to determine if the prescription is legitimate,� said Jeffrey Walsh, assistant special agent in charge of DEA's Central Florida office in Orlando. �Nobody has been the subject of an enforcement action that hasn�t been a longterm, egregious and habitual offender.�

The Government Accountability Office (GAO) disagrees, having issued a report holding the DEA responsible for inflaming the shortage. Specifically, the GAO states that the DEA contributed to the shortage by �mismanaging its quota system for the production of controlled substances.�

Pyrrhic Victory: Oxy to Heroin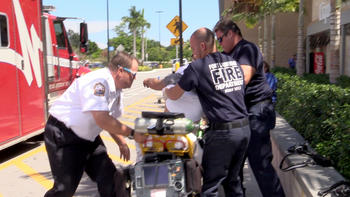 POMPANO BEACH FIRST RESPONDERS - HERION OVERDOSE

While the Pill Mill crackdown has reduced the number of prescription drug overdose deaths to 2007 levels, and transferred Florida�s dubious distinction as the nation�s �Painkiller Capital� to neighboring Georgia, the total number of opioid overdose deaths has skyrocketed. When oxycodone, Xanax and hydrocodone grew scarce, they were replaced by heroin. Unlike prescription drugs, heroin is typically laced with a lethal menu of other unknown chemicals, either to stretch the supply or enhance the effect. More than 1400 people in Broward, Palm Beach and Miami-Dade counties fatally overdosed last year, almost a third of the 4400 overdose deaths in the State. In 2016, 592 people died in Palm Beach County, 582 in Broward and more than 250 in Miami-Dade. Medical Examiners attribute roughly 90% of the fatalities to heroin. While communities in Hollywood, Overtown and Pompano are hot spots, the most egregious abuse appears to surround Delray Beach. To slow the scourge in their county, Palm Beach Commissioners are considering a $3 million emergency war chest.
The variants responsible for roughly half of the recent deaths are cut with synthetic forms of heroin such as fentanyl (50% stronger than heroin) or carfentanil, an elephant tranquilizer that�s a hundred times stronger than fentanyl. Synthetic narcotics are slapped together in Chinese laboratories and mailed to a worldwide clientele in nondescript packages. Drug dealers stretch inventories by mixing the heroin variants with a variety of other substances, ranging from the relatively harmless lactose (milk sugar) to deadly rat poison or weed killer. Although fentanyl and carfentanil were banned in China as of March 1st, Chinese chemists will simply begin churning out and exporting a new legal chemical analog of the drug until it too, is analyzed and classified by the DEA and banned by Chinese authorities.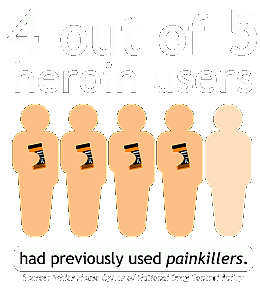 The customer base is huge � and growing. Although the Pill Mills� clientele spanned the East Coast, the drug mules also supplied an army of local addicts. When shuttering the clinics thinned the supply of prescription opioids, users turned to cheap and plentiful heroin. Drug dealers are also breaching thousands of supposedly drug-free �Sober Houses� that pepper South Florida. After undergoing detoxification, addicts in recovery often live in an emotionally supportive group home, a �Halfway House� that provides therapy sessions, crisis management, and a healthy supply of naloxone (brand name Narcan), a competitive antagonist of opioid receptors that neutralizes opioid overdoses. The Narcan often determines whether house-members who fall off the wagon spend the following day on the beach or the Medical Examiner�s autopsy slab.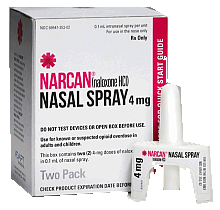 A drop in the number of South Florida fatal overdoses in 2017 is attributed to the increased availability of naloxone and other overdose reversal drugs. The Department of Children and Families, the state�s lead agency on substance abuse, provided nearly 2,500 Narcan nasal spray kits to treatment providers between August and December. Naloxone was also made readily available to Medicaid patients when added to the State�s Medicaid preferred drug list in 2017. Until recently, a single dose of these opioid antagonists was sufficient to rescue victims on the brink of death. If the heroin is mixed with fentanyl or other synthetic narcotics, first responders often need to administer a dozen or more doses to revive a victim, quickly burning through their supply.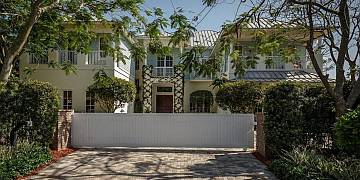 $3 MILLION SOBER HOME IN DELRAY BEACH

Over the past four decades, Recovery has grown from a niche business into a $billion industry in South Florida (predominantly Palm Beach), as local treatment centers offering an opportunity to clean up on a subtropical beach drew addicts from across the planet. Many decide to remain here after their rehab. While attracting hundreds of physicians, clinical therapists, psychologists and nurse practitioners who specialize in Recovery Medicine, the unique environment also drew a tidal wave of drug pushers.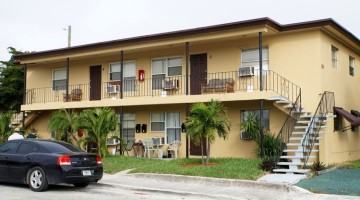 DELRAY BEACH SOBER HOME SHOOTING GALLERY

Since health insurance funds treatment for the vast majority of recovery patients, unscrupulous clinic operators will jerk profits by shepherding newcomers through a lucrative battery of unnecessary tests. Since a relapse will trigger a new round of benefits after a beneficiary�s coverage is exhausted, patients who fall off the wagon can double � or triple � the clinic�s windfall. Not surprisingly, few operators complain when drug dealers rent a house across the street. �You have what are so-called �sober homes� next to houses that sell drugs,� says Sgt. Ed McCabe of the Delray Beach Police Department. Incredibly, shooting galleries masquerading as �Sober Homes� are notoriously difficult to evict or otherwise regulate, since these corrupt cankers are constitutionally cloaked by federal disability laws.

Political Pipedreams
Many of the proposed plans to combat this nationwide epidemic are politically prompted pipedreams, such as a White House solution to �wall off Mexico�, which won�t prevent easily masked heroin stashed among thousands of trucks from crossing the border each day; or any of ten thousand points-of-entry currently used.. While teaching physicians to perform a better risk assessment of patients may reduce questionable pain management prescriptions in the future, it will have little impact on the daily heroin overdoses at the heart of this crisis. Filling the prisons with drug-addicted street-level dealers may satisfy some moral imperative, but since thousands of potential replacements view such events as sterling business opportunities, it has a negligible impact on the drug trade.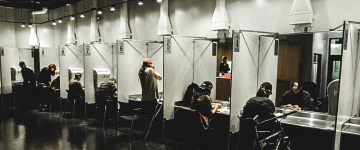 DRUG CONSUMPTION FACILITY IN VANCOUVER

To reduce fatalities, Australia, The Netherlands and Canada have implemented �Harm Reduction� policies � such as needle exchange programs and consumption facilities. Instead of jailing addicts or watching them die by the thousands, New York, California, Maryland and the City of Seattle are also considering �Consumption Facilities�, sites where addicts receive clean needles and syringes and use their heroin, or other addictive drugs under the supervision of trained authorities that also provide primary medical care and immediate access to free rehab beds. Implemented in Vancouver since 2003, these �Treatment Gateways� reduce the number of addicts as well as the spread of H.I.V. and hepatitis.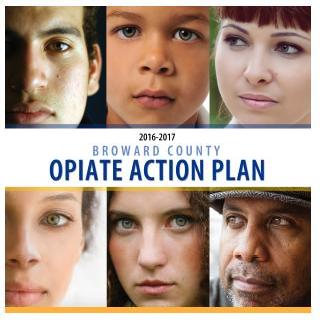 An �Opiate Action Plan� was proposed in Fort Lauderdale last year by a group of addiction specialists and law enforcement officials at a forum hosted by the United Way of Broward County. In short, it proposed to educate neighborhoods about heroin and fentanyl while stocking truckloads of naloxone. In 2016, most States, including Florida, passed new laws providing for the purchase of naloxone without a prescription. Available as an intramuscular injectable or nasal spray in many Walgreens and CVS outlets, emergency administration should be accompanied by rescue breaths and a call to 911.

On May 3, 2017, after dragging his feet for years, Governor Rick Scott finally signed Executive Order 17-146, classifying Florida�s opioid crisis as a public health emergency. The declaration will pump $27 million in federal funds � and another $27 million next year � into the state cookie jar, ostensibly for prevention, treatment and recovery services. Specifically, the grant will fund treatment modalities for the uninsured and under-insured, including $17 million for methadone and $3.8 million for Vivitrol (naltrexone), a drug that suppresses opioid cravings. While some of the federal funds will assist drug-addicted newborns, Scott instructed Surgeon General Celeste Philip to order a standing supply of naloxone. The grant will also fund overdose response training, behavioral-health consultants for child-welfare workers, peer-mentoring programs and other initiatives. Since the funds will be distributed based on each jurisdiction�s number of overdose deaths and estimated number of addicts, Broward should be a major beneficiary.
In his May 3 press release, Scott said that he decided to take action �following the Centers for Disease Control and Prevention (CDC) declaring a national opioid epidemic.� The CDC has been calling this plague an epidemic since February 2011. Tick Tock...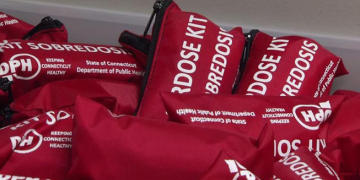 NARCAN OVERDOSE KITS

Since 2010, the Justice Department has hinged a strategy on attacking two factors unique to the current crisis, the explosion of new addicts generated by the Pill Mills and the increasing availability of dirt-cheap high-purity heroin. With the Pill Mills mostly in our rear view mirror, the DEA has returned to dismantling drug pipelines.

While no one knows the extent that this new plague will burn through our communities and decimate families, a daily battle for survival is being waged on local streets. Racing from crisis to crisis, first responders will need a virtually unlimited supply of Narcan to bring people back to life and thousands of addicts will need access to treatment. As the CDC and local governments work through schools, physicians and civic programs to illuminate danger signs and recovery options, families will once again take point, and do what they must to keep one another safe. It may not be elegant, but it works.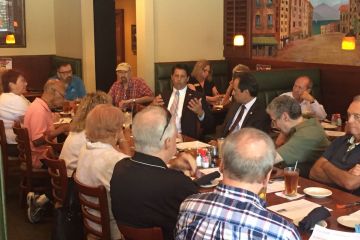 GALT MILE COMMUNITY ASSOCIATION ADVISORY BOARD

January 30, 2017 - With the exception of a summer hiatus, the Galt Mile Community Association (GMCA) hosts an Advisory Board meeting on the third Thursday of each month. To resolve shared problems or issues specific to any individual association, representatives appointed by each of the GMCA's 29 member associations meet regularly with City Commissioner Bruce Roberts, County Commissioner Chip LaMarca, Statehouse Representative George Moraitis, association advocates and key officials from City, County or State agencies that manage critical services.

FLPD & the GMCA Advisory Board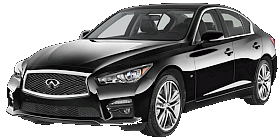 2014 INFINITI S - STOLEN

Among the monthly agenda items is a security report. In their capacity as law enforcement liaisons to the Galt Mile Community Association, FLPD Officers Tom Gestal and George Brandner provide the Advisory Board with a snapshot of local crime trends and recommendations for protecting local residents against emerging threats. Since September, they have been updating the Advisory Board about a spike in car thefts that predominantly impact several models of Infiniti. Unlike the standard smash and grab tactics that leave windows broken, or keylocks ripped from car doors, Gestal and Brandner noted how vehicles that were stolen or plundered were left undamaged.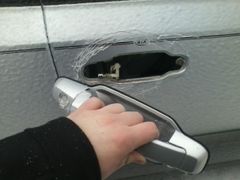 ORDINARY CAR THIEF RIPS OUT KEY LOCK

On December 15, Gestal explained that the car thieves were using an electronic device to penetrate vehicles equipped with keyless entry systems, wherein a wireless key fob is used to unlock the doors and in some cases � start the engine � instead of a physical key. This specific vulnerability was comprehensively vetted in 2011 by researchers in ETH Zurich, a Swiss Technology and Engineering University. Since car manufacturers have done nothing during the past five years to plug this security sinkhole, carjacks centrally located in a Mall parking field can now open and start dozens of nearby cars - while their unsuspecting owners hunt for bargains.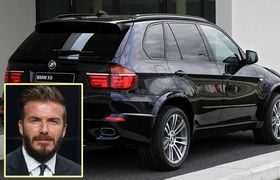 DAVID BECKHAM'S STOLEN BMW

During the past decade, Law Enforcement authorities in Europe and North America reported thousands of cases wherein recovered vehicles that were stripped of contents or stolen showed no evidence of forced breach and virtually no damage. Like Gestal�s report, the vast majority of these official case summaries referred to an electronic device that somehow compromised the vehicle�s security system. This enigma stirred some notoriety in 2006, when this mysterious methodology was described by Spanish police investigating the theft of soccer icon David Beckham�s $100,000 armor-plated BMW X5 in Madrid.

Power Amplifiers and Keyless Entry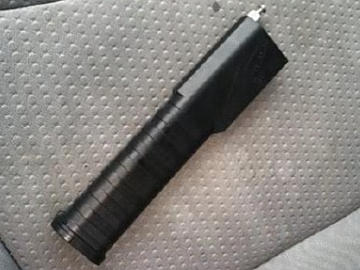 DEVICE AMPLIFIES SIGNAL EMITTED FROM KEYFOB

Vehicles equipped with keyless entry systems search for the weak passive signal broadcast from a small Radio Frequency Identification (RFID) chip inside the keyfob, which has an effective reach radius of several feet. Once the keyfob is moved outside that small effective zone, it is no longer detected by the vehicle, temporarily suspending its access and ignition functionality. Until the keyfob is brought back into range, the vehicle would ordinarily remain securely locked. However, for less than $100, anyone can purchase a power amplifier in most electrical supply stores or online, and use it to defeat this security measure.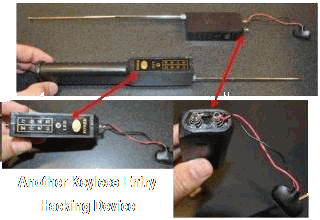 Gestal said that this device was used by the crooks to boost the Infiniti signal - thereby expanding the effective operational radius up to 100 yards - the size of a football field. If the key fob was in the driver's pocket while shopping nearby - or laying on a dresser at home, the crook could open the car door and strip the vehicle�s contents, or start the car and drive off. As long as the engine wasn�t turned off, the thief could drive as far as a tank of gas would allow.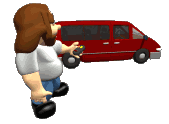 The equipment required for this kind of heist used to be far more expensive � sufficiently costly to deter its use by street thugs who considered drugs and guns more marketable investments. Gestal explained that the price has since tumbled, and a power amplifier can be purchased on eBay for as little as $17. Since any hustler with a double sawbuck can now rip off cars with minimal exposure or risk, authorities fear the onset of a remote theft epidemic - unless car manufacturers are dragged - kicking and screaming - to invest in effective protection for these vehicles.
SAMY KAMKAR'S ROLLJAM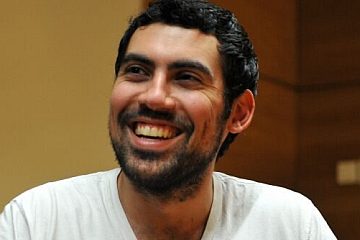 HACKER AND SECURITY GURU SAMY KAMKAR

Carmakers are well aware of these vulnerabilities. When thieves began swiping codes to keyless devices, manufacturers countered with a �rolling code generator�, which changes the code each time the car door � or garage door � is opened, rendering any stolen codes useless. At a hacker�s conference called �Defcon 2015�, serial hacker Samy Kamkar introduced Rolljam, a $30 device that can snatch and later broadcast the supposedly random codes emitted by a rolling code generator, which changes the code each time the car door � or garage door � is opened.

When the user triggers the car or garage door remote, two of the Rolljam�s three internal radios block the signal, and Rolljam records the code. When the user naturally tries again, a new code sent by the rolling generator opens the door. Since the blocked code was never received by the lock, it remains valid until it is broadcast later by the Rolljam, and opens the door for the thief. Although the hack is defeated if the codes expire quickly, it provided carmakers with a sobering taste of the future.
Geek War: Crooks vs. Carmakers

Based in Munich, Germany, ADAC is the world�s largest auto club. After conducting an attack to test the limits of this threat, club officials recently reported having successfully used this technique to breach 24 different model cars from 19 different manufacturers, including European cars like the Audi A3, A4, and A6, BMW 730d, and Opel Ampera, as well as models like the Lexus RX 450h, Ford Galaxy, Kia Optima, and Toyota Rav4. Only the BMW i3 partially resisted the attack; although the car couldn�t be opened, the ignition was started.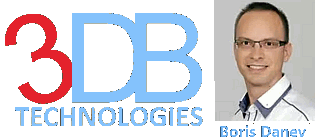 A Swiss company called 3DB Technologies pioneered the research of this vulnerability. The company�s founder, Dr. Boris Danev, developed a deterrent called Proximity-Based Access Control, which can accurately determine the exact location of the fob and the vehicle. If the distance between the car and the fob is too great, the system will supposedly prevent the hack..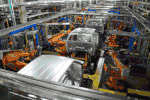 Notwithstanding the system�s effectiveness in preventing remote thefts attributable to an amplified signal, automobile industry watchdogs have concluded that carmakers won't fund the protection until the problem significantly impacts profits. In this scenario, pundits suggested that insurers will serve as the squeaky wheel. As losses begin to pile up, and carriers hike premiums for unprotected vehicles, carmakers struggling to remain competitive will be forced to step to the plate. However, manufacturers won�t acknowledge the threat�s existence until confirmed and vetted by the National Insurance Crime Bureau.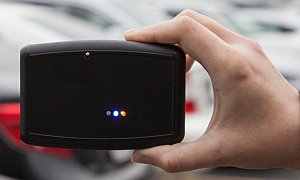 HACKING DEVICE ACQUIRED OVERSEAS BY NICB

Headquartered in Des Plaines, Ill., the National Insurance Crime Bureau (NICB) is the insurance industry�s research bulwark against insurance fraud and vehicle theft. Leveraging data analytics to investigate and plug security vulnerabilities, the NICB first warned about a suspected keyless entry access device in 2014. On December 7, 2016, NICB reported having acquired a rudimentary version of the device overseas, called a �relay attack unit�, possibly in either Germany, Eastern Europe or from a Lebanese company characterized as �a Radio Shack for car thieves�.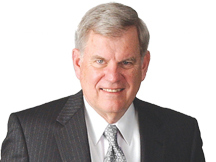 NICB PRESIDENT AND CEO JOE WEHRLE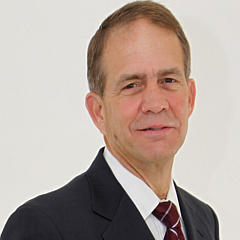 NICB COO JIM SCHWEITZER

Partnering with CarMax to test it on 35 different makes and models of cars, SUVs, minivans and a pickup truck, NICB was able to open 19 (54 percent) of the vehicles and start and drive away 18 (51 percent) of them. Admitting that there was currently no effective way of preventing this kind of theft, NICB President and CEO Joe Wehrle exclaimed �We�ve now seen for ourselves that these devices work.� Intimating that the ball is now in the carmakers court, NICB Chief Operating Officer Jim Schweitzer remarked, �Vehicles are a valuable commodity and thieves will continue to wage a tug of war with the manufacturers to find a way to steal them.�

It Gets Worse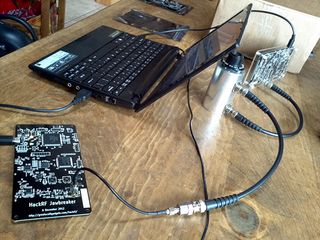 LAPTOP & SDR CAN HACK VENICLE

Motivated hackers have since cobbled together a new threat. Instead of relaying the exploited signal of existing keyfobs, more sophisticated thieves can deploy a combination of technologies to launch a brute force attack that can unravel the security codes of many vehicles. By affixing a laptop or tablet to a radio transmitter (i.e. Software Defined Radio - or SDR), crooks don�t have to settle for whatever vehicles respond to an amplified signal, but can target a wish list of cars and trucks.
SECURUTY CAMERA CATCHES THIEF USING DEVICE TO OPEN CAR

By programming the laptop to cycle through millions of codes and boosting signals across a wide range of frequencies, they can hack Audis, Lexus, BMWs, or other vehicles equipped with keyless entry. While expanding a thief�s inventory, the hack is comparably deficient in two areas. It could take several hours to stumble on the unlocking code, while relaying an amplified signal takes seconds. Secondly, it can only provide access; it won�t start the vehicle.

Automotive security researchers anticipate that hackers will broaden the net by refining the search code algorithm, which will expedite the search. Carmakers will predictably respond with additional layers of complex encryption. This hi-tech potato sack race will continue ad infinitum.

FLPD: Protecting Your Ride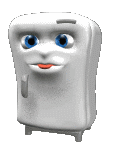 Evidently, our local crooks haven�t yet acquired the technical chops for this kind of breach, and have thus far limited their quarry to certain models of Infiniti that respond to an amplified signal boost. Gestal suggested that - if possible - Infiniti owners should park in a closed garage, not a driveway or in the street. When at home, Gestal said an owner might stash the keyfob in the freezer, which acts as a Faraday Cage - and blocks the signal. Unfortunately, doing so may damage the lithium batteries. According to standards set by the National Electrical Manufacturers Association, lithium batteries should be stored at about 68 degrees Fahrenheit.

Some security researchers have suggested carrying the keyfob in a wallet or purse designed to thwart hacks of passports with radio-frequency ID (RFID) chips.

Wrapping the keyfob in aluminum foil will also block the signal, although any opening will defeat the protection. Recently, several products have become available that were specifically designed to protect keyfobs (passports, bank cards, cell phones and other items with vulnerable chips) from errant signals, and provide a more practical solution. These portable faraday cages include a pouch called Fob Guard and a line of carryalls, cases and wallets made by �Silent Pocket�. While these products are marketed as effective protection, in the immortal words of Popeye, �You pays your money and takes your chances.�
2017 FLPD Security Update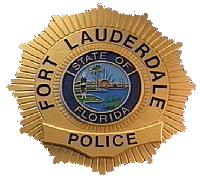 On January 19, 2017, Gestal warned the Advisory Board about a recent surge of violent robberies in local shopping malls. Explaining that the robberies usually took place in the mall�s parking field and seemed to target women in their vehicles, he said that victims were often punched or doused with pepper spray. Gestal added that the hi-tech vehicular break-ins posed anongoing threat, and that a County-wide fraud ring was still scamming local seniors (see the January 2017 Galt Mile News or �New Local Scam Targets Seniors� on the Galt Mile website). Gestal closed with a plea, �If you take anything from these reports, it should be this: Please tell your neighbors that they must train themselves to be aware of their surroundings� and if they suspect something is wrong, don�t hesitate to call the police.�
On January 23, Gestal emailed the following security �tips� to the GMCA, which were in turn forwarded to member associations on the Galt Mile:
FYI, other cities have seen a trend with residents shopping at Publix and possibly being followed back to their residence where a minor car accident is staged. At this time the driver exits the vehicle and is unfortunately robbed of belongings. This can very easily happen along the Galt and any of its local businesses.
Another trend which seems to be making a re-appearance is bank follow outs. This is when a person of age withdraws money from their local bank and goes on to do some shopping and either leaves the cash in the car which gets burglarized or followed only to be victimized.
My tips to the residents for the first mentioned would be to remain in the car and immediately pick up their cell phone allowing the suspect to see you have a phone and call the police, DO NOT EXIT VEHICLE, if this is an honest accident the suspect will understand and remain on scene, if not they will hopefully leave.
Tip for the second mentioned would be to be aware of your surroundings when exiting the bank, do not leave cash in the vehicle, if you feel uncomfortable leaving the bank have an employee escort you out to your vehicle, or conduct your banking when you are in the company of another person.
Tom Gestal
The Rest of the Story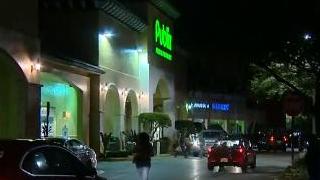 ROBBERY BEGAN AT PLANTATION PUBLIX

Gestal�s first anecdote mirrors an event that occurred on January 18, 2017 in Plantation, where a 73 year-old woman was robbed after shopping in the Publix at 6921 W. Broward Boulevard. Driving back to her home in El Dorado Estates at Northwest 69th Avenue, a security camera at the Guard Gate caught a Black Nissan Altima following her along the main thoroughfare. She pulled over after being deliberately rear-ended by the other car. As a woman who drove the second car approached while apologizing for the collision, the victim exited her vehicle. Suddenly, the other driver blasted her with pepper spray as two men exited the Altima, punched the victim and snatched her purse � containing $1,500 and credit cards - at gunpoint. The three crooks drove off with both cars.

VICTIM'S CAR REAR-ENDED BY ROBBERS' ALTIMA

The robbery provoked a semi-viral social media reaction. It was one of four incidents since January 15 in which the victims were punched and accosted with pepper spray, guns, or both � after shopping at one of several Publix Supermarkets in Plantation. It also appears that Gestal�s familiarity with these cases is no coincidence, as similar incidents were reported in Dania Beach, Boca Raton and two in Fort Lauderdale. Typically targeting women, 8 of the 10 nocturnal robberies took place in a Publix parking lot.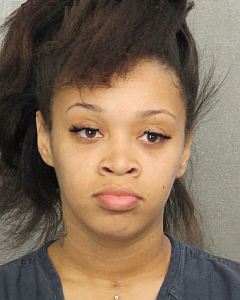 ERICA MAKAYLA ABRAHAM - BUSTED

On Tuesday, January 24 � one day after Gestal delivered his warning to the Galt Mile, BSO Detectives and Federal Marshals arrested 18-year-old Fort Lauderdale High School student Erica Makayla Abraham and a 16-year old female accomplice in Oakland Park. After using the stolen credit card at the Pollo Tropical drive-thru, Abraham was recognized by a former classmate employed at the restaurant. Police took a third suspect into custody on January 27 � Alex Abraham � Erica Abraham�s 15 year-old brother. While the three suspects were identified by several victims, others claimed their attackers were older. Although police believe the busts may end the Plantation attacks, they are uncertain about their impact in Boca Raton � and Fort Lauderdale.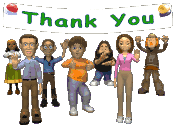 While apprising our associations about evolving neighborhood crime threats, our FLPD liaisons also help incorporate Advisory Board security concerns into Police District 1 action plans. Based on member feedback, enforcement was enhanced at the Oakland Park Boulevard beach access, across A1A at Miles Corner, near the Galt Mile Library � and shifts as required to quash newly reported neighborhood rat nests. Gestal helped realize an increase in one- and two-officer foot patrols and Brandner serves on the Galt Mile security patrol team. For helping to keep our families safe, we owe these guys a debt of gratitude.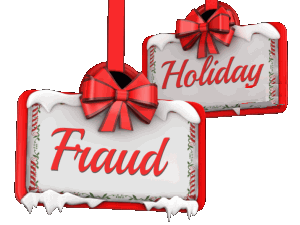 December 30, 2016 - The holiday season is traditionally a time marked by inclusion, family, serene coexistence, charity � and a palpable uptick in fraud. The high profile personal data hacks of 70 million Target customers in 2013 and the fiasco at Sony in 2014 both took place during the holiday season, and it�s no coincidence that December was named National Identity Theft Prevention and Awareness Month. Although Holiday Season scams are a worldwide phenomenon, Federal Trade Commission (FTC) statistics confirm that the slime balls who drive this niche industry auger a preference for Floridians. More specifically, �marks� that visit or reside in the Greater Fort Lauderdale area.

The FTC recently created a data book that serves as a repository for consumer complaints received by the FTC�s Consumer Sentinel Network, state and federal law enforcement agencies, national and state consumer protection agencies and consumer watchdog organizations (NGOs). The Consumer Sentinel Network data book includes national statistics, a state-by-state listing of top complaint categories and a listing of states and metropolitan areas that generated the most complaints per capita.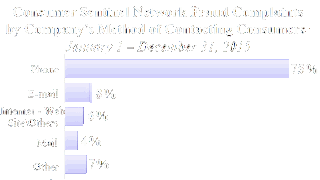 The top ten complaint categories are: Debt Collection (29%), Identity Theft (16%), Imposter Scams (11%), Telephone and Mobile Services (9%), Prizes, Sweepstakes and Lotteries (5%), Banks and Lenders (4%), Shop-At-Home and Catalog Sales (3%), Auto-Related Complaints (3%), Television and Electronic Media (2%), Credit Bureaus, Information Furnishers and Report Users (1%). Complaint details, which include the specific losses sustained in each of the 3,038,379 complaints submitted in 2015, are only available to law enforcement. Of the $billions lost by victims, the most popular payment vehicles in 2015 were wire transfers (61%) and credit cards (14%). Victims were primarily sourced by telephone (75%), email (8%), scam websites (6%) or snail mail (4%).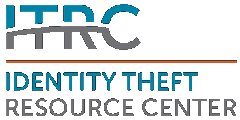 In 2016, Data Breach Stats compiled annually by the Identity Theft Resource Center lists the thousands of corporations, small businesses, banks, Government agencies and medical institutions from which hackers plundered 35,233,317 confidential records rife with financial, health care, insurance and other personal data during the course of 980 separate breaches. This burgeoning multi-$billion industry has given rise to a clandestine war between geeks attacking or defending corporate and government databases, where the spoils are bartered using anonymous TOR Browsers to crawl through unsavory marketplaces in the bowels of the Dark Web.
Fort Lauderdale: Fraud Central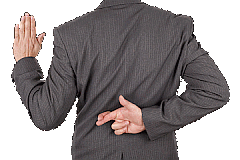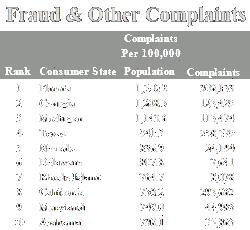 Unfortunately, by clocking 1,510.2 fraud cases for every 100,000 residents, the Sunshine State ranks Number 1 in the United States for fraud complaints - and 3rd in the nation for identity theft cases (217 for every 100,000 Floridians). The FTC data book affirms that 50% of the Florida fraud cases resulting from stolen personal data were sourced from a breach of Government Documents (tax records, benefit statements, etc.). In another 18% of the Florida cases, pilfered data was used to commit Credit Card fraud (i.e. bank records, etc.). Also popular with Florida identity thieves is telephone or utilities fraud (8%), bank fraud (8%), loan fraud (3%), and employment-related fraud (2%).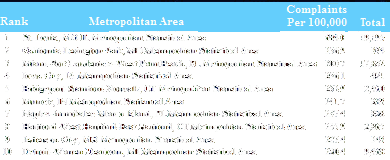 Whether a native Floridian or having moved here to cap pursuit of a lifelong dream, Galt Mile residents live at ground zero of fraud central. The FTC data book ranks the Miami-Fort Lauderdale-West Palm Beach Metropolitan Statistical Area 3rd in the nation for identity theft, with 300.7 complaints for every 100,000 residents.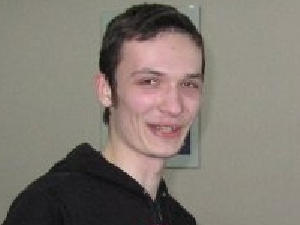 HACKER ANDREW HODIREVSKI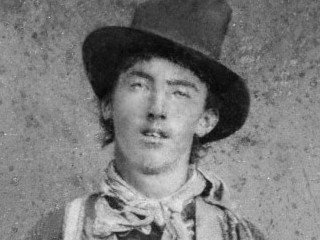 MCCARTY - BILLY THE KID

The mastermind behind the infamous Target hack is Andrew Hodirevski, a then 17 year old Russian kid from Odessa (hacker names are �Rescator� and �Helkern�) who co-founded the now-defunct hacker forum �Darklife�. While fraud media coverage will typically focus on youthful hackers who break into $billion secure networks with a laptop and a Frappuccino � possibly for the same reason the New York Sun followed the exploits of William Henry McCarty (AKA William Bonney or Billy the Kid) in the 1880s � Florida crooks predominantly juggle low-tech tactics that exploit the vulnerabilities of target populations. New scams that surge through neighborhoods are usually variations of an earlier version, and are often transitory by necessity. Once the local target population gets wind of a scam, the crooks move to a more fertile hunting ground.

FLPD & Galt Mile Advisory Board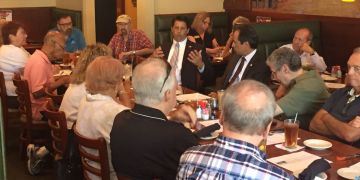 GALT MILE COMMUNITY ASSOCIATION ADVISORY BOARD

FLPD Officers Tom Gestal and George Brandner serve as law enforcement liaisons to the Galt Mile Community Association. Each month, they provide the neighborhood Advisory Board with a snapshot of local crime trends and recommendations for protecting Galt Mile residents against new threats. At the December 15 Advisory Board meeting, FLPD�s Tom Gestal warned about a Credit and Debit Card scam that was fleecing Fort Lauderdale seniors. From Gestal�s description, the thefts were meticulously planned, and the players seemed more like trained thespians than some itinerant collection of bangers.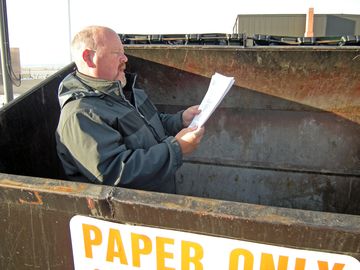 DUMPSTER DIVING FOR VICTIMS' DOCUMENTS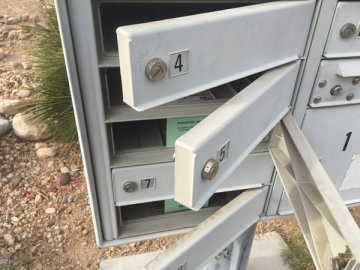 SCAMMERS BREAK INTO VICTIMS' MAIL BOXES

Speaking to the unusually ardent preparation that preceded each incident, Gestal explained, �The crooks would research their intended victims by dumpster diving or breaking into locked mailboxes.� By collecting credit card and bank statements, bills and invoices, the crooks killed two birds with one stone. In addition to learning about the sufficiency and location of assets, it also provided the basis for a script they would later enact to win the victim's trust. After examining the information, the crooks would customize each scam to the mark�s personal banking activities.

The One-Act Senior Scam

Posing as a bank investigator for cardmember services, a crook would call to warn victims that their debit cards may have been compromised. Reading from the pilfered bank statements, the caller would confirm the account data and accurately review recent charges, �which enhanced their credibility with the nervous victim,� said Gestal. Using a businesslike tone with a sense of urgency, they would inform the victim that their card account must be quickly frozen to prevent unauthorized use, and their debit card replaced. Of course, they would need the PIN number to close the compromised account.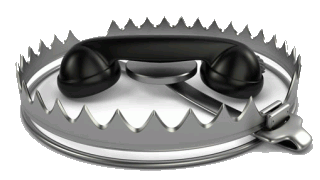 Apologizing for the inconvenience caused by �the breach�, the scammer told victims that a bank representative was being dispatched to his or her home to switch out the old card for a new one with a clean security chip. While distracted on the phone, a well-dressed second player soon arrived at the victim's home and requested the supposedly adulterated card - along with any credit cards issued by the bank, promising to shortly return with replacement cards.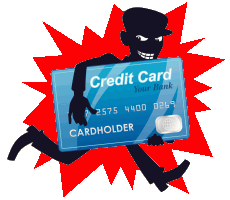 Explaining that the scammers have been using several variations of this basic script, Gestal moved to a second scenario in which the scammer informed the victim that police had arrested a man in West Palm Beach for making unauthorized charges to the victim's account. After describing how the perpetrator was being processed at the police station, the bogus investigator explained that the PIN number was required �to reverse the charges�. While still on the phone, the second player arrived at the house wearing either a business suit or a hospital uniform. Having been told that the debit card must be destroyed and replaced, each victim gratefully turned over his or her cards, and futilely waited for scammer number 2 to return. Gestal commented that each of the victims admitted to believing the scammers were bank employees, and didn�t become suspicious until they realized that their visitor was not going to return, usually several hours after surrendering their bank cards.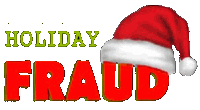 In both cases, the crook who first made contact kept the victims on the phone before, during and after the second scammer�s visit, offering continuous assurances that their funds were safe, and later, that the second bogus bank employee would soon return with replacement cards. By tying up the phone and engaging the victim throughout the entire charade, the crooks precluded victims from calling the bank � or the police � at least before the scammers could hit the ATM or begin racking up fraudulent purchases.
Scammers Roll across Broward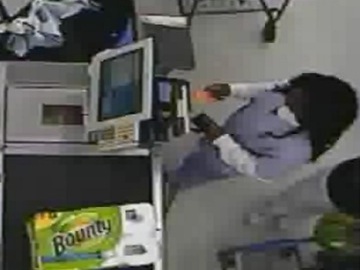 SCAM SUSPECT CAUGHT ON WALMART SECURITY VIDEO

The second scenario described by Gestal actually took place in April, when two women used the same script to swindle as much as $20,000 apiece from seniors in a Sunrise community. Identifying herself as an employee of either Chase or Bank of America, a female scammer who called 30 different elderly residents in Sunrise Lakes (off Pine Island Road) baited the hook by asking if they had authorized a man to use their debit cards for purchases in Boynton Beach. After enumerating the dates and locations of recent purchases listed on pilfered bank statements, she elicited PIN numbers to supposedly clear their accounts of charges made by the non-existent Boynton Beach straw man. Admonishing that the compromised cards must be destroyed and replaced immediately, she informed each victim �I�m sending a lady to pick up the card.� While still on the phone, a second female crook arrived at the victims� homes and collected their bank cards while promising to return with a card protected by a security chip. After each sting, the scammers pulled cash from ATMs before embarking on shopping sprees at Rooms To Go, Target, Walmart and other local stores.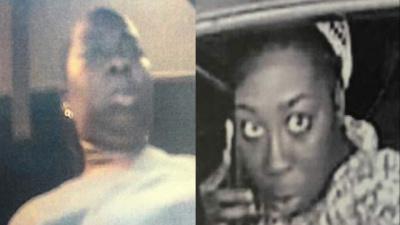 SURVEILLANCE PICTURES OF SCAM SUSPECTs

In another twist on the scammers� script, a Davie man was informed that the police had detained a man for making unauthorized purchases with his debit card, but the �suspect� had claimed that he was the cardholder�s son. Since he had no son, the �mark� thanked the phony fraud investigator for her part in quashing the theft. When he subsequently reported the crime, the victim told police that when a polished professional man in a business suit came to his house to replace the card, he remembered thinking, �This bank is really going out of their way to help me.� The bank replaced $5000 later siphoned from his account.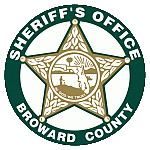 While investigating a series of subsequent ATM withdrawals and retail purchases made with the scammed cards (including a big-screen television), detectives from the Economic Crimes Unit in the Broward Sheriff�s Office retrieved a security camera video of two women consummating a transaction at a Walmart on May 22, one of them seemingly adorned in medical scrubs. Broward police said the perpetrators were working with associates, and moving through neighborhoods in Broward County.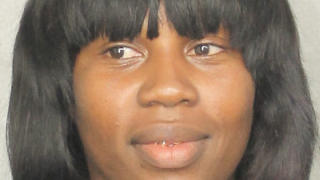 SCAMMER IRENE ELJEANETTA GARRETT

On August 10, 2016, police arrested 35-year-old Irene Eljeanetta Garrett of Pompano Beach. Linked to 5 of the Sunrise ripoffs that netted more than $10,000, Broward Police said she belonged to a �ring of fraudsters.� When word of the scam spread though Sunrise, the crooks shifted their one-act play from Sunrise to target seniors in Tamarac and Lauderdale Lakes. After picking her up, when police showed Garrett pictures of her and accomplices taken by surveillance cameras at ATMs, a Walmart and a Winn-Dixie, Garrett admitted to participating in the scam, and confirmed the involvement of others. Those with information were advised to call Broward County Crime Stoppers at 954-493-TIPS, where they could anonymously disclose promising leads, and possibly be eligible for a $3,000 reward.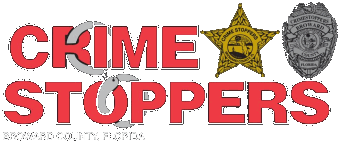 According to media reports, when later interviewed by the police, several victims paid a back-handed compliment to the swindlers for their acting ability. Agreeing that the crooks were �extremely well-rehearsed and convincing,� Gestal said that most of the victims told police that they believed the alert to be authentic primarily due to the scammers' familiarity with their banking transactions. Gestal surmised �Without the bank statements taken from mailboxes or extracted from the victim�s garbage, it probably wouldn�t have worked.�
Opening the Act in Fort Lauderdale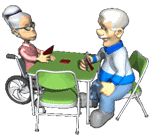 Since the thefts in Sunrise, Tamarac and Lauderdale Lakes, the scammers have cut a swath across Broward and Palm Beach Counties, bilking seniors in Davie, Pembroke Pines, Coconut Creek, Deerfield Beach, Delray Beach and Boca Raton. Following Garrett�s arrest, Detectives working scores of open cases learned that this mobile cadre of bunco artists is headed by a female suspect who directs the stings. Despite losing a player, this traveling band of thieves is currently plying their trade in Fort Lauderdale. Gestal was particularly disturbed by how the crooks targeted seniors before engineering invitations into the victims� homes, remarking �They could have lost a lot more than their money.�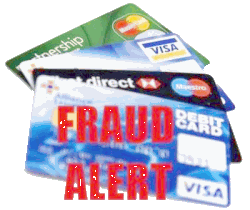 Observing how the crooks abandoned each neighborhood shortly after local residents were made aware of the threat, Gestal asked for help with disseminating information about the scam before the crooks make their next round of calls, and suggested that the Advisory Board pass on some relevant insights. Cutting to the chase, Gestal said �Bank representatives will never ask for a PIN number or send an employee to a customer�s home to replace a bank card, banks mail out replacement cards. If you receive a call or an email from a bank claiming that your account has been breached, and requesting your personal information, it�s a scam,� adding �If anyone is concerned upon receiving such a call, hang up and call the telephone number on the back of your card to determine the state of your account � and then call the police.� Congratulations, you�ve been inoculated. In the spirit of the season, perhaps you can do the same for your neighbors.
Turnabout is fair play. If you do receive a call from the scammers, keep in mind that the Broward Crime Stoppers are still offering $3000 for help with bagging these creeps. As recommended by Gestal and BSO, hang up and either dial 911 or call Broward County Crime Stoppers at 954-493-TIPS. Be safe and Happy Hunting.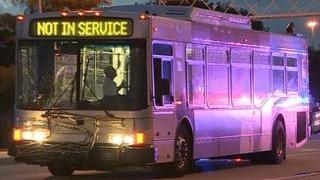 BROWARD COUNTY TRANSIT BUS

September 23, 2015 - About two weeks after the Galt Mile A1A Greenway Project kicked off on July 27, 2015, residents in several local associations noticed daily traffic jams in front of their homes � invariably caused by Broward County buses. Dismayed association officials soon learned that the buses - often parked on both sides of Galt Ocean Drive � weren�t an anomaly. When asked why they were swarming a small beachfront side street, the bus drivers either shrugged or spit back, �I�m just following orders.�

FDOT: Maintenance of Traffic Rule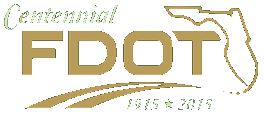 For every highway transportation project, the Florida Department of Transportation (FDOT) mandates the development of an MOT (Maintenance of Traffic) strategy. As sections of roadway become work zones, a minimum number of lanes must be maintained for traffic throughput in all directions. For instance, when working on the northern lanes of a 4 traffic-lane highway like A1A, planners will use traffic control devices and alter pavement markings to temporarily turn the two southern traffic lanes into a self-contained two-way thoroughfare.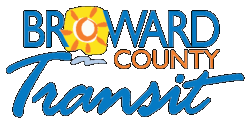 When fewer lanes are available to manage the same amount of traffic, planners will help relieve anticipated congestion by re-routing any public transportation on the highway. Prior to commencing construction of the Galt Mile A1A greenway, when FDOT planners asked County liaisons to temporarily clear the work zone of Broward County buses, the �request� filtered through the County bureaucracy to the operations personnel at Broward County Transit (BCT).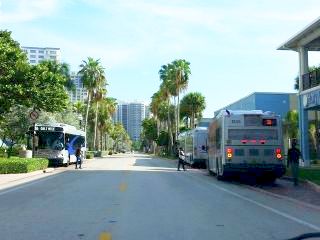 FIVE BROWARD COUNTY BUSES SWARM PLAYA DEL MAR

When lanes abutting construction on A1A were closed to traffic, buses from Routes #36, #55 and #72 (that ordinarily stop in those lanes to board or discharge passengers - or park while the driver grabs a snack) were shifted to Galt Ocean Drive. Buses that formed up three and four deep on the east side of A1A just south of 41st Street were now gathering �en masse� in front of Playa del Mar and Regency Tower. While assembling on A1A, traffic moving north along the busy thoroughfare would slingshot around the three or four buses blocking the bike lane and the turn lane to 41st Street. When this traffic plug was transplanted to Galt Ocean Drive, it wrought havoc.

The BCT Boogieman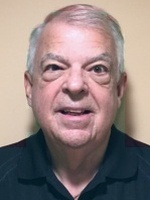 PLAYA DEL MAR
PRESIDENT FRED NESBITT

On August 10, 2015, Broward County Transit (BCT) Operations Representative Oscar Correa visited Playa del Mar (PDM) and Regency Tower, asking to speak with �Someone in Charge�. At Playa del Mar, he told the General Manager that the buses would stop in front of the building throughout the project�s duration - which he estimated at �two - possibly three years.� In Regency Tower, he informed Board President Eileen Bendis that BCT was planning a bus stop in front of the building.
REGENCY TOWER PRESIDENT
EILEEN BENDIS

By the time the BCT emissary announced County intentions, buses had already been blocking both buildings for several days. Buses would park on either side of an association driveway, blocking the view of drivers turning onto Galt Ocean Drive. They also blocked the view of elderly pedestrians attempting to cross the street.

Bendis accompanied Correa to the cutout in front of Playa del Mar. While pointing to an adjacent curbside sewer, Correa exclaimed that a recent engineering report by the City disclosed a depression discovered under the cutout, palpable evidence of a sinkhole. Assuring Bendis that the PDM cutout was scheduled for structural repair, Correa said that the report warns against parking a heavy vehicle above the depression, as a collapse would affect anything close by, including vehicles and passing pedestrians. As if delivering a punchline, Correa exhorted �Buses we planned to park here will now have to be parked in front of Regency Tower.� Evidently, Correa�s concerns weren�t shared by BCT drivers, who repeatedly perched their buses squarely on the depression � and in the Regency Tower cutout.

Bus Stops or Bus Depots?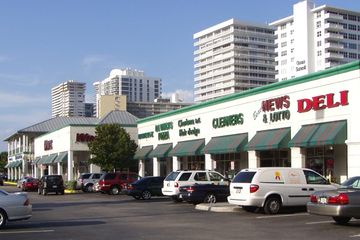 GALT OCEAN MARKETPLACE

The sites weren't being used as bus stops for boarding or discharging passengers, as characterized by Correa, but as a bus yard, where three or four buses would be abandoned in front of the buildings on both sides of the street. After pulling into a cutout or parking curbside, the drivers would leave the bus for a slice of pizza at DaVinci�s, coffee and sandwich at Dunkin Donuts or a boxed fried chicken lunch from Winn Dixie. In addition to these daily breakfast and lunch excursions that took several hours, later in the day, 3 or 4 buses were repeatedly left unattended in front of both associations � for reasons only known to the missing drivers. Officially termed �layovers� - brief breaks that are supposed to take 5 minutes but actually last for 20 to 30 minutes, and often extend up to 2 hours.
BCT BUSES BLOCK BOTH REGENCY TOWER DRIVEWAYS & CUTOUT

To protect departing association motorists from wholly obscured oncoming traffic, and safeguard pedestrians who would otherwise have to walk into the middle of the street to spot approaching vehicles, association security personnel were assigned to the street, where they could help motorists and pedestrians safely navigate past the wall of buses. Fearful of crossing the street or driving off the premises, enraged PDM and Regency Tower residents complained bitterly to association officials, who closely monitored unfolding events in front of both buildings, taking pictures, videos and testimony during incidents, or after �close calls�.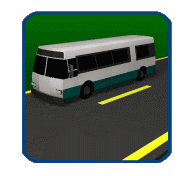 Before slipping back into the shadows, Correa told Bendis that although the changes were precipitated by the construction on A1A, certain City officials are insisting that they be made permanent. An incredulous Bendis asked Correa if he would mind returning the next day, and meet with another Regency Tower official. Instead, he stopped by just long enough to drop off a business card and a message �This is my boss; call her if you have any questions.� Correa was too busy scoping other association cutouts along the block. It seems that the �bus stops� force fed to Playa del Mar and Regency Tower were the first of several planned for Galt Ocean Drive.
Furious and frustrated, Bendis snatched up the card and contacted BCT Project Manager Arethia Douglas, describing the danger to residents while pleading for relief. While sympathizing with Bendis, Douglas claimed that she was directed by FDOT and the City to move the bus routes to Galt Ocean Drive. She said the drivers are following work protocols enumerated in their union contract, which provide for an opportunity to stretch their legs or eat lunch. Aware that certain �bus stops� are used by drivers as layover sites, Douglas said �I knew this was a bad idea.� She also couldn�t explain why some buses were left unattended for two to three hours.
Licensed to Crash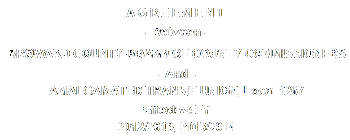 Negotiated by the County and the Amalgamated Transit Union, Local 1267, the contract mentioned by Douglas had recently attracted unwanted notoriety when the Sun Sentinel disclosed provisions in the agreement that entitle Broward bus drivers to cause 4 accidents and run 4 red lights every two years � without jeopardizing their jobs � although they could be disciplined for clocking in late. Since the slate is wiped clean every two years, Broward bus drivers can smash into 40 vehicles and run 40 red lights during a 20-year tenure, without losing a wink of sleep over employment concerns. While humiliating to Broward officials, it�s the type of document that brings a smile to Federal Law Enforcement agents who�ve built sterling careers by jailing corrupt politicians and bureaucrats in Miami-Dade, Broward and Palm Beach.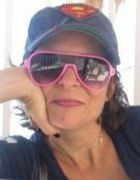 JOURNALIST
BRITTANY WALLMAN

Citing county records, Sun Sentinel journalist Brittany Wallman reported that a Broward bus driver named Fred Fischer benchmarked a 30-year career by rear-ending 13 vehicles and crashing his bus 21 times while enduring 19 suspensions and 32 disciplinary actions. Despite having been assessed a total of 40 unpaid days off, he is still plowing his bus through County streets � and he is not unique. By comparison, drivers who knowingly park over a sinkhole or abandon their vehicles for up to half their shift seem almost heroic.

Of course, there are also legitimate reasons for driver layovers, such as when required to adjust a route schedule. If a bus arrives at a stop 20 minutes ahead of schedule, the driver will wait for 20 minutes before returning to service. This Chinese menu of institutional delays and inane contract protocols turned the makeshift Galt Mile bus stops into an on-street depot. A few days later, Playa del Mar Board member Andrew Becker also contacted Douglas, documenting narrowly avoided collisions, while detailing how the buses interfere with critical association operations.

Just Following Orders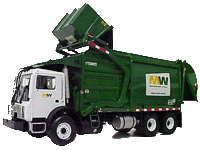 Bendis and Becker informed Douglas that associations use the cutouts to park dumpsters awaiting collection by waste vendors. When owners or tenants move in or out of the building, associations reserve the cutouts for their moving vans. Also, if the weight of heavy equipment used in certain construction projects exceeds the load tolerance of the association�s parking deck, the cutout temporarily serves as a construction staging area. While enumerating how the buses disrupt association functionality, both association officials cited resident safety as their primary concern.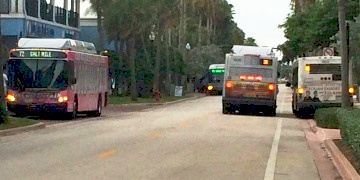 TRAFFIC MUST PASS THROUGH PLAYA DEL MAR BUS GAUNTLET

When the buses are warehoused on both sides of the street, cars traveling north and south along Galt Ocean Drive must patiently take turns inching through this traffic funnel. When moving vans or garbage trucks enter the mix, it turns the gauntlet into a barricade, and raises the table stakes. On August 22, as a garbage truck slowly made its way past the buses, a Fire-Rescue EMT approaching from behind was stopped cold at the bus barricade. Losing precious minutes, this emergency vehicle followed the garbage truck as it worked its way past the buses - while BCT drivers looked on from Dunkin Donuts.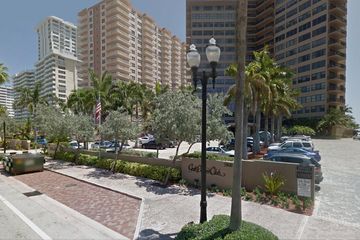 GALT OCEAN CLUB CUTOUT

Promising to explore some alternative to the bus blockade on Galt Ocean Drive, Douglas said she would respond to Bendis a week later. She never did. While fielding angry complaints from Playa del Mar and Regency Tower, the neighborhood association learned that BCT was exploring cutouts from Galt Ocean Club to Southpoint, and considering whether the bus routes should be permanently anchored on Galt Ocean Drive, intimating that the bus blockade might soon endanger every association on the block.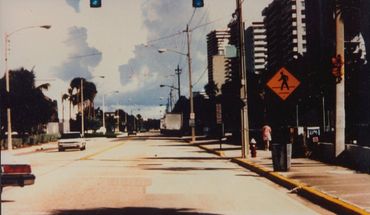 GALT OCEAN MILE IN 1993

The Galt Mile cutouts usurped by Broward County Transit differ significantly from other loading zones throughout Broward. Unlike public Right-of-Ways funded with local taxes, the association cutouts were built and paid for by Galt Mile residents. Part of a self-assessed $3.8 Million neighborhood improvement project, the cutouts were approved and installed for the benefit of adjacent associations. In exchange for the windfall improvements, the City gave assurances that they would only be used by the public as loading zones, and maintained in a �Disney-like� manner.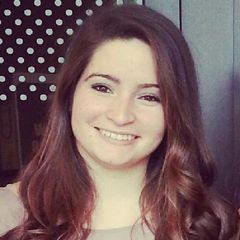 PROJECT PUBLIC INFORMATION
SPECIALIST DAYANA IGLESIAS

In her discussion with Bendis, Douglas identified Dayana Iglesias as one of the officials who originally advised the County to relocate the bus routes while A1A was under repair � which subsequently evolved into Douglas� �Marching Orders�. Iglesias serves as FDOT's communications nexus for issues related to the Galt Mile A1A Greenway improvements. When informed about the bus dilemma, Iglesias said, �Although I thought there might be complaints about the way they look or even about the way they smell, I never realized there would be a safety issue. That�s unacceptable.� Iglesias said she would raise the issue at the next A1A Greenway progress meeting on September 4.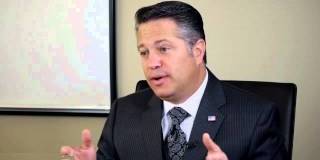 BROWARD COMMISSIONER CHIP LAMARCA

Despite the best efforts of Playa del Mar and Regency Tower officials to reverse this ill-conceived policy, neighborhood association officials suspected that the contacted bureaucrats either wouldn�t � or couldn�t � effectively address the dilemma � at least not before someone was injured � or worse. Following an emergency teleconference, Galt Mile officials decided to enlist assistance from District 4 Broward Commissioner Chip LaMarca.

Paydirt � LaMarca and Garling
BROWARD COUNTY TRANSIT DIRECTOR TIM GARLING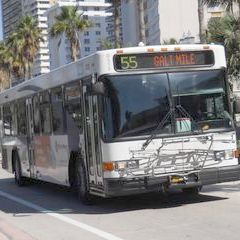 ROUTE 55 BUS ON THE GALT

In an August 25 discussion arranged by LaMarca with Broward County Transit Director Tim Garling, GMCA President Pio Ieraci framed the policy as �a tragedy in the making,� describing how the buses endanger local residents while disrupting adjacent associations. Garling agreed to explore remedies that would minimize any adverse impacts to ridership. This wouldn�t be easy, since the BCT drivers who used the �bus stops� as depots were assigned to four different bus routes: 11, 36, 55 and 72. On September 2, Garling outlined how he planned to make good.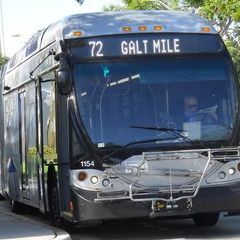 ROUTE 72 BUS ON THE GALT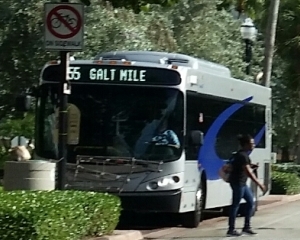 ROUTE 55 BUS IN REGENCY TOWER CUTOUT

Once approved at a mid-September administrative transit hearing, Route #36 will cease operating along Galt Ocean Drive on October 11. For buses assigned to Route #s 55 and 72, Garling planned to relocate the layover to a site north of the Galt Mile. Although Route #11 will continue to service Galt Ocean Drive, buses assigned to the route will be expressly limited to picking up and discharging passengers � no more extended layovers for multiple mid-day pizza parties. Since Garling specifically requested that we report any deviations from this protocol, the administrations at Playa del Mar and Regency Tower will monitor the BCT barricade over the next month, and document if and when buses are warehoused by drivers, whether in cutouts or curbside.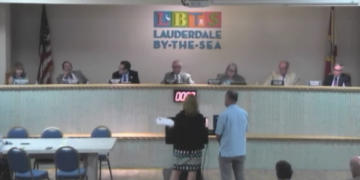 LAUDERDALE-BY-THE-SEA TOWN COMMISSION MEETING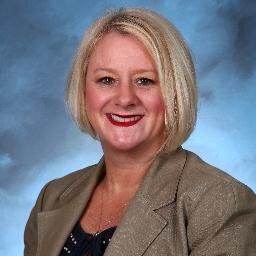 TRANSPORT & MOBILITY
DIRECTOR DIANA ALARCON

On September 8, the Lauderdale-by-the-Sea Town Commission learned that Garling planned to use El Mar Drive between Hibiscus Avenue and Palm Avenue (in front of the old Holiday Inn) as the alternative layover for buses assigned to Routes #55 and #72. Concerned about prospective noise, congestion and plans by the adjacent property owner (Florida Development Group) to renovate the building, the Commission agreed to the layover for the Route #72 buses, but not for the Route #55 buses. They also equipped the understanding with a caveat; the layover can be terminated by LBTS Town Manager Connie Hoffmann on 30-days notice. Garling reached out to Fort Lauderdale Transportation & Mobility Director Diana Alarcon, who agreed to help locate an alternative layover location for the Route #55 buses. Given the sparsity of municipal parking lots or other viable layover locations in the Galt Mile neighborhood, Alarcon has a tough row to hoe.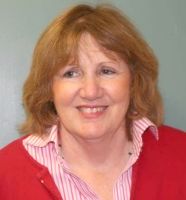 LBTS TOWN MANAGER
CONNIE HOFFMANN
LAYOVER SITE IN LAUDERDALE-BY-THE-SEA
(THE OLD HOLIDAY INN)

If the threat abates over the next month as promised, Playa del Mar and Regency Tower residents will owe a debt of gratitude to Broward Commissioner Chip LaMarca, BCT Director Tim Garling, and a neighborhood filled with sleepy retirees who react poorly when abused. As for other Galt Ocean Drive associations that were scrutinized as future depots by the BCT boogieman - they will have dodged a bullet. However, Galt Mile officials are pressing for an expedited timetable. If someone is injured (or worse) before the bus blockade is fully mitigated, these sleepy retirees are apt to devolve into nonagenarian ninjas � as the conflict explodes from the street into Circuit Court. Tick Tock.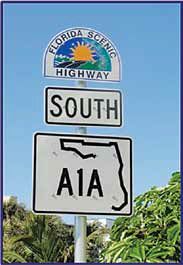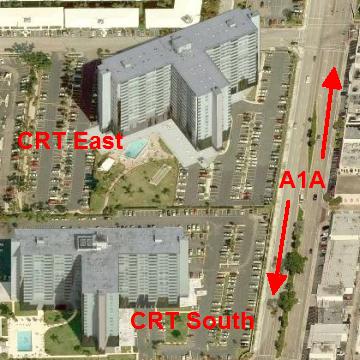 CRT SOUTH AND CRT EAST OVERLOOK A1A

August 24, 2015 - What a mess. The long-rumored transmogrification of A1A along the Galt Mile is upon us. Since 2006, City and State (FDOT) bureaucrats have been pledging to transform the Galt Mile�s blighted A1A �speedway� into an opulent beach boulevard that safely embraces vehicles, pedestrians and bicycles while appealing to visitors and local residents. When neighborhood residents voted to approve their preferred design option in 2009, recessionary pressures compelled planners to split the venture into two less financially intimidating projects. An initial component that was completed in February, 2013, reduced the number of traffic lanes from 6 to 4, and modernized roadway infrastructure in preparation for a second project meant to �fine tune� traffic control and enhance the route�s appearance.

Looking Back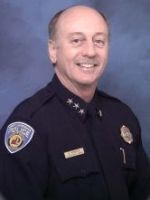 FORMER POLICE CHIEF
BRUCE ROBERTS
While many features in the current A1A Greenway were originally conceived in 2006, the project�s underlying rationale was hatched several years earlier. In 2003, when the residents of Coral Ridge Towers East and South complained bitterly about their adjacent stretch of A1A devolving on weekends and evenings into a drag strip, the neighborhood association asked then Police Chief Bruce Roberts to clamp down on the nightly racing by hot rods and Harleys.

Roberts� �Traffic Enforcement Action Plan�, temporarily mitigated the abuse during stretches of 2004 and 2005, by raining down citations for speeding and aftermarket motorcycle mufflers that emulated automatic weapons fire. However, whenever police resources were reallocated, the freak show resumed. A more permanent structural cure was considered in 2007, when the Florida Department of Transportation initiated preparations to rehabilitate State Road A1A from Flamingo Avenue to Oakland Park Boulevard. To structurally inoculate the roadway against street races wherein competing vehicles require dedicated lanes, the City commissioned Kimley-Horn and Associates Inc. to conduct a �Lane Reduction Feasibility Study�.

FDOT PROJECT ENGINEER
MICHAEL MELENDEZ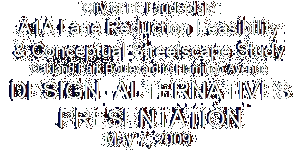 As original Project Engineer Michael Melendez later explained, �This is not a typical project. You usually don�t have many opportunities to reduce the number of road lanes. You can see where people speed up because of the open corridor. One of the benefits will be to slow down traffic, not to the point where it obstructs traffic, but to allow more pedestrians to walk on the sidewalk and bring more exposure to businesses along A1A.�


Drawing on the Kimley-Horn findings and a Conceptual Streetscape Study by urban planners Glatting Jackson Kercher Anglin (since absorbed by Los Angeles-based AECOM), FDOT and City planners packaged various design options into a referendum for local residents. Galt Milers selected a 4-lane version of A1A with many of the design elements featured in the current plan.
Florida Scenic Highway:
FDOT Kisses the Frog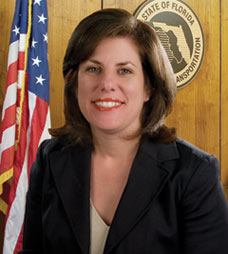 FORMER FDOT SECRETARY
STEPHANIE C. KOPELOUSOS

When former FDOT Secretary Stephanie C. Kopelouso notified Broward County that its 32 miles of A1A had been designated as a Florida Scenic Highway on July 20, 2009, the Broward Metropolitan Planning Organization (MPO) was saddled with a problem. Although FDOT had recently reconstructed A1A in Lauderdale-by-the-Sea as a beautiful transportation corridor, and the Ocean Highway approaching and adjacent to the Fort Lauderdale beach was a world-class high-end destination site, the connecting section of A1A along the Galt Mile was a festering embarrassment � a dangerous speedway scarred for decades by potholes, spiderweb cracks and crispy brown landscaping.
To make A1A in Broward County worthy of its designation as a Florida Scenic Highway, Commissioners in Fort Lauderdale and Broward County had promised to rehabilitate the sordid span of A1A along the Galt Mile. Fiscally constrained by the 2009 post-recession economy, Broward MPO divided the selected plan into two parts, and added the first phase to a list of projects which are considered annually for funding. On October 7, 2011, the $1,728,489.86 proposal submitted by Weekley Asphalt Paving, Inc. snagged the project�s first phase for the Pembroke Pines contractor, although a sweetener of almost $400,000 pumped project costs to $2.1 million.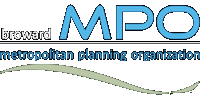 The initial phase was kicked off on May 7, 2012. By the February 2013 completion date, the road was reduced to 4 lanes, partially refitted with mast arm assemblies and stamped with a bike lane. Traffic lanes and intersections were restriped and fitted with new signage along the entire route. The tough fiscal climate was underscored by sparingly vegetated mediums that would be fleshed out �down the road,� a reminder that the project was a precursor to the final upgrades promised in the current project. 12 years after angry residents in Coral Ridge Towers East and South placed A1A drag races on the GMCA agenda, improvements to our long-stigmatized stretch of Ocean Highway are finally underway.
What Will $9.3 Million Buy?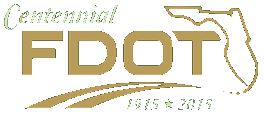 Entitled �A1A Improvements Project from Oakland Park Boulevard to Flamingo Avenue in Fort Lauderdale� and ascribed the financial identifier 431204-1-52-01 by the Florida Department of Transportation (FDOT - the State agency responsible for temporarily turning A1A into a demilitarized zone); the 1.04 mile project was officially launched on July 27, 2015, and is expected to continue for 648 working days - up to two and a half years.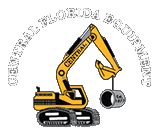 Given the inconsistent attendance at several project-related Town-Hall style meetings convened at the Beach Community Center, it�s no surprise that few Galt Mile residents know the project�s final structural objectives - or which contractor hit the jackpot. After advertising the project for procurement and soliciting bids, FDOT set the letting date at April 3, 2015 at 10:30 AM. When the smoke cleared on April 6, 2015, the $9,297,344.20 bid offered by Medley-based Central Florida Equipment Rentals was the lowest of seven contractor proposals that ranged up to $12,106,706.36. Of the $13.4 million projected for the �makeover,� here�s what we get for the almost $9.3 million tucked into the contractor�s feedbag: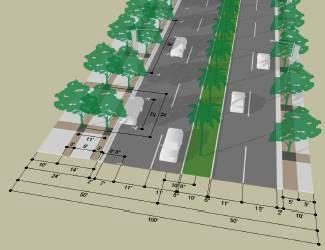 GLATTING JACKSON KERCHER ANGLIN DESIGN OPTIONS

After peppering the route section with construction signage, the company�s demolition crew began stripping asphalt and shattering concrete. 40,000 sq. yds. of resurfaced roadway will be framed by 10,000 sq. yds. of pedestrian walkways and striking hardscape features. A network of crosswalks comprised of decorative pavers will span A1A, linking new tabby shell colored concrete sidewalks along the east and west sides of the thoroughfare. ADA compliant concrete ramps will connect sidewalks to crosswalks. Improvements above and below the new roadway skin will enhance the road�s stability and prolong its useful life. 1,368 linear feet of pipe culvert will be integrated with more than 70 drainage structures, pacifying the subterranean detritus that turns the Galt Mile�s section of A1A into a 2-mile petri dish whenever it rains.

New signage, traffic lines, stripes and street glyphs will adorn the corridor. Elevated lamps will illuminate the entire greenway while low level lighting will brighten pedestrian footfalls. To insure compliance with the City�s controversial beach lighting ordinance, the lamps are equipped with a variable intensity function designed to increase or decrease illumination in conjunction with sea turtle nesting season. However, since a concrete rampart of high-rise associations blocks any view of A1A - or its lamps - from the beach, there�s no reason to ever dim the lamps � or throw money at remotely accessible dimmer switches. Of course, this investment could prove fortuitous if the Galt Mile is ever rezoned as a farming community under the Greenbelt Law.
During the first phase of the two-part A1A rehabilitation plan, mast-arm assemblies replaced dangling span wire traffic signals that failed to meet safety standards at 32nd Street, 34th Street, 36th Street, 41st Street and Flamingo Avenue. Since the signal mid-block between 36th and 40th Streets and the one at 40th Street were code compliant, their replacement was postponed - despite resident protests - until the project�s current phase. Since a planned two-block �drive aisle� along the east side of A1A will shift the other traffic lanes a few feet to the west, the existing mast arm on the east side of 34th Street will be replaced by an upgrade with a longer reach. Pedestrian crossing signals are being upgraded to countdown timers, a proven deterrent to pedestrians who might otherwise �jump the gun� while impatiently awaiting signalized permission to cross the street.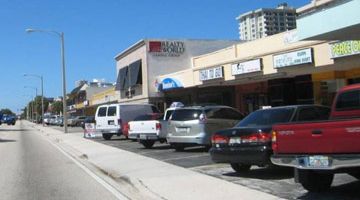 HEAD-IN PARKING ALONG A1A AT 34 STREET

From 34th Street to 36th Street, a belt of head-in parking fronts the businesses along the east side of A1A. For decades, departing patrons parked in front of the stores had to back into the fast moving traffic on A1A. Drivers would wait for a break in the traffic before nervously executing a reverse three-point turn in order to escape. If their perspective or maneuvering skills were less than perfect, the drivers might join literally hundreds of other collision victims along that morbid stretch of A1A. Helpful merchants would often walk out with their customers and stand in the road waving oncoming traffic into the adjacent lane as the driver backed out. Otherwise, the driver was forced to risk being sideswiped - or killed.

To business owners competing for customers, what should be a prime location proved a double-edged sword. While a high-profile A1A address would catch the eye of passing motorists, local residents would often opt to forego the hair-raising parking dilemma and frequent more �accessible� competitors. After intensively studying the problem, traffic engineers at FDOT and the City of Fort Lauderdale hammered out a solution - a dedicated business access drive aisle along the east side of those two blocks.

Vehicles traveling north along A1A will be able to enter a 13-foot wide single lane service road at 34th Street and slowly cruise past the businesses along the east side of A1A before either re-entering A1A at the end of the block - or turning onto 35th Street. Another service aisle that opens at 35th Street will similarly route drivers past the businesses on the east side of A1A between 35th and 36th Streets. Customers will be able to safely park or depart without risking a coronary - or a collision. Although the strategy will add back one of the traffic lanes dispensed with during the earlier project, instead of serving as the grandstand for a drag race, this traffic calming design element should help win back customers who were fearful of parking along these otherwise vibrant commercial blocks.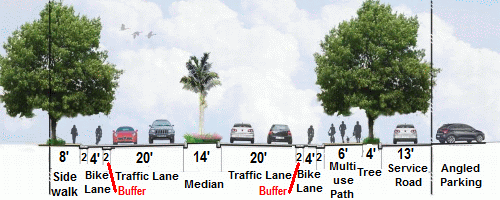 Along the west side of A1A, pedestrians will share an 8-foot walkway with a broad swath of lush landscaping. Except for the two blocks bordering the drive aisle, pedestrians on the east side of A1A will stroll through a 24-foot wide well-canopied greenway (that is - when the trees mature). From 34th Street to 36th Street, the 24-foot walkway will be replaced by the drive aisle abutting a 6-foot sidewalk and a 4-foot planter. The route�s central north and south traffic lanes will be separated by a 14-foot median brimming with designer landscaping. Oddly enough, the median�s planned greenery will replace landscaping newly purchased and planted only last year. OOPs!


Annually, every Galt Mile association donates dozens of abandoned bicycles to Goodwill, Faith Farm or some other charitable thrift merchant - clearing out rusting garage clutter for some modest tax write-off. That said, there are literally hundreds of bicycle enthusiasts living along the Galt Mile. Unfortunately, Galt Ocean Drive is barely wide enough to safely support two single lanes of traffic, much less a bike lane. For decades, bike riders have sought a way of enjoying their two-wheeler without endangering nonagenarian pedestrians or risking their necks on the street.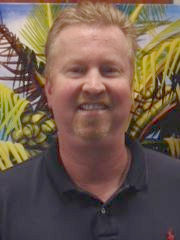 FDOT PROJECT MANAGER
JIM HUGHES
ATKINS NA TRANSPORTATION
MANAGER DOMINIC NOVELLO

In 2010, longtime FDOT management consultant Jim Hughes observed �There�s a lot of bicycle traffic in the area with no bike lanes, so I think the bike lanes will be a big addition.� Although bike lanes were placed on A1A during the project�s first phase, they were sparingly used. Since they were imprinted directly adjacent to traffic lanes, bike riders were rightfully fearful of being upended by a cell phone wielding teenager with a Learner�s Permit or mowed down by a pickup driven by an astigmatic gardener. Heeding their concerns, project planners decided to correct the deficiency. To protect bicycle enthusiasts from lead-footed predatory motorists, 4-foot wide bike lanes on either side of A1A will be separated from the adjacent 10-foot wide traffic lanes by a 1.5 foot wide buffer covered with high-visibility stripes.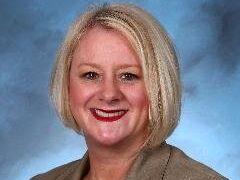 TRANSPORT & MOBILITY DIR. DIANA ALARCON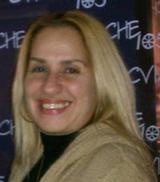 CONSTRUCTION COORDINATOR
SARA J. DUFFOO

The outcome of every major road project largely depends on preparation. The first phase of the Galt Mile A1A Greenway project was planned by former FDOT Project Manager Jim Hughes, Dominic Novello (Transportation Manager at engineering and design firm Atkins North America) and the City of Fort Lauderdale�s Transportation & Mobility Director Diana Alarcon. FDOT�s former project information specialist Miranda Iglesias kept GMCA officials up to speed with regular progress updates while previous Construction Coordinator Sara Duffoo escorted the plan to completion. Although Alarcon and Hughes still anchor the current project�s institutional memory, a new team is at the helm.

New Blood in Phase II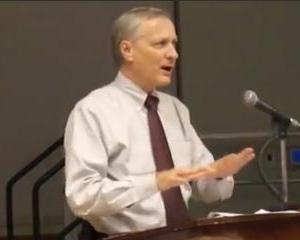 FORMER FDOT SECRETARY JIM WOLFE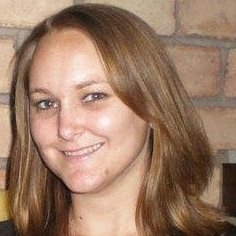 FDOT PROJECT MNGR ANGELA LIETZ

FDOT staged another due diligence tournament for the $714,221 consultancy �cherry�. On January 12, 2015, a panel assembled by former FDOT District 4 Secretary Jim Wolfe vetted seven competitors vying to provide CEI services (Construction Engineering & Inspection) for the project. Of three hopefuls that made the shortlist, Keith and Schnars, P.A., bagged the brass ring on January 26, 2015.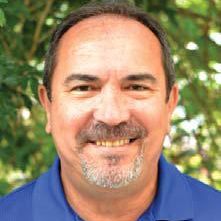 PROJECT ADMINISTRATOR JORGE BLANCO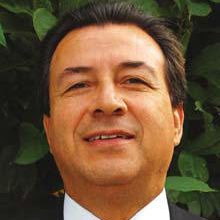 SENIOR PROJECT ENGINEER
JORGE ARMANDO ORTIZ

Licensed in both Florida and Illinois, the FDOT Project Manager is Angela Lietz, a Professional Engineer who works as a Project Administrator for Calvin, Giordano & Associates. Jorge Blanco, an award-winning consultant with Keith and Schnars, will serve as Project Administrator, a position he�s filled for FDOT in various districts since 1987. The Senior Project Engineer, also with Keith and Schnars, is Jorge Armando Ortiz, a seasoned veteran who helped build Wiles Road while employed by Broward County and completed Highway Transportation projects in FDOT Districts 1, 4 and 6. Not surprisingly, they all eat and breathe asphalt.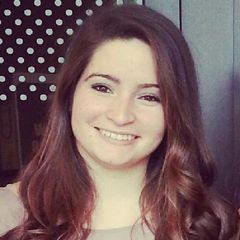 PROJECT PUBLIC INFORMATION
SPECIALIST DAYANA IGLESIAS

When engaging stakeholders in South Florida, FDOT uses the nationally renowned Corradino Group. As Corradino�s avatar in Broward County, transportation projects are coordinated by public information specialist Dayana Iglesias. Iglesias was charged with keeping everyone up to speed about project progress - a communication nexus for community residents, government officials, project planners, local merchants and later in the project - contractors.

To reignite the high level of community support maintained throughout the project�s first phase, Iglesias interfaced with neighborhood associations, local civic groups, and merchant associations as well as individual residents and business owners. On July 22, 2015, Iglesias hosted the last in a series of town-hall style meetings at the Beach Community Center. Accompanied by Lietz, Blanco, and Ortiz from the new project team � as well as Jim Hughes � they invited questions and solicited community input for eleventh hour project tweaks.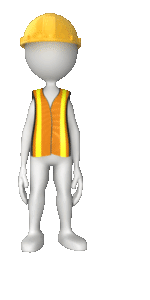 Once the project launched on July 27, 2015, Iglesias� responsibilities were expanded. In addition to serving as a conduit bridging the community, elected officials and project planners, she would also keep tabs on the contractors. She has already begun issuing regular construction (and traffic) updates to stakeholders who subscribe to this free service. When necessary, she will help broker resolutions to unanticipated construction blowback. If this promising new team is successful, the project will parse on schedule with its objectives � and budget � intact. If not, the neighborhood gets shortchanged, and we pay the freight.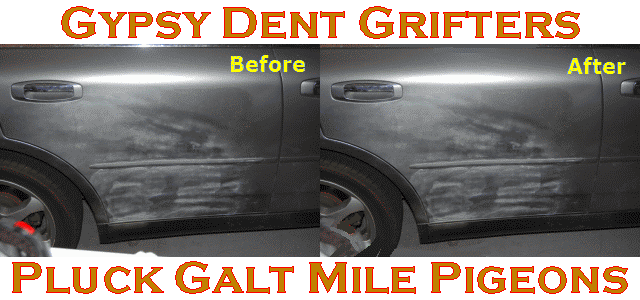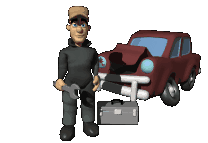 April 26, 2015 - On your way out of the supermarket, while juggling groceries earmarked for the trunk, some guy parked next to you points out a dent in your car. Inveighing that this is your lucky day, he holds out a business card and mentions that he is an auto body repair technician who just got home from a long day at the service garage.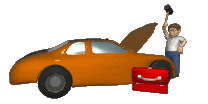 What might ordinarily cost you $700 - $900 at the auto body shop, he will do for a mere $250. What�s more, you can watch as he restores your vehicle�s former glory. How can you go wrong? After carefully eyeballing his embossed laser-cut business card, you agree.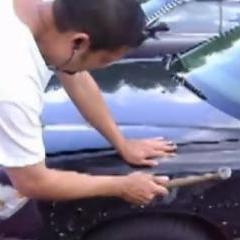 SCAMMER PROBES DENT

In a flash, his trunk pops open, revealing an impressive array of tools. You even recognize some of them from when you had an earlier dent repaired at a reputable collision center. The �mechanic� begins probing an area around the dent, gently tapping with a mallet he slipped from his trunk after placing a can of Bondo Body Filler next to the car, along with two sanding boards and a vice grip.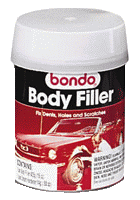 He begins sanding the dent when your iPhone ring tones. After talking for a few minutes, you notice your new-found auto body wizard wiping some white goo from his hands. Apparently, it�s the same stuff that now completely covers the dent. Seemingly satisfied with his efforts, the off-duty mechanic authoritatively explains how the compound will protect the new finish from rain or heat as it cures over the next 24 hours. He collects your money and heads into the sunset, assuring you that your car will look as good as new tomorrow.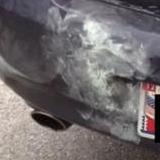 DENT REMAINS

Early next morning, you get dressed and head to the garage. Still relishing your impromptu financial mini-coup, as you strip off the compound, the building falls on you. There�s the dent, large as life � only now it�s surrounded by three more dents and a swath of missing paint.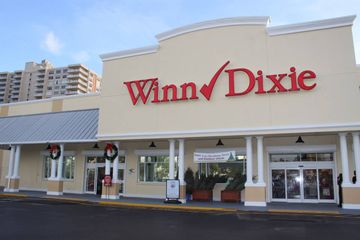 WINN DIXIE HUNTING GROUND

The number printed on the business card is disconnected and the address doesn�t exist. Neither does the website nor the email address. As the totality of your failure sinks in, you weigh whether filing a police report is worth the humiliation, given the paper-thin likelihood of recovering the funds or even finding the scoundrel. You aren�t used to feeling like a stooge. Following a brief unsettling internal struggle, you decide to put the event behind you. Case closed.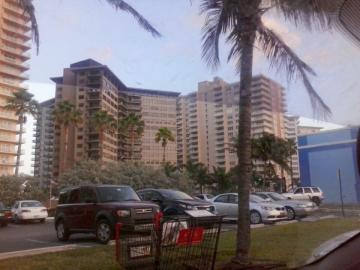 GALT OCEAN MARKETPLACE PARKING LOT

Although it sounds suspiciously like an anecdotal exhortation lifted from �Snopes� (a hoax reporting website), this embarrassing incident recently took place in the Winn-Dixie parking lot, and the victim is an intelligent, well-informed Galt Ocean Mile resident. He later learned that he was snookered by a long-running dog and pony show known as the Gypsy Dent Scam.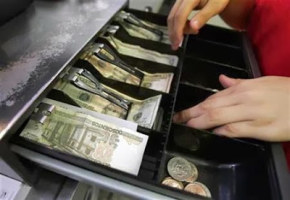 GYPSY TILL TAP

Although the etymology is in dispute, when the scam first surfaced, this debasing Romani racial slur was used to describe either the activity�s moral bankruptcy or a predisposition to dodge retribution by traveling from town to town. That said, many South Florida Police Departments with special units devoted to Gypsy crime families identify the dent scam, along with �Till Taps� and distraction thefts, as trademark frauds.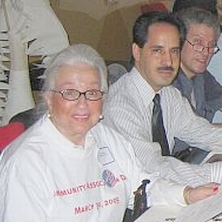 GALT MILE ADVISORY BOARD

On April 16, 2015, Fort Lauderdale Police Department (FLPD) Officer George Brandner was filling in for his partner � FLPD�s Galt Mile liaison Officer Thomas Gestal � at a luncheon meeting of the Galt Mile Advisory Board. While delivering the monthly crime report, Brandner warned Board members that the Gypsy Dent Scam had epidemically grown legs along the Galt Mile, as victim reports became standard fare at patrol briefings.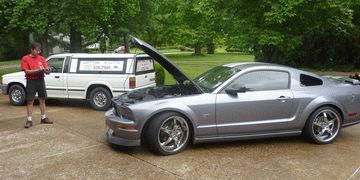 GYPSY DENT PROP VAN

Brandner explained that the hustle is a multiple version legacy scam, as perpetrators hunt unsuspecting quarry in parking lots or driving along local streets. He reported that some of the local scammers were eloquent, highly polished and well-practiced, having successfully turned self-proclaimed �diehard skeptics� into hapless victims. In one incident described by the officer, a commercial auto body van was used as a prop, and the scammer was convincingly familiar with automotive repair procedures and specialty equipment used by collision repair technicians.

Noting that several variations of the scam had been reported, Brandner characterized a bare bones version as most locally prevalent. When one of two perpetrators asks about fixing a dent (that he may have placed there earlier), as the mark exits the vehicle to inspect the damage, his partner snatches whatever looks valuable from inside the car � simple, fast, and effective.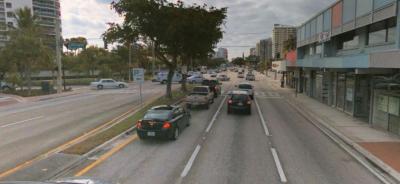 SCAMMERS CRUISE A1A FOR VICTIMS

The hunting ground isn�t confined to parking lots. Scammers cruise Oakland Park Boulevard, Sunrise Boulevard, Federal Highway, Commercial Boulevard and A1A, where they pull up next to a car stopped at a light and offer to fix dents they observe on the body or bumper. Whenever a mark takes the bait, the endgame always plays out the same way. Whether entranced by a huckster with the gift of gab or intimidated by a matched pair of gorillas, instead of saving a few dollars, the victim shells out money to crooks who invariably add to the damage.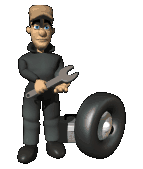 As Brandner further expounded scam details, the low-key background banter usual to these meetings dropped off to a murmur. Breaking the silence, an Advisory Board member admitted that he�d been duped. With the flood-gates open, others felt compelled to jump in, in turn describing how they were also bilked by Gypsy Dent con artists. Given the plurality of hard-nosed skeptics on the Advisory Board, these spontaneous admissions suggested that Brandner�s police reports barely scratch the surface of the actual victim pool.
A retired Galt Mile health care consultant was stung by a more elaborate variation. Using an electric grinder powered by the car�s battery, a pair of scammers stripped the paint around a dent and cut deep into the substrate. After building out the depression with wax and spray paint, they covered the mess with gray putty. �I was skeptical when they first offered to fix the dent in a half hour, but watching them work, I became convinced that they knew what they were doing.�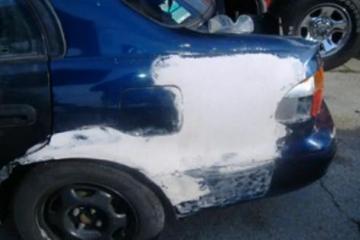 DELAYING REMOVAL OF THE COMPOUND LETS THE SCAMMER SCRAM

Steeled by myriad previous performances, they had plausible answers for anything she threw their way. When she asked how they could match the vehicle�s exact color, one of the scammers replied �No problem, we formulate the color from the VIN number on the registration sticker in your window.� Once paid, they left her with detailed instructions, �In 48 hours, have the car washed and hot waxed. It will remove all traces of wax and compound and restore the car to its former finish and color.� In fact, they turned a small dent into major damage. �I spent more than $3700 to fix the original dent plus the damage caused by grinding;� angrily adding �they also damaged my battery.�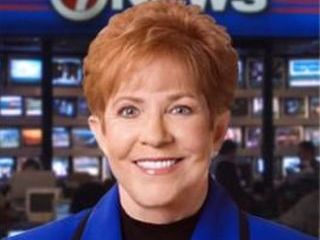 INVESTIGATIVE REPORTER CARMEL CAFIERO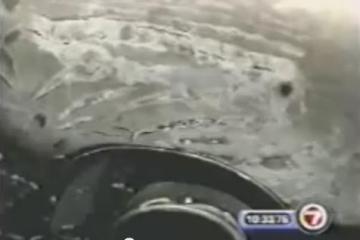 DENT SCAM DAMAGE TO VEHICLE IN CORAL SPRINGS

In 2010, Channel 7 (WSVN) investigative reporter Carmel Cafiero did a segment about scammed residents in Coral Springs and Delray. The crooks claimed they were employees of a legitimate Boca Raton repair shop called Dent King, and invited prospective marks to check the shop�s website. With their fears dispelled, the hoodwinked targets agreed to let the thieves fix their damaged vehicles.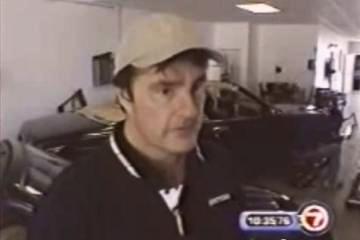 DENT KING PROPRIETOR KEVIN KURLOWSKI

After covering up the non-existent repairs, and admonishing that they would cure overnight � the standard delay tactic � the scammers disappeared with the cash. Subsequent calls to Dent King by each of the burned victims elicited the same response from proprietor Kevin Kurlowski, �No one by that name ever worked here!� Lamenting the large number of victims who visit to his shop to repair damage caused by the scammers, Kurlowski told Cafiero that because the material used by the crooks to cover their handiwork isn�t properly applied, it adds to the damage when removed.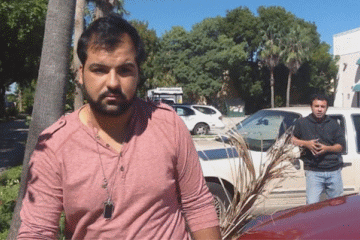 SCAMMERS SANTINO MITCHELL AND VINNY UWICH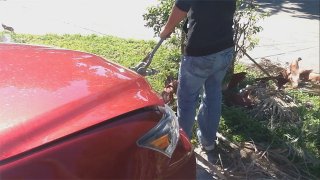 SCAMMERS YANK HOOD OUT OF ALIGNMENT

More recently, Local 10 investigative reporter Jeff Weinsier filmed two scammers yanking the hood of a Lexus out of alignment with a pulley they had affixed to a light pole with a metal cable. Claiming they were Lexus employees, 24-year old Santino Mitchell and Vinny Uwich convinced an elderly Lexus owner in a gas station parking lot to fork over $400 to remove a dent in his hood that he had never seen before. When the camera began rolling, Uwich said he would slap Weinseir and Mitchell, who was arrested in Clarkstown, New York a few years earlier for pulling the same scam, threatened to break the camera. Although they took off before the police arrived, the victim later learned that they did damage estimated at $1300.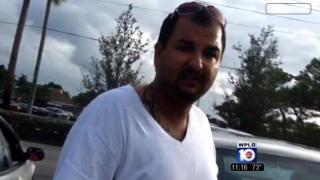 WEINSEIR FILMS SCAMMER ANTHONY MITCHELL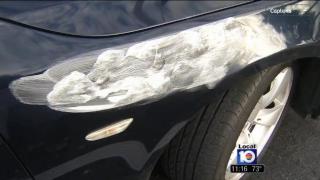 SHOE POLISH COVERS DENT ON BMW

A few months later, Weinsier filmed Mitchell�s brother Anthony working the same scam on BMW owner Sagi Danon in a mall parking plaza, masquerading as a BMW employee. For $200, Mitchell covered a dent with shoe polish and assured Danon that the finish would look new when he wiped it off in a few days. In contrast with the threats leveled by his brother, Anthony grabbed Weinseir by the throat while trying to pry away the camera before beating a hasty retreat when he learned the police were en route. Frustrated because the only infraction for which most scammers are legally answerable is a licensing violation, an undercover detective estimated that these puss buckets clear about $3000 a day.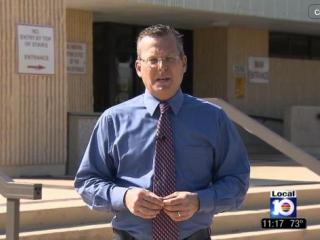 LOCAL 10 INVESTIGATIVE REPORTER JEFF WEINSIER

If you drive a car, there�s a significant probability that you will run into one of these sleaze bags. Besides the Galt Ocean Marketplace, other local parking lots where Gypsy Dent scammers thrive include the Coral Ridge Mall, Lowes, Publix, Home Depot, Whole Foods, Best Buy, Pier 1 Imports, Galt Ocean Shoppes (32nd � 34th St.), Office Depot, and the larger furniture stores along Federal Highway. Here are a few tips. If while driving you are approached by someone offering to fix a dent in your car, close the windows and lock the doors before you answer, thereby deterring a light-fingered partner from exploiting what is likely a deliberate distraction.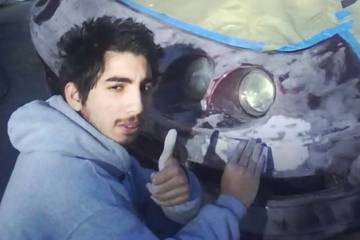 COVER THE DAMAGE AND DISAPPEAR

If you run into a �lot lizard� in a commercial auto repair van while parked at a mall shopping plaza, and the money-saving deal sounds tempting, explain that you�ll meet him later at his repair shop. If he tells you that he can only offer you this discount because he just came from fixing another car using the company�s equipment, but back at the shop, you would be charged full price � scram � that jargon is a traditional Gypsy Dent Trademark!

However, if your �lizard� is only holding a rag and a spray can, imagine he is an unemployed dentist who asked if you wanted a $50 root canal performed in the median, and react accordingly.

If you view their street-honed skills as no match for your uncanny prowess in sniffing out fraud or your arsenal of common sense, you�re already in trouble. They are relentlessly persistent and make a living by successfully negotiating for credibility with people from every social stratum. If you go toe to toe with these reprobates on their home turf, you will lose. There is only one way to win, walk away. If you also want to turn the tables on these bums while helping to protect the rest of us, call the police (staunchly recommended by Officer Brandner)! That night, you�ll sleep like a baby.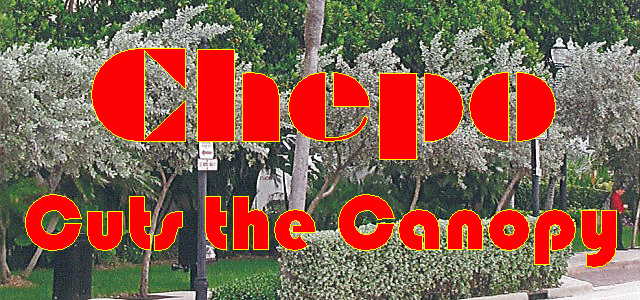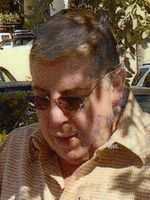 COMMODORE RESIDENT
JOS� �CHEPO� VEGA

February 20, 2015 - In early November, 2008, Commodore resident Jos� �Chepo� Vega emailed a complaint to the Galt Mile Community Association about the �precarious� state of landscaping along Galt Ocean Drive. A few days later, he followed it up with a call to GMCA Vice President Eric Berkowitz, exclaiming �While I was walking in front of my building, I saw someone walk into a low hanging tree limb. It could have blinded him. Why doesn�t the City pay attention to the landscaping on our block?� Chepo argued that if he knew who to contact about addressing this issue, he would gladly volunteer his time and horticultural acumen. He was invited to apprise Advisory Board members and attending association officials about his concerns at the next Galt Mile Presidents Council meeting.

Galt Mile Block Maintenance Liaison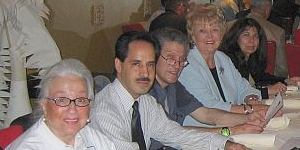 2008 GMCA ADVISORY BOARD MEETING

At the December 1, 2008 meeting, while participants discussed the now defunct Calypso Project, Beach Renourishment, monkey business in the Florida Office of Insurance Regulation and the impact of deliberately dilatory foreclosures on Association budgets, Chepo cornered former Commissioner Christine Teel, detailing his concerns. Offering to contact the Parks Department and investigate the problem, she requested that he contact her office the following day.

Excited about the prospect of finally making headway, the next day Chepo emailed GMCA officials Pio Ieraci and Eric Berkowitz �I spoke briefly to Commissioner Teel at the Monday meeting then called her subsequently at her suggestion. In our conversation I mentioned our concerns about the problems we are having with the sidewalk trees. I told her that the trees are growing bent due to the strong ocean winds and the use of the wrong stakes to prop the trees. I mentioned to her that somebody can injure their eyes with the low branches, etc. I volunteered to meet with anybody from the city that can help solve this problem. Teel told me that she is going to call the persons in charge of the planting and if I did not hear from them in a week, to call her and let her know.�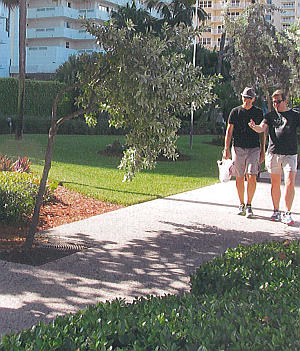 POORLY STAKED LEANING TREE

As directed by Teel, her commission assistant Eve Bazar sent an email to Julie Richards in the City Manager�s office, explaining, �Jos� Vega resides at the Commodore condo on the Galt. He feels that the trees on the Galt aren�t being pruned properly, and in some cases may cause harm to people since the branches are too low. Mr. Vega talked with the commissioner and would like to meet with someone from P&R (sic - Parks and Recreation) who is responsible for the trees so he can alert them to the problems. Would you please have someone from P&R contact Mr. Vega to discuss this matter? Thanks.�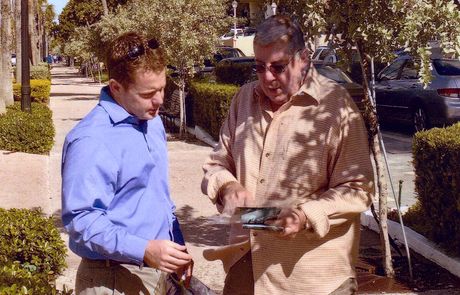 JOS� AND BRIAN HOPPER DISCUSS LANDSCAPING

A week later, Parks Department Operations Superintendent Brian Hopper met with Chepo. On December 13th, shortly after their meeting, Hopper notified former Assistant Director Terry Rynard of Parks and Recreation, �I have met with Mr. Vega and we have begun trimming and restaking the trees. We will continue this work over the next week or two. Mr. Vega is pleased with our response thus far and was very complimentary of staff. I will follow up when work is 100 prct complete.�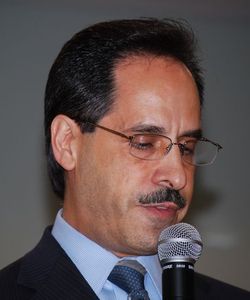 PIO IERACI

To muster support from the neighborhood�s 27 member associations, Chepo attended the December 18, 2008 GMCA Advisory Board meeting at Nick�s Italian Restaurant. Following reports from our City and County Commissioners and several agenda discussions, GMCA President Ieraci turned to Chepo, thanking him for following his original complaint with active pursuit of redress. Landscaping and block maintenance had long been stones in Ieraci�s shoe, and a source of frustration for most veteran neighborhood officials.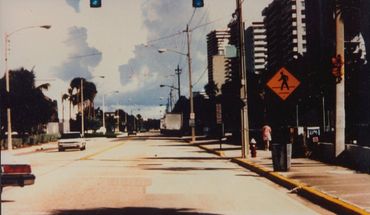 GALT OCEAN DRIVE IN 1993

When Galt Ocean Drive residents voluntarily assessed themselves to fund the broad range of civic upgrades known as the Galt Mile Improvement Project in 1995 (pink aggregate sidewalks, new traffic signals and signage, interred utility lines, pavered crosswalks, new landscaping, etc.), the City agreed to maintain the many improvements in �a Disney-like manner.� Whenever the Parks Department dropped the ball, Galt Mile association officials would meet with the District 1 City Commissioner and Parks Department Director Phil Thornburg to elicit assurances that civic maintenance would improve. Such promises had a half-life of three to six months, and turned to vapor when the bureaucrats� feet were no longer in the fire. By 2008, frustrated residents had watched their landscaping cycle through 12 years of intermittent green periods and brownouts.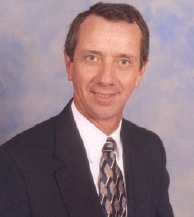 PARKS DIRECTOR
PHIL THORNBURG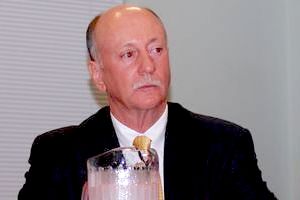 VICE MAYOR BRUCE ROBERTS

After announcing, �Chepo is working with the City to address the landscaping problems along Galt Ocean Drive,� Ieraci proposed that Chepo be officially vested to represent the Neighborhood Association in this effort. A quick vote affirmed Chepo�s status. After indicating that she would notify the Parks Department about the Advisory Board�s action, Teel said that Chepo would �probably hear from them after the Holidays.� For the first time, the neighborhood association had a permanent block maintenance liaison to the City.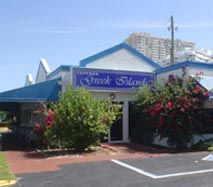 GREEK ISLANDS TAVERNA

In April of 2009, after taking the District 1 cockpit from Christine Teel, newly elected Commissioner Bruce Roberts seamlessly stepped in as Chepo�s �Rabbi� in City Hall. At his first Galt Mile Landscaping evaluation on June 22, 2009, Roberts met with Parks Department Superintendent Brian Hopper, Beach Foreman Mark Almy, GMCA President Pio Ieraci and Chepo at the Greek Islands Taverna, the starting gate for a 10 AM Community Walk-through. After identifying the neighborhood�s landscaping deficiencies, their report became the official maintenance syllabus for Parks Department crews working along the Galt Mile.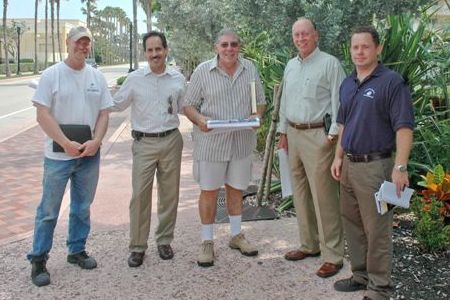 MARK ALMY, PIO IERACI, CHEPO, BRUCE ROBERTS AND BRIAN HOPPER INSPECT GALT

Chepo and Brian Hopper got down to business. In his first report to the neighborhood association, Chepo summarized a recently completed two week project. Following another walk-through with Hopper and landscaping personnel, crews assigned to the project trimmed more than three dozen trees, cutting branches deemed dangerous to marginally attentive pedestrians and passing cyclists. Sizing stakes were installed to better control future growth and broken metal grates framing the block�s trees were repaired and/or properly reinstalled.

Over the next seven years, this scenario was annually adapted to the neighborhood�s evolving needs. Whenever the City slacked off, our block maintenance gadfly would politely raise hell. Two issues were at or near the top of an annual mantra of landscaping complaints, queries and suggestions from Galt Mile residents. The first mirrored Chepo�s admonition to address trees along Galt Ocean Drive identified and marked as �severely bent towards the street,� characterizing the eye-level low hanging branches as pedestrian threats. Secondly, Galt Mile residents questioned why trees along the Galt appear strangely distorted, frail and congenitally puny - as if on life support.

Mysterious Runt Trees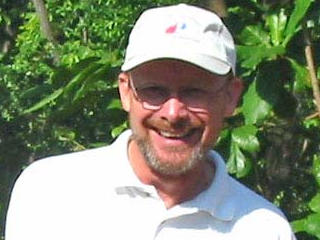 URBAN FORRESTOR GENE DEMPSEY

The trees planted along Galt Ocean Drive have two strikes against them. When Urban Forester Gene Dempsey addressed a 2005 Presidents Council meeting, he explained that a newly hired city horticulturist would supervise the planting of all new �environmentally compatible� flora along the block. The plan went awry in 2007 when Parks personnel discovered that the Green Buttonwoods planted years earlier had grown massive root systems, irreversibly entangling utility lines, communication cables and drain lines. Were they simply torn out, residents in the adjacent buildings would taste life in the 17th century. Having failed to pry out the roots, cut them away or selectively poison certain offshoots, former Parks Department Assistant Director Terry Rynard - who has since returned to hometown Kansas City - conceded that the Department�s plans were in trouble. They would have to try rooting smaller trees in areas filled with irretrievable root balls.

BRACED SILVER BUTTONWOODS AND COCONUT PALMS

During a June 2007 landscaping walk through with Rynard and Parks Foreman Tim Southby, GMCA President Pio Ieraci learned why hurricane-damaged trees were deliberately replaced with undersized trees plagued by abbreviated life spans. �The silver buttonwoods that we have planted on the walkway were chosen for their size for many reasons,� exclaimed Southby. �The openings in the sidewalk are only so big. Many of the old root systems are still in the ground from the old trees and from other trees along the sidewalk. Electrical and irrigation for these trees runs through these openings, causing us to use smaller and not as mature specimens as we would like to have used.� Southby elaborated, �For this reason we have had to stake and strap the trees in ways we normally would not like to have to use. We know that it isn�t the most attractive method but it is working.�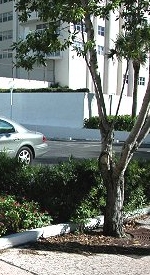 GREEN BUTTONWOOD
ROOTBALL RAISES GRATE

City officials had to find a way to plant new trees without first having to remove the stifling remnant root balls. Initially, unsupported trees were planted in whatever space was available amid the overcrowded root remnants. As often as not, they died. If they could have somehow been sustained following their initial implantation, the replacements� chances for survival would have increased substantially. Tim Southby explained steps taken by the Parks Department to accomplish this objective, �We are also currently topping off most of the buttonwoods to stop adding more stress to the lower trunk and the root system. This will allow the trunk to thicken up and give it the strength that we need to allow the strapping to come off and make the sidewalk area more appealing.�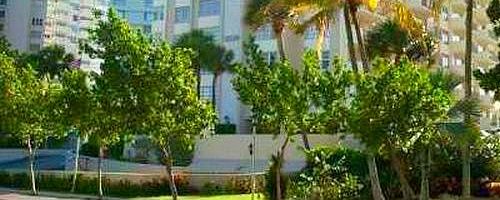 GREEN BUTTONWOOD ROOTBALLS DAMAGE GALT SIDEWALK

By initially keeping the trees small, their growth resources would be directed towards bulking up their trunks, enhancing their prospects for survival. Southby theorized that this strategy, in conjunction with concentrated fertilization, would shorten the period that the trees appeared undersized. Ieraci asked Southby how long the small silver buttonwoods would have to remain staked and strapped. �We hope by June of 2008 the strapping will come off most of the trees except for the ones that we have had to replace in the last few weeks,� predicted Southby. Unfortunately, his plan hit a wall.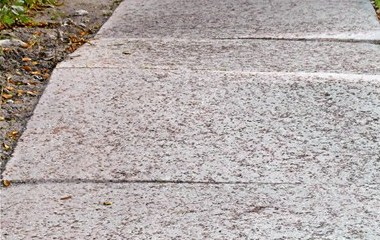 DISLODGED AGGREGATE PANEL RAISED BY ROOTS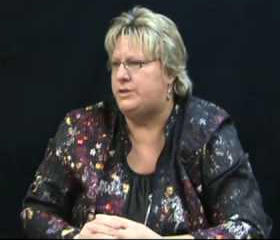 FORMER PARKS DEPARTMENT
ASSISTANT DIRECTOR TERRY RYNARD

At the time, Rynard agreed with Southby�s assessment, exclaiming �You won�t have to wait ten years to see substantial growth. We�re making the best out of a bad situation. We plan to intensively fertilize the new trees. Once they are firmly rooted, we should see some rapid growth.� Southby also blamed the old root balls for damage sustained by the aggregate sidewalks originally installed as part of the Galt Mile Improvement Project. He explained �The root systems spread under the entire area. We found them wrapped around the tree cover grates and they dislodged sidewalks.�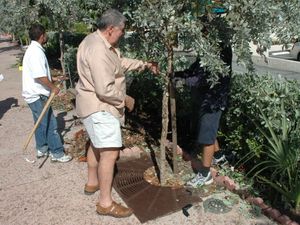 COMMODORE RESIDENT JOS� �CHEPO� VEGA RESTRAPS TREE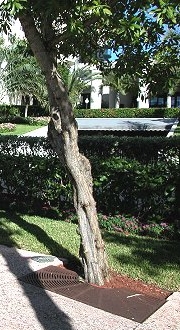 TWISTED, GNARLED - ROOTS
ENTANGLED IN GRATE

To successfully fulfill the City�s contractual obligation to maintain the block �in a Disney like fashion,� Parks personnel admittedly should have meticulously micromanaged the immature plantings through their initial growth period. They didn�t. When most of the trees succumbed to the Department�s maintenance lapses, their replacements were also staked. Of those that ultimately survived, when the stakes were removed, growth spurts sent their crowns lunging toward or away from the street. In danger of toppling, they were restaked. By the time these trees were stabilized, many had become severely gnarled � strangely reminiscent of the contorted iconic specimen gracing the front yard of Carlos and Morticia Addams.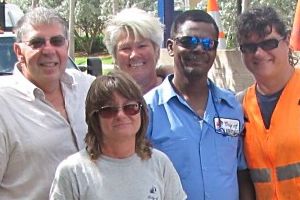 CHEPO AND PARKS DEPARTMENT CREW

On the bright side, nature is reliably unpredictable. Once Chepo�s oversight marshalled a sustained effort by the Parks Department, the City�s recipe for mutant trees was retired. While the damage could not be undone, at least it would not be repeated. When trees unable to survive in beds compromised with rotting root balls were replaced by a new crop of undersized trees � anticipating that their smaller root systems would better tolerate the cramped rooting environment � Chepo insured they were nurtured � as originally prescribed years earlier by Rynard and Southby. After seven years of managing this mass rotation of browned out Buttonwoods, City crews finally filled every Galt Mile sidewalk grate with a tree � small, twisted � but alive.

Strolling Safe Sidewalks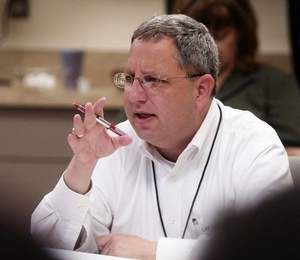 CITY MANAGER LEE FELDMAN

Chepo and Beach Foreman Mark Almy spent 2014 addressing landscaping issues observed during the annual walk-through. While identifying trees along the public right-of-way with threatening branches, Chepo added those on association property with low branches that overhang the sidewalk and/or street. Since City crews applied a �hands-off� policy to association landscaping, an Advisory Board member reported Chepo�s dilemma to City Manager Lee Feldman. If informed about a tree on its property that poses a danger to pedestrians on the public sidewalk, and an association fails to correct the threat, Feldman clarified �Once I know the location, I can have our code compliance staff handle it.�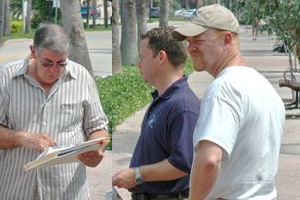 CHEPO, BRIAN HOPPER AND FOREMAN MARK ALMY

On February 4, 2014, Almy emailed Commissioner Roberts, GMCA President Ieraci and Chepo, announcing �We are scheduling the trimming of the Silver Buttonwood trees along the sidewalk to begin in the next few weeks.� City crews then set about filling in open spaces with Silver Buttonwood hedges and Indian Hawthorne, sodding irrigation boxes and treating sidewalk beds with �Weed and Feed�. Responding to complaints from association managers, they trimmed trees and hedges that blocked the view of drivers pulling into the street from association driveways. However, many of the block�s low-hanging branches remained unattended. Protests lodged by Chepo were buttressed by complaints emailed to the neighborhood association by Galt Mile pedestrians.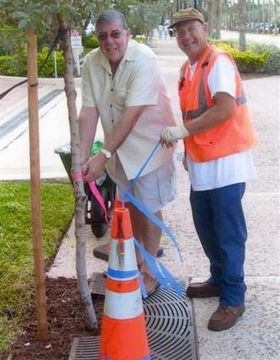 CHEPO MEASURES TREE

With the seasonal influx of vulnerable elderly snowbirds exacerbated by the horrific weather in Northern cities, by December, Chepo decided to reach out to Commissioner Roberts, explaining that the untrimmed trees were an accident in the making. It worked. On January 27, 2015, a jubilant Chepo popped off an email to the neighborhood association entitled �Good News is coming in,� and referred to an attached message from Mark Almy: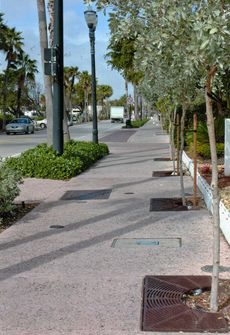 TREES TRIMMED - MADE
SAFE FOR PEDESTRIANS
�Hi Chepo. We did some extensive trimming today on the trees over the sidewalk. The brush is moved to the side and will be picked up by a truck. We went from 3550 to 3900 (sic - Ocean Riviera to Playa del Mar) today. We skipped one small area due to a moving truck being in the way and the most northerly part still has to be done as well. These areas will be done soon. Just wanted to give you a heads up that we were back on it. Thanks�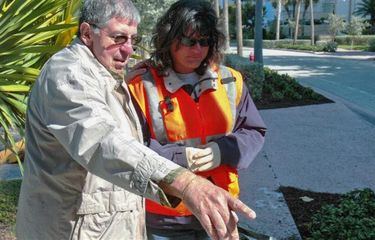 CHEPO DISCUSSES PROJECT WITH MARIA

Since Chepo�s Advisory Board appointment, this low profile volunteer has pressed, pushed, pulled and prodded City, County and association officials to elicit their cooperation. He works side-by-side with Park maintenance crews, personally oversees hard scape upgrades and continually bird dogs City officials. If you see Chepo strapping a tree or swimming in wood chips, and like the way your neighborhood looks, you might want to �pay it forward.� A simple �thank you� should do the trick.



Year Three!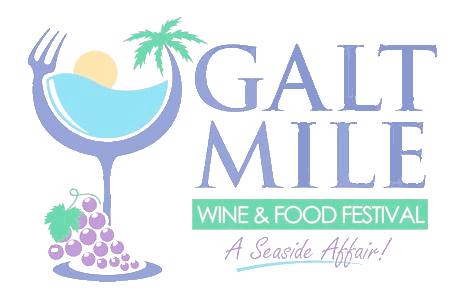 January 30, 2015 - On Saturday, March 7, 2015, the 3rd Annual Galt Mile Wine & Food Festival will unfold in our back yard, resurrecting last year�s sequel to the 2013 inaugural event, when thousands of local residents and visitors were rewarded with a delightfully entrancing weekend afternoon � right across the street. The festival is produced by BocaRaton.Com and The Bites! Network � in partnership with the Galt Mile Community Association.

From 4 to 8 PM, attendees will choose from scores of fine artisan wines, craft beers & spirits while enjoying distinctive food tastings; live cooking demonstrations; and authoritative insight into pairing each dish with the perfect libation - as suggested by some of South Florida�s most experienced sommeliers and renowned Top Chefs.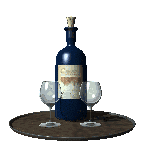 When navigating the festival�s many offerings; allow your senses to guide you through the labyrinth of sumptuous stations. Aromas will draw you to your next stop, and your palate will dictate whether to request �seconds� or move on. In its third consecutive year, the festival is once again anchored by the culinary professionals who�ve built their lives around their craft. As enumerated on the promoter�s website, returning participants in the prior years� events will be joined by additional epicurean luminaries in 2015.
South Florida�s Top Chefs!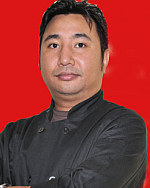 CHEF MAI PONRATHORN

Among the noteworthy Chefs in this year�s lineup is Executive Chef Mai Ponrathorn of Tokyo Blue (formerly of the Miami Beach hot spot Nobu), who nurtures Asian Fusion nightly at the Galt Mile�s Ocean Manor Resort. While under Executive Chef Hector Lopez� tutelage at Events by Grateful Palate, Chef Freddy Kunkel envisioned opening The Roasted Fig, which now exports Kunkel�s unique creations to devotees all over South Florida, provisioning patrons with inspired culinary fare. Having morphed a sports bar into an art form, chefs at the Galt Mile Bokampers will once again offer mainstays from their quintessential sportsfare.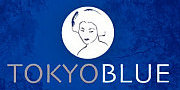 Executive Chef Remon Choi from BAO Las Olas harmonizes complex flavors in creating Asian inspired cuisine that ranges from authentic to fusion. Having emerged victorious over Iron Chef Masaharu Morimoto in the Food Network episode dedicated to calamari, Executive Chef Claudio Sandri from Pronto by the Sea in L-B-T-S is another first time festival headliner.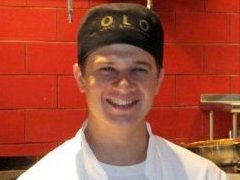 CHEF FREDDY KUNKEL OF THE ROASTED FIG

The culinary wizardry of Executive Chef Dane Iacangelo built Potions in Motion into a Boca Raton catering benchmark. Hilary Saporta�s online dessert Mecca �A Flair For Fudge� is a magnet for corporate clients with a sweet tooth. From the Galt Mile, Martin Barrett�s iconic �Olde Irish Pub� Sly Fox and Ocean Manor�s beachside Bamboo Beach Tiki Bar pump out South Florida comfort food.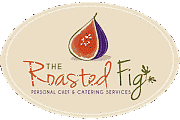 Committed to making wellness savory, this year�s impressive crop of participating health conscious eateries includes chef inspired food for the soul from the Green Spot Kitchen, a menu laden with gluten-free grains and bakery items from the Green Bar & Kitchen (which is planning a second outlet on the Galt Mile), Dr. Juice turns raw, organic, unpasteurized ingredients from local farms into liquid bliss while the Living Green Fresh Market trades in the antioxidants hinted in its namesake.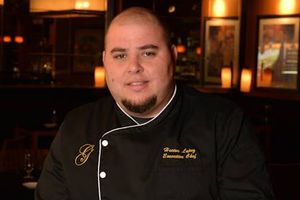 CHEF HECTOR LOPEZ OF SIDECAR MOBILE KITCHEN

On East Commercial Boulevard in Lauderdale-By-The-Sea is the Basilic Vietnamese Grill - a study in Asian spice. Nurturing Japanese Thai specialties, Beg for More blends fusion Thai dishes with sushi and tapas. Specializing in fresh New England and local seafood are Kelly�s Landing and Joe�s Crab Shack - both in Fort Lauderdale. Featuring dishes like Cinnamon Roll French Toast or Shrimp �n Grits, Boca brunchery �Another Broken Egg� injects artisan flair into a weekend afternoon spread.

Merging a nightclub, boutique and restaurant, ROC Resto-Lounge & Fashion tweaks gourmet American fare with Asian and Latin flavors. Renowned Chef Hector Lopez� latest enterprise, Sidecar Mobile Kitchen turns out dishes like crab cake sandwiches and truffle parmesan fries while rolling between chic private events and packed festivals. Outback Steakhouse Co-Founders Tim Gannon and Bob Basham conceived PDQ (People Dedicated to Quality), proof that fast and good aren�t a culinary anathema. Also in the mix are Giorgio�s 17th Street Italian Specialty Restaurant and Caterer, The Garlic Knot pizza & pasta, Rated M Wines (and infused desserts), 100% grass-fed Arrowhead Beef, steak and seafood staples from the Chart House, Chef Mauro Petrini�s matchless gelati and sorbetti from Gelato Petrini and more added each day.

Wine, Beer & Spirits

If tantalized by a luscious libation, you can purchase the potable from onsite Boca Raton based wine retailer WineEvents.Com. Participating purveyors of Wine, Beer and Spirits include Phelps Creek Vineyards of Oregon, natural wines from Organic Cellar Plus,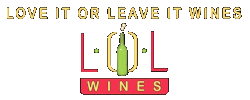 limited production Premium wines from Strategic Importers, Ideal Drinks, New York offerings like Tug Boat Red and Call Me a Cab from Love It or Leave It Wines, Constellation Brands (like Mondavi and Svedka), GOS Wines from family owned vineyards, California�s The Naked Grape, Bonacchi and Sassolino of Pompano-based Tuscany Imports & Beverage International Group,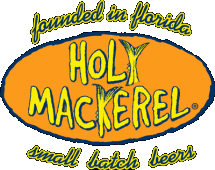 products from the California and North Pacific vineyards of Bulletproof Wine & Spirits, international offerings of Southern Wine & Spirits, craft and estate wines from The Winebow Group, Toscano Wine Group, Wicked Wines, Florida small batch beers from Holy Mackerel, the mountain brews of Sierra Nevada, America�s largest family-owned distilled spirits marketer and producer Heaven Hill Distilleries, Leblon Natural Cane Brazilian Cachaga, Texas native Tito�s Handmade Vodka, the Latin Flavor of Cuba Libre rum and cola and Fort Lauderdale�s Shot Girlz.
2015 Changes: Ups & Downs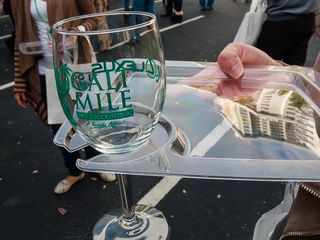 GALT MILE GLASS AND TRAY FROM 2014 EVENT

In 2015, the festival will explore an international hospitality hypothesis debated by sommeliers and gourmets throughout history. Since food aficionados and vintners worldwide are eternally matching their local wines to the perfect light fare, �Wine & Cheese� is footnoted in every menu on earth. The festival will probe this elusive balance, as Artisan Cheeses and Specialty Foods are properly paired with our local libations. Mirroring last year, a grouping of thick, comfortable couches and chairs will be centrally accessible. Following gastronomic immersion in food, wine, beer and spirits, satiated attendees can relax and reboot in the �Chill-Out Lounge�.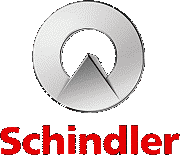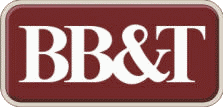 Less apparent is a change to the lineup of event sponsors. First Service Residential (AKA Continental Management), which served as a sponsor for the past two years, took a powder. Since the 28 condominiums and cooperatives that border the event provide fertile grazing for an association management vendor, the vacancy was filled by Castle Management. J.M. Lexus also bugged out. Given their status as an authorized event vendor, WineEvents.Com will continue as a sponsor.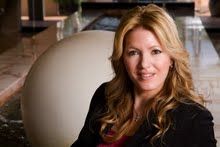 DONNA BERGER

Until a few weeks before the event date, the list of sponsors and the extent of their involvement remains fluid. According to GMCA President Pio Ieraci, it is unclear whether Becker & Poliakoff (Ken Direktor & Donna Berger) will feature a presence at the event. As of five weeks before March 7, 2015 festival, potential sponsors include The Schindler Group (manufactures, installs, services and modernizes Galt Mile elevators), BB&T (provides local banking, insurance, investment services), the Greater Fort Lauderdale Chamber of Commerce (they talk - a lot), and a half dozen other prospects.

Where do I Go?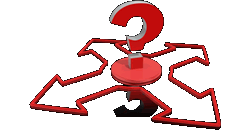 FESTIVAL PARKING - THE TIDES AT BRIDGESIDE SQUARE

The Festival takes place in the commercial parking lots (serving the strip malls) on the west side of Galt Ocean Drive. Bordered by NE 36th Street on the North (across from Ocean Riviera) and the Greek Islands Taverna on the South (across from Southpoint), the Festival's Main Entrance is at the corner of Galt Ocean Drive and NE 35th Street (across from Playa del Sol). Additional parking is available at The Tides at Bridgeside Square (the newest member of the Galt Mile Community Association) at 3020 NE 32nd Avenue, Fort Lauderdale (just South of Oakland Park Boulevard near the Intracoastal). Valet parking west of their garage is $5 or self-park on the east side for $1.25 per hour. The Sun Trolley will transport guests to and from the festival for FREE. Of course, a brisk walk to or from the event will offset calories accumulated at the tasting tables!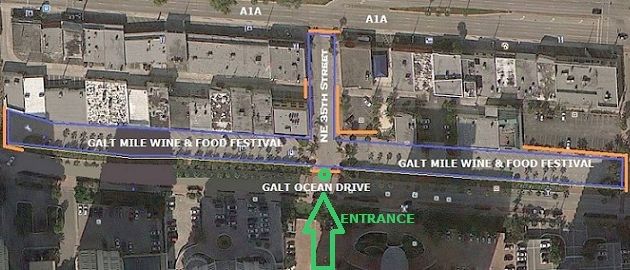 Galt Mile Wine & Food Festival Site (Click Graphic for More Maps)
What�s in it for Me?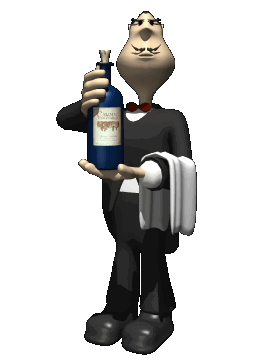 For 4 decadent hours, chefs and sommeliers from many of South Florida�s most acclaimed culinary venues will lavish you with those dishes that placed their establishments on the map. To otherwise sample these extraordinary trademark offerings, restaurant patrons would have to visit each establishment and order its iconic fare - an exercise that would take months and cost a fortune. Instead, you can spend a single lazy Saturday afternoon trying them all, one masterpiece after the other, while strolling across the street from your home.
An Added Benefit

Galt Mile residents have another stake in the annual festival. Prior to the 2013 inaugural event, the Galt Mile Community Association negotiated an understanding with the event�s promoter and sponsors. If well attended, an annual Galt Mile Wine & Food Festival stands to become a neighborhood signature event. Its potential for enriching neighborhood appeal will translate into higher unit values. Additionally, if the event continues to be successful, a modest percent of the income will be cached into a firewalled community reserve fund. The dedicated resources will be used by the Advisory Board for critical neighborhood improvements not funded by the City or County.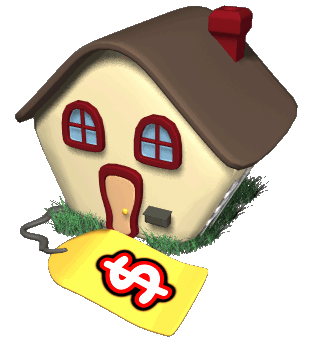 However, the Festival must be successfully established to merit the contribution. If enough people buy tickets and attend the event in these early years, momentum will guarantee its evolution into an annual event, triggering the opportunity to subsidize neighborhood improvements that will enhance the value of every home on the Galt Mile.
Ticket Trivia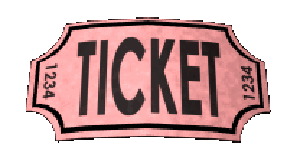 A few important parting shots - Tickets are limited to prevent overcrowding. Last Year, roughly 1,800 event-goers meandered past the tasting tables, as food fanciers from Palm Beach to the Keys joined with residents from all over Fort Lauderdale and Broward. To date, ticket sales are far outpacing last year�s packed event. If you don't want to stand on a line behind hundreds of others while hoping that a ticket will still be available by the time you reach the entrance gate, buy your ticket now. Compared with similar festivals, this one is dirt cheap. Far less convenient events in Boca, South Beach and Las Olas offering a comparable experience cost three to four times as much - and often cloak �elective� costs. A ticket to the Galt Mile Wine & Food Festival is all inclusive. Also, by special arrangement with the neighborhood association, tickets purchased by Galt Mile residents prior to February 28 will subject to a 60% discount (Galt Mile Residents Click Here for special discount; others Click Here for standard discount).

SO � Buy a ticket. Enjoy the soft seaside winds wafting off the Atlantic and all the other syrupy trappings of paradise punch-listed by the promoter. Let tasty tidbits titillate your palate as you drink your way to a late Saturday buzz. Most of all, revel in the prospect that you may have added a healthy footnote to the value of your home!!!
Click To Top of Page

---
Notice


Commissioner Heather Moraitis� District 1 Pre-Agenda Meeting


City Commissioner Heather Moraitis� District I Pre-Agenda meeting will be held at 6:00 p.m. on Monday, May 6, 2019 at the Beach Community Center and Monday, May 20, 2019, at Imperial Point Hospital.

Two or more City Commissioners and/or Advisory Board members may be present at this meeting. All are invited to attend.
The Date: Mondays, May 6st and May 20th, 2019

The Time: 6:00 P.M.

The Place: One of two locations, The first meeting of the month is held at the Beach Community Center and the second at Imperial Point Hospital (see below):
Imperial Point Hospital AUD A&B � 6401 N Federal Highway
south side of hospital entrance towards the back

For more information, please call the City Commission office at 954 828-5004, Fax: (954) 828-5667, Email: [email protected]
Click To Top of Page

---


community
ASSOCIATIONS INSTITUTE
SOUTHEAST FLORIDA CHAPTER
ANNOUNCES THEIR ANNUAL



CAI-SEFL 2013 Day of Education and Trade Expo



Please join us for this free event featuring speakers recognized Statewide and over 100 exhibitors demonstrating goods and services for community associations.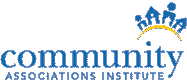 Make your voice heard just weeks before the opening of the 2013 Florida Legislative Session! Learn about the proposed changes and ask your local legislators, Florida House member George R. Moraitis, Jr., District 93 and Florida Senate member Maria Sachs, District 34 along with Travis Moore - CAI Lobbyist and a representative from the Florida Department of Condominiums your questions.
FREE Board Members Certification Course! Two (2), one (1)-hour CEU courses for Licensed Property Managers, including the impact of Social Media and Association Insurance! And the LEGAL UPDATE COURSE!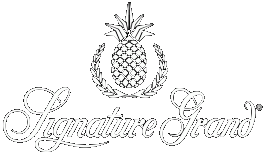 The Date: Saturday, January 26, 2013
The Time: 8:30 a.m. through 4:00 p.m.
The Place: Signature Grand
6900 State Road 84, Davie, FL 33317


The Day's Agenda


8:30 � 10:30 am - Free - Board Member Certification Class (presented by Kaye Bender Rembaum, P.L.)
8:30 � 9:30 am - Social Media Marketing (Presented by Virtual Fundamentals) - FREE Class for Manager Members (1 credit)
9:30 � 10:30 am - Association Insurance Update (Presented by Scarr Insurance Group) - FREE Class for Manager Members (1 credit)
9:30 � 3:30 pm - TRADE SHOW FLOOR OPEN - Features over 100 products & services!
12 Noon - Lunch
12:15 � 1:30 pm - KEYNOTE PANEL - Discuss legislation pending in 2013 with Representative George Moraitis, Senator Maria Sachs, Lobbyist Travis Moore - a Panel of Experts!
2:00 � 3:00 pm - Raffle Drawings
3:00 � 5:00 pm - 2013 Legal Update (presented by Mirza Basulto & Robbins, LLP) - Overview of the laws passed during the 2012 Legislative Session & Preview of Bills Filed for Consideration in 2013 (2 credits).

Cost of Continuing Education Credits is free for members - $50.00/CEU for non-members (Lunch Included in Registration Fee). For Lunch only - $20.

For further information, please contact Jill Prioetti, CED, at 954-816-0661 or click here to the CAI Trade Show web page. Door prizes and giveaways all day long � Win a $500 Cash Prize or an iPAD! Admission and Event Parking are Free.
Click To Top of Page

---


community
ASSOCIATIONS INSTITUTE
SOUTHEAST FLORIDA CHAPTER
ANNOUNCES THEIR ANNUAL



Golf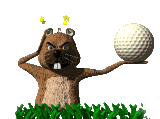 Tournament

Join your CAI-SEFL friends and colleagues this November and enjoy a day of fun on the fairways. Show your support for the Chapter and join your �golfing buddies� for a day on the links. Golfing experience is not necessary; this is a fun, social event. Best Ball Format!

The Date: Friday, November 30th, 2012
The Time: 11:00 A.M.
The Place: Jacaranda Golf Club
9200 West Broward Boulevard
Plantation, Florida 33324


Tournament Information


Contests for men and women include: Closest to the Pin and Longest Drive.
11:00 a.m. - Registration
12:00 Noon - Shotgun Start
4:30 p.m. - Tournament Awards Dinner & Raffles
Golfers will have the opportunity to win raffles, door prizes and a Grand Prize in the Grand Raffle!
Awesome hole-in-one contest prizes!
Tournament is Best Ball Format!
After Golf


An awards dinner will wrap up the day�s activities. Trophies will be provided to 1st, 2nd, 3rd and the team that �Should Have Gone Fishing!�
The East & West Courses at Jacaranda Golf Club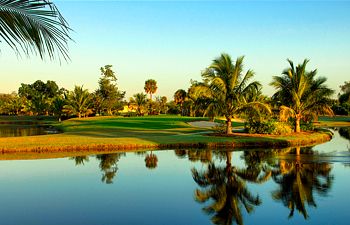 NATIONALLY FAMOUS #3 WATERFALL HOLE

Host to many PGA, USGA, and FSGA Championships. Winner of the South Florida PGA "Golf Club of the Year", Jacaranda Golf Club has distiguished itself as South Florida premier golf club.

A $10 Million renovation to both courses breathed new life into a classic South Florida design. Both East and West courses have been transformed with new fairways, tees, greens, cart paths and landscaping. The restoration showcases a combination of new technology and traditional design allowing both the scratch golfer and the weekend warrior to compete on the same playing ground.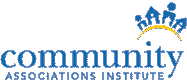 For more information, call Jill Proietti at 954-816-0661 or Email: [email protected]. Click Here for the 2012 Golf Tournament page on the Southeast Florida Chapter of CAI web site.
Click Here to register for the CAI-SEFL 2012 Golf Tournament. Click Here for info about sponsorship opportunities for the Golf Tournament.
---
---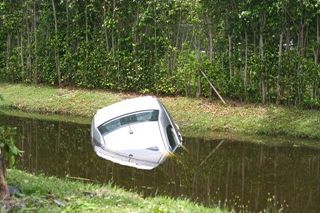 Vehicle Dumped in Canal

August 8, 2010 - Florida has always been a fertile environment for motivated scam artists. Recently, the National Insurance Crime Bureau tagged the Sunshine State as the national leader in auto insurance fraud, a recession-driven scam wherein vehicle owners dump their cars into canals before shooting off loss/damage claims to understandably skeptical carriers. Although active throughout the year, the summer seems to hold special significance for Florida fraudsters. Several Galt Mile residents recently expressed concern about having been victimized by three of this year�s summer stings - two statewide and one national in scope.

Every property owner in the State just had their pockets picked. Don�t worry; your money is still in your wallet... at least for a while. Here�s the deal. A Coral Ridge Towers (Original) resident who owns several Florida properties paid an early June insurance premium to Citizens Property Insurance Corp, the windstorm carrier for one of her properties. A month later, she was informed by Citizens that her check, along with thousands of others, is probably lining the pockets of some audacious thief operating out of Hialeah.

On June 24th, this creative crook strolled into the Post Office and dropped off standard change-of-address forms for the Jacksonville Corporate Center offices of Citizens Property Insurance Corp. and for a dedicated P.O. Box used by Florida�s �insurer of last resort�. Mr. Tricky Doggie requested that all correspondences be forwarded to an apartment in Hialeah. Fortunately, the reliably dysfunctional Postal Service screwed up the second change-of-address operation (targeting the company�s P.O. Box), so only 213,000 client mailings were diverted from the Citizens Jacksonville office at 6676 Corporate Center Parkway to the scammer�s Hialeah address.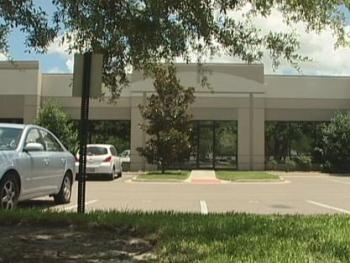 Citizens Jacksonville Corporate Center offices

In a curious footnote to this misadventure, Citizens didn�t cancel the bogus change-of-address order until June 29th. Although the mega-carrier ordinarily receives thousands of letters and packages every day, on Friday, June 25th, the mail bag was empty. The corporate inbox remained vacant for five full days before some ambitious executive trainee decided that the absence of mail to headquarters was sufficiently troublesome to justify an official inquiry to the Post Office.

Company spokesperson Christine Turner Ashburn said �Citizens will credit customers for payment if their checks were cashed in the scam.� For customers who reacted quickly to early reports of the incident and called their banks to stop payment on their checks, the company assented to reimburse any related bank charges. The roughly 200,000 rerouted letters and packages contain premium payments ranging from a few $hundred to $thousands. If any of those premium checks mailed prior to June 28th were yours, contact a dedicated toll-free Citizens hotline at 1-888-685-1555. When our neighbor in Coral Ridge Towers called the hotline, she was informed that investigators were trying to reconstitute payment records and a Citizens representative would get back to her. Her outstanding payment hadn�t been recorded.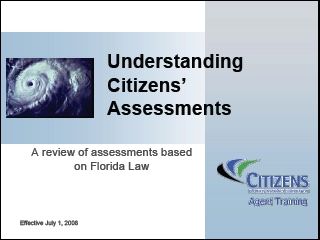 Not to worry, Citizens will pick up the tab � that is to say � we will pick up the tab. The untold $millions bilked from Citizens will ultimately be billed to every insured property owner in Florida. It will be buried in the �Citizens Assessment� line item on every premium statement. Ashburn said that although the carrier is working with criminal investigators, USPS protocol includes no front end red flag capable of preventing this type of deception. Rather than suing the Post Office for this elephantine operational gaffe, the Citizens think tank opted to deploy a �hair of the dog� strategic response. They allocated $97,000 for a direct mailing to possible victims. Mildly amused by the ironic rewarding of the Post Office for enabling a thief to steal $millions from property owners statewide, Ashburn remarked �It�s almost comical.�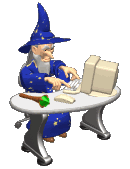 The real danger to Citizens policyholders whose checks were hijacked doesn�t end with a palliative reimbursement by the company. Since every hostage check provides a doorway to its issuer�s financial identity, a far greater threat is posed by the scam�s potential for identity theft. After cashing out, the scammers are likely to record tens of thousands of account numbers, bank routing numbers and any names and addresses linked to the accounts. The swindler(s) can either directly engage in a spending spree or sell the data using any number of private and public venues. Since many of these are available on the internet, the crook(s) can plausibly consummate these rip-offs from the kitchen table while still clad in pajamas. Given the prospective secondary shock waves facing their customers, Ashburn said �We�re going to send out direct letters to anyone who could have been sending us something. If one person�s identity gets taken because of this, we haven�t gone far enough.�

While conceding the danger, Ashburn skirted admitting to future liability for adverse financial consequences. Instead, she recommends that prospective victims protect themselves by contacting their financial institutions, credit card insurers and credit card bureaus to flag their suddenly vulnerable accounts. By alerting these agencies, victims stand a good chance of foiling future efforts to fraudulently open lines of credit using their identities. If you receive a congratulatory letter from the local BMW franchise for purchasing a new Z-4, it�s too late.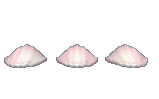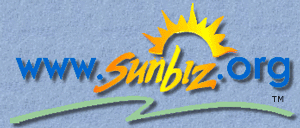 The second shell game - first reported by a Galt Mile vendor - is one of two scams referenced on the Florida Division of Corporations official website, www.sunbiz.org. Along with the usual junk that penetrated his internet security program�s email spam filter in early July, the local merchant received an email requesting a fee for complying with some official State corporate notice requirements. Experienced in wading through a daily complement of email hustles, he forwarded the phony phishing expedition to the neighborhood association and asked whether we were aware of similar flimflams. In the field of computer security, phishing is the criminally fraudulent process of attempting to acquire sensitive information such as usernames, passwords, account numbers, Social Security Numbers and credit card details by masquerading as a trustworthy entity in an electronic communication � such as an email.

Bogus Sunbiz Site

On July 10th, the Florida Division of Corporations posted a warning on its website about two widely posted misleading emails. In one case, an entity masquerading as a �Compliance Services� arm of the official State agency is emailing Florida companies, requesting their annual minutes and a fee of $125. In fact, no state agency requires the filing of a company's annual minutes. In the second scenario, something called the �Florida Online Corporate Annual Report Filings� is also emailing businesses, inviting them to file their annual reports on that group�s website. The correspondence is designed to create the false impression that the company is engaging in an official state-sanctioned service effort.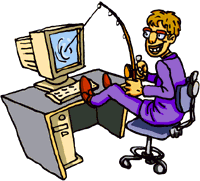 While the first set of bozos is raking in $125 payments from clueless victims, they also stand to receive enough corporate data to initiate a credit scam. While the second suspect site lacked the panache of exacting a fee for inducing a corporate victim to self-compromise fiscal security, a quick trip to the perpetrator�s web site reveals an attempt to solicit data useful for corporate identity theft, personal data about any officers and/or directors and a shot at collecting $50 for a Certificate of Status ordinarily costing $5 or $8.75. To legally insulate themselves from actionable liability, the Division launched the Consumer Alert on the home page of their website. They repudiate claims outlined in the emails and deny any association with the two entities.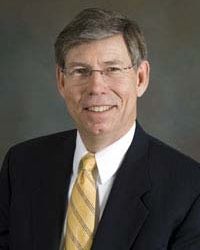 Attorney General
Bill McCollum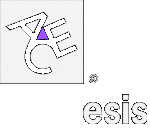 The third gambit, embodied in an email sent directly to the neighborhood association, exemplified the State�s most prevalent of summer frauds, those exploiting the Deepwater Horizon Oil Spill. In May, Florida Attorney General Bill McCollum warned residents against paying a fee for processing loss or damage claims resulting from the Gulf oil spill. Since British Petroleum�s (BP) authorized third-party claims administrator, ESIS, is processing spill-related claims on BP�s dime, McCollum exhorted �Floridians need to be on the lookout for people posing as authorized adjusters and requesting fees for free claims services.�

In June, the Federal Trade Commission (FTC) issued an alert about �scam artists� using e-mails, websites, door-to-door collections, flyers, mailings and telephone calls to solicit money. The FTC reported receiving hundreds of complaints about scammers raising money for bogus environmental causes and fly-by-night charitable organizations or offering fraudulent remediation services. Others toured beachfront neighborhoods, offering to expedite loss claims for a fee or to help homeowners brazenly fabricate �airtight� damage claims. In the email sent to the neighborhood association, an outfit called Industrial Recovery offered a similar service for a fee. However, if requested account information was submitted, the fee would be waived. The snow job was immediately forwarded to McCollum�s office.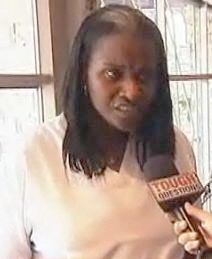 Job Scammer
Tanya Callaway

In July, the Federal Trade Commission issued another consumer warning. Scammers had begun using fraudulent job ads to exploit the State�s huge pool of unemployed recession victims. Desperately needed jobs were offered in exchange for an up-front fee, usually for training or �certification�. In Atlanta, the police nailed owner Tanya Callaway of a temp company called Just Business. Callaway and partner Atlanta Police Officer Corey Hymes collected hundreds of $80 fees for jobs supposedly guaranteed by BP. The oil company never heard of Callaway or her employment business.

Closer to home, McCollum is prosecuting Able Body Labor, a Clearwater-based temporary staffing firm with 170 branches in 25 states. Another targeted company, Southern Cat of Lynn Haven, is a nondescript opportunistic enterprise cobbled together two years ago. When employment entails exposure to hazardous substances, the law requires that candidates undergo Hazardous Waste Operations and Emergency Response Standard training, otherwise known as HAZWOPER, prior to qualifying for certification. Although the two companies advertised the training as free, when applicants graduated, the companies demanded fat fees of up to $450 before releasing their certificates.

The reason why the Gulf oil spill scams have received such intensive focus from consumer protection agencies and law enforcement is largely a consequence of their nationwide impact. In one particularly egregious June event, nearly 800 members of the Yakama Nation tribe in Washington were offered $40-an-hour jobs clearing tar balls from Gulf beaches. To secure the jobs, they had to provide names, addresses, social security numbers and other data useful for identity theft. Many resigned their regular jobs in order to take advantage of the opportunity, only to learn they were defrauded.
If you�ve been targeted or victimized by any of the tricky hair balls that seem to flourish in Florida, let us know. Your identity will be fully protected. Last November, 3 Galt Mile residents reported falling prey to a fraudulent HUD website. When informed that a well known reporter from a reputable local newspaper read the article and requested introductions, the contributors refused, insisting on continued anonymity. They got it... and so will you! Prior to contacting us, please file a complaint with the Federal Trade Commission by visiting ftc.gov or calling toll-free 877-FTC-HELP. Sharing your experience will help others find the courage to fight back.






Click To Top of Page

---
Bogus FHA Website




Scams Galt Mile Residents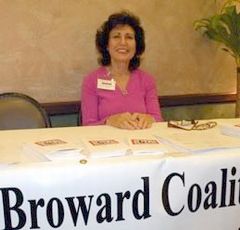 Broward Coalition President
Charlotte Greenbarg

November 6, 2009 - Senior AmeriFirst Underwriter Theresa Schmitz forwarded an email with an importance designation of �High� to Broward Coalition President Charlotte Greenbarg on October 28, 2009. Given her fiduciary responsibilities, Terri is recipient of official informational bulletins from the Federal Housing Administration (FHA) and the U.S. Department of Housing and Urban Development (HUD). The message was originally from Congressional Liaison Cheryl Marken of HUD�s Miami Field Office.

Addressed to �HUD Partners and Elected Officials,� Marken�s email states: �HUD�s Web team has confirmed that the site www.fhamodification.com is NOT a HUD site. The site has good information (all copied from legitimate HUD sites), but when you click on �contact us� we do not know who �us� is. The proper HUD authorities are investigating this matter, and I do not know if anything can be done other than preventing unauthorized entities from using HUD�s seal, but it is important that you know this site is out there and not affiliated with HUD or FHA.� The message closes with a warning, �FOREWARN your friends, family or neighbors of this recent HUD warning to stay away from company listed.�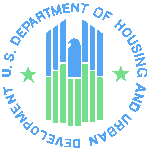 Of the three Galt Mile residents who recently sent emails to the Galt Mile Community Association asking about the fraudulent website simply entitled �FHA Modification�, only one had already divulged personal data. She was referred to the Federal Trade Commission (FTC) to hopefully limit the damage wrought by these identity thieves. The web is ablaze with sites similar to www.fhamodification.com. Impressively bedecked with HUD and FHA logos, the site would pass even informed scrutiny as an official government offering. In fact, it is a �phishing� website.

In the field of computer security, phishing is the criminally fraudulent process of attempting to acquire sensitive information such as usernames, passwords, account numbers, Social Security Numbers and credit card details by masquerading as a trustworthy entity in an electronic communication. While most phishing expeditions are promulgated to access existing accounts, others seek to elicit names, addresses, telephone numbers, names of family members and identifying information useful for initiating new accounts. Ordinarily, an email is used as the hook, baited with an anxious admonition to confirm mottled bank account or credit card data, claim some mysterious refund, address an account threatened with suspension or verify a recent nondescript charge or withdrawal.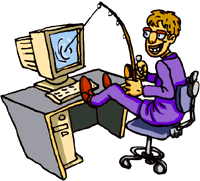 The �mark� is sent to a web site impeccably designed to mimic a credible and trustworthy institution, where logins, passwords, account numbers, email addresses, etc. are cheerfully harvested by crooks that will either sell the data or simply bang away at the newly accessible accounts. Although the websites of banks and Online Payment Services are traditionally simulated, the scam is metamorphic, adapting to take advantage of opportunities indigenous to the economic climate. As such, many recent rip-offs were socially engineered to exploit lucrative real estate and mortgage lending opportunities.

After acquiring email lists either stolen and brokered on the black market or purchased from mostly questionable commercial data purveyors such as First Data Solutions or 1st Source Information Specialists, Inc., the scammers usually cast a wide net, randomly hooking a few victims. If a customized list enumerates clients of a particular financial institution, the more targeted variation of the scam is known as �spear phishing�. After TD Ameritrade announced in September 2007 that their database of 6.3 million customer email addresses, account numbers, dates of birth, telephone numbers, Social Security numbers and trading activity was hacked, the thieves decided that the stolen information would be geometrically more valuable if packaged with user names and passwords. They launched a follow-up spear fishing attack. To help violated customers contend with the resulting blizzard of baited spam (junk emails), the company purchased $6 million of spam-blocking software from Trend Micro Internet Security.

When an attack is directed at certain high profile business targets such as senior executives and major stockholders, the term coined for such ambitious enterprise is �whaling�. A Survey conducted by leading information technology firm �Gartner Research� found that during the 12 months prior to August 2007, 3.6 million people in the United States lost $3.2 billion to phishing assaults.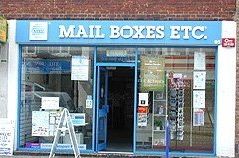 RUSSIAN BUSINESS NETWORK
LONDON FRONT

By inserting links to an often imperceptibly misspelled URL or subdomain, bogus websites imitative of those managed by HUD, Fannie Mae, FHA and a wide variety of mortgage banks are soaking additional $billions from unsuspecting online targets. The current economic turbulence has nurtured a battery of predatory mortgage bottom feeders, foreclosure frauds and other recovery-related scams conducive to phishing. When mimicked institutions that actively monitor the internet discover a fake internet presence, they simultaneously alert customers (potential victims) and report the suspected website to the authorities. Unfortunately, the international nature of these crimes undermines implementation of a concerted effective response to violators. Almost half the thefts in 2006 were committed by groups operating through the St. Petersburg-based �Russian Business Network�, a legally bulletproof web host for sites specializing in child pornography, patent piracy and other variants of cybercrime.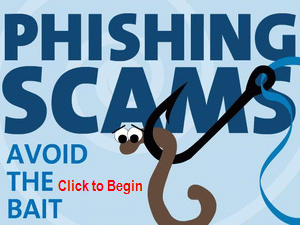 In March, HUD found a site that bilked $millions from unwitting mortgage clients, http://bailout.hud-gov.us/. To demonstrate the international nature of this criminal enterprise (as officially classified by the FBI in 2004), the Domain name was registered in Germany and the site was hosted in California. Newspapers and local governments nationwide issued releases warning readers and constituents against potential victimization. On March 30, 2009, the Federal Trade Commission (FTC) won a Stipulated Preliminary Injunction, freezing the site�s assets.
Since then, the FTC has been closing similar sites at a healthy pace. As evidenced by the recent HUD warning, the phishing business is adequately lucrative to outlast these disjointed deterrent strategies. For a few hundred dollars, rudimentary familiarity with HTML (Hypertext Markup Language - the main coding language on the internet) and lust for a quick buck, any slime ball can set up a phishing bear trap. Since rooting them out is only useful for limiting the prospective damage, it is imperative that people never respond to online requests for personal information. To avoid victimization, first install good virus protection software. Some downloadable freeware versions are adequate for this purpose and most internet service providers offer free online or email protection (including Comcast and AT&T). If an email or an instant message stirs concern about any of your accounts, call the bank or credit card issuer and make an inquiry. Protecting yourself is seldom that simple. DO IT!

November 20, 2009 - ALERT! - Since posting this article on the GMCA website, 2 Galt Mile residents reported receiving suspicious emails with the following content:
We are contacting you in regards to an unusual activity that was identified in your mailbox. As a result, your mailbox has been deactivated. To restore your mailbox, you are required to extract and run the attached mailbox utility.
Best regards, xxxxxxxxxxx.com technical support.
Another email contained the following text:
Dear user of the xxxxxxxxxxx.com mailing service!
We are informing you that because of the security upgrade of the mailing service your mailbox ([email protected]) settings were changed. In order to apply the new set of settings click on the following link:

The hackers want the user to click on a link provided below the text, initiating one of two consequences. In one case, the link triggers installation of a computer virus. The other carries the user to a site with another link that the user is encouraged to click, which also infects the user�s computer with a virus.

In both cases, the links in the emails are coded to simulate valid communications from the user�s Internet Service Provider (ISP) or web host, but they are not. They LOOK like they contain either your web-site address or your email address, but they do not. A quick �Google� of the text revealed that this malicious email is nationwide, with client admonitions from IndyWeb, a web host serving Indianapolis, Indiana and local web hosts such as Host Depot. Please be extremely cautious with these kinds of emails and don�t hesitate to delete them ASAP.

Click To Top of Page

---
Driven to

Distraction

August 22, 2007 - Over the summer, 58 Galt Mile residents corresponded with the Galt Mile Community Association after having received notification that a law was passed during the 2007 legislative session governing newly enacted draconian penalties for traffic violations. Although two letters and one telephone call were received, the vast majority of communications were forwarded emails containing the original threatening content or emails describing the penalties at issue. The forwarded emails revealed a statistically improbable similarity in structure and content generally indicative of an organized agenda � otherwise known as a hoax.

While several variations of the email were sent, the following version is representative of the basic genre. It was sent by a friend who shall remain anonymous. This is the email�s content:

Eric: do you have any way of verifying the recent changes in Florida Driving Laws enumerated in this email? Thanks - (name deleted)

Attached was the following document: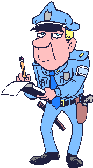 This was received from someone who should know, and who is attempting to get the word out to people in his company. I think for those of us in Florida, this is really worth knowing, and for those not from Florida, worth remembering should you decide to travel this way.

Thanks, Arnold

Subject: FLORIDA DRIVING LAW �

This is very interesting for you to read � new Florida driving laws enacted today�
These are new fines that were implemented on 8/1/07 for the State of Florida.
As of 8/1/07 cell phone use must be �hand free� while driving. Ticket is $285. They will be looking for this like crazy � easy money for police department.
Cell phone use in the construction zone � Double Fine
Carpool Lane � 1st time $1068.50 starting 8/1/07. 2nd time is doubled 3rd time is tripled and 4th time license suspended
Incorrect lane change � $380. Don�t cross the lane on solid lane or intersections. Block intersection $485.
Driving on the shoulder � $450
Passengers over 18 not in their seatbelts � both passengers and drivers get tickets
Speeders can drive only 3 miles above the limit
DUI (Driving Under Influence) = Jail (Stays on your driving record for 10 years!)
Drive SAFE......!!!!!

Please forward to ALL friends and family...


In the Urban Legends and Folklore section of About.Com, they offer, �This message is a slightly revised version of an email hoax circulating since January 2007 which purports to announce new California traffic laws slated to go into effect this year. Similar copycat hoaxes have also circulated in Texas and Georgia. �

An April 14, 2007 article published in the Palm Beach Post explains, �Hundreds, if not thousands, of Floridians are getting e-mails warning of new traffic fines including $285 for improperly using a cell phone and $1,068.50 for illegally driving in a carpool lane. Outraged motorists are calling Florida�s motor vehicle department demanding to know more about the new laws. The answer: There are no new laws. It is all an email hoax.�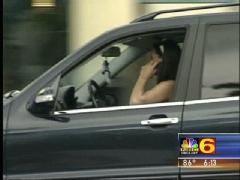 NO YAKKING WITHOUT CELL PHONE MOUNT

A broadcast on NBC6-TV News reported last week, ��We have been getting a lot of calls on this,� Pat Santangelo of the Florida Highway Patrol said. NBC 6�s Hank Tester quizzed cell phone users on the street in South Florida. �I heard about that,� Cindy Maradona said. �I was all ready to buy a Bluetooth.� It turned out the e-mail was only a rumor. �I have seen the e-mail you have seen,� Santangelo said. �That�s not anything official from the state of Florida.��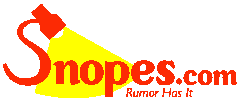 Another web site devoted to exposing rumors, scams and hoaxes, Snopes.Com, provides more extensive background for the email, stating that the original email was entitled, �New traffic laws going into effect in California in 2007� A June 2007 variant of this message claimed the new traffic laws applied to Texas, not California. That version is also false, as the Texas Department of Public Safety (DPS) has noted on its web site:
�False information has been circulating regarding new traffic laws. There are no new traffic laws going into effect in July. More specifically, there are no new laws going into effect in July related to cell phones, seat belts or carpooling. No cell phone bills were passed this Legislative session. (This misinformation started as the result of an inaccurate e-mail and incorrect information on various Web sites.)�

A July 2007 variant of the e-mail asserts the new traffic laws applied to Georgia, not California. That version is also false, reports Georgia�s Governor�s Office of Highway Safety:
�An e-mail has begun making its rounds across the country listing several traffic laws that supposedly took effect in Georgia on July 1, 2007, including carpool lanes, incorrect lane changes, driving on the shoulder, and DUI. The e-mail also lists fines for the violations.
The e-mail is false and is being adapted for various states as it is passed along, most recently listing Georgia.
Please be aware that this is false information and no such changes have occurred in Georgia.�
Another July 2007 variant of the e-mail asserts the new traffic laws applied to Florida. That version, which elicited unnecessary statewide concern as expressed by residents along the Galt Mile, is also false.

As a rule, if unsolicited information mysteriously appears in your email box, it warrants a skeptical reception. Typically, these will be sent to you by trustworthy friends who received � and then forwarded � the fake messages out of a genuine concern for you and their other friends. This imparts to the information an undeserved appearance of credibility. The victims of the email hoax often wind up confirming its veracity with one another, thereby further perpetuating the scam.
Ironically, many of the correspondences were post scripted with suggestions that some or all of the hyper-punitive penalties contained in the hoax email are worthy of enactment, intimating that they could possibly help abate Florida�s burgeoning traffic death statistics.
Widely distributed internet hoaxes will usually be reported in the local media, as was this one. If searching the news media for confirmation of the unsettling news usually contained in these scams leaves you cold, there are web sites, such as Snopes.Com (www.snopes.com) and the �Urban Legends� site, that collect and expose these hoaxes. As such, two minutes of surfing will clear the air. If the info isn�t there, wait several days and try again. A new or recently revived hoax may require some investigation before being admitted to the �hoax-identifier� web sites. Notwithstanding, another one bites the dust!
Click To Top of Page

---
Jury Duty � Identity Theft!


April 5, 2007 - Scams abound without end. As long as people believe that short cuts are a fruitful path to accomplishment, they will get caught in their own trap. This scam takes advantage of the widespread ignorance that most people have about how the jury system works and inadvertantly eliciting the Government�s ire. I recently received this information in an email from Lorraine Alfano, the concierge at L�Hermitage. Lorraine has a penchant for checking out information that doesn�t pass the smell test. This Jury Duty Scam didn�t make it passed her nose!
�Most of us take the summons for jury duty seriously, but enough people skip out on their civic duty, that a new and ominous kind of scam has surfaced. Fall for it and your identity could be stolen, reports CBS.
In this con, someone calls pretending to be a court official who threateningly says a warrant has been issued for your arrest because you didn�t show up for jury duty. The caller claims to be a jury coordinator. If you protest that you never received a summons for jury duty, the scammer asks you for your Social Security number and date of birth so he or she can verify the information and cancel the arrest warrant. Sometimes they even ask for credit card numbers. Give out any of this information and .... Bingo! Your identity has just been stolen.

The scam has been reported so far in 11 states. This scam is particularly insidious because they use intimidation over the phone to try to bully people into giving information by pretending they're with the court system. The FBI and the federal court system have issued nationwide alerts on their web sites, warning consumers about the fraud.
Pass this on.�
The person who contacted Lorraine also said, �I checked Snopes and this is for real.� This is the link to Snopes (a scam check site): http://www.snopes.com/crime/fraud/juryduty.asp
Thank You, Lorraine! - *editor
Click To Top of Page

---
A True Rarity � A Lifesaving Email!

July 22, 2005 - I am often targeted by an assortment of confused individuals who implore that I send out an email to �ten other people� in order to achieve cosmic wealth. My finger has been conditioned to delete these prior to contacting the area of my brain that cognates. I recently received an email from Lorraine Alfano, the concierge at L�Hermitage, which prompted me to alter my usual behavior. It is excellent advice; it saves lives. After sending it off to friends and family, I decided to make it available to everyone. Following is the message contained therein.

�Sometimes symptoms of a stroke are difficult to identify. Unfortunately, the lack of awareness spells disaster. The stroke victim may suffer brain damage when people nearby fail to recognize the symptoms of a stroke. Now doctors say a bystander can recognize a stroke by asking three simple questions:
Ask the individual to SMILE.

Ask him or her to RAISE BOTH ARMS.

Ask the person to SPEAK A SIMPLE SENTENCE (Coherently) (i.e. It is sunny out today)

If he or she has trouble with any of these tasks, call 9-1-1 immediately and describe the symptoms to the dispatcher.�
After discovering that a group of non-medical volunteers could identify facial weakness, arm weakness and speech problems, researchers urged the general public to learn the three questions. They presented their conclusions at the American Stroke Association�s annual meeting last February. Widespread use of this test could result in prompt diagnosis and treatment of the stroke and prevent brain damage.

A noted cardiologist said if everyone who gets this e-mail sends it to 10 people many lives will be saved. My physician agrees; so do I.

Thank You, Lorraine! - *editor

Click To Top of Page

---
Do Not Call

SCARE



Have you received an email warning similar to this?
In 31 days from today, cell phone numbers are being released to telemarketing companies and you will start to receive sale calls. YOU WILL BE CHARGED FOR THESE CALLS. To prevent this, call the following number from your cell phone: 888-382-1222. It is the National DO NOT CALL list. It will only take a minute of your time. It blocks your number for five (5) years.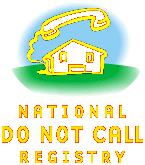 If you�ve received an e-mail telling you that your cell phone is about to be assaulted by telemarketing calls as a result of a new cell phone number database, REST ASSURED THAT THIS IS NOT THE CASE. Telemarketing to cell phone numbers has always been illegal in most cases and will continue to be so. In response to recent e-mail campaigns urging consumers to place their cell phone numbers on the National Do Not Call Registry, the Federal Trade Commission and Federal Communications Commission issue this advisory to give consumers the facts. Not sure? Click Here to see for yourself!
Here�s what you need to know about the National Do Not Call Registry program:
FCC regulations prohibit telemarketers from using automated dialers to call cell phone numbers. Automated dialers are standard in the industry, so most telemarketers are barred from calling consumers on their cell phones without their consent.

The federal government does not maintain a national cell phone registry. Personal cell phone users have always been able to add their numbers to the National Do Not Call Registry � the same Registry consumers use to register their land lines � either online at www.donotcall.gov or by calling toll-free 1-888-382-1222 from the telephone number they wish to register. Registrations become effective within 31 days of signing up and are active for five years. There is no cut-off date or deadline for registrations.

Business-to-business calls are not covered under the Registry.
To learn more about the National Do Not Call Registry and the rules that enforce it, visit the FTC at www.ftc.gov or the FCC at www.fcc.gov. For more information about a planned �wireless 411� directory, visit http://www.qsent.com/wireless411/index.shtml.


Internet scammers casting about for people's financial information have a new way to lure unsuspecting Galt Mile victims: They go �phishing.� Phishing, also called �carding�, is a high-tech scam that uses spam (unsolicited �junk� email) to deceive consumers into disclosing their credit card numbers, bank account information, Social Security numbers, passwords, and other sensitive information.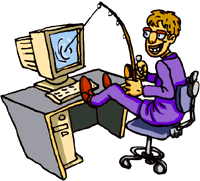 According to the Federal Trade Commission (FTC), the emails pretend to be from businesses the potential victims deal with - for example, their Internet service provider (ISP), online payment service or bank. The fraudsters tell recipients that they need to �update� or �validate� their billing information to keep their accounts active, and direct them to a �look-alike� Web site of the legitimate business, further tricking consumers into thinking they are responding to a bona fide request. Unknowingly, consumers submit their financial information - not to the businesses - but the scammers, who use it to order goods and services and obtain credit.
Banks and Internet Service Providers like America Online and Comcast will never ask you for password information via phone or E-Mail, as that information is private and is only known by users. Additionally, ISPs will never ask for billing or payment information through E-Mail.
To avoid getting caught by one of these scams, the FTC, the nation's consumer protection agency, offers this guidance:
If you get an email that warns you, with little or no notice, that an account of yours will be shut down unless you reconfirm your billing information, do not reply or click on the link in the email. Instead, contact the company cited in the email using a telephone number or Web site address you know to be genuine.
Avoid emailing personal and financial information. Before submitting financial information through a Web site, look for the �lock� icon on the browser's status bar. It signals that your information is secure during transmission. Always ensure that you�re using a secure server when submitting credit card information. To make sure you're using a secure server, check the beginning of the web address in your browsers address bar - it should be https:// rather than just http:// (note the �s� after the �http�).
Review credit card and bank account statements as soon as you receive them to determine whether there are any unauthorized charges. If your statement is late by more than a couple of days, call your credit card company or bank to confirm your billing address and account balances.
Report suspicious activity to the FTC. Send the actual spam to [email protected]. If you believe you�ve been scammed, file your complaint at www.ftc.gov, and then visit the FTC�s Identity Theft Web site (www.ftc.gov/idtheft) to learn how to minimize your risk of damage from identity theft.
Visit www.ftc.gov/spam to learn other ways to avoid email scams and deal with deceptive spam.
The FTC works for the consumer to prevent fraudulent, deceptive and unfair business practices in the marketplace and to provide information to help consumers spot, stop, and avoid them. To file a complaint or to get free information on consumer issues, visit www.ftc.gov or call toll-free, 1-877-FTC-HELP (1-877-382-4357); TTY: 1-866-653-4261. The FTC enters Internet, telemarketing, identity theft, and other fraud-related complaints into Consumer Sentinel, a secure, online database available to hundreds of civil and criminal law enforcement agencies in the U.S. and abroad.

A fast-growing scam that has been identified by the National Fraud Information Center, the F.C.C. and others is the �809�, �284�, �876� or some other three-digit phone number. You may receive an e-mail, usually with a subject line of �ALERT�. The message reads something like: �I am writing to give you a final 24 hours to settle your outstanding account� If you would like to discuss this matter to avoid court action call (e.i.) 1-809-496-2700.� Or, you could receive a similar message on your answering machine asking you to call an 809, 284, or 876 number. Since there are so many new area codes these days, many people unknowingly return these calls. If you call from the United States, you apparently will be charged $25 per minute - or more.
The 809 area code is located in the Dominican Republic and can be used as a �pay-per-call� number, similar to 900 numbers. Since 809 is not in America, it is not covered by U.S. regulations of 900 numbers. Similarly, �876� is an area code for Jamaica and �284� goes to the British Virgin Islands...same deal!
The bottom line is do not respond to these e-mails or messages by calling the 809 (or 284, or 876) phone number. Trying to fight the charges later can be a real nightmare since you actually did make the call!
---
A Word of Caution

60% of all emergency patients go to the hospital by private transportation, some even drive themselves! Using a private vehicle, you have no control over the bridges and you are at the mercy of an open bridge. Conversely, when EMT personnel determine that there�s a real emergency in your home, they radio the bridge control center and the bridge is ordered locked down until after your ambulance passes. The moral of this story is �a real emergency should be handled as such with nothing left to chance.�

This article was written by Robert Eagan. It continues to be excellent advice!

[Editor]
Click To Top of Page

---
THE TAX ADMINISTRATOR'S OFFICE SAYS:

�You may be the cause of increasing your own taxes!�

Every time an owner sells an apartment for a price representing something other than the real property, that price is registered in the tax appraiser�s roles as the real estate value on which taxes are levied.

This can amount to many thousands of dollars, resulting in severely over valuing the real property and it�s taxes. Most buildings avoid this by the use of a form that requires the buyer and seller to report only the actual value of real property to the County Tax Collector who, incidentally, also encourages buyers and sellers alike to do it right.

After all a $5000 built in sound system shouldn't raise the taxes levied on a real property!

This useful advice was also written by Robert Eagan. When buying or selling a condominium, request the appropriate form from the condominium�s business office!

[Editor]
To GMCA HOME