Today, the Galt Ocean Mile is lined with high-rise condominiums, a remarkable concentration of luxury dwellings valued at hundreds of millions of dollars. But more than a half century ago, it was far from a prime property. The politicians that ran the city in those days, during the days of racial discrimination, considered it so expendable that it was the only beach area that Fort Lauderdale's black population was allowed to use.
The story and the name of Galt Ocean Mile began in 1913, when Arthur Galt, a Chicago lawyer, bought the property. It took him 40 years to sell it. Galt was the son of the law partner of Hugh Taylor Birch, who at one time owned most of what is today's Fort Lauderdale Beach.
Incredibly, the Galt Ocean Mile was only part of the land that Galt purchased, most of the 8,000 acres that was included lay west of the Intracoastal Waterway. It was during the 1920's, the glorious days of Florida's land boom, that the "Countess of Lauderdale", Gwendolyn Maitland, decided to create a resort to rival Palm Beach in Fort Lauderdale.
The slim, refined-looking Scot formed the "British Improvement Association" which promptly began acquiring property, principally a successful subdivision called Oakland Park and 8,000 acres from Galt. The down payment for Galt property was one million dollars, a fraction of the total the Countess laid out.
She had assembled an impressive group of partners: two Lords, a Viscount, an ex-King of Greece and her fellow aristocratic Palm Beachers, including society's ruling Grande dame, Mrs. E.T Stotesbury.
The new resort town, incorporated on November 25, 1925, was called Floranada, a combination "Florida" and "Canada." The cornerstone was laid for Florinada Inn, a golf course was built and a narrow-gauge railroad was ordered.
Then came the bust, the inglorious end to Florida's great land boom. The company had sold only a few lots and the money on these was refunded and the land reverted to Galt.
At this point, no one was interested in buying, but when, in 1927, the last remaining oceanfront public beaches in the city of Fort Lauderdale were declared off limits to blacks, by default they used the Ocean Mile, which became known as the "black beach". Galt was choosy about selling his land. Prospective buyers had to promise building programs that met his standards. He once turned down a good offer when he found the land would be used for a trailer park.
After World War 11, James S. Hunt and Stephen Calder formed a partnership and persuaded Galt to sell them a parcel of land between Middle River and the Intracoastal. They called it Coral Ridge and dubbed their company Coral Ridge Properties. This brings us up to the beginning of the story as published in the October edition. So - "Now you know the rest of the story"
This information comes from an unidentified reader, a long time resident of the area.
---

This poem was written in 2002 by former Galt Mile Board Member and Coral Ridge Towers North resident Charles Rossi in celebration of the upcoming Galt Mile's 50th Anniversary in 2003. To view the original article, Click Here.


HIGHLIGHTS OF 49 YEARS SINCE THE INCEPTION OF THE
GALT MILE COMMUNITY ASSOCIATION
By Charles Rossi
MEMBER OF THE EXECUTIVE BOARD OF DIRECTORS
OF THE GALT MILE COMMUNITY ASSOCIATION

***In 1953 ***
It all started with property sold by Arthur Galt.
This same year Polio Vaccine was discovered by Dr. Jonas Salk.
Ocean Front Development was slow to come.
The Beach Club was noted as a place to have fun!
A computer named UNIVAC was then in use.
Civil rights leaders received much abuse.
*** In 1962 ***
The first American in space, Quite a feat!
*** In 1963 ***
President John F. Kennedy assassinated on a Dallas street
*** In 1965 ***
The conflict in Vietnam, a most unpopular war
Our nation torn apart as never before
*** In 1969 ***
Neil Armstrong's foot on the moon, The Concord in flight
*** In 1972 ***
The Watergate Scandal ends Richard Nixon's political might
*** In 1978 ***
A non Italian Pope chose the name of John Paul.
In England the first test tube baby gave a bawl.
*** In 1980 ***
Our new President is Ronald Reagan, an actor of sorts
*** In 1981 ***
He appoints the first woman to the Supreme Court
Ocean Front Development was slow to come.
The Beach Club was noted as a place to have fun!
*** In 1986 ***
The space ship Challenger explodes with the loss of seven lives
*** In 1987 ***
Dow Jones hits 2000 and continues to survive
*** In 1989 ***
After all these years the Berlin Wall starts to fall.
The Eastern Bloc countries heed freedom's call
*** During 1991-2000 ***
Hurricanes Andrew created a devastating mess.
We're thankful it missed the Galt Mile, I must confess.
The Beautification of the Galt, an Earl Lifshey dream,
It's magnificence accomplished by a Fort Lauderdale Team.
A tunnel is opened between England and France,
Many people were happy and found cause to dance.
We've witnessed more changes than most of us will ever know
Countless wars, outer space, zippergate, all part of the show
From Eisenhower to G. W. Bush, Many a new face,
A total of ten presidents and we've kept up the pace
We wish you the best, what more can we say?
Congratulations to Galt on your Forthcoming 50th Birthday!
Click To Top of Page

---
In Memoriam
---
Dr. Alex Leeds Succumbs to Illness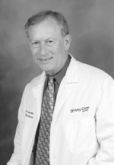 Galt Mile Civic Icon
Dr. Alex Leeds

October 18, 2008 - On Thursday, October 16, 2008, thousands of Galt Ocean Mile residents learned about the loss of an irreplaceable friend. Following a tenacious struggle with cancer, Dr. Alexander Leeds passed away. It is unlikely that the colossal vacuum created by his untimely death will soon be filled... if ever. His unrelenting efforts to improve the lives of his neighbors, enhance the community and promote good health for hundreds of grateful patients will be sorely missed. By cloaking a piercing intelligence and soft heart in a laid-back friendly demeanor, Alex naturally commanded the respect and trust of these neighbors, patients and peers.

While many Doctors demonstrate admirable levels of commitment, Alex nourished a long term love affair with his patients. Most physicians identify their patients as customers whose office chart is filled with medical histories, medical claim forms, x-rays and payment ledgers. Alex's practice additionally extended to hundreds of friends, neighbors and acquaintances who, despite never visiting his medical office, unhesitatingly called on him for advice about their health, their homes, their families and with personal problems of every stripe. They knew that his moral compass was as trustworthy as his medical opinion.

Dr. Leeds graduated from the Des Moines University College of Osteopathic Medicine in 1975 with a DO (Doctor of Osteopathic Medicine) and did his residency at Washington Hospital Center. Alex was joined by his son, Robert Leeds, who managed his thriving Galt Ocean Village Medical Center at 3294 NE 33rd Street in Fort Lauderdale - down the block from his home. Along with another office at 4420 W Oakland Park Boulevard in Lauderdale Lakes, he operated the Osteoporosis Imaging Center, a Radiology Laboratory and Diagnostic Center. Alex also worked with his son, Dr. Mark Leeds, who followed in his father's footsteps, also earning a DO from Des Moines University College of Osteopathic Medicine in 1996. Alex enjoyed professional affiliations with Holy Cross Hospital at 4725 North Federal Highway in Fort Lauderdale, Plantation General Hospital at 401 NW 42nd Avenue in Plantation and the Florida Medical Center at 5000 W Oakland Park Boulevard in Lauderdale Lakes. Board certified by the American Osteopathic Board of Family Physicians, his practices meticulously kept pace with ever-changing cutting edge medical technologies. Consistent with a personal philosophy deeply immersed in "giving back", Alex was also a Clinical Assistant Professor of Family Medicine at Nova Southeastern University College of Osteopathic Medicine.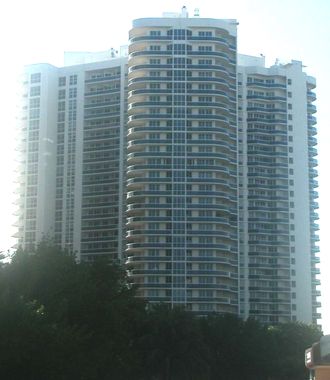 L'Hermitage II

Having earned the respect and admiration of his L'Hermitage II neighbors at 3200 North Ocean Boulevard in Fort Lauderdale, Alex was elected President of their Condominium Association. He was also elected President of the L'Hermitage Community Association, serving the residents of both L'Hermitage Condominium Associations. He deployed sensibility and sensitivity to balance the needs of his neighbors with those of the Associations. Alex and wife Marilyn worked as a team, contending with daily Association issues and helping residents address an endless litany of personal and association problems. He worked with his peers on the board to maintain L'Hermitage's sterling reputation as a top-flight condominium.

A tireless civic leader, Alex served as a member of the Galt Mile Community Association Advisory Board, where he contributed to countless neighborhood improvements. Since Alex both lived and worked in the community, his unique perspective proved an invaluable asset to the neighborhood association. Not surprisingly, his fellow business owners elected Alex President of the Galt Merchants Association.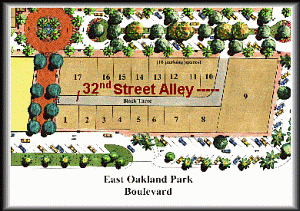 In this capacity, Alex participated in the 32nd Street Alley Partnership. In 1996, stagnant water collecting in the 32nd Street Alley between 32nd Street and Oakland Park Boulevard caused a portion of the alley infrastructure to collapse. If the polluted ponding water were discharged into nearby stormwater drains, it could have infused local rivers, lakes, and canals with a broad range of noxious and toxic contaminants. The Galt Merchants Association, the Galt Mile Community Association, local merchants, businesses, and the City of Fort Lauderdale formed the Alley Partnership to finally address this persistent problem. After more than a decade of working with the City and an evolving merchant population, Dr. Leeds and Commissioner Christine Teel were able to induce the City to rehabilitate the alley's drainage functionality, primarily because Alex elicited the cooperation of contentious area merchants who promised to maintain a clean drainage environment.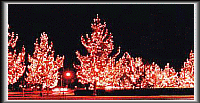 During the Holiday season, the Galt Ocean Village Shoppes neighborhood was annually devoid of seasonal lighting. At a meeting attended by group of participating merchants, Community Association representatives Ralph Hamaker from Coral Ridge Towers South and former GMCA President Bob Rozema, City of Fort Lauderdale staffers Hal Barnes, Mike Fayyez and Tom Terrell, and Alfred Russillo of FP&L (Florida Power & Light), Alex and City Commissioner Christine Teel addressed the technical and financial obstacles responsible for the neighborhood's lack of seasonal illumination. Due to the area's inadequate electrical underpinnings, Dr. Leeds had to elicit City cooperation to install special outlets and convertors to power the festive atmospheric lighting and FP&L to discount the juice expense. If not for his yearly efforts, the entire largely commercial district and the Coral Ridge Towers complex would have remained a seasonal "no mans land".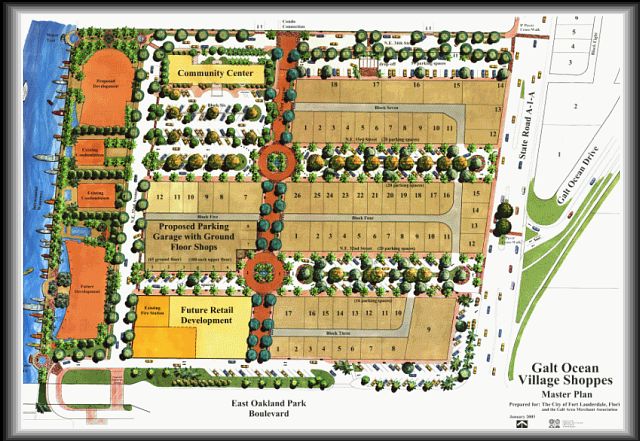 In 2003, Alex transformed a $15,000 capital improvement program grant received from the City of Fort Lauderdale into a viable and exciting Master Plan designed to morph the Galt Ocean Village Shoppes into a vibrant tourist magnet and an exemplary commercial success. The Master Plan serves to heighten the aesthetics, functionality, and economic viability of the area bounded by the Intracoastal Waterway on the west, A1A on the east, Oakland Park Boulevard on the south, and NE 34th Street on the north. Created by the Architectural Alliance under the guidance of City Project Engineer Hal Barnes, the potpourri of storefront, streetscape, and waterfront improvements was carefully designed to enhance the catchment area.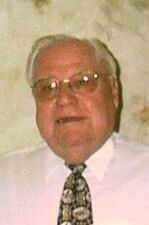 FORMER GMCA PRESIDENT
ROBERT ROZEMA

After overseeing the plan's creation, Alex negotiated with participating merchants to commence implementation. Given the transitory merchant population, he was forced to alter his strategy. Alex worked with the late GMCA President Robert Rozema to attract three major project components deemed necessary to enervate the Master Plan. They successfully lobbied City Hall to build the Beach Community Center in the Galt Ocean Village Shoppes neighborhood. Rozema and Leeds convinced the neighborhood association Board of Directors and Advisory Board that two additional major developments would be needed to help fund some of the Master Plan's critical offerings. Several years later, Il Lugano's developer upgraded aspects of 34th Street. When developer Opus South bought the former La Reserve property on the Intracoastal Waterway just north of the Oakland Park Boulevard Bridge, Alex negotiated their enhancing the 32nd Street side of the neighborhood. Unfortunately, a corporate policy change precipitated their withdrawal from the project last year, prompting Alex to immediately commence hunting for a viable replacement.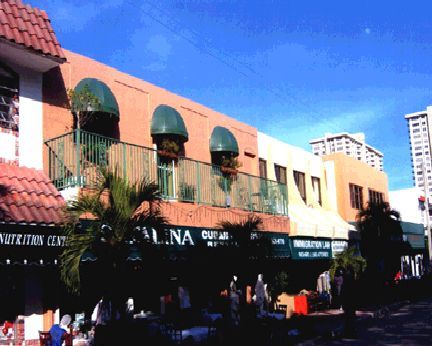 GALT OCEAN VILLAGE SHOPPES NEIGHBORHOOD

This year, the irrepressible Dr. Leeds consummated a deal with the city to permanently improve some of the area's lighting deficiencies and install an entry portal to the Galt Ocean Village Shoppes neighborhood. The Galt Merchants Association and the Galt Mile Community Association cooperatively applied to access matching grant funds to help stimulate commercial interest in the area. While stricken and unable to attend Advisory Board meetings, Alex pursued the improvements via telephone and Marilyn made monthly progress reports. Tragically, Alex ultimately encountered the only obstacle capable of stopping this force of nature that brightened our lives for so many years.

As the beloved & adored husband of Marilyn, devoted son of Gertrude, loving brother of Rebecca, loving and worshiped father of Karen, Francene, Mark & Stacy, Robert & Mary, Daniel, Tifini and cherished Papa of Zachary, Victoria, Rachel, Emily, Harmony and Jessica, Alex filled the hearts of fortunate friends and 4 generations of a close-knit nurturing family.

Upon learning of his passing on Thursday morning at 8:45 PM, L'Hermitage II Manager Paul Moore notified friends, neighbors, association and civic leaders that a Chapel Service would be held on Sunday, October 19, 2008 at 2:15 p.m. at Star of David Funeral Chapel (7701 Bailey Road) in North Lauderdale, FL 33068 (Tel: 954-722-9000). Services would be followed by a gathering in the L'Hermitage II Ocean Room at 3200 North Ocean Boulevard in Fort Lauderdale. Contributions may be made to Sylvester Cancer Center.
Click To Top of Page

---
Galt Mile Loses James T. Gill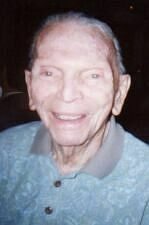 Galt Mile Director
James T. Gill

June 24, 2008 - On June 9, 2008, the Galt Mile Community lost a good friend whose contributions continued until the day of his passing. At 99, James T. Gill outpaced peers half his age, effectively blending common sense with fiscal insights borne of extensive experience. He faithfully represented Plaza South Condominium in the Galt Mile Community Association as a longtime member of the neighborhood association's Board of Directors. James masterfully balanced the needs of his association with those of the overall community.

Originally from the streets of Manhattan in the Big Apple, Jim graduated from Columbia University on 116th Street in Harlem. A banker with instinctive commodities expertise, Jim rose through the ranks of the Manufacturers Hanover Trust Company while living across the Hudson River in Fort Lee, New Jersey with his wife Dorothy. Having served as Past President of the New York Board of Trade and the East 34th Street Association in New York, Jim retired as a Vice President of the bank and moved to Fort Lauderdale at the age of 62 in 1971, where he bought Apartment 23L in the brand new Plaza South Condominium.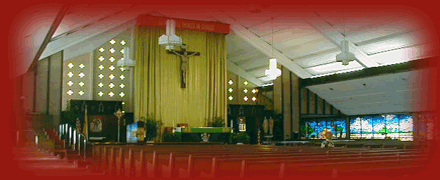 St. Pius X Catholic Church

Jim participated in the Galt Mile Improvement Project, prompted the City of Fort Lauderdale to attend to the block's sidewalks and tree beds and fought for Beach Renourishment. In addition to his civic contributions, Jim was an active member of St. Pius X Catholic Church. Beloved husband of the late Dorothy (Strohmeier); devoted father of Robert J. Gill, Carol Ann Gilhooley (Thomas) and Mary Ellen Gill; cherished grandfather of Christine and Nicholas Vogt and Kelly and David Pitts, Jim filled the hearts of friends and family.

Mass of Christian Burial took place on Saturday, June 14, 2008, 10:00 A.M. at St. Pius X Catholic Church, 2511 North Ocean Boulevard, Fort Lauderdale, Florida. Interment Private. Arrangements were by Baird-Case Jordan-Fannin Funeral Home, 4343 North Federal Highway, Fort Lauderdale, FL 33308, (954) 492-4000. Memorial Donations may be made to the St.Pius X Church Music Ministry.

Click To Top of Page

---
Charles P. Rossi



Former GMCA Director Passes on in Hawaii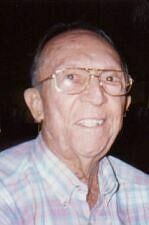 Former GMCA Director
Charles P. Rossi

November 30, 2007 - Former GMCA Director Charles P. Rossi passed away on November 6, 2007 at 87 years of age. A longtime resident of Coral Ridge Towers North, Charles moved to Hawaii several years ago. Before moving to Honolulu, Charles worked diligently for years to improve the Galt Mile neighborhood.

Charles Rossi carried a unique responsibility with regard to his position as a Director on the Galt Mile Community Association Board. Hailing from Coral Ridge Towers North, Charles was the sole representative to the Board of Directors of a Cooperative during his tenure. He fought to insure that the four cooperatives comprising the Coral Ridge Towers Complex were never neglected while designing community objectives. Rossi also saw to it that the Association included cooperatives while struggling to promote sensible Association rights and regulations.
A reserved and personable retired steel executive, Charles displayed an aptitude for putting events into their historical perspective - preferably with humor. In celebration of the Galt Mile Community's 50th birthday, he poetically chronicled a timeline history of Galt Ocean Mile that enriched the Galt Mile Community Association newsletter and web site. Charles enjoyed reminding neighbors that Coral Ridge Towers, built just prior to to Condo Act of 1963, was the first hi-rise cooperative financed by the FHA to have a swimming pool. The Coral Ridge Towers (CRT) complex, later expanded to include the North (Charles' home), South, and East buildings, was a blueprint for developers prospecting for amenities to include in their offerings.
Memorial services were held in Chicago, his place of birth (arrangements by Ultimate Cremation Services of Hawaii). Charles is survived by daughter Carole Lilleberg, son-in-law John Lilleberg and grandchildren Todd Lilleberg and Dana Sackar. He will be missed - and fondly remembered.
Click To Top of Page

---
Galt Mile Spark Plug

Dick Tymeson Passes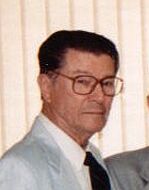 Former Presidents Council
Chair Dick Tymeson

August 10, 2007 - One of the pillars of the Galt Mile Community, Dick Tymeson died early Thursday morning on August 8, 2007. After slowly recovering from a stroke suffered about six months ago, Dick was again stricken during the last week. Unable to marshal another recovery, Dick passed away peacefully.

Born March 16, 1918 on a farm outside Storm Lake, Iowa, Dick's family eventually moved into town. While attending college and business school, Dick flirted with testing societal limits by playing trombone in a swing band. After he joined the Army during World War II, Dick met Katherine Perkins while stationed in Baltimore. This heralded the beginning of a 64-year love affair.

His business sent the Tymesons to New York where son Craig was born. After moving to Philadelphia, daughter Janis joined the crew. In 1955, the family migrated to Brazil, where they flourished for 18 years in Sao Paulo and Rio de Janeiro. Although his corporate career started with Philco/Ford, it moved him to ITT and finally culminated with Quaker Oats, where he served as the General Manager in Brazil.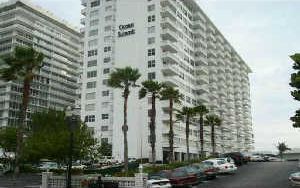 Dick Tymeson at Ocean Summit Condominium

With both kids in college, Dick and Kitty returned to the United States in 1973, settling in the Sunshine State. For years, Kitty and Dick Tymeson lived in the Ocean Summit Condominium at 4010 Galt Ocean Drive, where he repeatedly served as Board President, providing guidance to his neighbors as the stable compass of their active administration. His reputation for organizational skill and penchant for achieving consensus extended beyond his Ocean Summit Association family. Neighborhood activists solicited Dick's participation in the Galt Mile Community Association, hoping to harness his unrelenting optimism for the benefit of the entire neighborhood.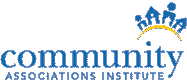 Dick's familiarity with Property Management developed into a community resource. While working closely with the Southeast Florida Chapter of the Community Association Institute, he elicited an endless stream of relevant queries from friends and neighbors. Dick selflessly applied his unique expertise to accomplishing important objectives for his Association and the neighborhood as a whole. He was soon drafted into serving as Chairman of the Galt Mile Community Association's Presidents Council. A master of diplomatic compromise, Dick successfully steered this group of strong-willed Association Presidents through a series of universal improvements that continue to benefit every Galt Mile homeowner.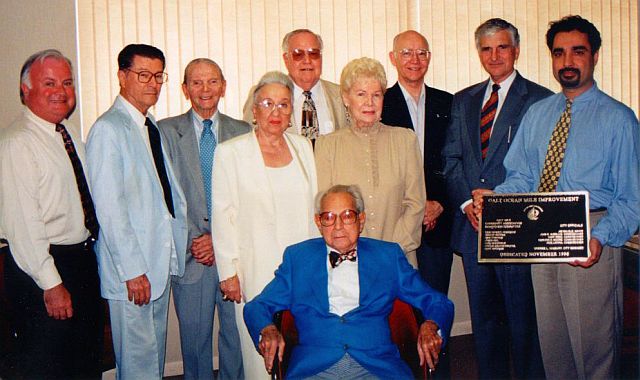 DICK TYMESON & GMCA LEADERSHIP ACCEPTING PLAQUE FROM
CITY FOR GALT OCEAN MILE IMPROVEMENT PROJECT

Dick was one of the driving forces behind the Galt Ocean Mile Neighborhood Improvement Project, arguably the most successful project of its kind in Fort Lauderdale history. Working with peers Robert Rozema, Rose Guttman, Leah Glickfield, Jim Gill, Oscar Kraehenbuehl, Earl Lifeshy, Commissioner John Aurelius and other City officials and engineers, Dick was often called upon to help overcome a litany of obstacles interfering with the project's completion. If a deteriorating issue required improved communications, Dick Tymeson was the cure. His remarkable ability to replace contention with a comfortable working environment made Dick an indispensable community asset.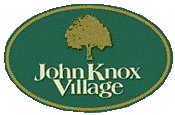 Long after he and Kitty moved to John Knox Village in Pompano Beach, Dick commuted regularly to attend Galt Mile Community meetings and events. His eternal willingness to volunteer his time, effort and expertise to every community objective earned Dick one of the three Honorary Lifetime Memberships ever accorded by the Neighborhood Association. Needless to say, Dick leaves some unfillable shoes and an unmatched legacy of achievement. He will be sorely missed.
Map to Kraeer Funeral Home

Dick is survived by loving wife Kitty, his son Craig, daughter and son-in-law Janis and Peter Steinfeld, and 5 grandchildren (Michael, Bryan, Alyson, Kristen and Hayley). Having recently moved within John Knox Village, Kitty's new address is 651 SW 6th Street, #808, Pompano Beach, FL 33060.

A simple memorial service was scheduled for Saturday afternoon, August 11th at Kraeer Funeral Home (200 North Federal Highway in Pompano Beach). At Kitty's request, in lieu of flowers, please make donations in Dick's honor to the charity of your choice.

Click To Top of Page

---
Robert John Rozema
"The Straw that Stirred the Drink"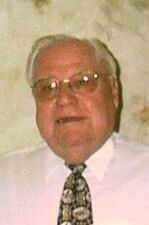 GMCA President
Robert John Rozema

November 29, 2006 - On Monday, November 27th, the Galt Ocean Mile lost an irreplaceable resource. When President Robert Rozema of the Galt Mile Community Association passed away, not only did the neighborhood residents and merchants lose an irrepressible advocate, they lost a fast friend. Under his guidance, the Galt Mile Community evolved into one of the most sought after neighborhoods in the world. Among the area's first civic leaders, his vision and commitment prevented the community from becoming a stereotypical collection of random beachfront housing. His soft-spoken, low-key demeanor belied his intense commitment to defending and improving the quality of our lives and the value of our homes.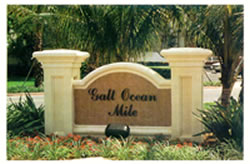 Bob helped organize the Galt Mile Improvement Project, the most successful neighborhood improvement project in Fort Lauderdale's history. The decorative lighting, colorfully pavered crosswalks, high-end landscaping, pink aggregate sidewalks and bookend neighborhood mini-parks are a testament to Bob's unique ability to achieve consensus. Spearheading a contingent of Galt Mile officials and civic leaders, Rozema blended compromise and fiscal good sense with unrelenting political pressure to enlist municipal participation in this watershed project.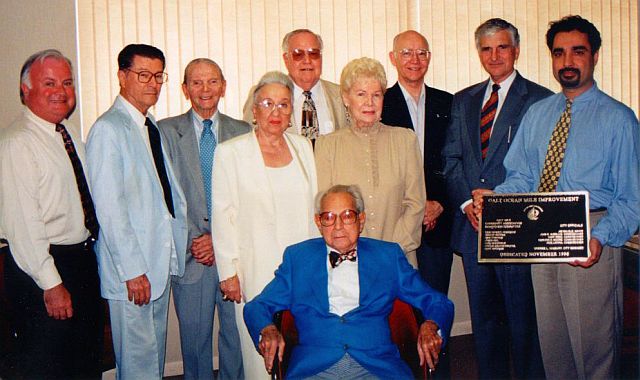 BOB ROZEMA & GMCA LEADERSHIP ACCEPTING PLAQUE FROM
CITY FOR GALT OCEAN MILE IMPROVEMENT PROJECT

President Rozema shared responsibility for a broad spectrum of neighborhood improvements. He promoted campaigns to abate motorcycle noise and traffic violations, upgrade and maintain the neighborhood landscaping, incept the "Mile's Corner" construction upgrades (Oakland Park Boulevard & A1A), install improved signage and traffic lights and helped to attract the Beach Community Center as a neighborhood anchor. Bob was also instrumental in assisting the County with their ongoing efforts to renourish critically eroded Broward beaches.

Bob had the unique capacity to create an environment in which participants could set aside differences in order to achieve mutual objectives. He applied this talent on many levels. Bob served repeatedly as the President of Southpoint Condominium where he also assumed managerial responsibilities. His administrative accomplishments at Southpoint helped create and maintain its reputation as one of Fort Lauderdale's most well run Condominiums.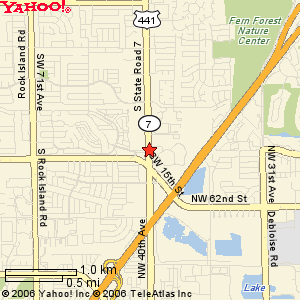 MAP to QUEEN OF HEAVEN CEMETARY

Rozema realized early on that Associations are not only evaluated by how well they are maintained and administered, but also by the quality of their surrounding neighborhood. Upon moving to the Galt Mile in the early eighties, Rozema dedicated his efforts to improving his home and community. Since he framed every issue in the context of this broader perspective, he elicited the respect and admiration of Galt Mile residents, merchants, civic leaders and political representatives. Under his administration, the Galt Mile Community Association addressed issues on every level (local, state, national, etc.) that impacted the Galt Mile. His ability to see the "big picture" and unremitting commitment to Southpoint and the Galt Mile Community will be sorely missed.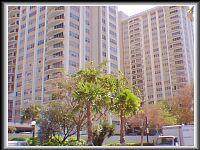 Southpoint Condominium

In addition to dozens of close friends and hundreds of grateful neighbors, Robert is survived by his fiancé, Marilyn Peters; children, Darlene Joy Scruggs, Robert John Rozema, Jr. and John Frank Rozema; sisters, Marjorie Unser and Kathleen Venema; grandchildren, Meghan Buselli, John Rozema, Mallory Rozema, Tim Rozema, Kyle Rozema, Ted Scruggs, Cora Scruggs, Dustin Albanese and stepson, Richard Albanese; and five nieces and nephews. Click Here to read an article about Bob's passing in the Sun-Sentinel.

Visitation will be 1-2:00 PM Friday, December 1, 2006 with a 2:00 PM funeral service at the Kraeer Funeral Home and Cremation Center at 4061 N. Federal Highway in Fort Lauderdale (Tel: 954-565-5591). Entombment will follow at Our Lady Queen of Heaven Mausoleum at 1500 S State Road 7, North Lauderdale, FL 33068. In lieu of flowers, donations may be made to:

Click To Top of Page

---
Helen Quinlan
A Celebration

of Life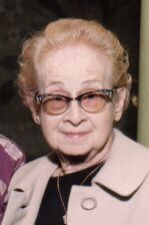 Helen Quinlan

July 31, 2006 - Helen Quinlan defied logic. The gentle nonagenarian with an encyclopedic recall of the Galt's history was one of our community's treasures. Helen graced former Directorial Boards in Regency Tower with her charm, even temper, and wisdom. Helen was a chronic contributor. Adjunct to her time, effort, and energy, she contributed to the Regency Tower newsletter and maintained her own "Poem and Joke" page on the Regency Tower web site. As the GMCA's Secretary, Helen made myriad unrequited contributions to the Neighborhood Association's Board of Directors. Her civic conscience was exemplary and her unique wit made knowing Helen a remarkable experience. The "angel of Regency Tower", Helen had the sweetest disposition in South Florida. To know her was to love her. If someone needed to be "charmed", Helen was called.

While Helen professed her life's "secret" as keeping a healthy sense of humor, her REAL secret was that she didn't reflect light... she created it. Helen passed away on July 26th. May she rest in peace.
Helen's funeral will take place in Chicago, where she will be interred adjacent to her beloved husband. A Memorial Mass was held on August 10th at 10:00 AM in St. Pius X Church at 2511 N. Ocean Boulevard (A1A).
Following the Memorial Mass, a brunch in celebration of her life took place in the Rendezvous Room at Regency Tower condominium (3850 Galt Ocean Drive, Fort Lauderdale). The brunch started at 10:45 AM.

Click To Top of Page

---
Goodbye, Adam!

By John Pescosolido

On October 31, 2002, Adam Libertella, President of the Galt Towers Condominium Association died suddenly. He led the Galt Towers Association for three years and attempted to fix everything and anything in the building. He was in his office each morning until late afternoon, greeting those who passed by, listening to each complaint, and guiding the work of the employees. Dedication doesn't totally describe his behavior, fairness doesn't totally describe his relationship with contractors or employees. He was a caring individual behind a strong exterior. He left a building where people thought the world of him. The Galt Towers lost a leader, the Galt Mile lost a friend.

Click To Top of Page

---
Thank you, Robert!

Robert O. Eagan, the editor of the Galt Mile Community Association Web Site and Newsletter from December 28, 2000, passed away on April 24, 2002. Robert performed a thankless job with a degree of professionalism that distinguished all his efforts. His singular perspective and jocular format brightened the Web Site and gave the relatively dry raw material for the Newsletter interest and meaning. His passing represents a great loss, not only to those who knew and loved him, but also to the entire Galt Mile Community. The Association owed an uncollected debt of gratitude to Robert for many years. Let this serve as the first installment. Again...thank you, Robert...we'll miss you!