Association
Annual Meeting & Election
L�Hermitage I
January 6, 2004
L�Hermitage Community
January 7, 2004 @ Tower I
L�Hermitage II
January 19, 2004 @ Tower II
---
First Meeting of L�Hermitage Men's Club

After breakfast was served to the many men attending at the Pool Caf�, Billy Lazarus, Organizer-Extraordinaire, called the first meeting of the L�Hermitage Men�s Club to order on Sunday, November 16, 2003 at 11:00 AM.
Election of Officers:
The First order of business was the election of officers, as follows:
President:
Billy Lazarus
Vice President:
Mark Hamelsky
Treasurer:
Ian Speisman
Secretary:
Allan Greenberg
New Business:
The format of future meetings was discussed. It was generally agreed that each Sunday breakfast meeting would be followed by a presentation by an invited guest or by one of our colleagues. There would be about four to six meetings per year depending on owner interest. We are interested in ideas on presenters and topics.
Payment of Dues was discussed:
Suggestions ranged from pay as you go to each meeting to annual dues of $25 - $30. This will be discussed further at our next meeting. Bring yourself!!! Bring Your Ideas!!! Bring Your Checkbook!!!
Presentation by Jim Naugle, Mayor of Fort Lauderdale:
Mayor Jim Naugle

Jim Naugle was elected Mayor of Fort Lauderdale in 1991 and re-elected with no opposition in February 1997. He has served on the City Commission since 1985, and on City Boards since 1976.



The first presentation to L�Hermitage Men�s Club was both stimulating and provocative. We are grateful to our Mayor for launching our Club in such an outstanding way.
The meeting was adjourned at 12:15 PM in time to watch the Dolphins game.

Second Meeting of L�Hermitage Men's Club

Next Meeting: Sunday, January 18, 2004 at 10:00 AM at Pool Caf� with Presentation by Christine Teel, Commissioner of District 1, Fort Lauderdale
Commissioner Christine Teel

Newly elected Commissioner Christine Teel is focusing in on District 1 which contains L'Hermitage Condominium. A Fort Lauderdale resident and active volunteer for over 30 years, Commissioner Teel has identified a wide range of priorities, including master-planning of business corridors along Oakland Park and Commercial Boulevards, airport noise reduction, density and growth, waterway cleanup, code enforcement, refurbishing existing parks and identifying new locations. She is committed to identifying where tax dollars are spent and re-directing them to address the priorities of her constituents.



Join your Men�s Club for what should be an interesting and enjoyable morning on Sunday, January 18, 2004 at 10:00 AM in the Ocean Room, Tower II. Complimentary continental breakfast will be served. Please sign up with Conci�rge.
---
Did You Know...


Did you know that we have a Defibrillator in the lobby and at the Caf�? What is it you say! A Defibrillator is a piece of medical equipment that can be used to restore a heart to a normal beat after the onset of a heart attack. All of our security staff has been trained in the use of the Defibrillator and you now have the opportunity to be trained too. If interested, please contact the management office for class times, cost is approximately $45 and includes an American Red Cross Certificate in the use of the Defibrillator.
---
L�Hermitage I Condominium Association, Inc.

From the President

As we come to the end of the year and the beginning of a new year, we take stock of how life in our building has improved, and how things could improve even more in the future. Despite physical problems with some of our building systems, life at L�Hermitage I has continued to get better from services to social life and from amenities to management.

A lot of these improvements are directly due to the work and efforts of our owners who actively participate in the work of our Committees through open meetings and discussions throughout the course of the year in order to provide the Board with alternatives and recommendations to improve our building and its environment.

We have found the Committee system to be an effective means of owners� participation, open to all, and a system that will avoid the pitfalls of a few making decisions for the many. I encourage all of our owners, to the extent possible, to participate in our Committees if they are not able to participate as members of the Board.

Sincerely,

Will Montes de Oca

, President
L�Hermitage I Condominium
---
L�Hermitage I Condominium Association Manager

I would like to welcome back all of the residents who are returning to L�Hermitage for the winter season. I look forward to meeting all of you. I would like to take this opportunity to remind everyone that there will be much more traffic on the L�Hermitage roadway and in the garage as residents return for the season and I ask that everyone take a little extra care while driving and parking.

Additionally, there will be more guests and service providers coming to L�Hermitage. This is to remind everyone that the parking along the roadway is by valet only. Please ask your guests and service providers to be patient with valet as they do their best to take care of everyone. When the parking areas are full it will be necessary for valet to direct the overflow to the public lots outside the main entrance to L�Hermitage or to the public lots along the Galt Mile.

The L�Hermitage I staff would like to wish everyone a safe and happy holiday season.

Best Regards,

Donald Westbrook


General Manager
---
L�Hermitage II Condominium Association Manager

Happy New Year! The upcoming year will bring to closure a project we have been working on for some time... the Developer Settlement. A formal settlement agreement was signed on September 8, 2003. As a result of our negotiations, the Developer is making numerous repairs to our building, including terrace edges and parapet walls. Additionally, we accepted title to Unit 303 which has been sold resulting in a net of $173,000 to the Association. The Developer has constructively worked towards remedying our access problems to the north roof equipment rooms by adding a proposed walkway addition to the north tower.

Currently, the Developer�s crew is working its way around the building making the repairs to the terrace edges and parapet walls. This work is expected to take 120 days to complete, but has already been delayed by rain and wind. The $173,000 derived from the sale of Unit 303 has been deposited in the reserve fund with $98,000 being credited directly to �Waterproofing and Painting�. By distributing the money this way we are now fully funded in this area and financially ready to waterproof and paint the building upon the completion of the developer�s work. The balance of the money has been distributed to various components in the reserve fund, and will help to offset increases in your reserve fund contributions over the next few years. Last but not least, the architectural drawings for the new walkway have already passed the City�s Administrative Review Board and are now being engineered by the Developer. If all goes well we hope to start this project immediately after the permits are approved.

Going into 2004, it is my goal to finish up our brass restoration project in the elevators and get started on a wood restoration project. It is my objective to return the elevators to a first class condition, simultaneously implementing a preventive maintenance program.

Congratulations to the Board of Directors! Our current Board members were the only members submitting a Notice of Intent to run for the Board, and as a result no election will be required.

Bud Guyer


General Manager
---

ATTENTION

Please keep your foyer doors closed at all times.


Open doors allow wind into the elevator shafts which can adversely affect their operation.
Click To Top of Page
---


Conci�rge Department

Tower I


Pablo, Conci�rge
Open Monday through Friday
10:00 A.M. - 6:00 P.M.
Desk # (954) 375-3100 ext. 5
Fax # (954) 568-5740
Tower II




Lorraine, Conci�rge
Open Monday through Friday
8:30 A.M. - 5:00 P.M.
Desk # (954) 375-3900 ext. 5
Fax # (954) 537-3563
---

Thank You



The Employees of L�Hermitage wish to thank all who contributed to the holiday fund.
Again ...Thanks!
---

Beach and Pool Committee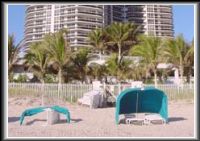 For those residents who have been away, �Welcome Back�.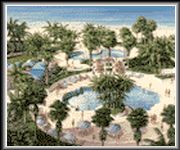 We have installed new cushions on all of our lounges on the Pool Deck.
We continue to store the Caba�as flat and have had ZERO DAMAGE since we have switched to this method. Our new Gas Heaters have been installed to keep our pools and spas comfortable.

As reminder for all residents and guests:
All beach lounges and lounges on the Pool Deck must be covered with a beach towel.
All guests of residents must carry a �guest pass�.
I wish you all a very Happy and Healthy New Year

Arthur Feuer


Chairman
---

Reminder


Your first quarter assessment is due January 1, 2004.
---


L�Hermitage Caf�

Chef Marci Boland


Open Seven Day a Week
11:00 AM to 4:00 PM
Dinners Served Friday and Sunday Nights
5:00 PM to 9:00 PM
Sunday Brunch
9:00 AM to 12 Noon

If You are having a party, Catering Menus are available at the Conci�rge desk.

Lunch Menu

Traditional Greek Salad
Classic Caeser Salad
Caf� Salad
Grilled Mahi Nicoise Salad

Tuna Salad
Grilled Cheese Sandwich
Roast Turkey Breast
Curried Chicken Salad Wrap

L�Hermitage Burger/Cheeseburger
Kosher Hot Dog
Grilled Chicken Sandwich
Veggie Burger
For more information and pricing, see menus at bulletin boards and conci�rge desks.
---