---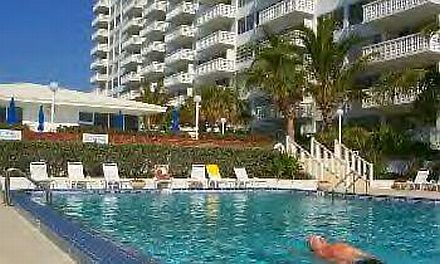 ---
The Ocean Summit condominium (4010 Galt Ocean Drive, Fort Lauderdale, Florida 33308) is one of the original buildings on the Galt Ocean Mile. It has 229 individually owned units.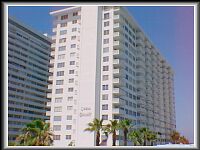 The location of the building next to the Playa del Mar condominium offers breathtaking views of the Atlantic Ocean in the southeast and the City of Fort Lauderdale in the southwest.
The pool allows serious lap swimming as well as being a wonderful place to socialize. Our recently redecorated Terrace Lounge is another gathering place for the owners and their guests, available for a nominal fee to the owners for their own parties.
There is a large community room in the main building where the Annual and Board meetings take place. The room is also used by our bingo and bridge players.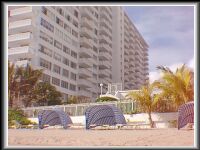 The building is managed by a resident manager supervising a staff of 18 including 24 hour, two-person security detail. The Board of Directors has 9 members dedicated to the goal of keeping the building in an excellent shape and initiating projects resulting in an improvement of the quality of life in the building.
An underground garage shelters some 145 vehicles in permanently assigned slots. Outside parking is usually more than adequate to accommodate owners and their guests when needed. There is a car wash site available to the residents and our personnel are ready to assist the motorists with a charger when the battery discharges accidentally.
All packages are received by our security detail that notifies the residents when a delivery is made. The packages are stored in a securely locked area.
Recently...
In 2002, we opened a well equipped gym with an adjacent sauna, open to all residents 24 hours a day.

In 2008 we completed an extensive concrete and balcony restoration and building paint project, plus we are currently about to complete the installation of a new AC cooling tower.

We do not anticipate any major special assessments since many necessary repairs are covered by some 12 adequately funded individual reserve funds!

---



Gail Jaseliunas, President
Gary Spitnale, Vice President
Gail Der Ananian, Secretary
Howard Aschner, Treasurer
Martha Bruno, Director
Doug Dawson, Director
Everett Pyatt, Director
Marina Tsotos, Director
Karen Wiktor, Director


Lee Lowenthal, General Manager
Leon Gottheim, Office Administrator

For further information
contact Leon Gottheim at 954-565-6696!