---
Update 2005: Representative Ellyn Setnor Bogdanoff

Impending 2005 Legislative Session – Term 1, Year 2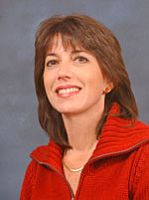 Representative Ellyn Bogdanoff

January 25, 2005 - Ellyn Setnor Bogdanoff, the Galt Mile's Representative in the Florida Statehouse, addressed the January 20th meeting of the Galt Mile Community Association Advisory Board at Nick's Italian Restaurant. The second year Fort Lauderdale attorney discussed an assortment of issues that impact all District 91 residents. She touched on shore preservation, fire safety statutes, insurance changes, a Barrier Island emergency room, legalized gambling and issues brought into focus by the vicious hurricane season. In response to concerns expressed by Advisory Board members, Representative Bogdanoff also addressed the prospect of a new round of legislation devastating to condo owners resurfacing in the upcoming legislative session.

Ms. Bogdanoff squeaked by with a paper thin margin last January 6th in a hotly contested interim election for former Representative Connie Mack IV's vacated House seat. She defeated a field of six contenders, including the well-known former Mayor of Lauderdale-by-the-Sea, Oliver Parker, to secure the District 91 Statehouse seat in her third attempt at elected office. A few days after her victory, she found herself in Tallahassee during what developed into the most contentious session in recent years for a large portion of her constituency… condominium owners. Without the benefit of an acclimation period, the 45 year-old Republican adapted to her Tallahassee environs "on the fly". Given a full complement of major Committee appointments by former House Speaker Johnnie Byrd (including Appropriations, Commerce, Judiciary, Insurance and Procedures), the rookie lawmaker quickly networked the State Capital while establishing new lines of communication with her Fort Lauderdale constituency. When she last addressed the Advisory Board on May 20, 2004 (within weeks of completing her first legislative session), she recommended organizing a legislative "wish list" in preparation for the following year's (2005) challenges. During a December 4th meeting with GMCA officials and residents Robert Rozema, Pio Ieraci and Eric Berkowitz, Ms. Bogdanoff reviewed Galt Mile community objectives and obstacles; offering to expand upon them for the benefit of the Association's more fully representative Advisory Board.

Shore Preservation – Beach Renourishment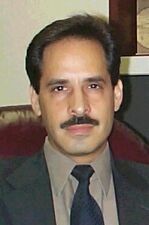 GMCA PRESIDENTS COUNCIL
CHAIR PIO IERACI

Presidents Council and Broward Beach Coalition Chair Pio Ieraci acknowledged that bids for the beach renourishment were currently being elicited by Broward County in a process that would give rise to selecting a contractor. Once chosen, the winning bidder will commence the Segment II (Hollywood) part of the project. Representative Bogdanoff explained that the severe hurricane season has significantly reordered many of Tallahassee's priorities. Over the past five years, procrastination by State officials has slowed Beach Renourishment progress to a crawl. The severe tidal erosion suffered by Florida beaches during the 4-event hurricane season served to alert Tallahassee to the dangers adherent to the unprotected shoreline. The immediacy of the threat to life and property has heightened the State's concern, serendipitously encouraging officials to "pick up" the heretofore dilatory project pace.

Fire Safety – The "Sprinkler Statute"

The reshaping of current fire safety statutes underwent some minor impacts last session. Two bills that ease the way for Associations to "opt out" of a full sprinkler retrofit were signed into law. Ms. Bogdanoff noted that newer, technologically superior "smart systems" are gaining credibility as preferable alternatives to the extremely expensive and questionably useful installation of sprinklers into apartment foyers (as mandated in the original legislation). However, in view of the substantial stakes on the table for the Plumbers and Pipe Fitters Union and the National Fire Sprinkler Association, she expects the controversy to continue for several years.
Insurance Changes – The Double Deductible Dilemma
Special Session in Tallahassee

Representative Bogdanoff discussed the insurance ramifications of a legislative special session convened on December 13, 2004 by Governor Bush to contend with emergency issues triggered by weather-related disasters. Florida's Chief Financial Officer Tom Gallagher engineered a law passed during the special session that provides reimbursement to policyholders of residential property insurance for multiple deductibles applied by insurers for two or more hurricanes. Condominium Associations are eligible for reimbursements of up to $3000/unit. The statute also provides that insurers restrict their future policies to a single annual deductible. In turn, carriers made clear their intentions to apply substantial premium hikes to affected policies. Ms. Bogdanoff explained that negotiations are underway to present Associations with a choice. Essentially, an Association will be able to opt for either a higher premium with a single annual deductible or multiple deductibles with a lower premium expense. To effect an appropriate response to Hurricane Insurance problems, the House and Senate formed a special committee, the Joint Select Committee on Hurricane Insurance. As per Senate President Tom Lee and House Speaker Allan Bense, the Joint Select Committee's mandate includes, "Further study of the issue of multiple deductibles; including analysis of the effect on premiums, particularly for condominium associations."

Barrier Island Emergency Room

When the Cleveland Clinic abandoned their previous North Ocean Boulevard location, it left the Barrier Island without a hospital and, more specifically, an emergency room. Despite the continuous efforts of politicians, civic leaders and various local health care organizations, attempts to replace the "Certificate of Need" (CON) required to authorize another hospital have come up empty. Representative Bogdanoff alluded to what may be another "silver lining" to the catastrophic hurricane season. Officials are considering the consequences of the Barrier Island's forced isolation from the mainland. If the bridges that span the intracoastal were disabled or rendered impassible from either a weather-related catastrophe or a terrorist threat, no medical stabilization facility would be available for Barrier Island Residents. Ms. Bogdanoff is investigating the feasibility of utilizing this scenario as the basis for securing the elusive CON necessary for either a hospital or a stand-alone emergency room.
Legalized Gambling – "Slots" for Hot Spots

Ms. Bogdanoff mentioned that the March 8, 2005 elections will contain only one issue pertinent to Fort Lauderdale residents. The Broward County Commission authorized a Special Referendum Election for the purpose of determining whether slot machines shall be authorized at existing licensed pari-mutuel facilities located within Broward County as provided in Article X, Section 23, of the Florida Constitution. Dania Jai-Alai, Gulfstream Park in Hallandale Beach, Pompano Park Harness Racing in Pompano Beach, and the Hollywood Greyhound Race Track in Hallandale Beach - should they choose to participate - will each pay Broward County $625,000 by September 30, 2005. The agreement also stipulates that each pari-mutuel facility shall make a monthly payment to Broward County in the amount of 1.5 percent of the gross slot revenue generated by each and every slot machine to defray the cost of local government impacts and expenses incurred as a result of the development and operation of slot machines. In case the gross slot revenue exceeds $250,000,000, the percentage paid to Broward County will increase to 2 percent. Ms. Bogdanoff explained that while the tax revenues must supplement public education statewide, no formula currently exists to guide distribution. While she feels that the issue is a matter of personal preference, Ms. Bogdanoff is concerned that because no Fort Lauderdale races or issues are to be decided in the March 8th election, municipal turnout will be marginal - as will our input!
New Threat to Self-Governance
Advisory Board members exhibited serious concerns about another threatened legislative attempt to dismantle the condominium system and disenfranchise condo owners. In last year's legislative session, a bill "spun" by sponsors as "empowering to condo owners" was offered in both the House and Senate. When the actual text was examined by condo owners across Florida, an ocean of protest hit the State Capitol. The "Condo Killer" legislation threatened to disenfranchise hundreds of thousands of owners, creating a structure in which a single disgruntled resident could bring all daily condominium operations to a halt and effectively disembowel the entire condominium system. Self-Governance would have been functionally replaced by a new Tallahassee-run bureaucracy. After reading the contradictory and unconstitutional mass abrogation of rights in the bill text, the bill's Senate sponsor, Evelyn Lynn, withdrew and had to be replaced. Thousands of angry condo owners across the state bitterly complained to their Senators, Representatives and the Governor. Apparently, the only input collected by the bill's sponsors was anecdotal evidence from a group of disgruntled condo owners. Additionally, it appeared as if some of the bill's sponsors were using their office to enact a personal agenda. Two lawmakers who hadn't paid maintenance assessments on their condominiums were liened by their respective Associations. GMCA members postulated that they might have found a more appropriate way to exact revenge on their Associations for expecting them to pay their bills. One by one, the legislation's damaging provisions were excised by legislators. In summarizing the "Condo Killer" bills' ultimate fate, Representative Bogdanoff stated, "Fortunately, the provisions of the bill that threatened to confiscate owners' rights or interfere with an Association's daily operations were removed."
Pio Ieraci of Galt Ocean Club affirmed, "The vast majority of Condominium Associations are well run and successfully address their members' needs and objectives. It is built upon the democratic principle of majority rule while protecting the rights of the minority. To replace self-governance for over a million condominium owners with governmental micro-management is unacceptable." Ieraci continued, "If a condo board member OR a State legislator behaves inappropriately, they should be disciplined according to the law. You don't dismantle the entire system or punish every legislator. A substantial part of a condominium unit's value hinges on the stability of the Condo system. Who would buy a home in which maintenance and security could be thwarted spontaneously by any neighbor for any reason?"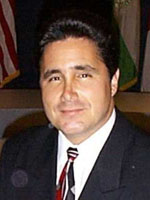 REP. JULIO ROBAINA

When queried about the political motives of the bill's primary sponsor (Miami Representative Julio Robaina), Representative Bogdanoff opined that "Mr. Robaina may have created the legislation in response to a problem local to his district; he incorrectly assumed that his resolution should be universally applied." Mr. Ieraci noted that Mr. Robaina had excluded authoritative input into his legislation, restricting it to a small group of disgruntled condo owners based in St. Augustine. "He hasn't allowed participation by representatives of the 99% of Florida Condominium Associations that operate well," Ieraci exclaimed. Mr. Ieraci referred to the unpublicized "public meetings" held two years ago by Robaina's "Select Committee on Condominium Association Governance" in which any speaker that didn't belong to Robaina's exclusive "insider" group was roundly shouted down by group members with the tacit approval of the Committee. Mr. Ieraci regretted that Robaina's legislation didn't match its promise. Instead of promoting constructive legislation "to empower condo owners" that would have secured universal support, Mr. Robaina decided to cook up a "straw dog" to seemingly harvest media access stimulated by the controversy.

Dott Nicholson-Brown

Dott Nicholson-Brown of Regency Tower exclaimed to Ms. Bogdanoff, "I want to emphasize just how important this issue is to us. Last year, hundreds of my neighbors expressed 'bi-partisan opposition' to these arbitrary changes to the Condominium Laws." Ms. Nicholson-Brown explained that, "Both Republican and Democratic Party leaders contacted the Governor, Broward Senators and Statehouse Representatives to overturn these destructive provisions." GMCA President Robert Rozema concurred with Ms. Nicholson-Brown's assessment. Several other Advisory Board members identified with her experience, confirming that large numbers of normally passive residents contacted State officials in angry opposition to this attempted infringement of their rights.

Ms. Bogdanoff assured the assemblage that she would remain vigilant, promising to "fight for her constituents' right to self-governance" should they again be threatened by governmental micro-management of their homes. She also asserted that Tallahassee would likely be too preoccupied with serious problems resulting from the catastrophic hurricane season to dwell on questionable political agendas such as the "Condo Killer" bills. By way of example, she stated that "measures for streamlining statutory provisions for Condominiums to effectively operate under emergency conditions" are being reviewed, such as "when Board members are scattered and resources for emergency repairs have to be secured and disbursed." According to Professor William Sklar, Co-Chair of the Governor's Homeowner Association Task Force, the Florida Bar's Real Property and Condo Committee intends to propose the legislative measures referred to by Ms. Bogdanoff during a scheduled February meeting in Tallahassee.

Invitation to Greater Community Participation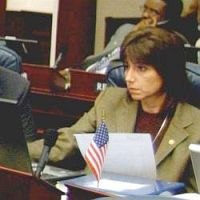 REP. BOGDANOFF ON HOUSE FLOOR

Representative Bogdanoff invited greater participation by constituents in the legislative process. "Because you are often aware of events before we are in Tallahassee, it would be very useful if we could communicate during the course of the session. Last year, with the help of constituents back home - some of you - I was able to address important issues as they emerged. I am accessible during the entire legislative session." She elaborated, "This is particularly true during the final weeks of the session; situations change quickly and you often learn of these changes before we do. My laptop was always on as the session drew to a conclusion last year." This is a reasonable request. Our laptops were also on. They will also be on during the upcoming session. It is always comforting to know that someone in Tallahassee is listening.

For the 2005 legislative session, Representative Bogdanoff has been appointed to five new Councils/Committee memberships in the Florida House of Representatives. She is the Chair of the Joint Administrative Procedures Committee and the Vice Chair of the State Administration Council. She serves on the Commerce Council. She is also a member of the Ethics & Elections Committee, the PreK-12 Committee and the Transportation & Economic Development Appropriations Committee. Not bad for the second year of her first term! I can personally attest to our Representative's claimed "accessibility". During the final days of last year's legislative slugfest, I alerted her to our concerns about quickly morphing legislation. She kept me continuously updated while she was "networking" on the House floor. Questions were generally answered within an hour or two, often late into the evening. Despite her "rookie" status last year, Representative Bogdanoff clearly demonstrated that she knows how to assess developments, form alliances and, when indicated, roll up her sleeves and take care of business! In addition to these required ingredients for success in Tallahassee...SHE LISTENS!

Contact Representative Ellyn Bogdanoff

Tallahassee -
The Capitol (Room 1102), 402 South Monroe Street, Tallahassee, FL 32399-1300. Her phone# in the Capitol is (850) 488-0635. Her Email is

[email protected]



Legislative Assistant -
Gerald O'Rourke, Ms. Bogdanoff's Legislative Assistant, can be Emailed at

[email protected]

.

Local -
2601 East Oakland Park Blvd (Suite 204), Fort Lauderdale, FL 33306-1612. Her local phone# is (954) 958-5569.

Legislative Assistant -
Aaron Nevins, Ms. Bogdanoff's District Aide, can be Emailed at

[email protected]

e.gov.

For complete contact information, go to Report Card.
---
Community Association Day

February 15, 2005 - The Galt Mile Community Association will be participating in a Community Association Day up in Tallahassee on March 30, 2005. We will be planning meetings with key legislators to afford YOU an opportunity to voice your concerns and wishes to your public-policy makers. Despite all the media hype regarding out-of-control boards and reckless communities, this will be an opportunity for the usually silent majority to give another view of life within community associations to your legislators as they contemplate even more radical proposals impacting community associations this year.
What are the Issues?
GMCA goes to Tallahassee

In addition to important local issues, the Galt Mile shares concerns with Condominium Associations across the state. During the Florida Legislature's 2004 Special Session for Hurricane Issues called on December 13th, alarming deficiencies in the Condominium Act became apparent. The $20 billion cost of the catastrophic season is threatening to send insurance costs through the roof and/or insurance companies to pull up stakes and abandon the Florida market. Condominiums devastated by the damage were surprised to find their hands tied when they attempted to effect emergency repairs. The 4-hurricane wake-up call alerted authorities to the critical need to enact statutory guidance for Associations trying to survive disasters.

In 2002, the legislature passed a law requiring the retrofitting of existing condominiums with a questionably effective and extremely expensive sprrinkler system. In view of the improvements in fire safety technology and the availability of resulting "smart systems", we will propose this to legislators as a clear improvement over the existing requirements. Alternatively, we'll seek to extend the current 2014 compliance date to install either a full or partial sprinkler retrofit until 2020.

Every democratic institution constantly struggles to balance the rights of its members with institutional objectives. Every year, legislators consider ways to refine the "Condominium Act" and the "Cooperative Act" (Chapters 718 and 719 of the Florida Statutes), the laws that govern this balance. If regulations created to improve the way neighbors treat one another aren't carefully crafted, they do more harm than good. Any proposal worthy of support requires a balance of everyone's rights with each individual owner's rights. Last year, several politically motivated bills damaging to condo owners were cynically "spun" by supporters as "empowering to condo owners".

The Galt Mile Community Association carefully monitors those proposals deemed detrimental to the maintenance, operation or administration of community associations and the rights of condo owners. Of concern are proposals which make board service too great a burden or diminish the pool of those eligible to volunteer and serve on the board by unconstitutionally disenfranchising certain owners. We oppose proposals which harm the ability of an association to consistently and effectively collect assessments necessary to fund essential community services and proposals which unnecessarily increase the cost of administering and operating the community - hiking maintenance costs. These types of radical proposals harm community association residents and the real property value of their homes and communities.

Florida is already nationally recognized as a "debtor's paradise". There are proposals being promoted that limit or ban the ability of associations to lien and foreclose to collect delinquent assessments. Since the Associations expenses still have to be paid, every other member's assessment is increased to cover the scofflaw's unpaid debt. This is unacceptable. No homeowner should be legally forced to pay their neighbor's debts!
The Galt Mile

Needs You


Two years ago, the Galt Mile Community Association sent a contingent of residents to appear at a meeting of the Florida Cabinet to express concern for our disappearing beaches. Their efforts resulted in the Galt Mile's inclusion in the upcoming beach renourishment. We once again find ourselves at a crossroads. Along with CALL (Community Association Leadership Lobby), condominium owners from across the state intend to apprise our officials in Tallahassee of our urgent concerns. The Community Association Leadership Lobby (CALL) is the leading organization working to enhance the quality of life and protect property values for Florida's community association residents. CALL advocates on behalf of more than 4,000 member communities, including condominiums, homeowners' associations, mobile home communities and cooperatives throughout the state.

Please contact your building office to learn more about CA Day. All residents and board members are invited to join your neighbors in support of your community, your Association and your way of life. We are asking for your personal participation to insure that our state legislators - Senators and Representatives - understand the gravity of our concerns and the depth of our conviction. Volume discounts will minimize the costs of transportation (flight), lodging and meals. Our intent is to fly to Tallahassee on March 29, 2005 and return in the late evening of the following day. Of course you may arrange your own transportation and lodging. The importance of your presence in Tallahassee cannot be overstated! For additional information, call Donna Berger at 1-800-432-7712 or email her at [email protected]. Click Here to access the CALL web site. Click Here to review CALL's 2005 legislative goals.

To impact the legislative process without leaving your home, simply follow the legislative histories of the bills that affect us. Send emails to the members of the various committees that are responsible for reviewing the bills. Tell them your opinion. They will vote according to the input they receive from interested parties...like you! Click Here to follow the legislative history of HB 1229, the Condo Killer Bill. Click Here to follow the legislative history of SB 2632, Senator Siplin's bill designed to destroy an Association's operational underpinnings.
---
Condo Owners Invade Tallahassee

Galt Residents Meet with Legislators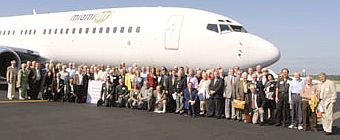 GALT MILE RESIDENTS JOIN OTHER BROWARD HOMEOWNERS
TO APPRISE STATE OFFICIALS OF THEIR CONCERNS

March 31, 2005 - On Wednesday, March 30th at 6:00 AM, 21 Galt Mile residents met at Fort Lauderdale International Airport to board a flight to Tallahassee. Altogether, over 100 condominium owners from Broward and Palm Beach Counties prepared to join another 200 homeowners from all over Florida in the State Capitol. Rose Guttman, Terry Cook and Bob Krevy from the ocean club condominium looked around the ATA counter for familiar faces. Marty and Shelly Glazer from Southpoint and Galleon resident Vini Persiani patiently waited on line as Dott Nicholson-Brown, Louise Collins, Fern McBride and Eric Peter Berkowitz from Regency Tower entered Terminal 3. Regency Tower resident Howard Hirschman shared a taxi to the airport with Ocean Summit residents Dr. Jim Comis, Russell Bailey, and Martha Bruno. Lorraine Alfano from L'Hermitage snapped pictures of the Galt Mile contingent as they waited to clear security. The Galt Ocean Club's Pio Ieraci discussed the premise for our pre-dawn gathering with residents and board volunteers from Galt Towers, the Riviera, Coral Ridge Towers and other Galt Mile Associations. Along with condo owners from Miramar, Plantation, Margate, Delray and Boca, they all anxiously anticipated participating in the impending Community Association Day event in the State Capitol.

The group expected to accomplish multiple objectives. They intended to clarify to their elected officials that claims made by a self-serving political coalition about "condo problems" were creative distortions. The legislative "answers" proposed by this coalition were designed to destabilize Association operations, skyrocket maintenance expense, dismantle the condominium system throughout the state and replace self-governance with government controls. They also went to demonstrate their universal opposition to the recent profusion of skewed legislation by this anti-association lobby and their minions in the Statehouse. They arrived "en masse" to make clear that the purveyors of the "Condo Killer" bills spoke only for themselves, not the "silent majority" of homeowners throughout Florida. Their message was that they were capable of governing their own homes.

The travelers were also rewarded with responses from their legislators that were overwhelmingly positive. Senators and Representatives universally expressed gratitude to their visitors from "back home" for providing them with guidance as to how they should apply their votes. After declaring their appreciation, Representative Bogdanoff and Senator Atwater requested that the visitors continue to provide them with similar guidance as the session progresses. In addition to discussing their reservations about the current destructive bills, the condo owners emphasized their opposition to the recent blizzard of irresponsible legislation based solely on anecdotal assertions. Reacting to the unequivocal objections raised by the visiting homeowners, the Condominium Advisory Council voted on March 31st (the following day) to NOT support Representative Robaina's HB 1229 in its current form! This is a step in the right direction. Apparently, the voices of condo owners are finally being heard!

Apparently it is irrelevant if you live in a small 4-unit condominium conversion or a huge 2000-unit condominium community; not important if you live in a timeshare condominium, mobile home condominium, commercial condominium, mixed-use condominium or a basic Chapter 718 (standard) condominium. Obviously, this would also deftly remove a basic right that condo owners now enjoy; the right to set rules pertinent to their unique problems. Rules about parking, rules for appropriate security, rules that maintain the physical premises, elevator use restrictions, rules governing noise - if it's not in his "standard" set of Condo Documents - it doesn't exist - even if every owner in the building wants it.

This isn't simply a threat to majority rule; it's an effort to do away with any form of self-governance. The decisions about your home would pass from you to Tallahassee. Instead of being decided by elected representatives, conflicts not addressed in the boilerplate Condo Docs - from security and maintenance issues to late-night construction - will all wind up in the courts. Condominiums would operate like public housing. Enactment of the Ombudsman's idea would deter any sane person from purchasing a condo unit. The value of existing units would be reduced to the value of their furnishings. A strange proposal from a "fair and impartial mediator."

While the Ombudsman has made some disconcerting remarks that serve to arouse suspicion about his real agenda, opining about that agenda seems premature. He is new to the job. The job itself, at least in its present incarnation, is also new. The resources made available to him to accomplish his uncertain agenda are, in his opinion, inadequate. Additionally, when certain individuals are elevated into a position of power, a strange political phenomenon occurs. As exemplified by the overnight "moderation" sometimes experienced by some newly appointed Judges to the Supreme Court, past behavior ceases to be an indicator of how the individual will treat his/her new responsibility. For these, and other, reasons, it seems only fair to continue observing Dr. Rizzo and reserve judgment about his efficacy. Should you have questions for your new Ombudsman, please email Dr. Rizzo at [email protected] or call at 1-(850)-922-7671, Fax: 1-(850)-921-5446. His address in the State Capitol is 1940 N. Monroe Street, Tallahassee, FL 32399.

Several Miami legislators that participated in the group's machinations had another incentive. Representatives Juan Zapata and Gustavo Barreiro both own condominiums. Apparently, both of them neglected to pay legal assessments due on their units. Their Associations, fulfilling their fiduciary responsibility to protect its members from having to "carry" those who don't pay their obligations, took action. Perhaps the legislators felt that they were entitled to special treatment because they were Florida State Representatives. Their Associations did not. The East Atlantic Gardens Condominium placed a lien against Barreiro's unit on May 29, 2003 after he was legally notified on April 22nd that his $595 maintenance payment was past due. Barreiro claims that he was away in Tallahassee at the annual legislative session when he missed his maintenance obligation. The session was over on April 30th and he wasn't liened until May 29th, a month later. Juan C. Zapata neglected to pay monthly maintenance for his unit at Elan at Calusa Condominium from June through October, 1989, in the amount of $181. He claimed that the Association was sending his bills to the wrong address. Is it possible he forgot that he owned a condominium for five months until they filed a lien?

Noting that support for the legislation was limited to certain Miami legislators, Representative Ellyn Bogdanoff speculated that their participation was possibly in response to a problem indigenous to some Miami condominiums that may have behaved inappropriately. However, she professed confusion about why they would attempt to perpetrate their punitive "cure" on all condominiums throughout the State. To disallow self-governance for over a million condominium owners to correct a possible local abuse seemed wildly excessive.

In addition to expanding the Division's jurisdiction to include homeowners associations and Community Association Managers, it accords the Division significant new police powers. The Division was originally developed to aid in the seamless transfer of condominium operations from a developer to the homeowners who purchased units. The Division's responsibility was to insure that the developer turned over control of the new Association to these new owners. To prevent an unscrupulous developer from "packing a board" with "shill" representatives, thereby retaining control over the Association's operations, regulations governing the behavior of elected board members were included in the Division's authority. In HB 1229, the Division is mandated extraordinary police powers over individual condominium owners. It seeks to imbue the Division with unprecedented authority over anyone purchasing a condominium. This changes the Division's purpose from an agency designed to protect the rights of new condominium owners to a bureau empowered to police and prosecute every condominium owner. The bill states, "Any condominium owner found to be in violation of this chapter shall be notified by the department by certified mail, return receipt requested, at which time the condominium owner will have 30 days in which to respond in writing." Never before has any State agency been used as a punitive organ against a class of homeowner.

This dangerous trend can only continue as long as condo owners fail to speak for themselves. As homeowners began to distinguish the media hype emanating from the bill's sponsors from the actual legislative text, they decided to reclaim that right. Two events finally brought this shadowy legislation into the light - Community Association Day and an Analysis assembled by the House Staff.

Given the enormous size of the fund and the voluminous number of potential clients, a cottage industry of private investigators and fund locators has proliferated throughout the State. In one of the Department's Consumer and Claims FAQs, a question is posed, "What should I do if I am contacted by a private investigator/locator regarding unclaimed property or missing funds?" The Department answers, "Claiming your unclaimed property from the state can be done on your own, free of charge." They recommend that before signing any contract, those contacted should go to the Bureau's Unclaimed Property web site to search for unclaimed property and, if successful, to order a claim form. Incidentally, HUD also warns against responding to "Tracers" who promise to secure a promised refund. They've set up a web site to report any contact by unscrupulous characters trying to bilk residents out of their refunds.

Upon contacting the Bureau, I queried the Bureau's customer service representative as to why the fund had achieved its current colossal proportions. "Don't people want their money?" After offering the mandatory disclaimer, she reluctantly proposed that, "most people believe that they wouldn't forget being owed money." Coupled with misconceptions about the difficulty of verifying and ultimately recovering the property, she opined, "The average owner rationalizes that the funds are OPM – other peoples' money."

At Ms. Bogdanoff's invitation, GMCA officials met with our Representative prior to this year's session to create a legislative "wish list" embracing a variety of issues ranging from shore protection to self-governance. The meeting produced guidelines designed to trigger communication between Ellyn and the GMCA when any of the considered issues arose in the legislature. Responding to Mr. Ieraci's admonition, Ms. Bogdanoff recommended that we repeat the procedure in October to re-evaluate how she might best assist in achieving community objectives. She pledged to, "monitor the situation and fight any attempt to undermine the interests of my constituents."

Representative Bogdanoff briefly touched on affordable housing, stating that she opposed Broward's legislation because the County lacked a viable master plan. She explained that Broward had 4 tax bills in play during the past session with "little indication of how the resulting funds would be spent." She said that the issue deserves adequate consideration once the County pencils in the details. Otherwise, "tax monies raised for affordable housing could be redirected to almost anything!"

Her responsibilities require the judicious balancing of her constituents' needs, the State's interests and peer-based networking relationships. Legislative challenges rarely arise wherein all three coexist harmoniously. Situations often dictate the strategic sacrifice of one to the advancement of another. Her future efforts will be judged primarily by the attention she gives her constituents' concerns and secondly by her contributions to the State of Florida. If our Representative continues to demonstrate a capacity to successfully bring fresh perspectives to old problems, she will occupy the seat for years to come.

As always, I will be providing weekly email updates during session, as well as periodic updates from home. If you are not getting my emails and would like to be on the list, please send me a note at [email protected].

If you have any comments or questions, or if our office can be of service to you, please contact us at (954) 762-3757.

Readers come away with the impression that the Condo Ombudsman investigated 4000 complaints, sniffed out the basis for each one and compiled an authoritative report summarizing his findings. It never happened! To Mr. Kollin's credit, he does use phrases like, "about a quarter alleged abuse of ... " and "10 percent cited abuse by ... ", indicating that these were claims contained in messages left for the Ombudsman, not incidents that were in any way verified. While the Ombudsman stated that he responded to 80% of the callers, he also clarified that he was only able to "work with several boards during the period." Inasmuch, the valid raw material available for a legitimate overview is limited to a handful of incidents. However, in our "wag the dog" media climate, the appearance of impropriety carries as much weight as the actual impropriety. Exploiting this modern day media quirk, Dr. Rizzo's final assumption involves an Olympic-sized leap of faith. Why not masquerade the phantom data as the basis for new legislation?

Until next time...

Mr. Ieraci pointed out that "Homeowners and their representative associations aren't a well organized voice in Congress and State Legislatures." Pio asked Ms. Bogdanoff which organizations with strong lobbies share our concerns. She responded, "The Real Estate community and supporting industries are also seriously impacted by runaway insurance costs." In particular, "The resulting depression in mortgage banking activity should stimulate the support of powerful banking interests." Influential Real Estate and Banking lobbies could effectively align support for a national disaster insurance program.

While establishment of a Federal program would effectively address the insurance threat, it may take years to achieve enactment. It appears as if we will be forced to face this problem immediately. Currently, there is only one remaining rated carrier available to address windstorm damage aside from Citizens. Should they bolt, we would be forced to consider unconventional alternatives. These could include tailoring Citizens to better address the new threat, formation of Insurance Captives and/or various other self-insurance formats. Ms. Bogdanoff promised to update us as these issues are further considered in Tallahassee.

Ms. Bogdanoff works overtime to reach out to district voters. She maintains a "Hot List" of her constituents' email addresses who've requested that she keep them posted about the current session, certain special interest legislation or her overall legislative progress. She reviews every piece of legislation from a variety of perspectives. In part, she was elected to apply her stated personal and political values when evaluating a bill. In addition, she must anticipate how various components of her district will benefit or suffer from the effects of the legislation. Constituents also alert her to bills they have a stake in. This Chinese menu of individual interests requires an intense diagnosis of every session's legislative offerings.

Hi again...

The House and Senate are drafting rules, but as one Association President stated in an email...He starts with "What a mess." And remember, these Associations represent people and organizations that are part of our community. This isn't as easy as it sounds.

So, that is my story. Things will heat up after January 1st and we are ready to go with some great issues. My boys are home for 3 weeks and we are looking forward to the Holidays.