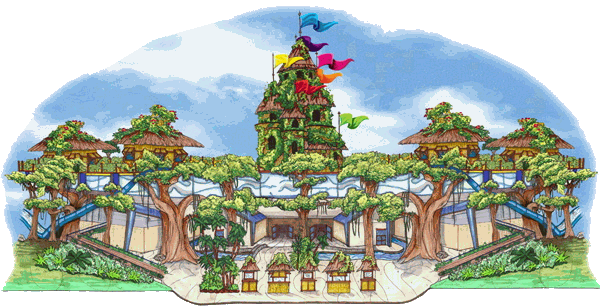 Since Roberts, Seiler and the other City Commissioners avidly support transforming the rotting Stadium into a proven tourist destination, the City and Schlitterbahn tailored a formula amenable to FAA officials. To address FAA concerns about fair market lease terms, in October Schlitterbahn and the City agreed to increase the planned monthly rental to $810,000, an amount consistent with the higher property valuation accepted by the agency. City spokesperson Chaz Adams announced "We've submitted a term sheet to the FAA, an outline with all the particulars they need to know."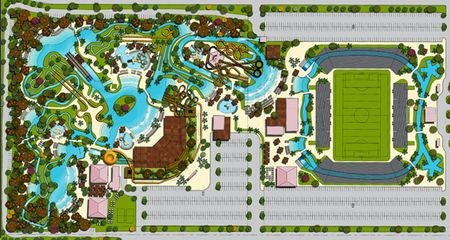 SCHLITTERBAHN FORT LAUDERDALE WATER PARK LAYOUT

Having also allayed FAA fears that the project would burden airport operations or hamper its planned development, Seiler commented "It's a tough issue. The executive airport is one of the top ten in the country. But there's room for both out there. They want to make sure when the deal is done that the agreement is a fair market value. No one is getting a sweetheart deal." With the FAA on board, the City can close the Schlitterbahn deal and rake in an annual $9,720,000 in rent - with no maintenance responsibilities for the facility. Since the park is projected to accommodate a daily 10,000 visitors, the anticipated direct economic impact of $267.4 million a year will inflate City coffers with a lucrative tax dividend. No taxpayer revenues are at stake!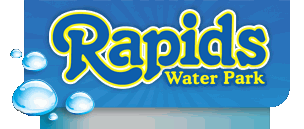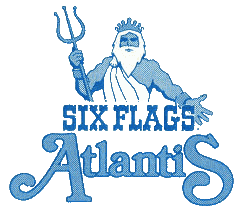 Its closest South Florida competition is the 30-acre Rapids Water Park in Riviera Beach, which will be dwarfed by Schlitterbahn's planned 64-acre facility. In 1992, the popular Six Flags Atlantis Water Park in Hollywood closed after less than a decade when the real estate bubble convinced investors that it would be far more profitable to replace the hurricane-damaged park with the 800,000-square-foot Oakwood Plaza shopping mall.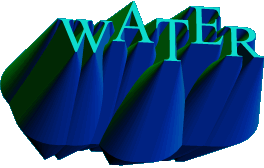 After the final term sheet is presented to the City Commission for approval on January 22, 2014, the City Attorney will begin drafting Schlitterbahn's lease. The completed lease will be forwarded to the Aviation Advisory Board on March 27, 2014 and submitted for final City approval at the April 15, 2014 Commission meeting. After navigating the City and County regulatory gauntlets, the Schlitterbahn Water Park will begin to rise from the Stadium's ashes – right down the block on Commercial Boulevard!

Click To Top of Page

---


Vice Mayor

Bruce Roberts





NCIP Plans || Crime

Math || New Bridge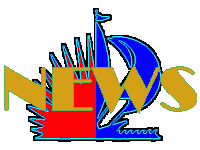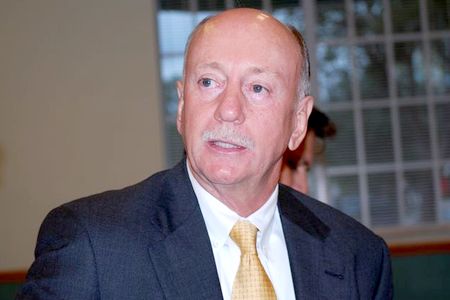 COMMISSIONER BRUCE ROBERTS
January 23, 2014 -

Commissioner Bruce Roberts opens his February 2014 newsletter by rolling out the welcome mat to new constituents from Laudergate Isles and Bal Harbour, two neighborhoods recently absorbed into his jurisdiction. The 2010 Census tallied 165,543 residents living in the City's 4 Commission Districts. When district boundaries were redrawn to shrink their population disparities (each should ideally have a "statistical average population" of 41,386), some residents of overpopulated District 4 were shifted to District 1, inflating Commissioner Roberts' smaller constituency.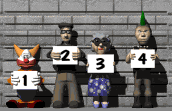 The Fort Lauderdale Police Department's decision to beat back a rising crime rate with predictive analytics represents a paradigm shift in local law enforcement. After the 9/11 terrorist attacks, intelligence-led policing (ILP) enhanced the community-policing model of the 1990s. In this collaborative pan-jurisdictional approach to crime prevention, tactical and strategic planning hinged on the efficient analysis of criminal intelligence. The bottleneck was people, as Departments could never staff enough tech-savvy whiz kids or forensic war horses to locate and extract operationally significant information from the ever-growing oceans of raw crime data.
IBM SENIOR CONSULTANT JIM LINGERFELT

Instead of beleaguered Police analysts rifling through thousands of reports in criminal justice databases to uncover crime connections, an algorithm customized by IBM senior consultant Jim Lingerfelt and his Global Smarter Cities team will crunch the data almost instantly. By exploiting a mathematical correlation between the time and location of previous and future criminal activity, the model identifies "hot spots" throughout the city, enabling police to preposition assets and deploy proactive, intelligence-based tactics.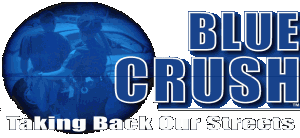 Implemented by the Memphis Police Department and IBM in 2006, an analytics model called Blue Crush reduced serious crimes by 30 percent and violent crimes by 15 percent. The pioneering technology purged Memphis from the list of the nation's 50 worst cities for crime.

Predictive Policing subsequently reversed burgeoning crime rates in Philadelphia, Pa.; Charleston, S.C.; Washington D.C. and other cities. Two years ago, when a similar algorithm by PredPol was tested in a Los Angeles Police Division that protected a population of 300,000, while the City's crime rate jumped .4 percent, crime in the Division dropped by 12 percent, the largest decline of any Division.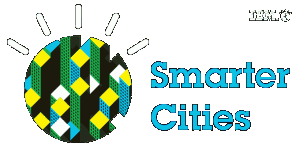 Nearly half the literature exploring this technology makes cautious references to Steven Spielberg's screen version of Philip Dick's "Minority Report", characterizing the model as a precursor to pre-empting crime. Not so - at least not yet. What the IBM Smart Cities algorithm does is substantially increase the opportunity for Police Officers to be in the right place at the right time to either disrupt criminal activity or make quality arrests.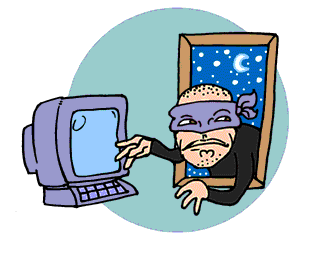 Using pattern recognition/discovery, factor/causality analysis and anomaly detection, the mathematical model can be adapted to gang violence, batteries, crowd control, aggravated assaults, drug crimes, traffic control, property crimes and violent crimes - almost any public safety venue supported by an adequate database. More on this later...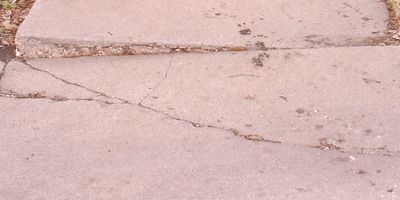 CRACKED AGGREGATE TRIPPING HAZARD

In his list of approved (yet unfunded) NCIP projects, Roberts describes the anticipated replacement of Galt Mile sidewalks that have long been peppered with tripping hazards and look like a crazy quilt, given the repeated repair of demolished or eroded panels with a variety of multi-colored patches or replacements. The approximately 43,000 square feet of pink aggregate sidewalk that will line Galt Ocean Mile is actually colored concrete with brick chips exposed by sand blasting. The $800,000 project (#FY20110072) was initially requested in 2010.

On Thursday, January 23, 2014, Commissioner Roberts and Parks personnel will accompany GMCA officials on a community walk-through organized to identify other hardscape and landscape features that require repair or replacement. The results will be made available shortly after a scope of work is finalized. For the Vice Mayor's update, read on... – [editor]


From The Desk of


Vice Mayor Bruce G. Roberts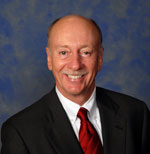 DISTRICT 1 COMMISSIONER
& V.M. BRUCE G. ROBERTS

ESTABLISHING GEOGRAPHICAL BOUNDARIES IN DISTRICT 1: As a result of reapportionment, we would like to welcome the Bal Harbour and Laudergate Isles neighborhoods into our District. This was part of the redistricting which took place throughout the City. In addition to addressing population, every effort was made to keep neighborhoods intact.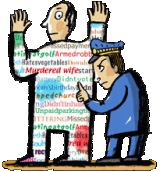 FIRST OF ITS KIND: One of the Fort Lauderdale Police Department's top priorities is crime reduction. In our efforts to enhance our ability to reduce crime, our police department is utilizing the predictive policing strategy; a new, innovative approach to reducing crime, and its success has gained national attention. Predictive Policing principals stress gathering intelligence information of active criminal offenders, current and historic crime trends, informants and any other data sources that assist in calculating the level of risk that crime will occur in specific areas. Once the information is gathered, the objective is to take action to prevent crime and/or apprehend offenders. This strategy has not been used in the past and is now available due to the recent partnership with IBM, Inc. Over the last 12 months, IBM has worked closely with Police Department staff to develop a crime analysis application with a predictive policing module. This module analyses numerous data sources including Part 1 crime records, arrest data, special event information and more to identify areas of the City with higher risks of criminal activity by day and hour. The proposed first-or-a-kind predictive policing strategy calls for the command staff to review on a daily basis the IBM computer system's reports, crime trend analyses and real-time intelligence collected by officers and detectives. Actionable intelligence will be disseminated appropriately. Significant to the success of this strategy is the designation of resources to readily act on gathered information. Currently, there is an 8% increase of Part 1 crime in Commission District One and a 2% increase in District Four. In order to utilize the predictive strategy to reduce crime in the high crime areas, a task force of uniform officers and investigators will be formed and deployed in the targeted areas. The task force, which will supplement the Police Department's daily operations, will be staffed on an overtime basis and funded from the Federal Law Enforcement Trust Fund.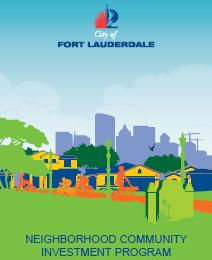 NCIP PROJECTS (Neighborhood Community Investment Plan): Infrastructure, transportation, parks, and buildings are the literal foundation of a community. The Community Investment Plan (CIP) has a unique and important responsibility to delineate what the community needs to build now and what it will need to build in years to come. This must be done in a strategic, careful and impactful way to maximize economic development and improve quality of life in line with the approved City Commission's vision and policy. This CIP incorporates the concept of "sustainable infrastructure" which involves connecting a commitment to sound asset management with an approach that prioritizes community needs within the context of a sustainable future. The Community Investment Plan (CIP) is a planning document that sets forth the City's capital improvements to ensure that municipal infrastructure and facilities are appropriate and adequate to serve the needs of the neighbors of Fort Lauderdale. Listed below are some projects selected as part of the 2014 - 2018 NCIP competitive process for District 1:
These are just a few of the Plan's proposed initiatives. Many others are listed through the CRAs, the Water and Sewer Funds, the Stormwater Fund and the Airport Fund.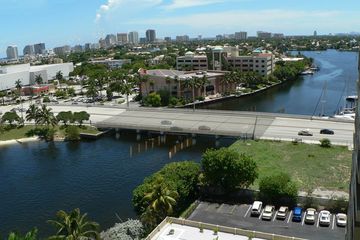 SUNRISE BOULEVARD BRIDGE

SUNRISE BRIDGE UPDATE: The project to replace the Sunrise Boulevard Bridge over the Middle River is now underway. The bridge clearance will be increased by approximately 4 feet, utilities will be relocated, and new lighting, signalization, and pavement markings will be installed. Construction is anticipated to be completed by early 2016. The total cost of the project is approximately $9.5 million.
Phase 1: Installing temporary orange safety fence; installing temporary concrete barrier; constructing temporary bridge; installing temporary signal at Middle River Drive. During this phase, westbound traffic will be reduced to one lane and eastbound traffic will be maintained in 3 lanes. 7 months.

Phase 2: Installing temporary retaining walls; removing south side of existing bridge; constructing south side of new bridge; installing permanent 24-inch water main on south side of bridge; removing temporary 24-inch water main on north side of bridge; installing temporary lighting system on south side of bridge. During this phase, westbound traffic will be opened to 2 lanes on the temporary bridge and eastbound traffic will be opened to 3 lanes on the north side of existing bridge. Approximate duration: 8 months.

Phase 3: Shifting eastbound traffic to newly constructed road; removing north side of existing bridge; constructing median at the intersections of NE 20th Ave and Middle River Drive; installing lighting system on north side of new bridge; removing temporary lighting system on south side of new bridge. During this phase, westbound traffic will travel in 2 lanes on the temporary bridge and eastbound traffic will travel in 3 lanes on south side of the existing bridge. Approximate duration: 7 months.

Phase 4: Shifting westbound traffic onto newly constructed road; removing temporary bridge; constructing median traffic separator; paving Middle River Drive intersection; installing mast arms at Middle River Drive; installing landscape. At the end of this phase, traffic will be in its final configuration including 3 westbound lanes and a southbound turn lane on the north side of the bridge and 3 eastbound lanes on the south side of the bridge. Approximate duration: 4 months.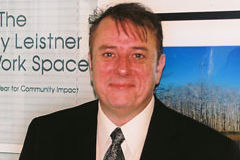 BROWARD COUNTY ARTS TEACHER
OF THE YEAR TIMOTHY LEISTNER

ART TEACHER RECOGNITION AWARD: On November 6, 2013, Mr. Timothy Leistner, Ed.D. was recognized and awarded the Arts Teacher of the Year (Teaching Artist Recognition Award) at the 28th Annual Broward County Arts Teacher of the Year Awards Ceremony at the Broward Center for Performing Arts.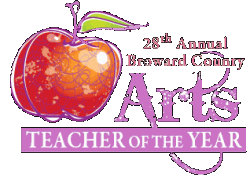 This event honors Broward's dedicated and talented teachers in the categories of theater, visual arts, music, dance and teaching artist. Dr. Leistner is a recognized visual artist that works primarily as a painter and art photographer. In addition to the abovementioned award, he was named the 2011 Best Visual Artist (Broward Palm Beach by New Times Magazine); 2011 Award recipient of Faces of the Arts (Broward County); 2008 Artist of the Year for Community Impact at the ArtServe Encore Awards (Fort Lauderdale) and presented the Individual Leadership Award for the Arts at the 2009 Encore Awards (Fort Lauderdale). As an instructor for the City of Fort Lauderdale's Beach Community Center, Dr. Leistner has instructed classes for over a decade. He has instructed art programs for seniors, adults and youth; and implemented a fine arts component into the summer camp program curriculum. Currently on display, he curated an exhibition of participants art work within the gallery area at the beach Community Center. We applaud Dr. Leistner's achievements as well as his dedication to the arts. His efforts to expand art and art education are a benefit to not only the art community, but for our neighbors that reside within the City.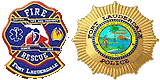 UPCOMING COMMUNITY MEETING – MEET YOUR POLICE AND FIRE CHIEFS: We are planning a District 1 community meeting sometime in late March or early April so that you can meet your Police and Fire Chiefs. A short presentation followed by a question and answer session for both departments will be presented. I will keep you updated as soon as this has been finalized.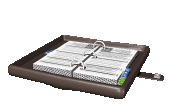 ROBBI
UPTEGROVE

Office Contact: Robbi Uptegrove – 954-828-5033; email:

[email protected]

. In addition to hosting the pre-agenda meetings twice a month, I am also available to attend your HOA meetings to update your neighborhood on what is going on in the City as well as answer any questions/concerns you may have. Please contact Robbi to schedule. So far this year, we are scheduled to attend Imperial Point, Coral Ridge Country Club Estates, Twin Lakes, Bal Harbour, Bay Colony and Bermuda Riviera Home Owner Association meetings. Thank you for the invitation!


If you need to reach Commissioner Bruce Roberts, please contact his assistant Robbi Uptegrove at 954-828-5033 or by e-mail at [email protected]. To access the City Commission Meeting Agendas and Minutes, Click Here. To actually watch the meetings recorded and archived on the Commission Meetings Video Webcast and Archives web site, Click Here.

---
Broward Commissioner Chip LaMarca
Bus Pass for Vets; Fleet Week; CRA Projects





Port Everglades; Beach Renourishment; No Texting While Driving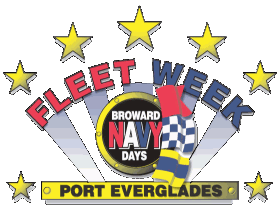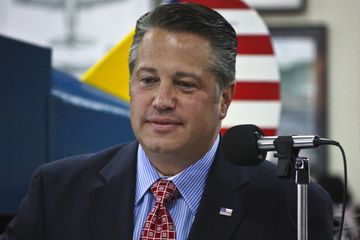 BROWARD COMM. CHIP LAMARCA AT NAVAL
AIR STATION MUSEUM FORT LAUDERDALE
January 30, 2014 -

In his first Newsletter of 2014, Broward Commissioner Chip LaMarca takes us on a 12-month jaunt through the challenges he faced in 2013. Given his personal predilection for the wellbeing of our Veterans, LaMarca opens by radiating satisfaction for having engineered a free Broward County Transit Bus Pass for low-income Vets and his involvement with many of last year's Fleet Week events by Broward Navy Days - despite the Fleet's conspicuous absence due to cost-cutting measures in the Military.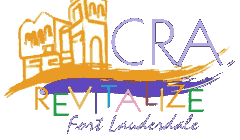 LaMarca outlines his participation in municipal events across his District 4 domain - including a mid-Summer Resource Fair in Deerfield Beach, the redevelopment of Atlantic Boulevard in Pompano Beach east of US 1 (and reversing the planned departure of its popular Beach Library from the Barrier Island), the evolution of a Culinary Arts District in Oakland Park, a "bridge to Pier" revitalization project along Commercial Boulevard in Lauderdale-By-The-Sea, and the reclamation of storm-damaged A1A in Fort Lauderdale.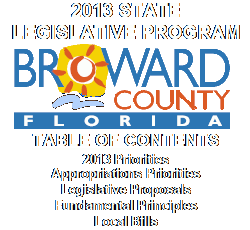 On January 8, 2013, to provide "legislative direction to the County's staff and contract lobbying team for 2013 state legislative activities," the Broward Board of County Commissioners approved a 2013 State Legislative Program proposed by the Office of Intergovernmental Affairs and Professional Standards (OIAPS). The 29-page legislative libretto featured a buffet of proposals with widely varying impacts, including an embarrassingly rich selection of "WTF" concessions to paper-thin local special interests (regulatory requirements for competitive eating contests, standardization of parasailing guidelines, etc.). This Chinese menu of options enabled Commissioners to pick and choose issues that yielded political capitol, including the need to cushion the public from the catastrophic consequences of hot dog eating marathons.

LaMarca selected those issues with the greatest economic and "Quality of Life" impacts on his constituents, Beach Renourishment and the structural improvements required to guarantee Port Everglades' future as a regional economic powerhouse. To advance these infrastructure build-outs in his District 4 back yard, LaMarca had to ping pong between Broward, Tallahassee and Washington D.C., where he helped locate and shake out scarce funding while eliciting federal and State regulatory approvals for Beach Renourishment and the competitive enhancements to Port Everglades.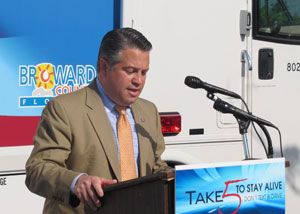 LAMARCA KICKS OFF TAKE 5 TO STAY ALIVE CAMPAIGN

The 2013 State Legislative Program also contained a "secondary" list of general issues for Commissioner advocacy. Along with "Early Voting Site Expansion" - an effort to stimulate early voting by increasing the number of convenient local polling sites - LaMarca elected to support efforts to deter Texting While Driving - a fatal practice that claimed 3,331 lives in 2011 and sent another 387,000 victims to the hospital. While recalling County involvement with the nationwide "Take 5 to Stay Alive" campaign to dissuade drivers from texting while driving, LaMarca makes an enigmatic reference to the Governor signing some "bill into law".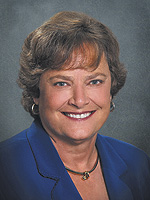 SENATOR NANCY DETERT

Of three bills filed to curtail distracted driving during the 2013 Legislative Session, only one survived. Senate Bill 52 by Senator Nancy Detert (R-Venice) made texting while driving a secondary non-criminal infraction, meaning motorists can be ticketed only if pulled over for some other reason. Violators could suffer a $30 fine – unless they were diddling the device to read a map, check the weather, locate a gas station, or perform other activities loopholed in the Statute.

Lobbyists for telecommunications industry juggernauts who successfully killed scores of similar bills over the past decade reversed course and supported Detert's less than intimidating legislation.

Industry support was forthcoming once the bill was amended with an outrageous provision that inexplicably disallows telephone billing records as evidence - unless a ticketed incident results in injury or death. While its feeble punitive deterrent is little more than a bad joke, LaMarca agrees with most law enforcement officials that the new law (Chapter No. 2013-58) is a step in the right direction. Read on for our Commissioner's handle on 2013... – [editor]

2013 – The Year in Review


By Commissioner Chip LaMarca
A Look at Last Year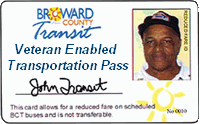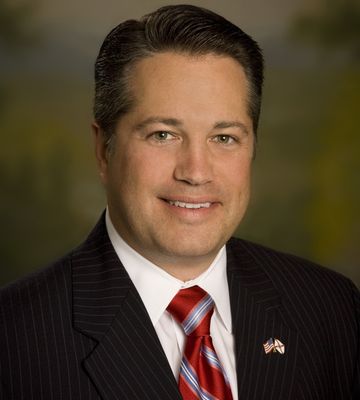 BROWARD COMMISSIONER
CHIP LAMARCA

As your Broward County Commissioner, I was honored to present and pass the V.E.T. Pass, a six month pilot program to provide veterans in need with a free Broward County Transit Bus Pass. This is a project that I have been working on for nearly my entire time in office and I was pleased to pass this meaningful policy that gives back to those who gave so much to our country.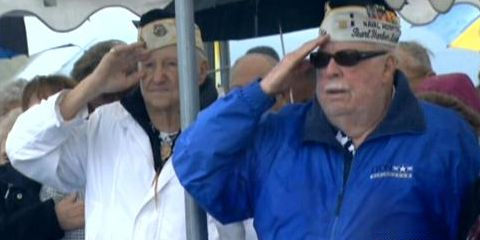 PEARL HARBOR SURVIVORS EDWARD HAMMOND AND ABE STEIN

We continue to recognize those who have served our country through the time honored tradition of Fleet Week with Broward Navy Days. While there was no fleet to be revered, this year there were plenty of community events to attend. The Consul General of France presented the Legion of Honor Award to 11 United States Veterans of World War II who fought at Normandy. In addition to Fleet Week, we were honored to witness nearly 150 Marines, Sailors, Soldiers, Airmen and Coast Guardsmen enlist into our nation's armed forces at an event sponsored by "Our Community Salutes". Throughout the year we've recognized many contributions not only to our community, but to our country. This year we honored Pearl Harbor Survivors Edward Hammond and Abe Stein at the 72nd remembrance anniversary. Locally, we presented Lighthouse Point resident Vincent LaSorsa with a Key to the County for his continued work with the Wounded Warrior Project.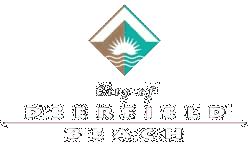 I was privileged to host a County Resource Fair at Westside Park in Deerfield Beach with representatives from a variety of county agencies and community resource organizations that provide residents with a vast array of services such as job assistance, health services, housing and assistance for veterans, children and the elderly. In a personal effort to make a positive impact in our community, I was delighted to team up with local leaders in Deerfield Beach to hand out meals to those in need during the holiday season.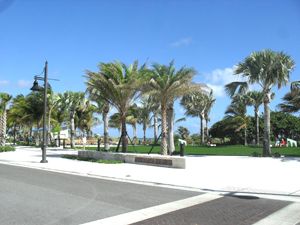 UPGRADES TO ATLANTIC BOULEVARD IN POMPANO BEACH

It is important to invest in the future and revitalization of our community. Through Community Redevelopment Agencies (CRA) and local partnerships, the investment in the overall appearance and use of declining neighborhoods has drastically transformed the economy in many communities by creating jobs and increasing consumer traffic. The City of Pompano Beach took the lead with their East CRA projects along Atlantic Boulevard from US1 to the Atlantic Ocean. The beach projects are still underway, but the boulevard is home to a new look and many new businesses.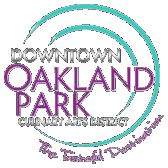 The Oakland Park CRA created the Culinary Arts District which has started to come together with the grand opening of the Funky Buddha Brewery and the Urban Farm Park. From the brewery, to future shopping, art and restaurant venues, to kitchen supplies and fresh produce, the Culinary Arts District is becoming a destination.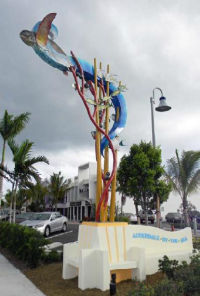 NEW PLAZA SCULPTURE IN
LAUDERDALE-BY-THE-SEA

Another example of a successful revitalization project was the investment from the Town of Lauderdale-By-The-Sea to reface the boulevard from the bridge to the beach, giving a breath of fresh air into its struggling plazas and creating an expanded shopping and dining destination. These, and many more community redevelopment projects around the county, just give tangible reference to the successful economy blooming in Broward County.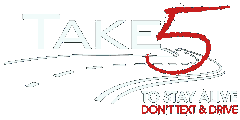 Earlier this year we proclaimed the month of May as "Take 5 to Stay Alive" – Don't Text and Drive Month in Broward County. With the Governor signing the bill into law, it further enforces the notion that texting and sending emails while behind the wheel is a deadly practice that is responsible for numerous deaths each day nationwide.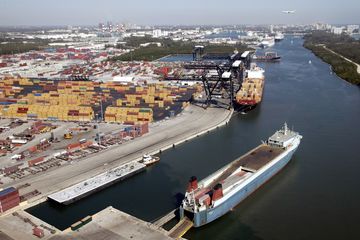 PORT EVERGLADES

Working in Tallahassee, with the help of local support, we urged the State Legislature to approve a $14.7 million investment for Port Everglades in a parallel effort to make Florida competitive worldwide and to also create more Florida jobs. The Port Everglades expansion is expected to create over 7,000 direct jobs and more than 135,000 jobs around the state of Florida.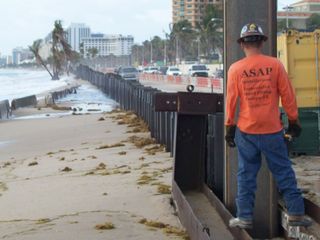 NEW 42-FOOT DEEP STEEL SEA WALL

We had great success with the emergency beach re-nourishment after Super Storm Sandy on Fort Lauderdale Beach and Broward County has been able to compile some best practices to use in our overall beach restoration efforts. Through the completion of the emergency repairs, we now move into the long-term portions of the project - with the redesign of A1A. This project will be coordinated with the State of Florida, Broward County and the City of Fort Lauderdale.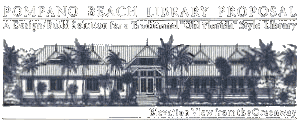 We are pleased that through working with city officials, we were able to keep the Pompano Beach Branch Library located on the barrier island. It is vital to have free and easy access to a wide range of library resources and experiences to keep our community engaged and learning. Residents can now access online databases, eBooks, and movies.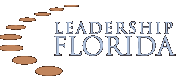 This past year, I was privileged to be accepted to the 32nd Class of Leadership Florida on a full scholarship from the University of Florida Institute of Food and Agricultural Sciences (IFAS) Program. Good governance begins with good leadership. As an elected official who is honored to have the public's trust, I am always working to learn more, to do more in order to best serve the people I represent.
I look forward to a successful 2014 and making Broward County the best place to live, work and raise a family!
Best Regards,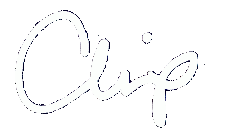 Chip LaMarca
Broward County Commssioner
District 4


THE GALT MILE NEEDS YOU!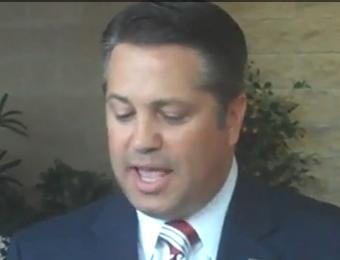 BROWARD COMMISSIONER CHIP LAMARCA

February 9, 2014 - At the December 19, 2013 GMCA Advisory Board meeting, County Commissioner Chip LaMarca reported the status of the long awaited Segment II beach renourishment. LaMarca said that the County is currently working through permitting obstacles in Tallahassee. In short, the Florida Department of Environmental Protection (FDEP) baited a draft permit agreement with language that would box Broward into assuming responsibility for mitigating unanticipated problems that are outside the scope of the renourishment effort - in perpetuity. In short, FDEP attempted to extort a blank check funded by Broward taxpayers - US! Later that week, LaMarca forwarded documentation supporting his beach renourishment disclosures, including hard evidence of the war of nerves playing out between FDEP and the County. Over the next month, this - and other obstacles - were mitigated by the concerted efforts of LaMarca and Broward Beach Administrator Eric Myers.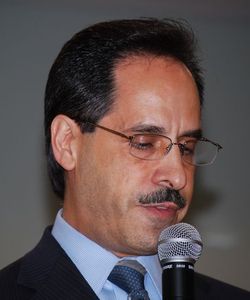 GMCA PRESIDENT
PIO IERACI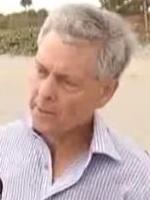 BROWARD BEACH
BOSS ERIC MYERS

By the end of January, one obstacle remained. The Broward Beach project demands regulatory-mandated approvals from myriad Federal, State and local agencies. As such, during the past year, Myers has diligently submitted the required documentation while timely responding to seemingly endless agency inquiries. In turn, each agency approved the project... except one. Despite having received all the required documentation from Myers, the National Marine Fisheries Service (NOAA Fisheries) remained silent. Phone calls, emails and official correspondences went unanswered. It was soon learned that the documentation Myers sent to National Marine Fisheries Service - a NOAA line office agency in the Department of Commerce) was sitting on a bureaucrat's desk - collecting dust.

Following a discussion with Galt Mile officials, on January 28, 2014, Commissioner LaMarca sent Galt Mile Community Association (GMCA) President Pio Ieraci the following explanation - along with his assent to a plan for circumventing the Federal malaise that's currently holding the project hostage:

From: Lamarca, Chip [mailto:[email protected]]
Sent: Tuesday, January 28, 2014 5:38 PM
To: '[email protected]'; Wesner, Kate; Reiter, Ryan; Pryde, Mary
Subject: Segment II Beach Renourishment Project Push

Pio,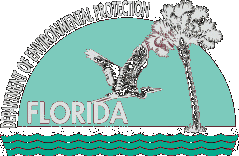 Per our conversation this afternoon and due to the time-sensitive nature of this effort, I suggest that we ask all willing and interested parties to contact the Broward Members of Congress and both U.S. Senators.
A short history and the status of the permits for the beach renourishment project are as follows: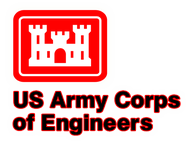 As you are aware, beach renourishment has been my top priority since entering this office. The project was on track to be permitted in early October 2013. This was a critical date that I monitored through visits with Eric Myers with Broward County's Environmental Protection and Growth Management Department. As we came close to that date, we experienced three significant events that affected the progress of the permits. First, there were concerns over the liability of any future storm events where the State of Florida Department of Environmental Protection (FDEP) wanted to require Broward County to be responsible for any storm damage in the renourished areas. This could have had a serious fiscal impact to Broward County residents (in the tens of millions of dollars). Second, the shutdown of the Federal Government stopped and delayed progress on obtaining the required federal permit from the U.S. Army Corps of Engineers. Third, the National Marine Fisheries Services (NOAA) is delaying the required biological opinion of the project due to a lack of federal resources.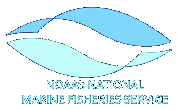 I have taken steps to get this project back on track at each phase of this process by meeting with the director of the FDEP in Tallahassee and the Governor's Office regarding the liability issues with the State of Florida. This issue was successfully resolved in early December. I have traveled to Washington, DC with our county staff on numerous occasions throughout this process to meet with officials from the Army Corps of Engineers to advocate on behalf of our community for the environmental permits.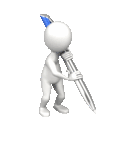 We now need your help by contacting all of our federal elected officials in Washington, DC. Please contact each of their offices listed below and respectfully urge our representatives to do the following:
"Please urge the Secretary of Commerce to ensure that the biological opinion of the Segment II Beach Project is completed as soon as possible."

Best regards,
Chip LaMarca
Broward County Commissioner
115 South Andrews Avenue
Fort Lauderdale, FL 33301
T: 954.357.7004 | F: 954.357.7798
E: [email protected]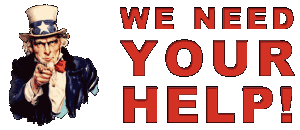 After thanking Commissioner LaMarca for clearly identifying a crushingly assinine and unacceptable bureaucratic obstacle to the Segment II Beach Renourishment, GMCA President Pio Ieraci forwarded the message to every member association and their representatives on the Advisory Board, strongly recommending its circulation to all unit owners.

Attached to LaMarca's email was the contact information for Broward's Congressional representatives. Below each head shot were addresses, telephone numbers, Fax numbers - both locally and in Washington DC - and their Congressional websites. Although I added the Contact Pages on their respective websites, the Congressmen and Congresswomen generally only accept messages from their constituents (FYI - LOIS FRANKEL is the Congresswoman representing Galt Mile residents). As such most of you will only be able to use the email pages to contact Congresswoman Lois Frankel and Senators Bill Nelson and Marco Rubio. However, you can still write, call or Fax the others - as we need them all on board. Please - write a letter - send a Fax - don't hesitate to pick up the phone and call - local numbers are listed below. Unless we motivate our Broward representatives in Washington to kick some tires in the Commerce Department, we can kiss our beach goodbye!!!
I took the liberty of adding Secretary of Commerce Penny Sue Pritzker (of the Hyatt Hotel "Pritzkers") to the list. Unlike our understandably paranoid friends in Congress, I was able to find her email address (see below). If you decide to contact her, don't forget to appropriately adapt the message. Feel free to write anything you please - as long as you include LaMarca's one-line exhortation to our Broward Members of Congress - who must reach out to the Secretary of Commerce. Tell them:
"Please urge the Secretary of Commerce to ensure that the biological opinion of the Segment II Beach Project is completed as soon as possible."
Senator Bill Nelson [D]
716 Hart Senate Office Building
Washington, D.C. 20510
Phone: 202-224-5274,
FAX: 202-228-2183
WEBSITE

BROWARD OFFICE:
3416 S. University Drive
Fort Lauderdale, FL 33328
Phone: 954-693-4851
Fax: 954-693-4862
EMAIL PAGE




Senator Marco Rubio [R]
317 Hart Senate Office Building
Washington D.C., 20510
Phone: 202-224-3041
Fax: 202-228-5171
WEBSITE

MIAMI OFFICE:
8669 N.W. 36 Street,
Suite 110
Doral, FL 33166
Phone: 305-418-8553
EMAIL PAGE

Cong. Alcee Hastings [D]
District 20
2353 Rayburn HOB
Washington, D.C. 20515
Phone: 202-225-1313
Fax: 202-225-1171
WEBSITE
DISTRICT OFFICE:
2701 W. Oakland Park Boulevard
Suite 200
Oakland Park, FL 33311
Phone: 954-733-2800
Fax: 954-735-9444
EMAIL PAGE

Cong. Ted Deutch [D]
District 21
1024 Longworth HOB
Washington, D.C. 20515
Phone: 202-225-3001
Fax 202-225-5974
WEBSITE

DISTRICT OFFICE:
2500 N. Military Trail, Suite 490
Boca Raton, FL 33431
Phone: 561-988-6302
Fax: 561-988-6423
EMAIL PAGE

Cong. Lois Frankel [D]
District 22
1037 Longworth HOB
Washington, DC 20515
Phone: 202-225-9890
WEBSITE

DISTRICT OFFICE:
2500 N. Military Trail
Suite 490
Boca Raton, FL 33431
Phone: 561-998-9045
EMAIL PAGE

Congresswoman Debbie
Wasserman-Schultz [D]
District 23
118 Cannon HOB
Washington, D.C. 20515
Phone: 202-225-7931
FAX: 202-226-2052
WEBSITE
DISTRICT OFFICE:
10100 Pines Boulevard,
Pembroke Pines, FL 33026
Phone: 954-437-3936
Fax: 954-437-4776
EMAIL PAGE
Cong. Frederica Wilson
[D] District 24
208 Canon HOB
Washington, DC 20515
Phone: 202-225-4506
FAX: 202-226-0777
WEBSITE
DISTRICT OFFICE:
18425 N.W. 2 Avenue
Miami Gardens, FL 33169
Phone: 305-690-5905
Fax: 305-690-5951
EMAIL PAGE




Cong. Mario Diaz-Balart
[R] District 25
436 Cannon HOB
Washington, D.C. 20515
Phone: 202-225-4211
Fax: 202-226-8576
WEBSITE
DISTRICT OFFICE:
8669 N.W. 36 Street, #100
Doral, FL 33166
Phone: 305-470-8555
Fax: 305-470-8575
EMAIL PAGE
Our Beach is in Your Hands!!!!

Well - what are you waiting for? Stop reading this and find a pen or pick up the phone. Chop Chop!

BROWARD BEACH RENOURISHMENT - SEGMENT II
Click To Top of Page

---
Galt Ocean Mile


Frog Becomes a Prince!



Galt Store Undergoes "Transformation"




February 16, 2014 - Until recently, the Galt Mile Winn-Dixie has struggled to shed a reputation for sub-par service, product lines befitting a third world banana republic and an environment more conducive to changing tires than handling food. Notwithstanding divergent opinions about the store's customer service and product availability, raw convenience prompts almost every Galt Mile resident to cruise the aisles on a regular basis. After decades of failed attempts to improve the store, a rupture in natural law elevated the Galt Mile Winn-Dixie into a viable competitor for shoppers long loyal to Publix and Whole Foods.
Some Corporate History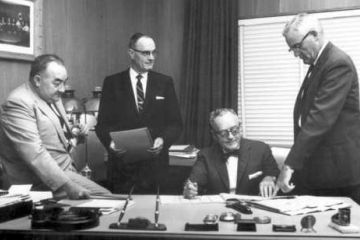 DAVIS BROTHERS MINDING THE STORE

Winn-Dixie Stores, Inc. (Winn-Dixie), which has done business under its present name since 1955 and traces its roots back to 1925, currently operates 482 stores in five southeastern states (Florida, Alabama, Georgia, Louisiana and Mississippi). Its expansion parallels the Davis family's pursuit of the American Dream, when a modest Miami store opened by Idaho grocer William Milton Davis evolved into the first Florida industrial corporation listed on the New York Stock Exchange (NYSE). After building a 1200-store retailing goliath by 1998 (Publix currently only has 1073 stores), corporate refusal to fix an increasingly irrelevant business model – and a truckload of debt – sent the company into a tailspin.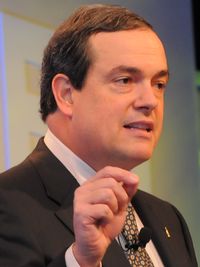 FORMER CEO PETER LYNCH

Unable to withstand the economic downturn and intense competitive pressure from rivals Wal-Mart, Publix and others, the company filed for Chapter 11 protection on February 21, 2005. To stem the flow of red ink, former Chairman, President, and CEO Peter Lynch – snatched from Albertson's in 2004 – retrenched Winn-Dixie by exiting noncore markets and selling retail and manufacturing assets, including more than 500 supermarkets. It emerged from bankruptcy reorganization on November 21, 2006 as a new company with a new Board of Directors and $725 million in exit financing. After trading as "WIN" on the New York Stock Exchange (NYSE) since 1952, the restructured company resurfaced on the NASDAQ exchange and traded under the ticker symbol "WINN".

As per the court-approved reorganization, the company initiated efforts to modernize its existing store base while focusing on new locations for the future. To avoid a fiscal backslide, it pro-actively explored options to better manage expansion-generated debt.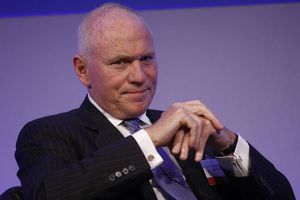 LONE STAR FUNDS CHAIR JOHN GRAYKEN

On December 19, 2011, Winn-Dixie agreed to merge with South Carolina grocery chain BI-LO - which had also just emerged from Chapter 11 bankruptcy protection on May 12, 2010 wholly owned by Lone Star Funds. A Dallas-based private-equity firm founded by Chairman John Grayken, Lone Star Funds is the world's largest buyer of delinquent mortgages.
BI-LO WINN-DIXIE JACKSONVILLE HQ

When the $560 million buyout of Winn-Dixie stock at its $9.25 share price was finalized on March 9, 2012, both Winn-Dixie and BI-LO became subsidiaries of BI-LO Holdings, LLC, although its stores continued operating under the Winn-Dixie name. With a combined 690 stores in eight southeastern states staffed by approximately 63,000 employees, BI-LO vacated its corporate home in Mauldin, SC and occupied Winn Dixie's Jacksonville Headquarters.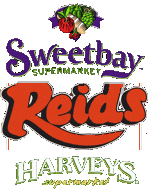 On May 28, 2013 BI-LO announced a planned $265 million acquisition of 72 Sweetbay markets and 92 stores operating under the Harveys' and Reid's banners from the Belgium-based Delhaize Group. Once finalized, BI-LO would rebrand every Sweetbay and Reid outlet as a Winn-Dixie. In September 2013, BI-LO Holdings announced another deal to buy 22 supermarkets in South Carolina and Georgia from the Piggly Wiggly Carolina Co. Inc. for $35 million while selling seven BI-LO branded stores in the Charlotte market to Publix.
Old Bad Habits
An industry knock on Winn Dixie and BI-LO has been a chronic inability to generate profits from sales. The corporate culture of both companies was historically rooted in buying cheap and underselling the competition. Combining a core policy that leveraged service with obsolete corporate controls that skewed product availability, shaped a public perception of an institution in perpetual decline.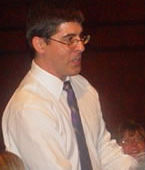 SUPERMARKET ANALYST
DAVID J. LIVINGSTON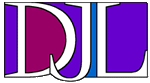 Proprietor David Livingston of DJL Research, which tracks trends in the grocery industry, explained "It looks like they've been specializing in distressed companies, distressed stores. Both Bi-Lo and Winn-Dixie are extremely poor performers when it comes to sales per square foot. They're probably two of the lowest in the whole Southeastern part of the United States."

According to Livingston, post-reorganizational profits attributed to Winn-Dixie and BI-LO resulted from writing off many of their liabilities upon emerging from bankruptcy. Observing "They're not really considered the retail intellect of grocery stores when it comes to store operations," Livingston lamented their pre-bankruptcy predisposition to "make money on the expense side of the balance sheet and not the sales side."

A New Strategic Plan

Until the bankruptcy served as a wake-up call, for decades Winn-Dixie corporate (Davis family heirs) cloned strict "one-size-fits-all" operational protocols in Jacksonville to be blindly rubber stamped in each store. Upon emerging from Chapter 11, the company's survival strategy turned on building modest in-store improvements while customizing each store's offerings to its respective consumer base. Construction costs averaged $1 to $2 million per store and solely targeted long overdue basic upgrades. Stores were systematically scheduled for a process coined as "transformation".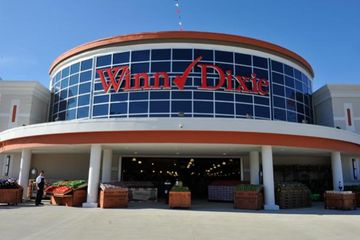 COVINGTON, LA - FIRST TRANSFORMATIONAL WINN-DIXIE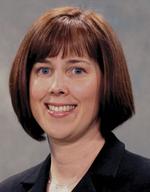 MARY KELLMANSON
GROUP VP OF MARKETING

In February 2010, the company completed construction of its first new store since its 2005 plunge into bankruptcy - in Covington, LA. Experiencing an epiphany when in-store sales skyrocketed, Lynch reshuffled the company plan overnight. "Transformation" took on a new meaning as resources were refocused on $5 to $6 million remodels that duplicated the high end amenities in the Covington store. Most importantly, they were investing in building connections between stores and the communities they served. "What we found was that it was such a giant leap, we thought it would drive our business further than the base remodel stores," remarked Mary Kellmanson, group vice president of marketing.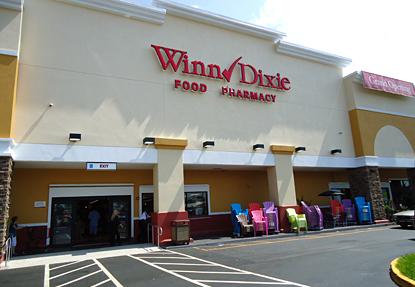 MARGATE PROTOTYPE
TRANSFORMATIONAL WINN-DIXIE
MARGATE WINN-DIXIE BAKERY DEPT

In 2010, Winn-Dixie built a prototype "Transformational" store in Margate. Over the next few years, aging South Florida stores were selected in Aventura, Miami, Davie, Hallandale Beach, Miramar, Plantation, Lake Worth, Boca Raton, Tamarac and the Galt Ocean Mile in Fort Lauderdale. The stores were morphed into upscale, attractive markets with product lines tailored to the customer base. Focusing on service, operations were streamlined and store management keyed on the surrounding community. Winn-Dixie's Broward District Director Robin Castillo explains "We've basically taken the shell of old Winn-Dixie stores and rebuilt it completely. This is all a part of our strategic plan to reposition us in the South Florida market."


In 2011, the company made modest investments the Galt Mile store in preparation for "transformation". To cure a chronic shortage of shopping carts, the store installed "CartControl", a Gatekeeper Systems theft prevention model that emitted a passive radio transmission to disable carts wheeled off the premises. Areas that appeared perpetually dirty were cleaned up. To address growing nationwide fears about deficient supermarket hygiene, they contracted with a Pompano firm – Green Secure Solutions – to regularly apply an environmentally friendly disinfectant to any shopping carts, hand baskets, handicap carts and food trays handled by the public.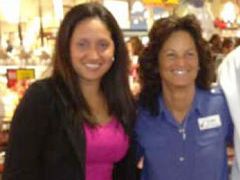 CULINARY MANAGER ISABELLA TRUJILLO
AND DISTRICT DIRECTOR ROBIN CASTILLO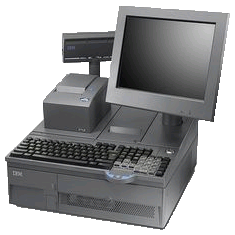 WINN-DIXIE INSTALLS IBM CHECKOUT SYSTEM

After months of teaching shoppers how to use newly installed self-service checkout technology, aggravating checkout lines waned. To further expedite checkout, Winn-Dixie swapped out stone-age cash registers for IBM SurePOS 700 systems w/software, SurePoint infrared touch displays and SureMark thermal impact printers and trained staffers in their use. Months after implementing these preliminary improvements, District Director Robin Castillo began assembling a hand-picked Management team.

Unfortunately, Winn-Dixie suffers from a credibility problem. Planned upgrades promised to Galt Mile residents over the years were repeatedly abandoned. Until frustrated residents could see a new modern plant and in-store management willing to tailor product lines to local demand, corporate promises would be perceived as cynical marketing drivel.

The Galt Mile Transformation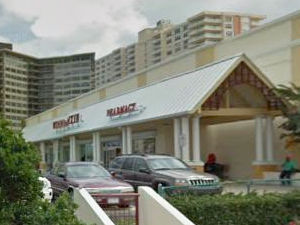 OLD GALT WINN-DIXIE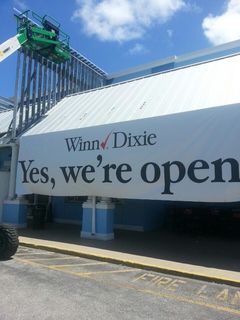 CONSTRUCTION AT GALT WINN-DIXIE

Early last year, an army of contractors began rebuilding the store's decrepit interior. Before replacing refrigerated units that marginally cooled foods and battered freezer units that leaked like sieves, plumbers corrected a decades-long infiltration into the garage below (used by the residents of Galt Ocean Club). Electrical and ventilation systems were upgraded, slip-resistant wood panel flooring was installed throughout, architectural wooden display islands sectioned off the enlarged deli and prepared foods areas, specialized dairy cases were installed, aisles were expanded, and elegant layered wall displays lined the perimeter.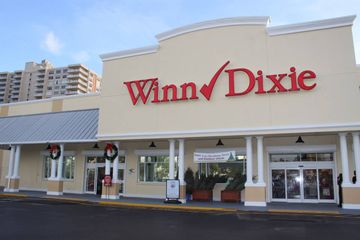 NEW GALT WINN-DIXIE

Since the Galt Mile Winn-Dixie (Store # 386) is significantly smaller than other stores selected for Transformation, virtually every department was redesigned to maximize usable space, enhance efficiency and create an intuitive traffic flow. Washed out pastels peppered with rust spots gave way to polished wood thematically couched in earth tones. A new Wi-Fi café near the store's entrance provides free online access to laptop and tablet toting customers.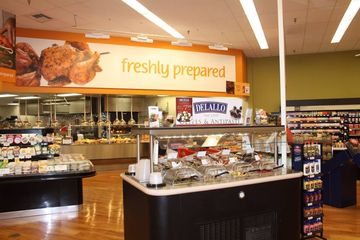 OLIVE AND ANTIPASTI BAR

Between 12 Noon and 2 PM, a wave of lunch customers - including scores of association employees and residents from Caribé to L'Hermitage - peruse a full marble hot bar, a custom-made pizza and sandwich station, an in-line chicken wing bar, take-out antipasti & olive bar, a custom carving station and a variety of rotisserie chicken selections. Among the most dramatic changes, the prepared foods department now offers a wide assortment of new chef-inspired meals, traditional or specialty salads and more than 100 artisan cheese options. A Southpoint resident who frequents the Winn Dixie for lunch lavished praise on the new barbecue bar.

DIST. DIRECTOR
ROBIN CASTILLO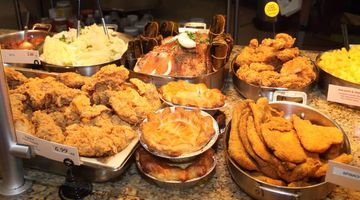 GALT MILE WINN-DIXIE NEW MARBLE HOT BAR

Unlike the immutable operational directives handed down by the old regime, "transformational" departmental managers work with the store Director to competitively adapt their respective departments to local consumer demand. Although employees, their motivations closely parallel those of business owners emotionally vested in the success of their enterprise. As the renovation approached completion, Castillo's new management team prepared to officially launch the newest "Transformational" Winn-Dixie on December 5, 2013.

The Management Team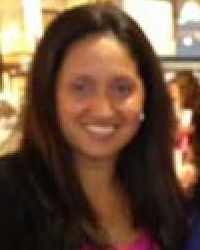 CULINARY MANAGER
ISABELLA TRUJILLO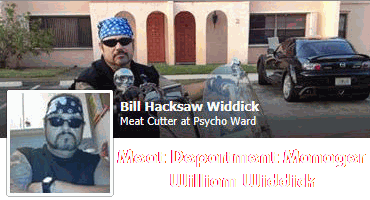 Drawing on the skills of Culinary Manager Isabella Trujillo, who transformed a similar department in the Margate store into one of the County's top deli outlets, patrons can order custom creations from a full service Restaurant-style deli. Meat wizard Bill "Hacksaw" Widdick manages an expanded meat department that features a new full-service seafood counter stocked with fresh fish and shellfish – often pulled from native waters earlier in the day.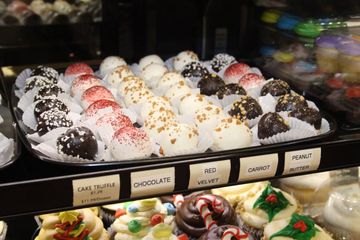 SINGLE SERVE DESSERTS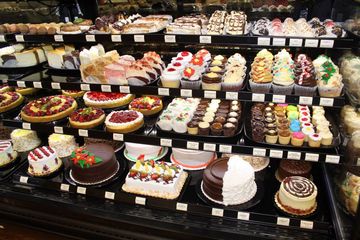 CUSTOM MADE CAKES IN BAKERY

The bakery was moved from the cramped northeast corner of the store to larger quarters in the back, where bakery Manager Christina King offers freshly baked breads, specialty desserts, pastries, and made-to-order cakes - in addition to new store-branded kosher bakery items. Shoppers with a sweet tooth loiter by the single-serve dessert case. Catalogue plants randomly stashed about the store have been consolidated into a full service floral department managed by Jessica Penso, which features custom stylings by an in-house florist.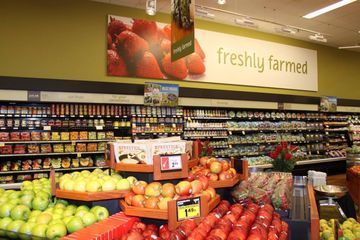 SEASONAL FRESH FRUITS AND VEGETABLES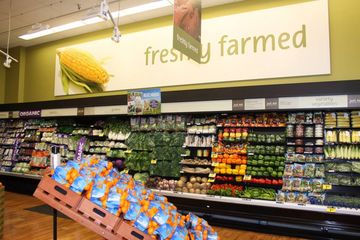 FRESH PRODUCE AND PERISHABLES

Manager Michael Andah of the new produce department fleshed out half filled bins with a large selection of seasonal fresh fruits and vegetables. New organics and natural foods can be found throughout the store in virtually every department. There's also a much larger selection of Kosher and Hispanic foods. For years, hundreds of Galt Mile residents have entrusted their health care needs to Dr. Anthony Joseph Garofali III, Pharm. D., whose renovated pharmacy department offers flu season vaccinations and annually fills thousands of prescriptions, including $4 generics for those enrolled in the store's discount prescription plan.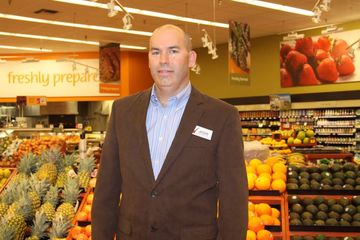 GALT MILE STORE DIRECTOR JASON MCCULLOUGH

Each Department Manager is answerable to Store Director Jason McCullough, who brings 31 years of experience to the job. McCullough was managing the Dania Beach store in Meadowbrook Square when drafted by Castillo. Teamed with assistant Director Alain Rigaud (who formerly managed the store at 680 Federal Highway), when McCullough isn't fast-tracking patron product requests, he enforces product adequacy and inflates customer service levels in each department.

As McCullough and Rigaud enhance departmental productivity, Center Store Manager Araceli Serna - a popular veteran at the Galt Mile store - cruises the aisles, searching out customers who need help. Marene Thompson, who manages the service area, assists customers while pre-empting checkout gridlock. When returning snowbirds drop by to pick up a few items, they invariably register disbelief.

Spreading the Word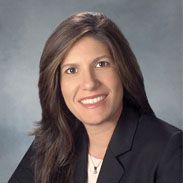 WINN DIXIE COMMUNICATIONS
OFFICIAL MAYRA HERNANDEZ

At the December 2 Galt Mile Presidents Council meeting in Playa del Sol, Winn-Dixie Broward boss Robin Castillo solicited input from association officials about strengthening the store's ties to the community. With a new plant that functionally and aesthetically leap-frogged those of competitors, Store Director McCullough expressed his intention to exceed the community's expectations for customer service and adapt the store's product mix to local preferences. To that end, McCullough invited neighborhood residents to bring him their concerns and suggestions – placing the ball in our court. When you visit, if you don't see a product you like, ask for it. In most cases, they will order it for you. At a subsequent meeting, Winn Dixie communications official Mayra Hernandez said "The Company and store management plan to be good neighbors, and actively partner with the community to help achieve its goals."

To convince skeptics that the Galt Mile store has undergone a sea change, management sponsored a series of introductory events. A December 5 "Open House" was followed by a "Taste of the Holidays" on December 14, a "Sunday Jazz Brunch" on December 29, and "Meet the Manager" on January 9. While more than 800 locals flooded the December 5 relaunch, and thousands more attended the subsequent events, many Galt Mile residents still haven't visited the new store. If that includes you, drop by. It's no longer the store you remember!

Galt vs. Galt

Some longtime Galt Mile residents recall facing a crossroads a few decades back, at which time the neighborhood booted an opportunity to establish a Publix Supermarket at the present Winn-Dixie site. Dreaming instead about a rolling arboreal greenspace directly across the street, an extremely vocal minority of neighborhood residents nixed the project.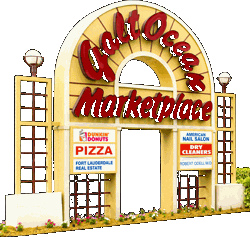 In 1987, a Fort Lauderdale developer planned an 118,000 sq. ft. commercial project on the northern end of the property bounded by State Road A1A and Galt Ocean Drive from 36th Street to 40th Street, the site currently occupied by the Galt Ocean Marketplace. Although the property was zoned for commercial development, Southern Centers Associates – who purchased the property from Coral Ridge Properties, Inc. for $4.37 million – sought neighborhood approval to build a supermarket and open-air promenade retail center.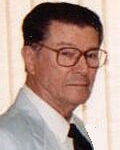 PAST GMCA PRES.
DICK TYMESON

While the Galt Mile Community Association was negotiating with the developer, a group of megalomaniacal yahoos decided that a supermarket would disturb their Karma. Claiming a fictitious right to decide what the developer must build, a group of owners headed by Barnett Daniels formed The Galt Owners Association Inc. and scammed neighbors into believing that noise and pollution from the supermarket would be intolerable. Praying on retiree fears, they raised $117,000 to finance a nuisance suit against Southern Centers.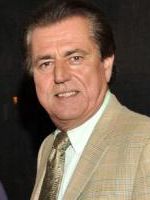 GALT PROJECT ARCHITECT
DEREK VANDER PLOEG

The event marked one of the few times the neighborhood association fell asleep at the wheel. The development included a Publix supermarket, a two-story, open-air shop & restaurant promenade and a three-story bank and office building. Fearful of alienating local residents, the developer or the cage-rattling demagogues at meetings organized by the developer to discuss the plans, then President Dick Tymeson of Galt Mile Community Association sat idly by as this small but vocal group commandeered the agenda and squelched a residential majority supportive of the project.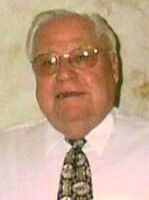 FORMER GMCA PRESIDENT
ROBERT ROZEMA

When a Broward Circuit Court judge dismissed the lawsuit as capricious in 1988 and the Galt Owners Association delivered nothing for the hundred grand it soaked from unit owners, newly elected former GMCA President Robert Rozema negotiated an agreement with architect Derek Vander Ploeg that provided for underground parking and an underground delivery access from A1A, shielding Galt Ocean Drive from traffic and noise. Rozema also negotiated home delivery for disabled and elderly residents. Unfortunately, it was too late. The damage was done.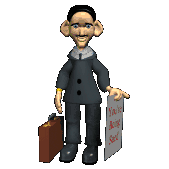 After Publix decided to forego further abuse and bug out, no supermarket would even consider the project. Once the case against Southern Centers was tossed, the developer sued Galt Owners Association President Barnett Daniels and 3 others over the loss of a keystone tenant. GMCA's past President Rozema expressed regret over Daniels' arrogant belligerence and the loss of Publix, lamenting "It's like winning the battle and losing the war. Publix is a pretty upscale supermarket and now a less formidable grocery store could take its place." Years later, when the Galt Ocean Marketplace developer convinced Winn-Dixie to anchor the shopping center in 1992, the same miscreants who splashed the original project demanded that neighborhood officials crawl back to Publix and apologize to the chain's Lakeland executives. Again during Winn-Dixie's 2006 brush with bankruptcy, residents filled with regret at having chased off Publix entertained the prospect of luring the company back. Not a chance of a snowball in hell! With thriving outlets a mile north (at Sea Ranch Lakes) and a mile west (at Coral Ridge Mall), Publix expressed an unwavering disinterest in resurrecting a relationship.
Caveat Emptor
Ironically, despite a cloudy history tarred by disappointment, the Galt Mile Winn-Dixie is positioned for a storybook endgame. Aging stores owned by bankrupt companies ordinarily shutter their windows and become landfill. Instead, the Galt Mile Winn-Dixie is beating more expensive competitors like Publix at their own game.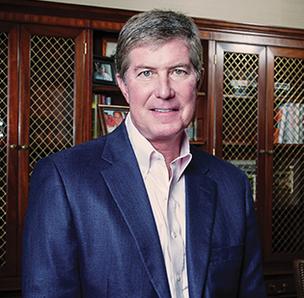 SOUTHEASTERN GROCERS (BI-LO HOLDINGS)
PRESIDENT AND CEO RANDALL ONSTEAD

In May, BI-LO Holdings President and CEO Randall Onstead told a Jacksonville economic development group that the company's fundamental strategy is to connect with the communities served by its stores, exhorting, "We are going to be the neighborhood grocer people shop the most." Onstead said that the company's three-part growth plan involves acquisitions, capital investment and building same-store sales. He added that the acquisitions will not prevent the company from making capital investments in new store construction and remodels. While fiscally healthy, the company's recent shopping spree has been burning through cash. How did they plan to hit both marks?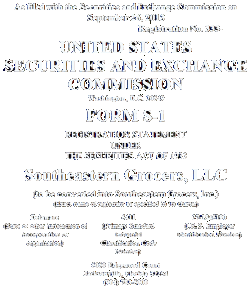 In September 2013, after Lone Star Funds suddenly created a new corporate parent for BI-LO and Winn-Dixie called Southeastern Grocers Inc., the new parent company filed plans to raise up to $500 million in an initial public offering (IPO). Although common stock will trade under the "SEG" symbol, neither the exchange nor the share price is identified in its 200+ page plan.
With Citigroup Inc., Credit Suisse Group AG, Deutsche Bank AG, William Blair and Wells Fargo Securities running book, analysts say the IPO could buoy the company's business prospects and help manage debt from post-bankruptcy acquisitions and mergers. The offering could also be indicative of a hard-learned lesson, since poorly managed debt was a decisive factor in both Winn-Dixie's and BI-LO's earlier slide into bankruptcy.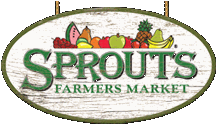 Although the market handsomely rewarded food retailers Sprouts (Sprouts Farmers Market Inc.) and Fairway (Fairway Group Holdings Corp.) in their recent IPOs, Southeastern Grocers' transition from a private to publicly held company raises old ghosts for Winn-Dixie and BI-LO. As admonished by supermarket watchdog David Livingston "Their first priority will be Wall Street and not the customer, which has always been dangerous for any publicly held grocery company. They tend to make decisions to try and influence the stock price. Sometimes those aren't always good for the health of the company."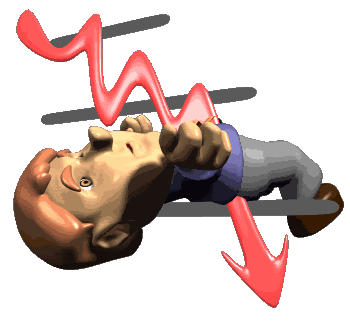 Winn-Dixie could be tempted to revisit prior bad habits; specifically, pumping up profits by slashing expenses instead of growing sales. For instance, if they decide to trim staff, the decline in services would send customers racing back to competitors like Publix and Whole Foods, which invest heavily in delivering a high-end consumer experience. Additionally, it would bring Winn-Dixie's currently successful growth strategy to a screeching halt.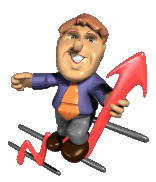 On the flip side, a majority of industry analysts applaud the tactic. An infusion of IPO equity capital would enable management to grow the company while shoveling about half its debt to investors. Since the IPO offering plan leaves Lone Star owner John Grayken with a post-sale controlling interest in the company, he gets to implement the growth plan without risking his other assets if the economy hits the skids.

As we delight in our Winn-Dixie's "transformation", it won't hurt to keep one eye on the parent company's market performance. Then again, in the unlikely event that a souring stock price somehow changes the store back into a frog, Publix and Whole Foods are still down the block. That aside, the fact that Galt Mile's Winn-Dixie is now positioned to become the type of Supermarket that we passionately coveted for decades – is one helluva holiday season gift.

For Cleaning up Your Act!




Year Two!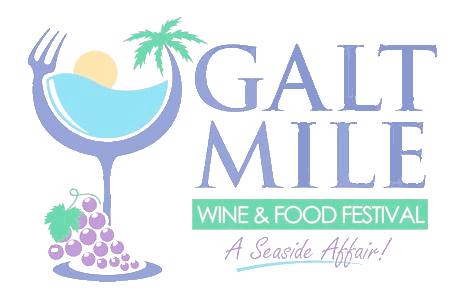 February 23, 2014 - On Saturday, March 1, 2014, the 2nd Annual Galt Mile Wine & Food Festival will filter through our back yard, resurrecting last year's blockbuster inaugural, when thousands of local residents and visitors were rewarded with a delightfully entrancing weekend afternoon. The festival is produced by BocaRaton.Com and The Bites! Network in partnership with the Galt Mile Community Association.

From 4 to 8 PM, attendees will choose from scores of fine artisan wines, craft beers & spirits while enjoying distinctive food tastings; live cooking demonstrations; and authoritative insight into pairing each dish with the perfect libation - as outlined by some of South Florida's most experienced sommeliers and brilliant Top Chefs.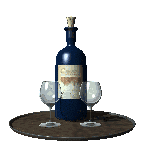 While cruising the festival's sumptuous stations, allow your nose to navigate where you will stop next, as your palate judges whether to request "seconds" or move on. The festival's bedrock is once again the culinary professionals who've built their lives around their craft. As depicted on the promoter's website, numerous returning participants in last year's event will be joined by many new epicurean luminaries in 2014.
South Florida's Top Chefs!
CHEF JASON CONNELLY

Among the noteworthy Chefs creating this year's consumable art are Jason Connelly - who opened the Sea Level Restaurant & Ocean Bar at the Harbor Beach Marriott Resort & Spa, staffers from newly opened Bokamper's Sports Bar & Grill on the Intracoastal, Culinary Director Evandro Caregnato of "Texas de Brazil" in Fort Lauderdale, Executive Chef Hector Campos of da Campo Osteria in the IL Lugano Hotel across the street from the Beach Community Center,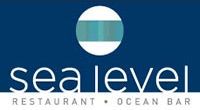 Martin Barrett of quintessential "Irish Pub" Sly Fox on the Galt Mile, Executive Chef Mai Ponrathorn (formerly of the Miami Beach hot spot Nobu) of Tokyo Blue at the Galt Mile's Ocean Manor Resort, beachside fare from the resort hotel's Bamboo Beach Tiki Bar, Executive Chef Bill Bruening and "Pastry Goddess" Erika DiBattista of the Sunfish Grill on Oakland Park Boulevard and Chef Juan of The Hungry Cuban in Deerfield Beach.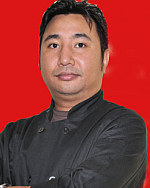 CHEF MAI PONRATHORN

Culinary wizardry will also be staged by Executive Chef Dane Iacangelo of caterer Potions in Motion, Chef Marco Vico of Cafe Vico Ristorante in Fort Lauderdale, wine and food aficionados from downtown hot spot Blue Martini, renowned Godiva Chocolatier of Fort Lauderdale, Chart House and Events by Grateful Palate - both on the Intracoastal Waterway, Fernanda's International Market down the block on Federal Highway,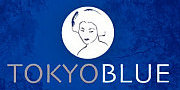 Outback Steakhouse founders' new restaurant PDQ, organic gluten-free eatery Fresh First, "Icing on the Cake" desserts, Joe's Crab Shack, Hilary Saporta's online dessert Mecca "A Flair For Fudge", Giorgio's 17th Street Italian Specialty Restaurant and Caterer, The Garlic Knot pizza & pasta, Ceviche by the Sea and Michele's. Specialized consumables will be offered by caterer Lenore Nolan-Ryan's Gourmet Market, Rated M Wines and infused desserts, 100% grass-fed Arrowhead Beef, Good 2 Go fruit and nut bars and others on a fast-growing roster of food industry impresarios.

Wine, Beer & Spirits

Operated by WineEvents.Com, a new onsite wine outlet will enable attendees to purchase any libations that titillated their taste buds during the event. Participating purveyors of Wine, Beer and Spirits include Phelps Creek Vineyards of Oregon, natural wines from Organic Cellar Plus,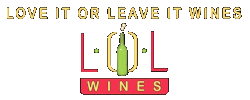 limited production Premium wines from Strategic Importers, Ideal Drinks, New York offerings like Tug Boat Red and Call Me a Cab from Love It or Leave It Wines, Constellation Brands (like Mondavi and Svedka),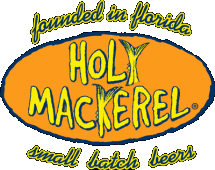 GOS Wines from family owned vineyards, California's The Naked Grape, Bonacchi and Varvaglione of the Beverage International Group, products from California and North Pacific vineyards of Bulletproof Wine & Spirits, international offerings of Southern Wine & Spirits, craft and estate wines from The Vintner Group, Toscano Wine Group, Wicked Wines, Florida small batch beers from Holy Mackerel, the mountain brews of Sierra Nevada, America's largest family-owned distilled spirits marketer and producer Heaven Hill Distilleries, Texas native Tito's Handmade Vodka, the Latin Flavor of Cuba Libre rum and cola, and more added each day.
2014 Changes & Improvements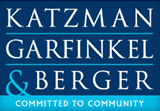 To improve the site layout in 2014, new sponsor IKEA is contributing the IKEA Kitchen Alley, where local chefs will showcase their culinary talents. While spinning a musical accompaniment for the event, a DJ will announce cooking demonstrations and special tasting events during the festival. Also new to this year's event, following gastronomic immersion in food, wine, beer and spirits, satiated attendees can relax and reboot in the IKEA Lounge.
BILL WORRALL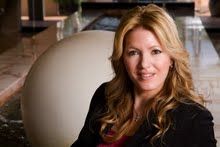 DONNA BERGER

Less apparent is a change to the lineup of primary event sponsors. Returning this year are association law firm Katzmann Garfinkel & Berger (KG&B) and First Service Residential (AKA Continental Management). Executive Director of the Community Advocacy Network (CAN), KG&B Name Partner Donna Berger has collaborated with the Galt Mile Community Association for more than a decade to enact legislation beneficial to condo and co-op owners.

Since his company manages several Galt Mile associations, First Service Residential official Bill Worrall decided to once again give something back to the community. However, 2013 sponsor Kane & Company was replaced by IKEA, WineEvents.Com and J.M. Lexus (whose vehicles pepper the Galt Mile). These corporate benefactors seed the critical preliminary funding that anchors the event.

Where do I Go?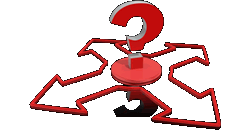 The Festival takes place in the commercial parking lots along Galt Ocean Drive. Bordered by NE 36th Street on the North (across from Ocean Riviera) and the Greek Islands Taverna on the South (across from Southpoint), the Festival's Main Entrance is at the corner of Galt Ocean Drive and NE 35th Street (across from Playa del Sol). Additional parking is available at The Tides at Bridgeside Square (the newest member of the Galt Mile Community Association) at 3020 NE 32nd Avenue, Fort Lauderdale (just South of Oakland Park Boulevard near the Intracoastal). The Sun Trolley will transport guests to and from the festival for FREE. Of course, walking to the event will help burn off some calories in preparation for cutting loose at the tasting tables!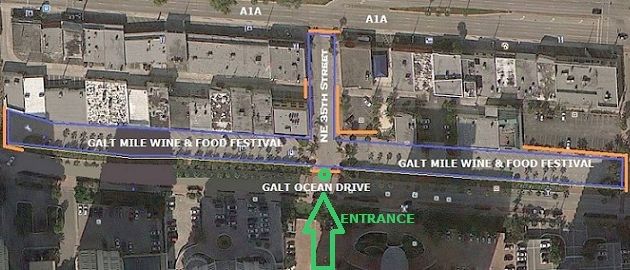 Galt Mile Wine & Food Festival Site (Click Graphic for More Maps)
What's in it for Me?
For 4 decadent hours, chefs and sommeliers from many of South Florida's most acclaimed culinary venues will present you with those dishes that placed their establishments on the map. To otherwise sample these extraordinary signature offerings, restaurant patrons would have to visit each establishment and order its iconic fare - an exercise that would take months and cost a fortune. Instead, you can spend a lazy Saturday afternoon trying them all, one masterpiece after the other, while strolling across the street from your home.
An Added Benefit

Galt Mile residents have another stake in the annual festival. Prior to last year's inaugural event, the Galt Mile Community Association negotiated an understanding with the event's promoter and sponsors. If well attended, an annual Galt Mile Wine & Food Festival stands to become a neighborhood signature event. Its potential for enhancing neighborhood appeal will translate into higher unit values. Additionally, if the event continues to be successful, a modest percent of the income will be cached into a firewalled community reserve fund. The dedicated resources will be used by the Advisory Board for critical neighborhood improvements not funded by the City or County.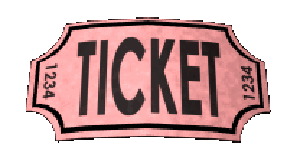 However, the event must be successful for several consecutive years to warrant the contribution. If enough people buy tickets and attend the event, it will be repeated again next year, triggering the opportunity to subsidize neighborhood improvements that will substantially increase the value of every home on the Galt Mile.

SO – Buy a ticket. Enjoy the soft seaside winds wafting off the Atlantic and all the other syrupy trappings of paradise punch-listed by the promoter. Let tasty tidbits titillate your palate as you drink your way to a late Saturday buzz. Most of all, revel in the prospect that you may have added a healthy footnote to the value of your home!!!
Click To Top of Page

---

Fort Lauderdale Police Department + IBM = Advanced Analytics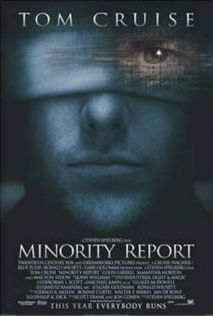 MINORITY REPORT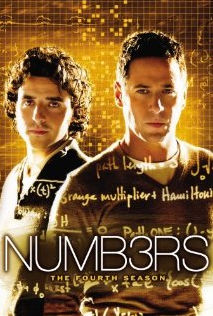 NUMB3RS

March 1, 2014 - In a CBS crime drama television series entitled Numbers (stylized NUMB3RS) that ran from 2005 to 2010, FBI Special Agent Don Eppes relies on his mathematical genius younger brother Professor Charlie Eppes to solve Federal crimes with advanced arithmetic. Using the University's supercomputer and a blackboard in his garage, Eppes devises algorithms to nab terrorists, snags bank robbers with analytic geometry and downs identity thieves with game theory. In Steven Spielberg's screen version of Philip Dick's "Minority Report", Tom Cruise acts on information slipped him by three kids perpetually soaking in a futuristic hot-tub to arrest and freeze dry would-be perpetrators, thereby pre-empting crime in his high-tech society (along with the Constitutional presumption of innocence).

Although adulterated by artistic license to enhance box office bang or pump Neilsen ratings, the underlying science for both entertainment venues is very real. In his January 2014 Newsletter, City Commissioner Bruce Roberts outlines how the new Predictive Policing strategy being implemented by the Fort Lauderdale Police Department (FLPD) merges math with officer instincts.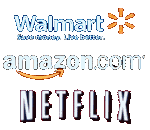 By crunching data that marries historical consumer behavior with emerging trends, Walmart and Netflix adapt how they tailor their on-shelf product mix to specific events (i.e. what they stock before a hurricane, or after a holiday). Patrons of Amazon are familiar with the phrase "Customers who bought this item also bought...," a peek into the Company's analytics database used to prioritize and preferentially allocate resources. Long utilized in business, predictive analytics has now been adapted to fight crime. It is especially useful during a recession, since it enhances the effectiveness of currently available resources without incrementally burdening besieged law enforcement budgets.

The professional police techniques of the 1960s, in which faceless cops chased radio calls, gave way to the community-policing model of the 1990s, which shifted some decision-making responsibilities to line officers – who were called on to address the underlying conditions that enable and foster crime. The 9/11 terrorist attacks heralded the arrival of intelligence-led policing (ILP), in which criminal intelligence is used in support of collaborative, multijurisdictional approaches to crime prevention; and emphasizes the role of analysis in tactical and strategic planning. The building blocks of Homeland Security were applied to Hometown Security. In Fort Lauderdale, a $106,114 Safir-Rosetti staffing study commissioned by the City in 2005 to frugally optimize police resources confirmed the importance of analytics as a tool to reverse a rising crime rate.
POLICE CHEIF BRUCE ROBERTS

At dozens of GMCA Advisory Board meetings, former Police Chief Bruce Roberts described how FLPD used computer statistics at "CompStat" meetings to identify and focus on crime hot spots, enabling rapid response by patrols to counter or prevent criminal activity. Although police had access to bottomless volumes of public safety information, the concept's effectiveness was limited by how the police crunched the data, as overworked analysts manually reviewed report summaries in hopes of stumbling on actionable crime connections. Finding an expeditious and reliable methodology for extracting operationally relevant knowledge from oceans of available data would become the next evolutionary stage of professional law enforcement. In predictive policing, it appears that the technology may have finally caught up with the need.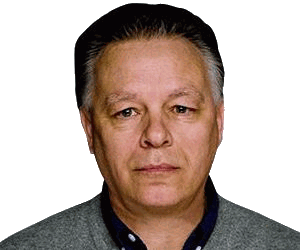 MARK CLEVERLY, IBM UNIT FOR
PREDICTIVE CRIME ANALYTICS

Mark Cleverly, head of the IBM unit for predictive crime analytics, simplified the program's objectives "It's not saying a crime will occur at a particular time and place, but it can say you can expect a wave of vehicle thefts based on what we know." IBM has worked with dozens of law enforcement agencies worldwide, such as London's Metropolitan Police, the Polish National Police and a growing number of US and Canadian cities, including Fort Lauderdale.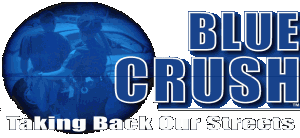 In Memphis, police officials joined with IBM and the University of Memphis in 2006 to implement an early predictive analytics program dramatically tagged Blue CRUSH (Criminal Reduction Utilizing Statistical History), which enhanced police efficiency by targeting crime "hot spots". The program reduced serious crimes by 30 percent and violent crimes by 15 percent. Memphis P.D. crime analysis Manager John Williams credits the system with removing Memphis from the list of worst US cities for crime. Williams explained "If the data is indicating a hot spot, we are able to immediately deploy resources there. And in a lot of instances we are able to make quality arrests because we're in the right area at the right time." Williams said that police officials from as far away as Hong Kong, Rio de Janeiro and Estonia had come to learn how Memphis used predictive analytics to reclaim its streets.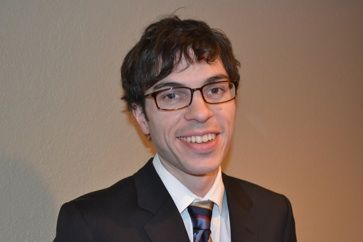 DR GEORGE MOHLER, MATHEMATICS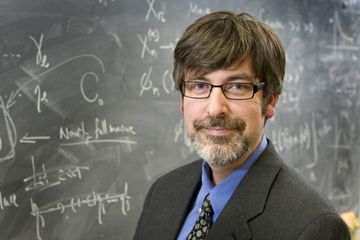 DR. P. JEFFREY BRANTINGHAM, ANTHROPOLOGY

In 2010, Dr. George Mohler (Santa Clara University, California) and Dr. P. Jeffrey Brantingham (University of California at Los Angeles) developed an algorithm used to forecast earthquake aftershocks into an improved mathematical model for predictive policing. Within months of being published, their research was tested by police officials in Los Angeles and Santa Cruz, California. Instead of relying solely on the traditional police techniques of tracking events that have already occurred and honing subsequent response times, the strategy exploits the mathematical correlation between the time and location of previous criminal activity and future offenses, enabling a fact-based prepositioning of assets; and proactive, intelligence-based tactics, strategy, and policy.
DR. JENNIFER BACHNER, JOHNS HOPKINS UNIVERSITY

The Santa Cruz Police Department was one of the first in the United States to embed predictive policing into its regular day-to-day operations. In a recent research report commissioned by the IBM Center for the Business of Government, Dr. Jennifer Bachner of Johns Hopkins University describes the core of the Santa Cruz program as "the continuous identification of areas that are expected to experience increased levels of crime in a specified time-frame." To optimize accuracy, the system needs between 1,200 and 2,000 data points, including burglaries, batteries, assaults, or other crimes - all sourced from public data. The program divides a map of the city into 150-by-150-meter cells. Drawing upon a database of past criminal incidents, the computer algorithm assigns probabilities of crime occurring to each cell, giving greater weight to more recent crimes.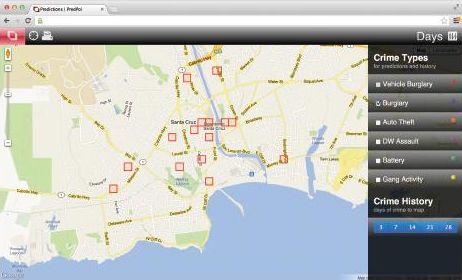 SANTA CRUZ POLICE DEPARTMENT HOT SPOT MAP

Santa Cruz P.D. generates 15 hot spot maps for each police shift. Distributed during roll calls, these maps indicate 500-square-foot locations. Prior to their shifts, Santa Cruz Police Officers are briefed on the locations of the 15 cells with the highest probabilities and encouraged to devote extra time to monitoring these areas. Officers pass through these areas when they aren't preoccupied with other calls. No one dispatches or requires them to inspect the sites; they do it as part of their routine patrols. In contrast, the Los Angeles Police Department designates special predictive policing units to run patrols, while police agencies in other jurisdictions use unmarked cars to cruise hotspots.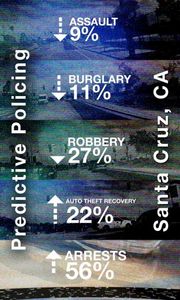 Throughout the experiment the Santa Cruz Police Department focused on burglaries (vehicular, residential, and commercial) and motor vehicle thefts. During the pilot phase, which began in mid-2011, burglaries dropped by 27 percent when compared to the previous year. Since then, the department has increased arrests by 56 percent and recovered 22 percent more stolen cars. Because the Santa Cruz police did not introduce any additional variables – no additional officers were hired, the shift lengths were unchanged, and patrol structure remained the same – the crime reduction was deemed wholly attributable to the model.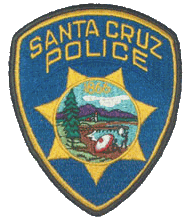 The system is also adaptable to gang violence, batteries, aggravated assaults, drug crimes, and bike thefts. It functions on all property crimes and violent crimes that have enough data points. By definition, crimes of passion - such as domestic violence - fall outside the scope of predictive analytics.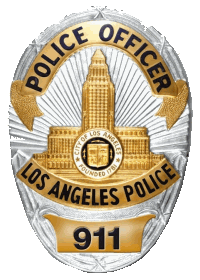 Faced with a larger population and more complex patrol scenarios than Santa Cruz, the Los Angeles Police Department (LAPD) sought to scientifically measure the model's effectiveness by testing it under a controlled experiment. Establishing their experiment in the Foothill Division with a population of 300,000 people, researchers compared the predictive policing system with LAPD's best practices.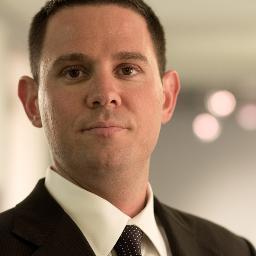 FORMER PREDPOL CEO CALEB BASKIN

As in Santa Cruz, maps were distributed to officers that have enough data pointsat the beginning of roll call. On some days analysts produced the maps using traditional LAPD hot spot methods. On other days, they used the algorithm. The maps were graphically indistinguishable and Officers were never told how they were sourced. The algorithm provided twice the accuracy that LAPD's current practices produced. In contrast with a .4 percent increase in property crime throughout Los Angeles, Foothill's rate took a 12 percent tumble, the largest crime reduction of any LAPD division during the experiment. When the Department immediately expanded the program to other Divisions serving a combined population of 1.5 million residents, they too realized significant crime reduction.

Shortly after the municipal experiments revolutionized police procedures in both cites, a company called "PredPol" was formed to market the new model. Citing the technology as "very effective in predicting the time and location for crimes that have not yet taken place," PredPol CEO Caleb Baskin remarked "We've had inquiries from a lot of places in the US and international locations. The science that underlies the tool will work anywhere. The question is: does the agency maintain a database that we can plug into?" Baskin was replaced in February by Silicon Valley denizen Larry Samuels.
Police departments in California, Washington, South Carolina, Arizona, Tennessee, and Illinois have since implemented the program. Along with Los Angeles, the municipalities of Washington, D.C. and Philadelphia are using predictive analytics to stop crime before it happens. In November 2011 Time Magazine named predictive policing one of the 50 best inventions for 2011.
IBM SENIOR CONSULTANT JIM LINGERFELT

In January 2013, the City of Fort Lauderdale teamed with IBM to adapt its proprietary advanced analytics module to crime prevention under the company's "First of its Kind" program, wherein researchers and clients use real-world applications to shake out the wrinkles of cutting-edge technologies. Public safety manager Jim Lingerfelt of IBM's Global Smarter Cities initiative spent the past year collecting local sources of "Big Data", crunching expansive criminal justice databases and accruing current data about Part 1 crimes, building permits, code infractions, public transportation routes, 911 calls, arrest and release data, special events information and Social Media banter.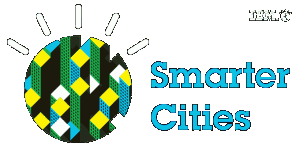 Once parsed by pattern recognition/discovery technology, factor/causality analysis and anomaly detection, the "cleaned" extracted data yields the statistical potential for a variety of criminal activities. For instance, since building permits commonly precede the theft of valuable construction materials, the integrated permit activity will enable Police Officials to more effectively allocate finite preventive resources..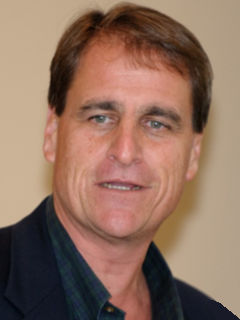 MAYOR JACK SEILER

Leery of a controversial perception that the technology will systematically pre-empt crime, Lingerfelt explains "You're identifying those areas with the highest probability of a certain type of crime occurring. It's very similar to the information they had before. But before it was very cumbersome, very labor intensive and nowhere near as complete as what they're getting now in a matter of seconds." Somewhat less reticent, Fort Lauderdale Mayor Jack Seiler said "Our work with IBM will better position us to evolve from a City that responds to crime, to one that has the skills and operational resources to prevent crime before it happens."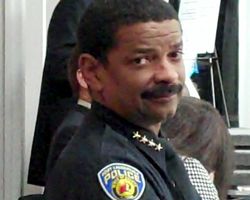 FLPD POLICE CHIEF FRANK ADDERLEY

Echoing Seiler's sentiments, Police Chief Frank Adderley commented "Integrating advanced data analysis into our operational strategies will help us maximize resources and stay one step ahead of the criminals." Unlike Santa Cruz, where officers who are unilaterally provided a daily analysis can decide whether or not to patrol predictive "hot spots", Fort Lauderdale is using a $200,000 grant from the Federal Law Enforcement Trust Fund for overtime pay to a dedicated Task Force of officers, detectives and investigators who will utilize FLPD's predictive analytics. Since the project launched last year, some 30 FLPD staffers have been provided access to the new platform through specialized dashboards, including Chief Adderley.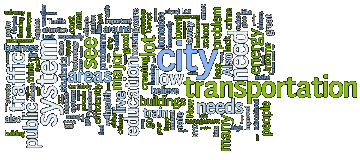 In a media interview, Lingerfelt offered insight into a larger City agenda. Although initially cultivated to reduce crime, City officials plan to enhance other municipal services with the new tool. Ultimately, advanced analytics solutions will be fashioned for every City Department.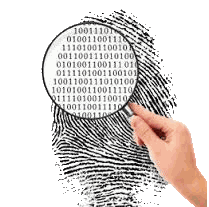 While predictive policing represents a paradigm shift in law enforcement, it's also raised dogmatic Constitutional and Judicial issues. Legal pundits express concerns about how these cases will play out in court. Police must have either "probable cause" to search or "reasonable suspicion" to seize a suspect. Given how the technology questionably assesses these Constitutional prerequisites, they will come under fire for having breached Fourth Amendment guarantees against unreasonable searches and seizures. Since the data is extracted by computer software that's pre-programmed with notions of what constitutes "suspicious behavior," constitutional watchdogs observe that without applying arm's-length legally defensible definitions for "normal" and "abnormal" behavior, these algorithms will instead clone the biases and prejudices of their programmers.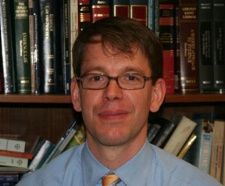 PROFESSOR ANDREW GUTHRIE FERGUSON

When police searches are based on inductive profiling performed by the algorithm, issues of transparency and accountability will inevitably arise in court. Andrew Guthrie Ferguson, a law professor at the University of the District of Columbia, argues "Because predictive policing does not provide personal knowledge about an ongoing crime, or particularized identification of the suspect involved, it cannot support the weight of reasonable suspicion." Ferguson also questions how data-driven hunches doctrinally differ from personal hunches traditionally deemed insufficient to justify reasonable suspicion.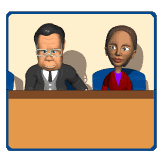 Jurists fear that an inherent inability to demonstrate reasonable suspicion or justify probable cause may provide a unilateral loophole for defendants; and new trials due to "reversible error" for those convicted. Ferguson asks, "How do you cross-examine a computer?" In short, what good is catching all these bad guys if they can systematically bounce back to the street through a Constitutional rabbit hole in the courthouse?

IBM crime analytics honcho Mark Cleverly disagrees, exclaiming that the technology enhances accountability. Dismissing concerns about the program being inadvertently or surreptitiously corrupted with prejudicial behavioral data, Cleverly responds "You can pinpoint the record of who has access to information, you have a solid history of what's going on, so if someone is using the system for ill, you have an audit trail." Unfortunately, not many local police departments maintain a battery of tech-savvy whiz kids able to forensically diagnose the bytes of computer code used to nail each "perp". They would need a hired gun – with skills seldom featured on Angie's List.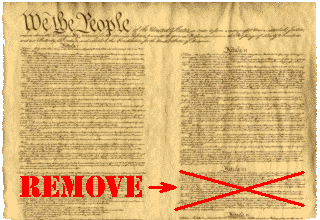 Until Lawmakers can bridge the legal abyss between predictive policing and 4th Amendment protections, prosecutors and defense attorneys will need a battery of statisticians, program administrators and applied mathematicians on speed dial (think of Johnnie Cochran pulling genome attorneys Barry Scheck and Peter Neufeld out of his hat to explain DNA evidence to the O.J. Jury). Depending on who is purchasing their testimony, these qualified experts will explain to a Judge how algorithmic predictions translate into reliable actionable police intelligence or prejudicially criminalize residents for living and/or working in a neighborhood mathematically stigmatized as a hot spot.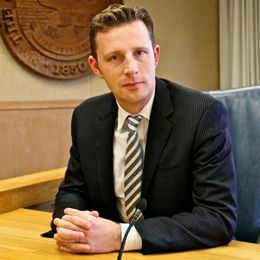 SANTA CRUZ CRIME ANALYST ZACH FRIEND

Another fly in the ointment is the model's general acceptance by skeptical line officers, especially veterans who aren't conversant with the technology. In his report to the FBI, Santa Cruz crime analyst Zach Friend observes, "As with any new program, questions and concerns arise. People resist change. The Santa Cruz Police Department worked with officers to develop maps and solicit feedback before implementation of the program. The department emphasized that the program does not replace officer intuition but supplements it." Friend adds that by normalizing information among shifts, it eliminates concerns about adequate information sharing, commenting "Officers obtaining the daily hot spot maps receive any information they missed due to vacation, illness, or regular days off." As officers witness how the program repeatedly places them "in the right time and place to prevent crime," although they may not understand the math, they grow increasingly comfortable with embracing this new tool.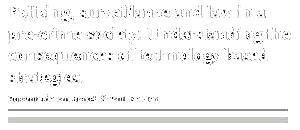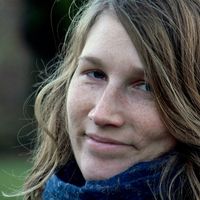 LEGAL RESEARCHER
ROSAMUNDE VAN BRAKEL

Ordinary citizens who benefit from a reduced crime rate face a different type of dilemma. In a European analysis of predictive policing entitled "Policing, surveillance and law in a pre-crime society: Understanding the Consequences of technology based strategies", University of Brussels law professor Paul De Hert and legal researcher Rosamunde Van Brakel fear that the logical extension of predictive policing – a comprehensive database containing the predisposition to criminality of every citizen – when combined with modern surveillance technology "undermines the presumption of innocence." While testifying before the U.K.'s House of Lords Selected Committee on the Constitution, acclaimed criminology professor Clive Norris admonished "If we are gathering data on people all the time on the basis that they may do something wrong, this is promoting a view that as citizens we cannot be trusted."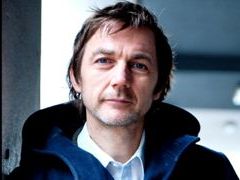 PAUL DE HERT - UNIVERSITY OF BRUSSELS
LAW PROFESSOR - INTERNATIONAL RIGHTS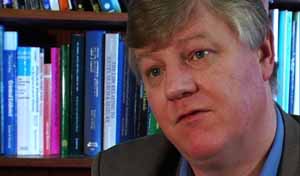 CRIMINOLOGY PROFESSOR CLIVE NORRIS

As the technology evolves, and police departments are tempted to skirt the fuzzy line that separates pro-active deterrence from pre-emption, citizens will have to decide the extent to which they are willing to sacrifice Constitutional and basic human rights protections to realize the benefits of short-circuiting crime. Absent a legal basis for pre-emption, the first Constitutional casualty must be the presumption of innocence. As the behavioral database expands, and biometric advances sharpen our surveillance shadows, other protections could follow.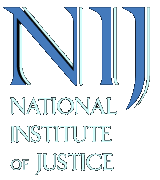 To find an acceptable balance between the substantial benefits of predictive policing and its potential pitfalls, Ferguson, DeHert and other rights watchdogs suggest an open public debate with the objective of standardizing transparency and accountability oversight. Seeking to address Constitutional issues and unauthorized information-sharing with corporations or other agencies, the National Institute of Justice (NIJ) insists that a regulatory policy must also "distinguish intelligence from information, which determines what is and is not protected under privacy laws."
Although supported by the tech industry, lawmakers and the law enforcement community, not everyone favors a public forum for vetting regulatory solutions. Certain government agencies wouldn't have a problem with dropping a new codicil into the Patriot Act – perhaps to celebrate Thanksgiving.

Click To Top of Page
<
---
Broward Commissioner Chip LaMarca
District 4 Doings; Feds Block Beach Fix; Get Out the Vote

NOAA Fisheries holds Beach Renourishment Hostage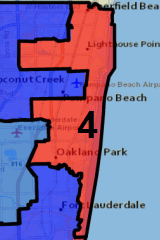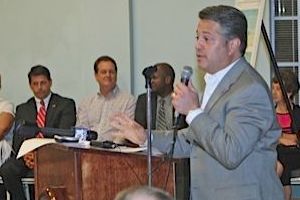 BROWARD COMM. LAMARCA AT BEACH RESCUE MEETING
March 16, 2014 -

In his March 2014 Newsletter, District 4 Broward Commissioner Chip LaMarca opens with a quick tour through a series of March municipal events in Pompano, Lighthouse Point (his hometown) and Deerfield Beach. The Commissioner closes with a plea to get out the vote. Bookended by these District 4 housekeeping pleasantries is an emergency call for constituent help with the long-delayed Segment II beach renourishment.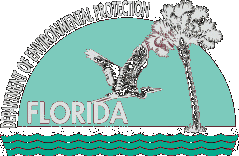 The Broward Beach Renourishment project demands regulatory-mandated approvals from myriad Federal, State and local agencies. Since late last year, LaMarca and Broward Beach Administrator Eric Myers have been slugging their way through those regulatory minefields that still blocked the Segment II Beach Renourishment. In Tallahassee, the Florida Department of Environmental Protection (FDEP) had laced a draft permit agreement with language that would force Broward taxpayers to assume fiscal responsibility for mitigating adverse marine impacts unrelated to the renourishment effort. By blending acrimony with diplomacy, Myers and LaMarca finally snagged State approval without giving away the store.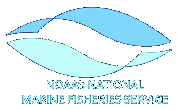 By the end of January, one obstacle remained. Despite having diligently submitted mountains of mandated documentation while timely responding to endlessly redundant agency inquiries, the project slammed to a halt. Among the oceans of regulatory minutia required to complete the Federal permit is a boilerplate biological opinion by the National Oceanic and Atmospheric Administration Marine Fisheries (NOAA Fisheries). When repeated phone calls, emails and official correspondences went unanswered, Myers and LaMarca learned that the documentation sent to NOAA Fisheries (AKA - National Marine Fisheries Service) - a line office in the Department of Commerce - was sitting UNOPENED on a bureaucrat's desk. A Commerce Department spinmeister explained that the delay resulted from a shortage of Federal resources!!!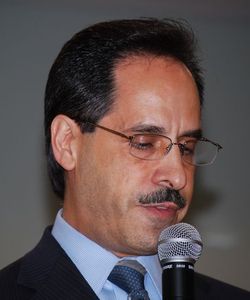 GMCA PRESIDENT
PIO IERACI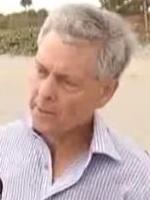 BROWARD BEACH
BOSS ERIC MYERS

Following discussions with incredulous project stakeholders in Pompano, Lauderdale-by-the-Sea and Fort Lauderdale (including the Galt Mile Community Association), on January 28, 2014, an enraged LaMarca sent an email to GMCA President Pio Ieraci that detailed the problem and suggested a resolution. Since the Federal obstacle is unresponsive to County political efforts, neighborhood residents should instead engage our Congressional representatives, who are better equipped to awaken narcoleptic Commerce Department bureaucrats, request the long-delayed biological opinion and kick-start the Beach Project.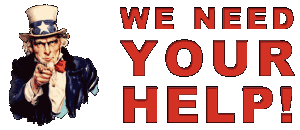 In February, notices were sent to Galt Mile member associations for distribution to unit owners. The notices described the dilemma, listed our Congressional officeholders and requested help with conveying the critical need to shake loose the Federal malaise that holds the project hostage. Contact information was included and also posted on the Galt Mile website. Within weeks, scores of letters, phone calls, faxes and emails flooded the local and Washington D.C. offices of Congresswoman Lois Frankel (who represents Galt Mile residents on "The Hill"), Senator Bill Nelson and Senator Marco Rubio. Whatever else may have been included in those correspondences, their central message was a simple request, "Please urge the Secretary of Commerce to ensure that the biological opinion of the Segment II Beach Project is completed as soon as possible."
COMMERCE SECRETARY PENNY SUE PRITZKER

Congresswoman Frankel and Senators Nelson and Rubio have all since expressed an intention to help circumvent the Federal roadblock and salvage Broward's shrinking beaches. Will they? Not if they believe that we will resume our siesta and quietly nod off. If the correspondences abate, so will their incentive to ask Secretary of Commerce Penny Sue Pritzker (of the Hyatt Hotel "Pritzkers") for her cooperation. SO - if you want the beach fixed, contact Frankel, Nelson and Rubio and ask them to "Please urge the Secretary of Commerce to ensure that the biological opinion of the Segment II Beach Project is completed as soon as possible." Their contact info is below! Of course, you can always directly urge the Secretary of Commerce to help our community. Call her at 202-482-2112; write her at Penny Pritzker, U.S. Department of Commerce, 1401 Constitution Ave, NW, Washington, D.C. 20230; or send her an email at

[email protected]
Senator Bill Nelson [D]
716 Hart Senate Office Building
Washington, D.C. 20510
Phone: 202-224-5274,
FAX: 202-228-2183
WEBSITE

BROWARD OFFICE:
3416 S. University Drive
Fort Lauderdale, FL 33328
Phone: 954-693-4851
Fax: 954-693-4862
EMAIL PAGE




Senator Marco Rubio [R]
317 Hart Senate Office Building
Washington D.C., 20510
Phone: 202-224-3041
Fax: 202-228-5171
WEBSITE

MIAMI OFFICE:
8669 N.W. 36 Street,
Suite 110
Doral, FL 33166
Phone: 305-418-8553
EMAIL PAGE

Cong. Lois Frankel [D]
District 22
1037 Longworth HOB
Washington, DC 20515
Phone: 202-225-9890
WEBSITE

DISTRICT OFFICE:
2500 N. Military Trail
Suite 490
Boca Raton, FL 33431
Phone: 561-998-9045
EMAIL PAGE
LaMarca rounds out his March message with a reminder that certain District 4 voters should set aside time on March 11 to select their municipal leaders. If you live in Hillsboro Beach, Lauderdale-by-the-Sea, Lighthouse Point, Sea Ranch Lakes or West Park; you should get ready to cast a ballot for your favorite City officials! Lauderdale Lakes residents must answer a ballot question. If you live on the Galt Mile, fire up your email program, get a pen or pick up the phone.

After reading Commissioner LaMarca's message below, please ask our Federal representatives to help quash this last obstacle to restoring the beach. Adding your voice to those of your neighbors will help frame the extent of our resolve - despite the frustrating decades of insupportable delays. For LaMarca's March 2014 message, read on... – [editor]

March 2014 Update


By Commissioner Chip LaMarca
Last Month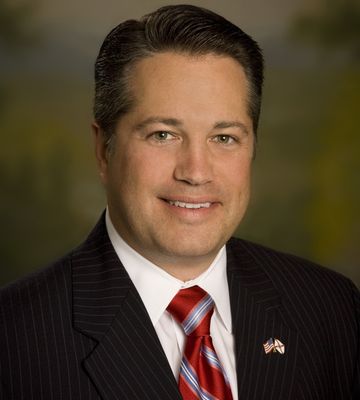 BROWARD COMMISSIONER
CHIP LAMARCA

February was a very eventful month in District 4. From Pompano's Unity in the Community, Lighthouse Point's Keeper Days, Deerfield Beach's Founders Weekend, to the many celebrations for Black History Month, it was a great month to be out and about in our community. While it was great to see so much civic involvement, an issue that continues to be the forefront of my agenda has been the renourishment of our beautiful beaches.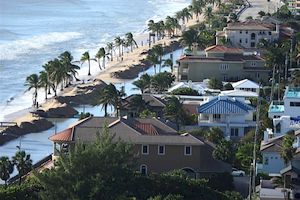 HURRICANE DAMAGE TO FORT LAUDERDALE BEACH
(Photo by Art Seitz - The Magic Eye)

Our economy relies heavily on the strength of our beaches and critical time passes each day that we do not have the necessary federal permits in hand. The good news is that we have all of our necessary permits and approvals from the State of Florida. Last year we received nearly TEN BILLION DOLLARS in our local economy from the 13 million visitors who came to Broward for our beautiful beaches. As it currently stands, we are awaiting the biological opinion from the National Oceanic and Atmospheric Administration Marine Fisheries (NOAA Fisheries). I traveled to Washington, D.C. earlier this month to advocate for our beaches and returned with renewed hope that they understand the critical nature of our project and are motivated to issue our permit. Persistence is key to our success and I will not stop until I see the trucks hauling sand to our beach. We now need your help by contacting all of our federal elected officials in Washington, DC. Please contact each of their offices and respectfully urge our representatives to do the following:

"Please urge the Secretary of Commerce to ensure that the biological opinion of the Segment II Beach Project is completed as soon as possible."

You can find your federal representative by visiting house.gov and clicking on Find Your Representative

Coming This Month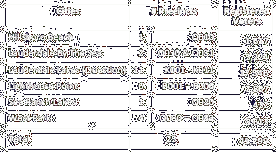 March is Election month for many of Broward's municipalities. It is often said that the government closest to the people governs most effectively. For most Broward residents, your local government is comprised of your city and county elected officials that provide the majority of your essential services. This Tuesday is Election Day in many of Broward's municipalities. As a former city commissioner, I know all too well that voter turnout is the key to a successful election. Make your voice heard this Tuesday. Get out and vote for the best candidate to represent you and your family. Do you want to be heard? Will you vote?
If there is anything that we can do to assist you with your vision for a better Broward, please do not hesitate to contact our office at 954.357.7004 or by email at [email protected]. You can also stay up to date by viewing our website www.broward.org/district4, where you can sign up to receive email updates from our office.
As always, it is my honor to serve you.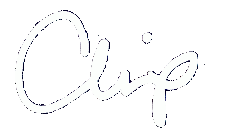 Chip LaMarca
Broward County Commssioner
District 4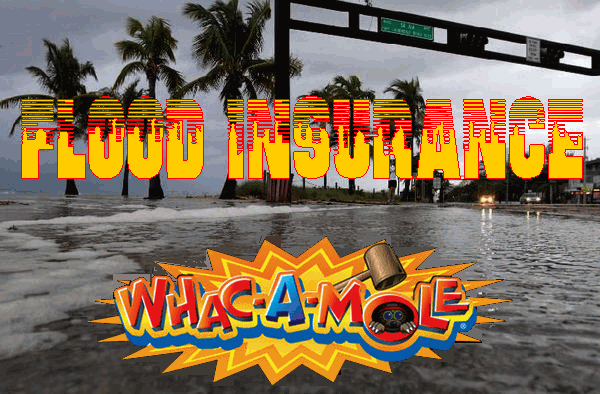 Congress Uncorks a Migraine!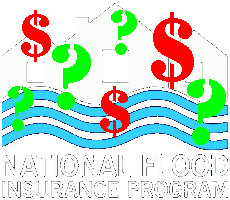 March 25, 2014 - When recovery efforts following Hurricane Katrina and Superstorm Sandy saddled the National Flood Insurance Program (NFIP) with a $24 billion debt, the U.S. House and Senate scrambled to pass The Biggert-Waters Flood Insurance Reform Act of 2012 (BW-12). On July 6, 2012 President Obama signed into law the Surface Transportation Bill (H.R. 4348), which housed Biggert-Waters (Division F, Title II Flood Insurance). The law extended the NFIP for five years (through September 30, 2017), allowed multifamily properties to purchase NFIP policies, imposed minimum deductibles for flood claims, boosted the cap on premium increases from 10% to 20%, required the NFIP administrator to draft a plan for repaying Katrina debt, and established a technical mapping advisory council to review map modernization issues. Least laudably, it eliminated subsidies for homes built before flood maps existed and for homes subjected to higher premiums when a map revision elevated their flood risk.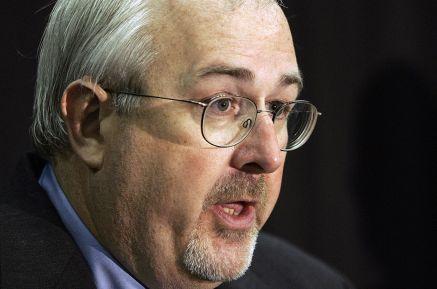 FEMA DIRECTOR CRAIG FUGATE

To avoid destabilizing thousands of "at risk" communities across the country, these changes were to occur gradually over a five year period. Ironically, although FEMA was also instructed to do a study on the affordability of this process, since the study was insufficiently funded, agency boss Craig Fugate claimed that his minions couldn't afford to perform the affordability study, which was placed on an agency "to do" list and consigned to a bureaucratic black hole. As flood rate apoplexy began raging through Capitol Hill late last year, a political survival instinct prompted Fugate to assert that the study would be unveiled in about two more years.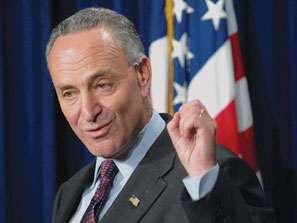 SENATOR CHUCK SCHUMER

Since lawmakers relied on faulty FEMA "affordability" projections as Biggert-Waters waltzed through Congress, it invited the disastrous "unintended consequences" that prompted Senator Chuck Schumer (D-NY) to characterize the law as an "irrational Washington force". Since the law removes premium subsidies when a primary residence is sold, new home buyers were stupefied upon learning that their premium costs would increase by two to ten times, as others frantically maneuvered to back out of new home purchases. By making flood insurance unaffordable to middle-income homeowners, the law threatened to tank Florida's recovering Housing Market. Nationwide, a dozen other tenuous State economies were similarly peering into this insurance abyss.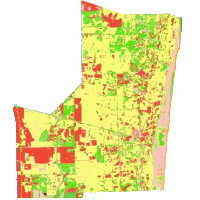 On October 1, 2013, Biggert-Waters began phasing out premium subsidies for homes built before federal flood maps were first drafted. In 2014, FEMA would begin phasing out subsidies for "Grandfathered" homes that were built to code but later reclassified for higher risk when flood maps were subsequently redrawn. Two million of the nation's 5.5 million NFIP policyholders live in the Sunshine State. Of these, 269,000 rate-subsidized properties are in Florida. Despite its 37% "lion's share" of the NFIP market, Florida is a net loser in the program. Of the roughly $50 billion doled out since the program's inception, a meager $3.7 billion was paid to Floridians.
Reducing Rate Carnage

Although aware that agency actions were wreaking havoc in 20,000 flood-prone communities throughout the U.S. – both oceanfront and inland (there are 41,000 FEMA flood policies in Ohio) – since Biggert-Waters neutered FEMA's administrative capacity to stop or slow the rate carnage, FEMA Director Craig Fugate helplessly conceded that only a legislative fix could stop the bleeding. Unless Congress acted quickly to reverse the damage, battalions of Florida homeowners facing $2000 to $10,000 annual premium increases would either be forced to leave their homes or forgo purchasing the insurance, which would explode individual and national risk.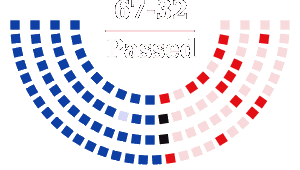 On October 29, 2013, after less than a month of rate bloodletting, Senators Robert Menendez (D-NJ) and Johnny Isakson (R-GA), and Representatives Michael Grimm (R-NY) and Maxine Waters (D-CA), introduced the "Homeowner Flood Insurance Affordability Act" in the House (H.R 3370) and Senate (S. 1610). As shell-shocked homeowners began receiving up to 1000% rate increases in hundreds of communities across the country, on January 14, 2014, Menendez, Isakson and 27 other Senators filed "A bill to delay the implementation of certain provisions of the Biggert-Waters Flood Insurance Reform Act of 2012" (S. 1926), an emergency palliative prescribed to postpone the rate pain. On January 30, the Senate passed S. 1926 (with favorable votes from Florida Senators Nelson and Rubio), which would impose a 4-year delay on the catastrophic Biggert-Waters impacts for a primary home built before the first flood maps were created – and cap annual premium increases at 20%. Following its passage by a 67-32 vote, the Congressional Budget Office (CBO) warned that postponing the rate blitz would breed NFIP premium losses of $900 million over five years or more than $2 billion over ten years.
The House Formula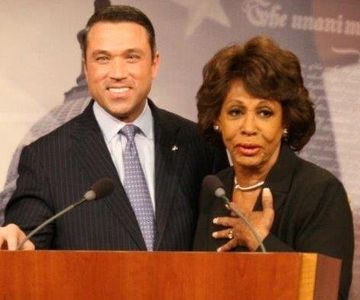 REPRESENTATIVES MICHAEL GRIMM AND MAXINE WATERS

Fearful about nearing the agency's $30.4 billion borrowing cap, House lawmakers sought a more permanent legislative solution that wouldn't deepen FEMA's deficit. On March 4th, the House passed H.R. 3370, the Homeowner Flood Insurance Affordability Act. Sponsored by Reps. Michael Grimm and Maxine Waters (AKA the Grimm-Waters bill), the bill would eliminate the loss of rate subsidies triggered by the sale of a primary home, provide retroactive refunds to property owners who were already burned by the crushing increases, allow owners of properties built before a community adopted its first Flood Insurance Rate Map (FIRM) to voluntarily purchase a new policy under pre-FIRM conditions instead of at the full-risk rate mandated by Biggert-Waters, and continue rate subsidies that were about to sunset for "grandfathered" properties built to code after a community adopted its first Flood Insurance Rate Map (FIRM).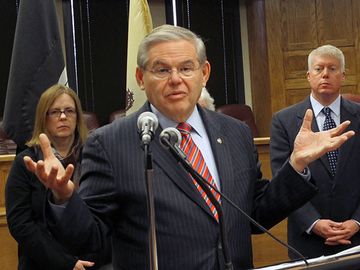 BILL CO-SPONSOR SENATOR ROBERT MENENDEZ

While insulating "grandfathered" primary & secondary homes and "grandfathered" commercial properties, the House Bill (Grimm-Waters bill) was less protective of older properties built before the adoption of Flood Insurance Rate Maps, which could still face significant rate increases. However, while mandating that FEMA raise rates on subsidized properties by a minimum of 5%, the bill also restrains FEMA to rate increases of 5 to 15 percent - on average - with a hard cap of 18% - 2 points lower than the Senate bill. The annual increases could continue until rates were deemed actuarially sound. By combining the more manageable increases with an annual reserve fund assessment of $25 for primary residences and $250 for secondary residences and businesses covered under NFIP, the House bill also mitigates the lost revenues threatened in the Senate bill.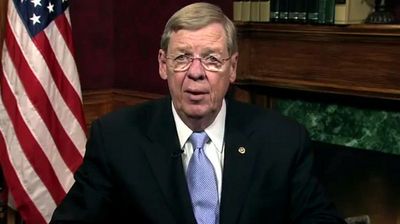 BILL CO-SPONSOR SENATOR JOHNNY ISAKSON

The bill obliges FEMA to meet certain transparency and consumer outreach requirements. Although the bill directs FEMA to "strive to minimize the number of policies with annual premiums that exceed one percent of the total coverage," this is only a politically correct "feel good" provision that pays lip service to affordability, not a mandate. It does require that FEMA notify communities and members of Congress of any remapping plans as well as models used in the mapping process. In addition to certifying that its mapping process is technologically advanced, FEMA must also justify to communities that the mapping model used to create their new flood maps is appropriate and send them all data used in the mapping process.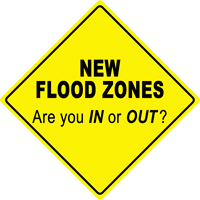 The bill allows FEMA to utilize the National Flood Insurance Fund to reimburse policyholders and communities that successfully appeal a map determination. Although Congress previously authorized FEMA to reimburse successful appeals of map findings, since it never appropriated funding for this purpose, communities victimized by mapping screw-ups were screwed again upon learning that their reimbursement was "theoretical". Since they will now stand to lose hard cash, this provision was devised to incentivize FEMA against costly mapping miscues going forward.
FEMA is required to establish guidelines on alternative mitigation methods for urban structures where tradition mitigation efforts – such as elevation – are impractical (i.e. row houses in Hoboken – or along the Galt Mile). These alternative forms of mitigation shall be taken into account in the calculation of risk premium rates. When FEMA anticipates a rate increase for small businesses, non-profit entities, houses of worship, and residences with a value equal to less than 25% of the area median home value, it must report the impact on affordability to Congress and provide relevant recommendations within 3 months.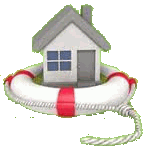 The legislation creates a Flood Insurance Advocate within FEMA to answer current and prospective policyholder questions about the flood mapping process, flood insurance rates, individual policyholder flood risks and available policy options. The advocate will also assist property owners through the map appeals process, and coordinate outreach with local officials, community leaders, and Congress. Even when a policyholder's premium rates are less than full risk, FEMA must still clearly disclose their full flood risk determinations to inform policyholders about their true exposure to flood risk (a heads up signifying that their insurance headaches are likely to worsen). Finally, six months before it implements any of the rate increases authorized in the bill, FEMA must make publicly available the rate tables and underwriting guidelines that provide the basis for those increases.
Legislative Land Mines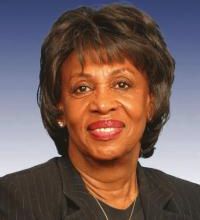 CONGRESSWOMAN MAXINE WATERS

A rare bipartisan effort to line up overwhelming support for the fiscally balanced House measure served to expedite the legislation. Since the bill was approved in the House by a vote of 306 - 91, this 77% plurality (which included the entire Florida delegation) exceeded the two-thirds majority needed to trigger a "suspension of the rules" and wholly bypass the Committee process, where the bill might have fallen hostage to political gridlock. Admitting that her 2014 bill would help reverse the negative effects of the Biggert-Waters Act she helped draft in 2012, Rep. Waters admonished "If enacted into law, this legislation will provide homeowners living in flood-prone regions with clarity and certainty that the cost of their insurance will not force anyone from their homes, lead to depressed home prices, or undercut their ability to buy or sell a home. I urge passage of this legislation by the House and Senate without delay." Despite the euphoric shock of temporarily turning Congress into a well functioning bipartisan, bicameral hot tub, fixing the broken law was no cakewalk.

The bill was opposed by Tea Party conservatives with an ideological aversion to Government-operated businesses (like FEMA's NFIP). It was also blasted by Taxpayer watchdogs, who consider any moderation of the painful subsidies as an invitation to insolvency; and a subsequent taxpayer bailout. They were joined by radical environmentalists, who anticipated that Biggert-Waters would help restore coastal ecosystems by financially decimating lakefront, riverfront and oceanfront communities that "destabilize" the marine environment (In Florida, some bill opponents endorsed an evacuation of the Barrier Islands). These strange bedfellows, who called themselves the "SmarterSafer Coalition", spent six months sniping at bill sponsors and nipping at the heels of the Florida delegation, which staunchly supported the relief bills.
Obama Signs Senate-Approved House Bill
SENATOR BILL NELSON

Aware of the daily devastation that Biggert-Waters was wreaking on Florida's housing market, Senator Bill Nelson (D-FL) remarked "Although it doesn't go as far as the bill we passed in the Senate, it's good the House has approved some curbs on flood insurance. For the sake of policyholders facing massive rate hikes, I hope we can get a final version sent to the president quickly." Many other Senators voiced their willingness to back a Senate mirror of the House bill, including Senator Mary Landrieu (D-LA) and Senator David Vitter (R-LA). Since Biggert-Waters also threatens 481,000 flood-prone Louisiana homeowners, it evolved into a heated campaign issue in the 2014 Senate race between Landrieu and Republican challenger Bill Cassidy, which could determine control of the Senate. "This subject is complicated," said Landrieu, "It is difficult and there are strong feelings on all sides - so this was not an easy negotiation."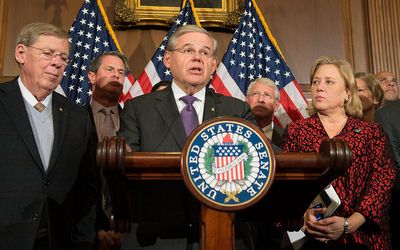 SENATORS JOHNNY ISAKSON, ROBERT MENENDEZ AND MARY LANDRIEU

Senator Robert Menendez, who sponsored the earlier Senate version, also endorsed the House bill. Referring to the final bill as "The Menendez/Grimm Homeowner Flood Insurance Affordability Act of 2014," Menendez commented "As a result of improvements made during bipartisan negotiations, I'm very pleased that the bill being put forth in the House will end the most egregious problems with the flood insurance program and bring some real relief to thousands of homeowners who desperately need our help. I'm encouraged by this progress and hope we can bring the bill over the finish line very, very soon."
PRESIDENT OBAMA SIGNS FLOOD INSURANCE BILL

Menendez got his wish as the crazy quilt Coalition failed to derail the bill. On March 13th, the relief legislation was passed in the Senate. As happened in the House, the 72-22 favorable Senate vote exceeded the plurality required to exempt the legislation from a prolonged Committee process. Since the Senate passed the same bill approved by the House a week earlier, there was no need for a Joint Committee to slice up a bicameral final product, shooting the bill directly to the White House, where President Obama signed the bill into law on March 21, 2014. Broward Homeowners can breathe easier.

Although some associations benefit from "Grandfathered" rates; others do not. For local single family homeowners, and those associations that inadvertently allowed flood policies to lapse (or otherwise cremated their eligibility), this is good news. While rates will continue to head north, the increases will be far less dramatic and more manageable. In short, we dodged a bullet.

Stay Tuned! More to Come...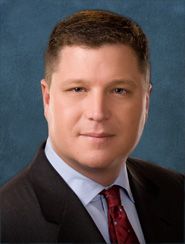 FLORIDA SENATOR
JEFF BRANDES

Having blundered through a 3 part morality play about an insurance monster that turned on its creator, the U.S. Congress temporarily brought this gut-wrenching Gothic tale of botched agency oversight and unrequited affordability in for a soft landing. As the Feds were mopping up the Capitol Hill set in preparation for an anticlimactic White House endgame, lawmakers in Tallahassee decided to capitalize on the priceless media exposure by cloning the plotline, replacing the players and scripting a hometown version of this unfinished Biggert-Waters disaster classic.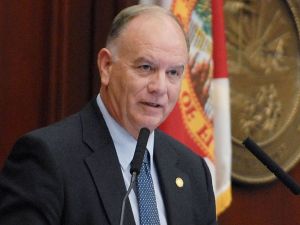 REPRESENTATIVE ED HOOPER

The trailer opens in Tallahassee with Florida Senator Jeff Brandes (R - St. Petersburg) pre-filing Senate Bill 542 (SB 542), entitled "Flood Insurance", on December 17, 2013 – 2 months after FEMA began exporting a new brand of homeowner heart failure to flood plain policyholders. Along with Representatives Larry Ahern (R - Seminole) and Ed Hooper (R - Clearwater), who filed potential companion bills in the Statehouse, Brandes expects to create a "robust, competitive, private market alternative to NFIP."

If successful, Brandes will win adulation and celebrity in Florida as his bill achieves template status in state legislatures across the country. If not, he will join an exhaustive list of Florida lawmakers whose post-career biopic is footnoted with failed insurance rescue bills – most of which gratefully died on the calendar. While dwarfed in size and scope by the pulse quickening Federal misadventure, it's worth following – and it may work (article to follow in a week or two). Stay Tuned…

---


Commissioner

Bruce Roberts





NextDoor|| Quiet

Zones || Bus Link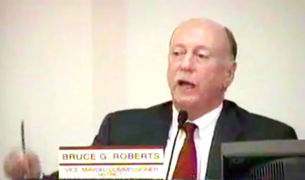 COMMISSIONER BRUCE ROBERTS
April 17, 2014 -

In his April 2014 Newsletter, District 1 City Commissioner Bruce Roberts refers to "Quiet Zones" that are under consideration by the Broward and West Palm Beach Metropolitan Planning Organizations (MPO) and the Florida Department of Transportation (FDOT). Although most South Florida residents enjoy a hand-waving knowledge about the All Aboard Florida (AAF) rail project, familiarity with Quiet Zones is largely limited to residents in communities exposed to a daily blast cacophony by locomotive horns.

All Aboard Florida (AAF) - a subsidiary of Florida East Coast Industries (FECI) - is a planned high-speed passenger-rail service connecting Miami and Orlando with stops in Fort Lauderdale and West Palm Beach. FEC envisions 110 mph trains whisking South Florida sun-worshipping tourists to Central Florida's fantasy Mecca while enabling visiting Mickey fans to conveniently dip their toes in world-renown South Florida Beach sand. In addition to the significant new stream of tourism revenue, the State and regional economies will benefit from major infrastructure improvements along the route and myriad new construction jobs. The jump in rail traffic will also relieve overcrowding along chronically gridlocked I-95.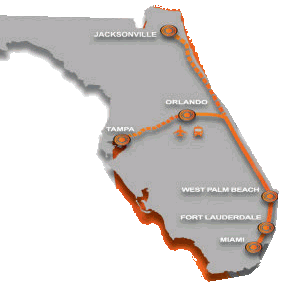 AAF will double the existing tracks between Miami and Cocoa before veering west and laying new tracks along the BeachLine Expressway to Orlando International Airport, where a proposed Intermodal Transit Facility will serve as one of the project's terminal hubs. In February, Governor Rick Scott committed $213.5 million in state funds toward construction of a people-mover complex integrating Orlando International Airport with the planned Intermodal Transit Facility at the airport. As corporate heir to Henry Flagler's storied FEC rail corridor - a central player in the State's developmental history - FEC Industries will underwrite the $1.5 billion rail project, although taxpayers could take a hit for ancillary improvements.

A daunting drawback dogs the project. People who live or work in neighborhoods where local streets intersect the tracks fear a relentless auditory assault by brain-numbing train horns. In 2011, the Federal Railroad Administration (FRA) implemented a requirement that locomotive horns issue 15 - 20 second blasts as a warning to drivers at public highway-rail crossings. Currently, about 14 freight trains make daily trips along the route. All Aboard Florida is planning to schedule an additional 32 passenger trains between the hours of 6 a.m. and 9 p.m., 16 northbound and 16 southbound, threatening nearby communities with roughly 50 daily blasts. While the project also prompts concerns about traffic delays at railroad crossings, this issue pales compared to devastating toll that noise pollution would take on many communities.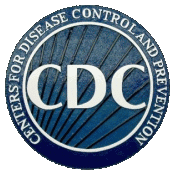 This FRA Train Horn Rule (49 CFR Part 222) mandates a blast volume between 96 dB (decibels) and 110 dB. Those "Nervous Nellies" at the Centers for Disease Control (CDC) consider sound levels above 85 dB hazardous. While a 9 second blast at 120 dB can turn your ears into cauliflower, repeated exposure to slightly lower volumes can cause Noise Induced Hearing Loss (NIHL). Just ask residents in the Davie neighborhood bordering the South Runway at Fort Lauderdale/Hollywood International Airport.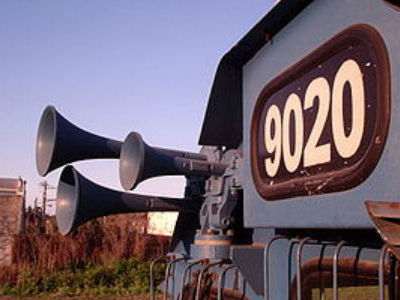 LOCOMOTIVE HORNS

Fortunately, Federal Law also provides for the designation of "Quiet Zones", sections of rail line, at least a half-mile in length, that include one or more public rail crossings at which approaching locomotives are not required to sound their horns - subject to the Locomotive Engineer's discretion. To offset the increased risk of omitting the warning blast, federally approved Quiet Zones require supplemental safety measures by local jurisdictions.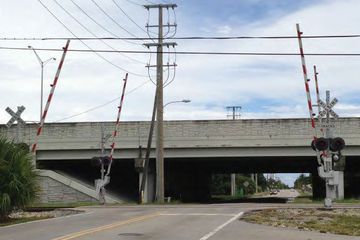 4 QUADRANT GATE SYSTEM

Ordinarily, railroad crossings have a set of two gate arms, each of which blocks traffic on one side of the tracks. When a train approaches, the arms swing down across their respective oncoming traffic lanes. Unfortunately, it doesn't prevent self-medicating motorists from playing "Chicken" by jumping into the adjacent unblocked lane to skirt the lowered gate and beat the train. To secure a "Quiet Zone" designation, a city or county must make the crossing idiot-proof via one of 5 optional FRA-approved methodologies.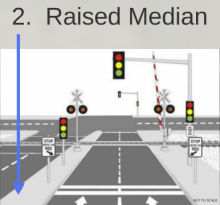 They can create a 4-gate quadrant system by adding two more gates, thereby blocking all lanes in either direction on both sides of the track.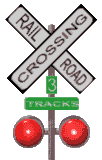 A consulting traffic engineer might alternatively recommend installing raised concrete mediums to block lane-jumpers. To save the cost of additional equipment, a more drastic accommodation would alter crossing sites into one-way venues, with both standard gates placed on the same side of the track to block all lanes of oncoming traffic. Finally, intersecting thoroughfares can be temporarily or permanently closed, obviating the need for a nerve-frying warning blast every ten to fifteen minutes. Depending on the number of crossings and the types of safety features, the Federal Rail Administration has estimated that site enhancement costs for a city or county would minimally average $30,000 apiece. State lawmakers and local public officials have asserted fleshing out Quiet Zones "from scratch" can cost local governments $150,000 to $250,000 per rail crossing.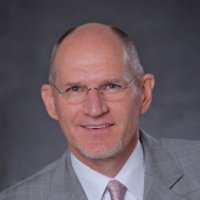 ALL ABOARD FLORIDA
PRESIDENT MICHAEL REININGER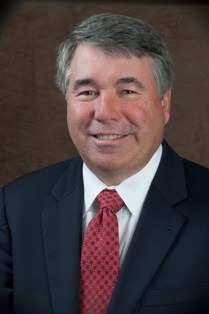 FEC VICE PRESIDENT
ROBERT LEDOUX

Here's the rub. Although Florida East Coast Industries has agreed to pay for the standard safety upgrades at public crossings, including a single set of gates w/lights, constant warning time and power-out indicators, it won't pay for consulting studies or quiet-zone enhancements. After drawing a line in the sand with the official announcement, "Our significant investment allows the local governments to focus on seeking the funds for any additional infrastructure improvements needed to improve the grade crossings to the level of quiet zones should they seek this designation," AAF President Mike Reininger agreed to help local governments land federal grants and make safety upgrades. According to FEC Vice President Bob Ledoux, the substantial technical improvements that FEC is making to the existing tracks may qualify certain crossings for a quiet-zone designation without further enhancement.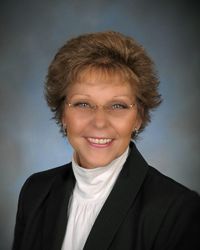 ST. LUCIE COUNTY COMM
CHAIR FRANNIE HUTCHINSON

While South Florida officials may consider these outlays modest in comparison to the anticipated regional tourism benefits from planned AAF hubs in Miami, Fort Lauderdale and West Palm Beach, Treasure Coast jurisdictions between Palm Beach and Cocoa are spitting blood. St. Lucie County Commission Chairwoman Frannie Hutchinson explains "I don't think it's fair for St. Lucie County taxpayers to pay for this expense when there's no benefit for us. They don't have plans for a stop here at this time or in the future." The new AAF trains will pass through 27 crossings in Martin County, 26 in St. Lucie and 32 in Indian River, many of which are in heavily populated downtown areas or thriving tourist locales.
STATE RAIL OFFICE
MANAGER FRED WISE

Despite an absence of any formal State funding apparatus, in January Vero Beach took a page from St. Lucie Village and West Palm Beach (as well as Broward and Palm Beach Counties) and passed a resolution framing their intention to squeeze Tallahassee for a State grant. Fort Pierce, along with Indian River, Martin and St. Lucie Counties plan to follow suit. In February, Manager Fred Wise of the State Rail office confirmed that a similar application submitted by West Palm Beach in November was still under review.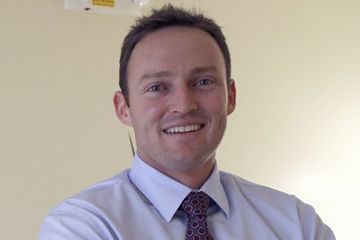 CONGRESSMAN PATRICK MURPHY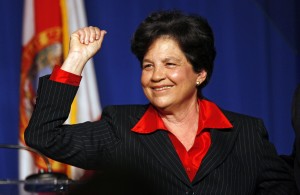 CONGRESSWOMAN LOIS FRANKEL

In April, U.S. Representatives Patrick Murphy (D – Jupiter) and Lois Frankel (D – West Palm Beach) turned up pressure on FEC to pay for the incremental improvements. On April 16, 2014, they co-authored a letter to U.S. Transportation Secretary Anthony Foxx, asking that he address these local concerns with AAF before approving their application for an inexpensive Federal loan.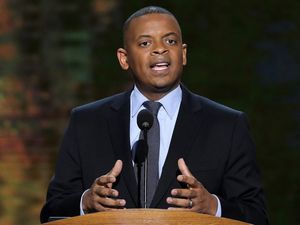 U.S. TRANSPORTATION
SECRETARY ANTHONY FOXX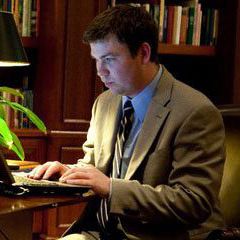 GUBERNATORIAL DEPUTY PRESS
SECRETARY JOHN TUPPS

When gubernatorial deputy press secretary John Tupps announced "We need to make sure that all communities touched by the rail line are heard during the development of this project. We also need to ensure that there are protections in place for Florida's environment," Murphy asked Governor Scott to use $10 million budgeted by the Florida Senate to help pay for Quiet Zones. However, when State Senator Joe Negron (R – Stuart), the lead Senator on the Joint Legislative Budget Commission, learned that his Treasure Coast constituents wanted to scuttle the project, he said that he wouldn't support the appropriation during budget negotiations with the Statehouse.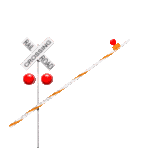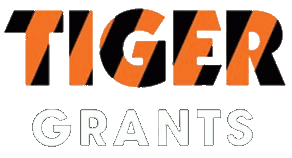 At the end of the day, public officials in every jurisdiction along the FEC corridor, notwithstanding whether or not they are project beneficiaries, will have to find sufficient revenues to equip crossings in flourishing neighborhoods with Quiet Zone status. Since AAF is not likely to spend more than the $1.5 billion already committed, and the State typically offers no grant opportunities for Quiet Zone improvements, to avoid force feeding the entire nut to local taxpayers, Commissioner Roberts points out that Broward and Palm Beach County MPOs are stalking a Federal TIGER grant (Transportation Investment Generating Economic Recovery) to defray costs. If they hit pay dirt, every impacted City and County will jockey for a seat on the bandwagon.
Grant terms mandate a 20% funding match by applicants and no more than $150 million of the 2014 $600 million TIGER grant pool can be monopolized by any State. It would substantially lower the taxpayer bite for modifying the 68 crossing sites in Broward and 114 in Palm Beach County. The local MPOs and the State FDOT have strapped on the afterburners in a feverish race to complete the regulatory documentation by the TIGER program's April 28th application deadline. For the rest of Roberts' April 2014 constituent message – Read on... – [editor]


From The Desk of


Commissioner Bruce G. Roberts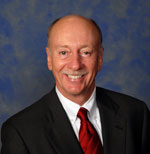 DISTRICT 1 COMMISSIONER
& V.M. BRUCE G. ROBERTS

NE 55TH STREET BRIDGE: At the 2/18/14 Regular Commission Meeting, the contract to repair this bridge repair was finally approved. Throughout the City ten bridges have been identified in urgent need of repair and the responsibility of the City. Two other bridges in District 1 are located in the Bermuda Riviera neighborhood. I will keep you updated on when this project will start, what the impact to the area will be and an estimated date of completion.

FLORIDA EAST COAST QUIET ZONES:: The Broward MPO will be holding a workshop in the next month to discuss quiet zones. City Staff, along with some elected officials from the jurisdiction along the FEC corridor, will be in attendance. The Broward MPO is currently working with the FDOT on quantifying the existing crossing conditions, the upgrades being proposed by the FEC Industries as part of the AAF project, and any additional upgrades/improvements necessary to be eligible for quiet zone designation. The Broward MPO and the West Palm MPO would like to pursue a joint future Federal Transportation Investment Generating Recovery (TIGER) grant application to assist with funding these crossing improvements along the corridor.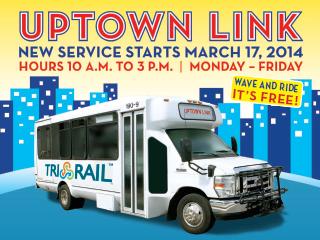 THE FREE UPTOWN LINK SHUTTLE BUS HAS ARRIVED!: The Uptown business neighborhood has been busy during the past year. Working with City staff, many businesses have organized to create an association now known as Envision Uptown. The primary goal is to recruit, retain and expand business in the commercial area around Executive Airport. One of the earliest issues identified was the need for public transportation within this economic hub. Consequently, City staff was able to obtain a three-year grant to address the issue. Tri-Rail's Uptown Link has now started service (Monday - Friday; 10 am to 3 pm) that offers easy access to and from local restaurants, businesses, hotels, schools and the Cypress Creek Tri-Rail Station. It is air-conditioned and wheelchair accessible, and has two routes serving the Cypress Creek Road area between Calvary Chapel and Radice Corporate Park. Just WAVE and RIDE – it's free! If you should have any questions, please call 954-828-8000, or visit the website at http://fortlauderdale.gov/transportation/moving.html for a schedule.

FORT LAUDERDALE LAUNCHES NEXTDOOR, A VIRTUAL NEIGHBORHOOD WATCH: The Fort Lauderdale Police Department and the City of Fort Lauderdale Neighborhood Support Office are proud to announce a partnership with Nextdoor (www.nextdoor.com), a free, private, social network for neighborhoods. This network will help facilitate virtual neighborhood watch programs to help improve neighbor-to-neighbor communications. Each neighborhood within the City has its own private Nextdoor neighborhood website, accessible only to residents of that neighborhood and police personnel. Residents can use their website to get to know their neighbors, ask questions and exchange local advice or recommendations. Nextdoor provides a central hub for neighbors to share information about recent incidents, safety issues, local events, school activities, upcoming garage sales, lost pets, and much more. Neighborhoods establish and self-manage their own Nextdoor website. Information shared on Nextdoor is only visible to verified members. Fort Lauderdale Police Department personnel will be able to post important information, such as crime updates to Nextdoor sites within the City. "In this day and age, it is vital for neighbors to unite, communicate and know their neighborhood. Nextdoor makes it easy for neighbors to establish virtual neighborhood watch and help our officers' combat crime," stated Chief Frank Adderley. Nextdoor was specifically designed to improve the lines of communication between neighbors in order to build stronger communities. All members must verify that they live within the neighborhood. Information shared on Nextdoor is password protected and cannot be accessed by the general public, nor can the information be found on Google or other search engines. The City of Fort Lauderdale has been mapped into eighty-six (86) different neighborhoods. Those interested in joining their neighborhood's Nextdoor website can visit www.nextdoor.com and enter their address. If Nextdoor is available in their area, they can immediately sign up. If a Nextdoor website has not yet been established for their area, active and engaged neighbors are invited and encouraged to introduce Nextdoor to their neighborhood. If you have questions about the Nextdoor website for your neighborhood you can contact Ryan Henderson at [email protected] or www.help.nextdoor.com.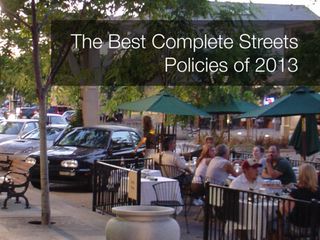 NATIONAL COMPLETE STREETS AWARD FOR CITY'S COMPLETE STREETS POLICY: I am pleased to announce that the City has been recognized as a national leader in making streets safer and more convenient for everyone who uses them by the National Complete Streets Coalition, a program of national non-profit Smart Growth America. The ranking of policies celebrates the communities that have done exceptional work in the past year, and identifies these policies as a model for communities across the country. Ft. Lauderdale's Complete Streets Policy (FLCSP) ranked 3rd nationwide in their review of the 83 policies adopted in 2013. The National Complete Streets Coalition (NCSC) conducts an annual assessment of all Complete Streets policies and ranks them according to 10 elements of an ideal Complete Streets policy. The recognition is for FLCSP passed by the City Commission on October 1, 2013, which encourages planners and engineers to design and build streets that are safe and convenient for everyone, regardless of age, ability, income or ethnicity, and no matter how they travel. The City has also developed a Complete Streets Manual that serves as an implementation guideline to the design elements that the City would like to see on each type of street within the City.

The NCSC reviewed all policies that were passed in the US in 2013 and scored each according to 10 elements of an ideal Complete Streets Policy; vision and intent; all users and modes; all projects and phases; clear, accountable exceptions; network; jurisdiction; design; context sensitivity; performance measures; and implementation. Ft. Lauderdale scored 89.6 points out of 100 in their ranking. Highest score was 94.4 (Littleton, MA). Our Transportation & Mobility Department (TMD) drafted the City's policy as part of the Broward Metropolitan Organization (MPO) Complete Streets initiative. The TMD has begun implementing the policy through the incorporation of Complete Streets Elements in existing projects being designed., e.g. along SR A1A, the Dixie Highway Complete Streets Project, and the NE 13th Street Complete Streets Project. The department has also held a Complete Streets Training for City staff, FDOT staff and Broward MPO staff. Nationwide, a total of 610 jurisdictions in 48 states have Complete Streets policies in place. See more information about the winning polices and evaluation criteria at http://www.smartgrowthamerica.org/complete-streets-2013-analysis.
GRAFFITI HOTLINE: I have had many calls regarding graffiti. If you notice any as you pass through our City, you can report it to the Graffiti Hotline at 954-828-6402.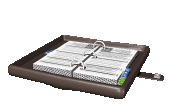 ROBBI
UPTEGROVE

Office Contact: Robbi Uptegrove – 954-828-5033; email:

[email protected]

. In addition to hosting the pre-agenda meetings twice a month, I am also available to attend your HOA meetings to update your neighborhood on what is going on in the City as well as answer any questions/concerns you may have. Please contact Robbi to schedule.
EMAIL LIST: If you would like to be on our email list so that you receive information pertaining to the City – especially District 1 (i.e. news releases, meeting notices, events), please let Robbi know and she will add you.


If you need to reach Commissioner Bruce Roberts, please contact his assistant Robbi Uptegrove at 954-828-5033 or by e-mail at [email protected]. To access the City Commission Meeting Agendas and Minutes, Click Here. To actually watch the meetings recorded and archived on the Commission Meetings Video Webcast and Archives web site, Click Here.

---
Broward Commissioner Chip LaMarca
Mayor's Summit; Early Voting; Beach Debt; Street Projects and...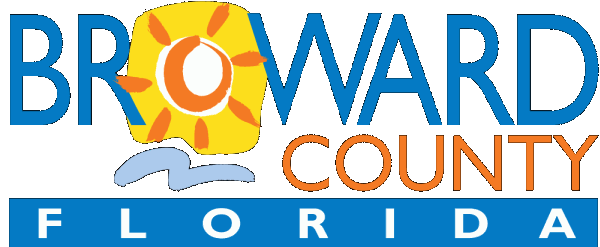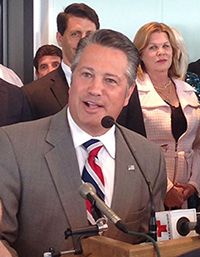 LAMARCA PLANS MAYORS SUMMIT
May 3, 2014 -

In his May 2014 Newsletter, District 4 Broward Commissioner Chip LaMarca lists agenda items from a District 4 Mayor's Summit, affirms that an early voting site convenient to the Galt Mile was finally approved, announces receipt of a long-awaited federal reimbursement for the Segment III beach renourishment, discusses in progress transportation projects and recalls Broward Navy Days events during Fleet Week. In this final item, LaMarca refers to the USS New York, a warship fitted with skeletal steel salvaged from "Ground Zero" and named after the State and City where an unfathomable catastrophe unfolded on September 11, 2001.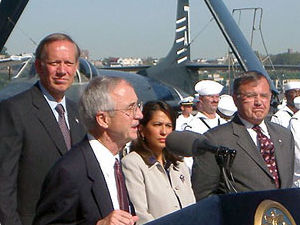 FORMER NY GOV. GEORGE PATAKI AND THEN SEC. OF
THE NAVY GORDON ENGLAND NAME USS NEW YORK

Less than a year after the insidious 9/11 attacks, in a September 7, 2002 ceremony aboard the USS Intrepid Sea-Air-Space Museum docked in New York City, former New York Governor George Pataki announced "On September 2001, our nation's enemies brought their fight to New York... The USS New York will now bring the fight to our nation's enemies well into the future."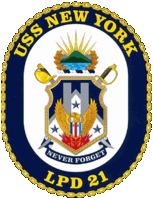 State names are ordinarily reserved for submarines. However, Governor Pataki wrote a letter to then Secretary of the Navy Gordon England, requesting that he break with tradition and name a surface ship after New York to commemorate the victims and heroes of 9/11. The request was granted on Aug. 28, 2002, nine days before the accommodation was announced at the ceremony on the Intrepid. Actually, this would be the sixth time that a ship was named for New York in U.S. Naval history (excluding the USS New York City, a 1979 nuclear powered attack submarine decommissioned in 1997).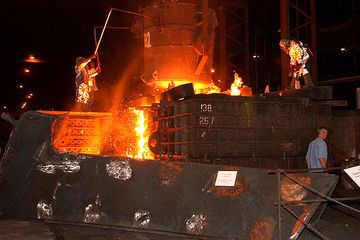 STEEL FROM WTC POURED INTO FORM FOR BOW STEM

Steel salvaged from the World Trade Center (WTC) wreckage and acquired by Governor Pataki was tested and approved by the Navy for use in constructing an amphibious transport dock ship of the San Antonio class,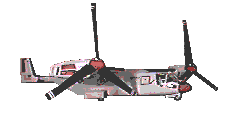 a new class of warship designed for missions that include anti-terror special operations. After being melted down at a foundry in Amite, Louisiana and sent to Northrop Grumman Ship Systems (NGSS) shipyard in Avondale, LA, 24 tons of scrap steel from the World Trade Center was incorporated into LPD-21, a 684-foot amphibious transport dock ship later christened the USS New York. It carries a crew of 360 sailors and can deliver 800 combat-ready Marines ashore by helicopters and assault craft (along with helicopters, the flight deck can handle the MV-22 Osprey tilt-rotor aircraft).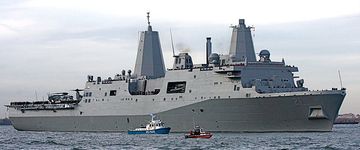 USS NEW YORK EN ROUTE TO FORT LAUDERDALE FLEET WEEK

Fifth in a series of new LPD-17 San Antonio class warships, others in the series named for places relevant to 9/11 include the USS Arlington, commemorating the site where another hijacked jetliner struck the Pentagon, and the USS Somerset, named for the Pennsylvania county where United Flight 93 crashed as its passengers battled hijackers, thwarting plans to murder countless others at another Washington target.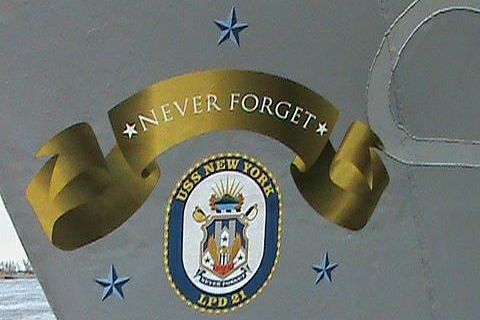 USS NEW YORK MOTTO ON BOW - NEVER FORGET!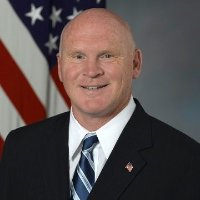 CAPTAIN KEVIN WENSING

On Sept. 9, 2003, 7.5 tons of WTC scrap steel was specifically smelted for use in the ship's bow stem, the foremost part of the ship that cuts through the water. Overseeing the event was Navy Capt. Kevin Wensing, who reminisced "Those big rough steelworkers treated it with total reverence. It was a spiritual moment for everybody there."

Also there when the trade center steel first arrived, foundry operations manager Junior Chavers recalls when he touched it with his hand, "hair on my neck stood up. It had a big meaning to it for all of us." Chavers described the pervading sentiment at the foundry and the shipyard "They knocked us down. They can't keep us down. We're going to be back." Not surprisingly, the ship's official motto is "Never Forget." To see how this tidbit befits Commissioner LaMarca's May 2014 update, read on... – [editor]

May 2014 Update


By Commissioner Chip LaMarca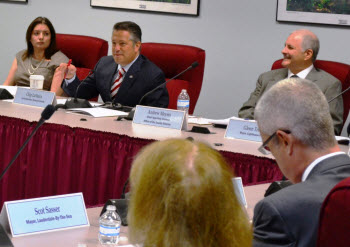 COMM. LAMARCA HOSTS MAYORS SUMMIT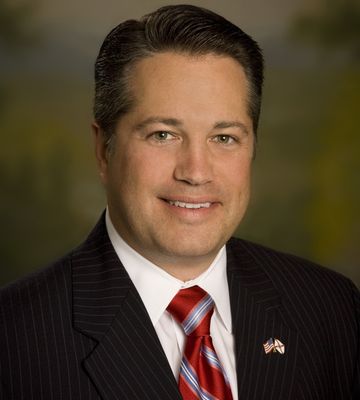 BROWARD COMMISSIONER
CHIP LAMARCA

I was honored to host the mayors and city managers from district 4 for our second Mayors Summit in April to discuss the key issues in our community. Our focus was on beach re-nourishment, economic development, tourism, human services, transportation and the proposed convention center expansion and hotel. These are quality of life issues and it's of utmost importance that we have an open dialogue about how we can work together to better serve our residents, businesses and visitors.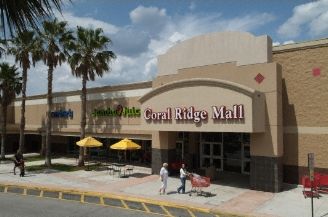 CORAL RIDGE MALL APPROVED FOR EARLY VOTING

I am pleased to report that the Broward County Supervisor of Elections will be adding the Coral Ridge Mall as an additional early vote location for the upcoming elections this year. This site will provide better access to early voting for those living and working near the beach.

More good news! Broward County received a check from the Army Corp of Engineers for $10.1 million, which is the reimbursement for the beach re-nourishment project completed in 2006 in Segment III (Hollywood, Dania Beach and Hallandale Beach). This project added $1.4 billion to county property values along the beach and the beach attracts 13.4 million visitors a year, spending $10.6 billion annually in Broward County.

Broward County has a number of key transportation projects underway. The 595 Express lanes opened in April. I-595 is Broward County's major east-west thoroughfare used by residents and visitors to get to work, shops, entertainment venues, the airport, the Port, the beaches and it is also vital to the shipment of freight and goods around South Florida. Improving mobility along the I-595 corridor isn't just a necessity for residents and visitors, it will have a significant impact in South Florida's economy.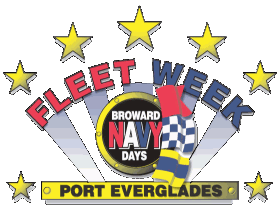 In addition, the Florida Department of Transportation will be reconstructing A1A from Sunrise Boulevard to NE 18th Street in Fort Lauderdale with one lane in each direction, a dedicated north-bound turning lane and a wide beachfront promenade on the east side with a paver sidewalk and decorative, turtle-friendly lighting and landscaping. They will be adding wide bicycle lanes in both directions and constructing two pedestrian crosswalks. Construction is expected to begin by August 2014 and be completed by March 2016 at a cost of $10.1 million.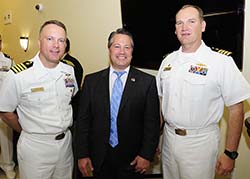 LAMARCA WITH CAPTAINS TEETS AND BOARDMAN

Lastly, Broward Navy Days hosted the 24th Annual Fleet Week as Port Everglades welcomed the USS New York, USCGD Dependable, and USCGC Bernard C Webber to Broward County. The USS New York is an amphibious transport dock ship that was forged with recycled steel from the wreckage of the twin towers at the World Trade Center. Hundreds of Sailors, Marines and Coast Guardsmen participated in a week of activities, demonstrations and community service projects. I hope you had the opportunity to meet and talk with some of our great military personnel.

If there is anything that we can do to assist you, please do not hesitate to contact our office at 954.357.7004 or by email at [email protected]. You can also stay up to date by viewing our website www.broward.org/commission/district4, where you can sign up to receive email updates from our office. I look forward to continuing to make Broward a better place to live, work and play.

As always, it is an honor to serve you.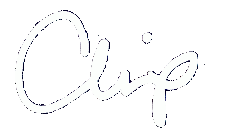 Chip LaMarca
Broward County Commssioner
District 4

Click To Top of Page

---


Commissioner

Bruce Roberts





Chlorine || Green

Energy || Lauderserv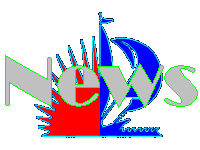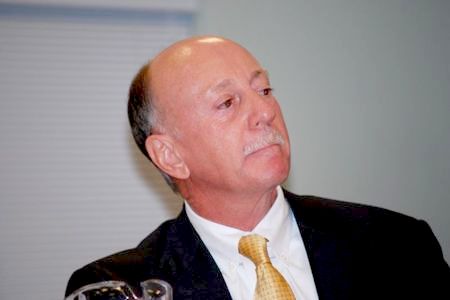 COMMISSIONER BRUCE ROBERTS
May 12, 2014 -

District 1 City Commissioner Bruce Roberts opens his May 2014 Newsletter with optimistic news about the falling crime rate, describes Mill Pond Park as the City's "in situ" laboratory for a tech-enhanced sustainable power source, reveals a new email address for Commission meeting input, notes a scheduling change for the Sun Trolley's Galt Mile route, updates progress towards realizing the projected Schlitterbahn Waterpark, announces a cyclical chlorination cleanup of the City's Water System, welcomes an improved Lauderserv Citizen Request Management System powered by QAlert technology and applauds a new study that cites Fort Lauderdale as the number 3 municipality in the nation for foreign-born tech entrepreneurs (after Miami and San José, California).


Whenever the City announces the cyclical temporary return to using free chlorine in the drinking water system, it prompts concerns by some local residents in the affected neighborhoods, who question how altering the chemical mix used to disinfect the system might impact their health and safety. A notice posted on the City website announces that free chlorination will begin at 9 a.m. on Tuesday, May 6 and continue for three weeks until 9 a.m. on Tuesday, May 27. Although the notice also admonishes "some may notice a slight change in the taste or smell of their tap water," it doesn't explain the potential dangers posed to neighborhood residents with certain pre-existing medical conditions.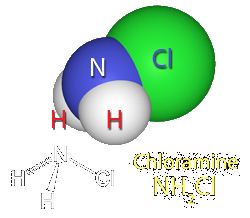 The disinfection of our treated water is normally achieved by adding chloramines (commonly formed when ammonia is added to chlorine) at the treatment plants. Although effective and safe, oxidation of the ammonia (nitrification) reduces its effectiveness throughout the distribution system. Since dosing the system with free chlorine reverses the adverse effects of nitrification, Public Works regularly switches from chloramines to free chlorine to maximize its disinfectant impact.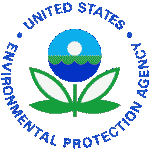 The periodic switch to free chlorine effectively reduces biological re-growth in the distribution system and helps maintain chlorine residual levels at the extremities of the distribution system during the normal chloramine disinfection process. This semi-annual treatment application is prescribed by the Environmental Protection Agency.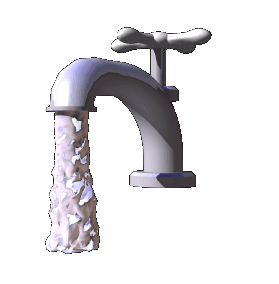 As explained on the City website, it is not unusual for residents to experience a slight change in both the taste and smell of the water during this process. The water will remain safe for drinking, cooking, bathing, and other daily needs. For the vast majority of residents, adverse health effects are not expected.

However, while persons currently undergoing dialysis can safely drink chlorinated or chloraminated water, both chlorine and chloramines must be removed from water used in dialysis machines because this water comes into direct contact with blood. Anyone suffering from a compromised immune system can be more susceptible than others to harmful organisms in water. As such, transplant patients and people with AIDS should consult with their health care provider to determine whether the temporary change in disinfection chemistry will affect their treatment.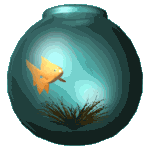 In addition, residents with a fish tank or pond replenished with city water - including grocery stores and restaurants with lobster tanks and bait shops with fish containers - should contact a pet or aquarium professional to determine the need for any adjustments to their aquarium treatment procedures. Unless neutralized by products readily available from aquarium supply stores, chlorine and monochloramine can be harmful to fish because they directly enter their bloodstream through the gills and block the growth of beneficial bacteria in the fish tank.
Since it takes approximately two weeks for the chlorine to clear, any perceived changes to the taste and smell may persist through early June. For the balance of Commissioner Roberts' May 2014 constituent update, read on... – [editor]


From The Desk of


Vice Mayor Bruce G. Roberts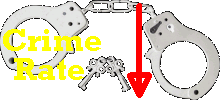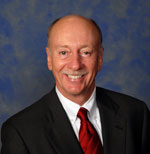 DISTRICT 1 COMMISSIONER
& V.M. BRUCE G. ROBERTS

CRIME: When comparing 2012 with 2013, recently released crime statistics demonstrated a city-wide 3.5% reduction in Part 1 Crimes. In fact, this represents the lowest crime rate since 2007. Although current trends continue to remain positive, we recognize the need to have a stronger impact on the home burglary and juvenile crime problems. This Commission remains committed to public safety as our number one priority.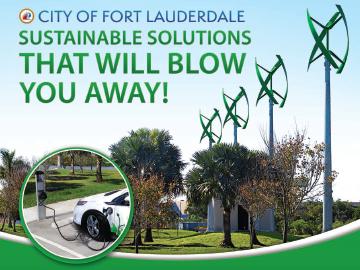 SUSTAINABLE SOLUTIONS: Through our city-wide Vision and Strategic Plan, Ft. Lauderdale is building a strong, resilient and sustainable community. Today, our vision is taking shape at Mills Pond Park (2201 NW 9th Ave), home to the City's first wind turbines and electric vehicle charging stations! This exciting green initiative will save energy, conserve natural resources and protect and preserve our environment. The $221,000 project is being funded by a federal energy efficiency and conservation block grant. The turbines are capable of producing up to 36,000 kW hours of energy per year; will help power the electric vehicle charging stations as well as help offset costs to run field lights and concession building; capable of producing enough energy to power three average-sized homes for an entire year; and capable of supplying enough power for a Chevy Volt to drive 7,200 miles across the entire U.S. and back!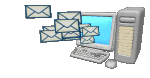 NEW CITY EMAIL FOR PUBLIC COMMENT: A new email has been developed and assigned to the City Clerk for those who wish to make a comment regarding agenda items. You can use the below email 48 hours prior to the Commission Meeting, and get an answer to your question – or allow your comments to be shared with the Commission, City Manager and/or staff. [email protected].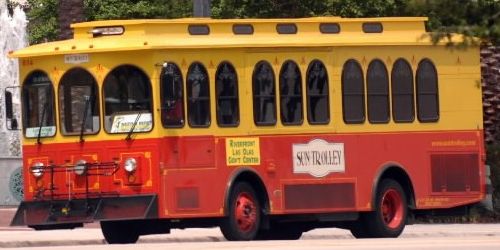 SUN TROLLEY ROUTE CHANGE IN GALT OCEAN AREA: On April 13th, Sunday service was permanently suspended and replaced with Tuesday service. You can go to http://www.suntrolley.com and download the revised timetable.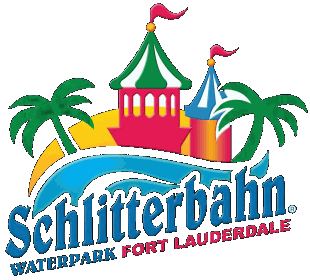 SCHLITTERBAHN WATERPARK UPDATE: A public joint meeting between the Parks, Recreation and Beaches Board and the Aviation Board has been scheduled for May 22nd at 1:30pm (Executive Airport, Admin Building, large conference room) to discuss Schlitterbahn leasing space at the Executive Airport site. This is just the first meeting to be held in a series of many. Among other issues, this meeting will discuss the terms and conditions of a potential lease. The project still has to go before the Development Review Committee and the Planning and Zoning Board. After the May 22nd meeting, staff and developers will be meeting with the surrounding neighborhoods to get their input.
5/5/14: Pre-agenda Meeting; 6:00 pm; Beach Community Center

5/6/14: Commission Meetings (Conference, Regular)

5/14/14: Telephone Town Hall Meeting with Commissioner Trantalis (7 pm). Call toll free (855) 269-4484 to join in!

5/15/14: Meeting regarding parking issues along Commercial Blvd. If you are a business owner, please feel free to attend this meeting. Concerns/solutions... let's find a way.

5/19/14: Pre-agenda Meeting; 6:00 pm; Imperial Point Hospital, south entrance

5/20/14: Commission Meetings (Conference, Regular)

5/22/14: Joint Meeting (Parks, Recreation and Beach Board/Aviation Board). Executive Airport; 1:30pm to discuss possible lease of property for water park.

6/2/14: Pre-agenda Meeting; 6:00 pm; Beach Community Center

6/3/14: Commission Meetings (Conference, Regular)

6/7/14: Household Hazardous Waste & Electronics Drop-Off Events: City of Ft. Lauderdale Mills Pond Park - 2201 NW 9th Ave – 9 am-2 pm
Medication Take Back – safely dispose of unused, unwanted or expired prescription and non-prescription medications for FREE.

6/16/14: Pre-agenda Meeting; 6:00 pm; Imperial Point Hospital, south entrance

6/17/14: Commission Meetings (Conference, Regular)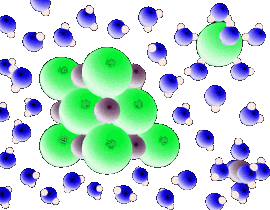 CHLORINE ATTRACTING WATER

CITY TO CHLORINATE WATER SYSTEM (Preventive Maintenance Scheduled for May 6 - 27, 2014): The City of Fort Lauderdale will temporarily return to using free chlorine in its drinking water system. This preventive maintenance will start at 9 a.m. Tuesday, May 6 and will end at 9 a.m. Tuesday, May 27, 2014. Free chlorination is a common practice for water systems using combined chlorine disinfection. The chlorination period is anticipated to be transparent to water customers; however, some may notice a slight change in the taste or smell of their tap water. Some customers may also see water running from fire hydrants in their neighborhoods, which is part of the normal maintenance process. This procedure will affect the City of Fort Lauderdale, as well as Lauderdale-by-the-Sea, Port Everglades, Village of Sea Ranch Lakes, Wilton Manors, and sections of the Town of Davie, Oakland Park, and Tamarac (east of State Road 7/441). The City of Fort Lauderdale maintains the highest standards to ensure clean, high quality drinking water is delivered to its customers. The City's drinking water meets federal, state and local drinking water quality standards.

LAUDERSERV IS COMING! This exciting new web-based tool, which uses QAlert technology, will be used city-wide to facilitate neighbor requests. With GIS mapping, extensive reporting and a mobile tablet module that will allow employees to access service requests in the field, this program will help our dedicated team of community builders coordinate and expedite resolutions to meet the needs of our neighbors faster than ever. Neighbors will be able to submit new service requests and track the status of existing requests online. In the coming weeks, a companion mobile app will be available for Android and iPhone users. Lauderserv is a streamlined system that will replace other tools currently used to track external inquiries and requests. If you have any questions regarding Lauderserv or how to use the QAlert software, please send an email to [email protected].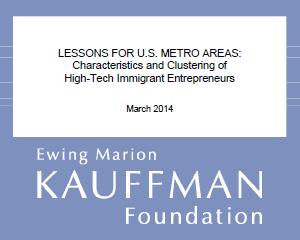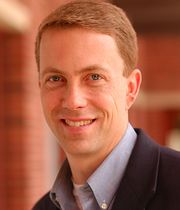 USC PROFESSOR GARY PAINTER

SOUTH FLORIDA LEADS NATION IN GROWTH OF IMMIGRANT HIGH-TECH ENTREPRENEURSHIP, STUDY FINDS (By Nancy Dahlberg, Miami Herald): A new national study released Tuesday by the Ewing Marion Kauffman Foundation found that South Florida has grown faster than all other top metro areas in immigrant tech entrepreneurship. The foundation's research also shows immigrant-owned businesses are more likely to locate in ethnically diverse metro areas that have high foreign-born populations like South Florida. Although the New York, Los Angeles and San Francisco metro areas accounted for about a third of all immigrant high-tech entrepreneurs in the country in 2011, Miami and Fort Lauderdale had the No. 1 and No. 3 highest rates of foreign-born tech entrepreneurs, significantly ahead of tech hubs like San Francisco, New York and Austin, Texas, the report found. San Jose, Calif., was No. 2. Perhaps more significantly, the Miami and Fort Lauderdale metro areas were No. 1 and No. 2 for growth rates of immigrant tech entrepreneurs between 2000 and 2011. Other metros registering strong growth include Atlanta, Chicago, Houston and Washington, D.C. The metros of Silicon Valley -- San Francisco and San Jose -- did not experience substantial growth. The study, "Lessons for U.S. Metro Areas: Characteristics and Clustering of High-Tech Immigrant Entrepreneurs," is based on data from the American Community Survey and looks at 2000-2011 -- just before the most recent push to grow tech entrepreneurship in South Florida began. Data is always a bit behind but still, that's a pretty big change, said Gary Painter from the University of Southern California, one of the study's authors. "There is already a high rate of immigrant high-tech workers in your area, and it has had the fastest growth over the past decade. Our model shows high-tech immigrants like to be near other high-tech workers and they like to be near other immigrants so Miami is in a really strong position to capitalize on this trend." Other key findings in the study:
Eighty percent of immigrant high-tech entrepreneurs operate in the largest 25 metro areas, compared with 57 percent of their U.S.-born counterparts.

Nationally, immigrants comprised 20 percent of the high-tech work force and 17.3 percent of high-tech entrepreneurs between 2007 and 2011, representing an increase of 13.7 percent and 13.5 percent, respectively, from 2000.

Nationally, between 2000 and 2011, the number of self-employed immigrants in high-tech industries increased by 64 percent, compared with 22.6 percent for U.S.-born.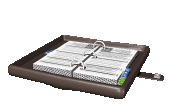 Office Contact: Robbi Uptegrove – 954-828-5033; email: [email protected]. In addition to hosting the pre-agenda meetings twice a month, I am also available to attend your HOA meetings to update your neighborhood on what is going on in the City as well as answer any questions/concerns you may have. Please contact Robbi to schedule.


If you need to reach Commissioner Bruce Roberts, please contact his assistant Robbi Uptegrove at 954-828-5033 or by e-mail at [email protected]. To access the City Commission Meeting Agendas and Minutes, Click Here. To actually watch the meetings recorded and archived on the Commission Meetings Video Webcast and Archives web site, Click Here.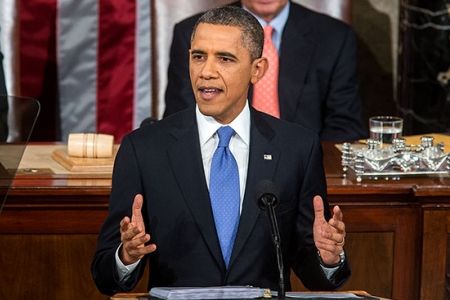 PRESIDENT BARACK OBAMA: 2011 STATE OF THE UNION ADDRESS

June 12, 2014 - In his 2011 State of the Union address, President Barack Obama set the goal for the U.S. to become the first country to have 1 million electric vehicles (EVs) on the road by 2015. Relying on forecasts made by the U.S. Department of Energy (DOE), Obama's ambitious goal was an unfortunate example of a corporate bureaucracy believing its own BS. Filching overly optimistic manufacturer production targets from media reports laced with sunshine, the DOE surmised that 1,222,200 plug-in electric vehicles (PEVs) would pepper American streets by 2015. A July 2012 study by Pike Research concluded that cumulative sales will reach the President's goal sometime in 2018.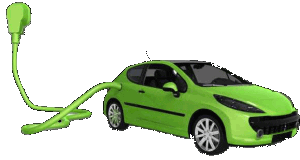 As practiced by elected officials since the anthropological dawn of government, Obama backed his oratory with our money, pledging $2.4 billion in federal grants to support the development of next-generation electric vehicles and batteries. $1.5 billion of the grant money was made available to any U.S. based manufacturers willing to produce highly efficient batteries and their components. Another $500 million went to U.S. based manufacturers to produce electric motors and other components needed for electric vehicles. The remaining $400 million was reserved for a mixed bag of electric infrastructure concepts – like plug-in hybrids, truck stop charging stations, electric rails, and training for technicians to build and repair electric vehicles (AKA "green collar" jobs).

Two years earlier, Obama signed the American Recovery and Reinvestment Act of 2009 (ARRA) into law on February 17, 2009. A Keynesian response to the recessionary tar pit in which the previous administration couched our economy, the stimulus package sought to offset the loss of private spending with government spending, albeit at a more modest level. The Recovery Act would feed $831 billion back into an economy that lost $2.9 trillion, just enough to keep people working. By preserving 1.6 million jobs annually between 2009 and 2012, the fiscal gambit helped avert a looming depression.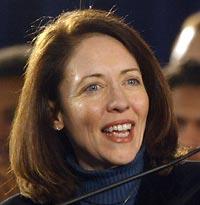 DEMOCRAT SENATOR
MARIA CANTWELL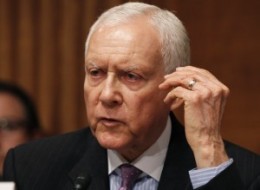 REPUBLICAN SENATOR ORRIN HATCH

No House Republicans and only three Senate Republicans joined the Democrats who passed the bill – despite a partisan attempt to deter economic recovery on Obama's watch. Privately disparaging an unpopular party policy designed to undermine the Administration by keeping the national economy submerged, many Republicans not only supported the bill, but thought it should have been expanded, citing Nobel laureate Paul Krugman, a bill supporter who remarked that the law didn't "even cover one third of the (spending) gap". Drafted primarily by Democratic Congressional committee leaders and their staffs before Obama took office on January 20, 2009, individual Republicans placed Country above party and joined with Democrats in amending the bill. Republican Senator Orrin Hatch teamed with fellow Senate Finance Committee member Democrat Maria Cantwell to file an amendment entitled "The Freedom Act of 2009", which included tax incentives for plug-in electric vehicles.

With funding made available by the American Recovery and Reinvestment Act, the U.S. Department of Energy began actualizing Obama's plan. The DOE announced the release of two competitive solicitations for up to $2 billion in federal funding for competitively awarded cost-shared agreements for manufacturing of advanced batteries and related drive components. It would also dole out up to $400 million for transportation electrification demonstration and deployment projects. Since the ensuing national energy policy updates were tantamount to political chloral hydrate for all but the applicant beneficiaries of the grant windfalls, most Americans snoozed through the news.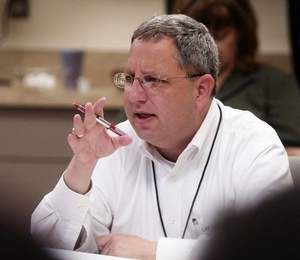 FORT LAUDERDALE CITY MANAGER LEE FELDMAN

Fortunately, our gatekeepers in City Hall weren't among them. Still slugging its way through a recessionary cash shortfall in 2009, Mayor Jack Seiler's new administration applied for a $2 million energy efficiency and conservation block grant. With the money on tap, in June 2011, Fort Lauderdale City Manager Lee Feldman plucked Susanne Torriente from a politically imploding Miami-Dade following the election of a new County Mayor. Four years earlier – in 2007 – Torriente and 8-year Assistant Broward County Administrator Bertha Henry were the surviving finalists in a selection process to fill the open seat of Broward County Administrator vacated by Pam Brangaccio. Although Henry and Torriente held comparable positions in adjacent counties, Henry's home field advantage neutralized Torriente's support on the Broward Commission. Henry was tagged as Broward County Administrator and Susanne Torriente headed back to Dade County, where her political capital as a public service asset continued to skyrocket.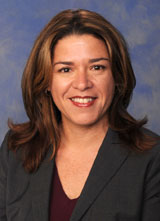 ASSISTANT CITY MANAGER
SUSANNE TORRIENTE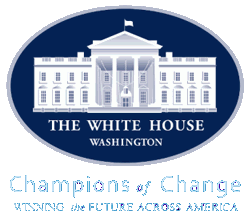 Formerly the head of Miami-Dade's Office of Sustainability, Torriente would now assist Feldman with running tech-driven city departments and projects, infusing management systems with operational sustainability, and lock in Fort Lauderdale as a regional anchor for high technology. Having consolidated City Departments to enhance operational efficiency, Feldman placed newly appointed Assistant City Manager Torriente atop a hierarchy that includes Sustainable Development, Transportation & Mobility, Public Works and Parks & Recreation. No stranger to federal green energy policy, shortly after bumping heads with Henry, Torriente was recognized by the White House as a "Champion of Change" in 2008. Feldman and Torriente would use the Federal grant resources to fund improvements that benefit the City and its residents while advancing the DOE initiative.

According to a recent report from Navigant Research, the number of plug-in electric vehicles (PEVs) on roads in the United States will grow from nearly 296,000 in 2014 to more than 2.7 million in 2023. In 2012, Navigant forecast that Florida's cumulative PEV sales will grow to 102,517 vehicles between 2013 and 2022, and place roughly 50,000 PEVs on South Florida streets. In 2013, a report prepared by the South Florida Regional Planning Council showed about 1,000 plug-in vehicles sold in the three-county area. Confirming Navigant projections, it anticipates an increase to roughly 15,000 by 2017 and about 51,000 by 2022. Some major obstacles must be addressed before PEVs, plug-in hybrid electric vehicles (PHEVs); or other low or zero-emission vehicles (ZEVs) become economically viable and meet their environmental promise.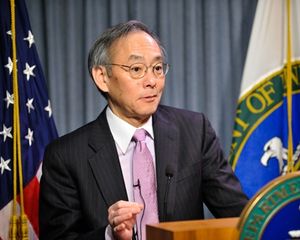 FORMER ENERGY SECRETARY STEVEN CHU

On March 7, 2012, President Barack Obama announced the EV Everywhere Challenge, the second in a series of U.S. Department of Energy Clean Energy Grand Challenges organized to make clean energy technologies affordable and accessible to the vast majority of American households and businesses by resolving key technological obstacles. Following the $1/watt SunShot Challenge, which seeks to make solar power cost-competitive with electricity from fossil fuels by the end of the decade, in launching the EV Everywhere Challenge, Obama set 2022 as the deadline for creation of a five-passenger electric vehicle that could economically and functionally compete with internal combustion engine vehicles while recharging quickly enough to meet the range requirements of a typical American driver.

In January 2013 the Department of Energy (DOE) published the "EV Everywhere Grand Challenge Blueprint," which set technical targets for Obama's "EV Everywhere Challenge." Developed under former Energy Secretary (and Nobel Prize winner) Steven Chu, the DOE EV blueprint encompasses four areas: battery research and development; electric drive system research and development; vehicle lightweighting; and advanced climate control technologies. For EVs to compete with conventional fossil fuel vehicles, the DOE set the following specific technological goals to be met in the ensuing 5 years:
Eliminating almost 30% of vehicle weight through lightweighting

Reducing the cost of electric drive systems from $30/kW to $8/kW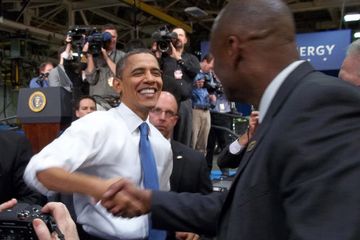 OBAMA LAUNCHES EV EVERYWHERE

Hitting these marks would result in an automotive propulsion battery with five-times the present range capacity, at one-fifth the cost of today's lithium-ion batteries. More to the point, it would sufficiently lower the purchase plus operating (fuel) cost of an all-electric vehicle - while extending its range to 280 miles (450 km) - yielding costs and capabilities competitive with a comparably sized internal combustion engine vehicle.

Until now, many projects supposedly dedicated to researching these technologies were funded and closely controlled by automotive and/or energy companies overwhelmingly vested in fossil fuel infrastructure, either directly or through a corporate parent. Not surprisingly, significant advances were either abruptly defunded or cloistered as proprietary. While befitting disingenuous corporate sponsors with a politically correct green halo, the underlying objective for this dog and pony show was to boost sales of internal combustion vehicles that filled current production lines by undermining the growing public confidence in alternative electric vehicles. They had good cause for concern.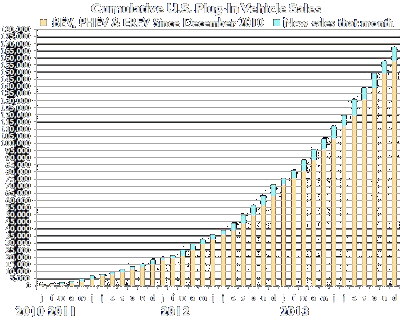 EV sales nearly doubled from 2012 to 2013 and are expected to annually increase by 23.7% through 2023. As affirmed on the DOE website, "Electric vehicles can offer consumers significant advantages over gasoline-powered vehicles, including savings on fuel costs, added convenience, and reduced maintenance costs. Electricity is cheaper than gasoline to power a vehicle – generally equivalent to less than $1 per gallon – and consumers are able to conveniently fuel up at home. Electric vehicles can also be more reliable, require less maintenance, and offer the same or better driving performance compared to today's gasoline-powered vehicles." In addition to extending their range, tweaking certain components will drop costs like a rock. To solve the problems that dogged these technologies, the DOE would have to alter a skewed playing field where success was systematically rewarded with extinction, and create a format more answerable to consumers than stockholders.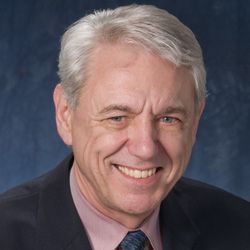 JCESR DIRECTOR GEORGE CRABTREE

To help meet this objective - Chu committed $120 million over five years to the new Joint Center for Energy Storage Research (JCESR), a research hub spearheaded by the Chicago-based Argonne National Laboratory. Likened to the Manhattan Project of battery technology, JCESR is a resource-rich consortium of five DOE national labs, five universities, and four private-sector enterprises. As JCESR director, Argonne National Laboratory senior scientist George Crabtree will work with teams in Lawrence Berkeley National Laboratory (in Berkeley, California), Pacific Northwest National Laboratory (in Richland, Washington), SLAC (Stanford Linear Accelerator Center) National Accelerator Laboratory (in Menlo Park, California) and Sandia National Laboratories (in Albuquerque, New Mexico), the government's preferred staging lab for turning science fiction into reality and the project's primary work site. Complementing this academic arsenal are private sector players Applied Materials, Clean Energy Trust, Dow Chemical Company and Johnson Controls.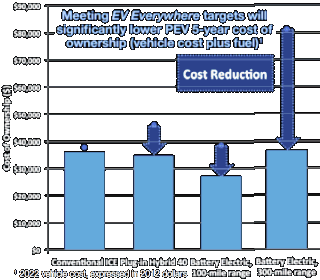 The DOE plan provides an unprecedented opportunity to overcome the technological obstacles that face Obama's EV Energy Challenge. In its first operational year, this juggernaut consortium has already trimmed battery costs from $500/kWh to $325/kWh and marked similar gains in each mission category. However, even if every car were replaced by an all-electric vehicle with comparable capabilities, range and cost factors, it would neither sweeten the air nor reduce our dependence on fossil fuels. Electric cars, as well as plug-in hybrids operating in all-electric mode, emit no harmful tailpipe pollutants from the onboard source of power, such as particulates (soot), volatile organic compounds, hydrocarbons, carbon monoxide, ozone, lead, and various isomers of nitrogen oxide.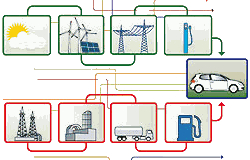 Unfortunately, the clean air benefits are only realized locally. For every EV onboard power source that doesn't emit tailpipe gases and particulates, a power plant must generate the incremental power required to recharge its battery. When fossil fuel power plants generate sufficient electricity to recharge a million EV batteries, the net pollution is slightly less than the collective tailpipe emissions of a million gas guzzlers. Since a "Well-to-Wheel" environmental impact assessment also considers the source of the electricity used to recharge the batteries, air pollutant emissions are shifted "upstream" to where the generation plants are located. In short, the overall impact of plug-in electric vehicles depends on the fuel and technology used by the power plants that generate their electricity.
With few exceptions, as air quality improves above highways, it will comparably deteriorate near power plants, leaving the overall Carbon Footprint, and our net dependence on fossil fuels, almost unchanged. To maximize the net environmental benefit of PEVs, the juice used to recharge their batteries must be generated from renewable or clean sources such as wind, solar, hydroelectric, or nuclear power. It's no coincidence that Obama's first Energy Grand Challenge – SunShot – aspires to cheap solar power within the next six years.
WIND TURBINES IN MILLS POND PARK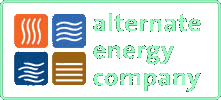 In 2013, the City of Fort Lauderdale spent 11% of its block grant ($221,000) on a demonstration and deployment project that maps a resolution to this environmental stumbling block. The City contracted with the Fort Lauderdale-based Alternate Energy Company to install 4 large Urban Green Energy (UGE) vertical axis wind turbines atop 54-foot towers in Mills Pond Park (just east of I-95 on Northwest Ninth Avenue between Sunrise and Oakland Park Boulevards). Each 4 kW turbine can annually yield 36,000 kilowatt-hours (kWh). Rated to survive 156 mph winds, electricity generated from the wind turbines will address the park load, with excess juice fed back to the electric grid under a standard grid tie agreement with FPL wherein energy credits are banked by the utility for future use by the Park.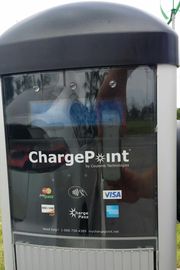 CHARGEPOINT CHARGING STATION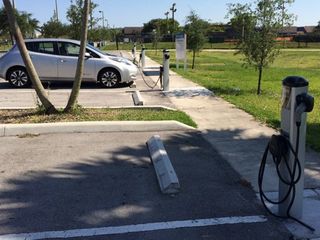 4 NEW CHARGING STATION IN MILLS POND PARK

Included in the park's electrical load are 4 newly installed 120-volt ChargePoint charging stations with connections enabling a high voltage quick charge or a slower drip charge. Each station is equipped to simultaneous charge two vehicles. Since electronic controls housed in a nearby mechanical room adjusts the load to the wind speed, the 18-foot lightweight carbon fiber blades can be slowed or stopped according to programmed parameters. Spinning more like slow-motion tops than rotors, their operational efficiency at very low speeds makes them quiet and highly visible to flying critters that might otherwise be puréed. Although the wind-generated electricity used by the charging stations costs nothing, and the the turbine vendor's website affirms no charge to park visitors for recharging their vehicles' batteries, the charging stations are encrusted with telltale credit card glyphs (so bring your plastic to be safe).
In building South Florida's first public charging stations powered by companion wind turbines, Feldman created a unique EV demonstration and deployment project - as described in the terms of the American Recovery and Reinvestment Act (ARRA) for grant expenditures. Torriente guided the project to completion in January, 2014. While inspecting the site during the planning stages, Torriente commented "I think it's a great opportunity for education and outreach. The more we can look at renewable energy options and alternatives. I think that's what the public wants."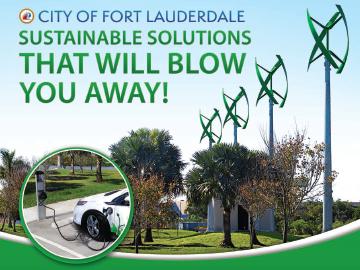 It's also what the DOE had in mind when vetting grant applications. Along with the $2.4 billion that the DOE distributed in EV development funding, $115 million was allocated to the installation of electric vehicle charging infrastructure in 16 different metropolitan areas around the country. The Fort Lauderdale project increased Broward's 18 public charging stations by 22%. Torriente views the project as a template, remarking "We'll learn from it and we'll adjust and where possible, we can replicate it." Since it was quietly fitted with rooftop solar panels last year, perhaps Torriente will consider "replicating" a free charging station at the Beach Community Center for Galt Mile residents and visitors.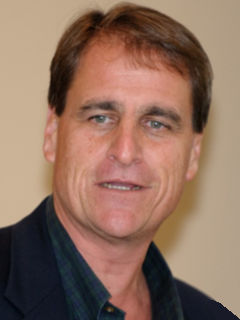 MAYOR JACK SEILER

Pro-actively committed to lessening U.S. dependence on fossil fuels, 25 states provide tax credits and other financial incentives for building charging infrastructure or purchasing electric vehicles. In contrast, the State of Florida allows them access to carpool lanes. Fort Lauderdale Mayor Jack Seiler observed "The cities have decided that if the state government's not going to step up, we'll step up and lead the way."

In the meantime, as the consortium keeps hitting its marks, every driver on the planet is in for a wild ride, and your beloved clunker may become a cruise night exhibit. After enumerating recent and impending climate change nightmares while outlining our incentives for transitioning to clean energy in his insightful retirement letter last February, former Energy Secretary – and Nobel Laureate – Chu concluded "Our ability to find and extract fossil fuels continues to improve, and economically recoverable reservoirs around the world are likely to keep pace with the rising demand for decades. As the saying goes, the Stone Age did not end because we ran out of stones; we transitioned to better solutions."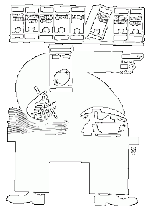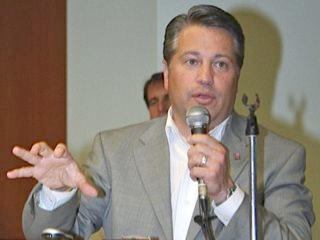 BROWARD COMMISSIONER CHIP LAMARCA

June 22, 2014 - A bureaucratic blood blister that threatened the chronically delayed Segment II Broward beach project with an added 18-month freeze has been excised. To help quash one of the more asinine impediments faced by this snake-bit project, District 4 Broward Commissioner Chip LaMarca scripted major roles for the entire Broward Congressional delegation, both of Florida's U.S. Senators, the Galt Mile Community Association and an army of Galt Mile residents. With officials in Pompano, Lauderdale-by-the-Sea and Fort Lauderdale playing bit parts, the eerie plan placed the beach fix back on track for its post-Halloween kickoff.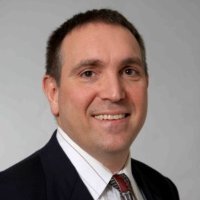 DIRECTOR MARK THOMASSON
WATER RESOURCE MNGT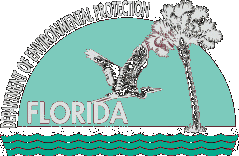 At the December 19, 2013 GMCA Advisory Board meeting, County Commissioner Chip LaMarca reported the status of the long awaited Segment II beach renourishment. While navigating myriad regulatory landmines with retiring Broward Beach boss Eric Myers, LaMarca had to circumvent a scam in Tallahassee and penetrate a bureaucratic blockade in Washington DC. In Tallahassee, FDEP Division of Water Resource Management Director Mark Thomasson booby trapped Broward's Draft Permit with "31 d. In the event additional impact from the project is documented, the Applicant shall be required to mitigate for the impacts, through compliance and enforcement action, with the amount of mitigation determined according to the Department's Uniform Mitigation Assessment Method (UMAM)."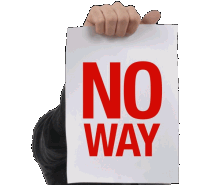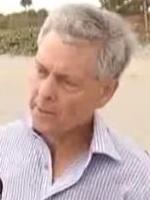 BROWARD BEACH
ADMINISTRATOR ERIC MYERS

While ostensibly bureaucratic blather, the language was actually a legal funding hook. In effect, it would have required Broward taxpayers to mitigate marine impacts that were outside the scope of the Segment II Beach Renourishment - at the sole discretion of Florida Department of Environmental Protection (FDEP) - and in perpetuity. Beating back this bald-faced blackmail, Eric Myers responded "Following issuance of the permit we would apply for a modification to address the quantification of liability which the County believes should have been a part of the original permit. Specifically, we are requesting that Specific Condition 31 d. be struck in its entirety." Thomasson grudgingly relented, and excised the extortion attempt. Having forged an understanding with Tallahassee regulators, LaMarca and Myers turned their attention to Washington DC.

Last November, LaMarca was part of a contingent of Broward business leaders and politicians - including Fort Lauderdale Mayor Jack Seiler - who met with Broward's Congressional delegation in Washington to lobby for passage of H.R. 3080, The Water Resources Reform & Development Act (WRRDA). Five months earlier, the U.S. Army Corps of Engineers finally released its Draft Environmental Impact Statement for "Navigational Improvements to the Port Everglades Harbor," the inexplicably elusive regulatory prerequisite for hosting Post-Panamax ships.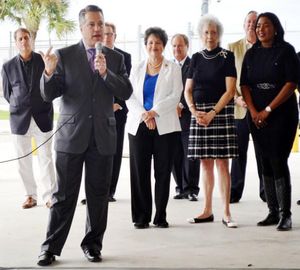 COMMISSIONER CHIP LAMARCA THANKS BROWARD PUBLIC
OFFICIALS AND CIVIC LEADERS FOR LOBBYING WRDA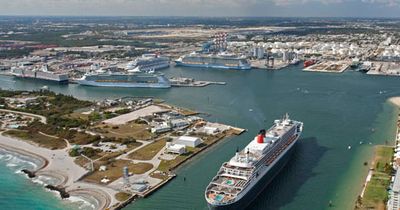 PORT EVERGLADES

When the project to expand the Panama Canal is completed in the next few years, managing these huge ocean going monsters will provide a huge windfall to the handful of east coast ports configured to accommodate the wider, longer vessels with 50-foot drafts (AKA post-Panamax). The project will ultimately deepen Port Everglades' channel from 42 feet to 50 feet. Widening the channel entrance will allow entering and departing ships to safely pass cargo and cruise ships docked along the Intracoastal Waterway inside the Port. The cost of the expansion project is estimated at $313 million, funded by a combination of federal funds, port user fees and – if fortune smiles – state funds. As with expansion of the Southport Turning Notch and completion of the Intermodal Container Transfer Facility, Broward taxpayers won't have to cough up a dime.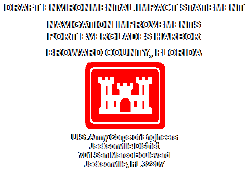 After weathering 17 years of delays from bureaucratic foot-dragging and Congressional gridlock, Port Everglades officials were about to hit the Lottery. The WRRDA will authorize and financially flesh out the U.S. Army Corps of Engineers' civil works program, which constructs critical navigation and water infrastructure projects across the nation. Specifically, the WRRDA will provide long-awaited access to roughly $7 billion squirreled away in a legislative lock box – the Harbor Maintenance Trust Fund.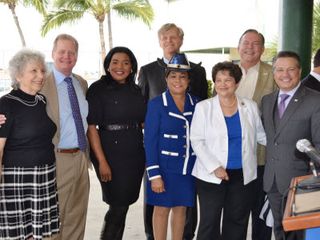 BROWARD COMMS. SUE GUNZBURGER, TIM RYAN, BARBARA
SHARIEF, CONGRESSWOMEN FREDERICA WILSON, LOIS FRANKEL
COMM. CHIP LAMARCA. (In back:) PORT EVERGLADES CEO STEVE
CERNAK, GREATER FT LAUD ALLIANCE CEO BOB SWINDELL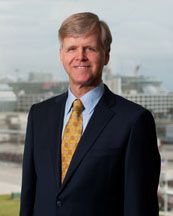 PORT DIRECTOR STEVE CERNAK

Funding the Corps' newly approved competitive improvements to the Port will insure its future as a regional economic powerhouse. After watching the Water Bill succumb to partisan bickering for 7 consecutive years, contingents from jurisdictions with stalled water infrastructure projects across the country, including our ad hoc Broward group, pushed the bill over the hump. As the Conference Committee began back-loading the bill with pork, Port Everglades Director Steven Cernak flipped the Port's Master Plan into high gear. As the 3 major projects near completion, the Port's $26 billion in annual economic activity will serve as a baseline for future growth, as incremental taxes from thousands of new jobs fill County coffers. While celebrating their hard-won victory, LaMarca was oblivious to how soon he would need to rely on the bonds he forged during the struggle.

In January, LaMarca faced a new regulatory stumbling block. Despite having diligently submitted mountains of mandated documentation while timely responding to redundant agency inquiries, Eric Myers informed LaMarca that the Segment II Beach project hit a wall. Among the oceans of regulatory minutia required to complete the Federal permit is a boilerplate biological opinion by the National Oceanic and Atmospheric Administration Marine Fisheries (NOAA Fisheries). With green lights across the board from every other Federal Agency with standing, Myers' repeated attempts to call, email and officially correspond with NOAA Fisheries - a line office in the Department of Commerce - were roundly ignored. Shortly thereafter, Myers and LaMarca learned that the documentation sent months earlier to NOAA Fisheries (AKA - National Marine Fisheries Service) was collecting dust on a bureaucrat's desk. Finally, a Commerce Department spin-monkey stunned the two Broward officials with a fairy tale about a shortage of Federal resources!!!

Soliciting input from incredulous project stakeholders in Pompano, Lauderdale-by-the-Sea and Fort Lauderdale (including the Galt Mile Community Association), LaMarca conceived a plan to penetrate the cloistered agency. Since the Federal obstacle was unresponsive to County political efforts, LaMarca reached out to Broward members of Congress, whose standing in the Federal food chain could rouse snoozing Commerce Department bureaucrats, expedite the long-delayed biological opinion and kick-start the Beach Project.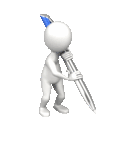 However, given the agency's intransigent resistance to altering snail-paced protocols, LaMarca questioned whether a request from a hometown politician would adequately motivate our federal lawmakers to close the deal. It would be far more effective to recruit Congressional assistance the old fashioned way. If the same request for help came from thousands of voters, fixing Broward's disappearing beach would quickly become a political priority for Broward's Congressional delegation. To accomplish this, all he needed was a community filled with hotheads who predictably react poorly to unreasonable bureaucrats who step on their necks.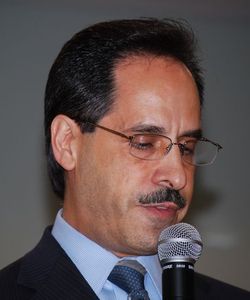 GMCA PRESIDENT
PIO IERACI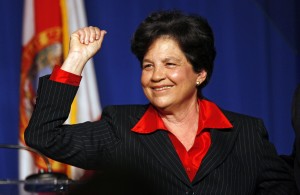 CONGRESSWOMAN LOIS FRANKEL

On January 28, 2014, an enraged LaMarca sent an email to GMCA President Pio Ieraci that detailed the problem and suggested his "resolution". In February, notices were sent to Galt Mile member associations for distribution to unit owners. The notices described the dilemma, listed the contact data for our Congressional officeholders and requested help with conveying the critical need to shake loose the Federal malaise that was holding the project hostage. The information was also posted on the Galt Mile website and in LaMarca's March 2014 constituent newsletter.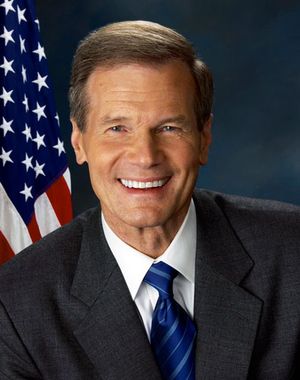 SENATOR BILL NELSON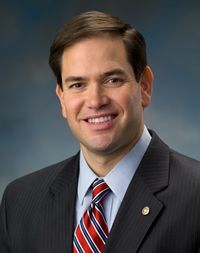 SENATOR MARCO RUBIO

Within weeks, hundreds of letters, phone calls, faxes and emails flooded the local and Washington D.C. offices of Congresswoman Lois Frankel (who represents Galt Mile residents on "The Hill"), Senator Bill Nelson and Senator Marco Rubio. The shared message in these correspondences was a simple request, "Please urge the Secretary of Commerce to ensure that the biological opinion of the Segment II Beach Project is completed as soon as possible." By mid-February, Congresswoman Frankel and Senators Nelson and Rubio had all expressed an intention to help circumvent the Federal roadblock and salvage Broward's shrinking beaches.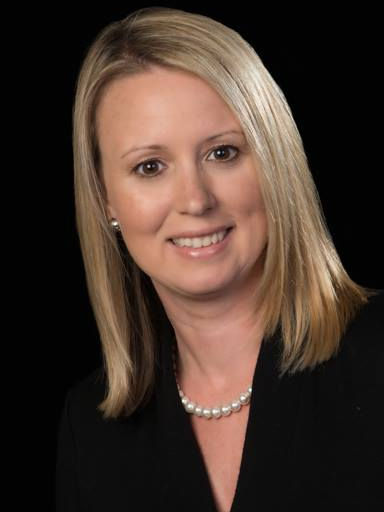 COMMISSION AIDE KATE WESNER

At the February 20, 2014 Advisory Board meeting, LaMarca's Commission Aide Kate Wesner explained the importance of maintaining the political pressure. Carefully burrowing into agency infrastructure, Wesner learned which projects preceded the Broward Beach plan for review and discovered the name of the infamous Commerce Department staffer (heretofore referred to as "The Bottleneck"). Absent intervention by our Federal Lawmakers, agency delays could persist for up to 18 months. On April 17, 2014, after revealing the staffer's name to the Advisory Board, a disgusted LaMarca expressed his intention to pass it to the Sun-Sentinel if the delay continued. LaMarca also confirmed that preparations for the Segment II procurement process were underway (bids for trucking sand to staging areas, etc.).
COMMERCE SECRETARY PENNY SUE PRITZKER

By mid-May, more than 4,000 messages had been sent from email links on the Galt Mile website to Senators Nelson and Rubio, U.S. House members Lois Frankel, Alcee Hastings, Ted Deutch, Debbie Wasserman-Schultz, Frederica Wilson and Mario Diaz-Balart. Another 437 were sent to Secretary of Commerce Penny Sue Pritzker (of the Hyatt Hotel "Pritzkers"). These requests were incremental to those prompted by the individual building notices and LaMarca's March newsletter.

The plan worked. Serial probes by two U.S. Senators and half dozen angry U.S. Representatives eroded the arrogance of this mid-level bureaucrat. As "The Bottleneck" grew increasingly uncomfortable, months were "coincidentally" shaved from the projected date for stamping out the opinion letter. On May 15, Kate Wesner informed the Advisory Board that since the Segment II Project was suddenly "next in line for review by NOAA Fisheries," the Biological Opinion would soon be addressed.
PLAYA DEL SOL CONDOMINIUM

At the December 2, 2013 Presidents Council meeting at Playa del Sol, after declaring that Broward's economic survival depends on the health of its beaches, LaMarca said "I make this pledge, I will do whatever is necessary to get sand on our beach." After decades of similar promises by public officials, attendee consensus was "We'll see." Events since then bought LaMarca a boatload of credibility, although many veteran Galt Mile officials understandably plan to reserve judgment until their toes are covered in new sand. We also owe a debt of gratitude to Kate Wesner, whose carrot and stick helped penetrate agency lethargy. At the end of the day, it was the sleepy retirees who live between Commercial and Oakland Park Boulevards who made the difference… as usual. On June 10, 2014, LaMarca sent the following message to the Galt Mile Community Association:

TRUCKING SAND TO BEACH STAGING AREAS

While preparations for the Segment II Beach Renourishment are already underway, the first of 50,000 truckloads of sand will reach project staging sites in November, after the turtle nesting season. Not surprisingly, the same radical local environmental group that has bean-bagged the project for decades launched a few curious pot shots prior to the June 13, 2014 project deadline for recording public comments.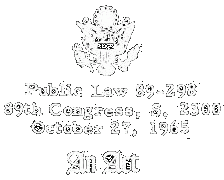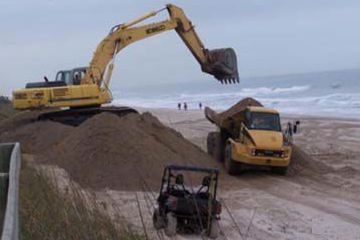 NEW BEACH CONSTRUCTION PLAN

Since the original county project was first federally authorized by the 89th Congress in 1965 (Section 301 of Public Law 89-298, October 27, 1965), it has been environmentally vetted almost annually for 49 years. Despite being the most thoroughly scrutinized and mitigated beach project in Florida history, the complainant condemned the Florida Department of Environmental Protection for prematurely issuing a permit. In contrast with his claim that the project would bury much of the 5000-acre reef tract with sand, an impact assessment drafted by the Army Corps of Engineers – and vetted by Federal, State and County Environmental agencies – affixes the loss at 4.9 acres - .less than one tenth of 1%. Although miniscule, even this marginal damage will be mitigated by a newly installed concrete substrate promoting algae regrowth.
BROWARD NATURAL RESOURCE
ADMINISTRATOR NICOLE SHARP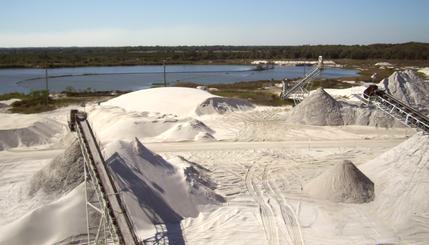 MINED STOCKPILES OF COMPATIBLE BEACH SAND

Defending the County's environmental diligence, Broward Natural Resource Administrator Nicole Sharp (who filled the position vacated by recently retired Eric Myers) remarked "We worked with our engineers and we put forward a very environmentally sensitive project." Heeding input from environmental agencies, coastal engineers and reputable advocacy groups, project planners decided to avoid the adverse nearshore hardbottom impacts at risk when large maritime vessels snake pipelines shoreward around coral reefs to pump out light grey carbonate sand dredged from offshore borrow sites. Instead, they will harvest 750,000 cubic yards of significantly more compatible light yellow silica sand from upland mines roughly 125 miles north and northwest of the County along the site of Florida's shoreline – about 5 million years ago. After verification that the sand meets the size, shape and color parameters defined by county scientists, it will be trucked to oceanfront staging areas and carefully spread across the beach. To avoid disturbing our shared coastal habitat during Sea Turtle nesting season, the project is expected to span several years.

A top engineer from renowned Boca Raton-based marine consultants Coastal Planning and Engineering (a subsidiary of construction and consulting Juggernaut CB&I), Sharp perceives an added benefit to using the mined sand. Due primarily to its typically larger average grain size and smaller fines fraction, Sharp explained that the sand is more stable and produces less post placement turbidity. In other words, the sand will stack more like building blocks than volleyballs due to the granules' size and shape.

PLEASE NOTE

We suggest that GMCA member association Caribé, which is also eligible for the Lauderdale-by-the-Sea dune restoration project, investigate participation. The dunes will help stabilize the beach and stave off tidal erosion – prolonging the benefit of the impending Beach Renourishment. Think about it!!!

BROWARD BEACH RENOURISHMENT - SEGMENT II
Click To Top of Page

---
Broward Commissioner Chip LaMarca
Weighing a Windfall from Recaptured Room Nights


Convention Center Hotel Back on County Agenda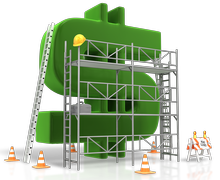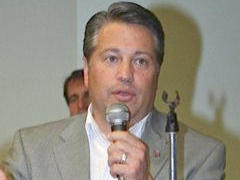 BROWARD COMMISSIONER CHIP LAMARCA
June 30, 2014 -

In his June 2014 Newsletter, District 4 Broward County Commissioner Chip LaMarca advocates stoking one of our County's key economic engines. Strategically located at Fort Lauderdale's Port Everglades tourism nexus, enhancing the County's aging Convention Center with a dedicated hotel and a facelift will plug a fiscal leak through which the County loses tens of $millions in new business every year.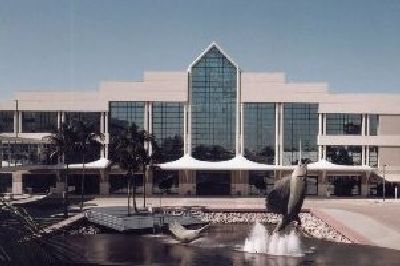 GREATER FT LAUD/BROW CNTY CONVENTION CNTR

Warehousing thousands of guests who attend the 280 annual Convention Center events in 50 different local hotels is a marketing nightmare. After recalling several bungled prior initiatives to build an adjacent hotel in his June Newsletter, LaMarca acknowledges, "…we have lost major contracts with clients since these projects have failed." Specifically, he refers to the loss of 18-year convention center customer ARVO (Association of Vision in Ophthalmology) – which sent their 13,000 guests to the Washington State Convention Center in Seattle in 2013, Orlando in 2014 and will send them to Denver in 2015 and again to Seattle in 2016. Following their annual gathering, Harley-Davidson said in 2012 that they would look elsewhere in the future for a Convention Center with a hotel. Scores of other convention customers, including the 9,000 attendees from an annual Department of Defense contractors' convention, warned that if Broward couldn't provide them with fully integrated lodging, they would not return.

Without an affiliated hotel, the Convention Center is precluded from even bidding on more than one third of the prospective convention opportunities – those that require dedicated lodging. To compete with other second tier convention cities that offer onsite lodging, the Center must offset their lack of a hotel with a laundry list of expensive perks, further squeezing embattled profits. LaMarca mentions three prior attempts by the County Board to correct this competitive shortcoming. In varying proportions, they were squelched by stupidity, turf protection... and greed.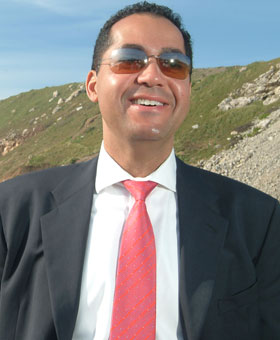 R. DONAHUE PEEBLES

When the Greater Fort Lauderdale / Broward County Convention Center opened in 1991, an initial County attempt to build a related hotel abutting an International Trade Mart flopped. When reconsidered in 1997, threats of an African-American tourist boycott prompted the County Commission to exclusively evaluate hotel plans submitted by minority-owned developers. Shortly after real estate magnate R. Donahue Peebles was awarded the hotel contract, the County learned that it had inadvertently agreed to cover any payments defaulted by the developer. When partnering hotel Management Company Wyndham International pulled out along with the National Baptist Convention – another project partner – Peebles threw in the towel and sued the County for development costs. He lost; and the project washed out for the second time.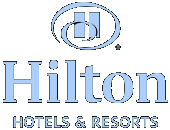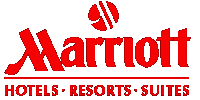 On November 1, 2007, the Broward Commission selected a bid winner from two world-class hoteliers (and their partner developers), each of which presented plans for a 1,000-room Convention Hotel on 17th Street - next to the Broward Convention Center on Eisenhower Boulevard off Southeast 17th Street at Port Everglades. Rejecting a plan submitted by Marriott and developer Hensel Phelps Construction, a ten-person selection committee chaired by tourism Guru Nicki Grossman that included 8 Broward Commissioners instead awarded the project to Hilton Hotels and their developer FaulknerUSA by a close six to four vote.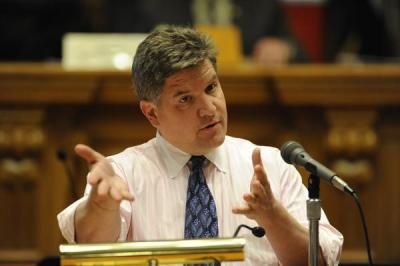 FORMER JP MORGAN BANKER CHRIS ROMER

Both bidding teams planned on using hotel revenues to repay $400 million raised from Broward-authorized tax exempt bonds. While Marriott declined any public backing, Hilton wanted an annual $6 million pledge of hotel bed taxes as a guarantee against missed loan payments. Also, if the hotel took a dive, Broward taxpayers would pay down the debt service. Hilton's ace-in-the-hole was former Executive Director Christopher Romer of JP Morgan Securities, who pledged to purchase all $398 million of Hilton's bonds, while Marriott would have to patiently hunt for investors in a recessionary credit market.

Since Marriott's plan was financially self-sufficient while Hilton placed every Broward taxpayer on the hook for their debt, President Mark Schultz of FaulknerUSA, Hilton's partnering developer, conceded that opponent Marriott's deal was far better for the County. When informed that the Commissioners ignored the risk to taxpayers and selected his team's less favorable project, a disbelieving Schultz declared, "I'm shocked!" Most residents were not surprised. Broward Commissioners had achieved nationwide notoriety for pilfering the County cookie jar while throwing taxpayers under a bus. Opting for expedience over prudence, our County Commissioners were primarily driven by enlightened self-interest as Hilton lobbyists offered committee members a more intriguing buffet of personal and political "incentives" than their Marriott peers.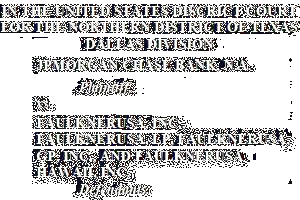 When word got out that Hilton banking partner JP Morgan Chase was suing FaulknerUSA for $6.1 million in defaulted loans from a similar project in Austin, Texas, the questionable County decision became juicy media fodder. In addition to a $6.6 million court judgment stemming from a hornet's nest of litigation over flooding problems in the Austin Hilton Convention Center Hotel, FaulknerUSA was facing $millions more in liabilities from 17 lawsuits (and 68 liens) by irate condo owners, unpaid subcontractors and project organizer Austin Convention Enterprises Inc. Despite under-the-table damage control "agreements" between project lobbyists and suspiciously vested public officials, the project began to unravel.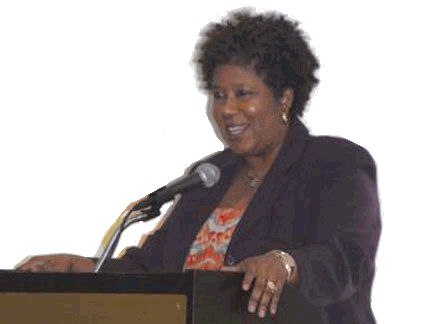 BROWARD ADMINISTRATOR
BERTHA HENRY

After demanding proof of FaulknerUSA's fiscal health in January of 2008, County Administrator Bertha Henry stoically announced, "There is nothing that says Faulkner is dropping out of this deal, but they have to respond to us that they have the wherewithal to do this project. We will not enter into a development agreement with a company that is not stable." Seeking to hedge against anticipated County intentions to sever besieged FaulknerUSA from the project, Hilton brought Hensel Phelps Construction – the partner of rival bidder Marriott – to an emergency meeting with County officials. With Commissioners circling the wagons in classic "CYA" formation, Hilton's frantic eleventh hour attempt to salvage their project by switching dance partners proved futile.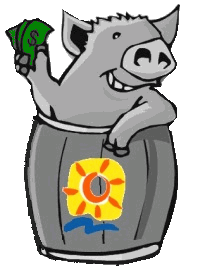 On December 8, 2009, the County Commission officially pulled the plug on the $400 million project, but not before frittering away another $1.6 million in pork payouts to LMN Architects; Hospitality Real Estate Counselors; the law firm of Siegel, Lipman, Dunay, Shepard & Miskel; the engineering firm Craven Thompson & Associates; the urban planning firm Hughes Hughes Inc.; the architectural firm Arch Alliance and the law firm of Squire Sanders - primarily for thinking happy thoughts. To avoid threatened legal action, intimidated Commissioners also refunded FaulknerUSA's $2 million deposit – with interest. The after-effects of this fiasco lingered for years, as deflated County Commissioners tried to distance themselves from attempts to revive the project.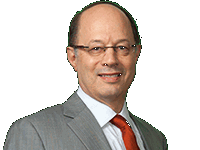 BROWARD WORKSHOP
PRESIDENT CHARLES CAULKINS

They had other reasons for dragging their feet. While a convention center hotel would clearly boost the county's recovering economy, area hotels that had been lodging conventioneers for decades would lose room night revenues. Since hotel chains reliably contribute to election campaigns, their local avatars were politely obliged by nervous Commissioners, who repeatedly nixed the project. Although hoteliers are still concerned about the competition threatened by a dedicated convention center hotel, lingering fears have annually abated since the County emerged from the recession with a burgeoning tourist economy. Chairman Charles Caulkins of the Broward Workshop, a group of 100 County business leaders, conceded "There's not the opposition there once was."

Complementing the plans for a dedicated hotel, a 200,000 square-foot expansion of the existing 600,000 square-foot convention center will include an integrated retail space offering convenient access to nightlife, shops and restaurants. Spooked by this potential source of competition, local businesses and commercial property owners worked behind the scenes to torpedo the project - unless they were afforded input into how participating merchants are selected.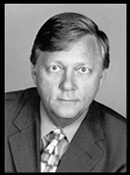 PORTSIDE YACHTING
CENTER'S MARK ELLERT

When a 2013 study by hospitality consultant HVS demonstrated the need for more hotel space and meeting facilities near the Convention Center, it spurred renewed interest in the convention center hotel last year. It also prompted concerns by Mark Ellert, a partner in Portside Yachting Center, which owns buildings next to the convention center. Asserting the need for a Master Plan, which by definition would mandate soliciting input from neighboring businesses, Ellert said "We need a vision for a world-class convention center destination, and it's best capitalized by collaboration and cooperation among all stakeholders" – a transparent pitch for a seat at the table.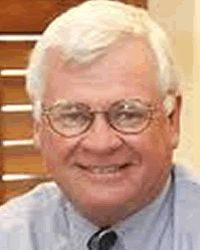 DR. HARRY MOON

This year, the scales may have finally tipped in the project's favor, as even traditional opponents have conceded to the inevitable realization of a one-time infrastructure enhancement that would inject $hundreds of millions into the local economy. Also recommending its development under a Master Plan, last year The Broward Workshop re-ranked the convention center as a top priority. Former Chairman Harry Moon declared "The county commission has kicked this ball around for too many years. It needs immediate attention."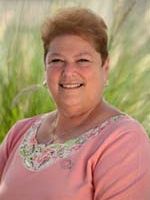 CONV. & VISITORS BUREAU
PRES. NICKI GROSSMAN

Ceding that Broward cannot compete with world class convention destinations like Miami or Orlando, President Nicki Grossman of the Greater Fort Lauderdale Convention and Visitors Bureau aspires to at least be competitive with second-tier cities such as Nashville. If the center were fleshed out and complemented with onsite lodging, Grossman observed "Then we could compete fairly with other tier-two convention sites around the country."

Grossman offered another reason for why the timing is right. When the County built the convention center in 1991, it was funded in part with bonds repaid with the "bed tax" revenues collected from visitors who patronize Broward hotels and motels. When those bonds were finally retired last year, Grossman asserted that it was "the appropriate time to bring up convention center expansion."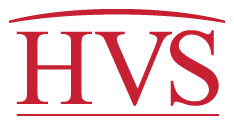 While reviewing several design concepts at an April 1, 2014 County Commission Workshop, Consultant HVS summarized the project's envisioned economic impact, projecting an additional 721 permanent jobs and a 20-year economic return of $1.1 billion. The County would snag $21 million of the overall $96 million in additional tax revenues. The local economy would realize an annual benefit of $83.1 million. Conversely, every participating consultant predicted that if none of the improvements were implemented, the Center's decline would accelerate, hammering revenues.

Having exclaimed "Let's do this, let's get it done," after the meeting, County Administrator Bertha Henry would next present four suggested design concepts to County Commissioners, who must decide which design options offer the biggest bang for the buck. Almost certainly, these will include partial demolition of a poorly placed parking garage that obstructs a view of the Intracoastal. Another consequence of poor planning, access to the site has long been impeded because of its proximity to Port Everglades. Although currently forced to navigate federally mandated Port Security checkpoints before entering the center, visitors will soon use a planned bypass road to circumvent the bottlenecks and enter directly. "Not to worry," said tourism Czar Nicki Grossman, "The project is funded and set to be completed by early 2015."
URBAN DESIGN ARCHITECT TAKESHI KAMIYA

Adding that the site's unique waterfront location would distinguish Broward's offering from tier-two competitors, consultant Takeshi Kamiya of HKS Urban Design Studio insisted, "Make sure this is about the water. It's a waterfront place." Kamiya's mantra evidently resonated with Nicki Grossman, who commented "People have a different expectation when they're on the Intracoastal in Fort Lauderdale than when they're in Minneapolis." Unilaterally advised by every consultant to exploit the waterfront site, other options that Commissioners will consider include a waterfront public park and a pier tricked out for visitors.

Hopefully, the County Commission will avoid the pitfalls that plagued their 3 earlier attempts to fully develop competitive Convention Center infrastructure, especially since LaMarca has repeatedly demonstrated his willingness to expose the nest feathering machinations that earmarked or precipitated those failures. LaMarca has supported Broward infrastructure projects, including this one, since he was first elected to the County board. For his current take on the project, read LaMarca's June 2014 update below... "Broward County Convention Center Revisited: Version 4.0". – [editor]

Broward County Convention Center Revisited: Version 4.0


By Commissioner Chip LaMarca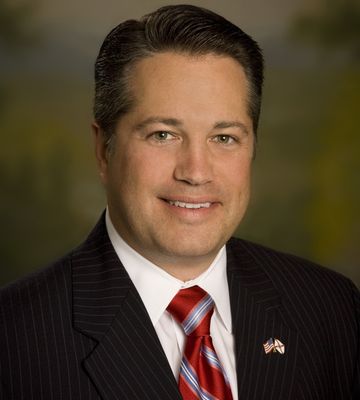 BROWARD COMMISSIONER
CHIP LAMARCA

As a County Commissioner and a local small business owner, I understand the vital importance of strengthening our local economy in Broward County. Tourism is one of our principal industries that we rely on in South Florida. We can reestablish ourselves as an international and domestic leader in the tourism industry by building a world-class convention center hotel and expanding our existing LEED Gold convention center facility. This has been a goal of mine since being elected in 2010.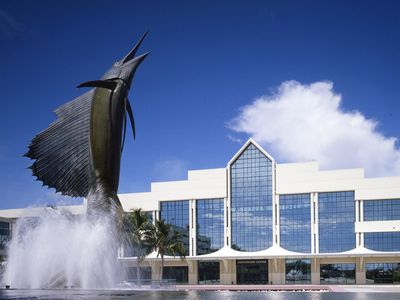 GREATER FT LAUD/BROWARD CNTY CONVENTION CNTR

Broward County has supported the many initiatives that have gone into making our Convention Center the best it can be in order to standout from those of our surrounding neighbors to attract new business. The concept of a Headquarter Convention Center Hotel is not a new idea. As a matter of fact, it has been a recurring project before the Broward County Commission for many years as I have noted before in this newsletter. The concept was put forth in the early 1990's and has come before the County Commission in various forms a total of three times and never came to fruition. According to Nicki Grossman, the President of the Convention and Visitors Bureau, we have lost major contracts with clients since these projects have failed. Nicki and her team have created a portfolio of hundreds of wonderful hotels in the Greater Fort Lauderdale Area. This portfolio of hotels has kept many large conventions coming back year after year. Unfortunately, we are now learning that some of our convention business cannot commit to returning to our sunny paradise. They cite our lack of a convention center hotel and a need for a larger convention facility, which is another goal of this expansion.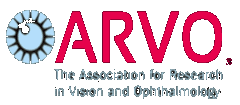 We have lost an estimated $61M in 2006, $47M in 2007, $43M in 2008, $54M in 2009, $33M in 2010 and $35M in 2011. One group in particular, ARVO - the Association of Vision in Ophthalmology was a client for dozens of years and booked 20,000 room nights annually. Broward County expects to lose $400 million in business and 960,000 room nights between 2008 and 2016 for lack of a convention center hotel and the expansion needed to compete with sites in other second-tier cities. Additionally, we have lost business due to the size of our convention center. This impact has averaged $8M annually.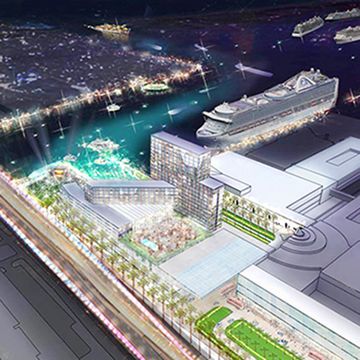 BROWARD COUNTY CONVENTION CENTER HOTEL RENDERING

Broward County is picture perfect destination for business conferences, annual meetings, and international expositions. The missing piece in Broward County being the first choice for many business or trade groups is our lack of a headquartered Convention Center hotel. This hotel in concept should be physically located adjacent to our Broward County Convention Center and be attached so that visitors can come and go from their meetings to their rooms and the amenities of such a facility.

Projects like a convention center hotel are needed to bring jobs to the local economy. We have seen a steady decline in unemployment numbers, which indicates that we are heading in the right direction. At 5.0% we remain lower than our neighboring counties and our state in this key indicator. This impact has been felt all around our county.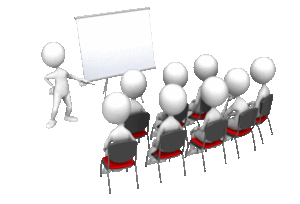 The consultants hired by the county have provided four different conceptual designs and an analysis of the feasibility of expanding the convention center and adding an adjacent hotel. The consultants have held stakeholder meetings with various homeowner associations, government agencies and department officials in the county to receive meaningful feedback and apply those to the master plan. Some of the key input from the community at public forums were utilizing the waterfront view, creating an iconic building and destination, providing entertainment, connection to nearby hotels and retail, including outdoor green space, pedestrian oriented development, accessibility to boats/water taxis, and traffic improvement.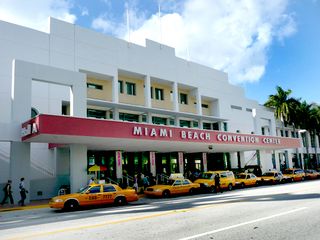 MIAMI BEACH CONVENTION CENTER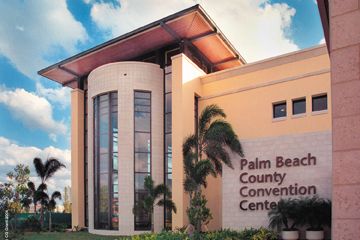 PALM BEACH CONVENTION CENTER

We need to move forward with this project now. If we don't take action we will most certainly become an afterthought to our neighbors to the north and south. Palm Beach County has pledged to invest $27 million dollars towards a $100 million project and Miami-Dade County has been in talks to invest nearly $100 million towards a project that has estimates closing in on $650 million. We can do this without leveraging any vital tax dollars because we have the most valuable asset to offer at Port Everglades, waterfront property. I expect to see a creative process like a Public Private Partnership. I will continue to advocate for this project at the County Commission and I hope a Headquarter Convention Hotel will finally become a reality. It is crucial that we work together to bring a Convention Center hotel to Broward County.

As always, it is an honor to serve you.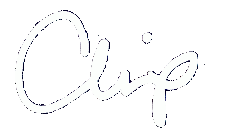 Chip LaMarca
Broward County Commssioner
District 4

Click To Top of Page

---


Commissioner

Bruce Roberts





Award || Action

Plan || Budget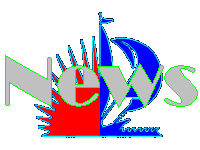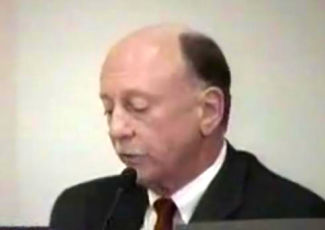 COMMISSIONER BRUCE ROBERTS
July 19, 2014 -

In his July - August 2014 Newsletter, District 1 City Commissioner Bruce Roberts savors municipal accolades bestowed on the City of Fort Lauderdale by the National Civic League. The League's 1953 Chair, pollster George Gallup, characterized the All-America City Award as "A Nobel Prize for constructive citizenship." All-America City Award finalists help define their homes by submitting three outstanding community projects. Specifically, the city was recognized for anticipating that a Chinese Menu of neighborhood improvements would ameliorate the failed culture of a school annually distinguished by an illiterate graduating class and transitioning a diurnal commercial storage district into a 24/7 Arts Center – "FAT Village".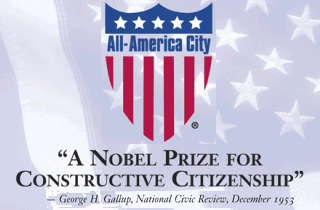 A third project, entitled "Northwest Gardens Healthy Places" glorifies a reclaimed neighborhood's "walkability", while deliberately omitting how the creative bartering of contractor tax credits was leveraged to build a thriving neighborhood in the heart of a decaying ghetto. Although the City was recognized for these impressive improvements, the League affirms that they were earned by its citizens and/or merchants, either as individuals or as participants in civic groups or committees.

For instance, the "Dillard Innovation Zone Promise Neighborhood" is a series of programs synergized by an on-line portal devised for fundraising, recruiting mentors, marketing and promoting investment in the Dillard Elementary school and its students - created in partnership with Paradise Bank and Ranger Technological Resources. The resulting collaboration of parents, healthcare providers, students, merchants and mentors dropped Dillard Elementary School from the list of 100 lowest performing schools in Florida.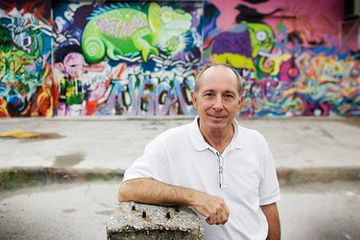 FAT VILLAGE FOUNDER DOUG MCCRAW

Flagler Arts and Technology (FAT) Village is the brainchild of Doug McCraw, a local businessman and Native Alabaman who purchased rundown properties (neglected dumps reminiscent of shadow sets in a Stephen King movie) in a crumbling commercial neighborhood. To flesh out his vision for an Arts Village, McCraw filled them with the type of Arts industry vendors who perceive unfinished loft-style space as an indispensible asset (a puppet theater, a photography studio, an advertising agency, a theater company, an architecture firm, etc.). Galt Mile residents will appreciate how the implementation of monthly Art Walks helped define the new identity of this competing Art District (our art walks fall on the first Saturday of the month while theirs take place on the last).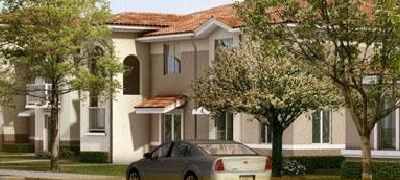 NORTHWEST GARDENS PHASE III

The evolution of Fort Lauderdale's blighted Northwest Neighborhood from a municipal armpit into a thriving community is largely a result of a unique business model used by the Carlisle Development Group. Until last year, Carlisle was the largest affordable housing developer in Florida and the third largest in the United States. With more than 80 projects valued at $1.4 billion, Carlisle's portfolio of assets included LEED-certified, mixed-use, transit-oriented, urban infill, historic rehabilitation, as well as mixed-income and market-rate housing developments. A multi-stage affordable housing development that triggered a neighborhood reincarnation, Northwest Gardens was named 2012 Project of the Year by the City.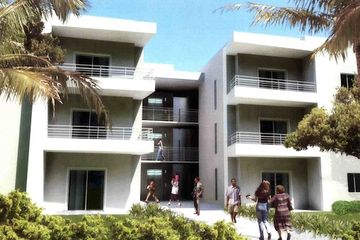 NORTHWEST GARDENS II and IV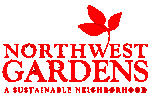 However, no mention is made of Carlisle in the Awards Summary. Last year, while bathing in adulation from deferential Housing Authority officials, complimentary civic leaders and grateful Public Officials, the wheels popped off the company's wagon. Carlisle officials - and certain business associates - allegedly couldn't keep their mitts off the cookie jar - and the Feds were watching. Federal prosecutors suspect that while padding construction costs of rental apartments to jack up entitlements for government-issued tax credits, Carlisle executives allegedly split the bilked booty with their contractor. In an awkward maneuver to recognize a remarkable transformation of the City's worst neighborhood without making reference to its now-tainted developer, the award saluted a less impressive related achievement - how resident-designed walkways provide connectivity to neighborhood schools, health care, shopping, public transportation and tasty vegetables grown in community gardens. Hhhmm...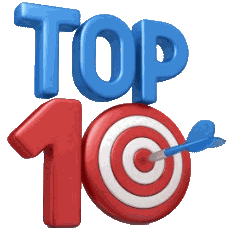 That aside, the award is one of two dozen accolades racked up by the City in the past few years. While some are less than memorable (i.e. a March, 2014 study by the Ewing Marion Kauffman Foundation that pegged Fort Lauderdale as having the third fastest growth rate for immigrant tech entrepreneurship???), most of the awards cite features that meaningfully contribute to our quality of life. They include:
Not too shabby for a City trying to shake off decades-long multiple stereotypes – as the bedroom for America's gateway to the Caribbean and South America, a seasonal flop-house for dysfunctional teenagers or ground zero for pill-mills that anchor the East Coast street drug trade. Some would say we've come a long way in the past decade. For Commissioner Roberts' summer 2014 constituent update, read on... – [editor]


From The Desk of


Commissioner Bruce G. Roberts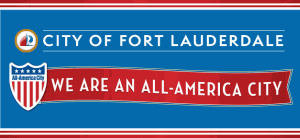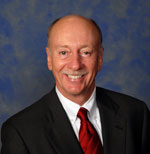 DISTRICT 1 COMMISSIONER
BRUCE G. ROBERTS

FORT LAUDERDALE NAMED ALL-AMERICA: The City of Fort Lauderdale has captured the prestigious All-America City Award! The official announcement honoring Fort Lauderdale with the 2014 national title was made by the National Civic League at its annual conference in Denver, Colorado. Established in 1949, the All-America City Award recognizes cities, counties, towns, neighborhoods, and metropolitan areas across the country for exemplary community-based problem-solving and civic engagement efforts that involve public, private, and non-profit entities. For two days, groups of civic leaders and community activists from 25 cities met in Denver to present their stories of positive change to a jury of civic experts and to network and exchange ideas and insights. The National Civic League commended Fort Lauderdale for numerous projects that demonstrate outstanding civic engagement, cross sector collaboration, inclusiveness, and innovation. An array of Parks and Recreation programs that promote healthy active lifestyles were recognized including Wise Kids, Presidential Challenge, First Lady Michelle Obama's Let's Move Campaign, Fit Kidz Club, and the City's after-school programs and youth camps. Three major initiatives taking place in the community were highlighted as examples of positive meaningful change:
The Dillard Innovation Zone Promise Neighborhood, an initiative of the Broward Regional Health Planning Council (BRHPC), that is cultivating community and business collaborations to support school improvement, health service interventions, mentoring, enhanced classroom technology, reading and literacy initiatives at Dillard Elementary School and initiating innovative solutions to reinvigorate a neighborhood in need.

The redevelopment of Flagler Village, a downtown neighborhood that has been transformed from a desolate and abandoned warehouse district into a vibrant center for arts and culture. The revitalized area features unique businesses including a master puppeteer, media and photography company, event planning and marketing business, advertising agency, theatre troupe, and an innovative landscape architecture firm. Flagler Village's popular monthly Art Walks are a celebration of the neighborhood's innovation, vision and urban lifestyle, as well as a strong sign of the area's rebirth.

Northwest Gardens, a neighborhood development located in the City's Northwest Community Redevelopment Area, is a model affordable housing project that showcases social, environmental, health, engagement, and economic sustainability. Spearheaded by the City of Fort Lauderdale Housing Authority in partnership with community members, private sector developers, and non-profit organizations, Northwest Gardens was the first LEED-ND Certified Neighborhood in Florida. The project promotes healthy living by providing residents with places to walk and bike safely, community gardens and fruit trees, energy efficient housing, solar streetlights, self-sufficiency training, job training, and cultural activities.
Fort Lauderdale was also lauded for its Complete Streets policy, which was recently ranked #1 in Florida and #3 in the nation; a wheelchair tennis program at George English Park; a walking club at Carter Park; and the hundreds of sports, programs and community activities that have taken place during the past year at the new Orange Bowl Field at Carter Park.

FY 2015 COMMISSION ANNUAL ACTION PLAN: The City Manager presented this proposed Annual Action Plan to the Commission for approval at the 7/1/14 Commission Meeting. This action plan includes the City's highest priority strategic initiatives for FY 2015. The steps and foundation used to develop this plan include:
Press Play Fort Lauderdale, Our City, Our Strategic Plan 2018, which incorporates 42% of the Vision Plan ideas;

The city-wide statistically valid Neighbor Survey conducted in November and December of 2013;

Department Performance Analysis and Outlook, developed by each Department and their staff; highlighting the current and upcoming strategic initiatives, successes, challenges, an environmental scan, and a three to five year outlook;

A meeting with the Directors and Assistant Directors of the Community Building Leadership Team; and

Two prioritization workshops with the Commission on April 17th and June 5th.

Project plans (including scopes and milestones) are being developed by key staff in an interdepartmental approach. Preliminary funding has been allocated through the proposed budget. These initiatives will be integrated as the main priorities of each Cylinder of Excellence team's annual work plan. (Teams: Infrastructure, Public Places, Business Development, Neighborhood Enhancement and Public Safety.) Top priority on policy agenda for the Commission: 17th Street Mobility Plan; Stormwater Management Plan; Comprehensive Homeless Strategy and Beach Renourishment. High priority on policy agenda for the Commission: Traffic flow and Signal Synchronization Analysis: Moving Cars and People; Comprehensive Canal Dredging Master Plan; Riverwalk District Plan; Las Olas Marina and Tunnel Pedestrian Plaza and Intersection Improvements. Top priority on the management agenda: All Aboard Florida Passenger Rail and Station Area Plan; Soccer and Lacrosse Athletic Fields; Public Private Boathouse for Crew; Central Beach Master Plan and Marine Industry Strategy. High priority on the management agenda: Wastewater Infiltration and Inflow; Shared Use of School Facilities; Code Compliance Improvements; Comprehensive Plan Amendments and Emergency Preparedness. The management agenda items are currently in progress but need to be completed. Quarterly progress reports of the plan will continue to be provided to the Commission.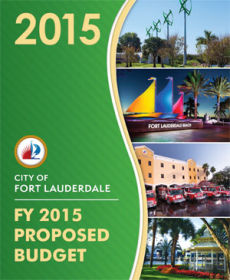 FY 2015 PROPOSED BUDGET: The City Manager's proposed budget recommendations were submitted to the City Commission July 1st and the Commission takes action at the public hearings on September 3rd and 10th. Also on July 1st, the Commission kept the FY 2015 operating millage rate at 4.1193, and maintained the Fire Assessment Fee at $225 per residential dwelling. The proposed General Fund Budget of $293,765,001, while 2% higher than the current FY budget, exceeds policy with total fund balances of $65.7 million or 23.7%. A special thank you is in order to our Budget Advisory Board; these volunteers have devoted countless hours to improve the budget process by working hand in hand with all City Departments and by conducting several public budget workshops with your Commission. The Budget Advisory Board concurs with the City Manager's proposed budget. The City is committed to providing accurate and transparent reporting, and focusing on the results which the community requested in the Vision Plan, the Strategic Plan, the Annual Action Plan and in the two Neighborhood Surveys.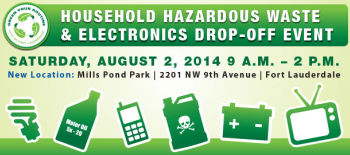 HOUSEHOLD HAZARDOUS WASTE: The City has partnered with neighboring communities to provide convenient, new options for residents to dispose of household hazardous waste and electronics (proof of residency required with driver's license or utility bill). The drop-off events are critical to protecting the environment by reducing the volume of waste in landfills and preventing the contamination of ground water.
- August 2: City of Fort Lauderdale/Mills Pond (9am-2pm) – 2201 NW 9th Ave
- September 13: City of Coconut Creek (9am-2pm) 4800 W. Copans Road, Coconut Creek
- November 8: City of Pompano Beach (9am-2pm) 1660 NE 10th Street (Community Park), Pompano Beach
- December 6: City of Tamarac (9am-2pm) 6011 Nob Hill Road, Tamarac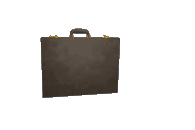 NEW BUSINESSES IN FORT LAUDERDALE:
Fresh First - 4520 N. Federal Hwy. - Restaurant

A1 Total Marine Management - 401 NE 8th St. - Self-Storage Facility

Fish Window Cleaning - 621 SW 21st Ter. - Cleaning Service

Certified Aircraft Management - 1805 NW 51st Pl. - Aircraft Repair

Bayview Animal Clinic - 2900 E. Commercial Blvd. - Veterinary Clinic

Garden of Eden Nursery - 2301 NW 19th St. - Nursery

Aircraft Turbine Repair - 729 NW 1st St. - Aircraft Repair

Florida Community Bank - 1501 SE 17th St. - Bank

Transwestern - 450 E. Las Olas Blvd.#740 -Property Management

Fort Lauderdale Collision - 5050 NW 12th Ave. - Vehicle Repair

ROBBI
UPTEGROVE

Trader Joe's announced it will bring a store to Fort Lauderdale in 2015. The popular grocery franchise will open at 1590 N. Federal Highway, north of Sunrise Boulevard, within the existing Office Depot plaza. Trader Joe's recently opened a store in Wellington and Boca Raton.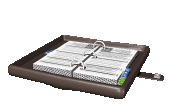 Office Contact: Robbi Uptegrove – 954-828-5033; email: [email protected]. In addition to hosting the pre-agenda meetings twice a month, I am also available to attend your HOA meetings to update your neighborhood on what is going on in the City as well as answer any questions/concerns you may have. Please contact Robbi to schedule.


If you need to reach Commissioner Bruce Roberts, please contact his assistant Robbi Uptegrove at 954-828-5033 or by e-mail at [email protected]. To access the City Commission Meeting Agendas and Minutes, Click Here. To actually watch the meetings recorded and archived on the Commission Meetings Video Webcast and Archives web site, Click Here.

---
Broward Commissioner Chip LaMarca
District 4 in the





Swim Central; Cane Tweets; Deerfield Island; and Broward 100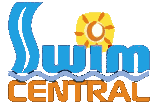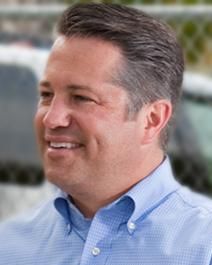 LAMARCA PLANS MAYORS SUMMIT
July 27, 2014 -

In his July 2014 Newsletter, County Commissioner Chip LaMarca laments a spike in the number of local children who drown every summer - simply because they never learned how to swim – and cites a newly expanded County program conceived to reverse this seasonal tragedy. Turning to his older constituents, LaMarca warns against being lulled into paralysis by a decade of cyclonic calm (Superstorm Sandy excepted), and promotes utilizing Broward's recently enhanced online Hurricane preparedness resources.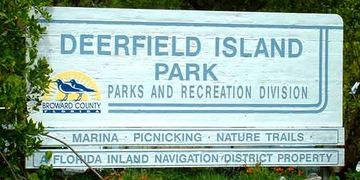 After reviewing a litany of summertime family activities depicted on the Deerfield Island Park web page, LaMarca lists a series of "Let's Talk Transit" meetings (that you already missed) and harkens to new art and performance projects that celebrate the upcoming Broward Centennial (which you haven't missed). He concludes by applauding how a healthy federal grant will fund new County homeless initiatives.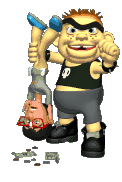 The homeless initiatives should resonate with Galt Mile residents, especially those forced to confront the slime balls who took up residence on the beach next to L'Hermitage. By toggling the First Amendment, these shadowy scofflaws shifted seamlessly between extorting money from intimidated residents and relieving themselves in the adjacent dunes.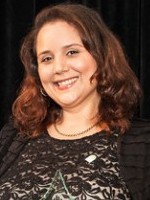 L'HERMITAGE I MANAGER
PATRICIA QUINTERO

When L'Hermitage I Manager Patricia Quintero asked the Galt Mile Advisory Board's FLPD representative to quash this daily threat to her residents, the officer explained how a revolving door in the legal process turns an arrest into a 4-hour guided tour of the jail and a free meal, after which the released panhandler can make a bee-line back to the urine-soaked flophouse carved from the beach.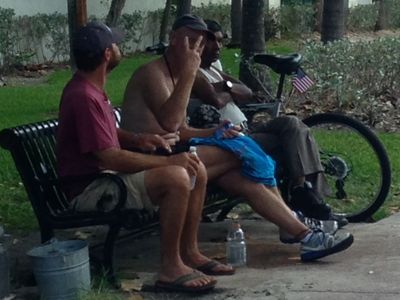 L'HERMITAGE PANHANDLERS INTIMIDATE RESIDENTS

One model citizen intercepted a passing L'Hermitage septuagenarian and threatened to kill her dog. When the police finally responded, they evidently overlooked the open bottles of booze being soaked up in public as they cruised by without stopping. Another disgusted resident grabbed her camera, approached the intoxicated celebrants and bravely announced "Smile for your local City Council," and snapped a photo which she sent to Commissioner Bruce Roberts – who then added his name to the growing list of complainants. Although the police made two arrests, the panhandlers continued threatening anyone within earshot – for weeks. Roberts agreed with Quintero and other Advisory Board members that little would change without sustained police sweeps.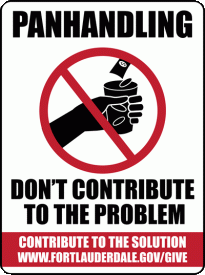 Making rounds in a daily itinerary that includes the gas station on the corner of Oakland Park Boulevard, the Mills Corner (Walgreens) strip mall, the Galt Mile Reading Center, the Winn-Dixie dumpsters and the Galt Ocean Marketplace parking lot, another homeless person who "works" the Galt Mile explained why his aggressive "colleagues" selected the L'Hermitage location to set up shop, since any of the City's public beach access streets would provide them with a steady stream of cash-flush visiting tourists. Once assured that he would not be identified, he remarked "Everyone knows that Galt Mile people are a soft touch. We follow the money."

Although the City's new "No Soliciting" ordinance has helped reclaim City parks that recently served as bedrooms for both native and visiting homeless vagrants, neighborhoods are a different animal. Ignoring repeated pleas by Police Officials to divert their contributions from local panhandlers to organizations that address the root causes of homelessness, a handful of chronic Galt Mile donors inadvertently painted a target on the neighborhood. Pressured by the neighborhood association, FLPD teamed with the Galt Mile security patrol and L'Hermitage officials to finally depopulate the beachside ashram.

While the 48 additional beds funded by the County's planned Homeless initiatives will help address the larger problem, whether or not these predators return will depend on the future tithing habits of well-intentioned Galt Mile residents. As FLPD Major Michael Gregory observed, "People confuse members of the homeless community with the predators who exploit them. Those that prey on the homeless won't hesitate to prey on your families." For LaMarca's summer message, read on... – [editor]

July 2014 Update


By Commissioner Chip LaMarca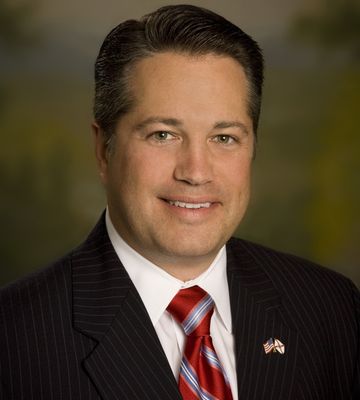 BROWARD COMMISSIONER
CHIP LAMARCA
Stay Safe this Summer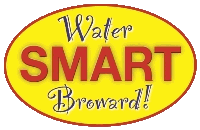 Every year an average of eight children drown in Broward County. What makes that number so tragic is that these deaths are preventable. Now SWIM Central is part of Water SMART Broward, a new initiative to get all organizations in the County that emphasize water-safety working together toward a common goal of preventing child drowning. That goal entails providing educational resources for parents and guardians. While SWIM Central has been extremely successful providing over a million lessons since 1999, Water SMART Broward will take it to an even larger scale – to reach more people and save more lives. Already dozens of partners have joined the cause. For more information, call SWIM Central at 954-357-SWIM (7946), or visit WaterSMARTBroward.org.
Hurricane Season is Here. Don't be Complacent!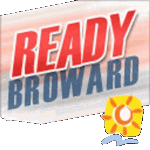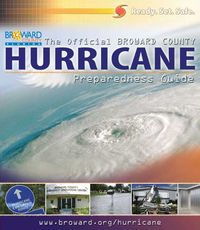 Hurricane Wilma in 2005 was the last major hurricane to hit Florida. Now is not the time, however, to become complacent over hurricane preparedness for your home or business. By planning ahead and being prepared, you will substantially lower your risk of personal injury and property damage. Log on to Broward.org/Hurricane for more information on hurricane preparedness. Review the County's Hurricane Preparedness Guide, signup for Ready Broward Twitter Alerts on Twitter.com/ReadyBroward, and consider the recommendations outlined in our Shopping Guide, a convenient way to spread the cost of your hurricane kit supplies over eight weeks. Don't be complacent this hurricane season! Be "Ready. Set. Safe.
Family Fun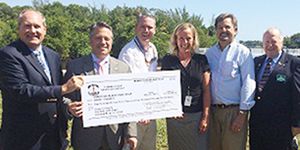 FLA INLAND NAVIGATION DISTRICT & BROWARD COUNTY
OFFER NEW PARK ACCESS TO WEEKEND BOATERS
Deerfield Island Park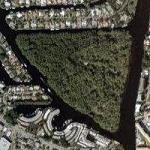 DEERFIELD ISLAND

Deerfield Island is a 53.3-acre nature-oriented park offering outdoor recreational opportunities and environmental education. Accessible only by boat, this roughly triangular park is bordered by the Intracoastal Waterway and the Hillsboro and Royal Palm canals.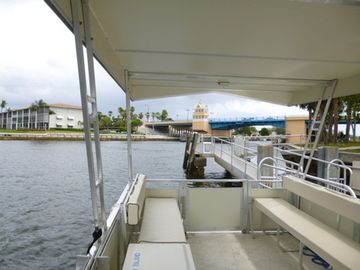 DEERFIELD SHUTTLE

A free boat shuttle transports park patrons from the dock at Sullivan Park to the island on the hour from 10 a.m. to 3 p.m. on weekends only. The last shuttle returning to the mainland departs the island at 4:30 p.m. Minors must be accompanied by a parent/guardian to ride the shuttle. The shuttle is dependent on weather conditions, so please call 954-357-5100 to confirm the shuttle is operating if the weather looks questionable.
DEERFIELD ISLAND MARINA

Marina: There is a marina with six slips for boats no longer than 25 feet and available on a first-come, first-served basis. The park is wheelchair accessible at high tide only.

Intracoastal Dock: A new 170-foot-long dock is now open Saturdays and Sundays from 10 a.m. to 5 p.m. on a first-come, first-served basis for park visitors who travel by boat. Docking is not permitted during the week, and overnight mooring is not allowed.

DEERFIELD ISLAND BOARDWALK

Nature Trails: The island has two main trails. The half-mile Coquina Trail includes an observation platform overlooking the Intracoastal Waterway. The trail explores the eastern side of the island, meandering through what was once a pineland. The three-quarter-mile Mangrove Trail, which includes a 1,600-foot boardwalk, passes through a mangrove swamp along the park's western shore.

Programs and Hikes: There are various programs and hikes held at Deerfield Island Park every month. For more information on programs and how to preregister for them, visit the park's Quarterly Calendar page, located on the left navigation menu.

School Groups: This natural area abounds with learning opportunities for students of all ages. From outdoor laboratory experiments to group learning exercises, we can ensure that students receive the information they need while having a fun experience. Come explore our natural areas.

DEERFIELD ISLAND PICNIC SHELTER

Picnic Shelter: There is one small picnic shelter (capacity 40), available by reservation, with tables, grills, water, electricity, an area for volleyball, and a horseshoe pit. Other picnic tables and grills are located along the boardwalk and are available on a first-come, first-served basis.

Deerfield Island Park
1720 Deerfield Island Park, Deerfield Beach, FL 33441
Phone: 954-357-5100 (phone inquiries taken at Quiet Waters Park)
Fax: 954-357-5101
Email: [email protected]
"Let's Talk Transit" Invites Residents to Give Feedback

In an effort to gain community feedback on the benefits of transit and the community's vision for future transit services, Broward County Transit (BCT) will host, "Let's Talk Transit," a series of community outreach meetings. This month meetings will be held from 5:30 to 7 p.m. on Monday, July 7, at the African-American Research Library & Cultural Center (Seminar Room No. 1), 2650 Sistrunk Blvd., Fort Lauderdale; Tuesday, July 15, at North Regional Library (Auditorium – Room 154), 1100 Coconut Creek Blvd., Coconut Creek; and Wednesday, July 30, from 6 to 7:30 p.m. at Miramar Branch Library, 2050 Civic Center Place, Miramar. Meetings are free and open to the public. Visit Broward.org/BCT.
News from "Broward 100: Celebrating the Art of Community"

Broward 100 will commemorate Broward County's centennial with bold, innovative art and performance projects that attract visitors and bring Broward residents together using our arts, sports and recreation venues, natural attractions and incredible diversity to creatively bridge, bond and build their community. Broward 100 is framed by four distinct cornerstones of community engagement: VisualEYES, Inside Out Broward, Calendar 100 and the Grand Finale. http://www.broward100.org. The public is also invited to help name the concluding event in October 2015.
Broward County Receives Grant of Nearly $9 Million to Assist Homeless Population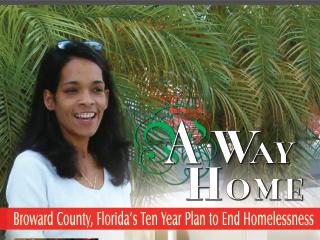 The Broward County Homeless Initiative Partnership has been awarded a grant of nearly $9 million by the U.S. Department of Housing and Urban Development. The grant award funds 18 renewal projects that will aid supportive services, 12 are for permanent housing projects funding 684 beds, five are for transitional housing projects funding 428 beds and one is for supportive services projects serving 40 clients in permanent supportive housing. Most importantly, the renewal funds created 48 new and permanent supportive beds for the area's homeless.
If there is anything that we can do to assist you with your vision for a better Broward, please do not hesitate to contact our office at 954-357-7004 or by email at [email protected]. You can also stay up to date by viewing our website Broward.org/District4, where you can sign up to receive email updates from our office.
As always, it is my honor to serve you.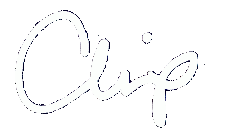 Chip LaMarca
Broward County Commssioner
District 4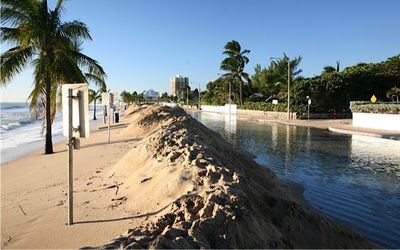 SANDY AFTERMATH: SAND PILED ALONG BEACH AND FLOODED A1A
(GREAT SHOT BY ART SEITZ)

August 6, 2014 - On December 3, 2012, the Galt Mile Community Association convened a 7:30 PM Presidents Council Meeting at Plaza East Condominium. After thanking Plaza East President Glenn Rollo for hosting the final meeting in 2012, Presidents Council Chair Pio Ieraci reviewed the meeting agenda before introducing City Commissioner Bruce Roberts, City Manager Lee Feldman and now-retired Broward Beach Administrator Eric Myers.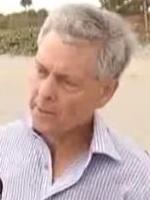 FORMER BEACH
BOSS ERIC MYERS

Since our future, both individually and as a community, is inextricably linked to the fate of our beach, we needed to know what remedies were being considered to restore Fort Lauderdale's devastated coastal infrastructure. Collapsed a month earlier by Superstorm Sandy, attending association officials were specifically concerned about 4 mangled blocks of A1A and our significantly diminished Galt Mile beach. Eric Myers described how the planned Segment II beach renourishment would salvage North Broward's eroded shoreline while Bruce Roberts and Lee Feldman shed light on the tidal damage to A1A.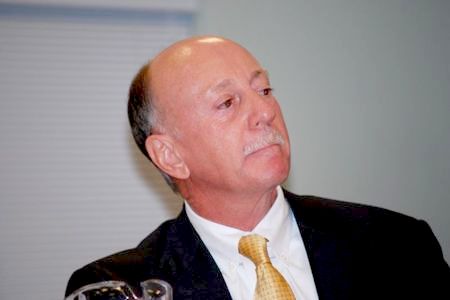 CITY COMMISSIONER BRUCE ROBERTS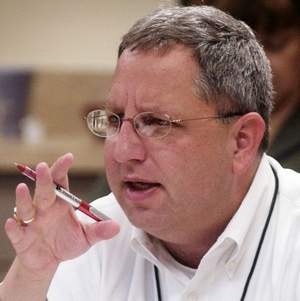 CITY MANAGER LEE FELDMAN

City Manager Lee Feldman confirmed that Fort Lauderdale planned to mitigate the damaged shoreline and adjacent infrastructure. Before effecting repairs to the 4 blocks of A1A (from Northeast 14th to 18th Street) that were reduced to soggy rubble, Feldman said that planners must first decide between rebuilding the original 4-lane Ocean Highway or possibly add a turn lane and a greenway to the 2-lane thoroughfare that had been hastily reconfigured from the roadway's former 2 southbound lanes.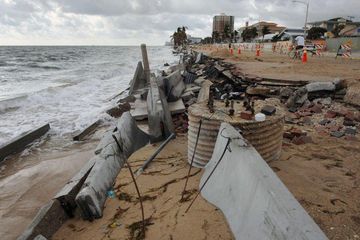 CONCRETE BREAKWATERS ALONG A1A (PIC BY ART SEITZ)

With concrete wall barriers installed as temporary breakwaters piled along the east side of the street and parking spaces next to a 6-foot pedestrian path lining the west, Feldman added that the Florida Department of Transportation (FDOT) wanted reliable assurances that the reconstructed road would be protected from future storm surge. The only coastal engineering capable of shielding A1A (along with thousands of lives and $billions in upland property) is a healthy beach. Instead of just adding more sand to the eroded shoreline, Feldman declared "We need to find a more long term solution." Ironically, this sustainable approach had been repeatedly advocated by both Myers and predecessor Steve Higgins for decades.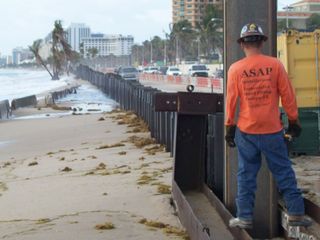 METAL SHEET PILE INSTALLATION (PIC BY ART SEITZ)

According to Feldman, a $3 million metal sheet pile installation and sand placement plan would be the best shot at fixing A1A. The cost of building the sheet metal wall between the beach and the road would be split among the County, the City and FDOT. Despite the absence of a reliable Federal commitment, money was not expected to be a problem. Funds were available through a variety of sources, including the county's tourism fund. While every long term plan variant was fitted with an 18-month timetable, post-planning construction for the short term fix would begin in January and be completed by the onset of Sea Turtle nesting season in March, 2013.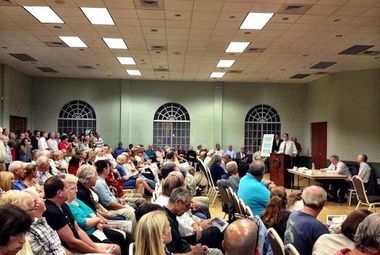 GALT MILERS PACK BEACH COMMUNITY CENTER

A week later, on December 10, 2012, more than 300 local residents, their elected officials in City, County and State governments, local Florida Department of Transportation (FDOT) bureaucrats and representatives from environmental, business and civic organizations converged on the Beach Community Center. The public officials planned to reveal long and short term recovery proposals under consideration by the City, County and State (FDOT).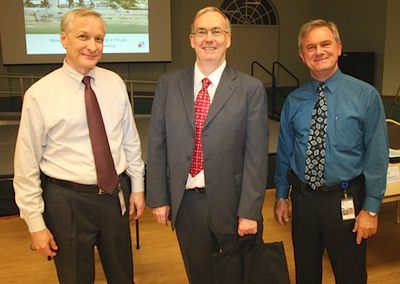 JIM WOLFE, GERRY O'REILLY AND CLEO MARSH

Residents who packed the standing-room-only Monday night event hoped for a glimpse at the future of their beach. FDOT District Secretary Jim Wolfe and project manager Gerry O'Reilly explained that the storm-reduced 2-lane A1A configuration would be abutted with a third "left turn" lane and that remaining space liberated by the lane reduction would accommodate a long-planned Greenway project. After outlining plans for the $8.3 million short-term fix that was subsequently completed in June 2013 (two months into the Sea Turtle nesting season), Wolfe said that the long-term solution would feature an elevated roadway bookended with bike lanes and O'Reilly proposed tilting A1A so that water drains to the west – away from the ocean – rather than to the east.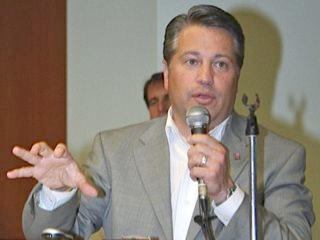 BROWARD COMM. CHIP LAMARCA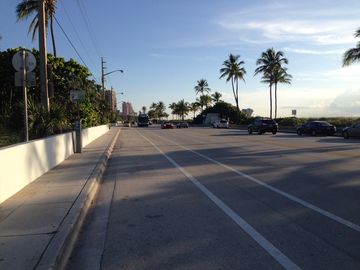 JULY 2014 PRE-CONSTRUCTION A1A

While conceding that sustainability was an indispensible plan asset, residents were still flustered by an 18-month waiting period projected for each of several proposed long-term solutions. When FDOT District Secretary Jim Wolfe said "I wouldn't see work starting on a rebuild of A1A for 18 months...," Broward Commissioner Chip LaMarca – a building contractor by trade – responded "18 months is a long time. Maybe we could contract that and make it a shorter timetable." Unfortunately, LaMarca's aspiration remained unrequited. Now that the 18-month purchase price for sustainability has been paid-in-full, FDOT is again ramping up to implement the final construction plans for A1A.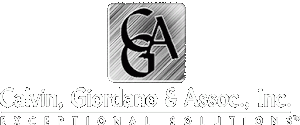 In spinning the storm damage as an "opportunity" and naming the project "A1A in Action," City officials marketed the effort as "dedicated to enhancing a piece of Fort Lauderdale's future by transforming a portion of this iconic roadway into a vibrant, resilient, multimodal destination." Under the watchful eyes of FDOT and engineering megafirm Calvin, Giordano & Associates, Inc., on July 28, 2014, bid-winning contractor Russell Engineering, Inc. initiated the first phase of rebuilding the .988 miles of A1A from Sunrise Boulevard to NE 18th Street. FDOT allotted 506 days to complete the $11.8 Million project (FDOT Financial Number: 433688-4-52-01), officially anticipating an estimated December, 2015 deadline, although Russell Engineering's contract contains a $5000 per diem incentive for clipping up to 100 days from the construction timetable. FDOT authorized the contractor to work Monday through Saturday from 8 a.m. to 7 p.m. The contractor's plan called for crews to initially erect construction signs and concrete barrier walls around work zones.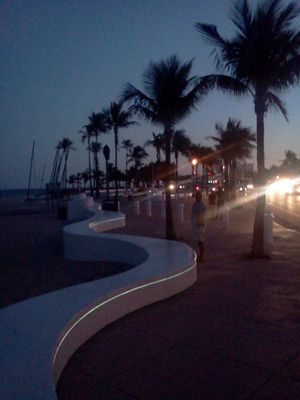 WAVE WALL NEON ACCENT LIGHTS

A 10- to 17-foot wide beachfront promenade featuring paver sidewalks and crosswalks will abut the interred sheet pile sea wall along the east side of A1A. Above ground, a decorative sea wall will be enhanced with the same neon accent lighting that lines the Wave Wall. The road will include a raised median along Birch State Park as median islands and left turn lanes will mark where the route penetrates a residential neighborhood. Underground utilities that service newly restored beach showers will be relocated, as will manhole covers that gateway access to the remapped interred lines.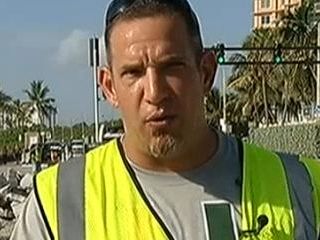 RUSSELL ENGINEERING VICE PRESIDENT BRIAN GIBBS

A subsurface drainage system will help immunize the roadway to meteorological molestation. The contractor is installing French Drains, perforated conduits that enable controlled release of infiltration, cushioning the system when battered by storm surge. Citing the project as a "roadway narrowing," Vice President Brian Gibbs of Russell Engineering explained, "It's a French Drain system so to a point it holds water internally and takes some of the pressure off the outfall system so not all the water has to rush out of the system at the same time."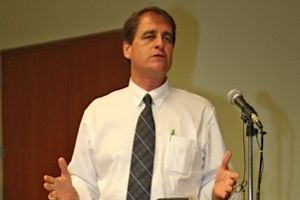 MAYOR JACK SEILER DIRECTS A1A MEETING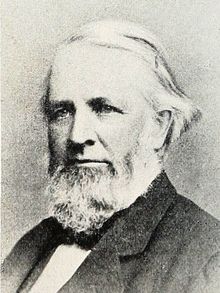 HENRY FLAGG FRENCH

First described when the release of Assistant U.S. Treasury Secretary Henry Flagg French's 1859 literary foray "Farm Drainage" eventually immortalized his name in the annals of structural engineering, French Drains aren't exactly new technology, begging the question why this protection isn't integral to all critical beachside thoroughfares in hurricane-walloped Florida. Reviewing the damage caused by Superstorm Sandy at the December 10, 2012 community meeting, Mayor Jack Seiler optimistically observed "This is a big gray cloud over Fort Lauderdale beach but I think we can find a silver lining." Adding Mr. French's pre-Civil war innovation to the FDOT's A1A design plan should inoculate A1A against future storm damage. Along with the project's other design bells and whistles, this arguably qualifies as a silver lining.
Decorative turtle-safe pedestrian lighting will line both sides of A1A and signalized pedestrian crosswalks will be installed at Birch State Park, NE 15th Court and NE 17th Street. After covering all the expanded 11-foot wide traffic lanes and parking spaces with a new layer of asphalt pavement, new markings will be painted on the pavement and new highway signs erected along the route.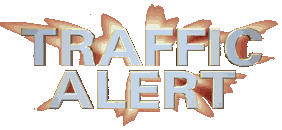 During this phase of the project, on the east side of A1A from Sunrise Boulevard north to NE 14th Court, parking spaces and the sidewalk will be closed and beach access points will be restricted. Pedestrians and beach goers will be prohibited from cutting through the work zone. Two-way traffic, a bike lane, on-street parking and a sidewalk will be available on the west side of A1A.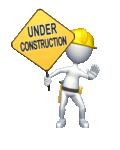 As the project continues north from NE 14th Court to NE 18th Street, parking spaces and the sidewalk will be closed on the west side of A1A although side streets and driveways will remain accessible. Two-way traffic, a bike lane, on-street parking and a sidewalk will be maintained on the east side of A1A in this construction zone. Upon completion of this construction phase, a separate contract will provide for the installation of landscaping in the raised median across from Birch State Park and planter areas in the east side promenade.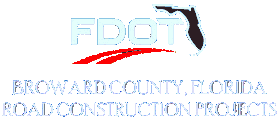 Shortly before this final round of construction commenced, FDOT District Four Public Information Director Barbara Kelleher reached out to local residents affected by the project. Kelleher asked "If you know someone that would like to receive project email updates, please send their address to [email protected] with a subject line of 'A1A Updates,' and remind them to put this address on their 'safe sender' list. Also, people can follow us on Twitter @MyFDOT_SEFL." Offering an olive branch, Kelleher added "The A1A Reconstruction Team thanks our project neighbors for their patience and cooperation during this work. Should you have any questions or concerns about this work, please feel free to contact FDOT's Public Information Office at 954-777-4090."
The City of Fort Lauderdale and Broward County have a stake in recreating a thoroughfare worthy of A1A's 2009 designation as a Florida Scenic Highway. Almost two years in the making, planners also hope that the project yields a storm-resistant construction template for other coastal roadways vulnerable to Hurricane damage. However, until the reengineered protections are tested by Mother Nature after the project is completed in 2015, its status as a model for sustainability will remain largely "theoretical." Time, as always, will tell.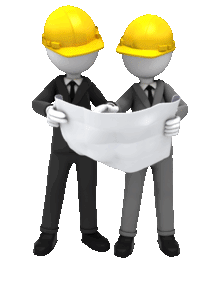 While most Galt Mile residents take pride in the restoration of our municipality's renowned "Ocean Highway", others have characterized such projects as marginally material to our neighborhood. Preparations are already underway to receive an avalanche of inland sand in November. While the sand will restore our shrunken "Segment II" Galt Mile beaches, unless the Broward coast is stabilized, this long-delayed boon could be short-lived.

As repeatedly admonished by Beach Gurus Eric Myers and Steven Higgins, the Broward coast is a single ecosystem wherein the health of every segment depends on the stability of adjacent segments. Gratefully, the hard lesson our public officials took from Superstorm Sandy was the uncompromising need to imbue beach projects with sustainability. Stabilizing coastal infrastructure both north and south of the Galt Mile will reinforce our only real protection against storms and delay the need for another renourishment. Some might consider that relevant to our neighborhood.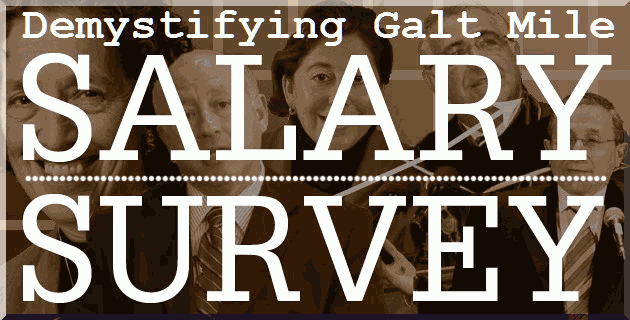 Secret Weapon Sees Sunshine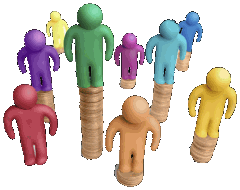 August 14, 2014 - Every year, the dedicated employees who work for Galt Mile associations help keep us safe, maintain the structural integrity of our homes and struggle to address our needs without breaching the tough fiscal constraints of our annual spending plans. As a rule, they are polite, competent, diligent, respectful, and take pride in fulfilling their responsibilities. Equally important, an overwhelming majority care about the people whose lives they touch each day. When a hurricane emergency is declared, although State Law allows them to head home, many will voluntarily stick around to help frightened and/or at risk owners. In most well-managed associations, staffers are considered family.
Turnover is unavoidable in any business. A variety of factors contribute to an association's rate of turnover. However, if the economy isn't knee-deep in crushing unemployment and the association is well-managed, the stability of an association's staff will largely depend on whether or not it provides a competitive and balanced wage scale. To that end, researching the Bureau of Labor Statistics is a futile endeavor. Even authoritative community association resources, such as payroll suggestions from the Community Associations Institute (CAI), are of marginal value.
Wages – and labor costs in general – vary by job title, any required credentials and/or licenses, location, industry, the size of an organization and the current economic environment. Unless association officials are familiar with what neighboring associations are paying for security personnel, maintenance staffers, bookkeepers, receptionists, department supervisors, general managers, landscapers, etc., the association risks allocating too much or too little to fill open positions.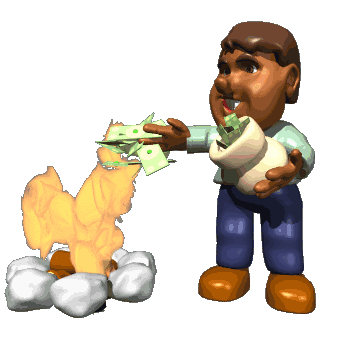 By draining resources from other association needs, an overly generous pay scale will prematurely deplete the annual budget, threatening an otherwise unnecessary special assessment. Conversely, since underpaid staffers "resign" during or shortly after a tight-fisted association fruitlessly expends training resources, a deficient pay scale fosters perpetual operational dysfunction. Ironically, the "Crisis Management" damage control required to survive chronic instability ultimately costs more than supporting an overpaid staff. In either case, every competent association Treasurer is keenly aware that poorly managed compensation will skyrocket annual unit owner maintenance assessments.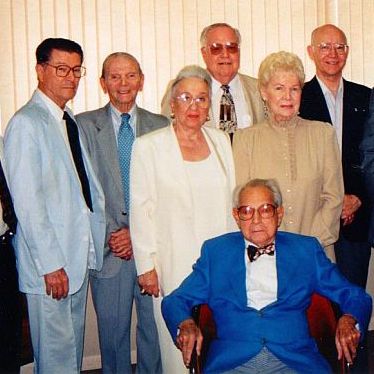 1996 GMCA BOARD OF DIRECTORS: EARL LIFSHEY
ROSE GUTTMAN, LEAH GLICKFIELD, DICK TYMESON
JIM GILL, BOB ROZEMA, OSCAR KRAEHENBUEHL

In 1996, Galt Mile Community Association (GMCA) officials explored the benefits of building a database that member associations could use to better manage labor costs. If they could document how much each member association paid its employees, they could calculate an average cost per employee. If the data were sorted by job title, it could additionally yield the average cost for a security staffer, a maintenance employee, a bookkeeper, even a manager. With this information, any well-managed association could confidently assemble a stable labor force.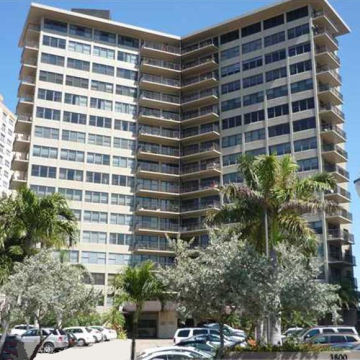 GALT OCEAN CLUB CONDOMINIUM

Former Presidents Council Chair, the late Dick Tymeson, surmised that he would need someone conversant with association payrolls, adept at managing statistics and comfortable with computers. The computer illiterate Tymeson charged then GMCA Vice President Pio Ieraci with exploring trustworthy prospects with these skills. Ieraci discussed the planned objective with bookkeeper Norma Schaeffer of Galt Ocean Club condominium, where Ieraci also served as association President. Schaeffer suggested that Ieraci speak with her sister Darlene, who was the bookkeeper at the Ocean Manor Resort, a statistical whiz, and knew her way around a hard drive.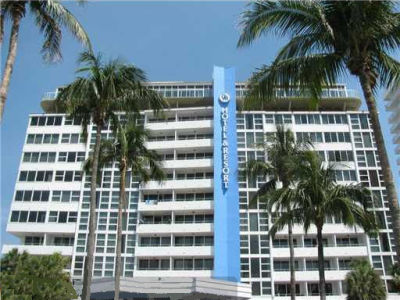 OCEAN MANOR RESORT

At that time, although the best off-the-shelf IBM, Apple, Compaq or Dell products featured less computing power than today's mid-level cell phones, those early Windows and Mac operating systems were newly adapted to managing Oracle's pioneering database programs. After pounding out the project's digital blueprint with Darlene Schaeffer, Ieraci was convinced that she could compile the solicited payroll data and flush it through the database software to generate a wage and salary study tailored to the Galt Mile.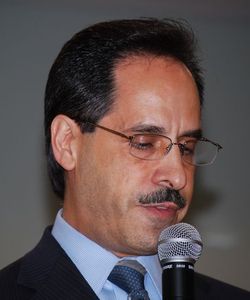 PIO IERACI

To protect the confidentiality of each association's payroll information, the data was collected anonymously and presented by employee category (job title). While all the accumulated wage data was displayed in the final report, the "Average" and "Median" salary amounts for each category were also indicated for comparison purposes. Average values were rounded up or down using the standard + or – 50% as the determining factor.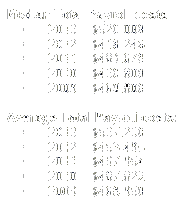 Despite sketchy participation, random omissions and serious collection difficulties, that initial final report was a home run. For the first time, Galt Mile associations had an accurate breakdown of wage and salary data for most job titles they needed to fill. Tymeson and Ieraci were besieged by calls from Galt Mile association managers and board members pleading for an updated copy of the report every year. To insure that the competitive dividend would solely accrue to GMCA condos and co-ops, member associations unanimously voted to protect the work product as proprietary. Awash in positive feedback, the project quickly evolved.

While small and medium-size associations hire maintenance personnel to perform a wide variety of tasks, the division of labor in larger associations yield specialized job titles for pool maintenance, landscaping, painting, housekeeping, etc. In the following years, input was expanded to include these additional job titles and data was additionally sorted by association size (number of units). To insure "apples to apples" compensation comparisons, benefit packages were fiscally diagnosed, ascribed values and salted into the data.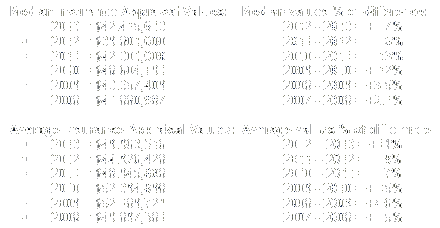 The program was also adapted to parse data for outsourced services, supervisory personnel and independent contract employees (including staffers provided by management companies). Compensation packages were abutted with tenure terms and promotion rates. Soon, every association job title on the Galt Mile was statistically supported, from housekeeping supervisors to receiving clerks or guards outsourced from a security company.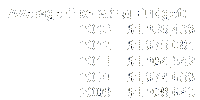 Association Operating Budgets were also collected anonymously, enabling line item percentage comparisons for per unit operating costs. In contrast, actual maintenance charges are derived from a unit-specific mathematical coefficient based on square footage and often adjusted for height above grade (increasing as floors ascend). Later, the database was again expanded to include Insurance Appraisals, Accounting costs (in-house or outsourced) and Reserves. Comparative data for hurricane damage (useful for insurance claims) was added during the serial hurricanes of 2005. By retaining the data from earlier years in subsequent annual reports, the survey was engineered to offer chronological comparisons as well - such as the annual percentage difference in operating budgets, contributions to reserves, labor costs, CPA & audit expenses, insurance appraisals, etc.

In addition to managing compensation, by 2009, the survey could also be used to accurately vet nearly 50% of an association's budgetary resources, including reserves, auditing costs and insurance outlays. By comparing their association's spending plan to the annual survey, any association official could quickly determine where they were spending too much or too little, equipping them with relevant questions for the association Treasurer.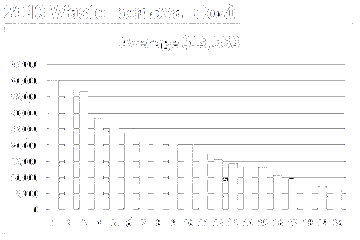 Since the parsed analytics were annually growing in scope and complexity; in 2009 the project was turned over to Phase One Computing, a firm that specializes in adapting custom accounting software to client needs. Since then, Proprietors Dave and Darlene Smith have added waste removal cost comparisons, hiring and discharge rates, and dedicated statistical data for part-time employees, full-time employees and contract workers. Initial and accrued employee benefits were additionally differentiated by allocations for job-related or convenience amenities (cell phones, gas allowance, housing, etc.). The survey's 25 pages of data were enhanced with grayscale graphic representations.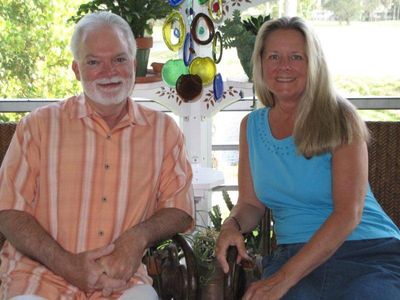 PHASE ONE PROPRIETORS DAVE AND DARLENE SMITH

The annual survey has evolved into an indispensible tool for every Galt Mile Board of Directors and their association Managers. Not surprisingly, yearly requests for a copy of the report from community associations in Broward and other counties are politely declined by the neighborhood association. Ironically, despite its significant impact on the fiscal health and operational stability of their homes, most Galt Mile residents know little or nothing about the survey.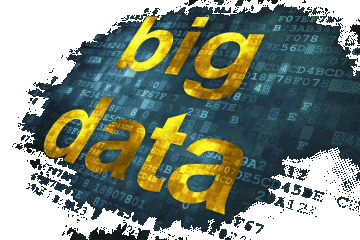 Since the statistical accuracy of real-time analytics depends primarily on the size of an input database (big data), the neighborhood association unanimously passed a rule to insure greater participation. To receive a copy of the final report, a member association must contribute its anonymous data by a predetermined hard deadline. This rule, while indispensible to delivering an accurate and timely report, gave rise to an unexpected dilemma.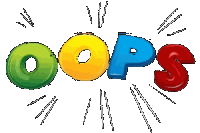 Almost every year, one or two of the Galt Mile's 28 member associations fail to submit their data by the deadline. Inevitably, upon facing a staffing shortage three or four months later, the building manager or a board member will call the neighborhood association and frantically request a copy of the survey, usually accompanied by marginally credible excuses for not having participated. Closer scrutiny by the neighborhood association revealed why associations that religiously participated for years would suddenly request special dispensation after enigmatically "dropping the ball".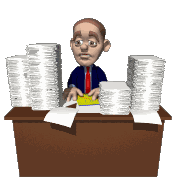 In short, every association will occasionally make wholesale changes to its governing board and hire a new manager. Unless the new administration takes steps to bridge any gap in their association's institutional memory, it will be predisposed to costly operational oversights. If an incoming Manager or Board President is unaware of its purpose or value, when the annual wage data collection form arrives at their building office in early summer, it's ignored. A few months later, the same official who blew off the request for data will call the neighborhood association and ask why they hadn't received a copy of the wage and salary survey.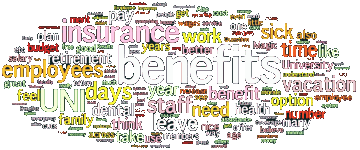 Neophyte administrations can avert this scenario by actively participating in the neighborhood association. Every association is entitled to appoint two unit owners or administrative employees to the GMCA Advisory Board. These representatives act as a conduit for information to and from each association. When condos or co-ops bump heads with the City, County or State, the neighborhood association is far better equipped to resolve these dilemmas than individual member associations.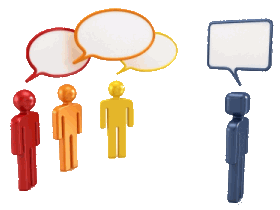 While serving as advocates for their homes, Advisory Board members are also responsible for keeping their respective associations up to speed on shared concerns, whether a developing community problem, an impending legislative threat or proven remedies to operational obstacles. More specifically, they are expected to inform their Board members and managers about the wage and salary survey.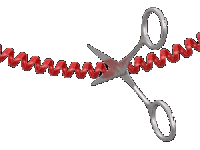 As such, when an association is deprived of this critical compensation barometer for failing to submit the current payroll data, it either suggests a breakdown in communication between the Advisory Board appointees and their association's administration – or the failure of an inexperienced administration to appoint representatives to the Advisory Board. Whatever the reason, the association's neglect will ultimately squeeze its members' family budgets.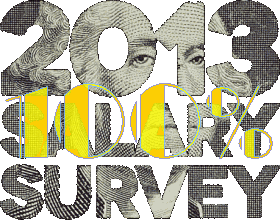 2013 was a banner year, as every member association timely submitted its data and benefitted from the survey. Faced with an improving economy and declining unemployment, no association could afford to be cavalier about budgetary appropriations to increasingly fluid labor costs. As a result, last year's survey helped many association Treasurers effectively harness this keystone expense – and postpone threatened assessment increases for another year. Those associations that succumbed to ever-tightening inflationary pressure utilized the survey to help minimize the fiscal hit absorbed by unit owners.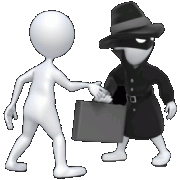 No Galt Mile association can afford to be deprived of this budgeting bazooka because of an administrative oversight. For nearly two decades, officials in Galt Mile condos and co-ops have been cloistering the annual survey in association panic rooms, fueling eerie local myths about its purpose, history and content. Its proprietary status can be safeguarded without borderline manic immersion in code orange paranoia.

While our member associations achieved a laudable benchmark in 2013, there's no guarantee of a repeat performance this year – or next. If Galt Mile residents understood the survey's objectives and evolution, no newly elected association officials would be blindsided by a deadline that they never knew existed. Also, Advisory Board members wouldn't need to explain the simple quid pro quo that entitles any Galt Mile association to a copy of the annual survey in exchange for submitting the association's payroll data. It's time to let in some sunshine. After all, it's your wallet in the crosshairs!
Since you are now newly equipped with a hand-waving knowledge about this below-the-radar budget breakwater, "Here is your mission, should you choose to accept it." Whether at a board meeting or in the elevator, when you see your manager or a board member over the summer, ask if your association is eligible to receive the annual Presidents Council Wage & Salary Survey Report. If the expression on his or her face goes blank, followed by a resounding "Huh?" – You're in trouble.

Click To Top of Page

---


Commissioner

Bruce Roberts





Bus Link || Hurricane

Plan || Firehouse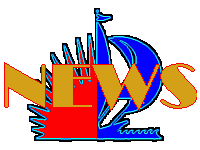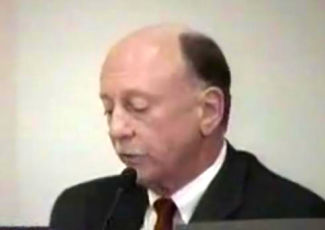 COMMISSIONER BRUCE ROBERTS
September 3, 2014 -

In his September - October 2014 Newsletter, City Commissioner Bruce Roberts exhorts District 1 constituents to adequately prepare for hurricane season, announces a recently launched Uptown Bus Link that more conveniently connects destination sites in the business district along the Cypress Creek corridor, reveals a new city telephone number for non-emergency public safety calls, acknowledges three Fort Lauderdale beach resorts named in Florida's Top Ten by travel website "emantravels.com", applauds recognition by Firehouse Magazine that Fort Lauderdale's Firehouse 2 was the second busiest in the state and its Engine 8 was the busiest in Florida and number 10 in the nation, asks that constituents protect themselves by exercising prudent public safety measures and concludes with a list of upcoming civic events.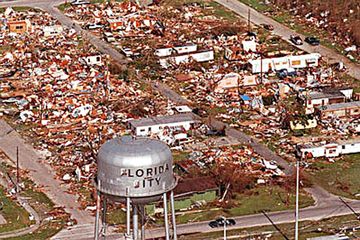 HURRICANE ANDREW LEVELS SOUTH FLORIDA

Prior to the serial hurricanes of 2004 and 2005, pre-storm preparations were largely the province of insurance carriers force-fed the fiscal hairball of Hurricane Andrew. As the state's population was subsequently swelled by a steady stream of new residents, the impact of Andrew faded, reducing fear of devastation to a clinical afterthought. When Katrina and Wilma cut huge swaths across Florida, the growing complacency evaporated overnight, as South Florida families with functional survival instincts raced to structurally reinforce their properties and cobble together hurricane preparations.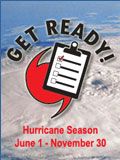 Most residents adopted generic hurricane preparedness plans developed by the Federal Emergency Management Agency (FEMA), the American Red Cross and scores of newly concerned local jurisdictions (including Broward County and The City of Fort Lauderdale). While association homeowners could protect their apartments, only their associations could secure common areas, including amenities such as pools, billiard rooms, a garage, offices, tennis courts, meeting rooms, mail rooms, etc. Association Boards were also tasked with protecting the building's structural integrity and maintaining emergency equipment (i.e. back-up generators, elevators, fire-alarm systems, fire pumps, emergency lighting, etc.)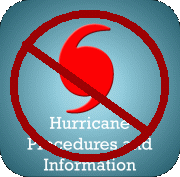 When victimized by storm damage, most Florida homeowners could quickly perform repairs required to restore habitability. Unfortunately, those of us living in vertical communities were hamstrung by association declarations and statutory constraints. Since State Law precluded the use of dedicated reserve funds for alternative purposes, unit owners were forced to cough up a special assessment – often while simultaneously funding damage repairs to their respective units. Statutory notice requirements imposed a two-week delay on meetings mandated by State Law for such assessments. If the quorum requirements defined in an association's governing documents were unmet, as is likely to occur during a predicted emergency, progress was again stalled.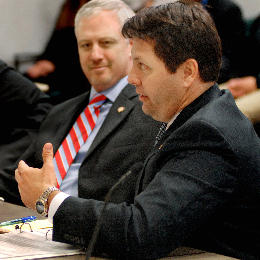 REPRESENTATIVE GEORGE MORAITIS ADDS
IMPACT WINDOWS TO 2013 ASSOCIATION BILL

Tallahassee finally enacted statutory relief, enabling Condominium and Cooperative homeowners to circumvent some of these obstacles. Originally proposed by local lawmakers (former Senator) Ellyn Bogdanoff and (Statehouse Representative) George Moraitis, the statutory revisions made reserve funds available for hurricane repairs following a declared emergency, permitted impact glass windows and doors as an alternative to hurricane shutters, and empowered boards to forego prerequisite notice requirements when meeting to initiate time-critical repairs or manage recovery efforts.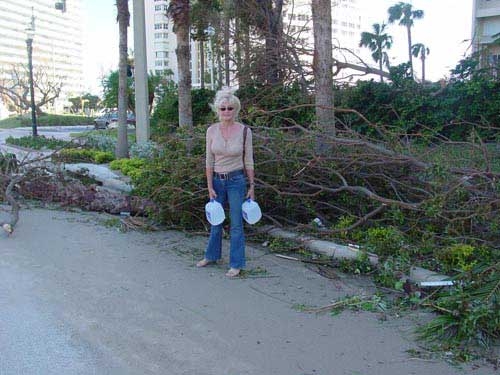 GALT OCEAN DRIVE AFTER WILMA

Since downed communications could thwart out-of-residence association officials from performing key assigned tasks, associations could temporarily empower available substitutes to pick up the slack. New language was also salted into the Florida emergency-powers law, providing that unit owners who choose to remain after the Board issues an emergency evacuation order do so at their own risk; legally absolving the association of any life-safety liability.

Most Florida associations - and every Galt Mile association – soon designed or fleshed out a Hurricane Preparedness Plan. Absent any statutory requirement, these ranged from brief bulleted outlines to comprehensive manuals with specific directives for employees, residents, management and board members. Given the complex and detailed nature of effective disaster plans, many boards also mandated regular plan reviews and practice drills for both employees and residents - overseen by the manager, a board official or a dedicated committee.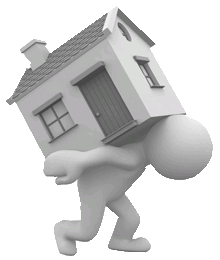 When the tanked economy played havoc with the recessionary housing market, the rate of homeowner turnover in South Florida associations exploded. Just as the influx of post-1992 new Florida homeowners diluted the motivating impact of Andrew, since many residents currently living in Galt Mile associations – and serving on association boards – were never battered by Katrina, Jeanne or Wilma, their understanding of hurricane damage is largely anecdotal.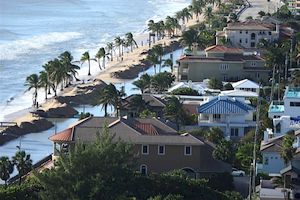 SANDY DROWNS OCEAN HIGHWAY (A1A)

Combined with nearly a decade of cyclonic reprieve, association hurricane plans were again consigned to a back burner. While Superstorm Sandy might have served as a wake-up call, it wrought far more damage to our beach infrastructure than to our homes. Ironically, Jersey shore and Long Island residents are currently better prepared for a catastrophic storm than the South Florida victims of Katrina and Wilma.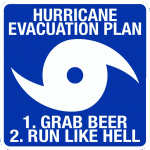 Several Galt Mile associations haven't reviewed or updated their hurricane procedures for years. Also, residents have rarely been included in informational meetings or practice drills. Even in associations that meticulously maintain emergency equipment, execute recovery vendor contracts, diligently drill employees; segregate key emergency documents, regularly update a photographic or videotaped record of the premises for insurance purposes, and practice scores of other precautionary measures that limit damage or expedite recovery, most Galt Mile residents are oblivious to their part in the Hurricane Plan, seriously compromising its prospects for success. Not surprisingly, many Galt Mile board members otherwise conversant with association rules and regulations also know little or nothing about their association's hurricane plan.
Roberts' advice to constituents cloaks an intuitive quid pro quo. When the next Category 5 monster roars across Broward, if your association fully implements an effective Hurricane Plan – aside from brightening survival prospects – you will save a bundle. If it doesn't, you won't. Read on for Commissioner Roberts' autumn 2014 message to constituents... – [editor]


From The Desk of


Commissioner Bruce G. Roberts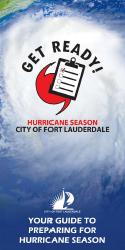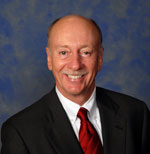 DISTRICT 1 COMMISSIONER
BRUCE G. ROBERTS

HURRICANE SEASON: Although we are already three months into our hurricane season, it is still a good time to remind everyone to be prepared. Our peak season for these storms is September and October. We have not been impacted by a hurricane since Wilma on October 24, 2005, when many of us went without electricity for weeks and without water for days. Part of this preparation should include creating a disaster plan and assembling a disaster supply kit. The kit should include at least three days' worth of water (one gallon, per person, per day) and non-perishable food for each person in your family. Other essential supplies you should have readily available include: a can opener, flashlights, a battery-operated radio, batteries, cash, pet supplies, medications, extra eyeglasses, contact lenses and supplies for people with special needs. For a complete list of emergency supplies and other preparedness tips, visit the City hurricane website at http://www.fortlauderdale.gov/hurricane. If you are interested in helping your fellow residents after a hurricane, I encourage you to join the Community Emergency Response Team. CERT is a highly trained, volunteer group that assists the City after local emergencies. Through Fort Lauderdale Fire-Rescue, you can receive free training that covers disaster terminology, standard triage, basic first aid, fire suppression, light search and rescue techniques and disaster awareness. After graduation you will be prepared to care for your family and your community, and you will be part of a team that may be called upon to assist the City during an emergency. Free beginner and continuing education classes are available. For more information please call 954-828-6832.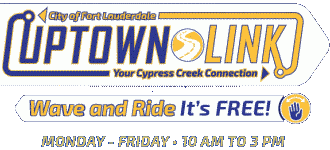 UPTOWN TROLLEY SERVICE: The City and its partnerships with the Florida Department of Transportation (FDOT), the South Florida Regional Transportation Agency (SFRTA), the Metropolitan Planning Organization (MPO), and the Envision Uptown Business Association has launched a new FREE midday shuttle bus service for the Uptown Business District around Fort Lauderdale Executive Airport. This service provides transportation along the Cypress Creek corridor Monday to Friday from 10am to 3pm. Two routes originating from Cypress Creek Tri-Rail station serves the Uptown area from Calvary Chapel (west boundary) to Radice Corporate Park (east boundary). The Uptown Link provides commuters, students, employees, and visitors with convenient access to the Cypress Creek Tri-Rail station, as well as surrounding restaurants, shops, educational campuses, the Fort Lauderdale Executive Airport, and other destinations during the busy midday hours.

954-764-HELP NEW NON-EMERGENCY PHONE NUMBER: As part of the Broward County's new consolidated public safety communication system, the City will have a new phone number for non-emergency public safety calls. Neighbors should dial (954) 764-HELP for non-emergency police or fire services. In an emergency you will still call 911. For all other City inquiries, please contact the 24-hour Customer Service Call Center at 954 828-8000 or download our new LauderServ app from Google Play or the Apple App Store.

The LauderServ app allows users to submit customer service requests right from their mobile device. Neighbors can report a streetlight outage, clogged storm drain, pothole, or broken waste cart; find out collection days for sanitation, recycling and bulk trash; discover how to pay a water bill or parking ticket online; and much, much more. LauderServ can also be used to access the City's social media accounts and get beach conditions. Visit the LauderServ webpage today!! http://www.fortlauderdale.gov/government/lauderservindex.htm

10 BEST BEACH RESORTS IN FLORIDA (emantravels.com): People from all over the world are drawn every day to Florida's tourist attractions that include famous theme parks, Spanish historic sites, lively nightlife and glorious beaches. With a booming tourism industry, Florida welcomes its visitors with a plethora of hotels and resorts that are located right on the beach. With amenities like fine restaurants, lively bars, full-service spas, fitness centers, sand white beaches and water sports, beach resorts in Florida present fun-packed vacations in and of themselves. Three of the top ten resorts are located in Fort Lauderdale: #9 - Lago Mar Resort & Club; #5 – Hilton Fort Lauderdale Beach Resort; #2 – Atlantic Resort & Spa.

FORT LAUDERDALE'S BUSIEST FIREHOUSE: Fort Lauderdale Fire Rescue has the new title of "Busiest Firehouse in the entire United States and Canada." Firehouse 2 responded to 25,018 calls in 2013. Fort Lauderdale Engine 8 was ranked as the busiest engine in Florida and the 10th busiest in the Country. Battalion Chief 2 was the second busiest in the state. The Fort Lauderdale Fire Rescue Department responds to fire and medical emergencies and is also responsible for emergency services for the City of Wilton Manors and Lazy Lake. Fort Lauderdale Fire Rescue is dedicated to the City's mission statement of 'We build community." When firefighter paramedics are not responding to calls or training, they can be found at local schools or community events teaching fire safety, how to make your home safe for your children, or collecting toys, food or school supplies for children. Fort Lauderdale Fire Rescue just celebrated its 100 year anniversary in 2012. Firehouse magazine conducts the survey every year comparing fire department call volume and truck responses.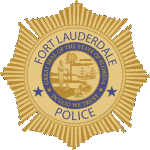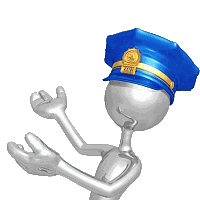 POLICE ACTIVITY: There have been many calls for service around the City regarding car break-ins and residential burglaries. Officers are always present at our pre-agenda meetings to update us on these incidents in our District, and share action plans. ALWAYS lock your car door and NEVER leave anything on your car seat that would entice someone to break in. Also, if someone that you do not recognize is knocking at your door, do not open the door, but do let them know that you are home and that you have called the police. Not answering the door may give the impression that nobody is home. As a reminder, our Crime Prevention Unit (954-828-6421) offers a free and confidential security assessment for your home or business.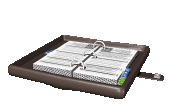 Office Contact: Robbi Uptegrove – 954-828-5033; email: [email protected]. In addition to hosting the pre-agenda meetings twice a month, I am also available to attend your HOA meetings to update your neighborhood on what is going on in the City as well as answer any questions/concerns you may have. Please contact Robbi to schedule.


If you need to reach Commissioner Bruce Roberts, please contact his assistant Robbi Uptegrove at 954-828-5033 or by e-mail at [email protected]. To access the City Commission Meeting Agendas and Minutes, Click Here. To actually watch the meetings recorded and archived on the Commission Meetings Video Webcast and Archives web site, Click Here.

---
Broward Commissioner Chip LaMarca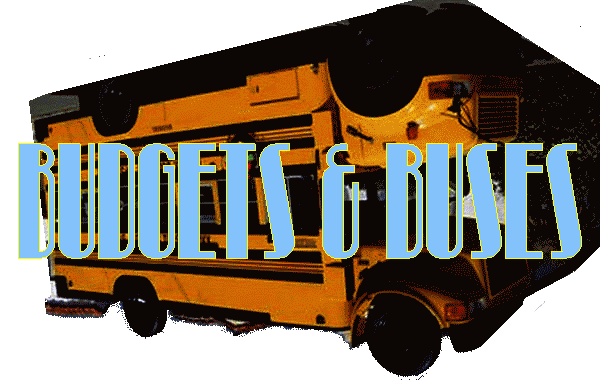 Bad Time for Tax Hike; Bad Time for Fare Hike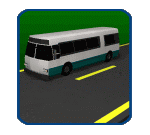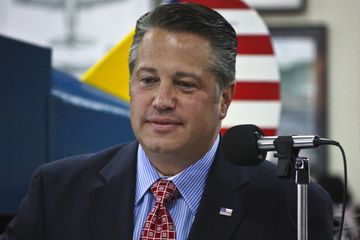 LAMARCA PREPARES FOR BUDGET HEARING
September 24, 2014 -

In his September – October 2014 Newsletter, District 4 Broward Commissioner Chip LaMarca laments ill-conceived plans by the Broward Commission and Broward County Transit to stick it to Taxpayers – and fare payers. The Broward County Commission annually pays lip service to tax relief. Just before they tackle the budget, Commissioners announce the need to attack waste and abuse, trim the governmental bureaucracy and cut spending. That is usually where it ends, except in the media. When the recession vaporized the seemingly bottomless property tax windfall, it forced a temporary suspension of irresponsible county spending.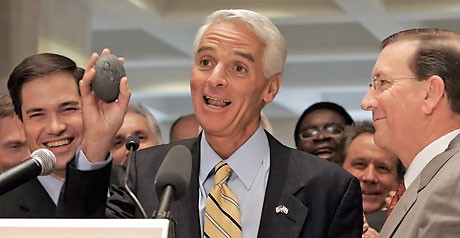 FORMER GOV CHARLIE CRIST, SPEAKER MARCO RUBIO AND
SEN PRESIDENT KEN PRUITT VOW TO DROP TAXES LIKE A ROCK

In 2007, following a month of spinning the need to cut the budget, the County Commission increased it from $3.043 billion to $3.159 billion. In 2008, tax reform legislation passionately demanded by former Governor Charlie Crist and passed with unanimous bi-partisan support mandated a 5% statutory tax rollback for local governments, forcing Commissioners to choke back long ingrained tax and spend instincts. In 2009, when Florida voters passed Constitutional Amendment 1, the additional Homestead exemption slashed property tax revenues statewide, further pressuring Commissioners to control spending.

Having watched Federal Prosecutors systematically fine and/or incarcerate a parade of Broward Commissioners for fraud, kickbacks, and other ethical or financial indiscretions, by 2010 Broward taxpayers seemingly awoke from a stupor. Fed up with the Commission's poor stewardship of public funds, in November of 2010, 57% of the Broward electorate voted to create a "Broward County Ethics Commission" and formulate a Code of Ethics to better regulate the actions of those elected to the Broward Board (a similar 2002 referendum calling for an ethics panel was virtually ignored by Commissioners). Serving as a wake-up call, this line in the sand seemed to have a sobering effect on the Commission, although short-lived. As tanked property values annually prompted commission members to press for a millage rate increase, enraged Broward taxpayers characterized any millage increase as a tax hike, convincing a temporarily deflated County board to back off.

As the housing market rebounded last year, the expected increase in property tax revenues would provide the Broward Board with additional resources, enabling restored funding for critical services thinned by the recession. A 7.2% increase over 2014 revenues projected in the FY 2015 tax roll should fatten County coffers by $51 million. Marketing their strategy as a "proactive, outcome-oriented approach to budgeting," Commissioners plan to freeze the 5.7230 millage rate. However, increases of $68.7 million in the operating budget and $24.4 million in debt service were partially offset by a capital budget decline of $64.6 million, leaving a budgetary mushroom of $28.5 million. Although anticipating that this modest increase would unnecessarily burden the average tax bill in his September message to constituents, LaMarca is far more concerned by the Board's propensity for underwriting spending with tax increases instead of economic growth – a keystone of the Commission's notorious pre-recession fiscal footprint.

According to Broward County Transit, the FY14 service improvements that enhanced ridership and on-time performance also boosted transit revenues. Agency plans for additional service enhancements will require incremental funding in order to increase utilization and farebox recovery (income that a transit agency receives from passenger fares to help finance operating costs). Having successfully capitalized on the improvements and lucrative new services – such as the popular Breeze Service and Express buses to Miami – Broward County Transit is on a roll. As ridership continues to increase, so should revenues.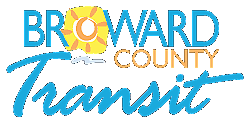 Facing blue skies and immersed in optimism, BCT enigmatically decided to shoot itself in the foot, a reaction congenitally practiced by most County agencies. Instead of building a growth plan that funds infrastructure improvements with growing revenues, BCT decided to squeeze it's newly won customers. Over a 2-year period, the proposed FY 2015 Broward budget will raise the monthly (31-day) pass price for seniors, kids and the disabled from $29 to $40 (a 38% increase). For other adults, the monthly pass would increase from $58 to $70, and the cost for a seven-day pass would jump from $16 to $20. A one-way ticket would increase from $1.75 to $2, and the $4 all-day passes would cost $5. BCT claims that they are only catching up with higher transit fares in Miami and Palm Beach, but the all-day pass price for seniors, the disabled and youth will increase from $3 to $4; while a comparable ticket in Miami is $3.50 and only $2.80 in Palm Beach.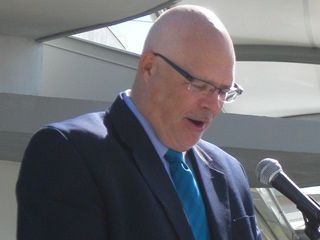 BROWARD COUNTY TRANSIT DIRECTOR TIM GARLING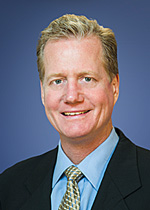 COMMISSIONER TIM RYAN

Although Broward Transit Director Tim Garling said he believes ridership would "rebound after dipping slightly," most transportation aficionados disagree, citing how nothing dampens ridership like a fare hike. Accusing the County Board and the BCT of sending mixed messages, Broward Commissioner Tim Ryan spoke against the increase, remarking, "We're always trying to drive up ridership. One of our big themes is trying to increase use of mass transit. You seem to be going in the other direction when you talk about increasing fares." Complaining that the issue causes him "heartburn", Commissioner Marty Kiar opposes the large increase in monthly fares proposed for disabled, seniors and youth, commenting "Like libraries and parks, public transportation will always be subsidized by taxpayers as a whole, but they're important services to provide." Garling declared that the system needed the extra $5.5 million projected by the increase because "County Taxpayers subsidize 66 percent of the cost of the average bus ride in Broward." Since the national average is about 72 percent, his observation seems somewhat less than relevant.

The fare hike must also pass Federal regulatory muster. To comply with Title VI of the Civil Rights Act of 1964, which addresses discrimination in most areas of public life in the U.S., the fare increase cannot "disproportionately burden" or create a "disparate impact" on low-income riders (defined by BCT as reporting an annual household income of less than $25 thousand). Commissioned by the Broward County Human Services Department on June 14, 2014, a study entitled "A Comprehensive Community Needs Assessment" by private consultant "Public Works, L.L.C." reported that Broward has higher levels of poverty and a higher cost of living than most of the State, while providing "Insufficient Affordable Public Transportation."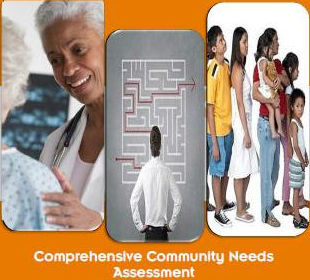 Repeatedly referenced in BCT-sponsored "Let's Talk Transit" community meetings held throughout the summer, the study observes that "Transportation remains a constant issue for those struggling to remain self-sufficient while working in low-paying jobs, as well as for those who must travel to sites around the county to receive services. Participants in every consumer focus group noted they are often not able to afford transportation to apply for benefits and take advantage of on-going support services. Older adults in particular in the focus groups expressed difficulty in affording transportation. Three-quarters of E-Survey respondents noted transportation as a major barrier to services."
Prepared in accordance with the requirements specified in the Federal Transit Administration (FTA), Circular 4702.1B, "Title VI Requirements and Guidelines for Federal Transit Administration Recipients," dated October 1, 2012; the BCT drafted a Title VI Fare Equity Analysis, which notes that 66% of the impacted BCT ridership is from low-income homes. How does the BCT circumvent this regulatory obstacle? On page 8, the agency concludes that the two-stage fare increases, "do not cause disparate impacts or disproportionate burdens on Title VI protected populations. No additional analysis or alternatives are necessary to implement this fare change proposal." Shazam! Problem solved.

Aside from a universal fee increase, how do the planned service changes impact Galt Mile residents? In keeping with the historical County perception of the Galt Mile as cash cow for subsidizing County programs we neither use nor benefit from, BCT plans to discontinue U.S. 1 Breeze bus service north of Broward Boulevard while increasing service to the south. If nothing else, these Bozos are consistent. For LaMarca's Autumn message, read on... – [editor]

September - October 2014 Update


By Commissioner Chip LaMarca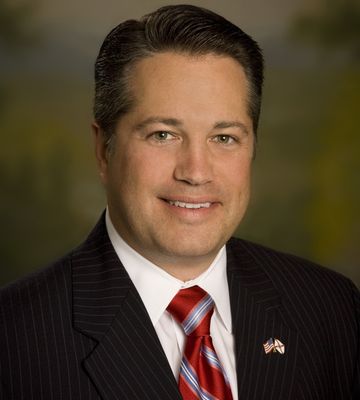 BROWARD COMMISSIONER
CHIP LAMARCA
Public Hearings Planned for County's Fiscal Year 2015 Budget

Members of the public wishing to comment on the proposed Broward County fiscal year 2015 budget will have an opportunity to do so on Tuesday, September 23rd, starting at 5:01 PM, at the Broward Governmental Center, 115 S. Andrews Ave, Room 422 in Fort Lauderdale. The FY 2015 recommended total budget, which includes tax supported and non-tax supported funds, is $4.1 billion.

Overall, the total budget increases by $28.5 million due to an increase in the operating and debt service components and a decrease in the capital budget. The $28.5 million represents an increase of less than one percent in the total $4.1 billion budget. Under the current proposed budget the total property tax rate will remain the same as this year. Most taxpayers will see a small increase in their county taxes, which comprise approximately 23 percent of their overall property tax bill. A homestead property owner, with the average taxable value, whose value goes up 1.5% can expect to pay approximately $17 more in county property taxes in FY 15. Now is not the time to increase taxes or fees on taxpayers. I will work hard to encourage the other commissioners to roll back the tax rate so that Broward residents see a savings instead.
Public Hearing to be Held September 23rd on Proposed Bus Service Adjustments and Increases to Bus Fares and Passes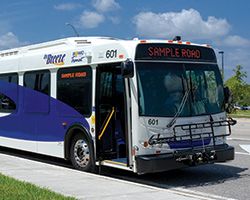 BCT BREEZE BUS SERVICE

The Broward County Commission will hold a public meeting at 2 PM on Tuesday, September 23, 2014, at the Governmental Center, Room 422, 115 South Andrews Avenue, Fort Lauderdale, to receive public comments on Broward County Transit (BCT) proposed bus service adjustments and bus fares and pass increases. If approved, the proposed increase to bus fares and passes would become effective over two fiscal year periods: October 1, 2014 and October 1, 2015. The proposed bus service adjustments will become effective October 13, 2014 for the 595 Express Bus Service, and in January 2015 for the US 1 Breeze. For more information, including details on the proposed bus fare and service changes, call the BCT Customer Service Center at 954-357-8400 or visit Broward.org/BCT Again, now is not the time to increase the cost of such vital transportation services for those most in need.

If there is anything that we can do to assist you with your vision for a better Broward, please do not hesitate to contact our office at 954-357-7004 or by email at [email protected]. You can also stay up to date by viewing our website Broward.org/District4, where you can sign up to receive email updates from our office.

As always, it is my honor to serve you.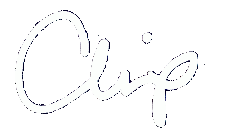 Chip LaMarca
Broward County Commssioner
District 4

Click To Top of Page

---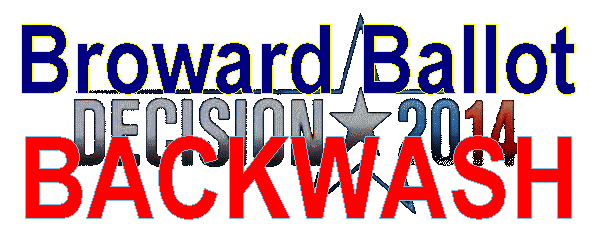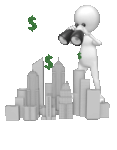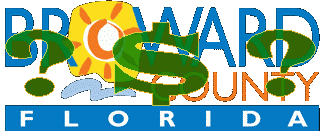 October 11, 2014 - The 2014 General Election Ballot contains two questions raised by Broward County, one sponsored by the Broward Board of County Commissioners and one sponsored by the Broward School Board. Given the ethical tar pit that serves as the Broward County Commission's historical bioniche (along with numerous County agencies); approving these initiatives without some measure of insight is tantamount to shooting oneself in the foot. Inasmuch, the below review contains the official title and ballot summary (as featured on the actual ballot) - along with a brief diagnosis of the issues surrounding each voter "inquiry".

REFERENDUM FROM BROWARD COUNTY COMMISSION;
Passage requires 50% plus 1 vote


Ballot Title: REAUTHORIZATION OF THE CHILDREN'S SERVICES COUNCIL OF BROWARD COUNTY
Official Ballot Summary: Shall the Children's Services Council of Broward County, which provides early learning and reading skills, after school programs, developmental health, preventive, and other children's support services in Broward County, be reauthorized to continue in existence as a district with voter-approved taxing authority, with independent oversight and accountability as required by law, and shall not be subject to reauthorization by referendum.
Below the Radar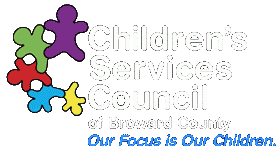 In short, the Children's Services Council of Broward County is asking whether taxpayers should assume that the Council will always perform productively; and therefore allow the agency to be automatically funded in perpetuity free of statutory oversight. In the Ballot Summary, the Council claims to provide early learning and reading skills, after school programs, developmental health, etc. This is misleading. In fact, it provides money to projects, groups or agencies that actually provide these services. To successfully fulfill its mandate, the Council must accurately forecast which of these enterprises can best deliver cost-effective sterling results – and match them to client needs.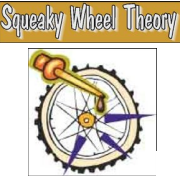 In politics, the expression "The squeaky wheel gets the grease," alludes to the chronic neglect suffered by voiceless (disenfranchised) populations, exemplified by the largest such demographic, our kids who haven't yet reached voting age. Not surprisingly, since local elected officials realize negligible political capital from addressing the litany of threats to kids, local programs designed to protect school-aged children and their families had been endemically underfunded across the State.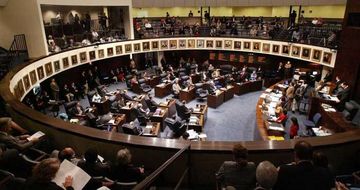 FLORIDA LEGISLATURE PROTECTS AT RISK KIDS & FAMILIES

Since local public officials had little incentive to adequately fund desperately needed assistance programs, in 1986, Florida lawmakers enacted Section 125.901, Florida Statutes, which authorizes each county to create a Children's Services Council (CSC) and an independent special taxing district to provide funding for children's services. The statute additionally mandates that each local Council include the County's Superintendent of Schools, a local school board member (chosen by the board), the HRS district administrator or designee, a member of the County Commission, the judge assigned to Juvenile Cases, and 5 members appointed by the Governor to serve 4-year terms.

When independent studies repeatedly revealed gross inadequacies in how services were delivered to Broward children and their families, the Broward County Commission placed the issue on the September 2000 ballot, whereupon voters approved the special taxing district for Broward County. For the next ten years, the Broward Children's Services Council, and those approved in other Florida counties, enjoyed automatic and unobstructed funding, until events uncovered a systemic "monkey wrench".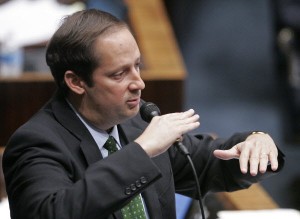 SENATOR JOE NEGRON

In 2010, state lawmakers passed a bill supported by Sen. Joe Negron (R-Stuart), mandating that children's councils demonstrate to voters that they are deserving of reauthorization every 12 years (starting in 2014 for the Broward Council). On learning that the Martin County children's services council planned to build a $4-million headquarters, Negron went ballistic since the agency doesn't actually provide services, but simply funnels public funds to worthy projects.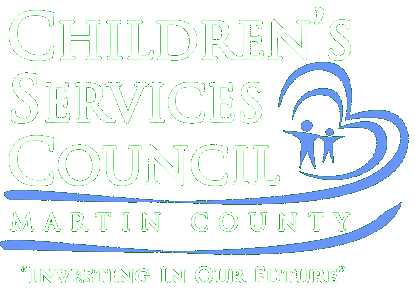 Skull-blocked by their intention to divert resources allocated to help kids into a monument to bureaucratic megalomania, Negron decided that these self-important "Yahoos" needed oversight. Two years later, the Executive director of the Hillsborough County Children's council got the boot in 2012, when news reports disclosed insupportable spending "eccentricities", including $450,000 blown on no-bid contracts.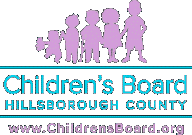 The 2010 statute also allows the eight Florida counties with approved CSCs to request that voters change the 12-year reauthorization timeframe – or completely eliminate periodic reauthorizations. Make no mistake; the Broward agency has cultivated a stellar reputation. Its administrative costs are $2.6 million, less than four percent of its budget (actually 3.7%). It funds 150 wide-ranging programs among 100 non-profits, accounting for 2,300 jobs and helping 150,000 children, with everything from swim lessons to anti-delinquency and anti-abuse programs.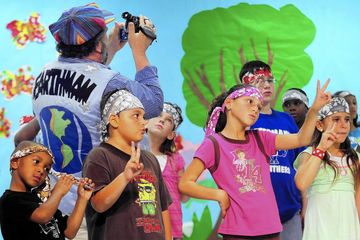 KIDS IN CSC SUMMER CAMP DANCE FOR A MUSIC VIDEO

Last year, the council helped place more than 9,000 disadvantaged children in after-school and summer programs, delivered subsidized child care for 1,230 children from working-poor families, and sent 2,600 families at risk for child abuse to family-strengthening programs. Funding such critical programs for struggling children and moms is a service that merits both approval and support.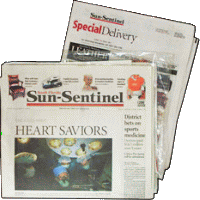 However, as observed by the Sun-Sentinel Editorial Board, "a periodic public review – an amplified public accounting – is a good thing for such unelected taxing authorities." If the agency toes the line, there is little chance that it will be denied reauthorization. Since taxing authorities mostly fly below the radar, an agency shielded from public scrutiny can easily fall prey to inappropriate or destructive operational practices, prompting bloated staffs, no-show jobs, fairy tale salaries, golden parachutes, no-bid contracts and – as Negron discovered – a propensity to spend tax dollars on property rather than services.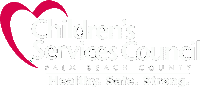 Since the 2014 budget for the Broward Children's Services Council weighs in at $69 million, touching base with taxpaying voters every 12 years is far from onerous and serves as an invaluable deterrent to bureaucratic mischief. As concluded by the editorial board "It's not too much to ask that children's services councils be held accountable to their benefactors – the voters – every now and then."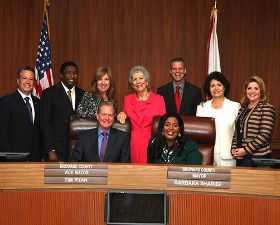 2014 BROWARD COUNTY COMMISSION

The Broward Commission had to decide whether the proposed ballot language should enable voters to intermittently reauthorize the Council or eliminate the need for future reauthorizations. In Palm Beach County, a similar ballot initiative requests that voters enable their council to tax homes and businesses in perpetuity without occasionally checking the books.

Leery of politicizing the Council and considering how the legislature ignored 1600 other local Florida boards and districts with taxing authority – many tarred by multiple incidents of proven fraud and theft – and only burdened CSCs with costly voter reviews because of a single case of suspected monkey business in Martin County, the Broward Commission drafted a reauthorization request that precludes future voter referendums. Although denied an opportunity for oversight every 12 years, Broward voters must still decide whether they should reauthorize an agency that frugally delivers desperately needed services for kids and families while consistently achieving excellent results. With a current millage rate of 0.4882, it costs less than 2 cents of every dollar on your tax bill.
QUESTION FROM BROWARD COUNTY SCHOOL BOARD;
Passage requires 50% plus 1 vote



Ballot Title: SCHOOL BOARD BOND ISSUE FOR FACILITIES:
Official Ballot Summary: Shall the School District of Broward County fund improvements to and replacement of public school facilities throughout the District, including safety enhancements and instructional technology upgrades, by issuing general obligation bonds in total principal amount not exceeding $800,000,000 to be issued in multiple series, bearing interest at not exceeding maximum legal rates, maturing within thirty years, and secured by the full faith and credit and ad-valorem taxing power of the District?
Below the Radar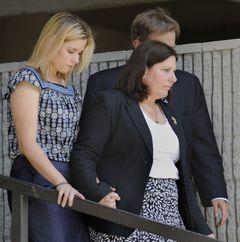 BEVERLY GALLAGHER AT COURT WITH FAMILY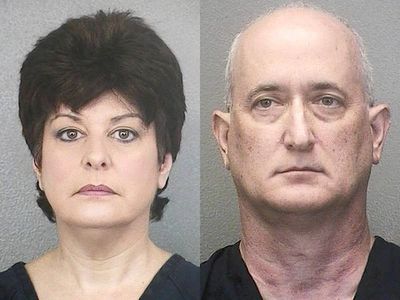 STEPHANIE AND MITCHELL KRAFT MUG SHOTS

The Broward School Board is infamous for oafish incompetence and a history steeped in fraud. Ferreting through a rat's nest of corrupt Broward School Board officials in 2010, the Feds convicted and incarcerated long-time member Beverly Gallagher and arrested Stephanie Kraft (on the board since 1998) and husband Mitch for unlawful compensation, bribery and conspiracy; while additionally charging her with official misconduct. Repeatedly postponed for three and a half years after the 2010 arrests, Kraft's trial was last docketed for September 15, 2014.
In February 2011, a Florida Supreme Court grand jury issued a scathing 51-page report about the school board's unconscionable mishandling of construction funds, concluding "The evidence we have been presented concerning the malfeasance,

misfeasance and nonfeasance of the Broward County School Board (Board) and of the senior management of the Broward County School District, (District) and of the gross mismanagement and apparent ineptitude of so many individuals at so many levels is so overwhelming that we cannot imagine any level of incompetence that would explain what we have seen. Therefore we are reluctantly compelled to conclude that at least some of this behavior can best be explained by corruption of our officials by contractors, vendors and their lobbyists. Moreover, many of the problems we identified in our inquiry are longstanding and have been pointed out by at least two previous Grand Juries. But for the Constitutional mandate that requires an elected School Board for each District, our first and foremost recommendation would have been to abolish the Broward County School Board altogether."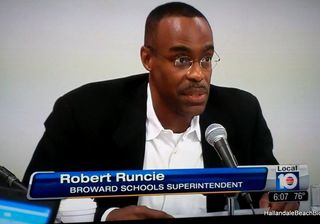 BROWARD SUPERINTENDENT OF SCHOOLS ROBERT RUNCIE

Their pathetic notoriety doesn't alter the fact that Broward Schools are collapsing. Subsequently recruited to the sinking District to help reverse slipshod policies, rebuild credibility, and rehabilitate severely eroded infrastructure, Superintendent Robert Runcie described the advanced deterioration, stating "It's well documented in the district what our needs are. Schools like Northeast [sic - High School], where the ceiling leaks and caves in, and the kids probably have to go across campus in a canoe when it rains because of the drainage problem. Or Stranahan, which has such a laundry list of issues that it's a good candidate for replacement. Look at Plantation High School or Western High School. They don't have sufficient cafeteria space, so they have to go to tents and makeshift canopies outside. And we've got technology in the schools that is more than a decade old. Some computers are running Windows 98."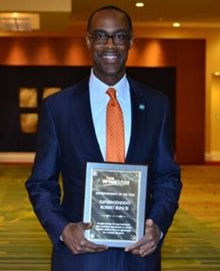 RUNCIE WITH AWARD

Before 2008, Broward schools received $2 for every $1,000 in taxable property value. When the state Legislature responded to the economic downturn by mandating that local taxing authorities cut Ad Valorem rates, Broward Schools had to make do with $1.50 for every $1,000. According to Runcie, the $800 million request would raise that rate back to about $1.80 for every $1,000 in property value. While acknowledging past mismanagement, Runcie contends "If we want to live in the past and not look at the future of our kids, I just don't think that's fair. I don't think it's fair to say we're not going to invest in the future of our communities – we're not going to invest in the future of our kids – because of what a couple of people did."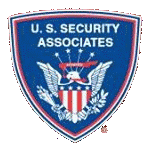 Runcie was drafted from Chicago, where he engineered impressive improvements in the nation's 3rd largest school district while serving as Chief of Staff to the embattled Chicago Board of Education. In Broward, Runcie hit the ground running, and was recognized as "Superintendent of the Year" by Florida Virtual School last September. Inflaming Runcie's problems is the sad – yet unsurprising – fact that the foul-ups haven't abated. This past May, the school board settled a dispute with disaster-recovery firm AshBritt for work performed after Hurricane Wilma in 2005. Although the district's chief auditor concluded in 2009 that the District was overbilled $765,608 by AshBritt, the district agreed to walk away from the table with only $210,000. Also, the district paid security firm U.S. Security Associates $129,000 for unnecessary security guards long after their contract expired in 2009 and frittered $1 million to Royal Concrete Concepts of Jupiter for a 2012 Pembroke Pines construction project that Runcie had previously cancelled.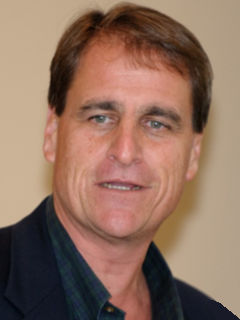 MAYOR JACK SEILER
COMM. BOBBY DUBOSE

When the Fort Lauderdale City Commission discussed the School Board's planned Bond Issue at the June City Commission meeting, Commissioners were leery about whether the funds would be allocated to improve Fort Lauderdale schools. Despite Commissioner Bobby Dubose' belief that Stranahan and Northeast High Schools would be beneficiaries of the anticipated $800 million chestnut, Commissioners refused to schedule a workshop to address the issue until the Broward School Board submitted a written list of projects they pledged to fund. Dubious about the Bond Issue's prospects, Mayor Jack Seiler commented "It's a very difficult bond issue on this ballot. I don't know if enough time has passed. I am concerned they rushed this thing."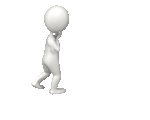 Given the Broward School Board's lamentable lack of credibility, this is a mind-numbing decision for Broward voters. Unfortunately, Broward students are being penalized for actions taken by arrogantly corrupt officials, asinine policies and crippling fiscal decisions. Although the dilapidated schools desperately need resources, Broward residents are understandably fearful of throwing good money after bad. The fate of this measure hinges on public willingness to trust a new Superintendent ostensibly equipped with the skills and determination to reclaim the sinking district. While Runcie is promising unprecedented transparency, squeezing out an $800 million bond issue guaranteed by Broward taxpayers may require divine intervention. Amen.


October 31, 2014 - On July 20, 1993, the City of Fort Lauderdale passed Resolution 93-143, in which Beach Rule 7.5(c) prohibits panhandling, begging and soliciting on the Fort Lauderdale beach and nearby sidewalks (the area within 150 feet of Atlantic Boulevard or Seabreeze Boulevard). As Fort Lauderdale was the nation's first city to prohibit the homeless from begging "in a nonthreatening manner" in a public place, outraged constitutional watchdogs – spearheaded by the ACLU – heatedly beat a path to the courthouse (Smith v. City of Fort Lauderdale). As a rule, the courts perceive panhandling as a form of free speech, protected by the First Amendment.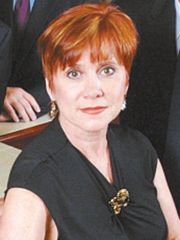 ACLU CO-ATTY BEVERLY POHL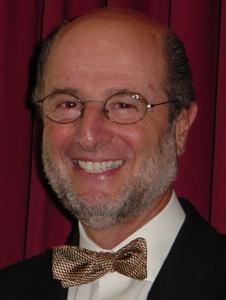 ACLU CO-ATTORNEY BRUCE ROGOW

Since years of legal wrangling in the lower courts had adorned the case with a national profile, when ACLU celebrity co-attorneys Beverly A. Pohl and Bruce S. Rogow argued in June of 1999 that "Sidewalks are the quintessential public place" before the 11th U.S. Circuit Court of Appeals (the highest federal court for Florida, Georgia and Alabama), the court dumbfounded the entire nation by upholding the City's ordinance. When the United States Supreme Court declined consideration of an ACLU appeal on October 29, 1999, the decision attained landmark status.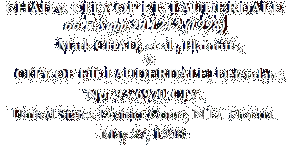 In a simultaneous constitutional challenge to the City's beach no-panhandling law (Chad v. City of Fort Lauderdale), when a district court denied plaintiffs' motion for a preliminary injunction in 1994, both parties filed motions for summary judgment. After hearing arguments from ACLU superstars Pohl and Rogow detailing how the ordinance violated the First and Fourteenth Amendments, the district court denied the plaintiffs' motion, and granted the City's motion for summary judgment on May 27, 1998.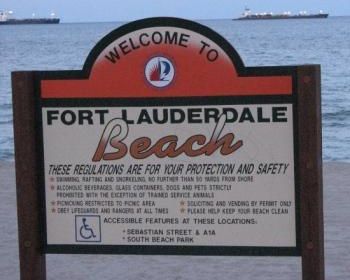 FORT LAUDERDALE BEACH

Until these decisions altered the legal landscape, the only anti-panhandling laws that survived constitutional challenges prohibited aggressive panhandling, or soliciting people at bank machines, in line at public transportation or at outdoor restaurants. While these were all narrowly tailored, Fort Lauderdale's Beach Rule 7.5, which states its intention to "eliminate nuisance activity on the beach and provide patrons with a pleasant environment in which to recreate," applied to a five-mile swath of public beach. The courts broke with precedent and upheld the broadly defined no-panhandling zone because the City successfully demonstrated that it served a larger civic objective. Since the public beach area is critical to the tourist economy that stokes Fort Lauderdale's fiscal engine – City attorneys offered credible evidence that soliciting and panhandling threatened the municipality's economic zeitgeist.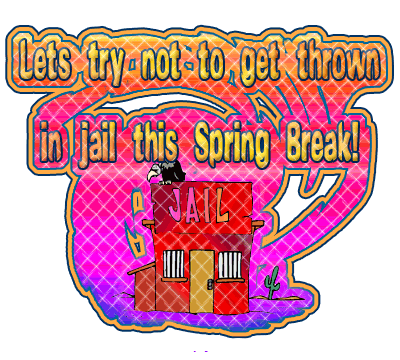 Ironically, the Beach Rule wasn't drafted to target the homeless. In the late eighties and early nineties, homelessness was a buzz word for drug addicted or alcoholic vagrants, trainyard drifters with five-page rap sheets and mental patients who skillfully managed to dodge a butterfly net. Perceived as pathetic by the general public and invisible to government, their muted requests for spare change was often the only evidence of their existence.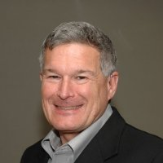 FORMER FORT LAUDERDALE ASST
CITY MANAGER BUD BENTLEY

In contrast, the City was plagued by a seasonal swarm of collegiate locusts who annually transformed the beach area into a pay toilet. Teenagers who ran out of money in the first 24 hours of a three-week psychotic break financed the balance of their bender and the trip home by begging on the beach, stealing from one another or selling any loose furnishings purged from the hotel room they shared with a dozen other budding sociopaths. Police officers charged with enforcing the beach rule were forced to distinguish between the homeless and the visiting youths - since Mom and Dad would reliably post bail for junior while arrested drifters simply clogged the main jail. According to former Assistant City Manager Bud Bentley, "It was meant to crack down on rowdy Spring Break kids. You had kids out of control panhandling. How do you think they got home? They came and blew all their money on alcohol and girls." Homeless persons inadvertently rounded up in the beach sweeps were collateral damage.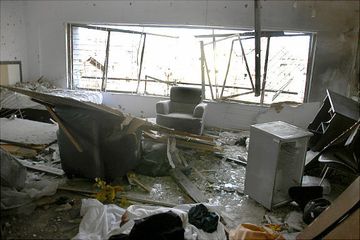 POST SPRING BREAK HOTEL ROOM

When the Spring Break flea circus moved north to Daytona Beach, the homeless in Fort Lauderdale emerged from the shadows. Like other cities across the country, Fort Lauderdale (and Broward County) attempted to address this poorly diagnosed social dilemma with an untested arsenal of experimental programs.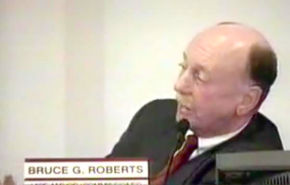 CITY COMMISSIONER BRUCE ROBERTS

Initially developed by District 1 City Commissioner Bruce Roberts during his tenure as Fort Lauderdale Chief of Police, the City's initial homeless policy funneled resources into voluntary programs that offer medical assistance, food and housing. Working with Homeless Advocates, Police Officers participating in the outreach effort encourage bench dwellers to avail themselves of government-funded or privately subsidized charitable programs that additionally provide counseling, employment preparation, family reunification, transportation, emergency financial assistance and other resources designed to address the underlying causes of homelessness. Each year, the teams connect roughly 8,000 street people to this battery of critical services, which is often the first step in a complex and highly individualized course of recovery. If arrested, a referral to the Broward County Homeless Initiative Partnership triggers a post release contact by a social worker to formulate an appropriate assistance regimen.

Every Fort Lauderdale Police officer knows that the success of any homeless program depends on the willingness of participants to trade a dangerous freewheeling lifestyle for a stable home and steady employment – and their ability to achieve that objective. The National Alliance to End Homelessness estimates that 18% of the homeless population is chronic – unable or unwilling to leave the streets. By relentlessly offering recovery resources to anyone lacking an address, FLPD outreach teams have reclaimed countless lives. Since its inception, pairing cops and homeless advocates has become a nationwide prototype.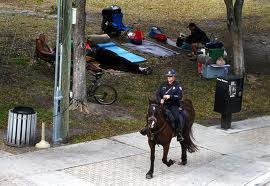 HOMELESS IN STRANAHAN PARK

Despite substantial efforts by South Florida municipalities to mitigate the effects of Homelessness, the problem exploded in the past few years, as aggressive "panhandlers" turned tourist neighborhoods and business districts into gauntlets. Since Fort Lauderdale first passed the pioneering 1993 ordinance protecting its beach, Miami, West Palm Beach, St. Petersburg, Orlando and Clearwater had all subsequently passed no-panhandling ordinances shielding specific areas or neighborhoods. In Fort Lauderdale, when city parks that long served as shared resources functionally evolved into homeless villages, unrelenting public pressure from every district forced City Hall to circle the wagons. With some 1,600 guests of the city nodding off nightly in public parks (over and above the 7,000 who landed shelter beds), the City Commission decided that a strategy to reclaim these resources for the general public would have to be integrated into the City's Homeless policy.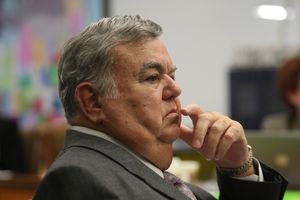 FORT LAUDERDALE CITY ATTORNEY HARRY STEWART

The job of balancing the safety of residents and visitors with the rights of panhandling street people fell to former City Attorney Harry Stewart. The city Commission asked their retiring legal Guru to craft an ordinance that prohibited panhandling in the downtown business district and the core beach tourist area. To survive an anticipated First Amendment hailstorm, Stewart artfully stitched together a Chinese menu of court-tested prohibitions against soliciting near cash machines, public transportation, outdoor restaurants, government buildings, etc. until every square inch of the target zones were legally closed to panhandling. These sites are conceptually unified by a lack of egress – "like when you are on a bus," explained Stewart – locations where people are unable to evade attempted solicitation, thereby creating a captive audience.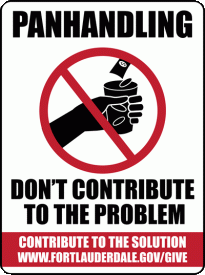 Unanimously approved by the City Commission on May 1, 2012, Ordinance No. C-12-10 specifically prohibits panhandling at bus stops, in any public transportation facility or vehicle, within 15 feet (in any direction) of a sidewalk café, at any parking lot, parking garage, or parking pay station owned or operated by the city, in any park owned or operated by the city, within 15 feet (in any direction) of an automatic teller machine or an entrance/exit of a commercial or governmental building. Along with a citywide ban on aggressive panhandling (defined as posturing in an intimidating manner, touching or blocking someone or issuing repeated "requests" for a handout), it precludes panhandlers from soliciting on private property without the owner's express consent. Violations can be prosecuted as misdemeanors that carry a possible $500 fine and/or 60 days in jail. The ordinance also provided for an educational campaign to discourage public support for panhandling - funded with a $26,350 appropriation.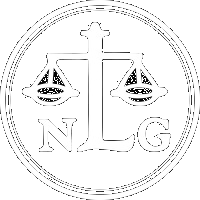 Since each prohibition in his regulatory patchwork quilt was content neutral, narrowly tailored to some significant governmental interest and noted the availability of alternative communication channels for those impacted by the new law, Stewart sidelined the ACLU by carefully meeting the Supreme Court's standards for a First Amendment workaround. Objecting to the City's use of a "constitutional subterfuge" to outlaw what they call "survival behavior", homeless advocates from the National Lawyers' Guild warned that the new law would consequently throttle support to recognized charities like the Salvation Army or United Way, which would also be prohibited from harvesting donations on the fertile downtown streets.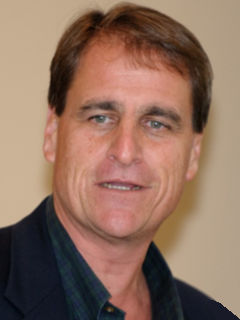 MAYOR JACK SEILER

While City Hall would ordinarily dive for cover when accused of abusing a vulnerable constituency, the epidemic growth of panhandling prompted a reevaluation of the Administration's priorities, as Commissioners initiated efforts to defuse a threatened backlash by an angry general public. When the cost of tolerance suddenly included sacrificing the neighborhood's public park and rendered streets increasingly unsafe for families, local residents ramped up pressure on City officials to "contain" the problem. Newly armed with this mandate, Fort Lauderdale Mayor Jack Seiler announced "Families don't feel safe, people going to the library don't feel safe, people wanting to use public resources don't feel safe."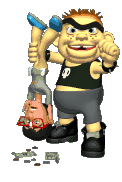 Having drawn a line in the sand, Seiler explained "At the end of the day, it's a quality-of-life issue for residents, visitors, and even the individual out in the streets." The Mayor was referring to a side of begging that most people never see. The homeless make tempting prey for thieves, robbers and other homeless persons. When the homeless are beaten and robbed, the perpetrators know that the assault won't be reported to the police. These unanswered crimes are an unavoidable consequence of street panhandling.

HOMELESS POSSESSIONS STASHED IN STRANAHAN PARK

Due Process protections require police to demonstrate cause before entering someone's home or searching their property. When homeless individuals stash shopping bags under a bush in a public park and sleep there at night, they can assert the same constitutional privilege by claiming the area as their home. The ramifications border on the ridiculous, since residents who walk through the park would technically be trespassing. City maintenance crews could be forced to get a court order before moving the shopping bags to trim the bushes. To reverse this prospective loss of dominion and reclaim the parks for all residents, earlier this year the City Commission passed a law that subjects private property stored in a city park to confiscation. Of course, the law also provides for retrieval within 30 days unless the seized property is in an "unsanitary condition". To address one of the more idiosyncratic consequences of homelessness, Commissioners also strengthened existing prohibitions against relieving oneself in public.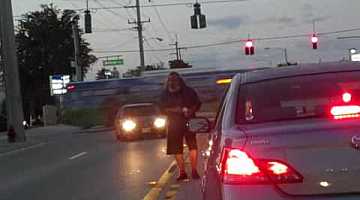 HOMELESS SUICIDAL STREETSIDE SOLICITING

Other aspects of the City's new homeless policy were more recently enacted. For years, panhandlers caused countless collisions at the city's busiest intersections by dodging in and out of passing vehicles while fishing for handouts. Not surprisingly, many were also victimized by this high risk behavior, landing in the hospital - or the morgue. On September 16, 2014, Fort Lauderdale took a page from Pembroke Pines, Plantation, Coral Springs and Oakland Park, and banned soliciting at high-traffic thoroughfares. Using a Broward study that rates traffic levels along major roadways, Ordinance No. C-14-38 restricts roadside soliciting to specific less traveled route segments. Notwithstanding that dodging traffic in the middle of a busy intersection has turned homeless people into pinballs; their supposed advocates enigmatically opposed the measure – objecting to its adverse impact on the fruits of begging.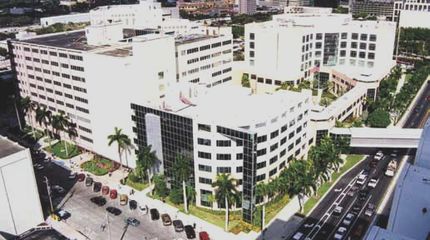 COURT COMPLEX IN DOWNTOWN FORT LAUDERDALE

At the same September 16 Commission meeting, the City also acted to deter the practice of sleeping on benches in the downtown area. A January 23, 2014 study by the Broward County Homeless Initiative Partnership ascertained that roughly half of the 500 homeless people identified in their survey were concentrated in Fort Lauderdale between Oakland Park Boulevard and State Road 84. The City of Fort Lauderdale's disproportionate homeless burden is an unintended consequence of countywide arraignment protocols. When homeless persons are arrested in any of Broward's 31 municipalities, they are taken to the County jail in downtown Fort Lauderdale to await arraignment. Unless they are fast forwarded to a hospital or remanded, after a few minutes in court, they are discharged into the local downtown area, where they generally stake out a bench or stretch of sidewalk.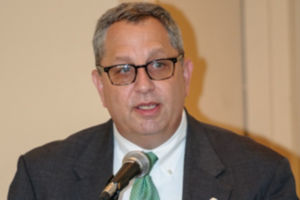 CITY MANAGER LEE FELDMAN

Since hundreds of homeless people snoozing on downtown streets are anathematic to the district's economically critical revitalization effort, City Manager Lee Feldman observed that it "threatens the viability of businesses." Concerned that Ordinance No. C-14-41 against camping out on downtown sidewalks would simply shift the burden by prompting the homeless into adjacent neighborhoods, residents asked why it wasn't constructed as a city-wide prohibition.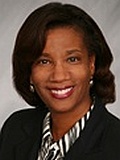 CITY ATTORNEY
CYNTHIA A. EVERETT

To fortify the new laws against first amendment backlash, City Attorney Cynthia A. Everett used a legislative format similar to the one deployed by former City Attorney Harry Stewart when he immunized the beach and Business District no-panhandling ordinances to constitutional challenges. Everett had to narrowly tailor each ordinance while demonstrating that it served a significant governmental interest. By resisting political pressure to overreach, Everett sufficiently prepared each law to withstand long threatened courthouse slugfests.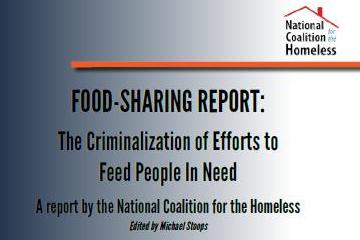 At their October 21 meeting, amid a marathon demonstration by homeless advocates, the City Commission passed Ordinance No. C-14-42, citing where and how shared feeding events can be scheduled. According to a report by the National Coalition for the Homeless released on October 20th (one day before the meeting), 21 U.S. cities had passed restrictive measures for food sharing events by charitable institutions since January 2013. In that 22-month span, more than 10 other cities introduced similar legislation. Since the coalition's last assessment in 2010, the number of cities that have passed – or plan to pass – ordinances that regulate food sharing events has increased by 47%. The Coalition footnotes that since the study doesn't include all cities, the actual numbers are probably higher.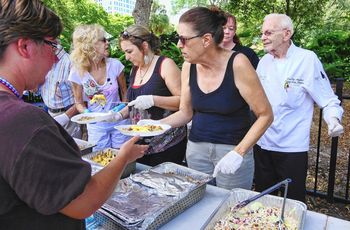 FORT LAUDERDALE FOOD SHARING BUFFET

Characterized as "public health and safety measures," the new law requires that feeding sites be separated by a minimum of 500 feet and that any particular city block can only host one site. Feeding sites must also clear a minimum of 500 feet from the nearest residential property. Sponsoring organizations must elicit consent from the property owner and provide portable lavatories for volunteers working the table as well as any homeless participants. While the regulations are applicable to outdoor feeding sites, faith-based indoor events (in churches or temples) are exempt. The ordinance does not preclude street feedings, although it does define acceptable locations and mandates minimal food safety and sanitation standards.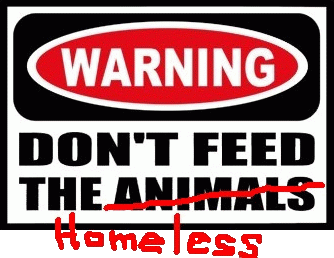 Anticipating consideration of the feeding restrictions, homeless advocates staged a demonstration that blended Vaudeville with an excursion to a local cemetery. After dishing out free meals at a "mass solidarity food sharing" organized at City Hall, demonstrators recruited from the ranks of food sharing sponsors "Love Thy Neighbor" and "Food, Not Bombs" lined the windowed Commission Chamber and held up signs disparaging the ordinance and the Mayor while chanting "Hey, Jack, what do you say? How many homeless did you starve today?" It was unclear as to whether or not it was deliberately choreographed to emulate the television series "The Walking Dead" as a pre-Halloween mini-morality play staged for the press.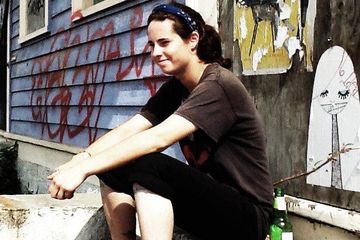 HAYLEE BECKER OF FOOD SHARING SPONSOR FOOD NOT BOMBS

Following the approval of each new ordinance, homeless advocates accused the City of embarking on a "shameful campaign to expunge its homeless population" - either as a budgetary consideration or to cloak unwillingness to address a humiliating problem. Each statement was infused with just enough drama to insure media exposure. Their reactions were exemplified by Haylee Becker from food sharing sponsor "Food Not Bombs", who remarked "It looks like the city is choking out every avenue for the homeless to survive in the city. I think that they're all terrible ordinances, but coupled together, it's a death sentence."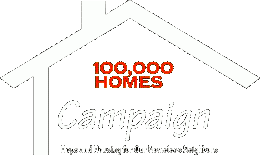 The claims were patently denied by city officials, who defended the City's commitment to its homeless population. Extolling FLPD's model outreach program, City Manager Lee Feldman noted that Fort Lauderdale is using a $440,000 federal grant to permanently house 22 chronic homeless persons. Participating in a nationwide effort called the 100,000 Homes Campaign, after screening disabled homeless applicants for those most at risk, program beneficiaries are permanently housed in one of the City Housing Authority's apartments. They are provided furnishings, amenities and regular visits by case workers. A buzz phrase in the organization's manifesto that encapsulates its unique approach, "Housing First" speaks to how it differs from traditional homeless programs, since eligibility isn't contingent on prior graduation from substance abuse counseling or job training. It's also a win for taxpayers. The housing cost is far less than the cost of incarceration, or the endless cycle of emergency room medical care that consequences life on the street.
CITY COMM. BOBBY DUBOSE

The City also subsidizes the Broward Partnership's homeless assistance center, and budgeted $25,000 for a family reunification program that buses homeless applicants to a more supportive home environment anywhere in the country. Ironically, when the reunification program was first approved in 2012, a number of participants who scored bus tickets turned up in downtown Fort Lauderdale a few months later, underscoring why then Vice Mayor Bobby DuBose called it the "Homeless Vacation Program" before landing on the short end of the enabling 4-1 Commission vote.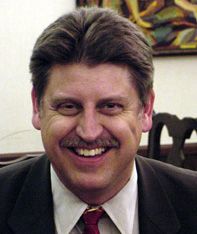 DR. ROBERT MARBUT

Despite the intense media bashing by miffed food sharing sponsors, the City's revised homeless policy is consistent with guidance from homeless experts and agencies staunchly opposed to municipal policies that simply enable homeless behavior. Dr. Robert Marbut, a San Antonio homelessness consultant who developed programs for scores of cities and counties across the country, recently tailored a program for Sarasota that reversed its reputation as "the nation's meanest city."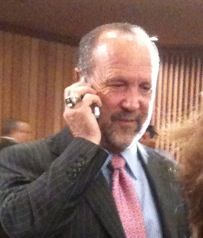 "LOCAL LOBBYIST RON BOOK

A White House Fellow to President George H.W. Bush and a former chief of staff to San Antonio Mayor Henry Cisneros, Marbut observed "Street feeding is one of the worst things to do, because it keeps people in homeless status. I think it's very unproductive, very enabling, and it keeps people out of recovery programs." Rather than perpetuate a demotivating illusion of entitlement, Marbut asserts that food sharing programs should only be located near what he calls the "core areas of recovery" such as mental health clinics, substance abuse programs and job readiness services.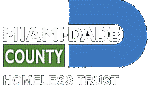 Otherwise, "Homeless people may spend more time pursuing food than the services that will help them get back on their feet." At the October 21st City Commission meeting, local lobbyist Ron Book, who chairs the Miami-Dade County Homeless Trust, told Commissioners "Feeding people on the streets is sanctioning homelessness. Whatever discourages feeding people on the streets is a positive thing."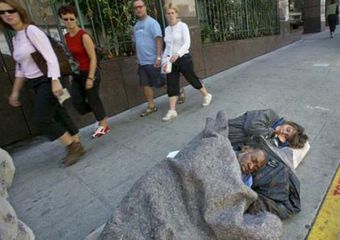 SIDEWALK SNOOZING NO LONGER LEGAL

Addressing the Galt Mile Community Association Advisory Board, City Commissioner Bruce Roberts outlined two objectives that anchor the City's revised homeless policy, stating "In addition to better balancing the needs of the homeless with those of the general public, the new city policy maintains the current safety net while increasing resources to programs that address the root causes of homelessness." Roberts also explained "The new laws were carefully constructed to regulate unsafe, unacceptable or dangerous behavior, whether or not a perpetrator is homeless."

In a notice recently posted on the City website, while asserting his administration's responsibility to reclaim stewardship of community resources, Mayor Jack Seiler announced that HUD recently added another $455,000 to fund the City's homeless housing war chest. City officials say that the new policy will measure success by the number of homeless actively engaged in recovery, instead of rating progress by compiling nightly head counts in city parks, or at feeding events attended by people who may or may not be homeless. As always, time will tell.

Click To Top of Page

---


Commissioner

Bruce Roberts





Homeless || Bullet
Train || A1A Fix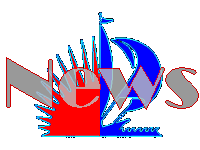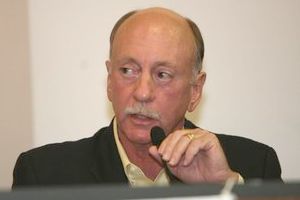 COMMISSIONER BRUCE ROBERTS
November 20, 2014 -

In his November - December 2014 Newsletter, after conveying seasonal tidings, City Commissioner Bruce Roberts announces the construction kickoff for All Aboard Florida's downtown Fort Lauderdale station - one of three futuristic South Florida pit stops for planned high speed passenger rail service between Miami and Orlando. Reviewing the transformation of A1A, the Commissioner updates construction progress along the section crushed by Superstorm Sandy and planned improvements to the stretch of "Ocean Highway" that borders the Galt Ocean Mile neighborhood (drawn from input offered by Galt Mile residents and local vendors). Roberts also asks constituents to name citizen volunteers worthy of official recognition, applauds NOVA students for recruiting a record number of "Adopt-A-Neighbor" volunteers (who assist homeowners with property improvements) and encourages registration for local CodeRED emergency alerts. Roberts concludes with a warning about elevated threat levels for storm surge ascribed to seasonal high tides and lists upcoming municipal events. However, in his opening message, Roberts laments an emotionally charged media campaign - carefully orchestrated with the help of politically vested outsiders - and designed to reverse a city policy that balances the needs of the homeless with those of the general public.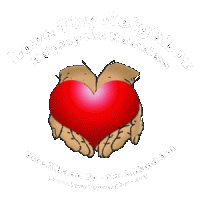 Deified in the media by some of his new supporters as the "Mother Teresa" of food programs, Arnold Abbott founded "Love Thy Neighbor Fund" in 1991 as a legal vehicle for his street feeding events and culinary classes designed to provide homeless enrollees with employment skills. A savvy political advocate, when Abbott sued to overturn a 1999 city ordinance that prohibited street feedings, the judge rejected a compromise feeding site offered by the City as too remote and difficult to access, and awarded the decision to Abbott. When Fort Lauderdale recently enacted an ordinance regulating food sharing events, Abbott insisted his weekly street feedings at Stranahan Park and Fort Lauderdale Beach would "continue as long as there is breath in my body."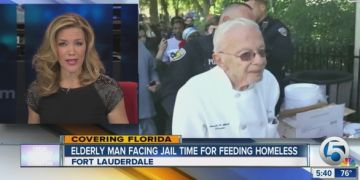 LOCAL MEDIA HYPES ABBOTT'S PLIGHT

By the time police arrived at each of two early November feeding events, waiting reporters had already scripted hormonal headline copy about "A frail 90-year-old World War II veteran thrown into jail for violating a City law against feeding the homeless." His newfound celebrity wasn't lost on publicity-hungry homeless activists and lobbyists, who placed Abbott on speed-dial. Media-driven passions persisted for weeks, as derogatory vitriol - from Abbott and homeless activists headquartered in Washington DC and various State Capitols - fleshed out heart-wrenching missives lambasting "villainous" City officials for victimizing those doing the Lord's work.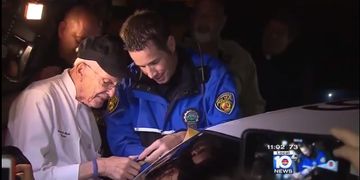 FLPD OFFICER HELPS ABBOTT WITH CITATION

As it turns out, many of the articles were largely creative writing exercises. Abbott was never arrested and taken into custody (he was given a ticket) and feeding the homeless is not illegal in Fort Lauderdale. However, it is illegal to feed several hundred people in front of your house without your consent - or doing so without providing for access to basic sanitation and lavatory facilities.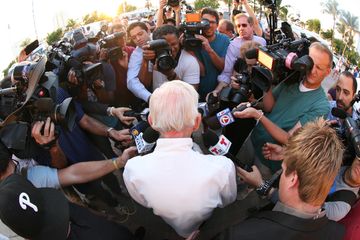 ABBOTT COURTS MEDIA (Great Pic by Art Seitz)

Despite Florida's well-deserved reputation as a black hole for the homeless, Fort Lauderdale maintains one of the State's most effective homeless safety nets, as roving teams of Homeless Advocates and FLPD officers annually make roughly 8,000 referrals to critical services for anyone who stumbles over the question "Where did you sleep last night?" Along with subsidizing comprehensive recovery resources for homeless men, women and families, the City funnels HUD grant funds into a program (100,000 Homes Campaign) to permanently house (and otherwise assist) those chronic homeless deemed most "at risk".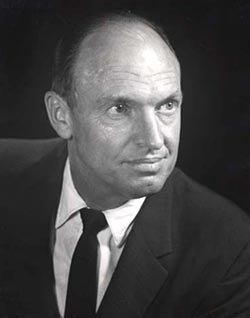 FEDERAL JUDGE C. CLYDE ATKINS

Proudly announcing having received supportive "calls from Moscow to Syria," Abbott appears to relish his role as an overnight "cause célèbre" media darling. Abbott last basked in a public spotlight while integral to the functionality of Fort Lauderdale's infamous tent city. Adjudicating the 1988 "Pottinger case" (named for lead plaintiff Michael Pottinger), a class-action lawsuit filed against the City of Miami for mistreating the homeless, Federal Judge C. Clyde Atkins ruled in 1992 that Miami must provide arrest-free "safe zones" for those living on the streets. To comply with the Pottinger case precedent, in 1993 Fort Lauderdale erected a postage stamp "Tent City" for the homeless in Holiday Park, which was expanded in 1996 and relocated to an Andrews Avenue parking lot.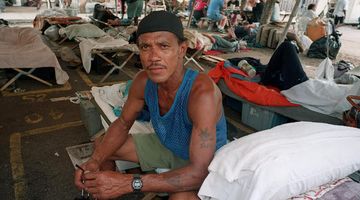 1998 TENT CITY RESIDENT AGUSTIN TORRES-VEGA JR.

When charitable organizations and agencies responsible for feeding inhabitants squabbled over food distribution, Abbott was vested with control over the twice-daily feeding schedule. As conditions quickly deteriorated, and the entire downtown district (including City Hall across the street) became immersed in the stench of festering portable toilets, the court-conceived social engineering was disparaged equally by homeless advocates and City officials forced to allocate the $25,000 monthly basic maintenance cost.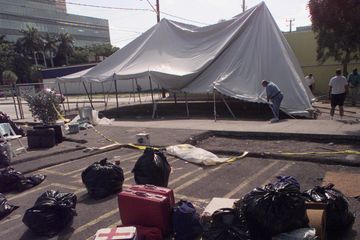 TENT CITY BEING DISMANTLED IN 1999

As the homeless inhabitants were relentlessly victimized by outsiders and one another, the skyrocketing number of muggings, thefts, assaults and spontaneous fights drained FLPD resources. The site became notorious as hotbed of criminal activity, attracting drug dealers, prostitutes and a nightly parade of unsavory "customers" from all over Broward. When the 200-bed Homeless Assistance Center in Fort Lauderdale was opened in 1999, alternatively fulfilling the judicial requirement for a "safe zone", the city closed the "Tent City" it erected five years earlier - as then Police Chief Bruce Roberts imparted the obvious – that it was a failed experiment.
FORT LAUDERDALE CITY HALL

Amid the recent media blizzard of pejorative allegations, when local residents called City Hall to inquire about City efforts on behalf of its homeless population, many suggested that "Love Thy Neighbor" be provided with safe alternative indoor feeding sites, enabling Abbott to pursue his mission without violating the law - or turning Stranahan Park into a post-event soliciting gauntlet / open-air toilet. Commission Aides also received scores of abusive anonymous calls marked by vicious invective; many sourced from out-of-state areas codes.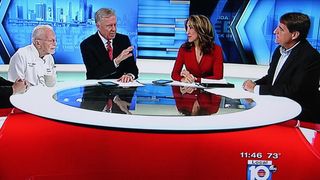 MAYOR JACK SEILER AND ARNOLD ABBOTT

At a November 9 televised discussion with Mayor Jack Seiler, Abbott told the Mayor "We have tried many, many times to find indoor locations to feed the homeless and they have not been available to us. If you can find locations like that, I am not married to Stranahan Park." Mayor Seiler offered Abbott two alternative feeding sites on November 11th, the city's aquatic complex located directly across the street from the beach (where Abbott ordinarily sets up shop) and the Church by the Sea at 2700 Mayan Drive. After consulting with his activist allies, Abbott declined. The next day, a disappointed Mayor Seiler said, "When he did not take us up on the offer yesterday to use the aquatic center, you begin to wonder is the issue about feeding the homeless or is there some other agenda here?"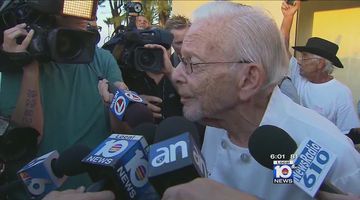 ABBOTT DECLINES CITY OFFER

Having told reporters that his primary mission is to feed the homeless, when asked why he turned down the City's offer, a visibly irked Abbott offered a clue to his real objective, responding "It's a civil rights issue." Earlier in the day, attorney John David filed a motion to enforce the 14 year-old injunction that quashed the 1999 City law, claiming that it also applies to the 2014 Ordinance regulating mass food sharing events. Pressed for an explanation, Abbott snarled "I'm not interested in playing games!" Observing that the beach is used by Swedes and Zambians (international visitors who fuel the city's economy), Abbott intimated plans to insure that they will soon be joined by the homeless.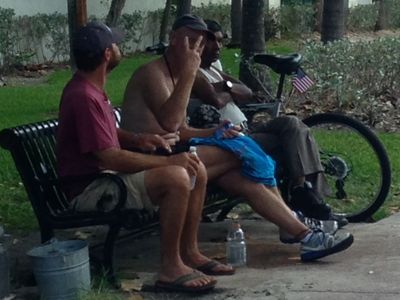 PANHANDLERS INTIMIDATE L'HERMITAGE RESIDENTS

While most Galt Mile residents support efforts to feed the homeless in safe and sanitary indoor environments - they staunchly oppose allowing City Parks to again devolve into homeless villages or the revival of beach areas as shakedown sites, where visiting tourists and local residents are solicited by street punks waving an open 40-ounce and a chair leg (as has occurred along the Galt Mile). Whether burdened by chronic addictions, employment issues, medical or emotional problems, family conflicts, or other crippling circumstances, the homeless community is inextricably integrated with those who relentlessly prey on them, or anyone else nearby who appears vulnerable. When coupled with dangerous or criminal behavior symptomatic of a population epidemically afflicted by alcoholism, drug addiction and mental health issues, the invariable backlash by angry and fearful city residents undermines community support for delivering desperately needed recovery resources. To be successful, any homeless policy must strike a balance between providing for the homeless and protecting the general public.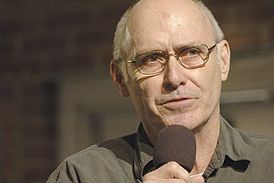 MICHAEL STOOPS, NAT COALITION FOR THE HOMELESS

Abbott asserted that his outdoor feedings were better for the homeless than the adjacent legal indoor venues he turned down, since they offer "the beauty and placidity of the beach." Evidently, Michael Stoops, director of community organizing for the National Coalition for the Homeless, disagrees. Stoops said "The best solution to the food-sharing issue is to have indoor meal programs available to the homeless three times a day, seven days a week." Instead of using his newly elevated media profile to use Fort Lauderdale as a political pinball, by cooperating with the City and moving his events indoors, Abbott's two additional feedings would substantially help close the gap to achieving the 21 weekly indoor meals called for by Stoop.

Recently, the City stopped sending high ranking police officers to hand deliver infraction citations. Absent the titillating photo op of a frail philanthropist bookended by uniformed enforcement scions, media intensity softened. As Abbott's media allure fades, so may his opportunity to make this lasting contribution, and end his campaign on a note of triumph, not discord. Tick Tock. Read on for Commissioner Roberts' 2014 Holiday Season message to constituents... – [editor]


From The Desk of


Commissioner Bruce G. Roberts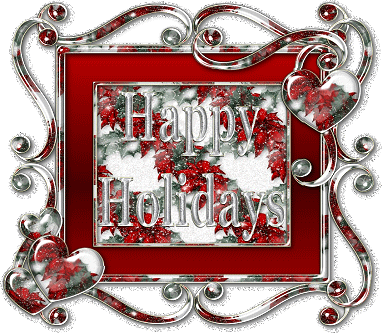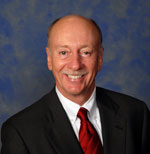 DISTRICT 1 COMMISSIONER
BRUCE G. ROBERTS

HOLIDAY MESSAGE: The Holiday Season is right around the corner so I would like to wish you all a safe and family-filled time. Our District continues to grow with new neighbors, projects and enhancements. I have seen first-hand how neighborhoods are working together with the City to solve problems, share ideas and sponsor events. We truly appreciate the opportunity to work with and serve you, as we find solutions that will allow the City to remain one of the most beautiful and best cities in which to live, work, play and raise a family. Be safe and let us all welcome 2015 with high spirits, a vision for the future and a pride in our home - Fort Lauderdale!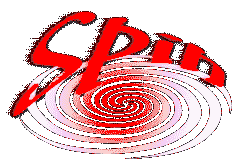 HOMELESSNESS: In order to provide a better understanding of the City's holistic approach to our homeless situation, and to respond to the inaccurate sensational media accounts of recent enforcement actions, I have taken the liberty to reproduce our webpage explanation. Interestingly, an overwhelming number of opponents to the recent regulatory ordinances are posting from out of the State; I speculate that they are not aware of the all-encompassing approach to the problem as described below. Web Page: http://fortlauderdale.gov/news/2014/110514mayors_update.htm

Innovative Leadership Key to Addressing Homelessness

Let's set the record straight.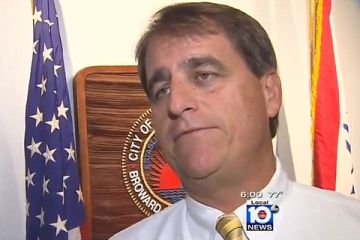 MAYOR JACK SEILER

Contrary to media reports, the City is not banning groups from feeding the homeless. We have established an outdoor food distribution ordinance to ensure the health, safety and welfare of our community. The ordinance does not prohibit feeding the homeless; it regulates the activity in order to ensure it is carried out in an appropriate, organized, clean and healthy manner. While the ordinance regulates outdoor food distribution, it permits indoor food distribution to take place at houses of worship throughout the City. By allowing houses of worship to conduct this activity, the City is actually increasing the number of locations where the homeless can properly receive this service. At recent outdoor food distributions, citations were rightly issued for non-compliance with the process enacted to ensure public health and safety. Contrary to some reports, no one was taken into custody. Experts agree that homeless individuals need more than just food. The homeless need shelter, clothing, and comprehensive medical and social services to help them get back on their feet. Few cities have done more for the homeless than Fort Lauderdale. We are taking a comprehensive approach by working with numerous agencies, non-profit, charitable and faith-based organizations that, like us, are dedicated to effectively addressing this complex and important issue. Our overarching goal is to provide a long-term comprehensive solution for the homeless population. While aiming for that goal, we are concurrently working to protect public safety and maintain quality of life for our neighbors, businesses, and visitors. Our initiatives include:
BROWARD PARTNERSHIP HOMELESS
ASSISTANCE CENTER

Fort Lauderdale was the first city in South Florida to establish a Police Homeless Outreach Unit, which currently makes 8,000 referrals a year providing access to housing, critical medical care, and social services. The award-winning initiative has been replicated by law enforcement agencies across the country.

Since 1999, Fort Lauderdale has been home to the only full service comprehensive Homeless Assistance Center in Broward County. The City recently approved expanding the center's size and scope of services.

The City maintains an active partnership with Mission United, a program dedicated to providing housing and social services to homeless Veterans.

The City also supports Broward County, the Broward Partnership for the Homeless, Housing Authority of the City of Fort Lauderdale, Salvation Army of Broward County, United Way of Broward County, Hope South Florida, the Task Force for Ending Homelessness, and many others.

Fort Lauderdale is the only city in South Florida and one of only 235 communities nationwide participating in the 100,000 Homes Campaign (Housing First) to move disabled and chronically homeless people into permanent housing.

Our Housing First initiative was recently re-funded for a second year, giving us an additional $455,000 to continue to operate and expand this effort to serve even more homeless.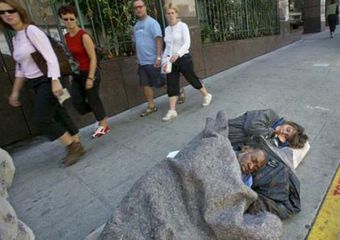 SIDEWALK SNOOZING NO LONGER LEGAL

As part of our comprehensive strategy, the City has passed new ordinances that aim to reduce the public safety hazards and inappropriate nuisance activities that are negatively impacting our community. Our quality of life and our economic viability are directly linked to our stewardship of public spaces. As such, we have a responsibility to ensure that all of our public spaces are accessible and can be safely enjoyed by everyone - families, children, residents and visitors. The City, our neighbors, and our businesses have a long and distinguished history of compassion toward those in need. We encourage those groups that are feeding the homeless to partner with agencies and organizations that, like Fort Lauderdale, are taking a comprehensive approach to this issue so that we can begin to make real progress - instead of enabling the downward cycle of homelessness to continue.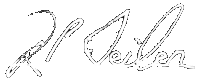 John P. "Jack" Seiler
Mayor, City of Fort Lauderdale



ALL ABOARD FLORIDA: On October 30, 2014, Broward County Mayor Barbara Sharief, City of Fort Lauderdale Mayor Jack Seiler and other dignitaries joined All Aboard Florida to mark the start of construction for All Aboard Florida's downtown Fort Lauderdale station. The existing building was demolished so construction on the nearly 60,000 square foot station and platform can begin. This represents the first groundbreaking for one of its three South Florida stations along the Miami-to-Orlando corridor and is the latest announcement in a series of significant milestones as plans for the highly-anticipated project move full steam ahead. The Fort Lauderdale station will be located on 4.8 acres of land adjacent to the Florida East Coast Railway (FEC) corridor on NW 2nd Avenue, between Broward Boulevard and NW 4th Street. Located at the northern end of downtown Fort Lauderdale, the station will stimulate a currently underutilized area, driving new visitors into downtown and the surrounding cultural, economic and shopping destinations. It should also be noted that All Aboard Florida and the Broward Metropolitan Organization (MPO) have dedicated funds and will construct "Quiet Zones" at FEC crossings.
Some key items from the project to-date are Sunrise to 18th Street:

Construction of three beach access openings to facilitate beach renourishment has begun.

Decorative wall (concrete blocks & reinforcement) and footer construction has begun from 9th street to the front of Birch State Park.

Conduits have been installed and continue to be installed for the wall lighting, pedestrian lighting and signals.

Four of the seven drilled shafts have been installed for the mast arm foundations.

Drainage installation is ongoing- Northwest end of the project.

Utility adjustments are ongoing by TECO & City of Ft. Lauderdale.

No changes to the Maintenance of Traffic (MOT) pattern.
A1A from Oakland Blvd to City Limits:

30% of the design has been reviewed with recommendations on including raised crosswalks.

All of the pink signature sidewalk on the Galt will be retained.

Retain the signature crosswalks on the Galt.

Some signed agreements for the parking improvements at the Shoppes have been obtained.

Expect 60% of the design to be reviewed by the end of November.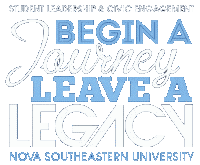 NOVA HELPS BUILD COMMUNITY: The City of Fort Lauderdale issued a call for volunteers for a recent Adopt-A-Neighbor event to assist a local homeowner with property improvements. The response from the City's neighbors, local businesses, and community organizations was tremendous, but there was one group of zealous students that really embraced the spirit of volunteerism! Nova Southeastern University's Office of Student Leadership and Civic Engagement recruited so many volunteers that the City's Neighbor Volunteer Office created "Nova Southeastern University Day of Service."

APP FOR EMERGENCY NOTIFICATIONS: The City of Fort Lauderdale uses CodeRED® to send emergency notifications to registered phone numbers. In the event of an evacuation notice, utility outage, water main break, flood, or other emergency situation, the system will deliver a recorded message to an individual, an answering machine or to voicemail. Residents and businesses are encouraged to sign up for CodeRED®, registration is free and personal information will be kept confidential. CodeRED® now also features a free mobile alert app, which can deliver messages directly to your smartphone.

NOMINATE A NEIGHBOR: The City is now accepting nominations for the 2014-2015 Citizens' Committee of Recognition Awards. Visit www.fortlauderdale.gov/ccr/ for details and a nomination packet. Nominations are due by 5 p.m. on Friday, December 12, 2014. For more information, email [email protected] or call 954-828-4742.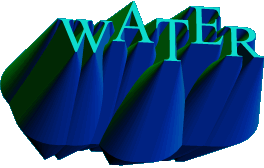 SEASONAL HIGH TIDES: Flooding in low-lying areas is more likely in the fall months, as the close proximity of the moon, high tides, rising sea levels and inclement weather conditions combine to exacerbate flooding risks.As a coastal community with numerous low-lying areas and 300 miles of canal coastline, Fort Lauderdale neighbors are advised to be especially vigilant during the months of October and November. While the City maintains an extensive storm water master plan and is instituting both aggressive maintenance and innovative adaptation solutions to address drainage, including the installation of tidal valves, the location and natural geography of the City makes neighborhoods susceptible to flooding. The Florida Department of Environmental Protection is offering the City grant funds in the mount of $700,000 for additional valves. Visit http://www.fortlauderdale.gov/high_tides.html for important information regarding seasonal high tides. To report flooding in your area, please call 954-828-8000.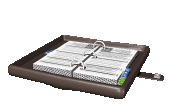 OFFICE CONTACT: Robbi Uptegrove – 954-828-5033; email: [email protected]. In addition to hosting the pre-agenda meetings twice a month, I am also available to attend your HOA meetings to update your neighborhood on what is going on in the City as well as answer any questions/concerns you may have. Please contact Robbi to schedule.

EMAIL LIST: If you would like to be on our email list so that you receive information pertaining to the City – especially District 1 (i.e. news releases, meeting notices, events), please let Robbi know and she will add you.


If you need to reach Commissioner Bruce Roberts, please contact his assistant Robbi Uptegrove at 954-828-5033 or by e-mail at [email protected]. To access the City Commission Meeting Agendas and Minutes, Click Here. To actually watch the meetings recorded and archived on the Commission Meetings Video Webcast and Archives web site, Click Here.
---


Two Sides of the Same Street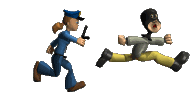 November 29, 2014 - As homeless-related incidents proliferated in the City over the past decade, they also exploded across the Galt Mile, mushrooming from a handful of cordial tithing opportunities to robberies, thefts and assaults. For years, a few well-meaning snowbirds slipped daily handouts to homeless regulars who were fixtures on nearby association or sidewalk benches. After passing some cash to Anton - or Shirley - or Winston - these benign unfortunates would gesture their gratitude by gathering in hurriedly bagged belongings to make room on the bench for their benefactor. Were it not for the battered shopping bags, these amicable acquaintances might have been taken for old friends.

However, these philanthropic association residents couldn't help but notice ominous evidence of a serious problem. Every few days, their convivial homeless cohorts sported fresh wounds and bruises. Any inquiry into the source of these injuries would abruptly end further discussion. The telltale marks were disconcerting reminders of a recent beat-down. When these good-natured homeless visitors left the bench to find a place to curl up for the night, more often than not, they were assaulted and robbed – usually by the same group of animals who followed them every evening. The perpetrators – some of who were also homeless – were unconcerned about the incident ever appearing in a police report. Fearing for their lives and pathologically distrustful of civil authority, their vulnerable victims would never mention the attacks.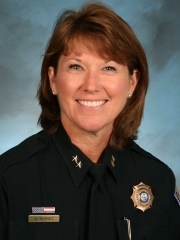 FORMER DIST 1 CMDR AND
ASST CHIEF MARY NEGREY

In deference to recommendations from local homeless advocates, the Galt Mile Community Association (GMCA) and the City, member associations asked that residents instead direct their donations to organizations that address the root causes for homelessness. As well-intentioned residents ignored the request and stubbornly kept doling out cash; these congenial bench dwellers spread the word about easy pickings on the Galt Mile, either to benefit a homeless comrade – or while facing the business end of a switchblade.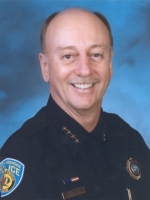 THEN CHIEF BRUCE ROBERTS

During the past decade, neighborhood association officials repeatedly reached out to Police District 1 Commanders and veteran homeless outreach officers for a strategy that would protect local residents from homeless predators. Following a December 2006 assault on an elderly Galleon couple, then FLPD Major Mary Negrey told the Advisory Board, "The Galt Mile's popularity among its homeless population stems primarily from the misdirected generosity of its residents." Flustered by the refusal of certain residents to curb their chronic tithing, Negrey asked "Do they think that restricting their handouts to nice homeless people will only attract other nice homeless people?" At subsequent Advisory Board meetings, her sentiments were echoed by Major Russell Hanstein (retired in July as Assistant Chief), Captain Mike Gregory (since promoted to Assistant Chief in the FLPD Administrative Support Division), and District 1 Commissioner Bruce Roberts (former Chief of Police).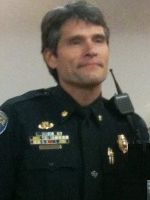 ASST CHIEF RAUL DIAZ

Two years ago, then Police District 1 Commander Raul Diaz (currently an Assistant Chief in the Investigative Bureau) informed GMCA Advisory Board members that resident-donors don't understand why their actions endanger the whole community. Stressing the importance of educating Galt Mile residents about an operational dynamic that governs life on the street, Diaz exhorted that when a community is reputed as a lucrative soliciting source; along with the additional homeless persons attracted by the easy money are cadres of those who prey on them. Drug addicts, muggers and other street punks that seek out and victimize mostly defenseless homeless people threaten every neighborhood resident. Differentiating the many social problems caused by homelessness and the far more dangerous predatory criminal activity that follows in its wake, Diaz warned "If a homeless victim isn't conveniently available for an easy rip-off, anyone who appears vulnerable will suffice."
ASST CHIEF MIKE GREGORY

Also seeking to distinguish how the two distinct problems threaten neighborhood residents, former Police District 1 acting Commander Mike Gregory told the Advisory Board "People confuse members of the homeless community with the predators who exploit them. Those that prey on the homeless won't hesitate to prey on your families." Diaz' and Gregory's predictive observations proved prophetic. The courteous bench dwellers were soon replaced by roving groups of ill-tempered predators. These avocational "gangstas" aggressively harass residents and visiting tourists in front of the Library, in the Winn-Dixie parking lot, at the Mills Corner strip mall (i.e. by the Walgreens at Oakland Park Boulevard) or across A1A at the public beach access.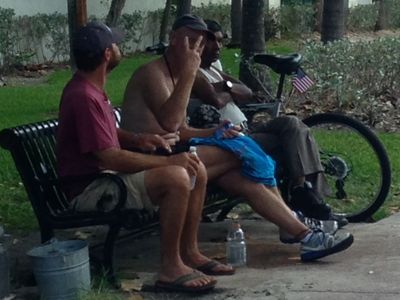 PANHANDLERS HARASS L'HERMITAGE RESIDENTS

In February, L'Hermitage I Manager Patricia Quintero requested help from the neighborhood association when a pack of homeless drifters carved a communal toilet out of dune vegetation and set up housekeeping near the public beach entrance south of L'Hermitage. For amusement, they taunted and threatened residents and visitors en route to the beach while occasionally extorting "tolls", turning the L'Hermitage entrance into a gauntlet for mostly elderly residents. The abuse continued until sustained police sweeps by the Galt Mile Security Patrol and an incremental police presence organized with the help of Commissioner Roberts finally managed to clean out the rats' nest.

Galt Ocean Mile Security Patrol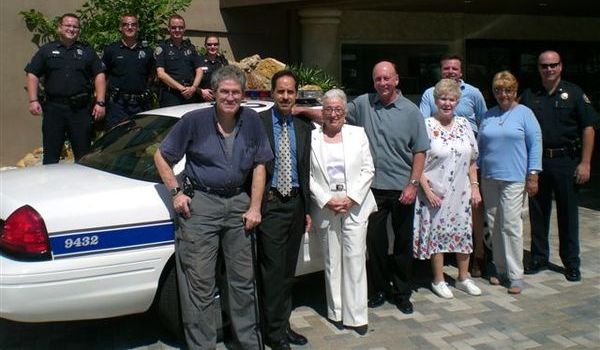 PATROL KICKOFF EVENT - FRONT (L TO R): ERIC BERKOWITZ, PIO IERACI, ROSE GUTTMAN, THEN
CHIEF BRUCE ROBERTS, LEAH GLICKFIELD, KEVIN SONGER, FERN MCBRIDE, MAJOR PAUL KILEY
REAR L TO R): SGT TODD JACKSON, OFFICER STEVE KRAFT, CAPT TODD PENEY, CAPT JAN JORDAN

The Security Patrol was initiated along the Galt Mile in 2006. Like other high end beachfront neighborhoods, the Galt Mile was annually victimized for decades by scores of "quality of life" crimes, as residents were targeted by burglars, muggers, "homeless" drifters and thieves, often on the beach after dark. Since Police Departments prioritize resources for high profile Part 1 crimes (i.e. rape, murder, kidnapping, etc.), Fort Lauderdale Police Department (FLPD) responded to repeated pleas for improved security by handing out flyers in strip malls advising that residents "lock their car doors" and "be aware of their surroundings." Coupled with FLPD's rare drive-by patrols – and no protection for a beach considered "private" – Galt Mile residents were treated like wolf-bait. While the beach was virtually a post-sundown "no-mans-land" for residents, it also served as a convenient staging springboard for association break-ins.

Neglected by the City, while GMCA officials investigated security options utilized in dozens of similar neighborhoods, member associations L'Hermitage I and II provided a revelatory resolution. As longtime participants in the Lauderdale Beach Security Patrol, L'Hermitage unit owners were assessed a tiny fraction of the amount charged to each Lauderdale Beach homeowner. Asked for their input, then Police Chief Bruce Roberts and incoming District 1 Commander Paul Kiley cited the patrol as one of the best of its kind.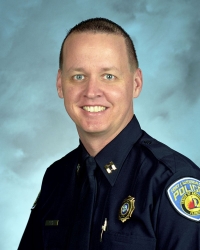 RET FLPD CAPTAIN TODD PENEY

Created in 1999 by highly decorated former Fort Lauderdale Police Captain Todd Peney (23 Departmental and 57 Public Commendations), its off-duty FLPD officers have full police powers and 24/7 access to FLPD backup. Also, any off-duty FLPD officer is instantaneously elevated to "active duty" whenever faced with evidence of criminal activity. Although provided with an ATV for the beach and a Police Jeep to patrol the street, the officers ordinarily use their dedicated FLPD cruisers and work out of a headquarters fitted with full communication capabilities just south of Oakland Park Boulevard off A1A.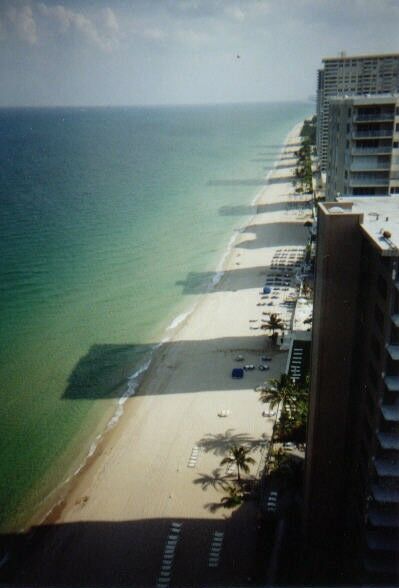 GALT MILE PATROL - BEACHSIDE

Since the Lauderdale Beach community is composed primarily of single family homes, their annual per unit patrol cost is substantial (beachfront homeowners - $650, otherwise $400). However, by spreading the expense over the Galt Mile community's high density demographics, our cost drops to a meager $20 per unit annually. In the first year of operating in Lauderdale Beach, the number of incidents dropped from 47 to 2 in 1999. When beachfront Galt Mile Associations voted to participate in 2006, patrol outreach was proportionately expanded. In its initial year on the Galt Mile, incidents along our beach dropped from 93 to 11 in 2007.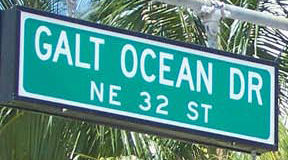 GALT OCEAN DRIVE

As a result, Galt Mile residents can safely stroll the beach in the evening and walk along Galt Ocean Drive after dark – activities that were previously dogged by robbers and muggers. Equally important, the number of association infiltrations dropped precipitously, relieving the strain on association security. Patrol management was subsequently inherited by FLPD Sgt. Darren Ogden, who uses modern police theory to enhance security protocols and parses daily FLPD reports to deter or confront potential threats. To prevent perpetrators from timing attacks on cased properties or residents, the patrol schedule is kept random and confidential. While the daily reports (forwarded to every association office and interested association board members) outline events during each patrol, details are deliberately omitted for the same reason. It's no coincidence that neighborhoods south, west and north of the patrol area suffer a substantially higher crime rate.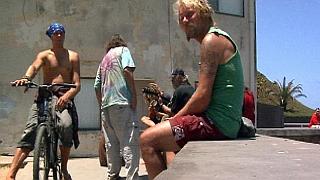 GENTLEMEN PONDER HAWKING'S THEORY OF EVERYTHING

If not for the security patrol, the Galt Mile beach would be knee deep in drifters. When chased from Fort Lauderdale beach for shaking down tourists and residents, many head north to Lauderdale Beach and the Galt Mile Beach - where they bump heads with Darren Ogden's troops. Those that continue north become the problem of our neighbors in Lauderdale-by-the-Sea and their Broward Sheriff's deputies. Unfortunately, some of these predators step from the beach to the street upon reaching the Galt Mile, where many survive by purging property from unlocked vehicles, breaking and entering, or squeezing loose cash from vulnerable residents and visitors.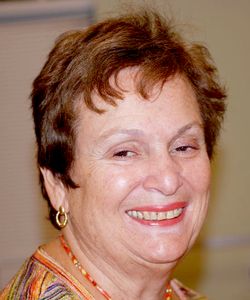 TERRY CLAIRE

While most beach drifters are confronted by the Security patrol, flowering sociopaths who temporarily fall through the cracks each month are often reported to the neighborhood association. Depending on the nature and immediacy of a subsequent criminal threat, GMCA officials enlist an FLPD liaison, Security Patrol officers or Commissioner Roberts to help remediate each problem. In June, Friends of the Galt Library official Terry Claire from Plaza South complained that aggressive deadbeats were haunting the Library entrance. During the September Advisory Board meeting, Fountainhead representative Marlene Katkin warned about a group of panhandling predators extorting "contributions" from local residents at the Exxon Mobil station on Oakland Park Boulevard. In October, L'Ambiance security discovered homeless drifters camping out in their cabanas and Regency Tower manager Kande Lewandowski reported that association security repelled an attempted infiltration of its beach egress.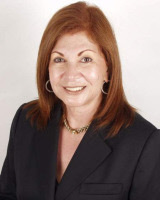 MARLENE KATKIN

Having forged working relationships with association security personnel along their patrol route, the off-duty FLPD patrol officers elicit first-hand nightly updates about potential problems. Depending on an association's operational protocols, either the building manager or association security is equipped with direct access to the Security Patrol. Working with Ogden and counterparts in Lauderdale Beach, GMCA officials continuously explore coverage and communication enhancements. Recently, the number of patrol hours was expanded – without increasing the cost to each association unit owner. To otherwise improve the security net's two-tier functionality; neighborhood officials encourage new managers and recently hired security staffers to meet the patrol officers, either during the nightly sweeps or by requesting an intro from the neighborhood association.

FLPD CRUISER - DETERRENT IS MOVED REGULARLY

While answerable to Galt Mile residents, the Security Patrol was not conceived to ask inconsiderate neighbors to turn down the music, violate a vehicle parked in someone else's garage space or to expel your daughter's idiot boyfriend - although they have done so when called upon. Like other police officers, they aren't empowered to adjudicate disputes between association members – unless a law is violated.

If you face an imminent medical or security threat, immediately call 911 followed by an alert to association security. If the problem persists or remains unresolved, inform one of your Advisory Board members or the building manager, who can recruit assistance from the neighborhood association. Above all - Be Safe!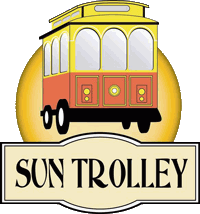 December 10, 2014 - Most Floridians consider their vehicles indispensable. Some name them after forebears, as if a Shelby GT500 dubbed LeBron was the culminant of ancestral spawn. However, if age creep has compromised your vision, or ditching car payments, auto insurance and weekly gas uptake helps keep the family budget in the black, there are a limited number of South Florida neighborhoods that are walkable to the beach, supermarkets, pharmacies, banks, health care, grocery stores, restaurants, a library, and shops of every stripe.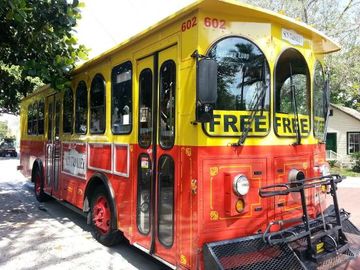 FORT LAUDERDALE SUN TROLLEY

While most Galt Mile residents maintain vehicles in the garage or parking deck, our demographics include a larger than average community of dedicated pedestrians. Some lament being barred from a driver's license by a DMV eye exam. Others evangelize the wellness dividend of endless constitutionals. Few will admit that they were forced to choose between a car, prescribed heart medication and one daily alternative to canned tuna fish. For necessities they can't reach on foot, they needn't humble themselves by asking for a lift – they board the Sun Trolley. For scores of our neighbors, the community bus is more than an eclectic party favor, it's their sole access to medical or "quality of life" resources the rest of us take for granted.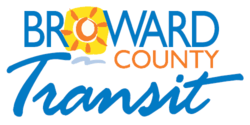 Fort Lauderdale's community bus service – the Sun Trolley – is a project jointly sponsored by the Downtown Fort Lauderdale Transportation Management Association (DFLTMA) and Broward County Transit (BCT). Among the original local service lines described in the 1991 initiation agreement, the Sun Trolley's Galt Mile route was meant to fill a long-neglected transportation void in the City's northernmost beachfront neighborhood. For decades, the Galt Mile community has silently tolerated a state of municipal imbalance. Although the City's most lucrative source of residential property tax revenues (comparable to the ad valorem contribution of the business district), the Galt Mile neighborhood demands – and receives – almost nothing in return.

FORMER DIRECTOR
LES HOLLINGSWORTH

In 2008, Fort Lauderdale's entire community bus service suffered near-terminal neglect when entrusted to former Sun Trolley Executive Director Les Hollingsworth, who spent a good deal more time feathering his own future than that of the community bus service. When invited to address neighborhood associations and civic groups, Hollingsworth would vaguely outline how fairy tale marketing strategies would magically salvage bus routes beleaguered by the recession. Unfortunately, glad-handing at rubber chicken dinners tested the limits of his management skills.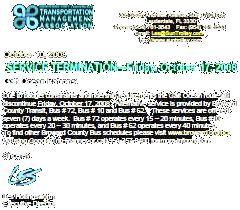 TERMINATION LETTER - CLICK TO ENLARGE

Although the Galt Mile Route exceeded the County's contractual survival standard of 7.1 riders per hour, and despite promising neighborhood association officials that he would maintain the Galt Mile route, on October 10, 2008, Hollingsworth surreptitiously posted a route termination notice in Galt Mile Trolleys. When the GMCA revealed Hollingsworth's betrayal, a phalanx of angry residents who attended the October 21, 2008 City Commission meeting convinced Commissioners to abort the termination.
ABORT TERMINATION - CLICK TO ENLARGE

Their testimony underscored the Trolley's importance, especially to those without vehicles, as residents not only described trips to the library, the Community Center, and doctor visits at Holy Cross hospital, but to the linked County bus network that provides access to services, friends and family throughout the region.

TRANSIT OFFICER
IRV MINNEY

An outraged former Commissioner Christine Teel told attending Galt Mile constituents that Hollingsworth's actions reflected "Total incompetence or indifference." Siding with the neighborhood association, the County Transportation Board voted to continue the service, ruling that ridership statistics met the funding requirements spelled out in its interlocal agreement with the City. As explained by Broward Community Transit Officer Irv Minney, "We never want to terminate anything if we don't have to. We want more transit." By the time that the DFLTMA Board realized that their Sun Trolley Executive Director's management vision was 99% vapor (and that Hollingsworth was actively sending out resumes), the entire enterprise was facing insolvency.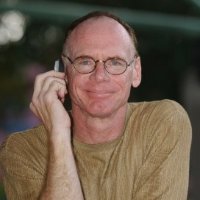 INTERIM SUN TROLLEY EXECUTIVE
DIRECTOR CHRIS WREN

When Hollingsworth was finally pink slipped, former DFLTMA Executive Director Chris Wren stepped in as the Sun Trolley's Interim Director. A longtime City planning Guru, Wren chaired the City's Development Review Committee for 5 years and worked as a city planner for 10 years before being appointed Executive Director of the Downtown Development Authority (DDA) in 2002. Charged with ascertaining which of the Sun Trolley's routes were salvageable, Wren futilely pleaded with local merchants to support underutilized routes throughout the City.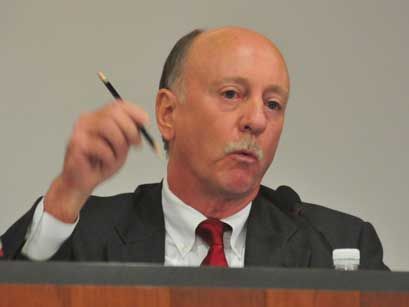 FORT LAUDERDALE CITY COMMISSIONER BRUCE ROBERTS

Having watched Hollingsworth burn through meager agency resources to promote a series of botched screwball marketing "experiments", the vendors were understandably unwilling to invest in a program with "rescue" leadership and a horrific track record. Later, these vendors would regret not having accepted Wren's invitation.

Within months of Hollingsworth's long-overdue departure, newly elected District 1 Commissioner Bruce Roberts and Wren met with GMCA officials Pio Ieraci and Eric Berkowitz to discuss survival prospects for the Galt Mile route. Ieraci, Berkowitz and Roberts convinced Wren to issue a temporary reprieve, and helped outline a strategy for cultivating an incremental revenue source. The concept was simple. Along with carrying vacationers from Port Everglades and beachfront hotels to the usual blood-letting tourist traps, by tailoring the service to accommodate the shopping needs of local residents, it would not only boost ridership, but jump-start business for vendors stung by the economic downturn.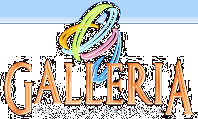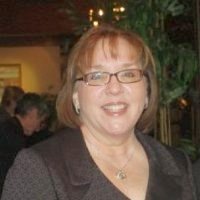 SUN TROLLEY MANAGING
DIRECTOR PATRICIA ZEILER

On September 15, 2009, the City signed a 3-year BCT contract (with two one-year extensions) to operate the Sun Trolley. Guided by constituent input aggressively solicited by new Sun Trolley Managing Director Patricia Zeiler, Wren restructured the Sun Trolley to better connect shoppers, patients and other consumers with customer-hungry vendors and service providers. Extending the Galt Ocean Mile route south to the Galleria would provide local residents with cheap and easy transportation to a world-class shopping venue and bring desperately needed new business to Macy's, Neiman Marcus, Dillards and scores of smaller stores trying to rebuild a faltering customer base.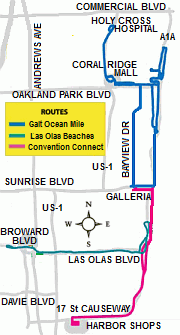 WREN SEAMLESSLY CONNECTED
GALT OCEAN MILE, LAS OLAS &
CONVENTION CONNECTION ROUTES

Since the southernmost link in the Galt Mile route – a stretch of Sunrise Boulevard from A1A to the Galleria – was also the northernmost link in the Las Olas Beaches/Convention Connection route, seamlessly connecting these two existing routes would enable Galt Mile and North Beach shoppers to also access the Harbor Shops, stores on Las Olas Boulevard and a host of other shopping destinations. As an ancillary benefit, this new connectivity would boost recreational utilization as well, as an increasing number of Galt Mile and North Beach (the Palms, etc.) condo dwellers realized that a Trolley ride to the Fort Lauderdale beach area, Bahia Mar, Port Everglades, Broward Center for the Performing Arts, the Convention Center, the Museum of Art or the Las Olas Riverfront was fast, cheap and free of parking headaches. It worked. Despite a struggling economy, the bump in ridership incentivized further expansion as the DFLTMA began to see fiscal daylight.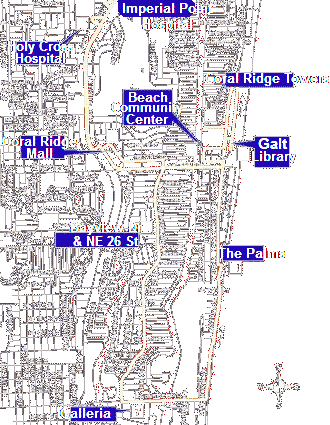 On January 18, 2012, Broward County Transit (BCT) Capital Planning Manager Barney McCoy notified the County's 18 local partner municipalities about the availability of additional funds for the Community Bus Service program. BCT funds its share of the program by tapping revenues from the County's 2000 Local Option Gas Tax, for which each participating municipality serves as a "pass-through" agency to its local bus operator. In short, funds allocated to each municipality are in turn budgeted to its Community Bus Service. When several municipalities either reduced service hours or discontinued fully funded routes, the unused resources held by the County were made available to the other municipalities. Four of BCT's 18 partner municipalities dug into the newly fattened County cookie jar, including Fort Lauderdale.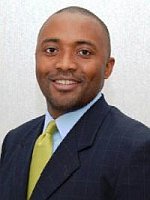 BCT CAPITAL PLANNING
MANAGER BARNEY McCOY

Nearing the end of its three-year pact, City Commissioners probed the Sun Trolley's fiscal viability before their planned consideration of signing the first one-year contract extension (from October 1, 2012 to September 30, 2013) at the June 5th City Commission meeting. To help DFLTMA snag resources for planned service expansions, in February 2012, Fort Lauderdale City staff responded to McCoy's invitation by submitting funding applications for an additional $92,109 on behalf of the Sun Trolley.

Of the additional $92,109 subsequently approved by BCT for the remainder of FY 2011-12, $2,484 would offset a Las Olas Beach route deficit, $27,945 would fund an additional trolley run for the Convention Connection route and a whopping $61,680 was earmarked to provide the increasingly popular Galt Ocean Mile route with new Saturday and Sunday service. Unfortunately, the $61,680 was inadequate to fully fund the Galt route's planned weekend expansion.
To remedy the shortfall, City staffers drafted an amendment to the Interlocal Agreement (ILA) extending the contract between the City of Fort Lauderdale and Broward County. The Amendment housed a request for an incremental allocation of $19,918.08. Since no additional Gas Tax monies were available for the balance of fiscal year 2012, and city bean counters were caching reserves as a cushion against 2013 budget blowback, the only source of revenues was a non-transferable Federal Transit Administration (FTA) grant dedicated to the Convention Connection bus route (later renamed the Beach Link). Although Federal regulations intractably bind FTA revenue disbursements to the route for which they were approved, when Wren interconnected the Galt Mile and Convention Connection (Beach Link) routes, he serendipitously obliterated the funding obstacle. Since the Federal dollars could legally be used to plug the deficit anticipated by the Galt Mile route's weekend expansion, it remained on Zeiler's "to do" calendar. It also set the stage for her promotion to Executive Director, which freed Wren to add chairing St. Patrick's Day events to his DDA duties.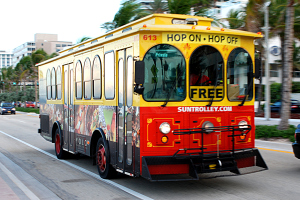 SUN TROLLEY CONNECTS GALT TO DOWNTOWN SHOPS

With cadres of commuting regulars using the Trolley to lunch on Las Olas after shopping in Galleria, utilization rates soon outpaced projections. Flourishing under new Executive Director Zeiler's leadership, monthly ridership reached an unprecedented 32,000 in December, 2012. In addition to attracting waves of frugal shoppers, the service thinned the number of vehicles clogging city streets (and comparably cut the City's carbon footprint). In one program sponsored by the Sun Trolley, parking spaces are reserved in centralized venues like Broward Government Center and the County Courthouse for carpooling commuters who then hop the Trolley to work. In January of 2013, Zeiler observed "Currently, Sun Trolley serves as an alternative to driving a car for over 7,000 passengers per month."


On January 2, 2013, Zeiler expanded the Beach Link Route to a 7-day service. Running between the Harbor Shops (on the 17th Street Causeway) and the Galleria Mall (at Sunrise Boulevard and the Intracoastal Waterway) with an option to cruise Las Olas Boulevard and Himmarshee Street, patrons could catch rides every 30 minutes from 9:30 AM to 6:30 PM for 50¢/ride or $2 for unlimited daily jaunts. Two weeks later she launched "Fort Lauderdale Excursion", a new airport transportation and baggage storage service that enables tourists to sock away their luggage in "Bags To Go" before using the Sun Trolley ($19.95/person) and/or Water Taxi ($29.95/person) for unlimited rides throughout the City until they return to the airport, grab the bags and fly off. It beat spending a 14-hour layover drifting in and out of semi-coma in the airport lounge.
Zeiler also turned the page on the Sun Trolley's clouded commercial appeal. Newly awakened to its positive impact on business, instead of having to sweet-talk merchants into supporting the bus service, local vendors were actively competing for destination status on a Sun Trolley route. Many were willing to help finance the required expansion.

Zeiler never forgot how extending the Galt Mile route to Holy Cross Hospital mutually benefitted the Sun Trolley and the Medical Center. Since adding Holy Cross to the Galt Mile route, elderly or disabled neighborhood residents who "walk the pool" every morning hop the Trolley to their regular afternoon Physical Therapy session at the Hospital.

When a $20,000 contribution fell into her lap on January 20, 2013, Zeiler used the mini-windfall to finance an extension of the Galt Mile route to Broward Health Imperial Point Medical Center. Commenting on the expansion, Zeiler said "We are so pleased to have Broward Health Imperial Point Hospital join our route destinations. The Galt Link Route continuously ranks as one of Sun Trolley's most popular routes amongst Broward County residents and we are confident that adding Broward Health Imperial Point will only serve to increase ridership."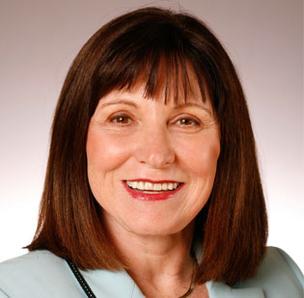 IMPERIAL POINT CEO ALICE TAYLOR

Keenly aware of the stiff competition among healthcare service providers, Broward Health Imperial Point CEO Alice Taylor added "Diagnostic services such as CT, MRI, ultrasound, X-ray and digital mammography are now just a trolley ride away for residents of Galt Ocean Mile. The partnership also means increased access to dozens of physicians in various specialties whose offices are located on the hospital's campus." Since most local physicians enjoy admitting privileges in one of these two area hospitals, Galt Mile residents were delighted by the broadened medical access.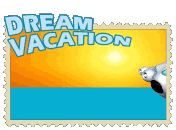 By March of 2013, the Sun Trolley had become a major source of mobility for visiting tourists, as airport passenger ridership topped 200 passengers per day. In the month of February alone, Sun Trolley had more than 42,000 passengers across all seven of its routes – an average of 1,500 daily riders.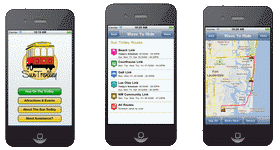 To exploit the exploding popularity of Mobile Apps, Zeiler turned to the Leadership Broward Class 30 Project team for tech help. When the new "Sun Trolley Tracker" armed riders with the real time location of all trolleys, Zeiler snagged the FDOT-sponsored 2012 Travel Choices Innovative Program Award on Friday, April 12, 2013. In May, the Sun Trolley was named the City of Fort Lauderdale's number 2 attraction by online travel icon TripAdvisor.Com. By August, the Tracker App topped 10,000 downloads. After hitting a new record of 49,265 passengers across all seven routes in the month of December, Zeiler noted "Our monthly ridership averages approximately 40,000 passengers per month." In January, 2014, Zeiler extended the Downtown Link route to Broward Health Medical Center and Flagler Village.
Zeiler regularly expanded and contracted routes to better accommodate Holiday and event traffic. She also adapted schedules to demographic idiosyncrasies. Observing that many Galt Mile retirees seemed preoccupied with local social obligations on Sundays, on April 15, 2014, Zeiler scratched underutilized Sunday Trolleys and added Tuesday service to the Galt Mile route.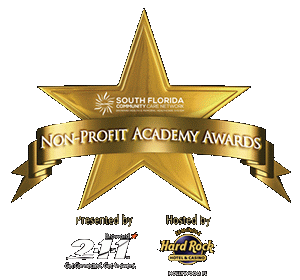 Named the "2014 Nonprofit Leader of the Year" at the Annual 211 Broward Academy Awards in March 2014, Patricia Zeiler's burgeoning notoriety as a transportation game changer sent her personal stock through the roof. Among the employment offers that crossed her desk was an opportunity to run the prestigious Fort Lauderdale Historical Society. In her 5 years as the Sun Trolley's Director, Zeiler's remarkable stewardship brought the City's Community Bus Service back from the abyss and empowered its future.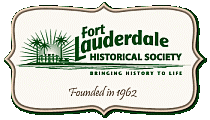 When Zeiler became the Historical Society's Executive Director in July of 2014, she left the Sun Trolley rudderless. While her staff kept the wheels on the wagon, without Zeiler or Wren, the DFLTMA Board – which includes both City Commissioner Bruce Roberts and Broward Commissioner Chip LaMarca – desperately needed a new Trolley management virtuoso to meet the benchmarks mapped by Zeiler. They recruited Fort Lauderdale Transportation and Mobility Director Diane Alarcon, who recently hosted Community Center meetings to discuss impending improvements to A1A along the Galt Mile corridor, to help sort through prospects. On December 2, 2014, the DFLTMA Board announced the appointment of Robyn Chiarelli as Executive Director.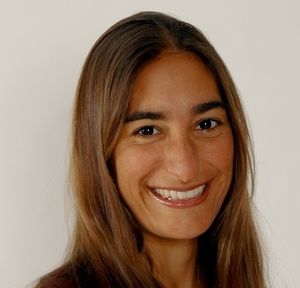 NEWLY APPOINTED DFLTMA
EXECUTIVE DIRECTOR ROBYN CHIARELLI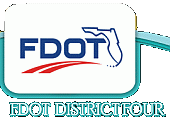 After holding leadership positions with the South Florida Regional Transportation Authority (SFRTA) and Tri-Rail, Chiarelli served for more than seven years with the Florida Department of Transportation (FDOT), including a term as Project Manager for District 4, where she supervised State-approved transportation projects for Broward and 4 other Southeast Florida counties. Recipient of a Prudential-Davis Productivity Award, Chiarelli was recently recognized as the 2014 WTS (Women's Transportation Seminars) South Florida Chapter Woman of the Year (a top-flight honorarium for Women in Transportation). A relieved DFLTMA Board Chair Alan Hooper announced "With her years of experience working in the field of transportation, Robyn is an ideal fit for this position, and we are excited to welcome her to the team."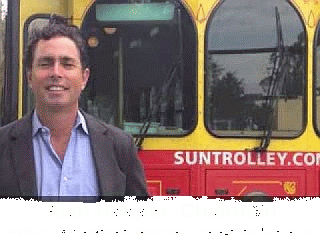 The evening before, City Commissioner Bruce Roberts informed GMCA officials attending the December 1, 2014 Presidents Council meeting in Plaza South about prospective changes to the Galt Mile Sun Trolley Route. Although ridership is strong on the route section along A1A south to Sunrise, support has been faltering on the dogleg across Oakland Park Boulevard to Federal Highway, which services both Holy Cross and Imperial Point Hospitals. Roberts raised the possibility of striking a deal with the Pelican Hopper, the Community Bus Service for Lauderdale-by-the-Sea, to service the less traveled route going forward. While most attendees were preoccupied with more pressing agenda items – such as beach renourishment and community security – Roberts' admonition sparked concern by veteran association officials.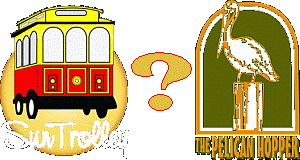 On weekdays, the Pelican Hopper duplicates three Sun Trolley stops in the Galt Mile neighborhood, at the Beach Community center, the Galt Mile Library and the corner of Galt Ocean Drive and NE 41st Street. It also connects to Holy Cross Hospital, albeit via Commercial Boulevard instead of Oakland Park Boulevard. However, since the Pelican Hopper only extends south to Palm Avenue and A1A on weekends, Galt Mile residents will lose their current Saturday service to Holy Cross. Also, the Pelican Hopper route doesn't feature stops at the Coral Ridge Mall or Imperial Point Hospital – weekly Sun Trolley destination sites for scores of Galt Mile shoppers and medical patients who don't own a vehicle.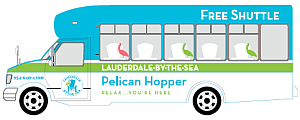 Unless Roberts and his peers on the DFLTMA Board can successfully negotiate adaptations to the Pelican Hopper route and schedule with their counterparts in Lauderdale-by-the-Sea, simply adding the Pelican Hopper to a less robust Galt Mile Sun Trolley will significantly drive up transportation costs for scores of his constituents. While some may be capable of walking to vendor sites no longer served - or frequent alternative shopping venues, Galt Mile residents using health care providers in Imperial Point Hospital will be forced to carve round-trip taxi fares from monthly Social Security checks.
For retirees on fixed incomes, unanticipated expenses invariably trigger a trade-off – usually drawn from an already tight food or medication budget. However, if the DFLTMA Board and new Executive Director can convince the Pelican Hopper to tweak its operational format, these problems could evaporate. If not, neighborhood blowback could be substantial. On the bright side, Roberts has a history of effectively intervening on behalf of vulnerable and elderly Galt Mile residents – especially those on fixed incomes. As always, any planned resolution of this dilemma will be followed and reported by the neighborhood association.



Beauty (Salon) and the Beast!
CORAL RIDGE TOWERS SOUTH RESIDENT TERRY OWENS

December 17, 2014 - At the November 20, 2014 Galt Mile Advisory Board meeting, it was reported that a local merchant had recently abused a Galt Mile resident suffering from advanced dementia and cancer. According to his friend and caretaker, while Coral Ridge Towers South resident Terry Owens was heading to the pizza place for a slice on October 29th, he was lured into a local beauty salon, where his credit card was charged almost $8,000 for skin care products. Longtime friend and caretaker Peter Harrington accompanied Owens back to the Luxury Beauty Salon at 3304 NE 33rd Street in Fort Lauderdale, and described Owens' medical condition. When he asked to return the unopened items for a refund, he was roundly refused by proprietor Nissim Buzaglo, who circumvented a $5000 credit card limit by splitting the invoice and charging Owens' credit card twice, for $3,710 and then another $4,028.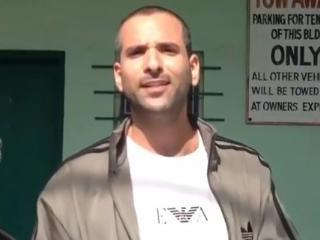 LUXURY BEAUTY SALON PROPRIETOR NISSIM BUZAGLO

Alerted to the incident, Local 10 News investigative reporter Jeff Weinsier showed up with a camera crew on November 18. Although refused permission to enter the salon, the cameras filmed Buzaglo ignoring Weinsier's plea to "do the right thing" and refund the money. Although Owens is oblivious to which products he bought or why he purchased them, when asked by Weinsier how Buzaglo convinced him to buy outrageously expensive beauty products, Owens quizzically responded "They said I needed it." The 67-year old Owens, who purchased his Co-op at Coral Ridge Towers South in 2005, was a teacher and insurance actuary before the onset of dementia. Harrington said "Terry has very little memory, very little judgment, very little awareness of what is going on." Weinsier said that Buzaglo called the police when the news crew first arrived. Characterizing the incident as a civil matter, an FLPD officer assured Harrington that his report and evidentiary receipts would be forwarded to the Special Victims Unit for investigation.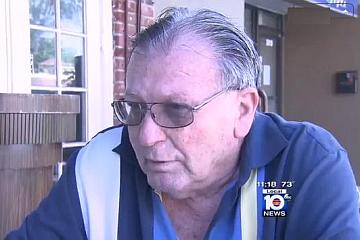 OWENS FRIEND AND CARETAKER PETER HARRINGTON

Since the GMCA avidly supports Galt merchants, Advisory Board members angered by the egregious nature of this abuse were also deeply disappointed. Upon learning what happened, Galt Mile residents - and several local merchants - began dunning the Salon to return the bilked funds. Several reported that Buzaglo had refused to accept their calls. Under growing pressure from a neighborhood that houses his customer base, Buzaglo finally relented - and agreed to make restitution.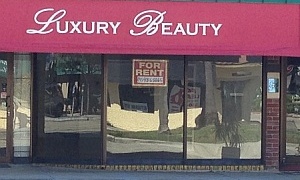 LUXURY BEAUTY SALON FOR RENT

Incredibly, Buzaglo insisted that he had no idea that Owens was ill. When GMCA President Pio Ieraci learned that the merchant had returned the funds, he notified irate Advisory Board members and association officials, citing the consequential damage to the vendor's reputation as "irreparable". What goes around comes around. On December 2nd, a "For Rent" sign dangled in the salon window. Like most sole caregivers, Harrington is the unassuming hero of this sordid development. Sole caregivers live in every association. They place their lives on hold, as they help a close friend or family member claw through each day, often at the expense of their own financial and emotional well-being.


Commissioner "No"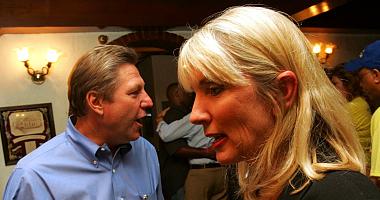 FORMER COMMISSIONERS JOHN
AND CHARLOTTE RODSTROM

Wondering what happened to Commissioner "No"? Former District 2 Fort Lauderdale City Commissioner Charlotte Rodstrom is largely remembered for voting against any issue or event that she hadn't personally conceived or embellished. When 20-year District 7 Broward County Commissioner John Rodstrom was term-limited out of office in 2012, he headed to Oppenheimer & Co. Inc. as Managing Director of National Public Finance. Coveting control of her husband's former Broward District, Charlotte bolted from her newly won District 2 seat on the City Commission - forcing Fort Lauderdale taxpayers to swallow the $200,000 cost of a special election.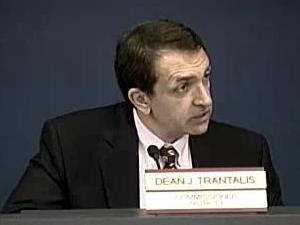 FORT LAUDERDALE CITY COMMISSIONER DEAN TRANTALIS

Despite her husband's considerable juice in Broward District 7, she lost the election. Evidently, her fall-back plan conceived a relatively painless return to the City Commission - where she had been convincingly re-elected the year before. However, when the constituents she arrogantly abandoned decided against making the same mistake twice, our neighbors in Fort Lauderdale District 2 instead elected Dean Trantalis.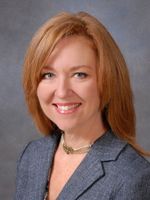 DISTRICT 96 STATEHOUSE
REP. KRISTIN JACOBS

Citing a driving thirst for public service, Rodstrom then fixed her gaze on the District 2 County seat left vacant when Kristin Jacobs was term-limited out of office and lost a congressional primary bid before finding her way into the Florida Statehouse. To meet the residency requirement, Charlotte searched for a modest mansion in Pompano Beach. Exclaiming "Nice doesn't win elections," Rodstrom proceeded to trash primary opponents Mark Bogen and Lisa Aronson in a race marred by litigation and controversy. When the smoke cleared after the December 4th election, Rodstrom took 4th place in a field of 5 candidates. However, this line dance through an electoral slaughterhouse doesn't end here.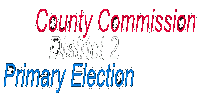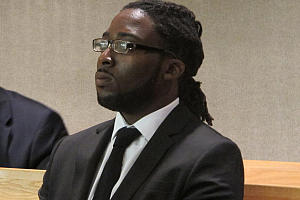 NPA DISTRICT 2 CANDIDATE TYRON FRANCOIS

By adding his name to those of four Democrats in the snake-bit District 2 County contest, write-in NPA (No Party Affiliation) candidate Tyron Francois forced the December 4th election to serve as a Democratic Primary. As such, when Boca Raton Attorney Mark Bogen snagged 53% of the 5,338 votes cast solely by Democrats, it secured his placement on a January 13 general election ballot that might have become a collector's item for sale on eBay. Dramatically demonstrative of ethically mysterious Broward politics, the ballot would feature Bogen's name and an empty space - where voters so inclined could scribble in "Tyron Francois".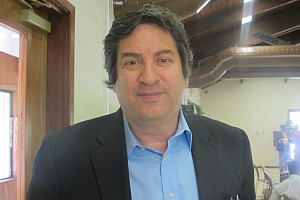 COMMISSIONER-ELECT MARK BOGEN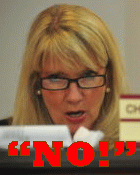 Alas, on December 5th, Tyron withdrew from the race. Since the primary will now stand as the general election, District 2 County Commissioner-elect Mark Bogen will have been seated by less than 1.5% of the district's 190,000 residents. The bad news: no eBay ballot windfall! P.S. – If nothing else, Rodstrom has proven resilient. Having demonstrated her willingness to buy a property to meet the residency requirement wherever a political opportunity pops up, Rodstrom intimated that she will be back, suitcase in hand.


Beach Fix Countdown
TRUCKING SAND TO BEACH STAGING AREAS
BROWARD BEACH PROGRAM
MANAGER NICOLE SHARP

At the December 1st Presidents Council meeting in Plaza South, Nicole Sharp, P.E. (who replaced the retired Eric Myers as Broward Beach Administrator) announced having secured the State permit required for the impending Segment II beach renourishment and confirmed that Broward County has fully complied with the Army Corps of Engineers' regulatory requirements for the Federal Permit. Since the permits feature an extended lifespan, they can be used to additionally tweak Broward beaches for years without having to re-navigate countless regulatory obstacles. Sharp also said that the County and the Florida Department of Transportation (FDOT) are currently bidding out jobs ancillary to the renourishment effort, having invited proposals for moving 50,000 truckloads of sand from the inland mine across highways and local streets to beachfront staging areas.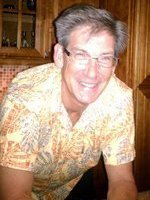 PLAZA EAST PRESIDENT
GLENN ROLLO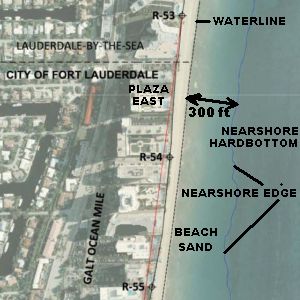 PLAZA EAST ONLY 300 FT FROM NEARSHORE HARDBOTTOM
Click on Graphic for More Info

Clarifying a misconception about the County simply dumping tons of sand along the shoreline, Sharp explained that the final objective is a fully integrated coastal ecosystem, including dunes and dune vegetation. Plaza East President Glenn Rollo expressed concern about how the project's coastal engineers plan to balance beach areas covered by stabilizing vegetation and areas reserved for recreational use. Observing that the Plaza East beach is one of the most heavily eroded along the Galt Mile coast (cushioned from the Nearshore Hardbottom by only 300 feet), Rollo asked if the limited additional beach area created by the renourishment must be used for dune building. Sharp assured attendees that each stretch of beach will be individually evaluated to insure the availability of adequate recreational space along the entire Galt Mile Beach. "The dune-building vegetation will only be planted in beach areas where there is already sufficient space for recreation," said Sharp.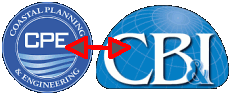 Prior to her appointment as Broward County Natural Resource Administrator, Sharp spent six years as a top engineer for renowned Boca Raton-based marine consultants Coastal Planning and Engineering (a subsidiary of consulting juggernaut CB&I). Since her firm was one of the leading consultants for the Broward Beach Preservation effort, her intimate familiarity with the project's scientific and regulatory parameters enabled Sharp to hit the ground running.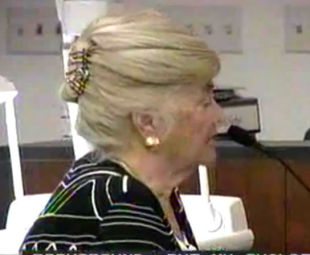 FRANCES KONSTANCE OF L'HERMITAGE I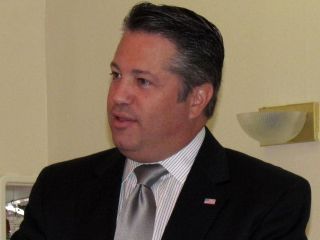 BROWARD COMMISSIONER CHIP LAMARCA

Since the project has been plagued by decades of frustrating and highly implausible delays, Sharp and District 4 Broward Commissioner Chip LaMarca were repeatedly asked for assurances that the project would take place within months, not years. The heated inquisition continued until Frances Konstance of L'Hermitage I, a passionately vocal critic of the chronic political foot-dragging, announced that she now believes Commissioner LaMarca, who months earlier promised the outspoken Konstance that he is wholly committed to realizing this project. In contrast with most of his District 4 predecessors on the County Board, whenever LaMarca had to report a project impediment during the past year, it was immediately followed by an authoritative resolution.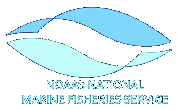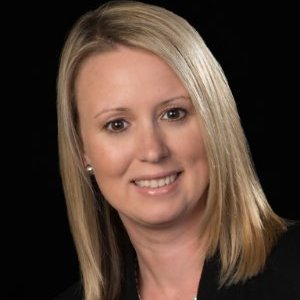 LAMARCA COMMISSION AIDE KATE WESNER

For instance, when the project fell into a bureaucratic black hole at the Commerce Department's NOAA Fisheries, LaMarca choreographed a plan which required the Advisory Board to recruit the neighborhood and bombard our federal officials with sufficient "political motivation to awaken a traditionally dilatory federal bureaucracy." It worked, as thousands of emails, faxes and phone calls convinced Congresswoman Lois Frankel, along with Senators Bill Nelson and Marco Rubio, to break the agency's Zen-like trance. An infuriating 18-month delay - as initially projected by NOAA Fisheries last June - was wrapped up by October. Specifically, at the October Advisory Board meeting, Kate Wesner (LaMarca's commission aide) reported having finally received the long delayed NOAA biological opinion letter, equipping the County with the full complement of regulatory documentation required for a federal permit.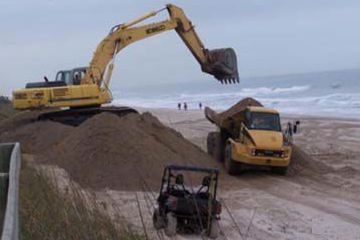 LOADING SAND AT BEACHFRONT STAGING AREA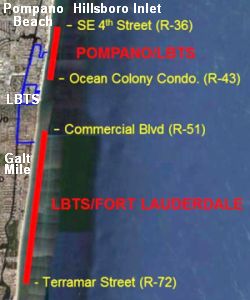 SEGMENT II BEACH PLAN LIMITS
Click Graphic for More Info

LaMarca said that the County and FDOT are currently considering the efficacy of initiating the renourishment at either one or two staging sites, weighing whether an expedited timetable would dilute the work force and threaten project manageability. In one scenario, the initial sand deliveries would be divided between beach staging areas at Terramar Street in Fort Lauderdale and Commercial Boulevard near Anglin's Pier, enabling the Galt Mile to realize a benefit from the project outset. In closing, Sharp promised to convey operational protocols addressed with FDOT over the Holiday Season at the next Presidents Council meeting. As usual, her update will be passed to Galt Mile residents.


December 29, 2014 - If you are new to the Galt Mile neighborhood, ran through 62 to 65 candles on your last birthday cake or plan to cash out your suburban Pyongyang chalet for a South Florida canal-front pied-à-terre, perusing your tax exemptions can brighten your bank account. How will downsizing your empty nest and locking up that sweet little beachfront condo inflate your tax bill? How can you homestead a Florida home while your spouse homesteads another in New York? Although investment properties are supposedly ineligible for Homestead protection, carefully timed lease agreements enabled Florida residents to rent their properties without losing their exemptions – until 2013. That's when a St. Augustine lawmaker delivered a patronage perk to his constituents – and consequently obliterated a constitutional right of Homesteaded Florida homeowners to rent their properties for more than 30 days every other year. Welcome to our annual foray into the land of Ad Valorem ambiguity.
Homestead History and Wiggle Room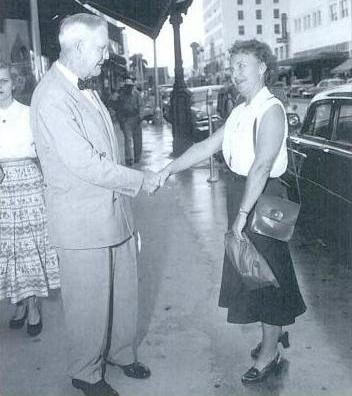 DWIGHT L. ROGERS SR. CAMPAIGNING
ON ANDREWS AVENUE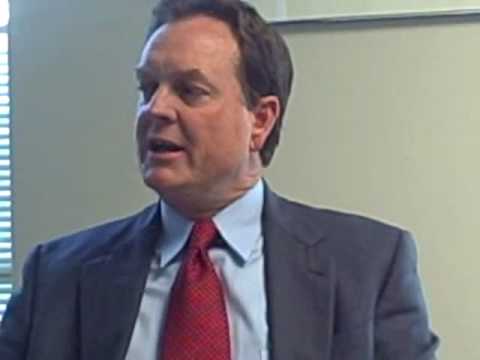 CITY COMMISSIONER ROMNEY C. ROGERS

Nearly 80 years in the making, Florida's first Homestead Exemption was proposed in 1933 by Fort Lauderdale Statehouse Representative Dwight Laing Rogers Sr. in response to widespread economic turmoil (including massive statewide property tax defaults) during the post-1929 Great Depression. Later serving as Fort Lauderdale's first Congressman from 1944 until he passed in 1954, in 1925 Rogers founded Rogers, Morris & Zeigler, LLP (Broward's oldest law firm), which is currently managed by his grandson, City Commissioner Romney C. Rogers.

Former B.C. Prop. Appraiser
WILLIAM "Bill" MARKHAM

The original constitutional amendment was approved by the Florida electorate in 1934 and provided for a $5000 homestead exemption (comparable to shielding property valued at $88,950 in 2014 dollars). A Statutory increase to $10,000 was enacted by lawmakers in the 1960s. Following a 1968 revision of the Florida Constitution, when condo owners launched a Constitutional challenge against former Broward Tax Assessor William Markham for denying their 1969 Homestead Exemptions (Ammerman v. Markham, 222 So.2d 423 (Fla. 1969)), the court reversed a lower court decision supporting Markham – thereby extending the exemption to individual condominium units. Landslide voter approval of a 1980 constitutional amendment raised the exemption to $25,000. On January 29, 2008, voters approved Constitutional Amendment #1, which shielded a second $25,000 from taxation, expanding the exemption's total value to $50,000.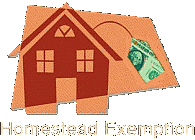 As amended in 2008, the Florida Constitution (VII)(6), provides legal Florida residents with a Homestead Exemption on their homes, condominiums, co-op apartments, and certain mobile home lots - if they qualify. Capped at $50,000, this substantial exemption is applicable to the first and third $25,000 of the assessed value of an owner/occupied residence. While the first $25,000 applies to all property taxes, the second $25,000 does NOT offset taxes assessed by the Broward County School Board, a historically corrupt taxing authority that nourished the careers of myriad Federal and State prosecutors. Even so, Broward County property owners shielded by the Homestead Exemption in 2014 saved from $646 to $1,114 (depending upon their respective municipal millage rates) for homes valued at $75,000 or more. A Homestead Exemption added benefit, the "Save Our Homes" tax cap, enabled the average Broward homesteaded homeowner in 2014 to blot out another $1,074 in taxes. As property values edge up, this residency sweetener should continue to ripen.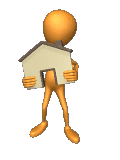 You are entitled to a Homestead Exemption if, as of January 1st, you have made the property your permanent home or the permanent home of a person who is legally or naturally dependent on you. As defined in Florida Statute § 196.012(17), "'Permanent residence' means that place where a person has his or her true, fixed, and permanent home and principal establishment to which, whenever absent, he or she has the intention of returning. A person may have only one permanent residence at a time; and, once a permanent residence is established in a foreign state or country, it is presumed to continue until the person shows that a change has occurred." Each year, your permanent residence is determined by where you live on January 1st.

The regular filing period for a 2015 homestead exemption is March 2, 2014 to March 2, 2015. For those of us who sleep through this soft deadline, Section 196.011(8), Florida Statutes, provides a second bite at the apple by allowing the Property Appraiser to extend the filing deadline to September 18, 2015 for applicants who demonstrate that extenuating circumstances precluded timely applications for the 2015 exemption (our magnanimous Ms. Parrish will accept "OOPs, I forgot!"). However, once that "hard" late filing deadline closes, the property appraiser will no longer accept exemption applications for the year, and sob stories will fall on deaf ears.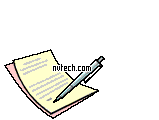 When applying for a Homestead Exemption, you must provide the documents listed below, dated prior to January 1, 2015. To claim the full exemption, all owners occupying the property as Tenants in Common (i.e., proportional share co-owners) must file in person on jointly held property. In the case of a husband/wife ("Tenants by the Entirety") or Joint Tenants with Right of Survivorship ("JTRS"), any one owner may qualify for 100% coverage – although it is highly advisable for all eligible owner-occupants to file. If a Deed lists different last names for married owners, a marriage certificate must be presented if the deed does not specify that the co-owners are married.


Proof of Ownership: In general, the recorded Deed or Co-op Proprietary Lease must be held in the name(s) of the individuals applying for Homestead. You do not need to bring a copy of the deed or co-op lease if the document has already been recorded in the Official Records of Broward County. If the property is held in a trust, either a Notarized Certificate of Trust OR a complete copy of the Trust Agreement is required. Note: Broward Property Appraiser Lori Parrish recommends using the simple Certificate of Trust form instead of submitting the entire trust agreement for review, as it prevents nosy bureaucrats from noodling through your estate planning finances.

Proof of Permanent Florida Residence (preferably dated prior to January 1, 2015) Acceptable forms of proof are as follows:
FOR ALL APPLICANTS: Florida Driver's License ("Valid in Florida Only" driver license is not acceptable) or Florida Identification Card (for non-drivers only) is required IN ADDITION TO ONE OF THE FOLLOWING:
FOR NON-US CITIZENS: In addition to the items listed above, you must have proof of permanent residency, resident immigrant status (such as a "Green Card"), asylum/parolee status (or some other PRUCOL status) or proof that you are the parent of a US-born minor child (US Citizen) who shares your residence.

Note: it is generally against the law for a Florida resident to drive in Florida with an out-of-state license or tag if he/she claims Homestead Exemption (Sections 320.37 and 322.08 of the Florida Statutes). Since "Valid in Florida Only" driver licenses were issued to snowbirds who didn't want to relinquish a driver license from a different jurisdiction where they maintained a permanent residence, their very existence is anathematic to claiming a Florida permanent residence. Discontinued in 2009 due to a conflict with federal identification law, they are no longer issued or renewed – and will wink out of existence in 2017.



PRUCOL is an acronym for "Permanent Residence (in the United States) Under Color of Law." Leeched from the 1978 case "Holley vs. Lavine" in the United States Court of Appeals for the Second Circuit that casually evolved into doctrine for determining local or State benefits eligibility, PRUCOL applies to individuals who are neither U.S. citizens nor aliens lawfully admitted for permanent residence (i.e. lawful temporary residents, refugees, political parolees, asylum grantees, deferred deportation, etc.). Essentially, it includes aliens living in the U.S. with the knowledge and permission (express or implied) of the USCIS (United States Citizenship and Immigration Services) and whose departure that agency does not contemplate enforcing.

Following the September 11, 2001 tragedy, the Homeland Security Act of 2002 dissolved the Immigration and Naturalization Service (INS) on March 1, 2003. Its operations were separated into three component agencies - United States Citizenship and Immigration Services (USCIS), Immigration and Customs Enforcement (ICE) and Customs and Border Protection (CBP) – and transferred from the Justice Department to the newly formed Department of Homeland Security. The USCIS focuses exclusively on the administration of benefit applications.

Pursuant to Rule 12D-7.007(3), Florida Administrative Code, anyone residing in the U.S. under what is considered a "temporary" visa (E-, F-, H-, J-, L-, M-, N-, O-, P-, TC- or R-class visa) is ineligible for a Homestead Exemption. Regardless of how long they've owned homes or lived/worked in Florida – or the number of times their visas were legally renewed, those living here under "Temporary Protected Status" (TPS) are also ineligible.

The Florida Department of Revenue application form (DR-501) requests the following information for all owners living on the premises and filing (if applicable). Most of the requested information is extraneous (bureaucratic flotsam), and will only be reviewed if the county property appraiser determines that the eligibility documentation provided is inconclusive.
Each owner's current employer
Date of each owner's last Florida permanent residency
Date of each owner's previous residency outside Florida and date terminated
Date of occupancy for each property owner
Social security numbers of all owners filing, including the Social Security numbers of any married spouses – even if not filing or named in the Deed (as per Section 196.011(1)(b), F.S.) – are required
Florida Voters Registration number (U.S. citizen) or Immigration number (if not U.S. citizen)
Florida Drivers License, Florida I.D. and/or Vehicle Tag numbers (if applicable)
Percentage of Ownership
Declaration of Domicile w/residency date
Current employers of all owners
School Location of Dependent Children
Bank Statement and Checking Account Mailing Address
Addresses listed on last I.R.S. income tax returns
Name and Address of any owners not residing on the property

As per section 196.011(1)(b), Florida Statutes, the mandated Social Security numbers are used by Property Appraisers for regulatory housekeeping – to verify taxpayer identity and help sort property owners accounts.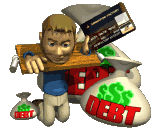 Florida Statute 196.011(9) (a) requires the owner to notify the Property Appraiser whenever the use of the property or the status or condition of the owner(s) changes so as to change the exempt status of the property. If the status of the property or the owner(s) alters Homestead eligibility, the law requires notification of the Property Appraiser's office by March 1st. Failure to so notify the property appraiser exposes the property owner to 10 years of retroactive tax indebtedness plus 15 percent interest per annum and a penalty of 50 percent of the taxes fraudulently exempted. If a scofflaw moves to a subsequently purchased Florida property, the local Property Appraiser will record a notice of lien in the county or counties wherein the deadbeat's new property or properties are located.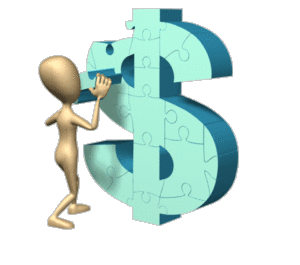 The amount of the homestead exemption granted to an owner residing on a particular property is applied against the amount of that person's interest in the property. For example, assuming a property valued at $40,000, with the residing owner's interest in the property being $20,000, only $20,000 of the homestead exemption can be applied to that property. If there are multiple owners, all as joint tenants with rights of survivorship, the owner living at property filing receives the full $25,000 exemption.
Bad Marriage Benefit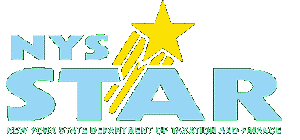 If you (or your spouse) have a Homestead Exemption in any other county, state or country (or an equivalent permanent residency-based exemption or tax credit, such as New York's "S.T.A.R." exemption) on another property you also currently own, you will not be eligible for a homestead in Broward until you surrender the exemption in that other jurisdiction. However, there are largely unpublicized exceptions to this rule that may benefit thousands of Floridians in snake-bit marriages.

In the 2010 Florida case Wells v. Haldeos – 48 So. 3d 85 (Fla. 2d DCA 2010) – a separated husband and wife (James Haldeos and Rosa Accomando) each had their own homesteads (Accomando lived and worked in New York). On separating, they never spoke and other than the homes, shared nothing. When Pasco County property appraiser Mike Wells denied Haldeos a homestead exemption because his wife had one in New York, they headed to the courthouse.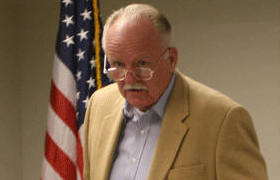 PASCO PROPERTY APPRAISER MIKE WELLS

The Homestead Exemption provision in the Florida Constitution – Article VII, Section 6(b) – provides that "Not more than one exemption shall be allowed any individual or family unit or with respect to any residential unit." Since the Florida Department of Revenue is charged with establishing rules and regulations for assessing and collecting taxes, it had previously addressed this issue by adding Rule 12D-7.007(7) to the Florida Administrative Code (FAC). It states: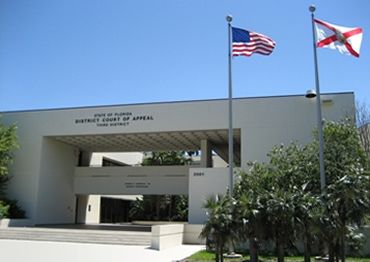 THIRD DISTRICT COURT OF APPEAL
"A married woman and her husband may establish separate permanent residences without showing "impelling reasons" or "just ground" for doing so. If it is determined by the property appraiser that separate permanent residences and separate "family units" have been established by the husband and wife, and they are otherwise qualified, each may be granted homestead exemption from ad valorem taxation under Article VII, Section 6, 1968 State Constitution. The fact that both residences may be owned by both husband and wife as tenants by the entireties will not defeat the grant of homestead ad valorem tax exemption to the permanent residence of each."

Finding for Mr. Haldeos and against the Pasco County Property Appraiser, the Fourth District Court of Appeal held that in circumstances when a husband and wife have established two separate permanent residences in good faith and have no financial connection with and do not provide benefits, income, or support to each other, each may be granted a homestead exemption if they otherwise qualify. Despite his wife's New York residency exemption, Haldeos was granted a Homestead Exemption on his Pasco County home.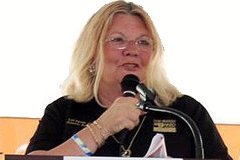 B.C. PROPERTY APPRAISER LORI PARRISH

Although successfully tested in Court; this exception protocol is far from a cakewalk. When Fort Lauderdale resident Robert Brklacic was nailed by Lori Parrish for having annually claimed a homestead exemption on his Oakland Park home since 1979 while his wife of 13 years was also claiming a residency exemption for her Palm Beach home, the Fourth District Court of Appeal upheld a Circuit Court decision to drop the hammer on Brklacic.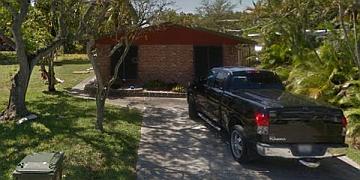 ROBERT BRKLACIC'S OAKLAND PARK HOUSE

Despite living in separate homes "for personal and professional convenience," Brklacic acknowledged having stayed together on weekends and holidays when they traveled together, stayed with his wife in her Palm Beach home and "continue to maintain a predominantly congenial marriage." Recognizing that "No constitutional or statutory definition for "family unit" exists," the court illuminated a critical eligibility distinction for married couples claiming separate exemptions.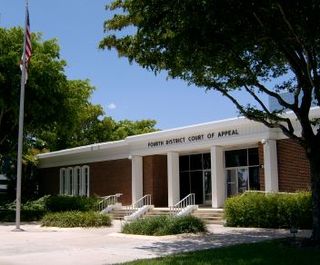 FOURTH DISTRICT COURT OF APPEAL

On September 3, 2014, the court observed "The foregoing law and persuasive authority favor finding that a married couple constitutes a single family unit when the marriage is intact, as opposed to the couple being separated or estranged. A single family unit would thus exist where spouses (even though living in separate primary residences or even separate permanent residences) live together at different periods of time, support each other in some financial or emotional way, and/or present themselves as a married couple (as opposed to estranged individuals who are just technically still married)."

In short, if a husband and wife who are living in separate residences are friendly and supportive, they are considered a "family unit" (and ineligible for multiple homesteads); but if they are convincingly estranged and ignore one another, they are not an intact family unit (and merit respective exemptions). If you are considering this route, unless your ducks are in a row (and can palpably demonstrate estrangement), expect a judicial haircut. For insight into Parrish's resolve, among the exhibits she logged into evidence was a photograph of the married scofflaws holding hands (an added benefit of having former BSO Detective Ron Cacciatore juicing her hyperactive BCPA fraud unit).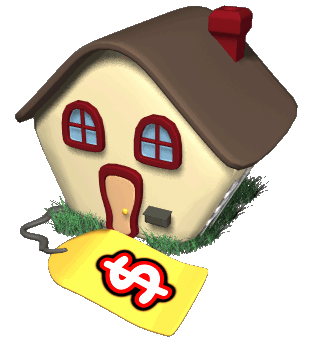 The Homestead Exemption does not transfer from property to property. If you had this exemption last year on another property and moved, you must file a new application for your new residence. Notify the Property Appraiser to cancel the exemptions on your former home. Property purchased during last year may show qualified exemptions of the seller. The sellers' exemptions will not carry past the year of the sale; you must apply for your own exemptions! Note: An adult child who inherits a home from a deceased parent does not inherit the Homestead.
Once the Homestead Exemption is initially granted, a Homestead Renewal Receipt is mailed annually to property owners in early January to verify that the property's status, use and ownership has not changed. Please Note: If this renewal receipt is not received by March 1, failure to contact the Property Appraiser's office may result in the loss of the Homestead Exemption for the year.
Portability: Dodging the Tax Cap Trap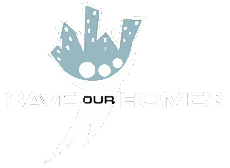 Fearful of losing their homes to the fast growing tax bite from exploding home prices, on November 3, 1992 Florida voters amended the State Constitution with the Save Our Homes tax cap, which lawmakers implemented on January 1, 1995 (section 193.155(1), Florida Statutes). As the overheated housing market saw double digit growth, the annual increase in assessed valuations for homes protected by the Save Our Homes tax cap were limited to the percentage change in the Consumer Price Index (as annually set by the Bureau of Labor Statistics - BLS) or 3% (whichever is less). As disparate valuations for protected and unprotected identical properties continued to widen, longtime property owners exploring relocation were stricken by "tax shock" from the loss of their accrued Save Our Homes protection – and were often forced to remain in their current homes.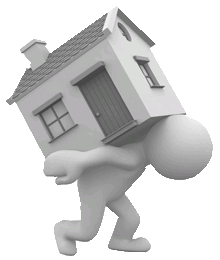 This unanticipated "moving penalty" trapped both empty nesters seeking smaller, less expensive homes and growing families longing for larger quarters. Into the mix were tens of thousands of homeowners drowning under fairy tale mortgages and facing foreclosure while lenders took refuge under the nearest rock. The enormous number of properties suspended in Save Our Homes "limbo" emaciated local housing inventories.

In hopes of crawling out of the recession by partially priming the glacial housing market, in January 2008, Florida voters overwhelmingly approved Constitutional Amendment 1, which added a second $25,000 Homestead Exemption, capped the annual tax bite for non-homesteaded properties at 10% and enabled homesteaded owners to transfer (or "port") some or all of their Save Our Homes benefits to a new homesteaded property.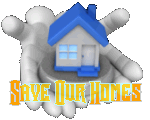 If you are applying for a new Homestead Exemption AND you held a Homestead exemption on a previous property within the last 2 tax-years anywhere in Florida, you should also submit a Portability application with your Homestead application. Again – although portability benefits are transferable, the underlying Homestead Exemption prerequisite for the "Save Our Homes" tax cap is not. You must apply for a new Homestead Exemption to be eligible for portability benefits.
Although Homestead Exemptions aren't heritable, Section 193.155 (3), Florida Statutes, provides for two circumstances under which Save Our Homes protection can be passed on. As long as he or she subsequently files for a Homestead Exemption, a surviving spouse can inherit Save Our Homes benefits, even if not on the title. Also, a decedent's dependent, if residing on the property at the time of death, whether an inheritor, a life estate grantee, or a trust rights beneficiary, can inherit the Save Our Homes value.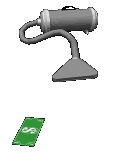 In times of inflating property values, Florida's 1992 "Save Our Homes" (SOH) Constitutional Amendment caps annually assessed valuations of Homesteaded properties by the lesser of 3% or the percentage increase of the consumer price index (CPI). However, when property values decline, a homestead "recapture" provision (Section 193.155, F.S. and 12D-8.0062, Florida Administrative Code) causes taxable values to annually rise by 3% (or the percentage change in the CPI - if less) until the assessed value finally equals the market value. As a result, even when their property values drop, certain taxpayers face modestly increased tax bills. Since the provision drives taxpayers crazy and yields minimal revenues, Property Appraisers, Tax Collectors and taxpayers favor mothballing this Constitutional crabapple.
New Exemptions: Wheat from Chaff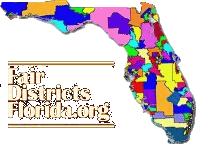 After decades of gerrymandering election districts to benefit whatever party currently ruled the roost, the November 2010 voter-approved redistricting reforms delivered by Ballot Amendments 5 and 6 finally precluded Legislative and Congressional incumbents from preselecting who could vote in the districts where they planned to run, forcing them to leave election outcomes to voters – a novel concept for Florida politicians. Outraged by a process that allowed ordinary voters to mess with their career paths by leveling long-twisted playing fields, vengeful Republican legislative leaders sought to give the arrogant public a taste of its own medicine. Overnight, a truckload of junk amendments were nested in the November 2012 ballot.
BCPA MEDIA RELATIONS
DEPUTY BOB WOLFE

At the October 18, 2012 GMCA Advisory Board meeting, Government and Media Relations Deputy Bob Wolfe of the Property Appraiser's Office warned neighborhood officials that these amendments cloaked poison pills designed to explode the tax impact on Homesteaded property owners. Anticipating that few voters would actually read the skewed Ballot Language, sponsors fitted them with deliberately misleading Ballot Titles. To further blur their actual impact, tricky lawmakers peppered several reasonable provisions into amendments otherwise booby-trapped with outrageous partisan privileges and huge tax increases. Although marketed by Republican lawmakers as a vehicle that would enable the legislature to eliminate the Save our Homes recapture rule – an objective long-supported by taxpayers and Property Appraisers alike – also buried in Constitutional Amendment 4 was a $1.7 billion tax hike for Homesteaded property owners. When voters wisely rejected 8 of the 11 largely screwball amendments – including the ridiculously expensive Amendment 4 – the unpopular recapture rule dodged a bullet.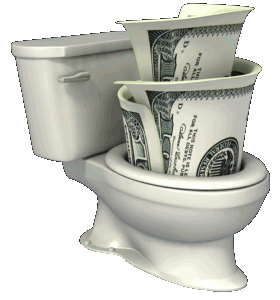 Three reasonable amendments approved by the 2012 Florida electorate all affect property owners. Amendment 2 extended an existing exemption for combat-disabled seniors from Florida to all combat-disabled veterans, regardless of where they resided upon entering the military. Amendment 9 entitles the surviving spouses of first responders who die in the line of duty (volunteer law enforcement officers, correctional officers, firefighters, emergency medical technicians and paramedics) to the same total homestead property tax exemption currently available to surviving spouses of Florida military veterans who die from service-related causes while on active duty. Amendment 11 authorizes cities and counties to grant full homestead property tax relief to low-income seniors who lived in a home valued at up to $250,000 for at least 25 years. Since the relief is contingent on supermajority approval by both the City and County boards, its anticipated cost to local governments of $27.8 million over 3 years may have been overstated.
Political Payola Chokes Rental Rights



"Can I still receive a Homestead Exemption if I rent my property?" It depends on the local Property Appraiser. Florida Statute § 196.061 historically provided "The rental of an entire dwelling previously claimed to be a homestead for tax purposes shall constitute the abandonment of said dwelling as a homestead, and said abandonment shall continue until such dwelling is physically occupied by the owner thereof. However, such abandonment of such homestead after January 1 of any year shall not affect the homestead exemption for tax purposes for that particular year so long as this provision is not used for 2 consecutive years."

B.C. PROPERTY APPRAISER
LORI NANCE PARRISH

Since Florida's Constitution determines if a property is a "Permanent Residence" by its status on January 1st, what happens before or after that bellwether date is technically irrelevant. As provided for in the above exception, if a lease begins after January 1st and terminates by December 31st in the same year, nothing in Florida law required surrender of the Homestead Exemption. This implied safe harbor disappears if the property is leased again during the following (second consecutive) year. As a result, tens of thousands of snowbirds added their units to the rental market every other year, moderating rental costs and bolstering the availability of affordable housing.

Because Florida law (Florida Statute § 196.015) empowers the local Property Appraiser with broad discretion in juggling eligibility, relevant policies vary by jurisdiction. At the onset of her tenure, Broward County Property Appraiser Lori Parrish had adopted a "once in a lifetime policy" policy for rentals with lease terms that wholly fall within a calendar year, allowing each homeowner a single opportunity to rent their Homesteaded property without sacrificing the exemption. While far less generous than property appraisers who allowed unlimited alternate year leasing, it was certainly preferable to getting hit in the eye with a sharp stick. Unfortunately, this statewide safe harbor rental policy (AKA "Two Year Rule") was spitooned by a patronage bill for Golf Groupies during the 2013 legislative session.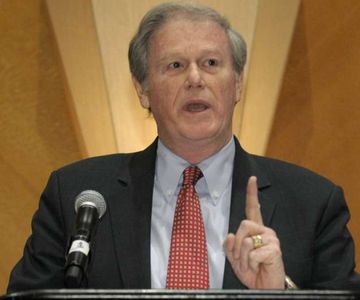 ST. AUGUSTINE SENATOR JOHN THRASHER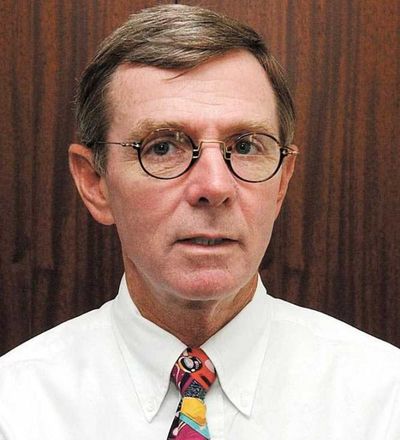 ST. JOHNS COUNTY TAX COLLECTOR
DENNIS W. HOLLINGSWORTH

St. Johns County Tax Collector Dennis W. Hollingsworth told Senator John Thrasher (R-St. Augustine) that constituent homeowners who live near the Ponte Vedra Beach headquarters of the PGA Tour wanted to rent their homes to golf enthusiasts, links groupies and media personnel who haunt The Players Championship and other PGA events for a few weeks each year – without endangering their Homestead Exemptions. A former Chairman of the Republican Party of Florida and a close ally of Senate President Don Gaetz, Thrasher elbowed Senate Bill 342 into law over the objections of Property Appraisers across the State. The new law changed Florida Statute § 196.061(1), asserting that a Homesteaded property will not be considered abandoned "unless the property is rented for more than 30 days per calendar year for 2 consecutive years."

While virtually useless for the purposes that most owners (or tenants) lease a property, the 30-day lease terms are perfect for siphoning a few bucks from the golf tournament. Although it will facilitate lucrative month-long rentals for a handful of St. Johns homeowners, by delimiting an annual statutory maximum lease term of 30 days, thousands of longer leases that were regularly granted safe harbor by local property appraisers are now at risk. Enacting this local patronage pork trough threatens tens of thousands of leases between unit owners and their annual or seasonal tenants in community associations.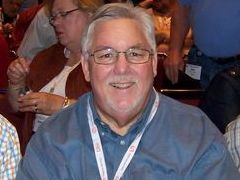 PALM BEACH EXEMPTION DIRECTOR PAT POSTON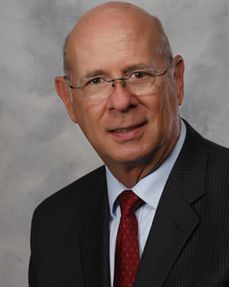 PALM BEACH PROPERTY
APPRAISER GARY NIKOLITS

Property Appraisers, the natural beneficiaries of exemption restrictions, opposed the bill as geocentric and unenforceable. Testifying before vetting committees, they warned that the bill would "wipe out entire tracts of affordable housing" while undermining survival income for cash-strapped homeowners all over the State – except in St. Johns County. Pat Poston, director of exemption services for Palm Beach County Property Appraiser Gary Nikolits, said the bill would adversely affect seasonal rentals in Wellington for polo season and disrupt winter rentals throughout the County.

Like scores of property appraisers across Florida, Poston objects to specifically tailoring a statewide exemption to facilitate tip money for a handful of St. Johns homeowners at the expense of homeowners in every other jurisdiction. Leery of the potential confusion, Broward Property Appraiser Lori Parrish strongly suggests that her office be consulted prior to executing any leases – spin for do it or else!

TRIM Notice: Read it and Weep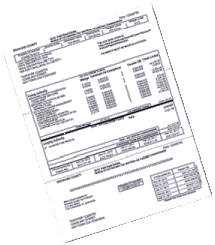 SAMPLE TRIM NOTICE

In 1980, lawmakers passed legislation requiring taxing authorities to provide local taxpayers with a "Truth in Millage" statement (TRIM notice). By the end of the second week in August, the Property Appraiser mails "Notices of Proposed Taxes" (AKA "TRIM" notices") to all Broward County property owners. Once you receive the TRIM (Truth in Millage) notice, you must act expeditiously if you intend to challenge the assessment or proposed tax rates. Unfortunately, many property owners ignore the TRIM Notice and wait until they receive their tax bills in November – after the 2015 September 18th deadline – when it will be too late to file an appeal.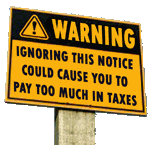 The TRIM Notice contains proposed tax rates as set by local taxing authorities (i.e., Broward School Board, Broward County Commission, City of Fort Lauderdale, South Florida Water Management District, North Broward Hospital Board, Children's Services Council of Broward County and the Florida Inland Navigation District). During the past two years, Broward properties realized average countywide jumps in June 1st taxable values of 4.46% in 2013 (when 30 of 31 cities and towns registered increases) and 6.41% in 2014 (when every Broward jurisdiction realized increased property values). The "DR-420 Certification of Tax Roll Value for 2014", released by Lori Parrish on May 28, 2014, observes that the constitutional exemptions approved in 2012 are reflected in the new valuations.
Taxable values for the Galt Mile's "Big Three" taxing authorities in 2014 (as indicated in the final July 1st Taxable Value Report) realized increases of 8.51% (the School Board), 7.24% (the County Commission) and 6.85% (the City of Fort Lauderdale). Each taxing authority holds two public hearings from August through September, where taxpayers may question proposed millage rates, non-ad valorem fees and special assessments, or comment on services being cut from local budgets. Your TRIM Notice lists the hearing dates, locations and contact phone numbers for each taxing authority. While these hearings provide flustered taxpayers with an opportunity to vent, prospects for successfully engineering a lower millage rate are statistically comparable to spontaneously growing wings.

Tax calculations are based upon a simple mathematical formula: TAXABLE VALUE x TAX MILLAGE RATES + SPECIAL ASSESSMENTS = TAX BILL. The TRIM notice reminds property owners that they can save money by paying early. Paying in November earns a 4% discount. The discount drops to 3% in December, 2% in January, 1% in February and full price in March.
V.A.B. - The Last Chance Saloon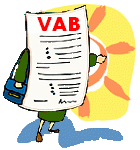 While the Property Appraiser's Office exerts no influence over tax rates, if the market value as shown in the box "Your Property Value This Year" is higher than the market value of your property as of this past January 1, a Deputy Property Appraiser will discuss your market value and how it was calculated on request. Similarly, the Property Appraiser's office will review any exemptions that were denied. If still dissatisfied, you can file a petition with the Value Adjustment Board (VAB) to reconsider the assessment and/or any denied exemptions.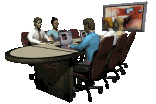 The Broward County Value Adjustment Board (VAB) is the independent appeals board that has initial jurisdiction over challenges to any property valuations (the "assessed value"), denials of exemptions, denials of classifications, and other similar matters. When HB 909 amended Florida Statute 194.015 in June of 2008, the 5-member VAB's composition was changed to include two Broward County Commissioners, one School Board member and two layperson taxpayers (a homesteaded property owner selected by the County Commission and a commercial property owner selected by the School Board).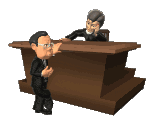 The Board is completely independent of the Property Appraiser's office. As per Florida Statute 194.035, the Value Adjustment Board appoints Special Magistrates - who are all qualified, professionally designated real estate appraisers (for valuation cases) and/or attorneys (for exemption cases) – to conduct the hearings. The only question the Special Magistrates can determine is whether the market value of a property as shown on the TRIM Notice was higher than the property's market value as of last January 1st.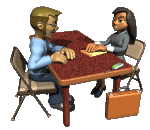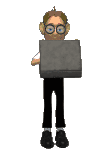 The process is triggered by filing an appeal application form (DR 486) and a nonrefundable $15 statutory filing fee with the VAB by the September 18, 2015 deadline. The fully completed petition must be filed with the Value Adjustment Board at Broward Government Center, 115 South Andrews Avenue, Room 120, Fort Lauderdale, Florida 33301 (or filed online using a credit card) - BEFORE THE DEADLINE. While the Property Appraiser is immutably prohibited from processing an appeal after September 18th, a taxpayer who misses the deadline due to extraordinary circumstances can still petition the VAB to consider a valuation appeal. Since "good cause" late-filings are vetted on a case by case basis by the VAB attorney, the applicant must contact the VAB directly to assess an appeal's merit.

In accord with the provisions of Florida Statute 194.034 (d), petitioners are required to furnish the VAB Appeals office with all the information or documentation that will be used to support their conclusions of value. Failure to provide information previously requested by the Property Appraiser at least 15 days before the hearing precludes its use before the VAB.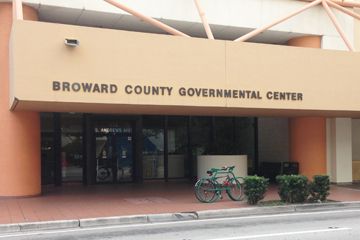 COUNTY HEADQUARTERS AT BROWARD GOVERNMENTAL CENTER

To best prepare a case, documentary evidence supportive of a claim should be compiled with the assistance of the Property Appraiser staff, VAB staff and/or an attorney. To request the VAB's help, a petitioner can visit the VAB office in Room 120 at Government Center (115 South Andrews Avenue), call 954-357-7205 or 954-357-5367 or send an email to

[email protected]

. To elicit assistance from the Property Appraiser's Office, visit their headquarters at 115 South Andrews Avenue, Room 111 in Governmental Center (954-357-6830) or email Manager Kelly Brown at

[email protected]

. Any person representing you at the hearing must have a letter of authorization or power of attorney attesting to that fact. This applies to anyone whose name is not on the deed. If a late-filing petitioner is denied "Good Cause" by the VAB or if the Board finds against the applicant after a hearing, the petitioner is entitled by law to file an action in Circuit Court within 60 days of the date on the final decision letter, pursuant to Sec. 194.171, Florida Statutes.


CAVEAT EMPTOR! As you are doubtless aware, this appeal is a lawsuit. Such actions are considered de novo, or original actions, rather than an appeal of the VAB decision. Lawsuits cost thousands of dollars in legal fees (retainers can run $250 to $500 per hour) and court costs. If unsuccessful, these costs would be incremental to the possible doubling or trebling of property taxes implicit in losing the homestead exemption. An appeal is anything but a consequence-free "toss of the dice".
Low-Income Senior Exemptions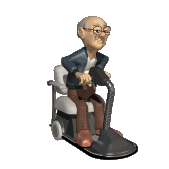 Pursuant to Section 196.075, F.S., residents 65 years or older as of January 1, 2015, may qualify for the additional $25,000 "Senior Exemption". In 2014, qualified seniors had to demonstrate a total 2013 household adjusted gross income of not more than $27,994 (adjusted annually for inflation by the Department of Revenue) to be eligible for the additional exemption. Since income eligibility is recalculated every January to reflect changes in the cost-of-living index, this exemption must be applied for annually. While the exemption applies to the county portion every Broward resident's taxes, only those residents living in cities that adopted the exemption (such as Fort Lauderdale) may also apply it to their municipal tax bite (the enabling legislation requires municipalities to adopt a "local option" before the incremental exemption can be applied against City taxes).
To qualify for the huge Long-Term Residency Senior Exemption passed in 2012, an applicant must maintain permanent residence on the property for 25 years, meet the age and income requirements for the regular Senior Exemption (see above) and the property's Just Value must be less than $250,000. To insure a proper filing, follow the steps below: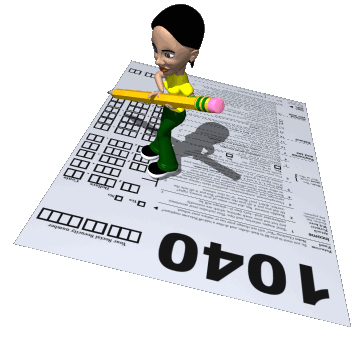 If You File An Income Tax Return:
Complete Part (A), Part (C), and Part (D) of the Sworn Statement of Adjusted Gross Income of Household
Submit the Sworn Statement of Adjusted Gross Income of Household to the Property Appraiser on or before March 2, 2015.
Submit a copy of your 2014 Income Tax Return Form 1040 and W-2 for all persons residing in your home (excluding renters and boarders) to the Property Appraiser no later than June 1.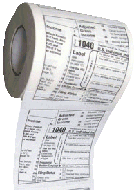 If You Do Not File An Income Tax Return:
If you miss the March 2nd "soft" filing deadline for the 2015 Senior Exemption, and believe that you have "Good Cause" for not having timely filed the application, you can still call the Property Appraiser's office at 954-357-6830 before September 18, 2015 (the hard deadline) or email Customer Service & Exemptions Division Manager Kelly Brown at [email protected] and ask if and how you can still file for the 2015 Senior Exemption. As per State law (Section 196.011(8), Florida Statutes), applicant material submitted after the September 18th "hard deadline" will not be considered.
Other Exemptions - Catastrophe Dividends


With the exception of the $5,000 Veteran's Disability Exemption and the Historic Property Exemption, a Homestead Exemption is a legal eligibility prerequisite for a buffet of other tax-saving vehicles. While helping property owners with Homestead Exemptions and Low-Income Senior Exemptions, Property Appraiser personnel also facilitate applications for the following exemptions:
WIDOW/WIDOWER EXEMPTION: Any widow or widower who is a Florida resident may claim a $500 exemption. If you remarry, you are no longer eligible for the exemption. If you were divorced before the death of your ex-spouse, you do not qualify as a widow or widower. To qualify, provide a copy of spouse's death certificate, newspaper obituary, or memorial card. See section 196.202, Florida Statutes.

DISABILITY/BLINDNESS: Florida residents who are totally and permanently disabled or blind may qualify for a $500 exemption. Additionally, properties homesteaded by a quadriplegic are exempt from all ad valorem taxation. If homesteaded by a paraplegic, hemiplegic, or other totally and permanently disabled person, who must use a wheelchair for mobility or who is legally blind, the property is exempt from taxation if the gross household income (total income of all persons residing in the homestead, including veterans' and social security benefits) is below the current gross income limit (based on CPI index from BLS – $27,289 in 2014). Ask us about the filing requirements for the various partial and full versions of these exemptions. The initial filing requires a certificate of total and permanent disability (Form DR-416) from two (2) licensed Florida doctors or from the United States Department of Veterans Affairs. For the legally blind, one of the two may be a certificate from a Florida-licensed optometrist (Form DR-416B). See section 196.202, Florida Statutes.

VETERANS DISABILITY EXEMPTIONS:

"GRANNY FLAT" EXEMPTION: Taxpayers who build additions or perform extensive renovations on an existing Homestead to provide living quarters for a parent or grandparent who is at least 62-year old may be entitled to a special exemption equal to the amount of the new construction (up to 20% of the homestead value). Bring permits, Certificate of Occupancy and construction plans used to house 62-year old (as of January 1st of the year for which the exemption is requested) "Granny Flat" occupant.

SURVIVING SPOUSE OF MILITARY VETERAN OR FIRST RESPONDER: Grants full homestead property tax relief to the surviving spouses of military veterans who die from service-connected causes while on active duty, and to the surviving spouses of first responders (i.e. law enforcement officers, correctional officers, firefighters, emergency medical technicians and paramedics) who die in the line of duty and were permanent Florida residents as of January 1st in the year of their death. Applicants must provide a copy of the first responder's death certificate as well as an obituary, news article, statement from employing agency or other verification of line of duty death. See section 196.081, Florida Statutes.

HISTORIC PROPERTY EXEMPTION: Properties on the National or Florida Registers of Historic Properties may be entitled to some special exemptions related to their assessed value and whether or not the historic property is open to the public. Submit a fully completed application, evidence of its designation status and documentation demonstrating the percentage of the property eligible for its historic designation. See sections 196.1997 (for historic properties in general) and 196.1998, Florida Statutes (for historic properties open to the public).

NON-PROFIT, RELIGIOUS, EDUCATIONAL & GOVERNMENTAL EXEMPTIONS: In addition to proof of ownership by an eligible organization, eliciting Institutional & Non-Profit Exemptions also requires documentation demonstrating that it is currently "predominantly used" for an eligible purpose.
Broward County Property Appraiser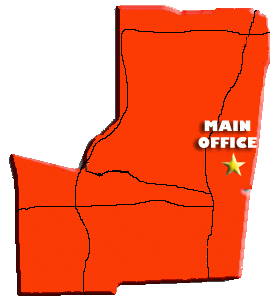 The Broward County Property Appraiser's Office is located in Broward County Governmental Center at 115 South Andrews Avenue, Room 111, in downtown Fort Lauderdale (just south of Broward Boulevard). The Office is ordinarily open weekdays from 7 am until 6 pm. and - with exceptions - closed on weekends and Holidays. In 2015, the office will be open on "Special" Saturdays (i.e. February 21, May 2, May 16, August 29, and September 12) from 8:30 a.m. to 5 p.m. and hours are extended during "TRIM season" to address the heavier traffic. The telephone number is 954-357-6830. The Broward County Property Appraiser maintains a web site at "http://www.bcpa.net". Maureen Morrison is the Broward County Property Appraiser's condo and co-op supervisor in the Real Property Office. Maureen can be reached at (954) 357-6832 or by email at [email protected].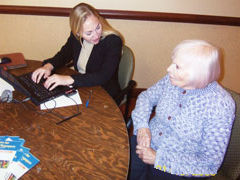 BCPA MANAGER KELLY BROWN HELPS SENIOR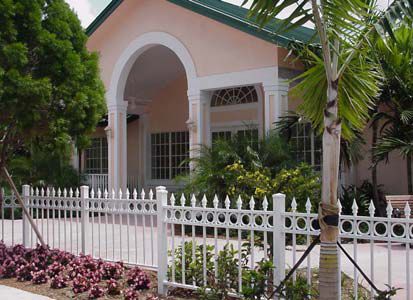 BEACH COMMUNITY CENTER

The Broward County Property Appraiser's Office conducts taxpayer outreach sessions at City Halls, Condos, Co-ops, Community Centers, Homeowners, Civic and Community Associations and a variety of other venues where Deputy Property Appraisers provide local residents with property tax information and help with filing exemptions. On the last Friday of most months, BCPA staffers assist Galt Mile residents at the Beach Community Center (3351 NE 33rd Street) from 10 a.m. to 11:30 a.m. For more information about these events, contact Customer Service & Exemptions Division Manager Kelly Brown - who oversees Community & Homebound Outreach - at 954-357-6830 (or 954-357-6035) or by email at

[email protected]

.

The Property Appraiser's office has instituted a new Online Homestead Filing Program. While the Property Appraiser's Outreach Program is remarkably convenient for new filers, the internet-based program is even easier. You can save time, gas-money and avoid lines and crowds that assemble at the local Broward office or the outreach venues. To apply for a 2015 homestead, simply Click Here to use the online Homestead Application system. To apply for other exemptions, visit the Download Forms page and either print, complete and submit the appropriate application by mail or in person or - if an interactive version is available - fill out and submit the online application.

Note: Homebound persons and other qualified individuals with disabilities who cannot readily leave their home may also file for a Homestead Exemption by calling (954) 357-6035 to arrange for a visit from the Property Appraiser's Homebound Outreach Program.

Facing a Force of Nature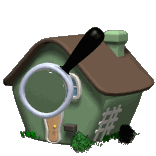 Upon reviewing the resources inherited from her predecessor following her 2005 installation as Property Appraiser, Lori Parrish learned that the fraud unit was comprised of a file cabinet attended by two secretaries on a part-time basis. During her first 17 days, Parrish developed 131 cases. Her first 60 days yielded $12 million in fraud related recoveries. She tossed the antique computer system – mothballing archaic software originally developed by Atari as a precursor to their "Pong" platform. Today's cell phones offer exponentially greater computing power. Having replaced the window dressing fraud program with a fully functional unit, by 2010 Parrish recaptured $3 billion in assessed valuations from properties fraudulently exempted from the tax rolls, raking in $20 million in "found" revenues. Information Systems honcho Erik Reed has since provided the fraud unit with statewide search capabilities and a nationwide reach.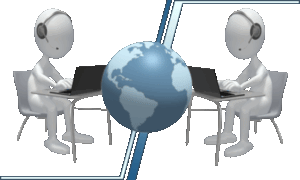 Broward residents who scam the County by fraudulently claiming exemptions for which they are clearly ineligible outrage Parrish. In 2010, she pleaded with Galt Mile Advisory Board members to rat out snowbirds claiming Homestead Exemptions. Despite having informed Ms. Parrish that Advisory Board members wouldn't violate the confidentiality of their residents' information, they were understandably conflicted about passively enabling these thieves. We agree with Ms. Parrish that scammers increase the burden on every other taxpayer in the County and applaud her efforts to smoke them out and hold them accountable. Note: I suggest that scofflaws forgo any solace taken from their association's refusal to cooperate with Parrish's ever-intensifying crusade. If you are sitting on a residency exemption in another jurisdiction, it's posted of the local property appraiser's website, where any online device can out your secret. In short, it's only a matter of time before Parrish's IT bloodhounds ruin your day.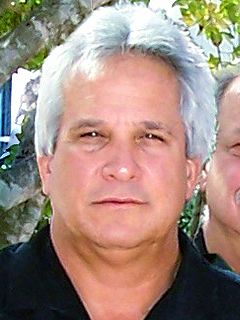 RON CACCIATORE
BCPA FRAUDBUSTER
THE BOTTOM LINE: Since 2010, Ms. Parrish has substantially enhanced her fraud-busting operations. When BCPA fraud watchdog Ron Gunzburger left the Property Appraiser's office in 2012 to serve as General Counsel for newly elected Broward Sheriff Scott Israel, the unit was seamlessly managed by Director Ron Cacciatore of Professional Standards and Compliance, a former BSO Detective.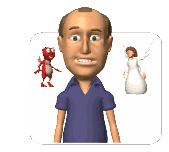 In 2013, Bob Wolfe informed the GMCA Advisory Board that Parrish is annually adding $millions in taxes recovered from fraudulent exemptions to the County coffers. He repeated his thinly cloaked admonition in 2014. If you have been claiming a Disability Exemption while playing tennis every Thursday or a Homestead Exemption while continuously renting your unit for the past six years, you're in trouble. If you turn yourself in, you may forgo the 50% penalty on the money you ripped off from the County. Alternatively, if she nails you, your goose is cooked. Moving won't help. Since 2012, Parrish has cultivated the capability to file liens in any Florida county with the push of a button.

Galt Mile Residents

Please contact Bob Wolfe of Inter-Governmental Media Relations at (954) 445-5732 or at

[email protected]

for further information.
Click Here to access the Broward County Property Appraiser web site in English, Spanish or French (Creole).
Click Here for additional information about Homestead and other Exemptions.
Click Here for info about additional Senior Exemptions
Click Here for info about new Tax Reform Legislation
Click Here for info about the TRIM (Truth in Millage) Notice
Click Here for info about the Broward County Value Adjustment Board (VAB)
Click Here to file a 2014 petition to the Broward County VAB or check its status - ONLINE
Click Here for all Exemption & Appeals forms
Click Here to access the Online Homestead Filing Program and file for your exemption the easy way!
Click Here to check the status of your pending 2014 VAB Petition
Click Here to use the Home Buyer's Tax Estimator
Click Here to get a copy of your tax bill
Click Here to see copies of deeds, mortgages, liens, release of liens and court judgments